Looking for the perfect gift to give the foodie in your life? Maybe they tell you "I don't want anything" or "I don't know what I want." No worries, we got you covered! Ready?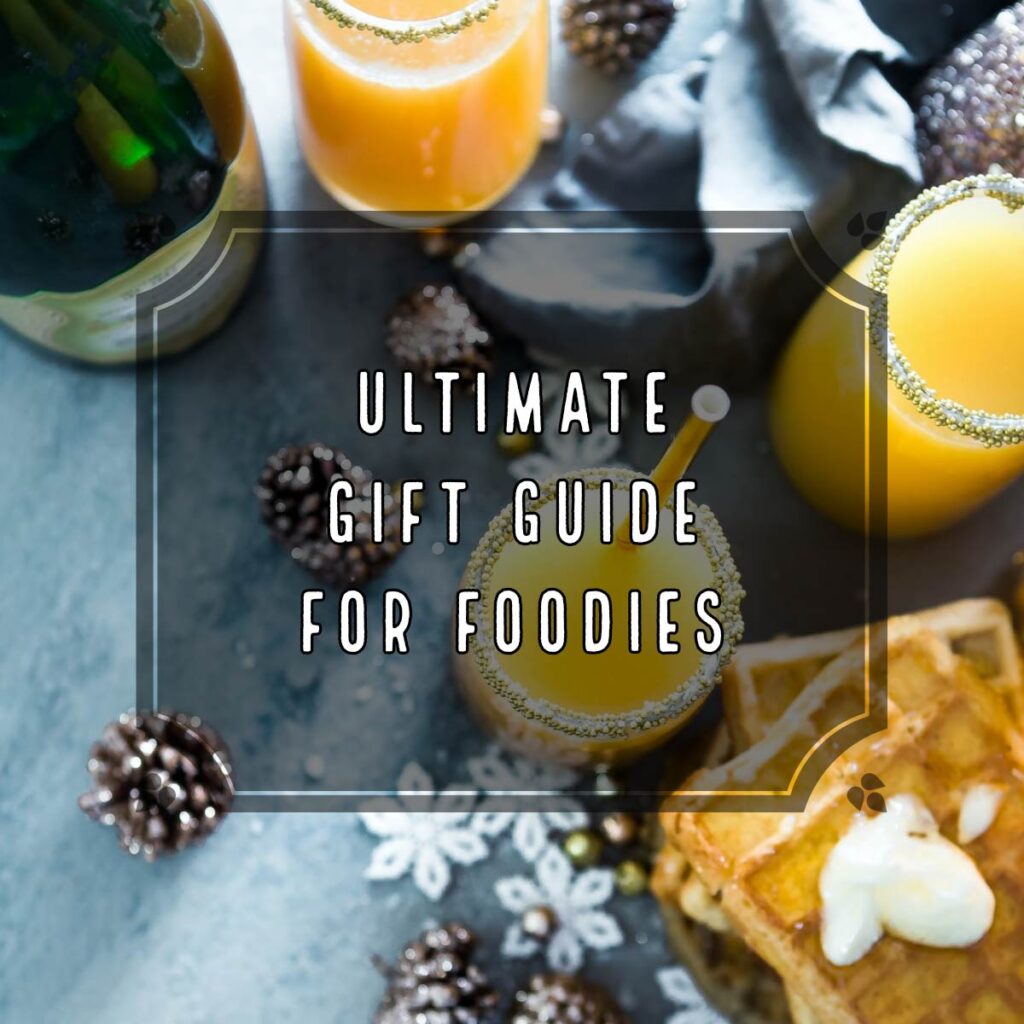 Repeat after me, buying a gift for a foodie is not complicated. Ok take a deep breath and relax.
We have included a wide range of things here with prices being low to moderate and even some homemade gift ideas! Homemade gifts are amazing and should not be underestimated.
Sometimes people have their own style of cooking they prefer - slow cooking or baking for example. No worries, we got you covered there too.
I use just about everything I share here all the time. There is one reason I know what a foodie would want for a gift, because I am one!
Easy homemade gift ideas
They say it's the thought that counts and you know what? It is. I would love it if somebody gave me a fancied up jar with homemade seasoning in it. I give homemade gifts and bought gifts personally. They are a great
Homemade seasoning mixes in a nice jar - you can even use mason jars with labels which you can find in most local stores or Amazon. For the spices I would recommend our ranch seasoning mix (very easy to make.) Other great ideas are over at Spend With Pennies, her Italian seasoning is great! In her post if you scroll past the recipe card, you will find taco seasoning and a couple other great ones as well.
Homemade hot sauce is another great idea! This is fun because you can experiment with different flavors, we did a lot of that this summer. Our post for homemade hot sauce will give you the basic idea and you can play around with different fruits, vegetables and the star of the sauce - the hot peppers.
Homemade jam - this is something easy but does require more work. Here is our post for homemade strawberry jam and you can follow it for other berries as well such as blackberries, blueberries or raspberries.
Simple sauce for coffee is something most coffee drinkers will enjoy! Of course maybe not if they prefer their coffee black with no sugar. How Sweet Eats has 4 syrups here in her post - four homemade coffee syrups and my favorite cold brew.
Can you crochet? I bet they would love some nice crochet pot holders with matching hand towels!
This is just to give ideas, there are some many great gifts you can make!
What to buy a foodie for Christmas
Now before we get into the foodie gift guide, I want you to know that I am affiliated with Amazon. I carefully hand selected several products from Amazon here to give you ideas based on my love of the products. Being affiliated means that I may earn a commission if you purchase from my links, but this is at no extra cost to you. Thank you for helping us keep our recipes free for our readers!
The Amazon products appear as ads but this is to keep their pricing current as they are updated by them in real time, I selected each product carefully to add.
Why did we choose Amazon products? Because they make holiday shopping so easy! With Prime we get most of our orders in 1-2 days with no shipping charge. It makes shopping easy this holiday season if you want to avoid bigger crowds. Need a Prime membership?
Baking mats
This is something I recently go into. I had seen them recommended all over but I am a bit of a stubborn one sometimes. I ordered mine a couple months ago and absolutely love them! With how useful they are and not too many people using them yet, they had to be a top on the foodie gift guide.
What are baking mats?
They are silicone mats you place on your baking trays for even cooking. You could also use the larger mats for rolling out dough - makes it a lot easier then on the counter or on a big cutting board!
Explore different baking mats
Cast iron pans
Ok so anybody who knows me knows my love of cast iron. I think every person should own one, but every home cook needs at least one - I started with one then needed another and then another...
Why cast iron?
They are an absolutely amazing pan! They can easily go right from stove to oven. Once a cast iron pan is heated all the way, the heat is always evenly distributed throughout the whole pan. They have been around and used for years. And the best part of all - if well kept, they are mostly non stick without the extra coating other pans have.
Everything from skillets to dutch ovens
Instant Pots
My newer loves, my easy to use Instant Pots. Pressure cookers have been around a long time but if you were like me, you felt intimidated by them. Many people did and that is ok. I didn't start using one until almost 2 years ago, but there is no turning back now once you start! What would a foodie gift guide be without a pressure cooker?
What makes Instant Pots so great?
I am not even sure where to start! It has so many uses and I found myself making things I didn't know you could even make easily at home - like yogurt. Dishes like Instant Pot stuffed pepper soup or even Instant Pot mashed potatoes (seriously the easiest way to make mashed potatoes) are a favorite here, be sure to share them with your gift!
Check out other great Instant Pot products
Instant Pot accessories
There are a couple accessories that are a must have, but don't rush out to buy them all. Many people recommend every Instant Pot accessory out there and possibly for a commission. To be honest, most people don't need many accessories.
The only accessories I use and recommend
I use a silicone sling a lot along with the springform pan. Got a cheesecake lover? Then they need a sling and springform pan! They can make desserts like Instant Pot pumpkin cheesecake or even Instant Pot cheesecake with chocolate swirl!
The steamer basket is great for somebody who enjoys steamed vegetables and it is something that does come in handy! I usually only use it for smaller vegetables to because the trivet that comes with the IP works quite well for potatoes and squash.
The Instant Pot bake set below is a great gift for any IP lover. You can use it for various foods, including cakes. It also has a double rack so you can cook both at the same time. A must have for IP users!
Instant Pot lids
My favorite lid is the glass lid. You can't use it when pressure cooking, but you can use it for saute and I love it for yogurt! It doesn't hold onto a funky odor like the silicone rings do.
Now for the air fryer lid - I personally have not tried it. It is on my Christmas list as a want, but I cannot say from experience how well it works. In the Instant Pot community that I am in, I have heard amazing things about it tho.
KitchenAid mixers
One of my personal favorites! I have 2 stand mixers and I use one of them all the time. I usually only use 1 of them, but when I upgraded to a bigger mixer I didn't have the heart to get rid of the old one. It still works great after all these years! I HAD to put them on a foodie gift guide, we all love them and those of us that have one use it all the time.
Why KitchenAid?
Yes they are the expensive brand mixer, I get it - trust me! But they are the top brand in mixers and I can say they last a long time. My aunt's is probably around 20 years old and I can't remember how old my old one is - at least 10 years old (and does still work.) So you do get what you pay for here!
Another reason I only recommend them is for the wonderful attachments they created to go with them. There are a lot of things you can do with a KitchenAid mixer!
Check out all the great products from KitchenAid
KitchenAid Mixer Attachments
If the foodie in your life has a KitchenAid mixer already, how about get then an attachment? They are easy to hook on the front and each attachment uses the power from the mixer.
I love my sifter and scale attachment. A must have for anybody who bakes a lot! Instead of weighing the flour on a kitchen scale and then sifting the ingredients into the dough, just add it to the attachment. You will get the right amount by weight every time.
Accessories for stand mixers
I don't have a lot of accessories for my mixer, but the ones I have are ones I wouldn't go without!
The splash guard is great for keeping your ingredients in the mixing bowl and not on the counter. Perfect for adding flour! Yes you can use the splash guard with the sifter and scale attachment - win win 🙂
The flex edge beater is the other must have. It scrapes the side of the bowl as you are mixing so you don't need to stop and use a spatula to scrape it down. It's cheap and well worth it!!
KitchenAid for pasta lovers
Have you ever had homemade pasta? Oh you are in for a treat or the foodie in your life is (maybe they will make you some pasta if you get this for them - wink wink) with your own pasta. It is easy to make and the texture turns out amazing.
The pasta drying rack is something that one might not buy themselves, but if given as a gift they will probably love it! This is literally the perfect addition to any pasta lovers with a stand mixer.
Spice Racks
There are some pretty cool spice racks out there now! These are perfect for the foodie (promise not me, ok me) that is unorganized with spices. Yeah in a perfect world I would have my spices together, but I don't live in a perfect world. It's also great for somebody getting their own place for the first time.
They have ones with jars and spices in them and there are even magnetic storage pieces for your own jars.
Check out other spice rack ideas
Kitchen scale and other kitchen gadgets
My kitchen scale gets used at least once a week, usually more. Yes I have the sifter and scale attachment for the mixer, but this kitchen scale weighs a lot more the flour. It is something that many people in the USA don't think about getting, but will use it when they have it. If you are in a country that uses the metric system, there is a big chance your foodie already uses a kitchen scale.
The mandoline is another thing that many people don't know they need until they have it. It makes it so easy to make perfect slices, I use it for potatoes mostly when I make scalloped potatoes.
Check out other kitchen gadgets
Crock-Pots/Slow cookers
Most foodies have a slow cooker already, but some do not. If they do not, they will love to use one! They make it easier for busy nights. This is another must on any foodie gift guide! Another little appliance we all love when we have them. Many people already have a 6 or 7 quart, but the casserole crock is one that they will love as well and may not have already.
I use a 7 quart and my casserole crock the most. The casserole crock is one that I never want to live without! You can make lasagna and other great casserole dishes.
Check out all Crock-Pot products
Stainless steel pots and pans
Stainless steel is one of my favorite (the other being cast iron) pans to cook with. Your foodie might prefer non stick, but many people who really enjoy cooking like a nice stainless steel set to cook with.
Be sure to get good quality pans tho. 18/12 stainless steel or even a good tri-ply is something you will want. This is something you don't want to go cheap on, but they will last a long time if you get a good brand. Some of mine are 20 years old and still going strong!
Check out other stainless steel pots and pans
Coffee makers
Because most of us enjoy a nice cup of coffee when we are in the kitchen! We have a frother as well with our Sboly single serve coffee maker, but we are a household that likes variety with our hot drinks. I will say that the Sboly coffee maker is our favorite and we have tried many, including our Ninja that recently stopped working.
Check out all coffee makers
Stocking stuffers
The sauces are sure to be a hit and when you go over to check one out, check out all they have! The garlic sauce is amazing on grilled chicken and it's one of their sauces that is not spicy.
Other Great Stocking Stuffer Ideas
This company is not on Amazon and we are not affiliated with them, but we absolutely love Awesome Country too! Your foodie will love their seasonings too 🙂
We first found them at a local garlic festival and I buy it every single year, all but this year as the festival was cancelled. Fortunately you can order from their website!
They have seasoning mixes (we absolutely love Gobs of Garlic), soup mixes and dip mixes. We have tried just about every dip (they usually sample them at the festivals) and all the garlic mixes, but we have not tried the soup mixes.
Conclusion
I hope this foodie gift guide helps to at least give you some ideas! Foodies seem hard to buy for, but really we are not. I mean, we love food!
If you are not sure about any of these ideas, you could always do wine varieties. Even if they don't drink it, they are very likely to cook with it! I do both, cook with it while drinking it.