Hello and welcome, I am glad you found your way into our kitchen! There is a lot of good food out there in the world and we hope you like some of ours.
Who is The Kitchen and a Latte?
Well, just a blog created over the love of food and a latte! We are a family run blog where I usually do the cooking and creating while the rest of the family does the testing (and some of the dishes.) Our dogs even get to taste test some of them as well - as long as it is safe for them. But they are not a good judge for good taste - honestly they eat anything you give them.
We got our name because it is a cooking blog so we are in the kitchen and I love, no wait LOVE, lattes. The kitchen part is all about cooking. We will share tips and tricks along with recipes to to enjoy. The latte part is the occasional post of a story to brighten your day or to share an experience that will offer advice. Like the time I burnt cheese to the bottom of my Instant Pot...Sigh.
So Who Am I You Ask?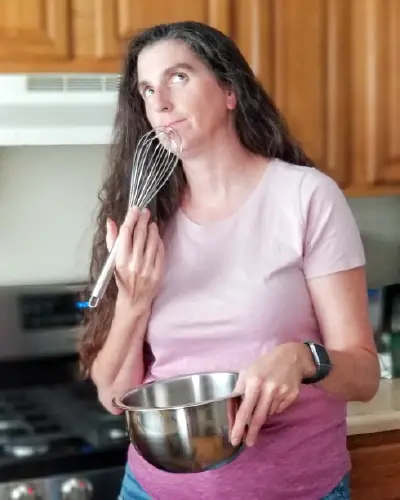 My name is Dawn and I am the mom of the family. I am also the chef running the show here. I have been cooking since I was 12 but we won't talk about how old I am now. Let's just say my kids are all teenagers and older - enough said 🙂
I have a passion for cooking and a major sense of accomplishment when people like my food. It gives me a warm feeling and puts a smile on my face. But on the same note, I can handle criticism and appreciate it really. How else do we learn? If you try something and do not like it, please do tell me.
Who is The Kitchen and a Latte for?
We are here for anybody looking to learn more about cooking. Whether you are just looking for a recipe or you need more tips, you will find the good stuff here! If you ever have any questions about cooking, please feel free to ask. We use a variety of kitchen gadgets along with various pots and pans. Hopefully I can answer your questions!
You can email me at: [email protected]
Grab a latte and enjoy some great food with us! I won't be offended if you choose to skip the latte tho.
The Kitchen and a Latte operates under Kitchen and a Latte LLC.