Looking for a way to save money on your grocery bill? Meal planning can help you save money every time you go shopping! If you are new to meal planning, it is pretty easy and we are going to walk you through how it will save you time and money.
If you find yourself saying "I spend too much money on groceries", this post will show you how to spend less money on food.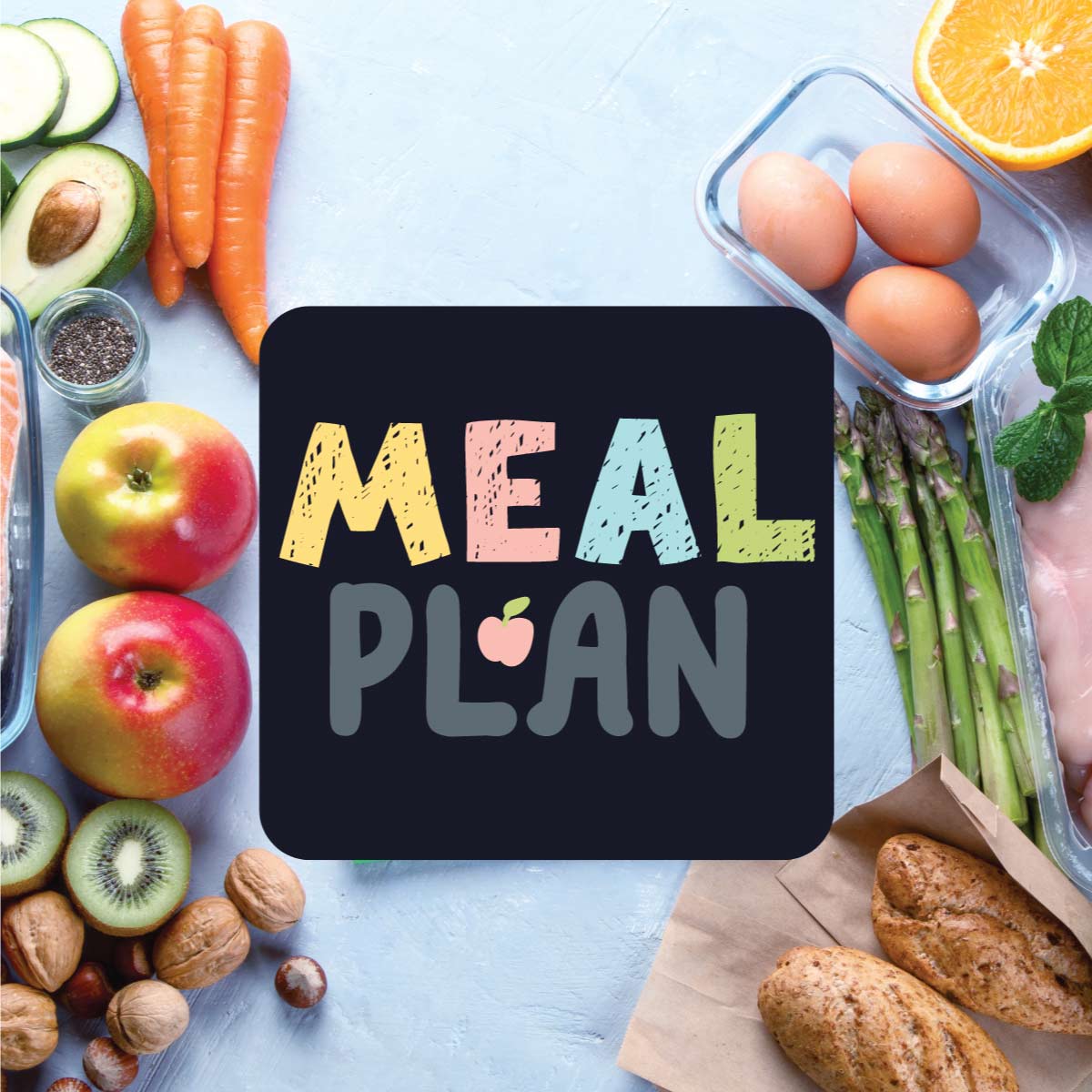 Meal planning is a great way to save money on groceries. By planning your meals for the week and creating a grocery list based on those meals, you can avoid buying food that you don't need and stay within your budget.
If you're looking for a meal planning resource, check out our free meal planner. It is a free printable for our email subscribers! You can use it to plan for the month, week and then for each day. More on that below. But first I want to talk about how it will save you money so you get the most out of your free planner.
Jump to:
How meal planning saves you money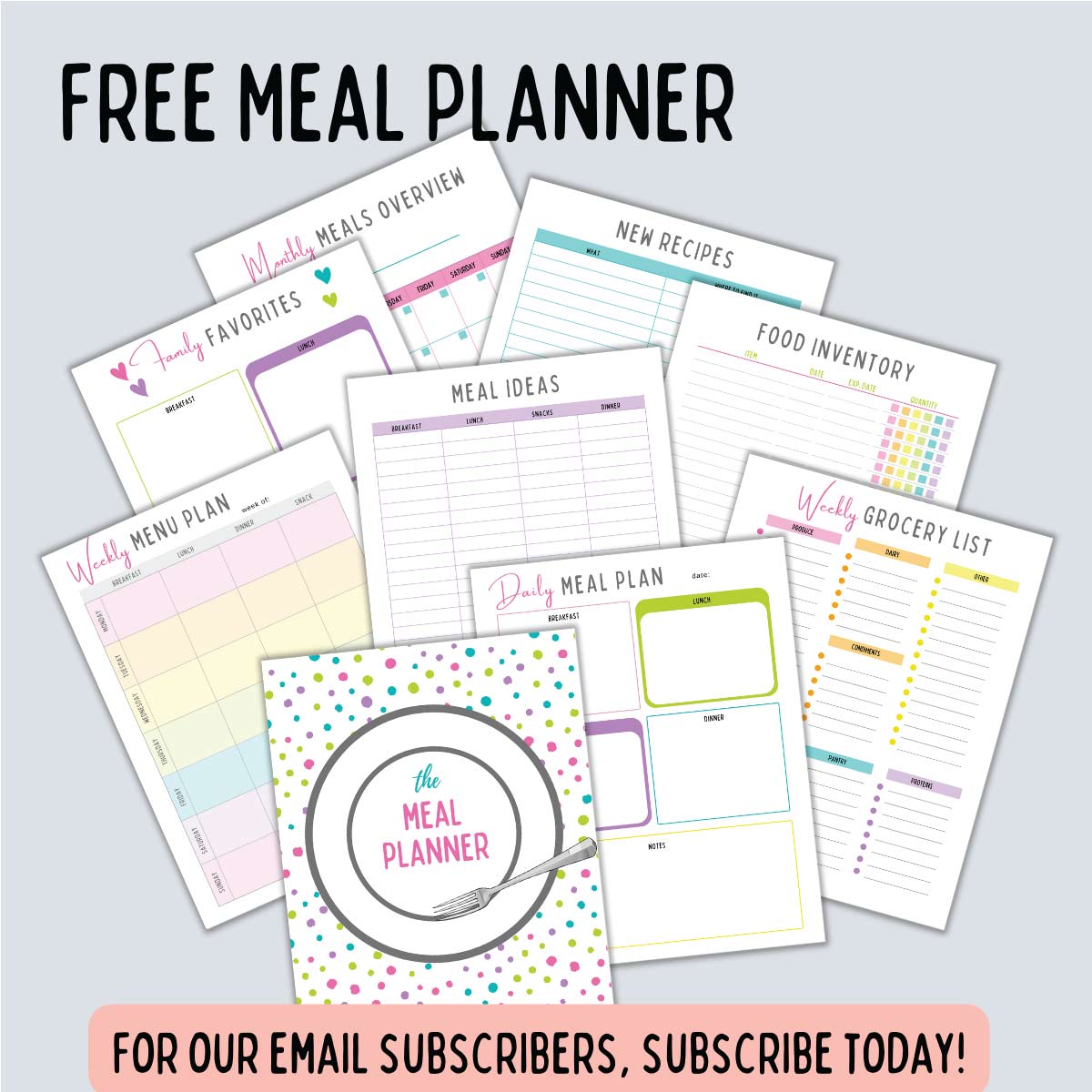 When you meal plan, you will save money in a few different ways. See below to get our free meal planner.
No last minute trips
By meal planning you will avoid those last minute trips to the grocery store or drive thru because you have nothing planned for dinner. This can really help to cut down on your grocery bill.
Last minute trips can be dangerous because it is hard to walk into the store and get just food for dinner. Plus it takes gas to run these frequent trips - we live 5 minutes from several stores but many people do not. It all adds up - extra items at the store and then the extra gas!
I was the queen of last minute trips for dinner so I get it. As a busy blogger I would find myself getting lost in work to realize that "oh crap, I don't know what to cook for dinner!"
I know as a food blogger people think I cook big meals everyday. It seems like it when I am posting these delicious recipes! But truth is, food blogging is a lot of work and some days I am overwhelmed at the thought of dinner. I would stress so much about making recipes for all my amazing readers and then burn out when it comes to cooking dinner.
Guys and gals, I was bad. I got to the point where I wouldn't think about what was for dinner until it was time to make it most nights. I say most because when I am doing a recipe for the blog, it is planned out. But nights that were not planned for the blog, I didn't plan anything.
That led to burnout, take-out (and we don't like to eat out much) or simple egg sandwiches (a classic easy go to.) We live too close to major stores and way too many food places so the last minute thing was real here!
It had to change and once I started planning, I could feel the stress lift! This planner is free so please I am not selling anything, just trying to help you save money and stress less.
You are only buying what you need
When you take the time to meal plan you can make sure that you are only buying the groceries that you need. This can help you avoid those impulse buys at the store. Most of us (I am quite guilty of this) buy many things that we don't really need.
When you are meal planning and writing your grocery list based on the meals, you will know exactly what you need. For me, the impulse buys cost more then what I needed for my meals. Yikes!
Cooking at home saves money
Lastly, meal planning can help you save money by cooking at home more often. Eating out is expensive and when you meal plan, you can make sure that there are always healthy meal options at home. This can help you avoid those drive-thru meals or eating out when you are really trying to save money.
Eating out should be a treat, not a go to all the time because we didn't plan our meals. While I do support local businesses and restaurants occasionally and do encourage others to, they do get expensive when it is a habit.
Meal planning reduces stress
I cannot stress this enough! It is one less thing to worry about in your day. And when you have a plan, it is so much easier to execute. No more "oh crap, it's dinner time and I don't know what to make!" Trust me, it's like a weight lifted off your shoulders.
I sit down with my family and we decide what we want to eat for the week. Of course for us I add a couple things for our blog, but it helps when they can give ideas for the rest of the week. This takes away the guess work and the stress of dinner time. It is one less thing I have to worry about during the week. I worry about too many things so this helps me greatly!
We recently started planning out a month ahead too and then breaking it down for each week. I need to plan some of my blog posts ahead of time.
How to spend less money on food
I want my readers to get the most of this free meal planner (or any planner that you may use.) Saving money and reducing stress are the biggest benefits to planning so here is how you can use the meal planner to do just that.
Create a list of recipes that you want to try
We included 2 pages for ideas. One has a place for new recipes that you may want to try and where you can find them. This can be on a food blog, in a magazine you read or even a friend's favorite family recipe.
The other page lists meal ideas which is perfect for meals that you already make and know how to make. It basically gathers your thoughts.
Jot down ideas for the month
This might be overwhelming in the beginning so please if it is, you don't have to do the month at a time yet. You can start weekly if it is easier for you, we don't want you to add stress!
Also note that the monthly can be changed up a bit too. To be honest, we shop at Walmart most often so we plan the month out. Walmart is quite often cheaper on most things but they do not run grocery sales quite like a local supermarket does.
Plan your weekly meals around sales
Even tho we shop at Walmart often, I do like to check the sales at the other supermarkets. We usually have access to that by Saturday. I have no problem changing my monthly plan around a little bit if there is a huge sale on something at the store!
Once you can look at their weekly sales online (or print if they have it available), you can sit down with your meal ideas page and plan out your week by what is on sale.
There is a downside to meal planning by the sales. A downside I have been trapped in before as many others have. Just because something is on sale doesn't mean you NEED it. Yes I said it and am trying to remind you (and myself as well.) If you usually do not buy something but it's on sale for a good price, you probably don't need it now.
That's why I stopped using clipped coupons from the newspaper. I was buying things because I had a coupon and ended up giving it away because we never used it. Please, I am not telling you to stop using coupons if they work for you but don't buy things you don't need because you have a coupon.
Stick to your list
This was so hard to do for me! I totally get it if you struggle too. I would go in for 5 items and $200 later I am heading home. Nope those 5 items did not cost $200, but all the extras I saw when shopping added up.
When you are planning and creating your grocery list, it is ok to add some snacks or a couple extra things that are in your budget. But avoid those impulse buys in the store. Do you have any idea how hard it was for me to walk by some of these extras?
You are creating a list based on your meals for a reason, do not fail yourself now. You got this! Stick to the list.
Use online ordering if you can
For me the biggest struggle with spending too much money in the store was the impulse buys. When you live 5 minutes from Walmart, Target and 3 major grocery stores the temptation is there for me to go to the store multiple times in the week.
In comes online ordering! I have the Walmart + membership which is a huge help. Now please note that this is almost $100 for the year (subject to change) but for some of us impulse buyers, it saves a lot of money. BUT many stores have what they call buy online pickup in store. You can order online, their employees will shop for you and you pick it up when it's ready. No cruising down the aisles of temptation! Into the pickup center and out you go.
If you are close enough to a Walmart, see if your store does this. You can order groceries to be delivered to your house same day. If you order over $35 (subject to change at any time and may vary by location), you can have your food delivered free. Of course tip the driver, but that costs me less then my impulse buys!
Watch for companies like Omaha Steaks or Perdue to have sales and order directly from them. We stocked the freezer with chicken, steaks, burgers and hot dogs for a nice price. Please note that it is often more expensive to order from these companies (the food quality is great tho.) You have to check for sales.
We are working on adding links to our recipes that will let you add the ingredients you need to the shopping cart at your local Walmart. More great things to come here, it is a work in progress.
Use leftovers for new meals
If you know that you will have leftovers from a meal (like when you make a turkey), plan a meal or two from your leftovers. This saves money and time! I have even put my leftovers in the slow cooker to make a new meal.
There are so many things you can do with leftovers, get creative. If all else fails, there is always the old standby of reheating and eating it as is. We had a tradition when the kids were younger. Eat our Thanksgiving dinner on Thanksgiving but then reheat the leftovers on Black Friday. I used to work retail and both days were working days for me so it was perfect!
Frequently asked questions
What do I need to use your free meal planner?
It is in a PDF file format. Most computers, tablets and smartphones are able to view and print the PDF files without downloading extra software.

You will need a printer or access to a printer in order to use the planner. It is an instant download and you need to print it to use it.
What if I have questions about using your planner?
When you sign up for our email newsletter (to get the planner), you can reply to any of the emails that we send. We also encourage our subscribers to save our email address so they can reach out with questions.

When you reply to my newsletters, they come straight to my inbox and I can answer any questions that you have to the best of my ability. Please note there may be some questions that I cannot answer, especially if it is about something local to you.
Do you have any meal plans already planned out?
At this time we do not, but we are working on this. I am trying to figure out the best way to do it so it is easiest for my readers. It is a plan in the very near future!
Conclusion
I hope meal planning saves you money like it has for me! These tips and tricks have helped me save so much money on groceries and eating out. If you are new to meal planning, I recommend starting with baby steps. meal planning can be daunting and you don't want to get overwhelmed.
What tips do you have for meal planning? Leave a comment below and let us know. And don't forget to sign up for our newsletter and get your free meal planner so you can get started meal planning today!