Peppermint mocha cupcakes are an easy to make dessert to enjoy during the holidays. It is a favorite tradition here to bake these around the start of the season! They are made completely from scratch, not from a box.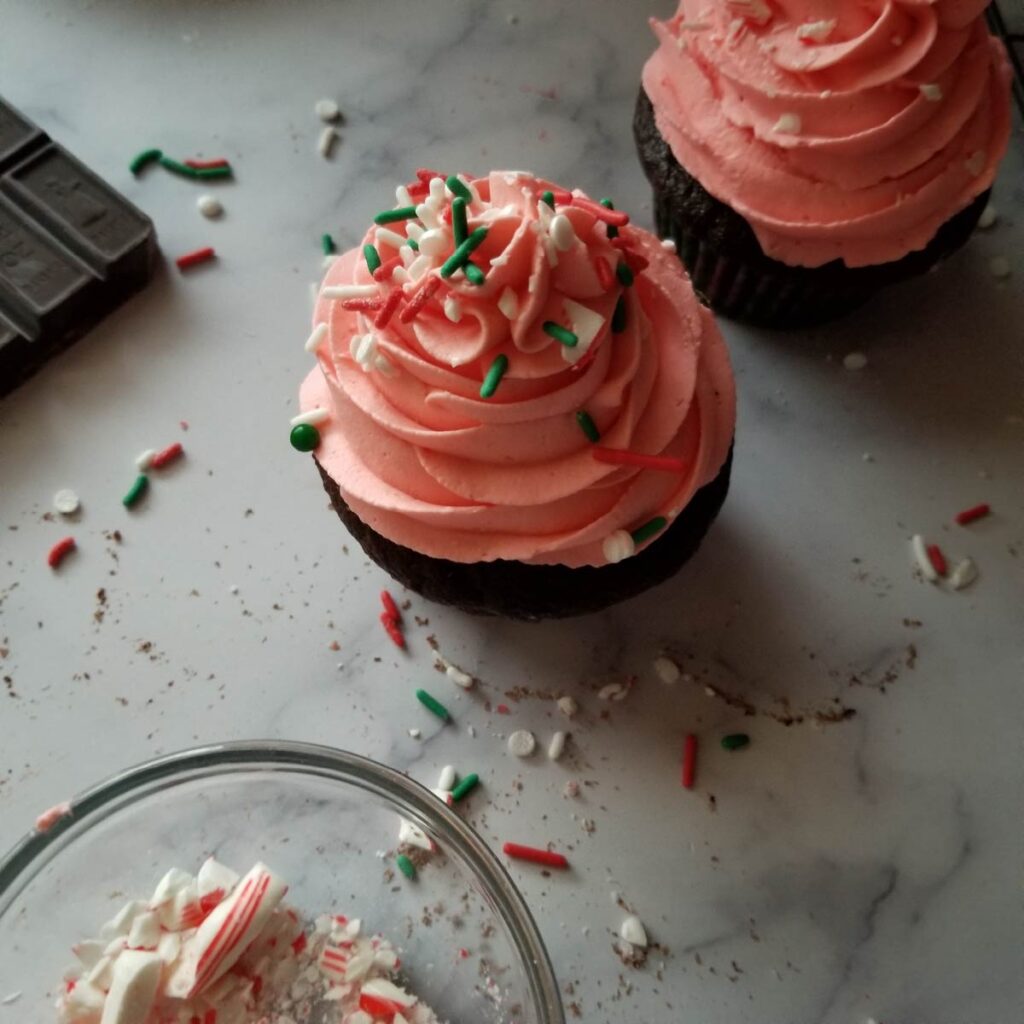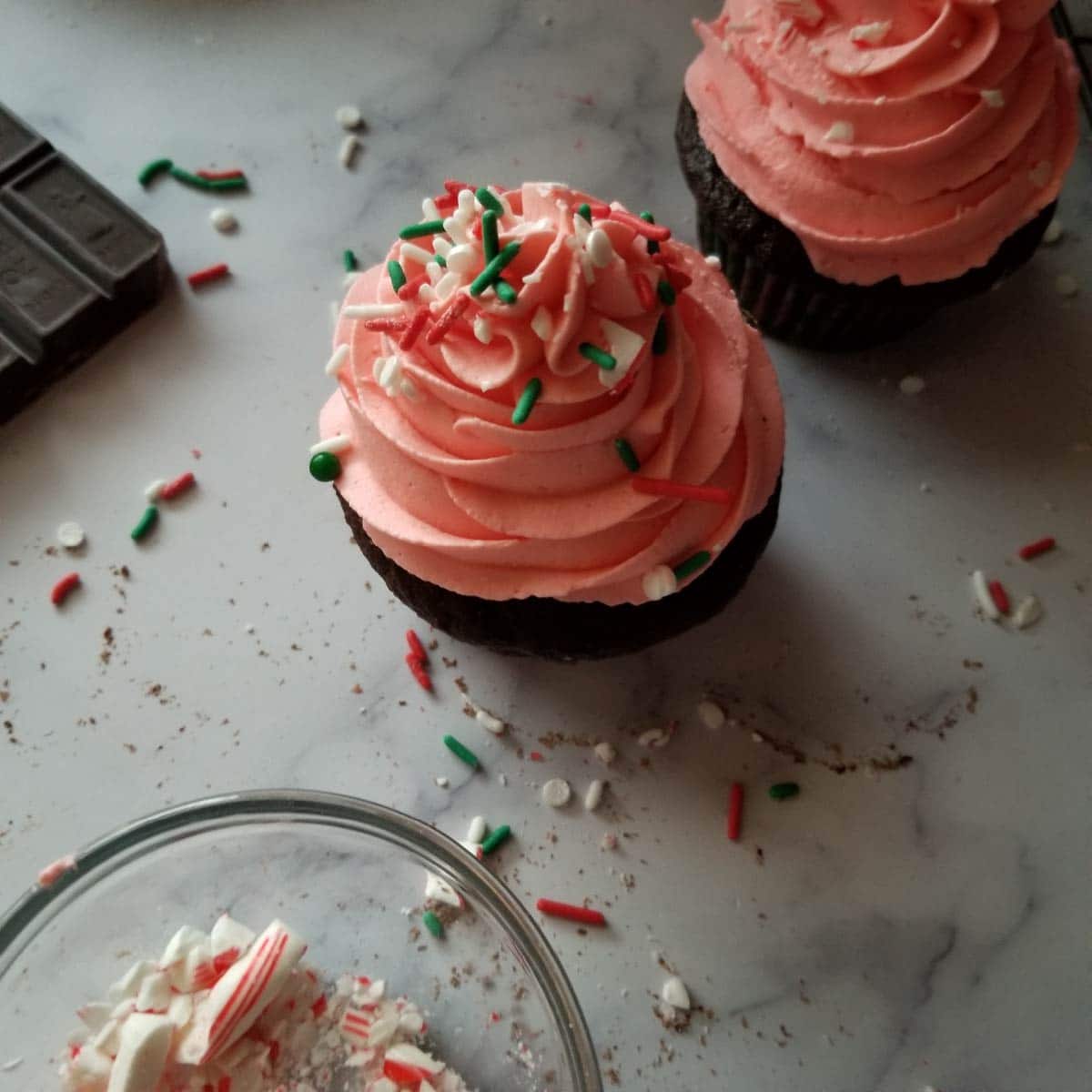 Peppermint mocha is a favorite combination for some of our family. They love the lattes from Starbucks and of course these cupcakes! Sometimes we make the lattes here at home and put peppermint whipped cream on top!
They are easy to make and you will be making them from scratch, like our St. Patrick's Day cupcakes. That's right, no cake boxes here! I honestly cannot remember the last time I bought a box of cake mix - it has been a very long time.
Can I substitute ingredients in peppermint mocha cupcakes?
Yes you can, but not all. This is the substitutions that I know will still work for you. I am sure there are more options, these are the ones that have been tested by me tho.
Espresso powder - I prefer espresso powder, but you can also use instant coffee or 1/4 warm brewed strong coffee in it's place. You are mixing the espresso powder with water before adding to batter so brewed coffee will work. Using espresso powder will give it richer results, but it's not a major difference.
Sour cream - you can use plain Greek yogurt in place of the sour cream. I have also used homemade yogurt in place of the sour cream.
Chocolate chips - you can use baking chocolate cut up into small pieces in place of the chips. That will give it a richer flavor and some do prefer it. The first time I made these I thought I had baking chocolate and did not, but had chocolate chips so I tried it.
Unsalted butter - You can use salted if that is what you have. Reduce the salt to 1 quarter teaspoon if using salted butter.
I do recommend using butter instead of oil as it will give your peppermint mocha cupcakes a richer flavor . You can use about 1 third cup oil instead, tho it will change the texture a little bit.
Frequently asked questions
Why do I have to use espresso or coffee?
Espresso enhances the flavor of chocolate goodies. It is recommended to use it for a richer flavor.
Do I need a mixer for these?
Not for the cupcakes. A whisk will work well for the batter. If you do use a mixer be careful not to overmix it. Use it on low and mix just until incorporated. You will need a hand mixer or a stand mixer if you are making the icing we recommend tho.
My cupcakes are crumbly, why?
Baking is a delicate balance. Crumbly cupcakes are still delicious so please don't think they will be bad. It does however mean that the batter wasn't mixed enough so there isn't enough gluten.
Why are my cupcakes too dense and sunken in the middle?
This is quite often this is a result of over whipping the batter. When you mix it for too long, you get rid of the air bubbles needed and there is too much gluten. The longer you mix your batter, the more gluten in the batter.
Do you have any other tips for baking peppermint mocha cupcakes for the first time?
Yes there are many great tips for any kind of cupcake and Life as a Strawberry has an amazing article to read about baking them! I recommend you check it out if you are new to baking - Cupcakes 101: 10 Tips to Bake the Perfect Cupcake.
Recipe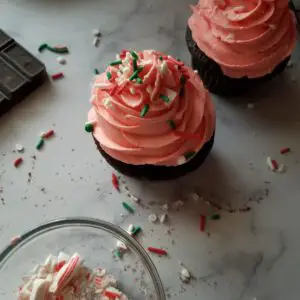 Peppermint Mocha Cupcakes with Whipped Icing
Peppermint mocha cupcakes are an easy to make holiday dessert. They are made from scratch, not a boxed cake mix and will be a hit for mint fans!
Equipment
Cupcake baking pan

Baking cups
Ingredients  
¾

cup

flour

½

cup

cocoa powder

unsweetened

1

teaspoon

baking powder

1

teaspoon

baking soda

½

teaspoon

salt

6

tablespoon

butter

unsalted, see notes

¼

cup

chocolate chips

or 1 ounce baking chocolate

¼

cup

hot water

2

teaspoons

espresso powder

2

large eggs

set out to room temperature

¾

cup

sugar

1

teaspoon

vanilla extract

½

teaspoon

peppermint extract

see notes

½

cup

sour cream

room temperature
Whipped Icing (optional you can use your favorite)
4

ounces

cream cheese

softened

½

teaspoon

peppermint extract

1½

cup

whipping cream

½

cup

powdered sugar

red food coloring

or icing coloring - optional
Instructions 
Line a cupcake baking sheet with cupcake liners.

Mix flour, cocoa, baking powder, baking soda and salt in a large mixing bowl. Stir well with a whisk and set aside.

In a small saucepan melt the butter and chocolate chips together. Stirring often. Set aside to cool slightly

Bring the water just to a boil and remove from heat. Stir in the espresso powder and set aside.

In a separate bowl mix eggs, sugar, vanilla extract, peppermint extract and sour cream. Mix well with the whisk.

Slowly stir in the butter/chocolate mix.

Pour the wet ingredients into the dry ingredients and stir with a whisk or mixer on low until it is incorporated. Add in the espresso and stir again just until incorporated.

Using a small scoop (we use a gravy ladle), scoop the batter evenly into the cupcake liners.

Bake at 350° F for about 18-21 minutes. Do not check on them until the 18 minute mark. They are done when a toothpick inserted in them comes out clean.

Allow them to sit out of oven for about 10 minutes before carefully removing them from pan and set them on a wire cooling rack. Allow to cool completely before adding the icing
Whipped Icing
In a bowl cream the cream cheese with a hand mixer or stand mixer on medium.

Add in the powdered sugar and mix until combined - start on low or sugar will go all over.

Pour in the whipping cream, peppermint extract and food coloring if using. Beat on medium until stiff peaks just start to form.

It is now ready to put on the cupcakes! If using this icing, your cupcakes need to be stored in the fridge.
Notes
Nutritional values are estimated.
If using salted butter, decrease salt to a quarter teaspoon.
We use half a teaspoon peppermint extract because the icing we make has peppermint in in it.  You can increase the peppermint to 3 quarters teaspoon if using an icing with mint in it.
Nutrition
Calories:
343
kcal
Carbohydrates:
30
g
Protein:
4
g
Fat:
24
g
Saturated Fat:
14
g
Cholesterol:
103
mg
Sodium:
302
mg
Potassium:
162
mg
Fiber:
2
g
Sugar:
21
g
Vitamin A:
851
IU
Vitamin C:
1
mg
Calcium:
70
mg
Iron:
1
mg