If you like ooey gooey fudge brownies, this is the recipe for you! They have a rich flavor with espresso powder and a fudge texture by adding some molasses. These will be a favorite!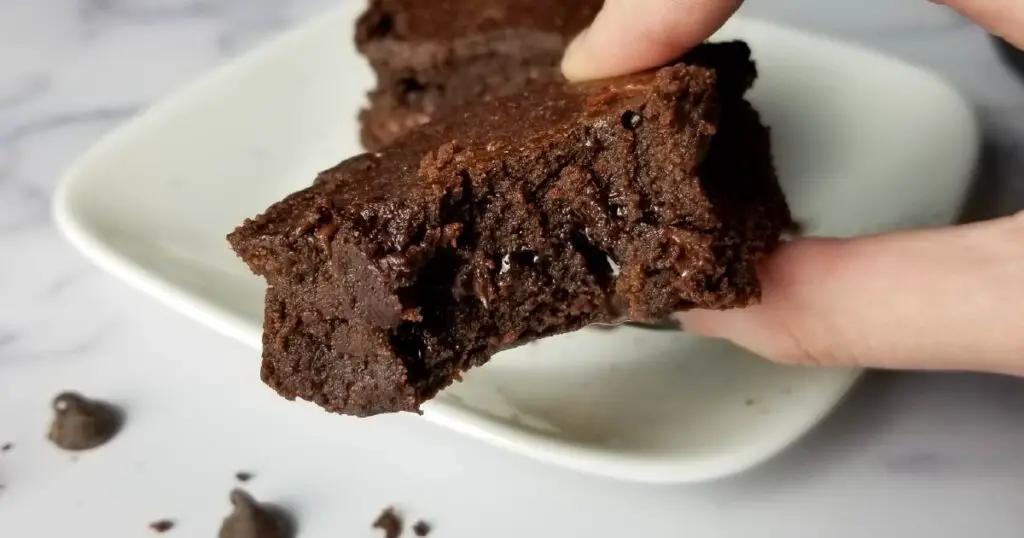 Some things I can create perfectly the first time and other things it takes a bit of tries. These homemade fudge brownies are one of those things that took a bit to perfect! In my defense, they were good most of the times before I perfected too but not this good!
A couple of times they turned out a little more cake like and one time they came out a bit too dry. Now I can confidently share this with you knowing that I get them ooey gooey fudgy every time!
These go great with some homemade ice cream by Barefeet in the Kitchen or even a cup of hazelnut latte too!
How to make fudge brownies
There are a couple of rules to follow - no worries there is no brownie jail if you goof haha! But you will end up with some cake like brownies if you do not follow these. They are not hard, trust me!
The rules for a perfect fudge brownie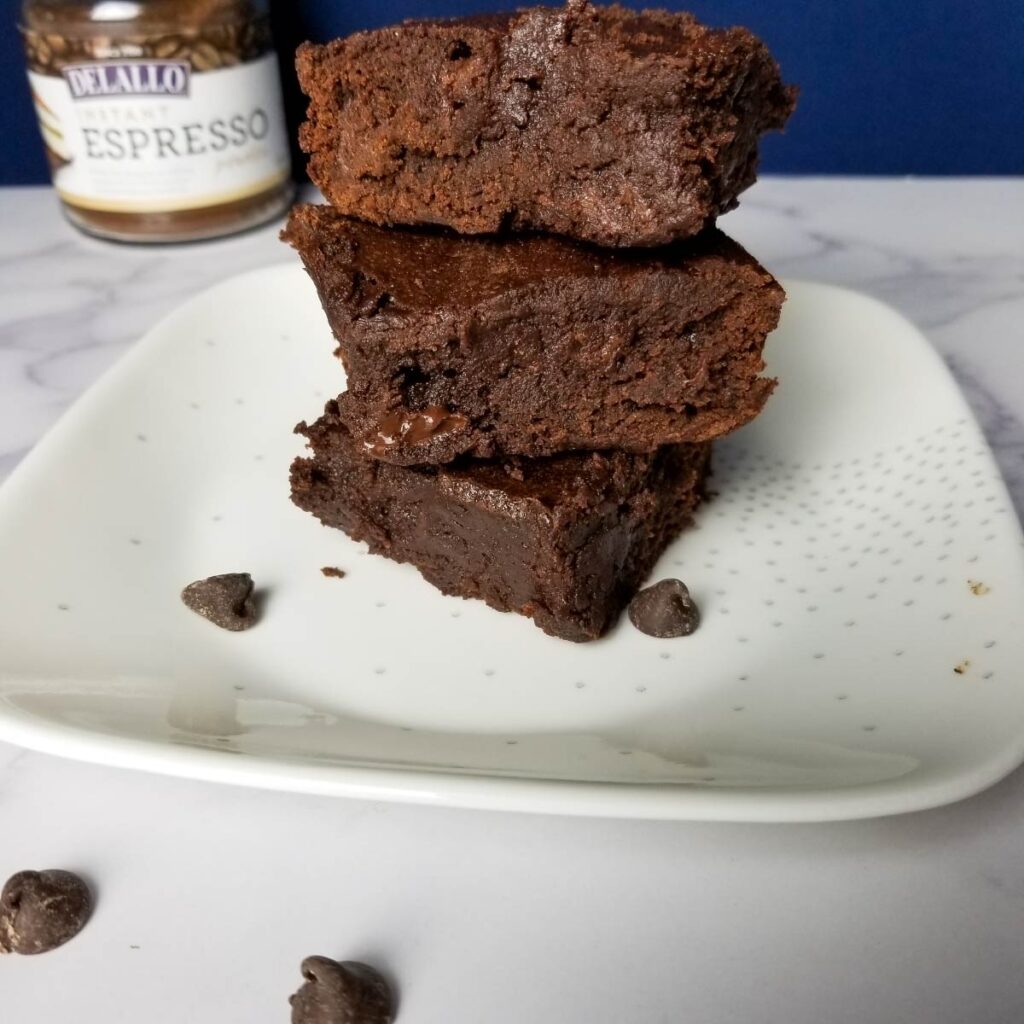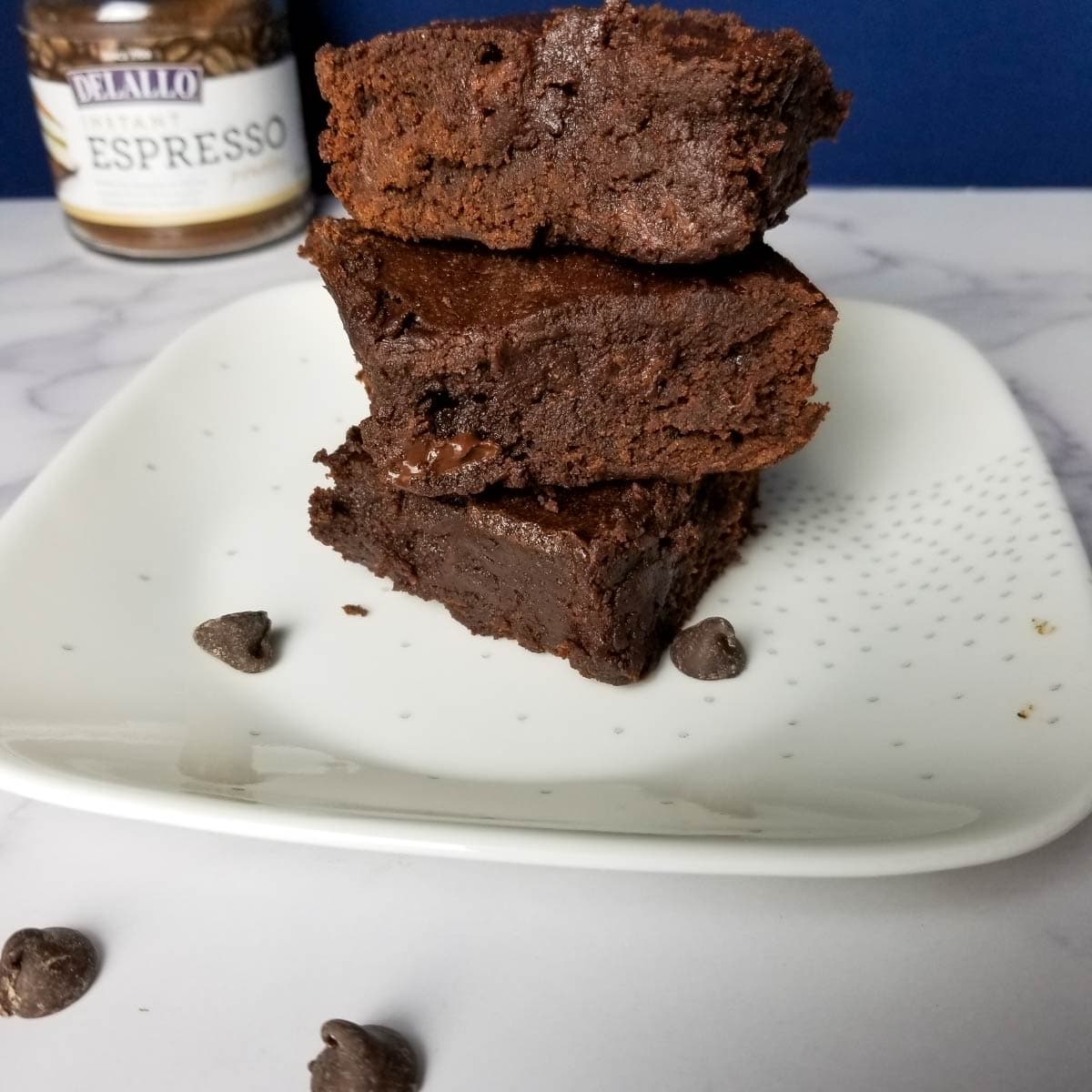 I will break down in simple rules here because who wants complicated when trying to make chocolate? Not me!
Plenty of fat - seriously you need to have enough fat in it or you will have cake brownies that are dry. We use unsalted butter here for our brownies. This is not the recipe to lower the amount of fat in.
Eggs are a very delicate ingredient that you need to add to prevent moisture loss, but you need to add carefully. They should be room temperature before adding them and you should lightly beaten before adding.
Carefully measure flour and cocoa by spooning them into your measuring cup and do not pack down. Do not scoop it out of the bag/package as that will pack it into the measuring cup and we don't want that. I spoon or pour it into the measuring cup and shake tap the cup a little bit to be sure it is still loosely in there a couple times while filling it. If it isn't level when you are done, use a knife to level it off.
Mix the dry ingredients well with a whisk BEFORE adding any wet ingredients. You can sift the cocoa and flour, but using a whisk with all the dry ingredients together works and is all that I do.
Once you are ready and you add the eggs, use a fork or a spatula to stir gently. Never over mix the batter after the eggs are added, you will add in air which will result in brownies that are not fudgy.
Do not over bake them. If you over bake them, they will be more like a cake brownie. Do not throw them out if they are over baked, they are edible but not fudgy.
Those are the main secrets I have learned along the way in my adventures on making these perfect. For the fat, we don't use processed oils so when baking we typically use unsalted butter. My 2 favorite oils are olive and and coconut oil - olive oil tastes funny in desserts to me and coconut oil is pretty high in saturated fat (almost double the amount in butter) so a cup is quite a bit!
Mixing the batter together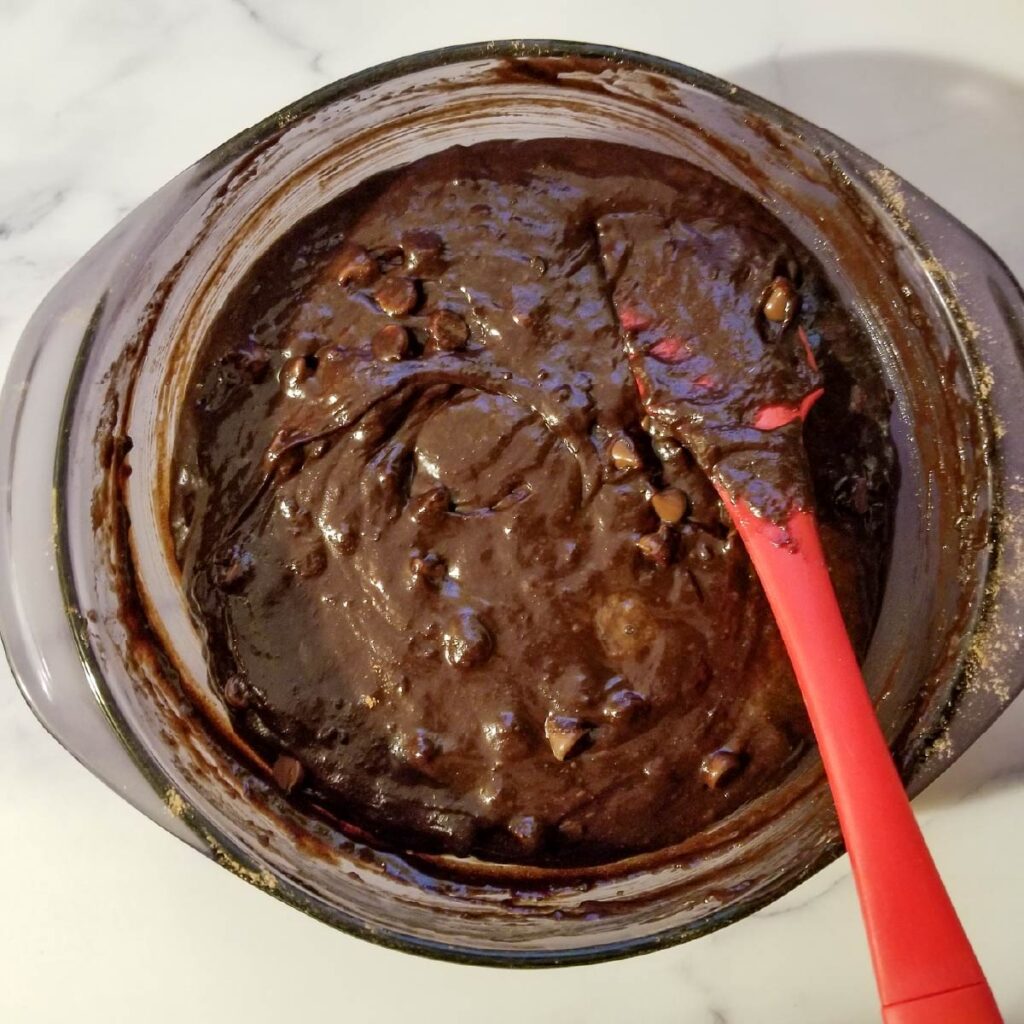 In this picture you will see how thick this batter is for fudge brownies. It should be thick so just spread it out across the pan evenly as it is.
Remove the eggs from the fridge about an hour before making this. Forgot to take the eggs out? Yup I have been there and got you covered. Put them in a bowl of slightly hot water (you don't want them to cook, just warm up slightly.) Let them sit for a few minutes and you will be good. Is it obvious I forget to take eggs out often?
Melt the butter in a pan just until melted. Butter burns quickly so be sure to keep an eye on it. Remove it from the heat and add in the molasses and allow it to cool for a couple minutes.
Whisk together the dry ingredients to make sure you get the lumps out of the flour and cocoa powder. You can stir as much as you need to here without any liquid.
Crack the room temperature eggs into a 4 cup measuring cup (or a small bowl.) I use the measuring cup so I can pour it into the dry ingredients without making a mess. Gently break the yolks with a fork and stir slowly. You want them to be lightly beaten without adding a lot of air to them. Add the vanilla extract to the eggs and then slowly stir in the melted butter that has cooled slightly.
Pour your egg mix into the dry ingredients and stir with a fork or a spatula. Do not over mix here, just until it is combined - small lumps are ok. Add in the chocolate chips (or baking chocolate works) and stir.
Pour into a 9x9 pan that has been lightly greased with oil.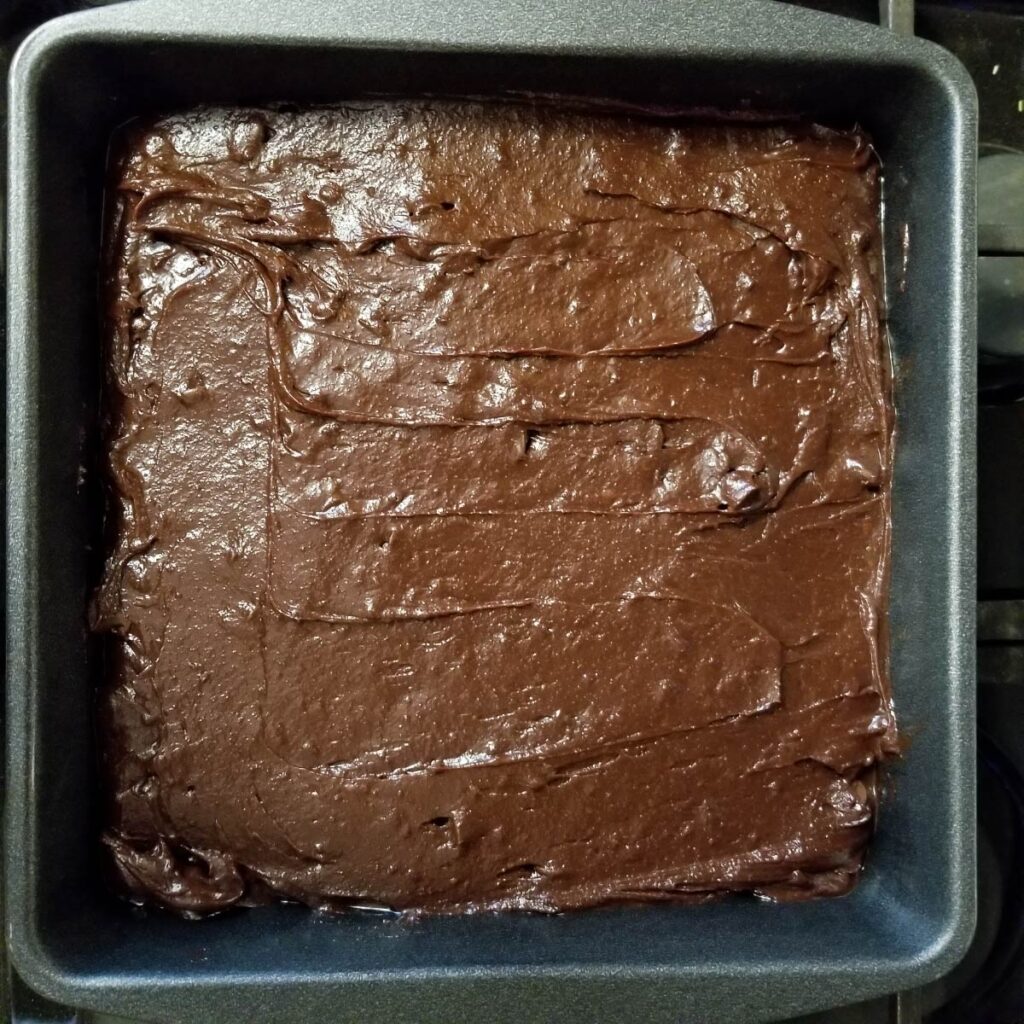 Bake at 350 for 25-30 minutes for fudge brownies. Allow to cool at least a little before serving - they are good warm but hot will burn you with the melted chocolate.
Frequently asked questions
Do I have to add molasses?
No, molasses are an option but I do recommend them. Molasses adds moisture and also enhances the chocolate flavor, but I have made them with and without. You may want to increase the sugar by a 2 tablespoons to make up the difference if you leave it out.
Do I have to add espresso powder?
No, this is also completely optional. I recommend adding espresso powder to chocolate desserts as it enhances the flavor. We even add it to our chocolate swirl cheesecake and hot chocolate too.
Why do eggs have to be room temperature?
The main reason here with this recipe is because if you add slightly cooled melted butter to cold eggs, your eggs will start to cook a little. If you bring them up a bit in temperature and cool the butter slightly, they work well together.
Can I use a different size pan?
Yes you can but depending on the size, you will get different results. If you use an 8x8, you will need to increase the cook time by about 5 minutes. If you use a 13x9, you will end up with thinner brownies but they will still taste good. You risk them being more cake like that thin. You would want to reduce the cook time to about 20 minutes.
Can I use baking chocolate instead of chocolate chips?
Yes, baking chocolate broken into small chunks will be just as good as chocolate chips. You could even leave the chips out if you choose, but we recommend them going in for nice melted chocolate pockets in your fudge brownies.
What altitude are you at?
We are at around 300 feet above sea level, so we are low altitude. You will need to adjust accordingly if you are at a high altitude. I wish I could answer the times here, but I have never lived at a high altitude - sorry!
Recipe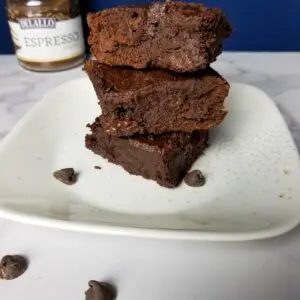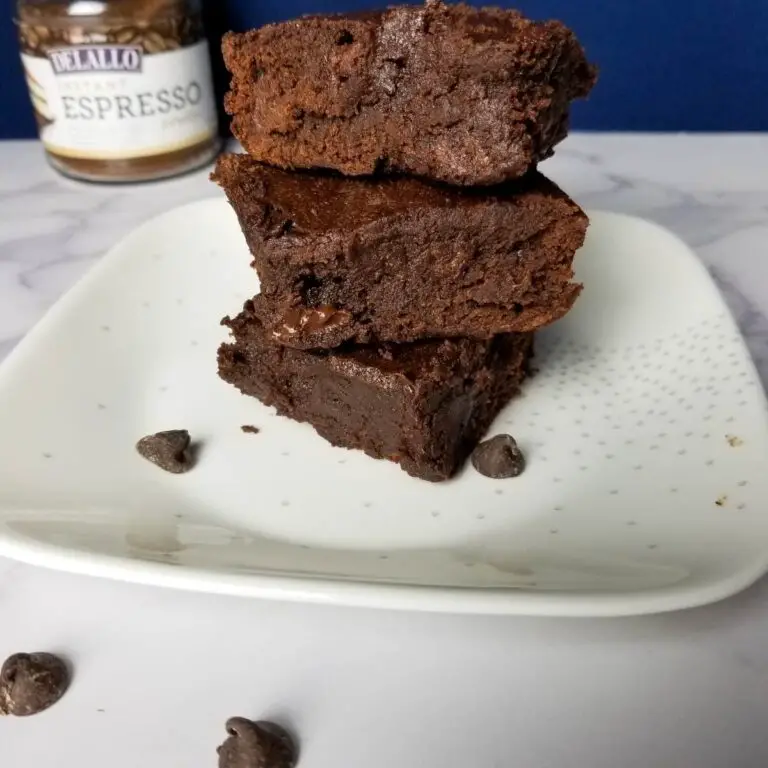 Ultimate Homemade Fudge Brownies
These homemade fudge brownies are full of flavor and easy to make with simple instructions. Ice cream is optional, but they do go well with it!
Ingredients  
1

cup

butter

unsalted

4

eggs

at room temperature

2

tsp

vanilla extract

¼

cup

molasses

optional, see notes

1¾

cup

sugar

1

cup

flour

loosely measured

1

cup

cocoa

unsweetened

½

tsp

salt

1

tsp

espresso powder

optional, see notes

½

cup

chocolate chips
Instructions 
Take eggs out of the fridge for about an hour before starting to bring to room temperature. Alternately, you can place them in a bowl of very warm (not too hot) water to warm up.

Preheat oven to 350°F after eggs are up to temperature.

Melt the butter in a pot on the stove, warming it until it is just melted. Remove from heat and add molasses. Set aside to cool slightly.

Mix sugar, cocoa powder, flour, espresso powder and salt together in a large mixing bowl. Whisk together to be sure to get the lumps out of cocoa and flour.

Crack eggs into a 4 cup measuring cup (or a small bowl.) Gently beat them lightly (see notes) and add the vanilla and stir gently.

Carefully add the cooled melted butter/molasses mix into the egg mix. Stir and pour into the dry ingredients.

Stir the brownie batter with a fork or spatula carefully until it is just completely combined. Small lumps are ok.

Stir in the chocolate chips and pour into a lightly oil greased 9x9 pan.

Bake for 25-30 minutes for fudgy brownies.

Allow to cool slightly before serving, the melted chocolate inside will be hot.
Notes
Nutritional values are estimated and so are the servings.  
Espresso powder is optional here but I add it to all of my baked chocolate goods, it enhances the flavor of the chocolate.  It isn't required if you do not have it, you can leave it out.
Molasses are recommended as it helps the brownies maintain moisture and it also helps to enhance the flavor.  It is optional tho.
I go into further detail in the post above, but eggs should only be gently stirred with a fork to be just barely mixed.  Do not whisk the eggs as that adds air and it will add air to your brownies, resulting in cake like brownies.
Nutrition
Calories:
288
kcal
Carbohydrates:
39
g
Protein:
4
g
Fat:
15
g
Saturated Fat:
9
g
Cholesterol:
72
mg
Sodium:
197
mg
Potassium:
188
mg
Fiber:
2
g
Sugar:
30
g
Vitamin A:
427
IU
Calcium:
35
mg
Iron:
2
mg