Apple bread with crumb topping (a streusel topping) is the ultimate comfort food for a cooler day! We use buttermilk in it, but show you how to make your own butter and buttermilk with just a pint of heavy cream. It is easy (and fun) to do.
In case you haven't noticed I have been anticipating fall's arrival! I have been creating some tasty fall treats here and I was told that if I don't stop that the whole house is going to be gaining too much weight. I originally bought apples for pancakes but I decided to make this amazing bread instead.
If you happened to miss my other recent fall treats, pumpkin whipped cream and no bake pumpkin cheesecake were my recent creations. But enough about them, it is apple time!
Making apple bread with crumb topping
The crumb topping is just a streusel topping but not everybody knows what streusel is so I figured crumb was a bit easier. This is easy to make and is a nice dense bread.
I do recommend buttermilk for it also. Now since it calls for unsalted butter and buttermilk, you can use a pint of whipping cream/heavy cream and make your own butter. The liquid left behind is buttermilk and will be the exact amount you need for this. If you do it this way, you will have about 1 extra tablespoon of butter left.
Making butter and buttermilk (optional)
Ok so you can buy buttermilk and you can buy unsalted butter as well, but you can make your own as I mentioned above. It will take 1 pint (2 cups) of heavy cream/whipping cream to make 8 tablespoons of butter and a cup of buttermilk. Many methods you can use. I like the good old fashioned shaking it in a jar method because it gives me a good workout - and is less messy. This is also something the kids would love to help you with. They can pass the jar around taking turns shaking it 🙂
Put the cream in a jar with a lid on tight. Shake well - this takes time. You will hear liquid moving and then it will stop making a sound. At that point you have whipped cream. Keep shaking even though you will feel like you are not getting anywhere (you really are so no worries.) You know you are done when you have a lump moving around inside liquid. The lump is the butter and the liquid is your buttermilk. Drain out the butter milk into a bowl. I use the spatula to press butter against the jar to get out as much of it as I can. If you were storing the butter, you would drain better but you are using the buttermilk too so we are good here.
You can make butter with a blender, hand mixer or stand mixer as well. Do be careful if using a mixer I have heard and can imagine it gets messy once it separates. First you will have whipped cream and then after whipping long enough, you will have butter and buttermilk. I haven't tried it that way (fear of making a huge mess haha!)
Making the batter
This is quite simple and if you used the above method for butter and buttermilk, your butter will be soft enough already! If not you would have to soften your butter to room temperature.
Cream the butter, sugar and brown sugar in a mixing bowl. I used my hand mixer but you can definitely use your stand mixer as well. Now mix in the egg and vanilla extract. Add in the buttermilk and give it a quick mix. You are done with the mixer now.
In a separate bowl mix together flour, cinnamon, salt and baking powder. Pour this mix into the wet mix and stir well to combine. Stir this with a spoon, it will mix easily. Core, peel and chop up your apples to fold into the mix. I don't cut them early due to browning. The batter will be thick.
Once they are folded into mix, spoon into a slightly oiled bread pan. Mine is 9.25x5.25 but really a 9x5 or 9.5x5.5 would be ok.
Make streusel/crumb topping
The streusel topping is just butter, quick oats, cinnamon, brown sugar and flour. Make sure your butter is soft to room temperature and mix it with the brown sugar. Add in the flour and cinnamon, followed by the oats. I used my hands to crumble it on top of the bread batter.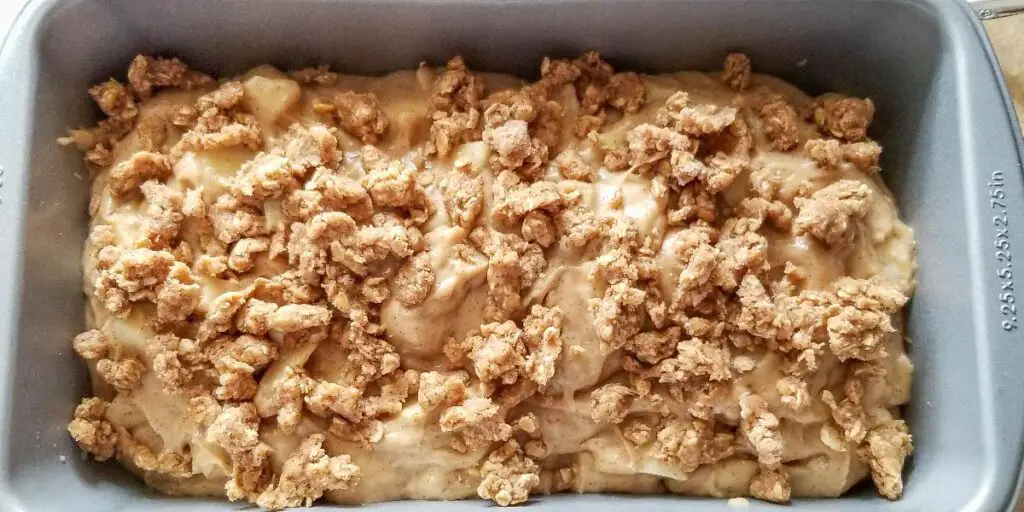 Bake at 350 for 50-60 minutes, until a toothpick comes out clean when inserted into the middle. Allow to cool before removing from pan and cutting.
What is your favorite fall treat? Sometimes a nice hazelnut latte goes well with apple bread!
Apple Bread with Crumb Topping
This apple bread is a dense and delicious bread to have on a fall day. It is easy to make and will please everybody.
Ingredients
For the Batter
8

tbsp

unsalted butter

see notes

½

cup

sugar

⅓

cup

brown sugar

packed

1

egg

½

tsp

vanilla extract

1

cup

buttermilk

see notes

2

cups

flour

2

tsp

baking powder

2

tsp

cinnamon

¼

tsp

salt

2

apples

granny smith the best
For the Streusel / Crumb Topping (optional)
2

tbsp

butter

1

tbsp

brown sugar

2

tbsp

flour

½

tsp

cinnamon

¼

cup

quick rolled oats
Instructions
Soften butter for both the batter and the streusel to room temperature. Preheat oven to 350° F
For the Batter - using only the batter ingredients
Mix the flour, salt, cinnamon and baking powder in a bowl and set aside.

In a mixing bowl cream the butter, sugar and brown sugar.

Add in the egg and vanilla extract, mix with hand or stand mixer for about 30 seconds.

Add in the buttermilk and carefully give it a quick mix. You are now done with your mixer.

Pour the dry ingredients into the butter mix and stir well to incorporate. The batter will be thick.

Core, peel and chop the apples. I don't do this early, I wait until this step to cut them.

Gently fold the apples into the batter and pour it into a 9.25x5.25 bread pan that is slightly oiled/greased.
Making the Streusel / Crumb Topping
With a fork mash the butter and brown sugar together. Be sure it is mixed well.

Add in the cinnamon, flour and oats. Mix well, it will be thick and crumbly.

Sprinkle the topping over the batter in the bread pan. I used my fingers to break it up a little bit.
Baking the Bread
Place the bread in the center of the oven and bake for about 50-60 minutes. Oven times will vary but a toothpick inserted in the middle of the bread should come out clean when done.

Allow to cool completely before removing from pan.
Notes
Nutritional values are estimated.
Buttermilk really is recommended here, I have not made it any other way.  If you are interested in making your own butter and buttermilk! It is easy and just takes a pint of heavy cream.  This will make about 8 tablespoons of butter and 1 cup of buttermilk.
You can either whip the heavy cream in a mixer or even use a hand mixer until it separates into butter and buttermilk, or you can shake it in a jar until it separates.  Shaking it is a lot of work, but is a nice workout and kids have fun shaking it and passing it around.
Nutrition
Calories:
400
kcal
Carbohydrates:
59
g
Protein:
6
g
Fat:
17
g
Saturated Fat:
10
g
Cholesterol:
62
mg
Sodium:
144
mg
Potassium:
278
mg
Fiber:
3
g
Sugar:
29
g
Vitamin A:
547
IU
Vitamin C:
2
mg
Calcium:
118
mg
Iron:
2
mg