Homemade apple pie is something that brings the family together at the table. It is a traditional dessert that is loved by many. Ours is a bit sweeter then some recipes, but probably not quite as sweet as others. You can easily adjust the sweetness with the apples you use, you can use your favorites!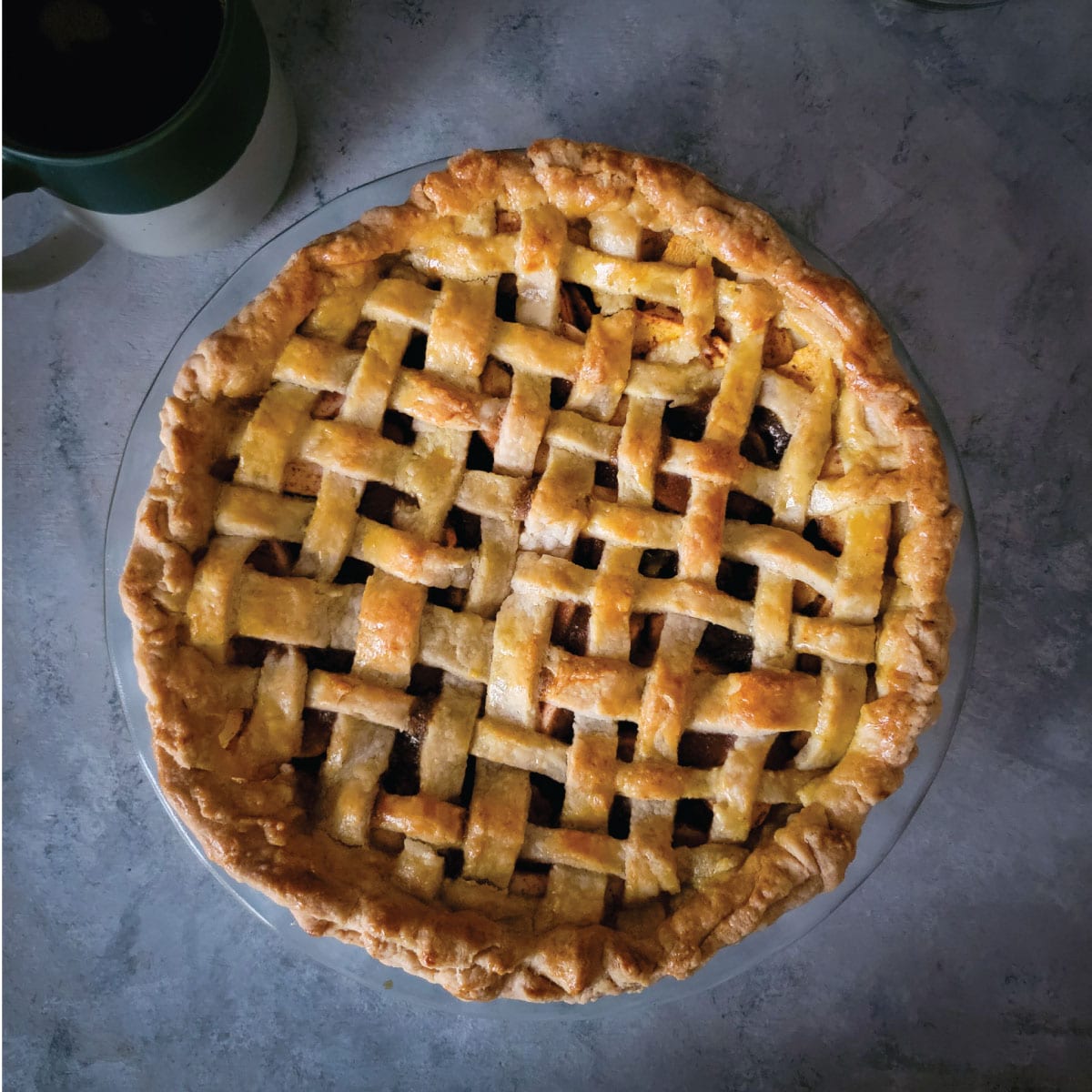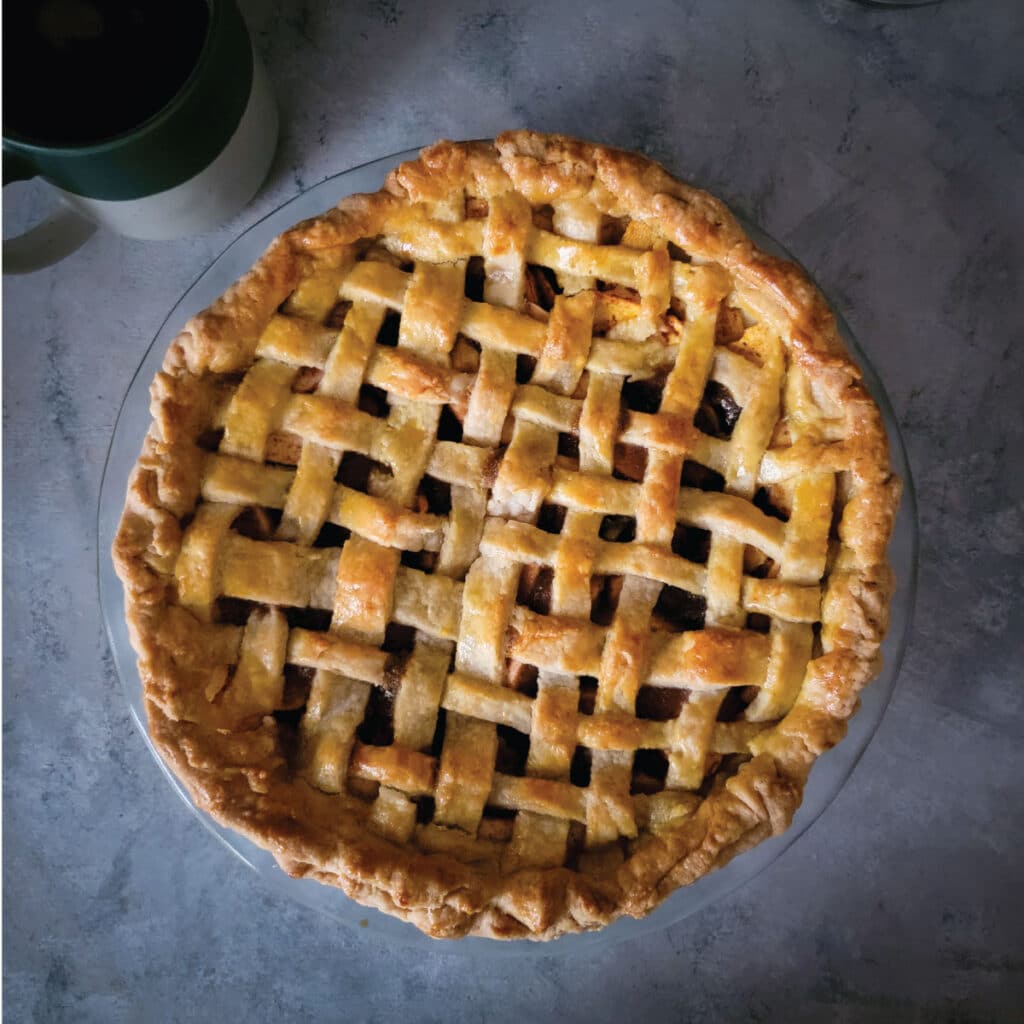 I can't think of many desserts I would go to before apple pie to be honest. Tho I do have to admit that pumpkin pie is a close tie! Fortunately for me we make them both on Thanksgiving so I get the best of both worlds there.
Other great desserts
Making homemade apple pie
It is actually very easy, nothing complicated about it. The hardest part to me is rolling out the pie crust, but that isn't too hard either.
The crust
There are many pie crust recipes out there and you can even buy the premade ones that come in a roll, this is up to you. We like to use the Perfect Pie Crust by Simply Recipes. It turns out perfect every time.
We almost always use lattice for our top crust. I like the look of it and it is easy to make it look a little fancier - and it is easier for when you struggle getting the pie crust rolled out perfect. Yes that is me, I am never perfect with my pie crust but I am ok with that!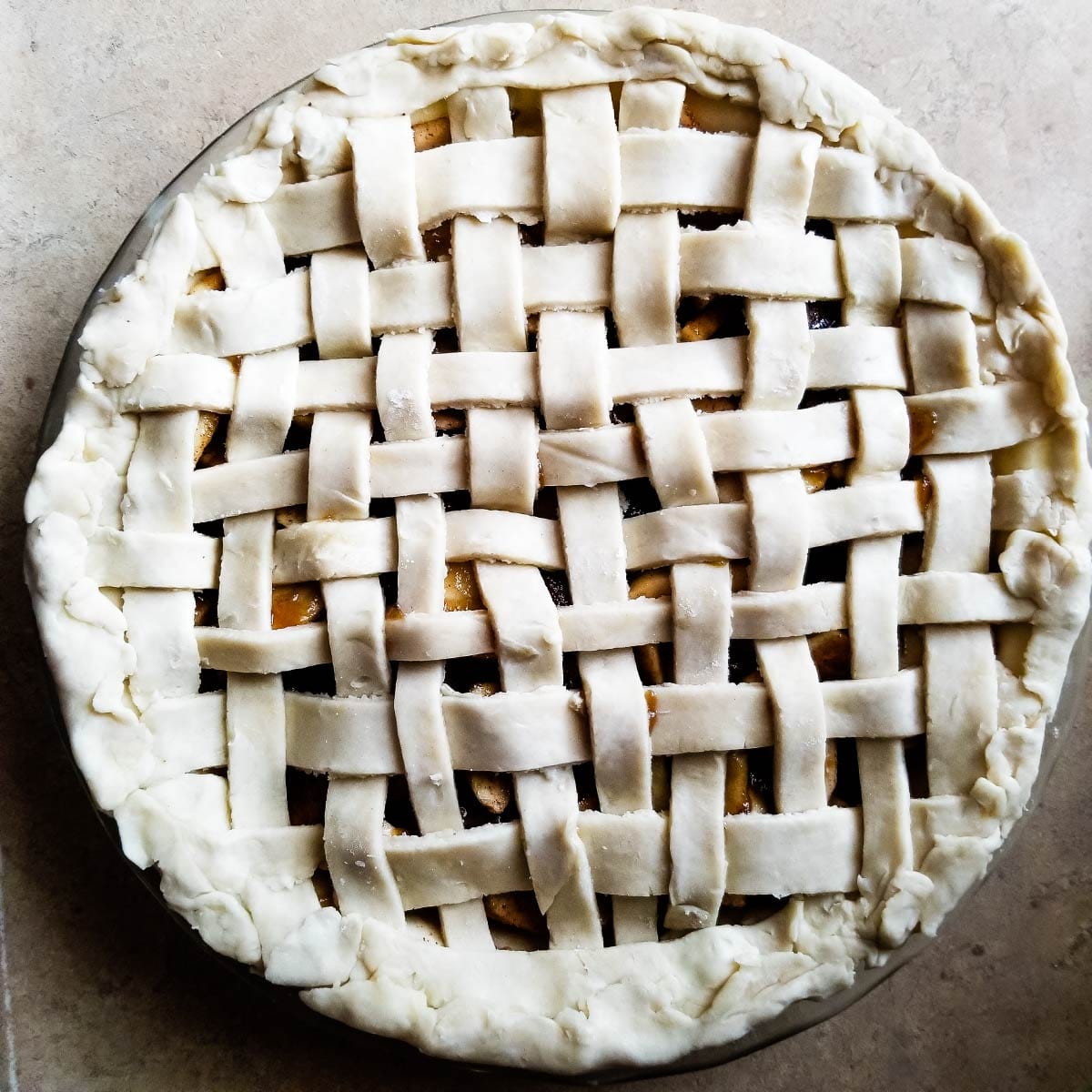 What apples do we use?
Honestly we use different apple all the time to try new things, but the apples you use will determine how sweet your pie is. Our absolute favorite are honey crisp - they are sweet but oh so good! Sadly they are rarely on sale and a more expensive apple, but they are worth it to us. Honey crisp will make a sweeter pie.
Granny smith apples are perfect if you don't like your pie quite as sweet. They have a more tart compared to other apples. They are good and common for pies, but I don't often get them.
Macintosh are good and sweeter then granny smith when baked, but not as sweet as others. They are a softer apple so you will notice that they will cook a bit faster, but they are still good too. I have used them many times and they are great in apple crisp too.
Red delicious is a little sweeter then macintosh, but not as sweet as some of the others. Your apple pie will be a little sweeter if you use these. They are good but I don't get them much and I don't cook with them usually either. They are just not our favorite apple here.
Gala are a bit sweeter then all I mentioned except for the honey crisp, the honey crisp is still the sweetest on the list here! Gala are good, I use them for a lot of things.
You can play around with your favorites, these are the ones we have used.
The pie dish
For this recipe, we used a 9.5 inch glass pie dish. I love my fancier dish (it was a gift and I love it), but it is not a very common size so I do make this in a smaller pie dish so everybody can make it.
My favorite is an 11 inch and it's hard to find pie crust recipes that fit it and it isn't as common of a size either.
Some important notes
You want to make sure the apples are slightly heaping in the pie dish. As they cook, they will sink down in and you will have a sunken in pie if you don't put enough in. You will use between 6-7 cups to get them heaping. If using a 9 inch pie dish, you will use about 6cups.
Be sure to put foil down on the rack below your pie in the oven. If you have an old cookie or baking sheet you don't use for anything but messy things, you can set the pie dish on that to bake. There is a good possibility that this will ooze a little bit and you don't want a mess in your oven.
Do not leave out the lemon juice on the apples. It helps to keep them from getting brown and it will not make your pie sour, I promise!
I use a fork and gently poke a couple holes in the bottom crust before putting the apples in. If you are not doing lattice for the top, you will need to put a couple slits in the top crust. You can do 3 or 4 slits from the center out that are about 2 inches long. As your apple pie is cooking, the steam will need to vent through the slits in the crust.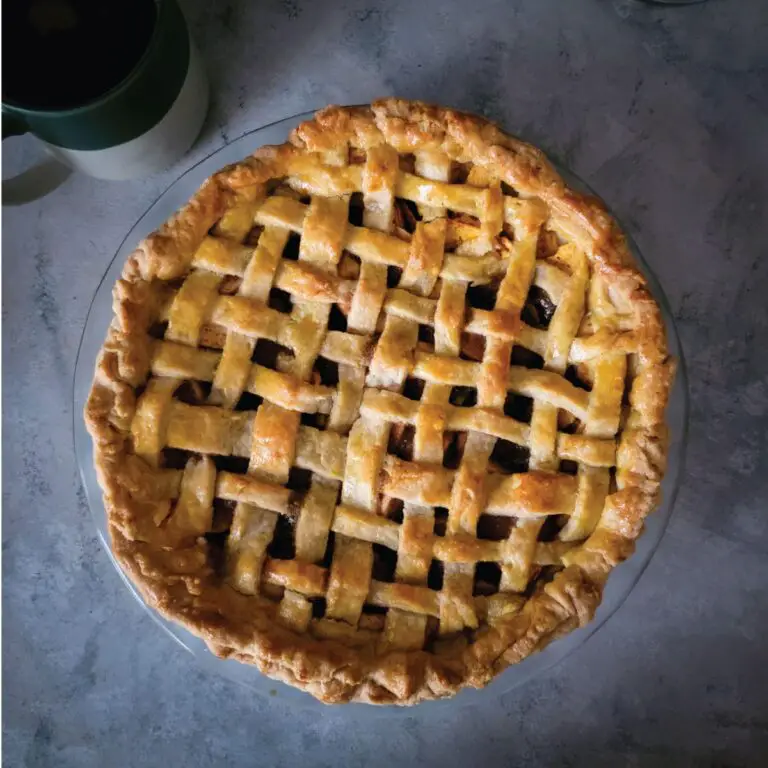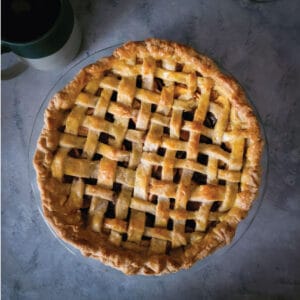 Homemade Apple Pie
Homemade apple pie is a favorite, especially around the holidays. This is a sweet pie that can be made with your favorite apples!
Ingredients
1

double crust for 10 inch pie

see notes for our favorite

7

cups

apples

peeled and sliced, see notes

1

TBSP

lemon juice

1

TBSP

sugar

1

tsp

cinnamon
Sauce for apple pie
4

TBSP

butter

we use unsalted, but salted will work too

2

TBSP

flour

2

TBSP

water

½

cup

dark brown sugar

packed
Instructions
Peel and slice the apples. Without the pie crust, place them in the pie dish until they are slightly heaping. Then remove and place in a bowl. - this step is to be sure you have enough apples for a full pie.

With the apples in a bowl, evenly pour the lemon juice across the top of them. Sprinkle the granulated sugar and cinnamon on top and mix to coat the apples. Set aside.

Place the bottom crust into the bottom of the pie dish. Using a fork, poke a couple holes in the bottom of the crust.

Dump apples into the crust and set aside while you make the sauce.
Making the sauce
Melt the butter in a small sauce pan over medium heat. Add the flour and stir constantly for 1 minute.

Add the water in 1 tablespoon at a time while stirring. It will thicken quickly, only cook for about 30 seconds before adding in the brown sugar.

Add in the brown sugar and stir frequently. Cook for 1 minute and remove from heat.
Finishing the pie
Carefully spoon the sauce over the apples while it is still hot. Try to spoon it evenly, but it will distribute while baking.

Place the top crust over the apples. Either use lattice or be sure to put slits in the top crust so steam can vent. You can put 4 slits from the center out (about 2 inches long) if not using lattice.

Optional - if you want a shiny crust on top use an egg wash. Mix 1 egg with 1 tablespoon water. Carefully spread a thin layer on top of the pie before baking.

Either place a piece of foil on the rack below your pie or place your pie on an old baking sheet to prevent a mess in the oven.

Bake in middle of oven at 425°F for 10 minutes and reduce temperature to 350°F. Continue baking for 35-45 minutes. It will be bubbly, your apples will be soft and the crust should be browning.
Notes
Nutritional values and serving sizes are estimated. 
We are at a low altitude which might affect the way baked goods turn out for people at higher altitudes.  You may need to adjust bake times for your altitude.
For the apples, you want the apples to be slightly heaping in the pie dish.  Depending on how big the apples and the slices are, it should be between 6-7 cups of apple slices.  You can use your favorite apples.  The sweeter the apple you use, the sweeter your pie will be.  
We like to use the perfect pie crust from Simply Recipes - it is for the double crust.  You can use your favorite or even a store bought crust.  The store bought crust will not be quite as big as the homemade, but you can definitely make it work still.
Nutrition
Calories:
438
kcal
Carbohydrates:
58
g
Protein:
4
g
Fat:
22
g
Saturated Fat:
8
g
Cholesterol:
15
mg
Sodium:
255
mg
Potassium:
187
mg
Fiber:
4
g
Sugar:
26
g
Vitamin A:
236
IU
Vitamin C:
6
mg
Calcium:
33
mg
Iron:
2
mg