Instant Pot Mashed Potatoes
This post may contain affiliate links which means that I may earn a small commission at no extra charge to you if you purchase something from one of my links. For more information please see our affiliate disclosure.
We love mashed potatoes here. Did I say love them? Yes ok just wanted to be sure that we are on the same page! I make them with a lot of meals even tho they were a bit of work. You have the boiling, making sure they are fully cooked and the draining of the potatoes. Ok, they are worth it but what if I told you that you could skip all of the above? Wouldn't that be amazing? You betcha it would! That is why I only make Instant Pot mashed potatoes now.
Want to make your holiday dinner easier? These go perfect with prime rib! When I make these with beef, I use low sodium beef broth instead of water but the choice is yours.
Are you ready for easy?
Making Instant Pot Mashed Potatoes
There is so little to be done here and you can actually time the rest of your meal out. After the first time of making them, you will know the exact time. I will give you an estimate but it is possible your pressure build time might vary slightly from mine.
Prepping the Potatoes
I have used a few different potatoes here and the best for mashed is the russet potato. I love red skin potatoes and when I make them mashed I leave the skins on, but sometimes they are waxy when mashed. Russet will be your best texture.
Peel and cut the potatoes. I added the jalapeno to the picture so you can judge the size of mine: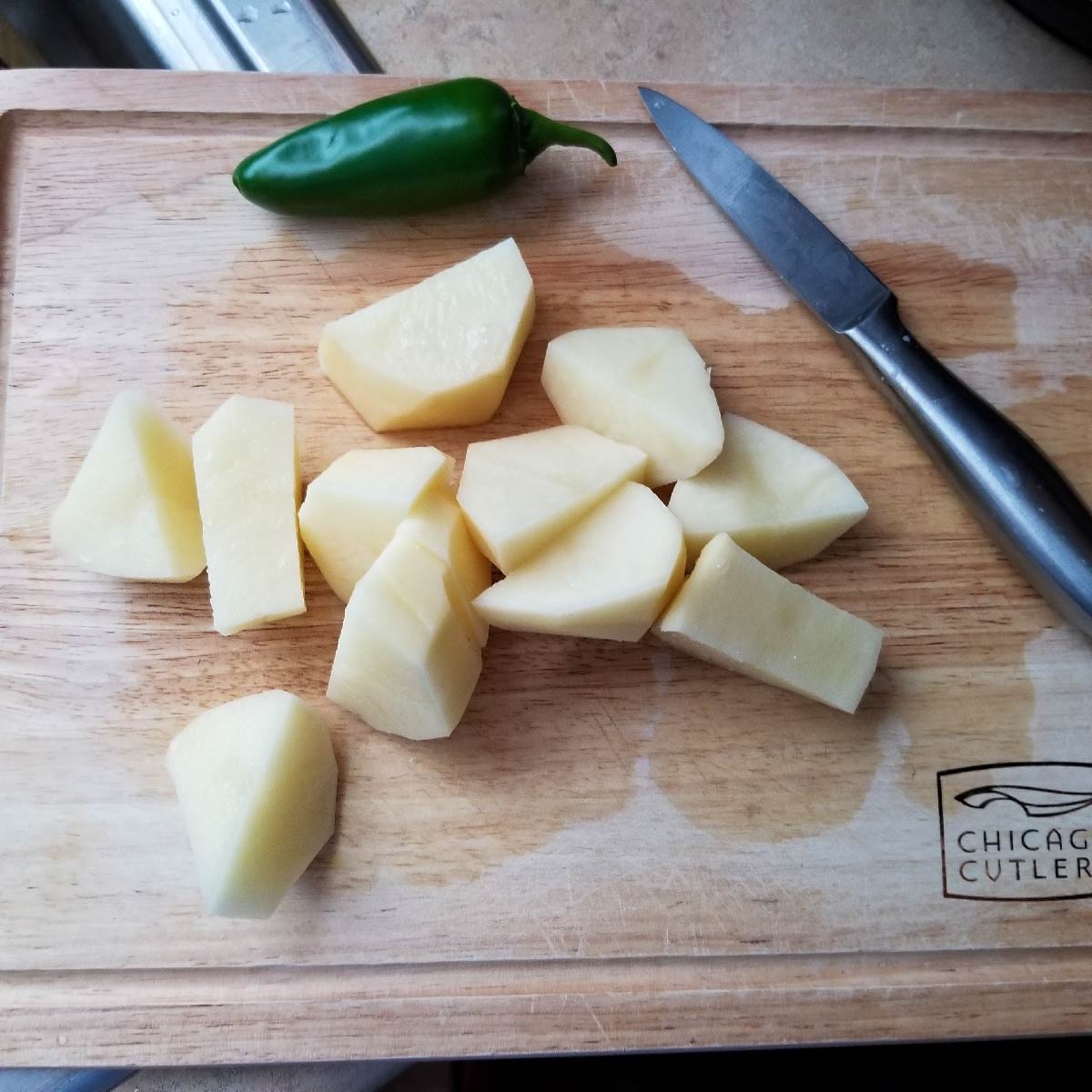 Mine are not all perfectly sized but about the same size. If you decide to make red skin potatoes, you can leave the skins on.
Cooking the Potatoes
This is the easiest part. Add potatoes to the Instant Pot's inner pot. Place directly in, do not use a rack. Add your liquid – either broth or water. It is up to you if you want to add butter now or wait – we usually add it after we cook them but that is just habit from years of making mashed potatoes on the stove.
We like to add garlic so we add chopped garlic now but that is optional. If you want to add other spices, you can do that now too. Place the lid on and set the vent to sealing. Press pressure cook/manual (depending on the model Instant Pot you have) and set the time to 6 minutes.
Once it is done I do a slow release. A slow release is shown in this video and takes a little patience to find the right spot and once you get it, it will take about 5 minutes to release the pressure. Less mess this way too for when you have a lot going on. You will see that I am toggling back and forth until it stays at the right spot to release just a little pressure at a time.
Once the pin drops, carefully remove the lid. You will see here that all the liquid is absorbed so there is no draining required – yay 🙂 They actually look perfect when you first pop the lid, I was trying to stir it a little to show no liquid so they started to break apart.
Mashing the Potatoes
I keep the potatoes in the inner pot of the Instant Pot and mash them right in the pot. Add in the butter (if you didn't already) and milk. You can mash or whip them in there – whipping would be using a hand mixer. Transfer to a serving bowl and enjoy!
You might find you want to add just a little more milk or butter, it is a starting point. If we are making it with gravy, we use 4 tablespoons of each. If no gravy, we use about 5 tablespoons of each.
See how easy Instant Pot mashed potatoes are! What are you going to make with them?
Instant Pot Mashed Potatoes
The Instant Pot mashed potatoes are so easy to make that you will not want to make them any other way! No boiling or draining the potatoes.
Print
Pin
Rate
Pressure build and release:
15
minutes
Ingredients
3

lbs

russet potatoes

½

cup

water

or broth

4

tbsp

butter

4

tbsp

milk
Instructions
Please see notes before making. Peel and cut potatoes into chunks. I typically cut them in half lengthwise and then 2 or 3 cuts down along the potato – depending on the size.

Add the potatoes and water/broth. Place lid on and set the vent to sealing. Hit pressure cook/manual button and set for 6 minutes. It should take about 10 minutes to build pressure.

When finished do a slow manual release. Please see the video above if you are unsure. You have to play with the valve carefully to get it to release a little pressure steadily, but you can walk away while it is doing it. It just takes practice. Alternatively, you can wait 5 minutes and do a quick release.

Hit cancel on your Instant Pot. Add the butter and the milk to the potatoes and use a potato masher or a hand mixer (if you like them whipped) to mash them in the inner pot.

Potatoes are ready to go in the serving dish.
Notes
With 4 tbsp of each milk and butter, they will be a little bit thick.  This is perfect if you are serving with gravy.  You might want to add more of either or both to reach desired consistency.
We add minced garlic with the potatoes and the broth/water before cooking and sometimes other herbs.  If you want to add spices to it, you can do so before pressure cooking.
If you are making 5 pounds please do not double the amount of water.  You will use 2/3 cup water or broth and cook for the same time.  You will have just a little bit of water in the bottom (no draining just mash it right in with the milk and butter.)  This is normal and will not be any problem with end result.  You might want to add more butter and milk with 5 pounds, but again that is preference.
Nutrition
Calories:
253
kcal
|
Carbohydrates:
41
g
|
Protein:
5
g
|
Fat:
8
g
|
Saturated Fat:
5
g
|
Cholesterol:
21
mg
|
Sodium:
84
mg
|
Potassium:
959
mg
|
Fiber:
3
g
|
Sugar:
2
g
|
Vitamin A:
253
IU
|
Vitamin C:
13
mg
|
Calcium:
43
mg
|
Iron:
2
mg