Are you looking for an easy way to make mashed potatoes without having to drain the potatoes? If so, you'll love this easy no drain Instant Pot mashed potatoes recipe! With just a few simple ingredients, you can have perfect creamy mashed potatoes in no time. Plus, there's no need to drain the potatoes, so it's a quick and easy recipe that anyone can make.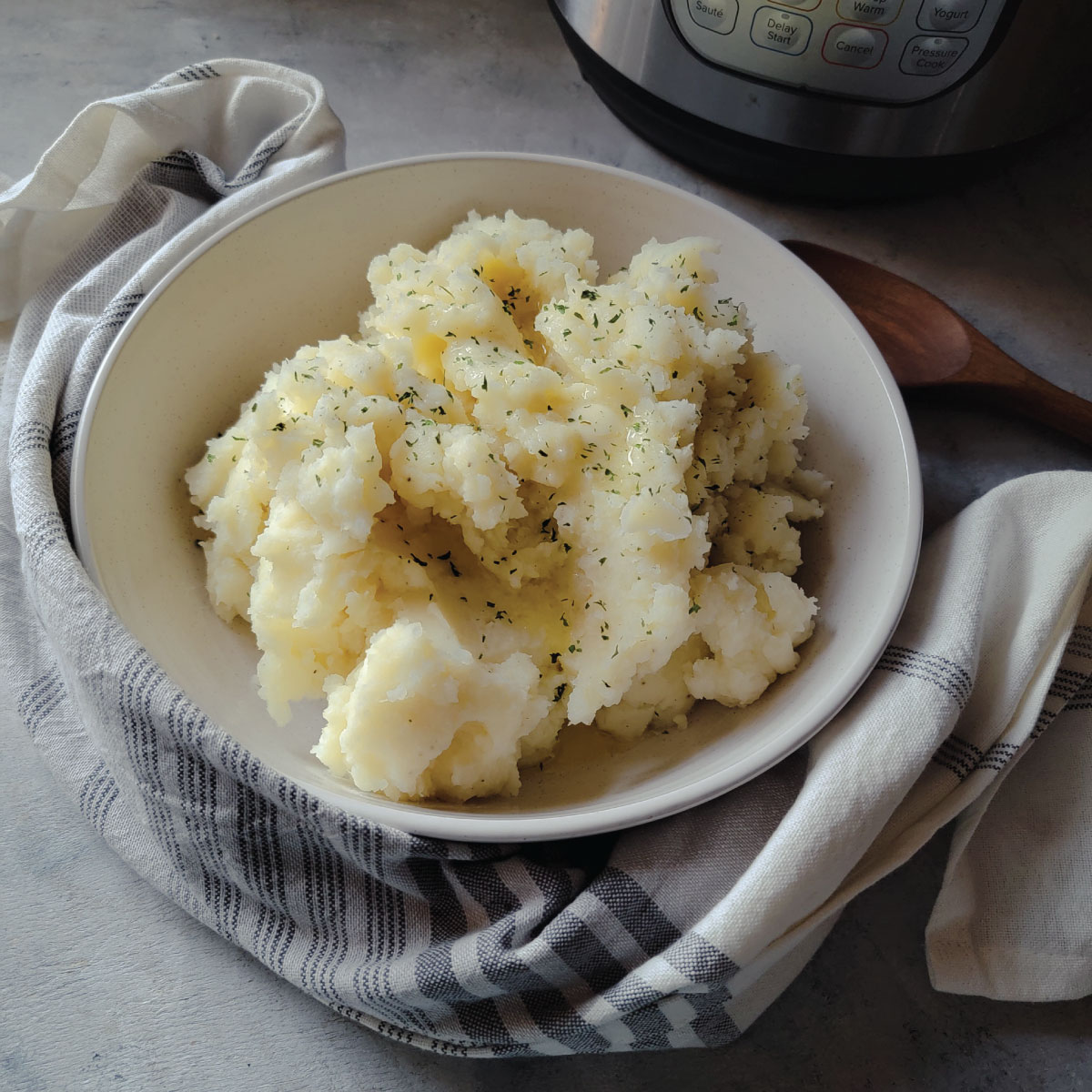 We love potatoes here and serve them with many meals including our cheese stuffed meatloaf. They are one of our favorite vegetables to make as a side dish. Seriously, I buy potatoes 10 pounds at a time and make sure we never run out.
While we love all potato dishes, these no drain Instant Pot mashed potatoes are ones we make a lot. Why? Because they are super easy! And leftovers taste great in the loaded mashed potato casserole.
Jump to:
Ingredients for no drain Instant Pot mashed potatoes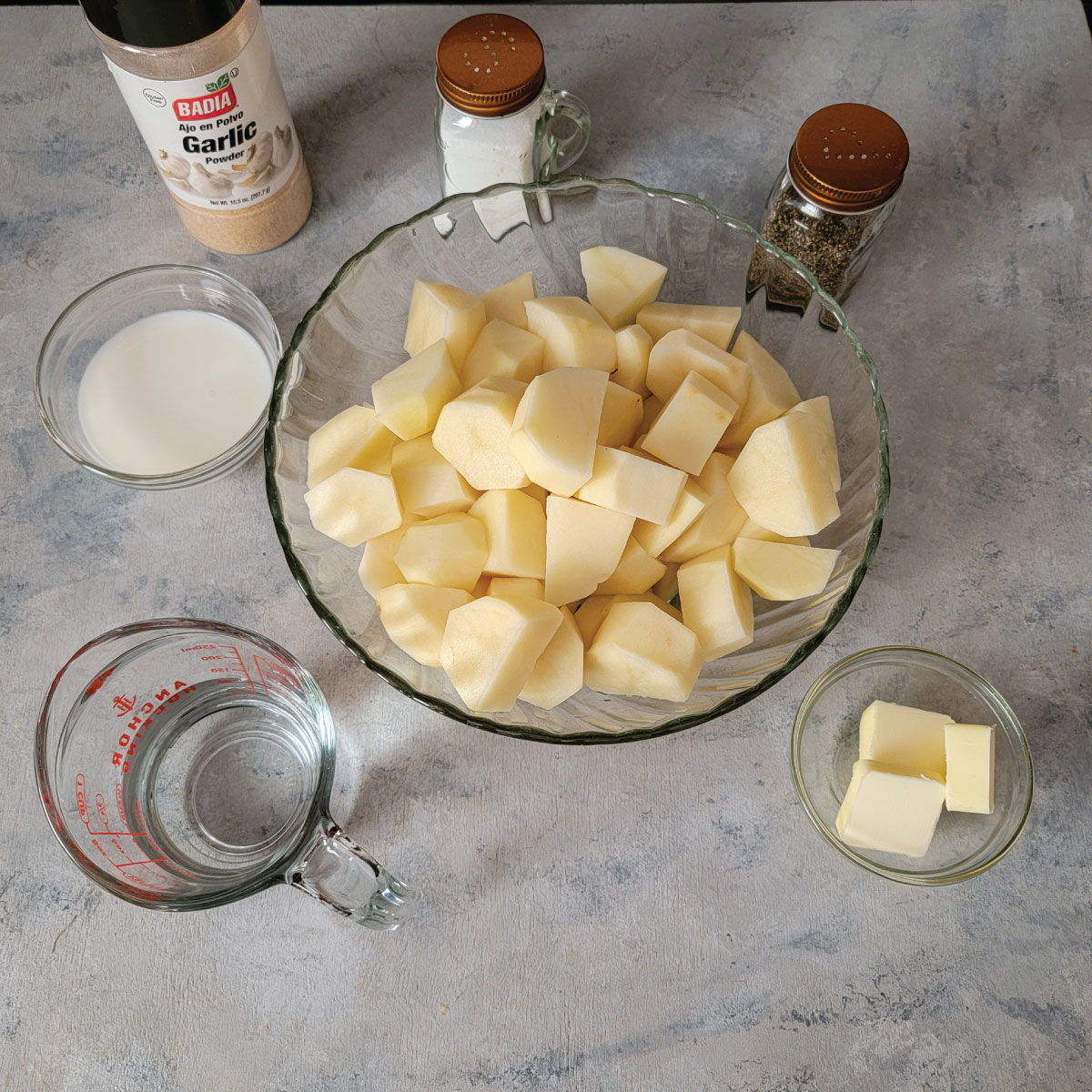 We keep the ingredients simple as this is a basic no drain Instant Pot mashed potato recipe.
Potatoes - I recommend russets anytime you are mashing potatoes. You can use any for these no drain Instant Pot mashed potatoes, but russets have the best texture. I have used red skin potatoes too which are delicious, but they often give mashed potatoes a waxy texture.
Milk - This is actually optional for mashing, you can use water or broth instead of milk. You can prepare these with alternatives, see below for vegan and lactose free.
Butter - We use salted butter, but you can use a butter substitute here. The butter is mostly for flavor and only slightly for texture.
Water - You can use broth in it's place, but you need a thin no dairy liquid for cooking.
Garlic - This is optional for if you want to make Instant Pot garlic mashed potatoes. You can use garlic powder or minced garlic. If you are using fresh chopped/minced garlic, you want to add it before cooking to give it the flavor throughout. Garlic powder can be added before or after cooking, we add it before.
Salt and pepper - This is to taste. Add after cooking and add the amount you need while mashing.
Some great holiday main dishes to serve with mashed potatoes!
Many things go great with no drain Instant Pot mashed potatoes, but here are some holiday favorites!
Making no drain Instant Pot mashed potatoes
There is so little to be done here and you can actually time the rest of your meal out. After the first time of making them, you will know the exact time. I will give you an estimate but it is possible your pressure build time might vary slightly from mine.
We use a 6 quart for this but you can use an 8 quart as well. Increase the water to 2 thirds in the 8 quart so there is enough water on the bottom. The 8 quart does require more liquid and might produce just a little more liquid when it comes to mashing (not a lot.) Adjust the amount of milk to your preferred consistency for mashed potatoes.
You always want enough liquid to cover the bottom of the Instant Pot to prevent the dreaded burn warning.
Prepping the potatoes
I have used a few different potatoes here and the best for no drain mashed potatoes is the russet potato. I love red skin potatoes and when I make them mashed I leave the skins on, but they are waxy when mashed. Russet will be your best texture.
Peel and cut the potatoes. I added the jalapeno to the picture so you can judge the size of mine about 2 inches by 1 inch thick, doesn't have to be exact.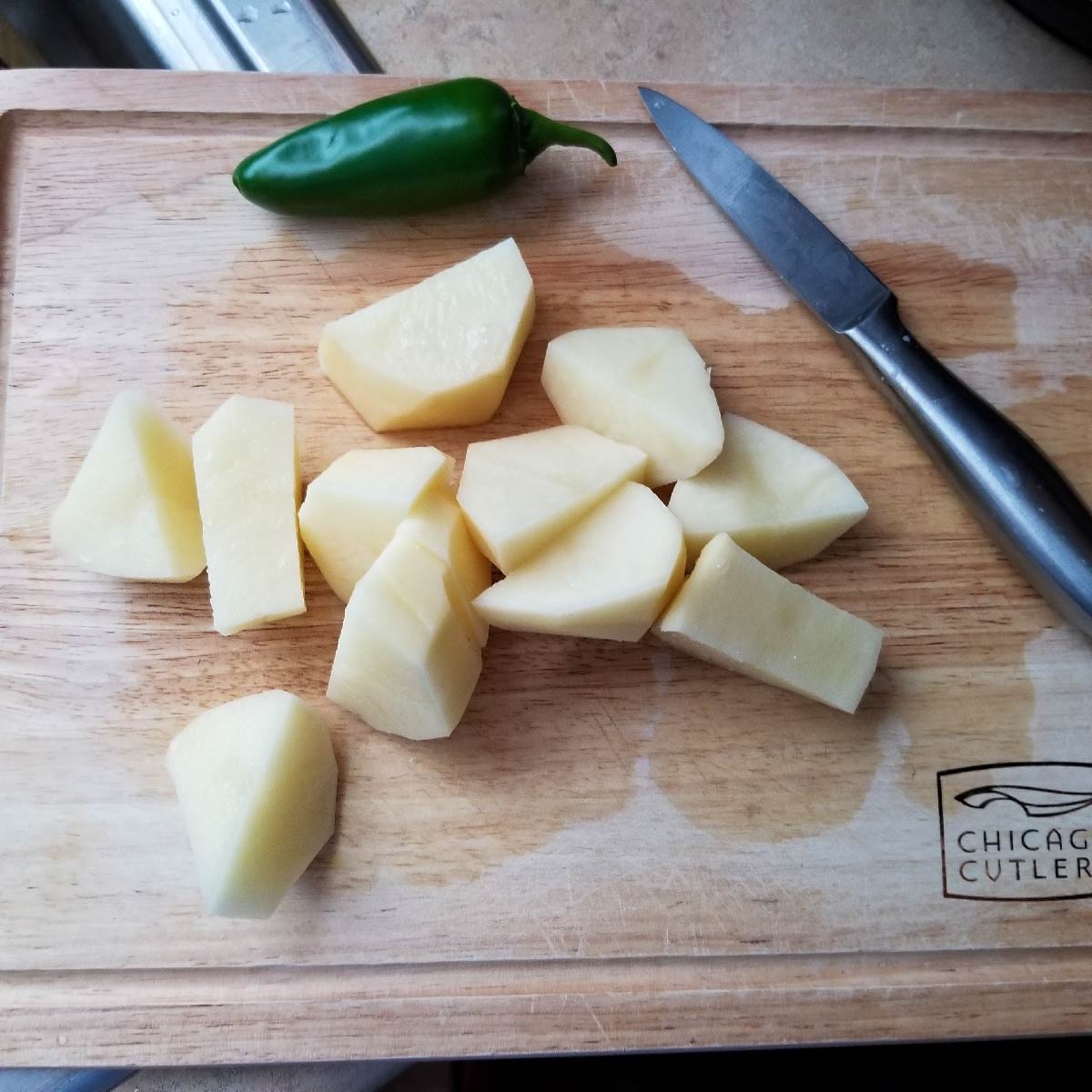 Mine are not all perfectly sized but about the same size. If you decide to make red skin potatoes, you can leave the skins on.
Cooking the potatoes
Add potatoes to the Instant Pot's inner pot. Place directly in, do not use a rack. Add your water, do not add the milk yet.
If you are adding chopped fresh garlic, add it now. If using garlic powder, you can add it now or wait until after cooking. Place the lid on and set the vent to sealing. Press pressure cook/manual (depending on the model Instant Pot you have) and set the time to 6 minutes.
Once it beeps, do a quick release and carefully remove lid when the pin drops.
Mashing the potatoes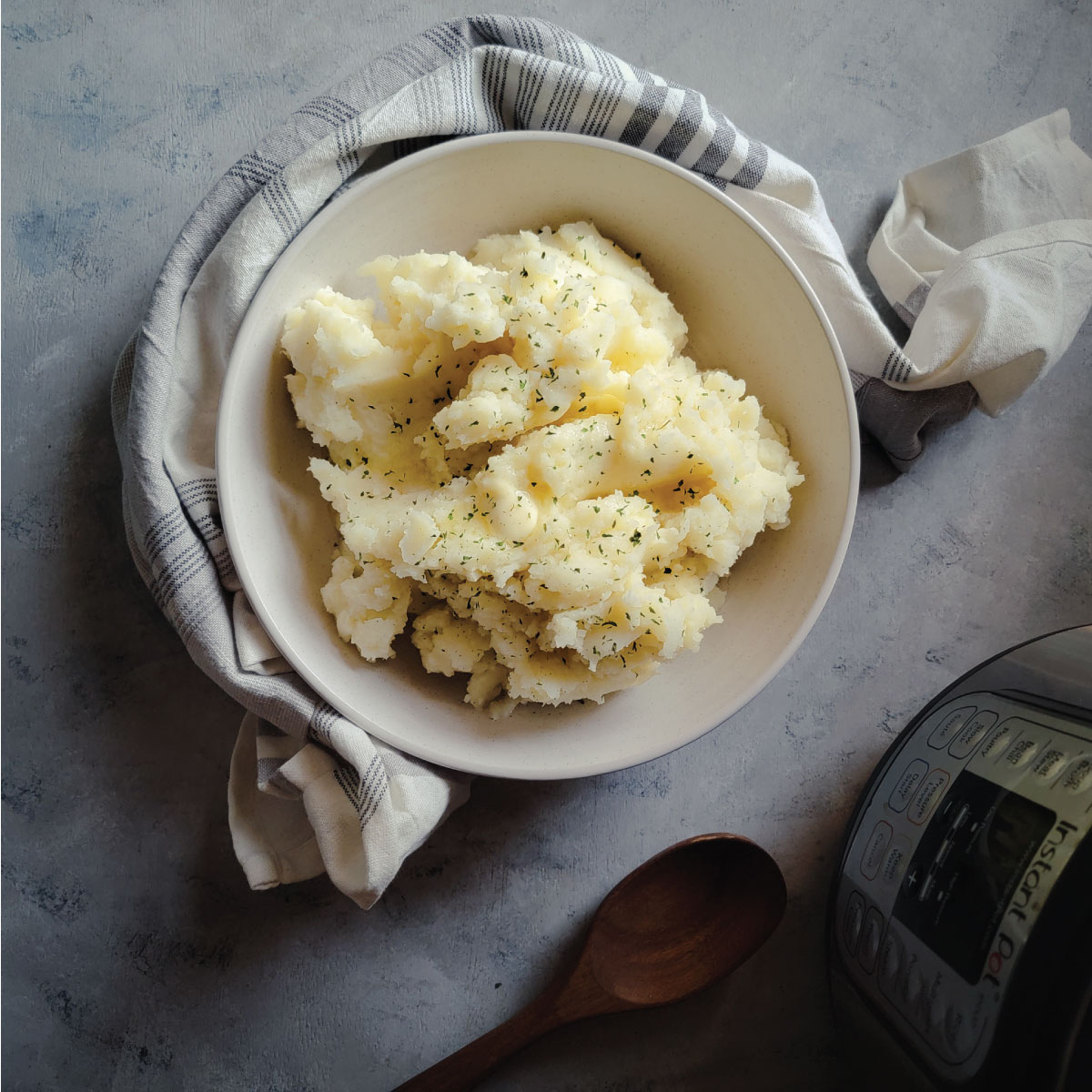 Being these are no drain Instant Pot mashed potatoes, you can mash the potatoes in the inner pot or transfer them to a mixing bowl. Add in the butter, milk (see below for substitutes), salt, pepper and garlic powder (if using.)
You can mash or whip them - whipping would be using a hand or stand mixer, it creates a smooth and creamy texture. Mashing is with a potato masher which is the classic thicker texture with possibly small potato lumps. Both are great and which one you make will be your personal preference.
Transfer to a serving bowl and enjoy!
You might find you want to add just a little more milk or butter depending on the consistency you want, it is a starting point. Adjust as needed, we all like different consistencies with our mashed potatoes.
What can you use as a substitute for milk in mashed potatoes?
There are several things you can use instead of milk and we have made these dairy free before for a friend. Here are some other things you can add to your no drain Instant Pot mashed potatoes in place of milk and butter.
Broth - When we use broth, we try to coordinate with the rest of dinner. If we are making a roast beef, we use beef broth. But you can use any broth - vegetable, mushroom, beef, chicken or any others.
Dairy free milk - your favorite dairy free milk can be used in mashed potatoes, but be careful of the flavor profile since some dairy free milk is flavored. I don't recommend using a vanilla milk!
Half and half - This is a great substitute, tho it's not dairy free. So while it is delicious in mashed potatoes, it is not a dairy free substitute.
Heavy cream - Heavy cream is also good in mashed potatoes, but it is also not dairy free so it cannot be a dairy free replacement. Please note that heavy cream is thicker then milk and it will make the mashed potatoes creamier.
You can also substitute butter with your favorite oil, but I would use only 1-2 tablespoons of oil instead of 4.
Other great Instant Pot side dish recipes:
What else is good in mashed potatoes?
You can add many different things to mashed potatoes. They go great with so many things!
Cheese is always good to put in potatoes. This can be cream cheese or any kind of shredded cheese. You can add both! Parmesan cheese makes a great add in as well. If you add cheese, make sure to add it to your no drain Instant Pot mashed potatoes AFTER cooking. Do not add it before cooking.
You can experiment with different spices, but I try to keep them simple. Garlic (mentioned above), black or white pepper (white pepper is more mild in spice), chives. parsley and salt are the most common spices.
Dried minced onion, rosemary or even thyme can be added before cooking to give it a bit more flavor. For rosemary or thyme, I would try maybe one quarter teaspoon. They are great aromatics but can overpower some dishes if you use a lot.
Frequently asked questions
Do you drain water when making mashed potatoes?
Typically when boiling potatoes you do have to drain them, but this recipe is a no drain mashed potato recipe. The amount of liquid remaining will be minimal and is used in the mashing.
Do I have to peel the potatoes?
No you don't have to peel potatoes, but I do recommend it with russets. Russets are the best for mashing, but the skins are a little thicker and do not soften quite as much as some other potatoes. The skins are good on baked potatoes, but we prefer to peel them for mashed.

Red skin potatoes are actually good with the skins left on, but the potatoes are a bit waxy and will give your mashed potatoes a waxy texture.
Can I use broth in place of water?
Yes and we do quite often when making them to serve with meat. I have used chicken and beef broth successfully. Be sure to watch the amount of salt you add if you are not using unsalted broth.
Equipment
As an Amazon affiliate we may earn a commission if you purchase something through one of our links. This is at no extra cost to you. Thank you for helping to keep the recipes free!
6 quart Instant Pot - We prefer to use our 6 quart for no drain Instant Pot mashed potatoes. The 8 quart works best if you don't want to use as much milk for mashing because you need to add more water to the potatoes to cover the bottom of the inner pot with liquid.
Hand mixer - This is for if you would rather your potatoes to be whipped into a creamy smooth texture. Often people call them mashed when using a hand mixer, but it is actually whipped. They are great this way or mashed!
Potato masher - I prefer to have a metal one over a plastic one. Mine gets used for many things and sometimes I use it in a hot pot of food so plastic just doesn't work for me here.
Recipe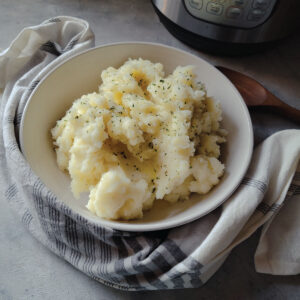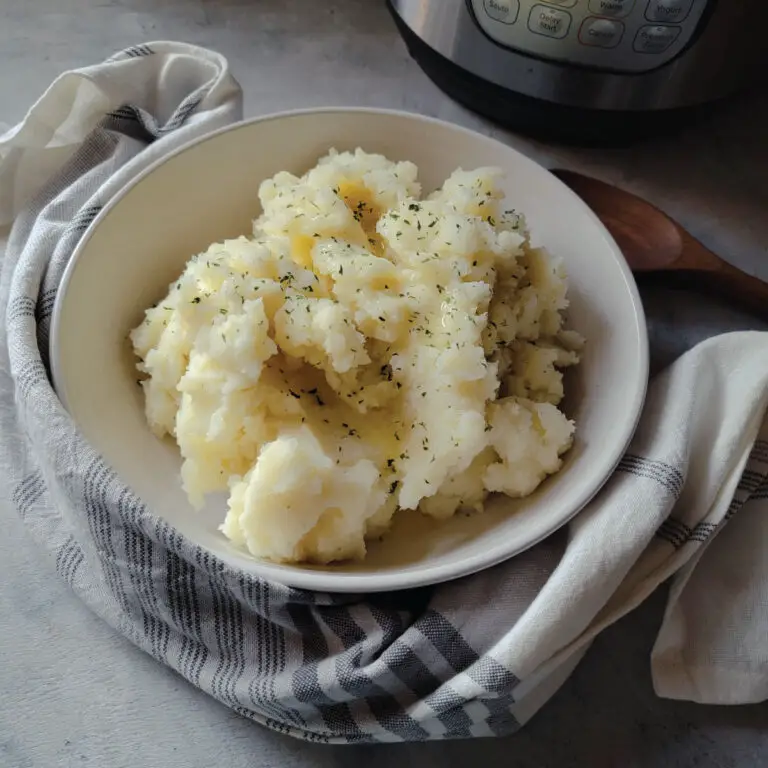 No Drain Instant Pot Mashed Potatoes
These mashed potatoes are so easy to make that you will not want to make them any other way! No boiling or draining the potatoes, you can mash them right in the inner pot or in a mixing bowl.
Ingredients  
3

pounds

russet potatoes

see notes

½

cup

water

or broth

¼

cup

milk

4

Tablespoons

butter

see notes
Optional
½

teaspoon

garlic powder

or 2 cloves minced

salt

to taste

pepper

white or black ground to taste
Instructions 
Peel and cut potatoes into chunks. I typically cut them in half lengthwise and then 2 or 3 cuts down along the potato resulting in chunks that are about 2 inches by 1 inch thick.

Add the potatoes to the inner pot of the Instant Pot. Add the garlic powder or minced garlic cloves (optional.) Pour water over the potatoes.

½ cup water,

½ teaspoon garlic powder

Place lid with the seal on and set the vent to sealing. Hit pressure cook/manual button and set for 6 minutes. It should take about 10 minutes to build pressure.

When finished carefully do a quick release of pressure. Hit cancel on your Instant Pot.

Add the milk, butter and optional spices (if using) to the potatoes. Adjust the amount of milk and butter to desired consistency.

¼ cup milk,

4 Tablespoons butter,

salt,

pepper

Use a potato masher for mashed potatoes or a hand/stand mixer for whipped potatoes and mix until the are blended and desired consistency. If you need more milk, butter or spices you can add them as needed.

Optional - you can top with melted butter and sprinkle with parsley as a garnish.
Notes
Nutritional values and serving sizes are estimated.
The potatoes - You can use your favorite potatoes, but we think russets give the best texture to mashed potatoes.  Red skin potatoes are delicious but tend to make waxy mashed potatoes.
Milk and butter - With 4 tablespoons of butter and a quarter cup milk, they will be a little bit thick.  This is perfect if you are serving with gravy.  You might want to add more of either or both to reach desired consistency.  This is a base amount to start.
Also you can substitute with non dairy milk, butter alternatives or even use broth in place of milk.
If you are making 5 pounds - please do not double the amount of water.  You will use 2 thirds of a cup water or broth and cook for the same time.  You will have just a little bit of water in the bottom (no draining just mash it right in with the milk and butter.)  This is normal and will not be any problem with end result.  You might want to add more butter and milk with 5 pounds, but again that is preference.
If using an 8 quart - We recommend a 6 quart for 3 pounds of potatoes for them to be no drain if you are using milk to mash.  An 8 quart requires about 2 thirds cup water to cover the bottom enough and the result may be a little extra liquid.  You may want to adjust the amount of milk or scoop the potatoes into a bowl to mash.
In an 8 quart with 5 pounds of potatoes, you would keep the water at 2 thirds of a cup.
Nutrition
Calories:
253
kcal
Carbohydrates:
41
g
Protein:
5
g
Fat:
8
g
Saturated Fat:
5
g
Cholesterol:
21
mg
Sodium:
84
mg
Potassium:
959
mg
Fiber:
3
g
Sugar:
2
g
Vitamin A:
253
IU
Vitamin C:
13
mg
Calcium:
43
mg
Iron:
2
mg