If you're looking for a delicious, comforting, cheesy meal that's easy to make and sure to please the whole family, this cheese-stuffed meatloaf is it! Not only does it have all of your classic meatloaf ingredients like ground beef, bread crumbs and flavorings; but we've added an extra layer of richness with shredded cheese stuffed inside.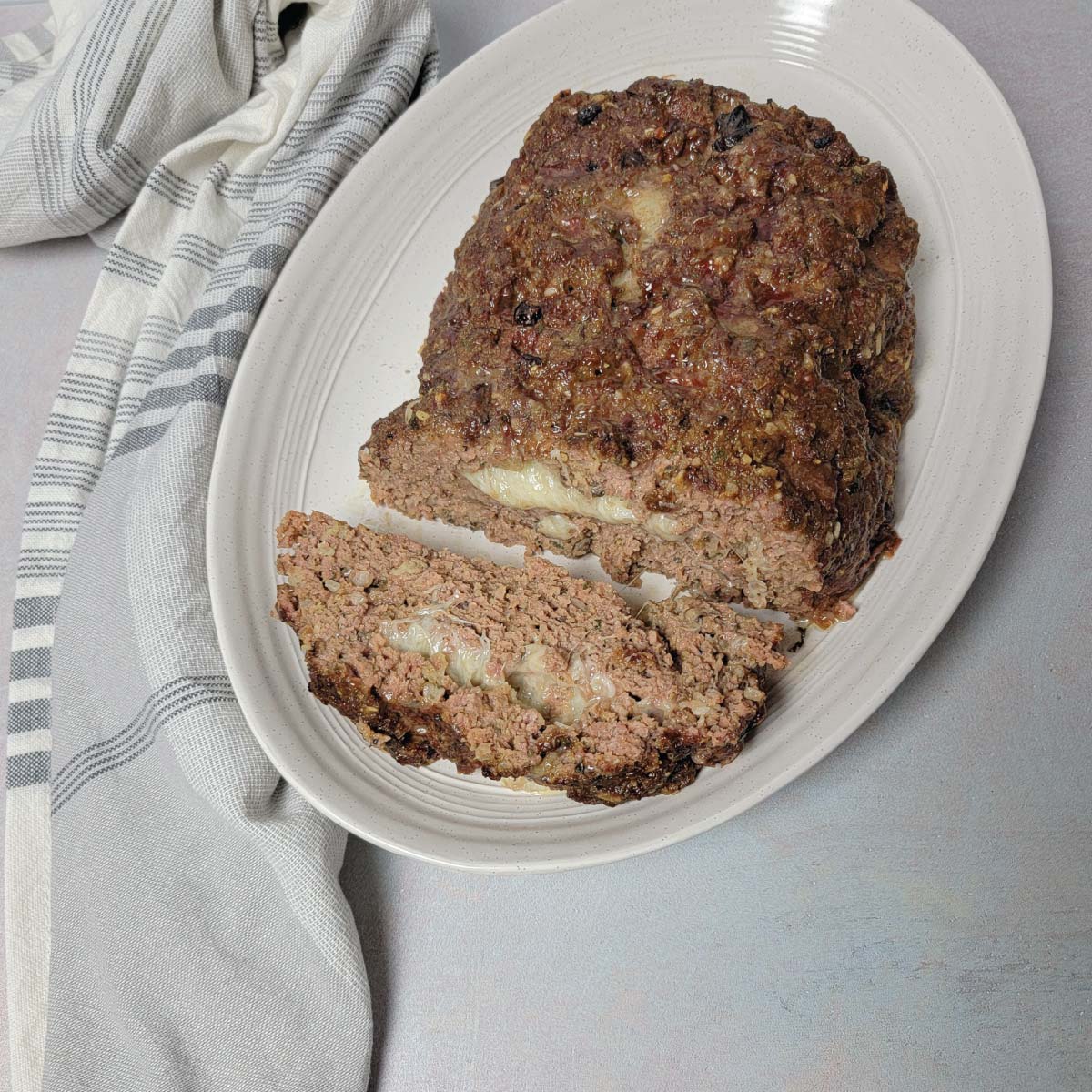 We all have our favorite dinners here in our house but this is one we all enjoy. It is one of our go to comfort foods on a cold winter or fall night. It is easy to make and takes about an hour to bake.
If you love our cheese stuffed meatloaf but ever want to make it without the cheese, you can leave the cheese out and make it a classic meatloaf. It is delicious either way, but we prefer it with the cheese here! We do not enjoy ketchup or anything on top of ours, but you can definitely try it with it on top.
It pairs so nicely with many side dishes, but we often make it with our loaded mashed potato casserole or sweet potatoes and butternut squash. Sometimes we like to make veggie noodles and garlic sauce with it too!
Jump to:
Ingredients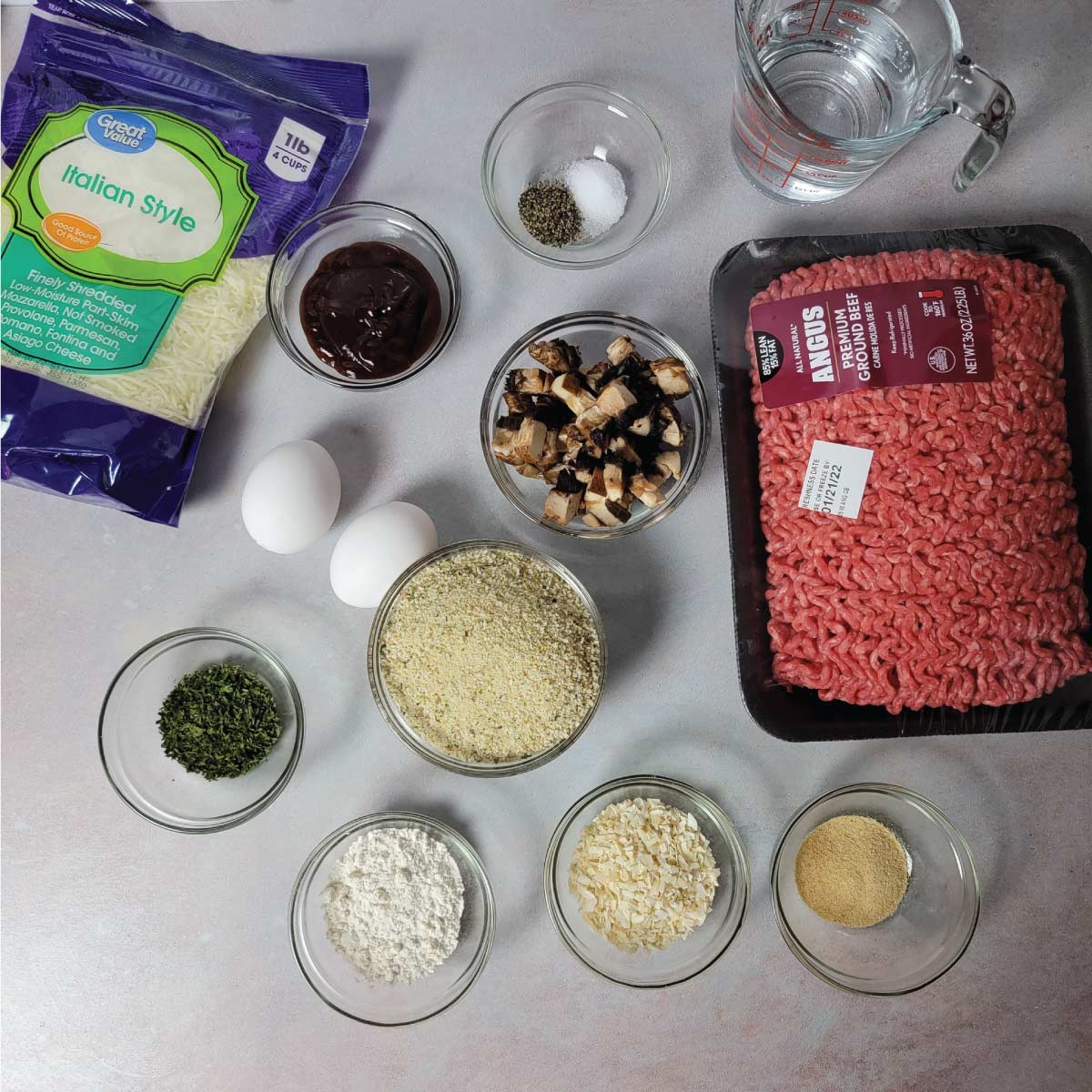 Meat - You can use all beef, beef and pork, or meatloaf mix. We have made this all 3 ways many times and it is always delicious. We go with 85% on the beef. I don't recommend going lower as it will have too much fat.
Cheese - We use either 6 cheese Italian or sometimes just mozzarella. You can use your favorite cheese here. We use pre shredded cheese mainly because we love the 6 cheese Italian, but freshly shredded cheese will produce a perfectly melted cheese. Pre shredded is a little more dry and does not melt the same. When we use mozzarella we freshly shred it for a smooth melted cheese.
Eggs - No recommended substitutions.
Mushrooms - Optional, but recommended. Use your favorite, we usually use 3 baby Bella mushrooms that measures to about 2 thirds of a cup.
Bread crumbs - Use your favorite. We have used both regular and panko before, they both are good in the cheese stuffed meatloaf.
BBQ sauce - You can use your favorite, we love Sweet Baby Ray's when we are not using homemade sauce.
Water - Needed for extra moisture with the bread crumbs.
The homemade onion soup substitute mix
Please note that this was created for our cheese stuffed meatloaf, it has not been used in other recipes using onion soup mix.
Flour - We use all purpose flour.
Minced onion - Dried minced onion is best here.
Garlic - Garlic powder blends best into the mix.
Salt - Recommended to enhance the flavor but can reduce the amount if preferred.
Pepper - Ground black pepper. If you use fresh ground peppercorns, you may want to reduce the amount slightly. Fresh peppercorns have more flavor and bit of kick then ground pepper.
Parsley - We use dried parsley.
Making cheese stuffed meatloaf
This is easy to make! If you don't like the feeling of raw ground meat in your hands, you can use food safe gloves. Also be sure to take any jewelry off of your fingers before mixing.
Mixing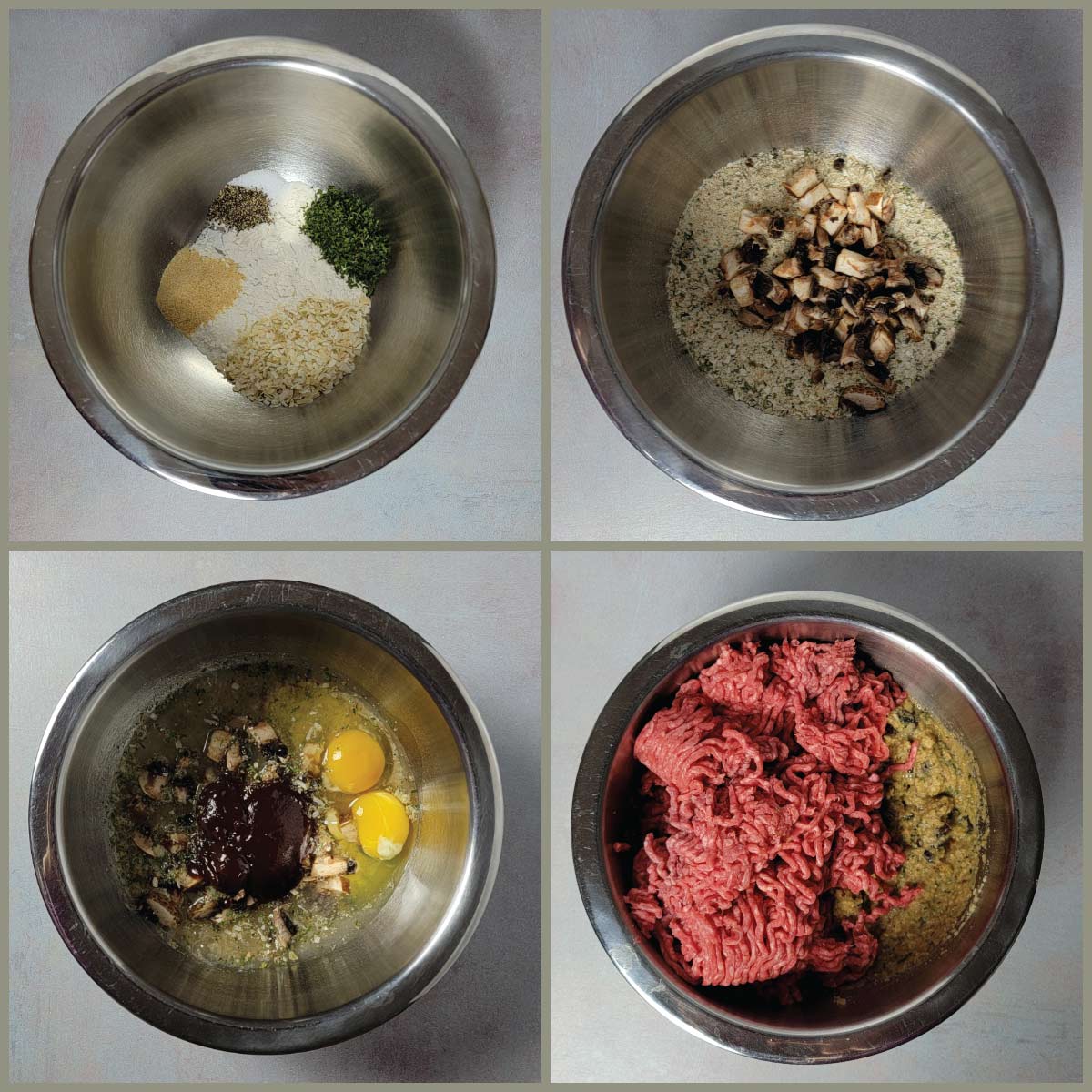 Mix the onion soup mix together first - the flour, minced onion, garlic powder, salt, pepper and parsley. Add in the breadcrumbs and stir well.
Now you want to add the mushrooms and wet ingredients. Add the mushrooms, BBQ sauce, eggs and water to the mixture. Be sure to stir well (I use a fork for this) so you do not have any dry pockets in the middle of the mixture.
Now you want to add the meat to the mixture. Your hands will usually do the best job at mixing the meatloaf, but you can use a fork if you prefer. Just be sure to mix it well so there are no big lumps of the bread crumb mixture. You want the meat to be blended in completely with the rest of the mix.
Shaping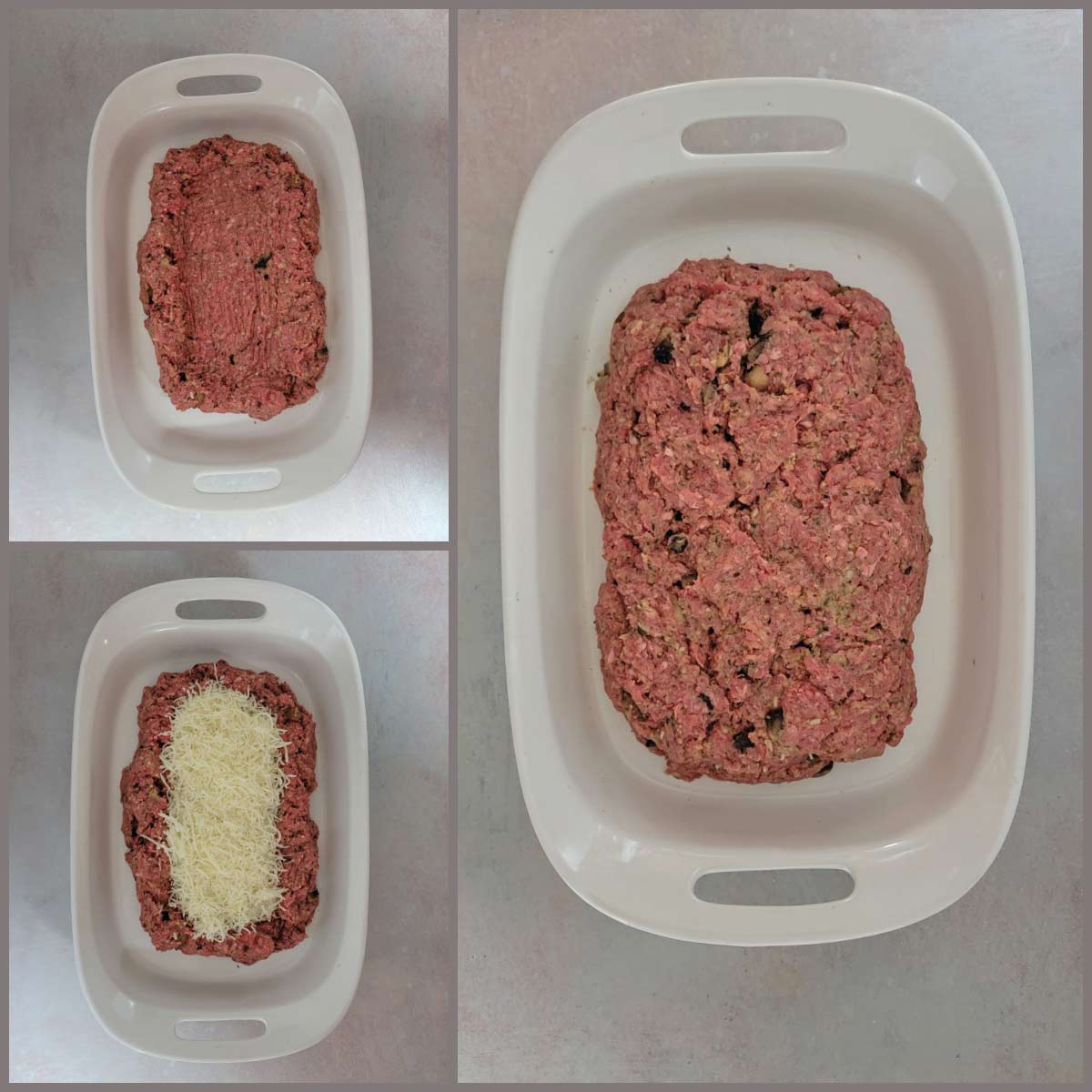 Shaping the cheese stuffed meatloaf is pretty simple. You want to take about 2 thirds of the mix (doesn't have to be exact) and shape it into a long rectangle in the baking dish. A 13 by 9 inch dish is best for baking it in. I do not recommend using a smaller dish, but if you need to use a bigger dish that's ok.
After shaping it into a long rectangle, push down on the inside of the rectangle to put a big dip into it. You can use a fork, spoon or even you hand works great here. Press it down so you have a huge indent in the meat. I try to leave only about an inch on the sides and indent the rest. Doesn't have to be perfect, but the wider the indent the more spread out your cheese will be.
Sprinkle the cheese all over in the indent as evenly as possible. You can use more or less cheese then what we put in the recipe. We find it to be the right amount but some people like more cheese!
Carefully spread the remaining meatloaf mixture over the top of the cheese and press it down on the edges to connect the top with the sides from the bottom layer as best as possible.
Baking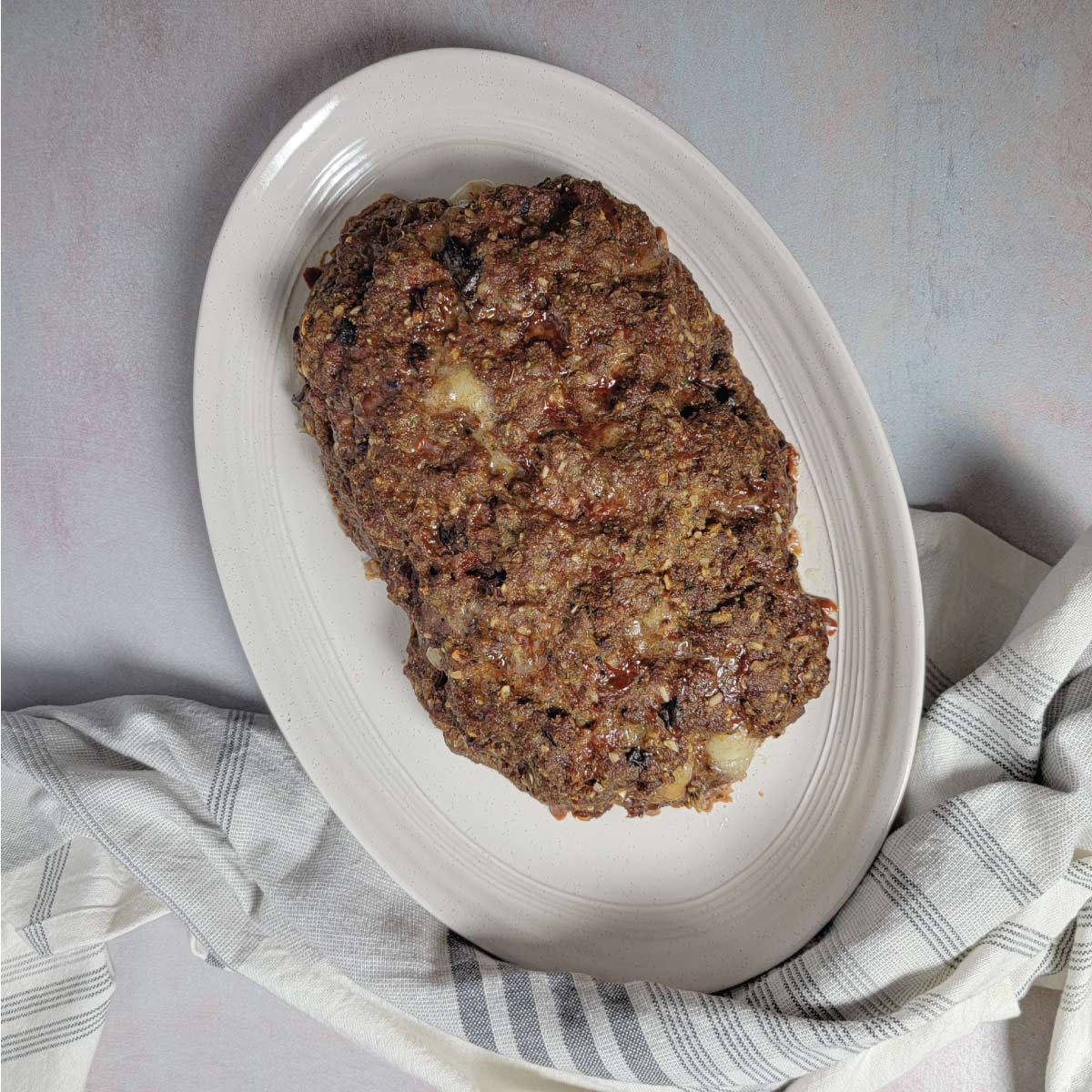 Bake the cheese stuffed meatloaf at 350 for about 1 hour and 10 minutes. Regular meatloaf I cook for 1 hour, but cheese stuffed meatloaf I add the extra 10 minutes. Meatloaf sometimes has a pinkish tint to it and the color should not be the judge of how done it is.
Test the temperature with a thermometer. If you used beef or meatloaf mix (pork, beef and veal), the temperature should be 160 degrees Fahrenheit. If you used turkey or chicken in it, the temperature needs to be 165 degrees Fahrenheit.
Take it out of the oven and let it stand for about 10 minutes before cutting.
Frequently asked questions
Can I use this recipe for a plain meatloaf without stuffing it?
Yes you can! We use this same recipe for both plain and cheese stuffed meatloaf.
Is pre shredded or fresh shredded cheese better?
Fresh shredded is much better for a smooth melted inside, but we prefer the taste of the 6 cheese Italian over plain mozzarella. The pre shredded cheese has less moisture in it so it will not melt quite the same. We compromised texture for taste. If you are using just 1 cheese instead of a cheese blend, it will be best if you freshly shred it.
Can I add a tomato or ketchup topping to it?
Many people do like a tomato sauce or ketchup on top and you can add it to the top of this meatloaf. We prefer ours without a topping, but you can definitely add it if you choose!
Why do you put egg in meatloaf?
Eggs are important in this recipe. They are used along with bread crumbs as a binding agent so the meat holds it's shape and does not fall apart. Without eggs and bread crumbs, your meatloaf would fall apart.
Recipe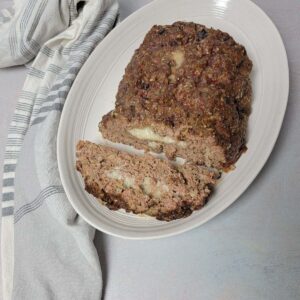 The Best Cheese Stuffed Meatloaf
This cheese stuffed meatloaf is easy to make and is made with a simple homemade onion soup instead of using boxed. It is the combination of a classic meatloaf with the perfect amount of cheese in the middle.
Ingredients  
2¼

pounds

ground beef

we use 85% here

1

cup

breadcrumbs

3

baby Bella or white button mushrooms

chopped, optional

3/4

cup

water

2

eggs

3

Tablespoons

BBQ Sauce

we like honey BBQ here

1 1/2

cup

shredded cheese

see notes
Onion Soup Mix Substitute
2

Tablespoons

flour

3

Tablespoons

dried minced onion

1

Tablespoon

parsley

dried

1/2

Tablespoon

garlic powder

1/2

teaspoon

salt

1/2

teaspoon

ground black pepper
Instructions 
Preheat oven to 350° Fahrenheit.

In a large bowl mix the onion soup mix. Add in bread crumbs and stir well.

2 Tablespoons flour,

3 Tablespoons dried minced onion,

1 Tablespoon parsley,

1/2 Tablespoon garlic powder,

1/2 teaspoon salt,

1/2 teaspoon ground black pepper,

1 cup breadcrumbs

Mix in the mushrooms, water, eggs and BBQ sauce.  Stir well, it will be almost a paste.  

3 baby Bella or white button mushrooms,

3/4 cup water,

2 eggs,

3 Tablespoons BBQ Sauce

Add in your ground beef and mix well. Try to blend so the bread crumb mixture is evenly mixed throughout the meat with no big lumps.

Take about 2/3 of your beef mixture and shape it into a rectangle loaf. Press down on the inside of the loaf to create a huge indent - press down all but about an inch all the way around.

Evenly sprinkle the cheese in the indent.

Place the remaining meatloaf mixture on top of the cheese.  Press together carefully at the sides to seal the sides so the cheese doesn't all melt out.

1 1/2 cup shredded cheese

Bake at 350° for about 1 hour and 10 minutes.  It should be an internal temperature of 160° Fahrenheit. Allow to sit for about 10 minutes before cutting.  
Notes
Nutritional values and serving sizes are estimated.
You can use meatloaf mix or pork and beef instead of just beef.  If you add any ground chicken or turkey, you need to make sure to cook the meatloaf to 165 degrees Fahrenheit.
For the mushrooms - They are optional but recommended.  Use your favorite here.  We usually use baby Bella but if you are using a different one the measurement equals out to being about 2 thirds of a cup chopped.  You can add more or less depending on preference.
For the cheese - Use your favorite cheese.  We like the flavor the 6 cheese Italian adds, but it doesn't melt as smoothly as fresh cut or shredded mozzarella cheese.  It is a combination of hard and soft cheeses but the flavor is great! 
Nutrition
Calories:
790
kcal
Carbohydrates:
22
g
Protein:
50
g
Fat:
54
g
Saturated Fat:
21
g
Cholesterol:
237
mg
Sodium:
764
mg
Potassium:
812
mg
Fiber:
1
g
Sugar:
5
g
Vitamin A:
340
IU
Vitamin C:
2.7
mg
Calcium:
235
mg
Iron:
6
mg