No Bake Strawberry Dessert
This post may contain affiliate links which means that I may earn a small commission at no extra charge to you if you purchase something from one of my links. For more information please see our
affiliate disclosure.
We absolutely love strawberries here and we get them most often in the summer. You know when you really don't want the oven on that much! This is why I started making our no bake strawberry dessert. At some point we will break down and get central air, but at the moment our older house just has air conditioners on all the floors. The oven makes it harder for them to work!
This dessert is actually more like a no bake strawberry cheesecake, but it doesn't hold as perfect of a form as a cheesecake so I didn't want to call it that. I have made this several times and I really tried to get it to work in a fancy form by using a springform pan, but it didn't work out so well. Please do yourself a favor and DO NOT use a springform pan for this. It looked so perfect in the beginning!
Why No Springform Pans for This Dessert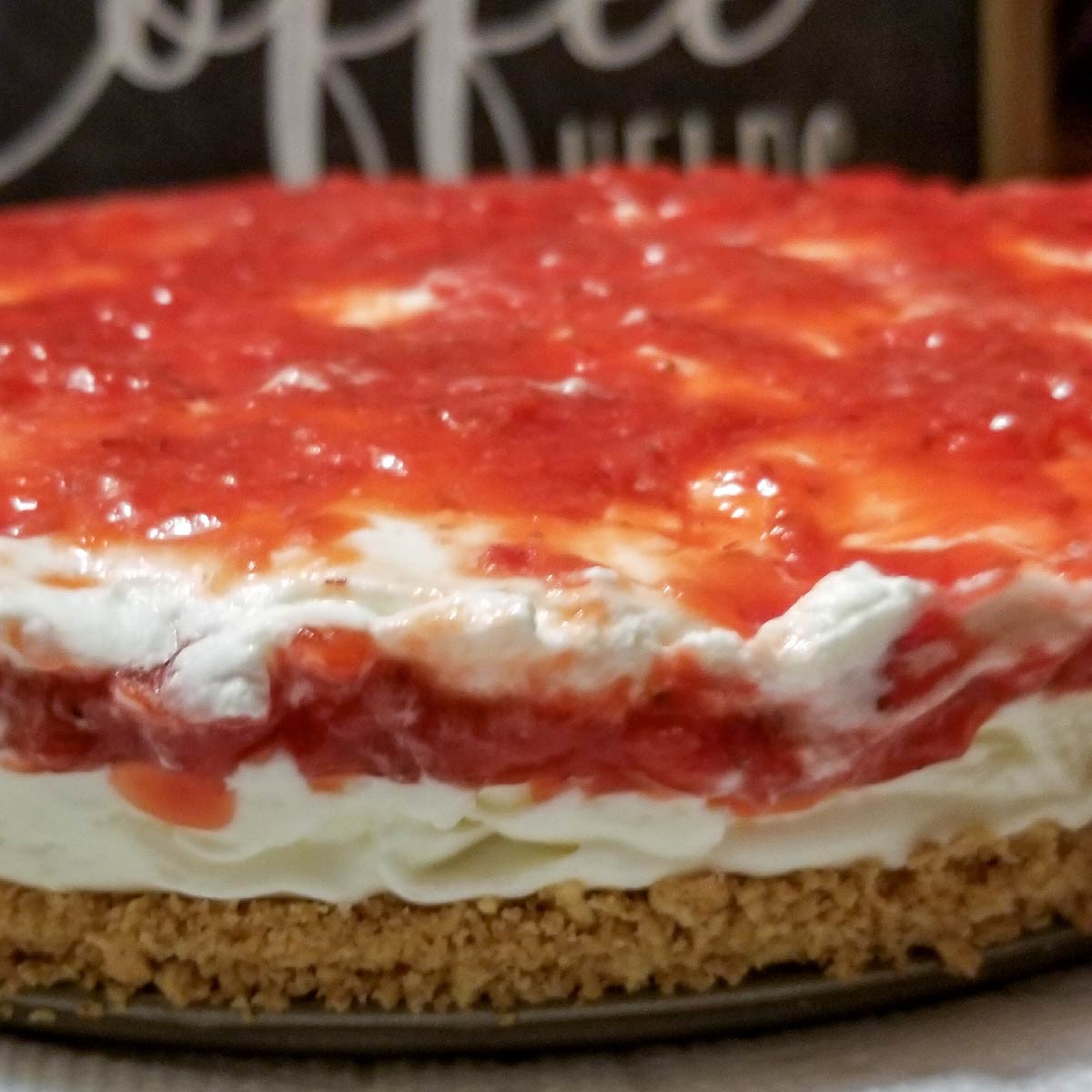 But now imagine this:
I have it perfect and was super excited! I am taking pictures and not quite sure how I will store it in the fridge after we all get a slice. I knew with a crumbly graham cracker crust, I couldn't transfer it. So I thought that maybe I would just put the side of the pan back on. Then I noticed something. The top layers were sliding. Yup, they were sliding all over the place and off of every side 🙁
I was devastated, my perfect masterpiece sliding into a mess! So we quickly (with multiple hands) tried putting the springform pan side back on and cleaned up our mess. It was by far edible and amazing tasting, just didn't quite hold it's perfect form for long.
A Cute Option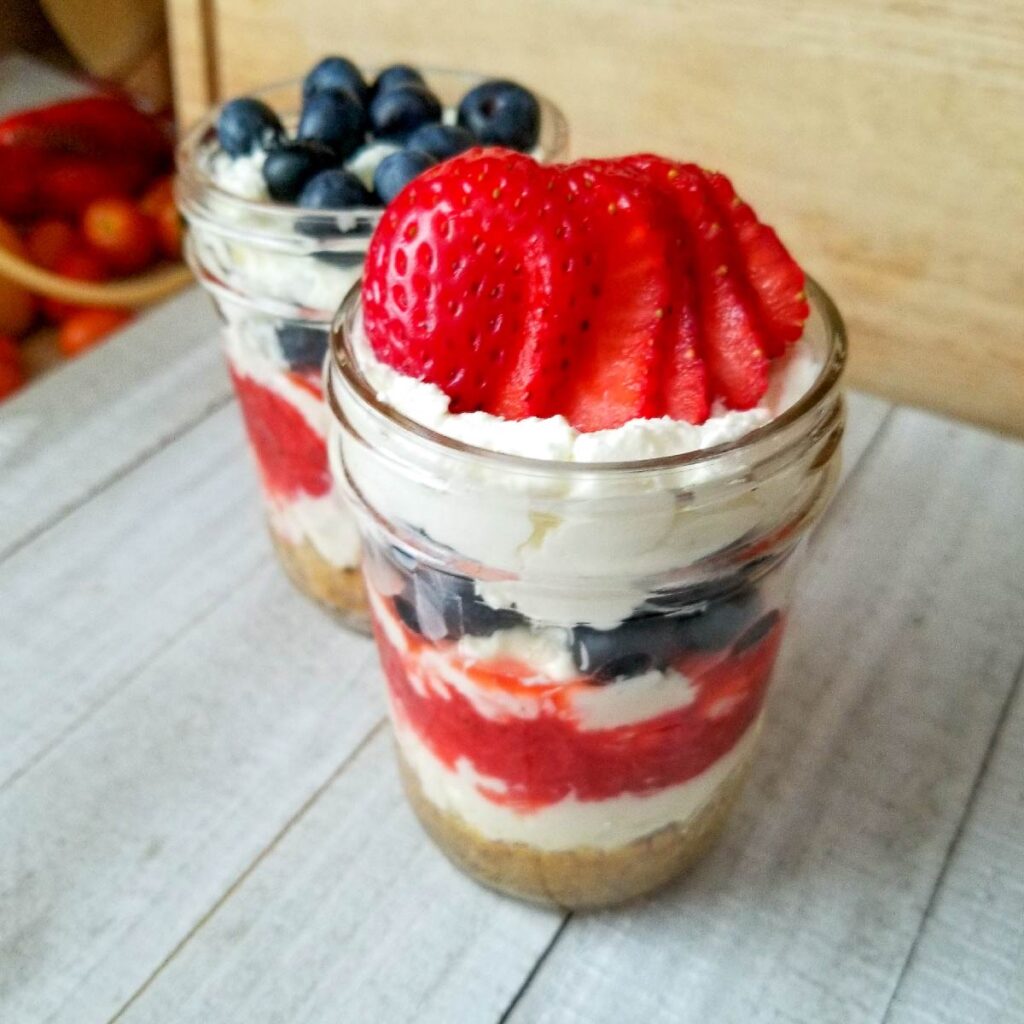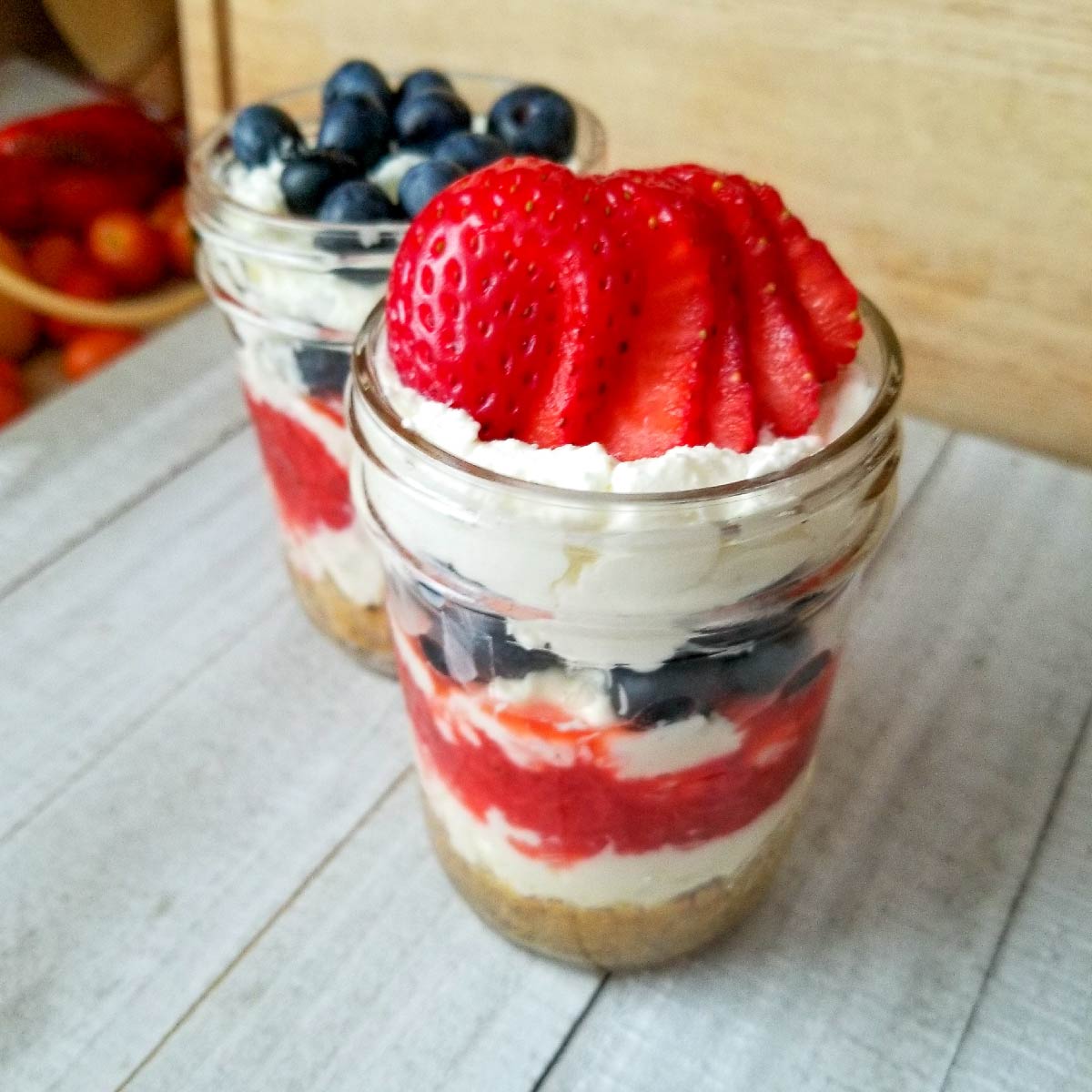 We even made this in 1/2 pint jars. This was cute but hard to fill the jars. We added blueberries in the jars. It is doable tho and if you decide to fill jars with a dessert like this, we recommend using the bottom of a spice bottle to pack down the crumb crust.
How we Made the No Bake Strawberry Dessert
Ultimately what we found to be the easiest to make was in a square pan. I plan on trying it in a pie dish as well, but I haven't done that yet. We used a 9 inch cake pan but my 8 inch pyrex would have worked too I am sure.
It is made in layers but each one is pretty simple. The layers are a cream cheese layer, strawberry filling and whipped cream. We made all of the layers homemade but you can use cool whip if you prefer. I would use 1 container cool whip tho you will have more whipped cream on it since I use 2 cups of homemade and cool whip is about 3 cups in 8 ounces. You can choose how much to use, it's not an exact science for the whipped cream layer!
Making the Whipped Cream
I make the whipped cream first and if you are using cool whip, skip down. First I put the mixing bowl of my stand mixer and the whisk attachment in the fridge for about a half hour. You can do less time by putting it in the freezer, but my freezer has no room for an ant to crawl in let alone a big mixer bowl haha!
There are 3 ingredients in the whipped cream – whipping cream, sugar and vanilla extract. You will place all the ingredients in the mixing bowl and set stand mixer to 8 for about 2-3 minutes. Keep an eye on it and turn it off when stiff peaks form. Spoon it into a bowl and set in fridge for now. Do not rinse the bowl or whisk.
The Crust
This layer is easy. You will break up the graham crackers and crush them. You can use a food processor or I often use a storage bag and my rolling pin to crush them. Add in the brown sugar which is optional, we have tried it with and without.
Melt the butter in a pan. Now if you use your food processor, add the graham crackers and sugar together to crush. Then add butter directly in the mix and turn the processor on to mix the butter into the crumbs. If you use a bag like me, add the crumbs and sugar to the melted butter in the pan.
Place into the 8 or 9 inch dish and pack it down.
Making the Cream Cheese Layer
This is pretty simple as well. I use my stand mixer but you can use a hand mixer as well. Just be careful with a hand mixer when incorporating the powdered sugar in (it can get messy and they do not have as low of a setting as a stand mixer.)
Add the butter, cream cheese and lemon juice together in the mixer bowl. Mix on low for about 1 minute to be sure that it is mixed together. Add in sugar 1 cup at a time and mix on stir setting (if using stand mixer) until it is incorporated enough to not make a mess. Turn up to 8 and let it go for 3 minutes. If using a hand mixer, you can go for about 2 minutes or so on a medium setting. I rarely use my hand mixer, but they do tend to be higher speeds.
Fold in 1/2 cup of the whipped cream. Do not mix with mixer, I use my spatula to do this.
Making the Strawberry Filling
Being this no bake strawberry dessert is all homemade, we use a homemade strawberry filling as well. This is simple also.
Cut the stems off the strawberries and slice the berries. Place them into a bowl. Add in the lemon juice and sugar allow them to sit for a few minutes. You can use them like this, tho we prefer them to be more of a filling then coated berry slices. We use a potato masher and mash them up into thick chunks. Do not strain the juice (and this is why it is a little messier but it is worth it!)
We have also made this with our strawberry jam which is a little thicker since it is heated. It is good both ways! The jam is not as easy to put on top of the whipped cream layer tho.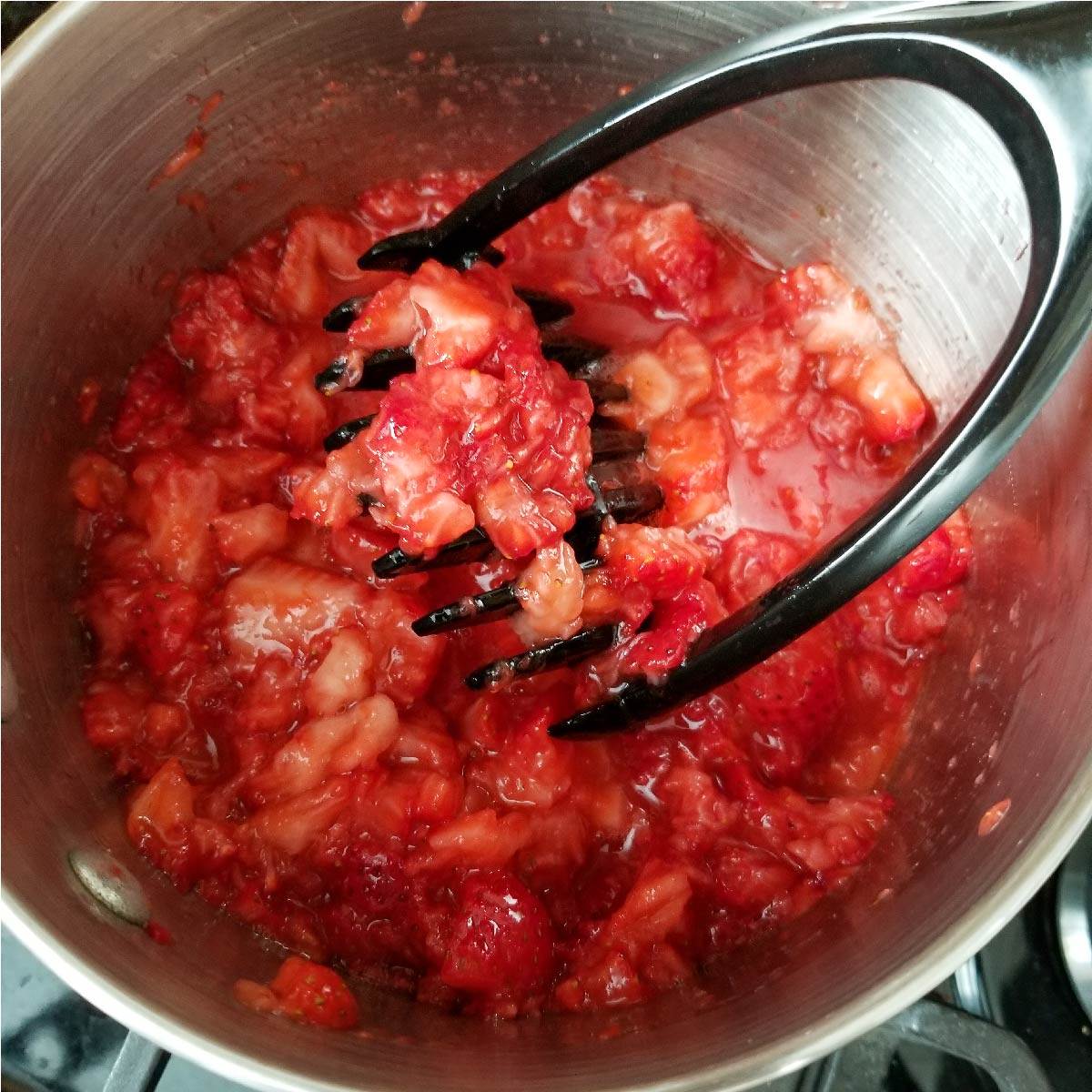 Put in a bowl and put in the fridge for now.
Putting It All Together
Now assembling the no bake strawberry dessert is easy but does take time. Mainly because it is a no bake cheesecake and it does need to sit in fridge. You can make this the day before too, the whipped cream will get a strawberry flavor and be amazing!
You have your graham cracker crust so add your cheesecake mix on top. place in the fridge for at least an hour. Now add a little over half of the strawberry filling (doesn't have to be exact) on top of the cheesecake mix. Carefully spread the rest of the whipped cream (or about 1 and a half cups if using cool whip) across the strawberry filling. Top with the rest of the strawberry filling and refrigerate at least 2 hours before serving.
What is your favorite no bake dessert?
No Bake Strawberry Dessert
This no bake strawberry dessert is a perfect combination of whipped cream, strawberries and cheesecake. Easy to make and the perfect summer time dessert!
Print
Pin
Rate
Total Time:
3
hours
30
minutes
Ingredients
Whipped Cream (or you can use cool whip) – see notes
1

cup

heavy cream

½

tsp

vanilla extract

2

tbsp

granulated sugar

regular white sugar
Crust
10

graham crackers

crushed

1

tbsp

brown sugar

optional

5

tbsp

butter

melted
Cheesecake filling
16

ounce

cream cheese

softened

2

tbsp

butter

softened

2

cups

powdered sugar

1

tsp

lemon juice

½

cup

whipped cream

prepared whipped cream
Strawberry filling
1

pint

strawberries

3

tbsp

granulated sugar

2

tsp

lemon juice
Instructions
Making the whipped cream
Let the mixer bowl and whisk attachment sit in the fridge for about a half hour.

Add all the ingredients into bowl once ready and put the setting on 8. It will take about 2-3 minutes but once you see stiff peaks form, turn it off.

Spoon it out into a bowl and place in the fridge for now.
Making the crust
Crush up graham crackers with the brown sugar (sugar is optional.) Add the crushed graham crackers to the melted butter and mix well to coat the crumbs.

Place into a 9 inch dish and push down to flatten the crumbs on the bottom of the dish.
Making the cheesecake filling
Add your cream cheese, lemon juice and butter to the mixer bowl. Mix on stir for about a minute to combine. Slowly add the powdered sugar a cup at a time keeping. Use stir until it is incorporated enough to not make a mess.

Turn mixer up to 8 and let it go for 3 minutes. Gently fold the ½ cup of whipped cream into the mix with a spatula or spoon – do not use mixer for this.
Making the strawberry filling
Remove stems from strawberries and slice or chop them. Place them in a bowl. Add the lemon juice and sugar, stir to combine. You can use it like this, but we prefer to mash them with a potato masher.

Set in fridge for now.
Putting it together
Spread the cheesecake filling over the graham cracker crust. Place in the fridge for at least an hour.

Spread a little over half (doesn't have to be exact) of the strawberry filling over the cheesecake filling.

Spread the remainder of whipped cream (see notes if using cool whip) over the strawberry filling. Top with the rest of the strawberry filling.

Place in fridge for at least 2 hours before serving.
Notes
We prefer to use homemade whipped cream, but cool whip is the best substitute here.  The homemade whipped cream makes 2 cups and cool whip has 3 cups in an 8 ounce container.  You will have a little extra if using cool whip, but it is your choice if you want to place it on your dessert or save it for another.
Keep refrigerated until serving.  This is delicious but the whipped cream and strawberry layers can get messy quickly if left out of the fridge for too long.  
Nutrition
Calories:
641
kcal
|
Carbohydrates:
61
g
|
Protein:
6
g
|
Fat:
43
g
|
Saturated Fat:
25
g
|
Cholesterol:
133
mg
|
Sodium:
399
mg
|
Potassium:
228
mg
|
Fiber:
2
g
|
Sugar:
47
g
|
Vitamin A:
1542
IU
|
Vitamin C:
36
mg
|
Calcium:
104
mg
|
Iron:
1
mg