Do you love spaghetti and cheese? What about baked pasta dishes with incredible layers of flavor? If so, then we have the perfect dish for you - cheesy baked spaghetti! This delicious and comforting casserole has all the beloved flavors of classic spaghetti but kicks it up a few notches.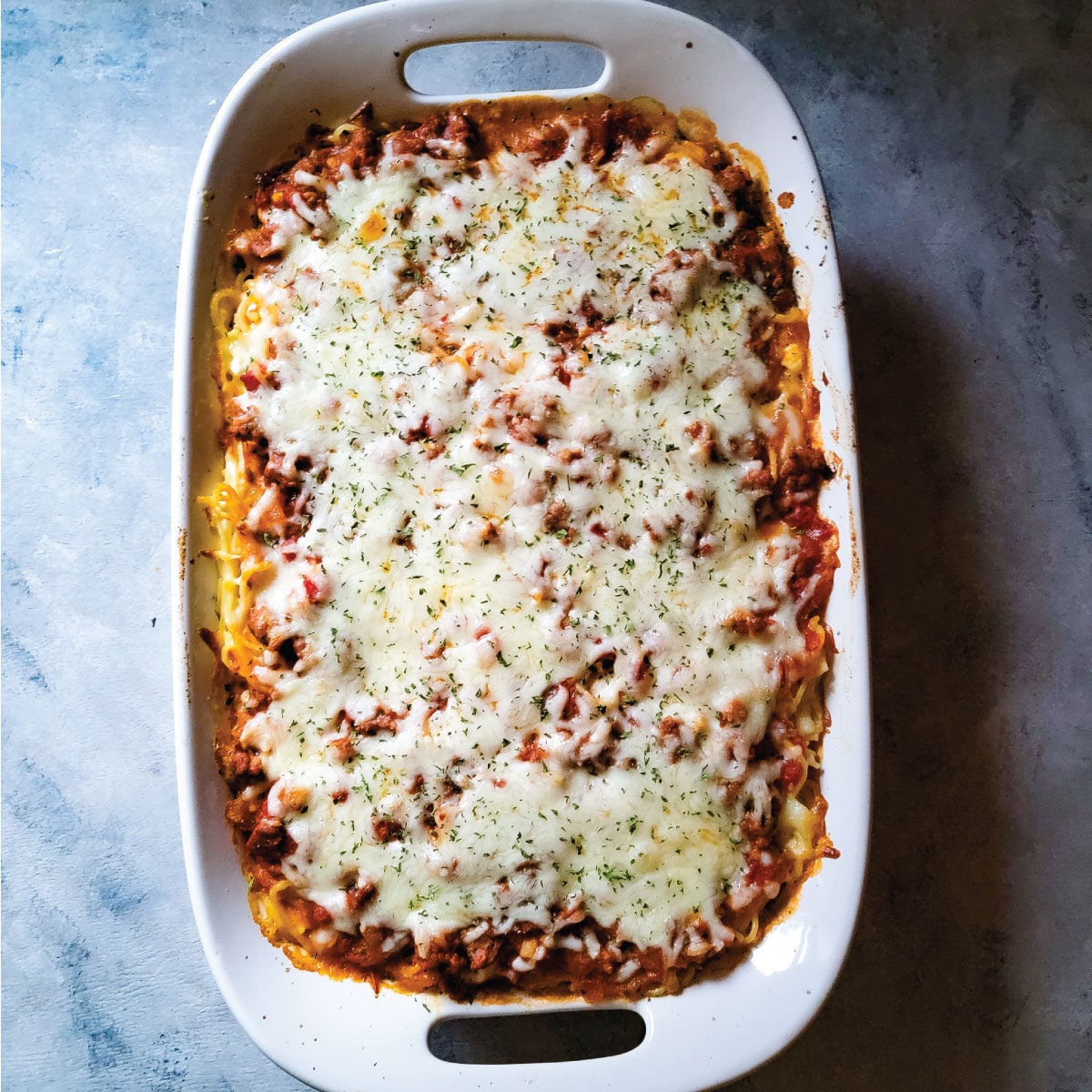 Oven baked spaghetti with cheese is the ultimate comfort food! Perfect for cooler nights and it always brings the family together. This casserole, our pizza lasagna and our 5 ingredient baked cheese ravioli are family favorites when we are craving baked pasta.
It does make a lot and for 3 of us we usually have enough for 2 meals, but nobody ever complains about eating it twice. This casserole is also perfect for gatherings or even as an extra dish for a holiday!
Jump to:
Ingredients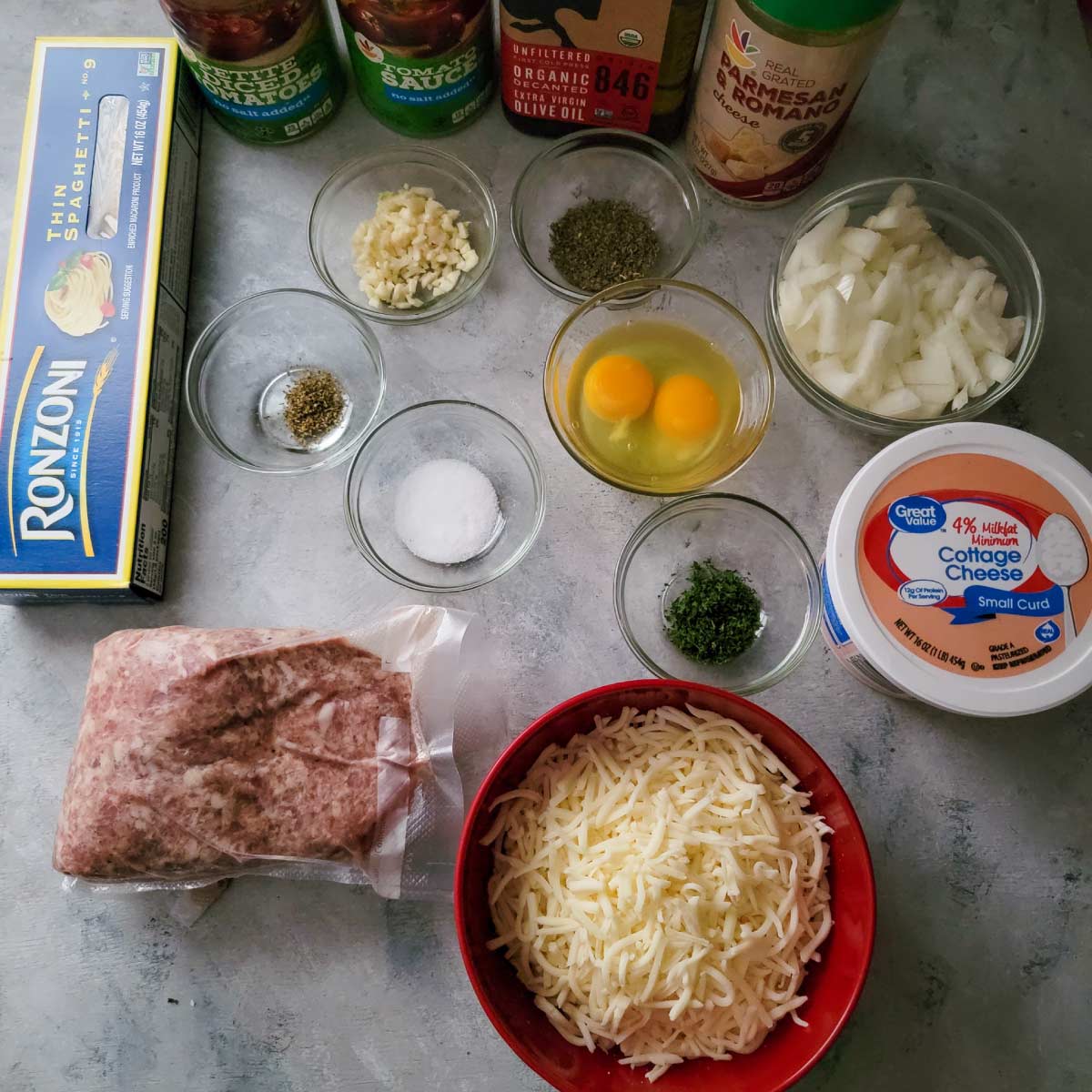 While it looks like a lot of ingredients in our cheesy baked spaghetti, it is worth every single ingredient added! Don't let the list overwhelm you, it is easy to make.
Pasta - As much as we love making homemade pasta, I do think boxed is easier to use here. We use thin spaghetti, but you can use regular. Do not use angel air or thick pasta like linguine.
Butter - You can use a butter substitute but we recommend butter here. We use salted, but you can use unsalted.
Garlic powder - No substitutes, garlic powder is used in a mix that will coat the pasta. Fresh garlic will not spread out as evenly.
Parmesan cheese - This is one of the very few times you will hear me suggest bottled parmesan cheese, but it is best for this recipe.
Cottage cheese - We use 4% milkfat small curd, but you can use a lower fat cottage cheese if you choose. Stay with the small curd.
Mozzarella - Fresh shredded or bagged shredded is ok. Either works great here! Fresh melts smoother then bagged.
Eggs - Large eggs, no substitutes recommended.
For the sauce
We highly recommend making the sauce for the cheesy baked spaghetti, but we added how to substitute with jarred sauce in the important tips below. This sauce is a little thinner on purpose.
Olive oil - You can use your favorite oil, but I recommend olive oil for the best flavor.
Onion - Yellow onion is best here, but you can use a sweet onion instead.
Diced tomatoes - We use no salt added, but you can use regular. You may want to adjust the amount of salt added.
Tomato sauce - We use no salt added here too, but you can use regular tomato sauce.
Garlic - Fresh chopped garlic is always great in sauce, but you can substitute it with half a teaspoon garlic powder.
Salt - Either regular table salt of sea salt.
Parsley - It is best to use parsley, basil and oregano separate due to the amounts, but you can substitute with 2 teaspoons Italian seasoning if you need to.
Basil - See parsley.
Oregano - See parsley.
Sausage - Optional. You can use a different meat or keep the meat out.
Important tips for cheesy baked spaghetti
This is not a hard dish to make, even with all the ingredients. It does take a little more time to prepare them some casseroles, but it is definitely worth it!
If using jarred sauce
This can be made with store bought sauce, but we recommend making the homemade. It is pretty easy to make and only has a few ingredients! If you get a store bought sauce, use a 15 ounce jar of sauce and mix with a 14.5 ounce can of tomatoes to get it close to the same amount we use.
The amount of sauce is just enough to give flavor and moisture without taking away the flavors of everything else. Your pasta will not be drowning in sauce tho. If you prefer a lot of sauce, you can have some at the table when serving. Do not add extra sauce to the dish before baking.
The pasta
One thing you want to do is break the pasta in half before cooking if it is full size pasta. Some brands also have spaghetti that is cut in half already - greatest invention ever!
If you are scooping your cheesy baked spaghetti casserole out, full size pasta will make it harder to get the right amount. You can cut the baked spaghetti into squares and serve as well, then it doesn't matter the size of the pasta going in!
Follow the instructions on the box to cook to al dente.
The pasta and cheese mix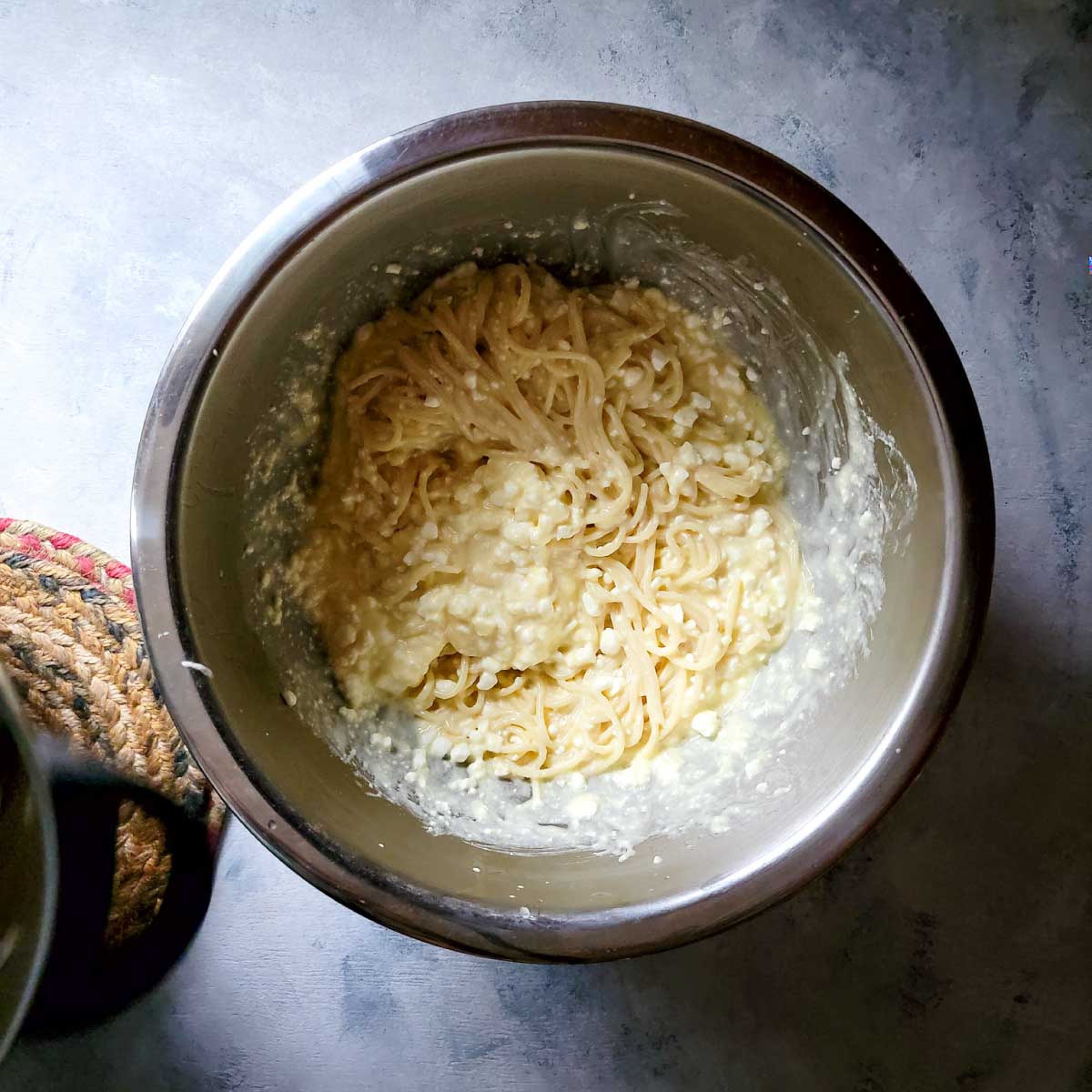 The butter and the pasta cannot be added to the eggs all at once when they are hot. Melt the butter and set it aside for about 5-10 minutes to cool slightly, but be sure it remains liquid.
In a large bowl mix together the cottage cheese, garlic powder, the slightly cooled butter, parmesan cheese and eggs.
After draining the pasta, slowly add pasta in and stir. I start with 1-2 pasta server scoops and stir it immediately. You do not want to add all the hot pasta at once or you run the chance of slightly cooking the eggs.
After you have added about half of the spaghetti stirring each time, you can add the rest and stir well.
The layers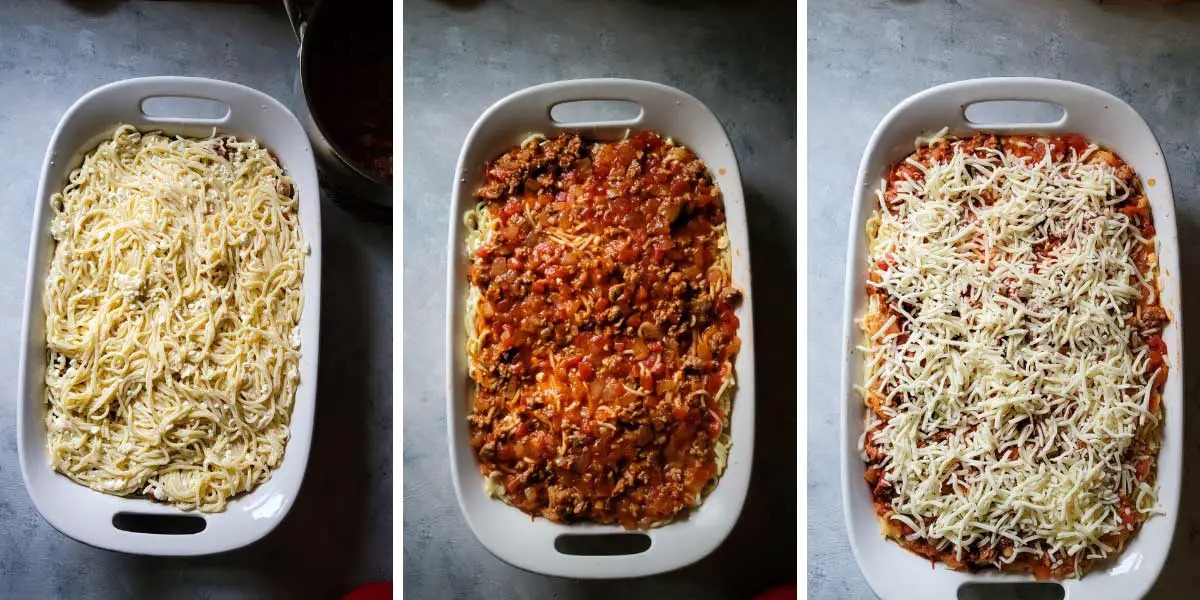 The layers for the cheesy baked spaghetti casserole are pretty easy. You do want to wait to add the top layer of cheese tho.
You make this in two layers. First place about half of the pasta in the bottom of a 13x9 dish - it will not fit in a smaller dish.
Pour about half of the sauce/meat mix over top of the spaghetti mix. Sprinkle half of the mozzarella cheese over the top of the first layer. As a note, you can use more mozzarella cheese if you want it extra cheesy.
Next add the remaining spaghetti mix and then the remaining sauce mix. Do not add the rest of the mozzarella yet.
Cover with foil and bake for about 25 minutes before removing foil and adding the cheese on top. Then return to the oven to bake for another 15-20 minutes.
The reason for waiting to add the cheese on top is that half of your cheese will stick to the foil instead of staying on your baked spaghetti. Trust me, I know this from personal experience!
Other great dishes with pasta
Frequently asked questions
Can baked spaghetti be made ahead of time?
Yes! You can prep it the day before and put it in the fridge before baking. Please note that you will need a longer cooking time. I would add about 10-15 minutes with it covered to the bake time if you if you make it ahead.

Also you will need to take it out of the fridge for a bit before baking if you have it in a glass baking dish. Glass can crack going from the cold fridge right to the hot oven.

You can always prepare this easy baked spaghetti recipe in a disposable baking dish as well which can go from fridge to oven. We do not use them often, but I always have them on hand.
Can baked spaghetti be frozen?
Yes it can! I recommend using freezer safe containers and be sure to portion it in amounts you will use at once. It should not be refrozen once thawed.

To heat - it is best to thaw in the fridge first. Then you can microwave as you would other leftovers or you can heat it in the oven at 350 degrees until heated through.
What to serve with baked spaghetti?
We like to make garlic bread with ours and sometimes we make Nagi's Cheese and Garlic Crack Bread. Plain Italian bread is always a great option as well.

A garden salad goes well with spaghetti, baked or not. It is always a great side choice to go with most meals!
Do I have to cook the pasta first?
Yes you do. There is not enough room in the dish to add the amount of liquid needed to cook the pasta in the oven. And the pasta is likely to turn out with clumps and spots not fully cooked if you do not precook the noodles.
Useful items for this recipe
As an Amazon affiliate, we may earn a commission if you make a purchase through one of our links. This is at no extra cost to you! Thank you for your support and helping us to keep the recipes free.
13x9 baking dish - This is a classic and reasonably priced Pyrex dish. You can always go fancy and get a ceramic one, but a basic glass dish is really all you need. A deep dish is great and comes in handy for other meals, but this baked spaghetti will just fit into a standard 13x9 dish.
Pasta server - This is a serving utensil that every pasta lover needs!
Mixing bowls - You need a large bowl for this recipe, but I love to have a set of a few different sizes! The great thing about this set is that it has added protection on the outside of the stainless steel bowls to help keep you from getting burned when mixing hot foods.
Recipe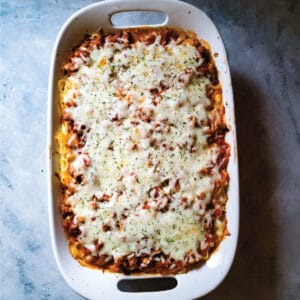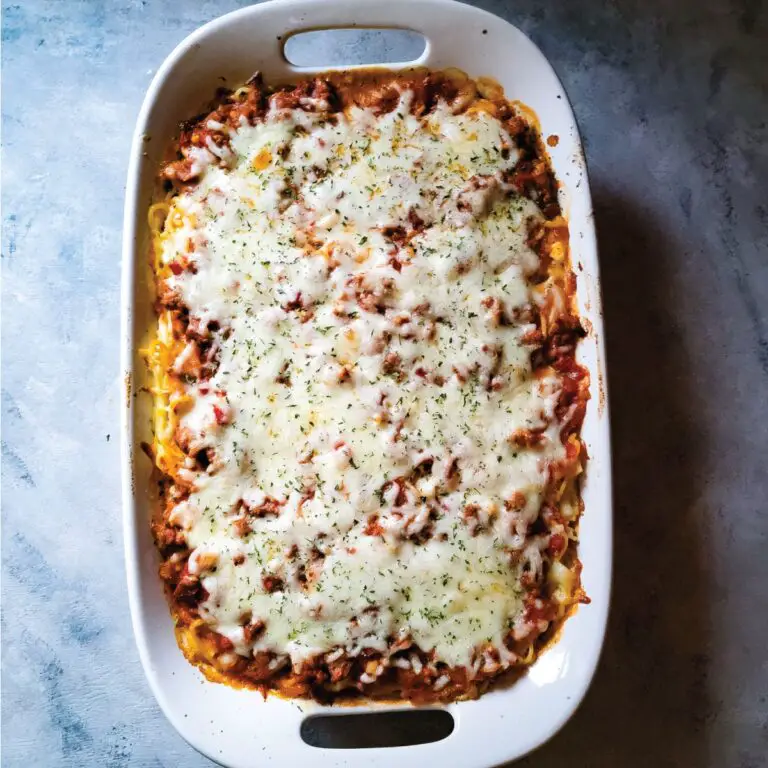 The Best Cheesy Baked Spaghetti
If you're looking for a delicious, hearty, and comforting dish, look no further than this cheesy baked spaghetti casserole.
Ingredients  
1

pound

spaghetti

thin or regular

1

pound

ground sausage

optional, see notes

4

Tablespoons

butter

we use salted

2

eggs

at room temperature

16

ounces

cottage cheese

small curd

¼

cup

parmesan cheese

8

ounces

shredded mozzarella cheese

or more for extra cheesy

¼

teaspoon

garlic powder
Homemade sauce
3

Tablespoons

olive oil

1

yellow onion

medium sized, chopped

3

cloves garlic

chopped

14.5

ounces

diced tomatoes

no salt added recommended, see notes

15

ounces

tomato sauce

no salt added recommended

1

teaspoon

basil

¼

teaspoon

oregano

½

teaspoon

parsley

1

teaspoon

salt

see notes
Instructions 
Prepare the pasta as per directions on the box. Cook to al dente, not too soft. Drain and set aside for about 5-10 minutes.

Cook the sausage while pasta water is coming to a boil. Drain and set aside to add to the sauce.
Making the sauce (prep while waiting for pasta)
Heat the oil over medium heat and add in the onions and garlic. Cook for about 4 minutes or until the garlic just starts to brown slightly.

3 Tablespoons olive oil,

1 yellow onion,

3 cloves garlic

Add in the cooked sausage, diced tomatoes, tomato sauce, basil, oregano, parsley, and salt.

Cook for about 10-15 minutes.

14.5 ounces diced tomatoes,

15 ounces tomato sauce,

1 teaspoon basil,

¼ teaspoon oregano,

½ teaspoon parsley,

1 teaspoon salt
Assembling and baking
Melt the butter and set aside to cool slightly - about 5-10 minutes at room temperature.

In a large bowl mix together the garlic powder, cottage cheese, the slightly cooled butter, eggs and parmesan cheese. Mix well.

2 eggs,

16 ounces cottage cheese,

¼ cup parmesan cheese,

¼ teaspoon garlic powder

Add the pasta into the bowl in small sections to prevent the eggs from cooking slightly when adding hot pasta - I add 1-2 scoops with a pasta server at a time stirring well. Do this for about 3-4 times and then pour remaining pasta in. Stir well to coat.

In a 13x9 baking dish, spread half of the pasta mix in the bottom of the dish.

Add half of the sauce with sausage and sprinkle with half of the mozzarella cheese. Place remaining half of mozzarella cheese in fridge for now.

Add remaining noodle mix and then top with the remaining sauce.

Cover with foil and bake at 375° F for 25 minutes.

Remove foil, sprinkle the remaining mozzarella cheese over the top and bake for another 15-20 minutes.

It will be bubbly and the cheese will be completely melted.
Notes
Nutritional values are estimated.
We use sausage in ours, you can use other ground meat or even keep the meat out if you prefer.
You may need to use a little less salt if your tomatoes and tomato sauce have salt added.  Adjust to taste.
2 cups (8 ounces) is a good amount of mozzarella cheese, but I would never argue with extra cheese if you choose to add more!
Nutrition
Calories:
898
kcal
Carbohydrates:
68
g
Protein:
43
g
Fat:
50
g
Saturated Fat:
20
g
Polyunsaturated Fat:
5
g
Monounsaturated Fat:
20
g
Trans Fat:
1
g
Cholesterol:
175
mg
Sodium:
1554
mg
Potassium:
787
mg
Fiber:
4
g
Sugar:
9
g
Vitamin A:
930
IU
Vitamin C:
15
mg
Calcium:
388
mg
Iron:
4
mg