Pizza lasagna is the ultimate comfort food! It brings together the flavors of two amazing foods and is the perfect family dinner. We use a homemade sauce that is easy to make and you can add your favorite pizza toppings in too.
Growing up pizza was always one of my favorites! As I got a little older, I really started to enjoy lasagna more and started to experiment a lot with it. I have tried many different ways of making it including slow cooker lasagna.
But then I thought about my love of pizza and thought about how the two would go so perfectly together! This is for those of us who love both foods and you can customize it like you would your pizza.
Jump to:
Ingredients
Like in our baked spaghetti casserole, we use a homemade sauce that is easy to make. It can be substituted with jarred sauce and tomatoes.
Homemade sauce
This can be substituted with a 14-15 ounce jar of pizza sauce (different companies sell different sizes) and a 14.5 ounce can of diced tomatoes. This homemade sauce is made just for the pizza lasagna. It is too thin to put on crust to make a pie.
Diced tomatoes - You can use your own canned tomatoes or store bought diced tomatoes. You can use crushed in it's place if needed.
Tomato paste - This is needed to thicken it slightly. Your sauce will be too thin without it.
Garlic - We use garlic powder here because the sauce is not simmering for a longer time to get the fresh garlic taste throughout. You can use fresh garlic, but you will want to simmer it for a little longer for the flavor to really go throughout the sauce.
Sugar - Tomatoes are acidic and adding sugar helps to tone it down a bit. You can use chopped onion in it's place, but we recommend sugar in this recipe.
Salt - Table salt or sea salt is good.
Basil - Dried basil is what we recommend here, it has more flavor when added to the sauce then fresh basil does.
Oregano - Dried oregano is best.
Pepper - We use fresh ground black peppercorns, but ground black pepper is ok too.
Red pepper flakes - Optional but highly recommended. The amount used will not make it spicy. You can add more if you like spice!
The lasagna
This is flexible with some of the added ingredients and being it is pizza lasagna, you can use your favorite pizza toppings!
Noodles - I recommend the regular noodles that you boil first, we are not fans of the no boil noodles so this hasn't been tested with them.
Ricotta cheese - Whole or skim is ok, we use whole milk ricotta.
Egg - No substitutions recommended.
Parmesan cheese - You can use either fresh grated or the jarred cheese. As much as we love fresh, we usually put the jarred cheese in lasagna.
Mozzarella cheese - You can use fresh shredded or packaged shredded for this.
Italian seasoning - If you do not have Italian seasoning, you can use about 1 third teaspoon each - parsley, basil and oregano.
Garlic powder - The powder is recommended here because the fresh garlic will not blend as well with the cheese filling.
Your favorite pizza toppings - Some suggestions are listed below.
Recommended pizza toppings to add to pizza lasagna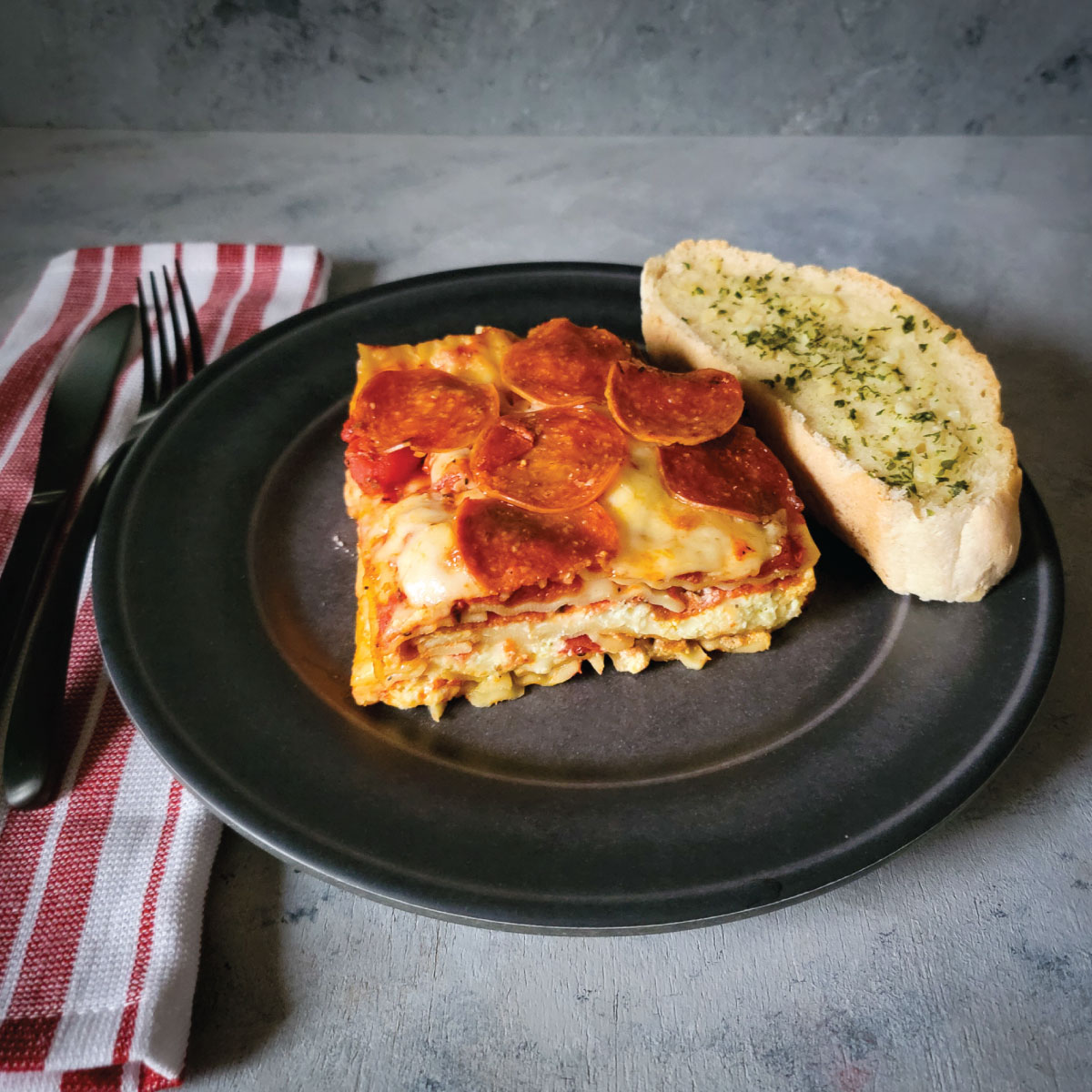 Anything you enjoy on pizza can go in this!
Pepperoni - Many times when we make this, we add pepperoni. Even though it's not my favorite topping on a pie, it's a favorite in the lasagna.
Sausage - This is one of my personal favorites when ordering a pie, and it tastes great here too.
Peppers - Thinly sliced peppers are always good here. My favorite pie is sausage, peppers and onions so the combination works great here too!
Onions - Thinly sliced are best in my opinion.
Ham and pineapple - Being from NJ I hear many people tell me that it doesn't belong on pizza, but I am sorry we do enjoy a good Hawaiian pie! It goes well here too.
Mushrooms - Quite often we add mushrooms sliced thin with either pepperoni or the sausage, peppers and onions.
Olives - Not a favorite of mine in any dish (I love olive oil but no olives please), but you can definitely add them if you like them! I have done half for family members and they loved it.
Anchovies - Another topping that I do not eat, but if you enjoy them then try it in the pizza lasagna! I have not tested this but I am sure it will be great if you like them.
I am sure there are other toppings you may enjoy, these are just common ones that we know here.
Making the lasagna
If you have never made lasagna before, it is quite easy to assemble!
The noodles
We use noodles that you have to boil here. Bring a large pot of water to a boil and add the noodles. I always cook a couple extra just in case a couple break. You can always piece the noodles together in your casserole, but we like to snack on the cooked broken noodles.
Be sure to gently stir your noodles with tongs often so they do not stick together. Cook according to package directions.
I do not recommend the no boil because I believe you need extra liquid for them. This recipe has the right amount of sauce for regular noodles that are boiled before adding to the lasagna, and not enough for no boil noodles.
The sauce
If you are making our homemade sauce for the pizza lasagna (this is easy and recommended) you want to combine all ingredients together in a small sauce pot. Bring to a simmer and cook for about 10 minutes. We make it while the pasta is boiling. Set aside.
You can substitute with store bought sauce as well. If using store bought, combine the pizza sauce (not spaghetti sauce) and canned tomatoes in a sauce pot. Heat until it is heated through. Set aside.
The cheese filling
You want to mix in about 2 cups of the mozzarella cheese into the cheese filling. Be sure to set 1 cup aside for the top so you have melted cheese on top.
Mix the ricotta, mozzarella, parmesan, egg, garlic powder and Italian seasoning in a bowl. Set aside.
The Layers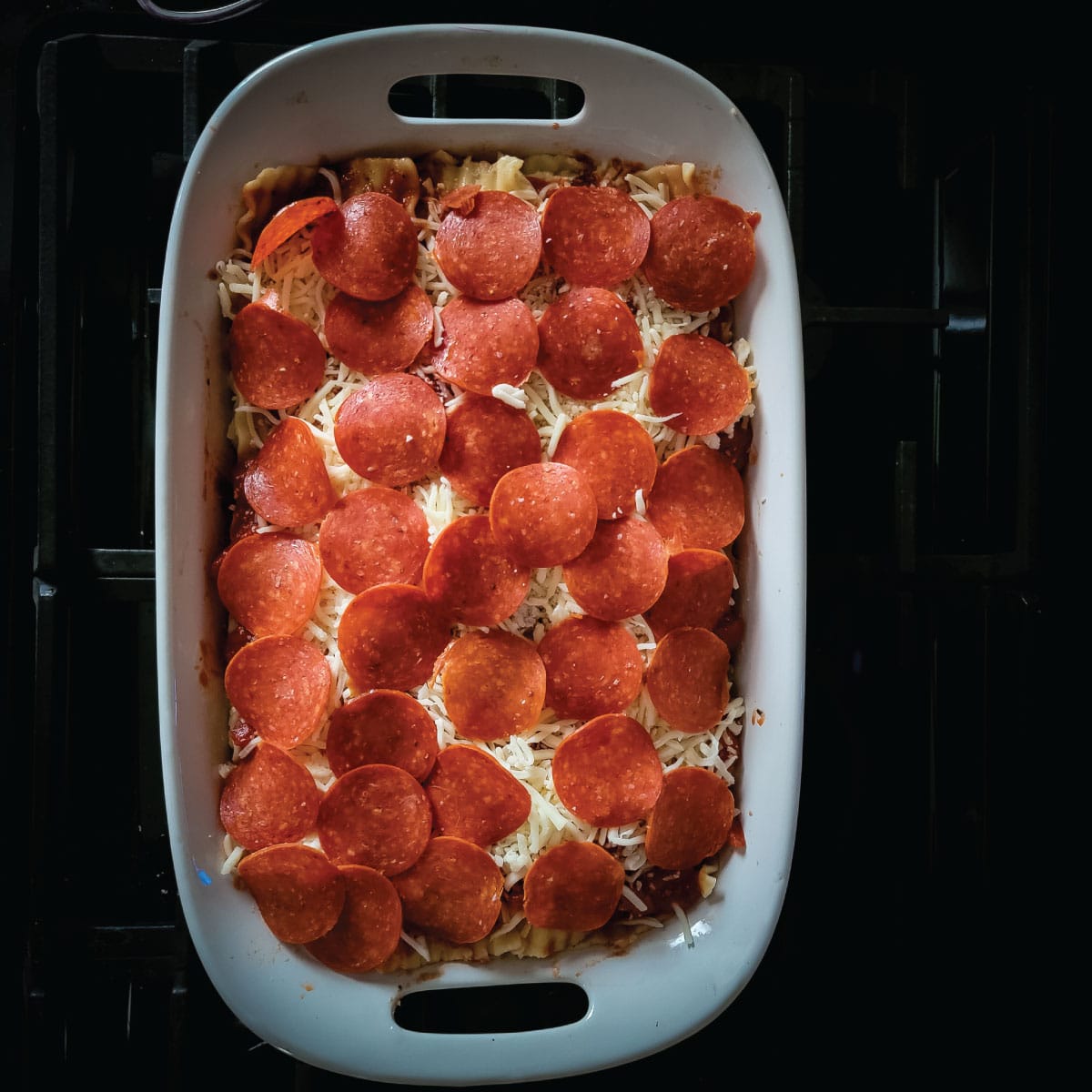 Assembling it is quite easy! .
Start with a little bit of sauce on the bottom, about a half cup. It doesn't have to be exact, you are adding sauce 4 times but the bottom gets a slightly less amount then the layers.
Top with 4 noodles spread evenly across. You can slightly overlap them, depending on your casserole dish you might have to layer them slightly.
Spoon out one half of the ricotta filling mix and spread it across the noodles. Add 1 third of your toppings across the cheese filling.
Spoon out about 2 thirds of a cup of sauce over top of the toppings.
Repeat layers once.
Top with the remaining 4 noodles, the remaining sauce and the remaining mozzarella. Add any additional toppings to the top and it is ready to bake!
Bake the pizza lasagna at 350 degrees Fahrenheit for about 45- 55 minutes until it is bubbly and the cheese is melted and just starting to brown on the edges. If the cheese is browning too fast, cover it loosely with foil and continue to bake.
Allow it to sit for about 15 minutes before cutting and serving.
Frequently asked questions
Can I freeze the pizza lasagna?
You can freeze lasagna before or after baking. If you plan on having the whole dish at another time, I recommend you freeze it before baking. Assemble it all the way in a freezer and oven safe dish.

If you use a glass dish, you will need to thaw it before placing in oven to prevent the glass from cracking due to extreme temperatures. You can use a foil pan, they can go from freezer to oven! Cover your dish tightly with foil.

If you are freezing it after baking, you can freeze it in individual serving sizes to be reheated in single servings. Individual serving sizes can be frozen in freezer safe containers or even bags. Just be sure the lasagna is cooled down all the way before sealing the container and placing in the freezer.
Do I need to thaw the lasagna before baking?
When you freeze an uncooked lasagna you do not need to thaw it out first unless you froze it in a glass dish. The glass should not go from freezer to oven. To thaw, place in the fridge for 24-48 hours.

If you used an aluminum pan to freeze it, it can go directly into a preheated oven. It will take about twice as long from frozen. Cook covered for about 75 minutes and remove the foil. Continue cooking for about 15 minutes, until it is cooked through.


How long will leftovers last?
If stored in the fridge promptly, leftover pizza lasagna should last up to 4 days.
Recipe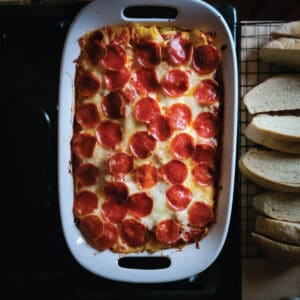 The Best Pizza Lasagna
Pizza lasagna is the perfect combination of two amazing foods - pizza and lasagna! It is made with a homemade sauce that is easy to make but you can substitute for jarred sauce.
Ingredients  
12

lasagna noodles

we use regular

15

ounces

ricotta cheese

3

cups

shredded mozzarella cheese

divided

¼

cup

parmesan cheese

jarred or fresh grated

1

egg

1

teaspoon

Italian seasoning
Sauce - can use jarred sauce, see notes
29

ounces

diced tomatoes

we use no salt added

2

Tablespoons

tomato paste

1

teaspoon

sugar

1

teaspoon

basil

1

teaspoon

oregano

½

teaspoon

garlic powder

½

teaspoon

salt

¼

teaspoon

black pepper

¼

teaspoon

red pepper flakes
Toppings - you can use your favorite pizza toppings, see notes
ham

diced

pepperoni slices

bell pepper

sliced thin (or diced)

onion

sliced thin (or diced)

mushrooms

sliced thin

pineapple

cut into chunks

olive slices

anchovies

ground sausage
Instructions 
Preheat oven to 350° Fahrenheit.

Cook the lasagna noodles according to package directions.
The sauce - make while pasta is boiling
In a sauce pot combine all of the sauce ingredients - tomatoes, tomato paste, garlic powder, sugar, basil, oregano, salt, pepper and pepper flakes.

Bring to a simmer and reduce heat to medium low. Cook for about 10 minutes and remove from heat. Set aside.
The cheese filling
In a bowl mix ricotta cheese, 2 cups of the mozzarella, parmesan cheese, egg and Italian seasoning together with a fork.
Assembling
Scoop about ½ cup sauce into the bottom of a 13x9 baking dish.

Spread 4 lasagna noodles across the bottom of the dish over the sauce.

Spread half of the cheese mixture across the noodles.

Add ⅓ of the pizza toppings you are using

Pour about ⅔ cup sauce over the toppings.

Repeat layer once.

Place the remaining 4 noodles on top.

Spread the remaining sauce over the noodles.

Sprinkle the remaining mozzarella cheese (about a cup) over the sauce.

Add the remaining pizza toppings.
Baking
Place in preheated oven and bake for 45-55 minutes. It should be heated through and bubbly. The cheese should start to get a slight brown on the edges but you can bake a little longer for a darker brown melted cheese if you prefer.

Check on the lasagna about 30 minutes in to make sure the top cheese isn't browning yet. If it is browning too quickly, loosely cover with foil and continue baking.

Allow the lasagna to sit for about 15 minutes before cutting and serving.
Notes
Nutritional values are estimated and so are serving sizes.  Nutritional values do not include any toppings you add as they will vary based on what toppings you choose to add.
The toppings listed above are just some optional ideas.  We all like different things on pizza and you can add what you like on pizza to your lasagna! We usually add about 9 ounces pepperoni (a package and a half) and mushrooms here.
For the noodles - This has not been tested with no boil noodles, we only use the regular here.  I do not recommend using no boil as I believe they need more liquid then we are using here.
For the sauce - You can purchase jarred sauce to use instead of making homemade sauce.  You would use a jar or can of pizza sauce that is 14-15 ounces and 14.5 ounces of diced tomatoes.  Different companies have different sizes for the pizza sauce.  Mix together and heat in a sauce pan until heated through.
The homemade pizza sauce here is specifically made for pizza lasagna and is not as thick as you need for a pie.  I do not recommend making it for a pizza pie.
Nutrition
Calories:
407
kcal
Carbohydrates:
40
g
Protein:
23
g
Fat:
18
g
Saturated Fat:
10
g
Polyunsaturated Fat:
1
g
Monounsaturated Fat:
5
g
Trans Fat:
1
g
Cholesterol:
81
mg
Sodium:
507
mg
Potassium:
433
mg
Fiber:
3
g
Sugar:
5
g
Vitamin A:
759
IU
Vitamin C:
10
mg
Calcium:
376
mg
Iron:
2
mg