Ham and bean soup is a delicious way to use up some of your leftover ham! We boil down the ham bone for the soup, but you can use chicken broth. This is written with 16 bean and can be made with 15 bean mix.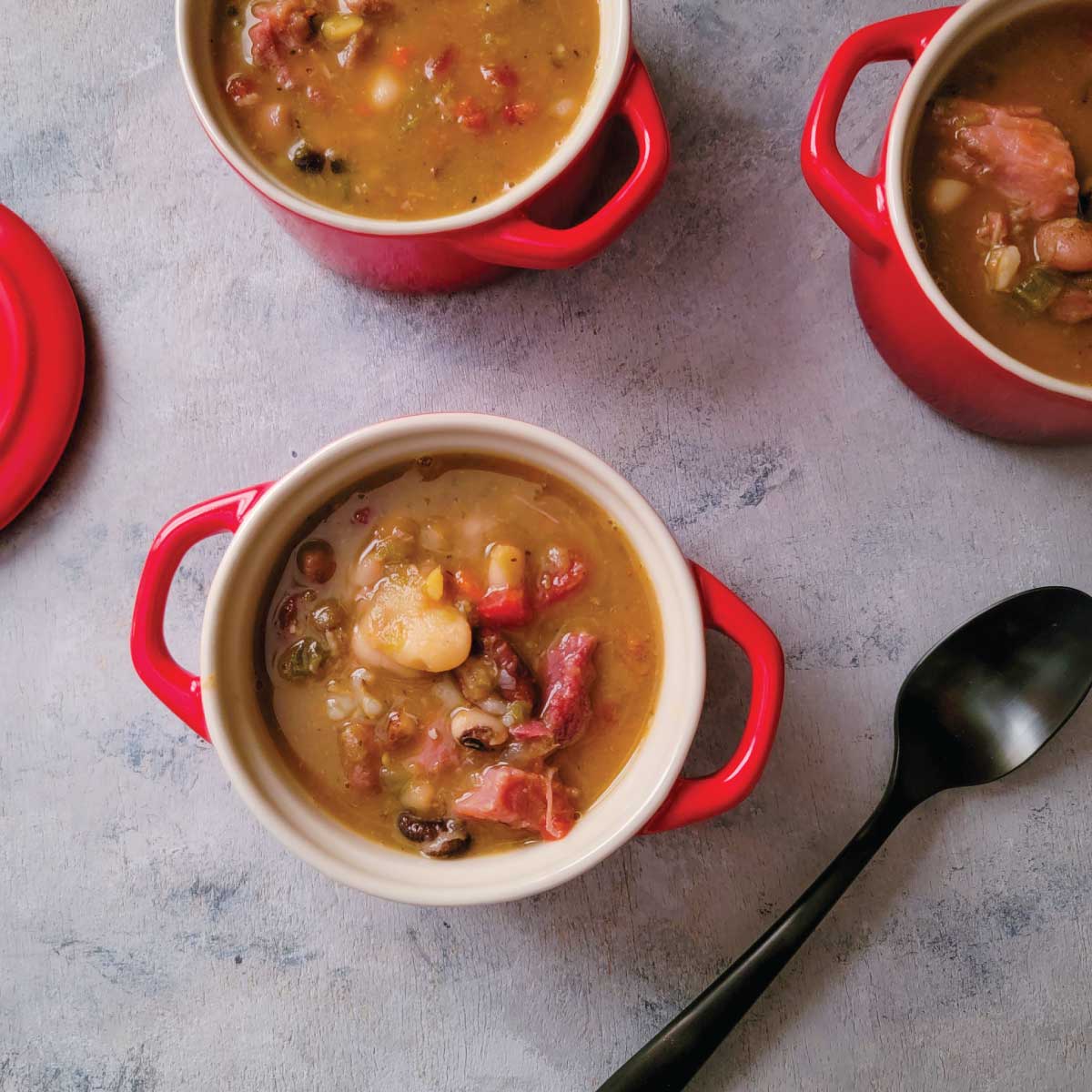 This is a hearty soup that will warm you up! It is the ultimate comfort food and I look forward to it every time I make a baked ham.
This is one of our favorites to make with the leftovers, but another great one to make (without beans) is ham and potato soup. When I make a big enough ham, I make both soups. You can freeze the meat and the bone freezes well too for another day so you don't have to make them both right away.
We use the 16 bean soup mix here, but you can use the 15 with no changes. Different brands carry different mixes, there isn't much of a difference between them. If you are boiling down the bone, throw away the little seasoning packet that comes with the bean mix. You will not need the seasoning unless you are making it with water (no ham bone or broth.)
Jump to:
Ingredients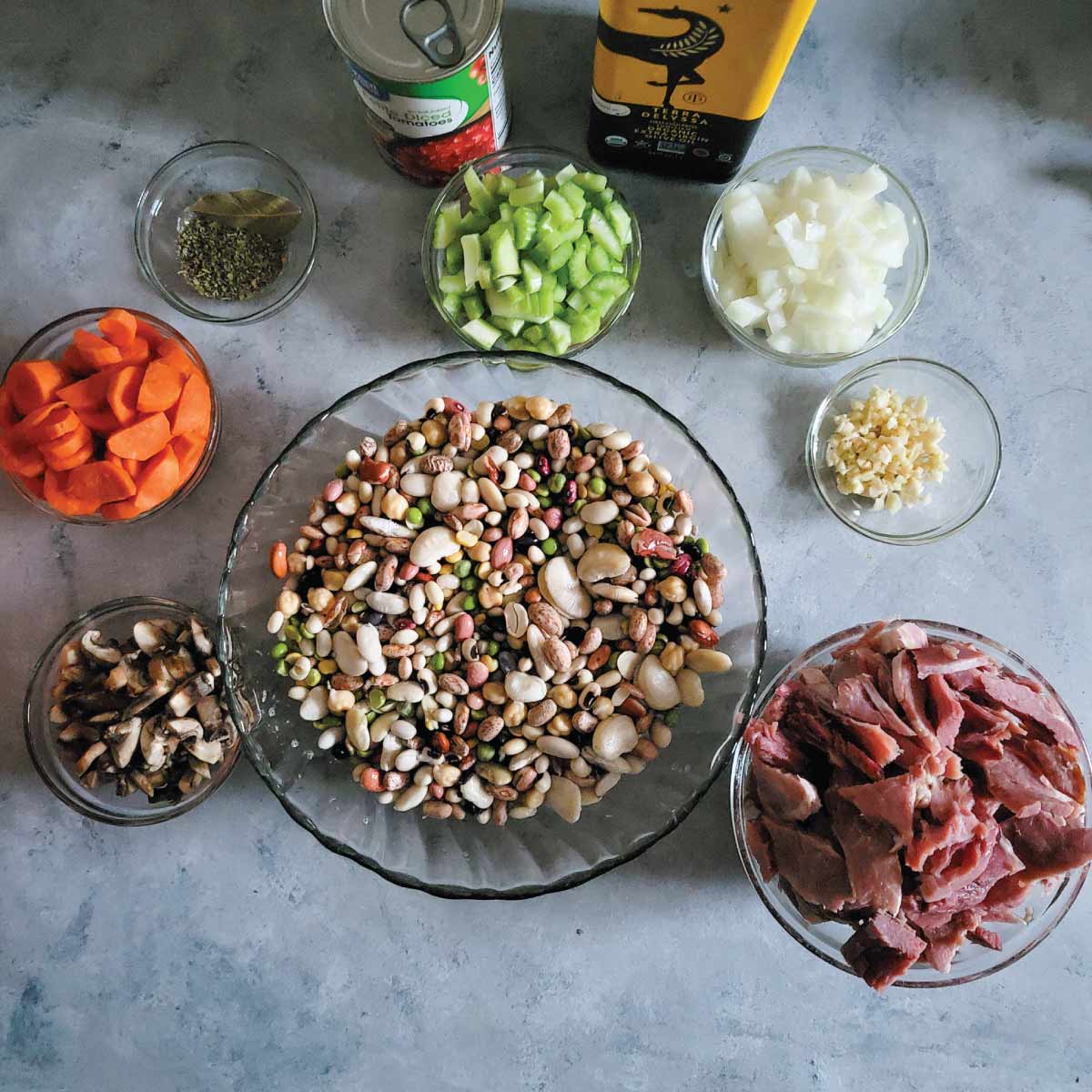 Ham bone - If you have one it is best to use a ham bone to make a ham broth for the ham and bean soup, but if not you can use chicken or vegetable broth.
Ham - No substitutions recommended, but you can use ham slices cut into chunks (or precut chunks) if you are making this without leftover ham.
Beans - 15 or 16 bean soup mix, discard seasoning packet unless you are using plain water with no ham bone.
Mushrooms - Optional but recommended.
Carrots - No substitutions recommended.
Celery - No substitutions recommended.
Onion - We use yellow onion, but white or sweet onion can be used in it's place.
Garlic - Fresh chopped is best, but you can use garlic powder.
Italian seasoning - Can use half a teaspoon basil, half teaspoon oregano and 1 teaspoon parsley in place of Italian seasoning.
Bay leaf - Optional, but recommended for extra flavor - just be sure to throw it away before serving. Never swallow a bay leaf, they do not break down and can be sharp if swallowed.
Oil - We use olive oil, but you can use your favorite.
Diced tomatoes - We use unsalted here, but you can use your favorite.
Making ham and bean soup
This soup is very easy to make but will take a few hours if you are using a ham bone. It is mostly hands off for the time and has a wonderful flavor from the bone.
Prepping the beans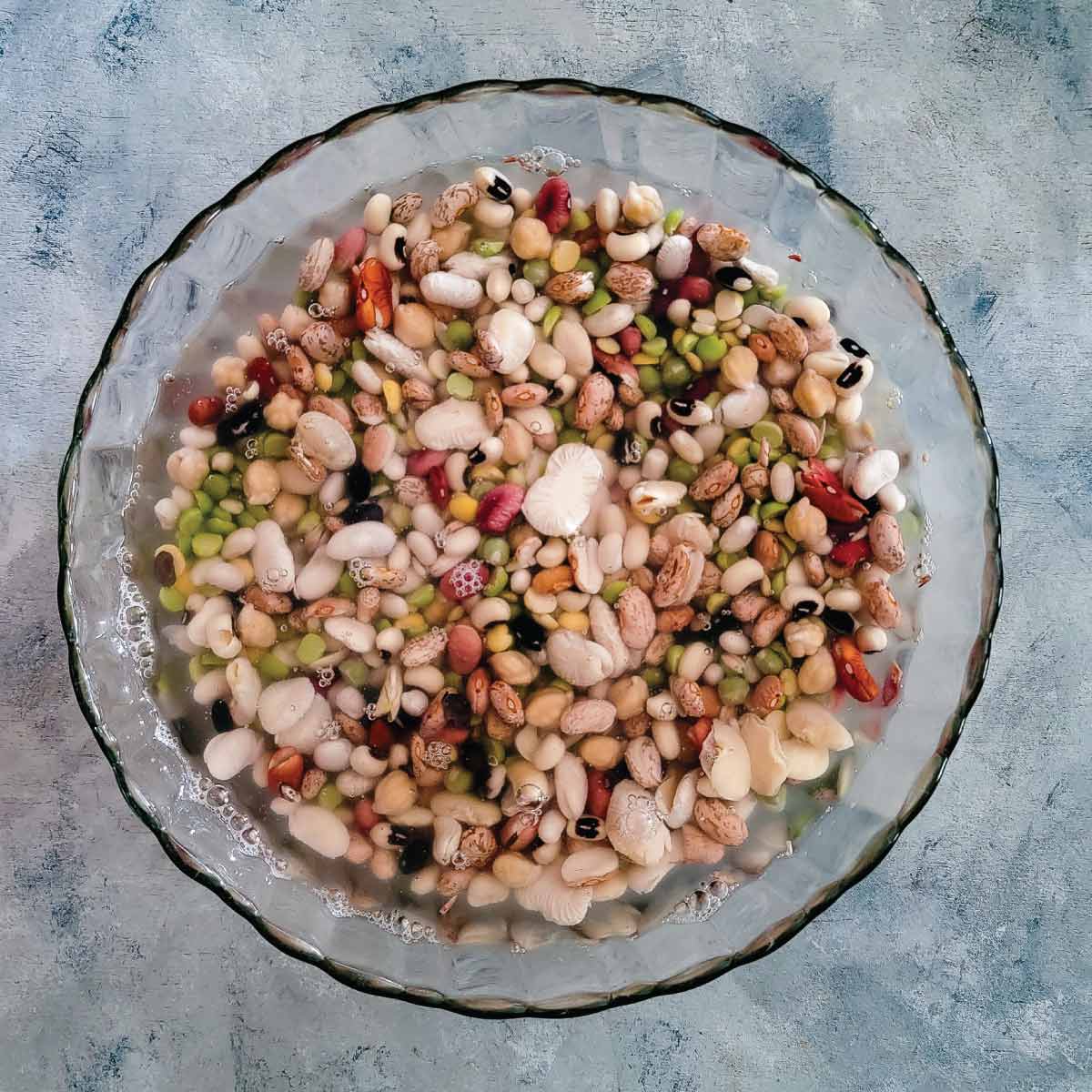 This is an important step in making the ham and bean soup! Not everybody soaks their beans, but I do recommend it. They cook better and it is supposed to help break down some of the things that cause gas and upset stomach from them. They do not cook as fast without soaking and they definitely will need more cook time if you do not soak them.
First you want to rinse them in cold water. Remove any debris that might be in there. Usually there isn't anything, but you might find a stem or even broken beans.
After rinsing, place them in a bowl with very cold water and leave them on the counter. I would keep them away from a source of heat and no direct sunlight light during their soaking time. Let them soak for about 8 hours. Drain right before adding to the soup.
Cooking down the bone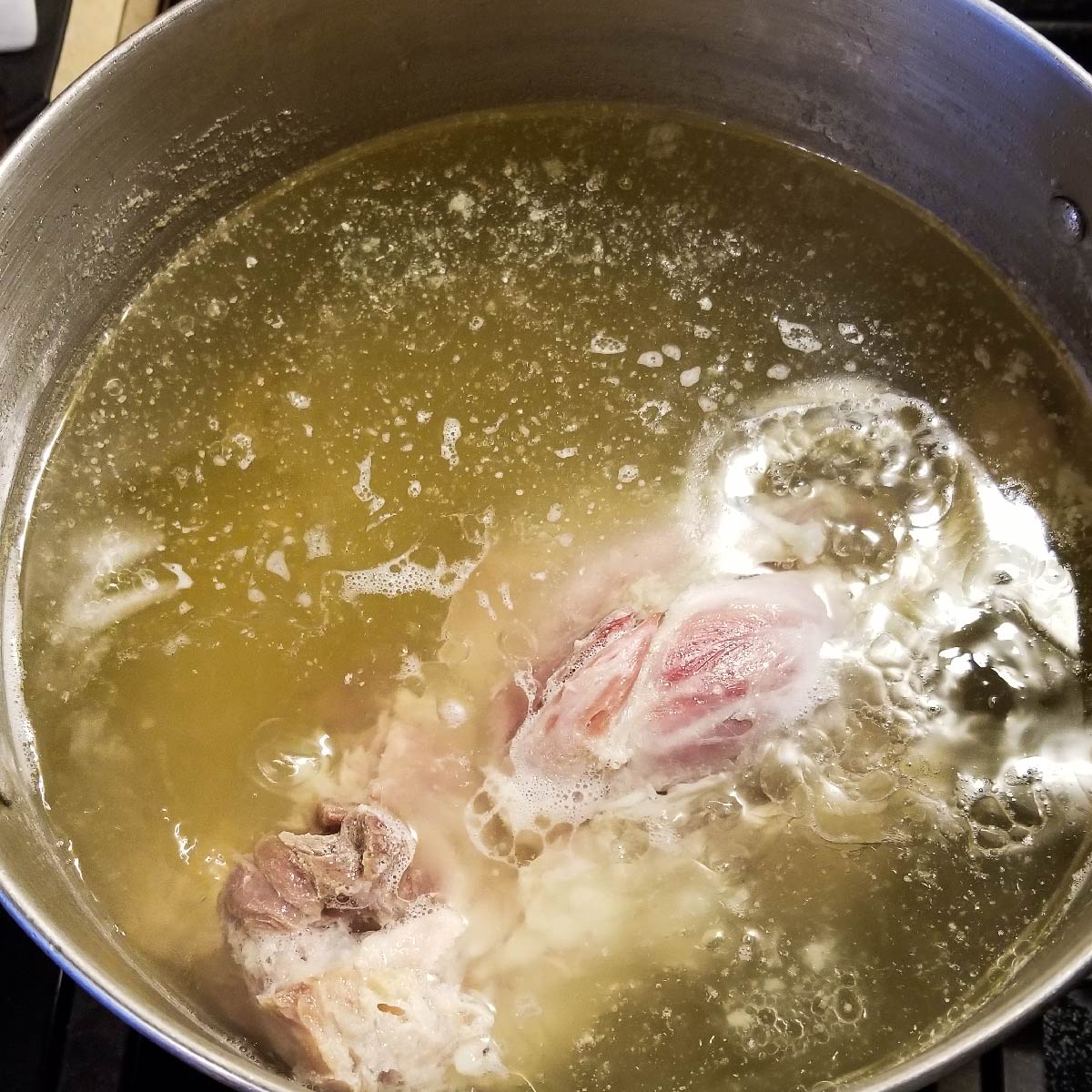 If you are using just ham (no bone), you will want to use a chicken broth or even a vegetable broth in it's place and you will skip this part. I have made this soup with broth from boiling down bones from pork ribs too so there are options here!
Pour a couple tablespoons of vinegar (any will do but we use apple cider vinegar) onto the bone. Let it sit in the stock pot for about 10 minutes before adding water. This helps to draw the good stuff out of the bones.
Depending on the size of the bone and the pot you are using, pour 15 cups of water over the bone. If you need a little more water to cover the bone, add a little more. You will need 10 cups of the broth for the soup but you need to add at least 14 since you will lose some of it with simmering. You can use the extra broth in the soup, you just need at least 10 cups.
Bring to a boil and reduce to a simmer. Simmer for at least 4 hours, longer is ok but not needed. Once done, strain and remove any ham from the bone to add to the soup. Allow to cool long enough for the fat to separate.
Putting the soup together
When your beans and your ham bone broth are ready, you can make the ham and bean soup!
Heat up your soup pot over medium temperature. Pour in the olive oil, onions, celery and carrots. Sauté for about 5 minutes uncovered.
Add in the mushrooms, garlic, Italian seasoning, broth and ham. Mix together and bring to a boil. Stir in the beans and reduce heat to a simmer. Throw the bay leaf on top and allow to simmer for about an hour, until the beans have softened. Remove the bay leaf and add in the diced tomatoes. Cook for another 5 minutes and remove from the heat to serve.
We enjoy this ham and bean soup with the cheesy garlic biscuits because they are quick and easy to make! But they are delicious with regular dinner rolls as well.
Frequently asked questions
Do I have to soak the beans before using them?
Yes, it is recommended that you do. They will require a much longer cook time if you do not.
Can I use the seasoning packet that comes with the 16 bean ham soup mixture?
If you are using ham bone broth or another broth, then I would not recommend using it. If you are using just plain water (with no ham bone), then you can use it to add ham flavor to your soup. You would use 10 cups of plain water with the seasoning packet (unless your soup mixture suggests a different amount.)
How long will ham and bean soup last in the fridge?
If stored promptly after dinner, it should last you up to 3 days. Leftovers are delicious the next day!
As a Note:
I like to make the ham bone broth the day before and put it in the fridge to cool down. It makes it easier to remove the fat before using the broth. As the broth cools down, the fat solidifies on the top and is very easy to remove.
You can also cook it when you first start soaking the beans and cool it for a few hours until the beans are done soaking. You can use a couple paper towels to soak up the fat. The fat always rises to the top.
It is best to add the tomatoes at the end of the cooking time. The acid in the tomatoes can cause the beans to cook properly.
Recipe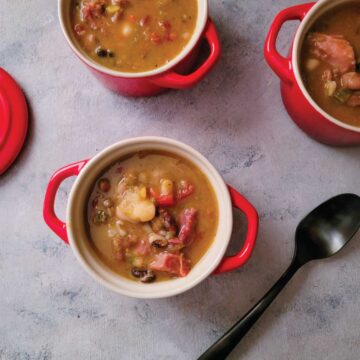 Ham and Bean Soup
Ham and bean soup is hearty and delicious soup that is a perfect recipe to use up your leftover ham!
Ingredients  
16

ounces

16 bean mix

dried beans

1

large ham bone

see notes, you can substitute with broth

14-16

cups

water

only if using a ham bone, see notes

3

cups

ham

in bite sizes

3

Tablespoons

olive oil

or preferred oil

14.5

ounces

diced tomatoes

1

yellow onion

large, chopped

2

celery sticks

chopped

2

carrots

sliced

4

brown baby bella mushrooms

chopped, optional but recommended

2

teaspoon

Italian seasoning

1

bay leaf

3

garlic cloves

chopped
Instructions 
If using a ham bone, place the ham bone in a large stock pot and pour a couple tablespoons of vinegar over the bone and pour enough water to cover it, at least 14 cups of water. You will need 10 cups of finished broth.

It is best to make broth ahead of time to strain the fat, see notes.

1 large ham bone,

14-16 cups water

Bring the water and ham bone to a boil. Reduce heat and simmer at least 4 hours. Strain and set aside to cool. Once cooled down, remove the fat from the top.

Beans need to soak in order to cook in the hour time frame. I do this in the morning but you can soak overnight. Rinse the beans and remove any debris if there is any (stems or anything.) Place them in a bowl of very cold water and allow them to soak for around 8 hours on the counter.

Heat up a large soup or stock pot over medium heat. Once it is hot add in the oil, onions, carrots and celery. Saute for about 5 minutes.

3 Tablespoons olive oil,

1 yellow onion,

2 celery sticks,

2 carrots

Add in the garlic and mushrooms. Cook for another 1-2 minutes.

3 garlic cloves,

4 brown baby bella mushrooms

Add in broth, Italian seasoning, ham and the beans. DO NOT add the tomatoes yet. Stir well and place the bay leaf on top.

Cook for about an hour or until the beans are to a desired texture.

3 cups ham,

2 teaspoon Italian seasoning,

1 bay leaf

Once the beans are cooked, remove the bay leaf and add in the can of tomatoes. Cook for about 5 minutes and it is ready to serve.

Before removing from heat, carefully taste it to see if you want to add salt and pepper before serving.

14.5 ounces diced tomatoes
Notes
Serving sizes and nutritional values are estimated.  If boiling down a bone, the sodium should be less.  
Make broth ahead - You can boil the ham bone down ahead of time and put it aside in jars or a big container in the fridge, this is what I do.  The fat will solidify at the top after being in the fridge making it easier to remove.  You can also make start it in the morning and allow it to cool for a few hours in the fridge.  If you need to use it right away, use a paper towel to carefully soak up the fat off the top before adding to soup.
If you do not wish to use a ham bone or ham broth, you can use 10 cups of chicken broth, we have done this before as well.
If you add the tomatoes in the beginning, the beans might not cook properly due to the acid in the tomatoes.  Add them in at the very end.
Be sure to remove the bay leaf before serving.  They do not break down, they stay flat and sharp making them dangerous to swallow.  They are delicious and safe to cook with, just do not ever swallow one.
Nutrition
Calories:
411
kcal
Carbohydrates:
43
g
Protein:
26
g
Fat:
16
g
Saturated Fat:
4
g
Cholesterol:
33
mg
Sodium:
1745
mg
Potassium:
1396
mg
Fiber:
10
g
Sugar:
4
g
Vitamin A:
2616
IU
Vitamin C:
31
mg
Calcium:
134
mg
Iron:
5
mg