We love steaks here and make them often, especially in warm weather on the grill! Sometimes we use a great steak marinade and sometimes we use a simple dry rub.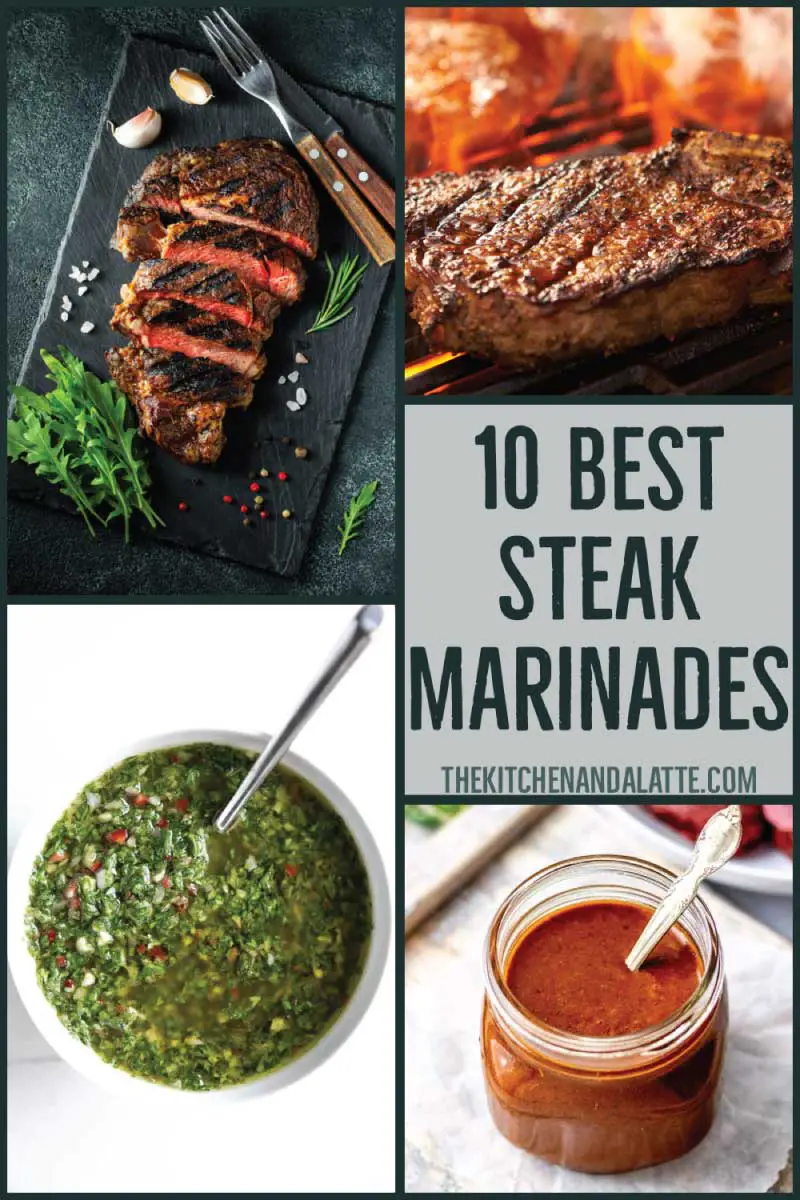 Our favorite steaks to use a marinade on are the slightly tougher cuts of meat like flank, brisket, London broil and skirt steak. The marinade really adds an amazing flavor and helps to create a more tender steak!
You can also use a marinade on the tender cuts of steak as well like the T-bone steaks, ribeye, filet mignon and NY strip steaks. We often use a dry rub for these, but they are delicious with a great marinade too.
The marinades
Chimichurri is a classic sauce that can be used on every from steak to vegetables. This recipe from The Forked Spoon is delicious and easy to make. We love it as a marinade but also sometimes serve it as a topping or dipping sauce to go with steak and chicken.) You will love it either way!
Chimichurri Recipe - The Forked Spoon
Chimichurri is made with a mixture of fresh minced parsley, garlic, red wine vinegar, oregano, and olive oil. Originating in Uruguay and Argentina, learn how to make the best chimichurri sauce recipe in just 5 minutes and enjoy with all your favorite fish, chicken, or steak recipes.
Chimichurri Marinade
Haute and Healthy Living has a delicious marinade for any steak, but especially great for the tougher steaks. It has lemon in it which helps to tenderize the steak but you can use lime instead of lemon. This is a simple one to make and adds an amazing flavor to the meat without overpowering it.
Easy Steak Marinade - Haute and Healthy Living
Elevate your dinner with this quick and easy steak marinade recipe. This is an effortless way to serve up a restaurant quality steak at home.
Easy Steak Marinade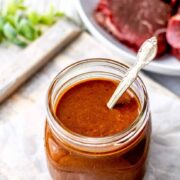 Have you ever tried Jamaican jerk sauce? The first time we tried this one from Recipes From a Pantry we knew that this was going to be one of our favorites! It is a delicious marinade for steaks, chicken and so much more.
Easy Jamaican Jerk Sauce Marinade - Recipes From A Pantry
Jamaican Jerk Sauce is full of amazing Caribbean flavor! Learn how quick and easy it is to make delicious homemade Jerk Chicken Marinade.
Jamaican Jerk Sauce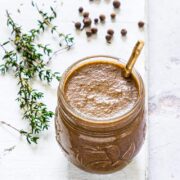 Spend With Pennies has a delicious and simple steak marinade that adds a great flavor to your steak. You can use this on any cut of beef, even a roast. It is perfect for any of your tougher cuts as this one will tenderize while it adds flavor.
The Best Steak Marinade (Tenderizes Any Cut of Steak!) - Spend With Pennies
This Steak Marinade recipe is bright & savory, perfect for tenderizing any cut of steak! Store in a mason jar in the fridge for up to 14 days!
Steak Marinade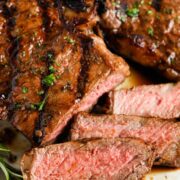 Gimme Some Grilling has an amazing marinade for steak with red wine. Red wine really helps to tenderize the steak when you marinate it for up to 2 hours. It's easy to make, adds a great flavor and the alcohol cooks out leaving a perfectly tender steak.
Red Wine Steak Marinade - Gimme Some Grilling
The perfect marinade recipe if you love pairing steak and red wine! It's a simple marinade that will bring out a subtle red wine flavor in your steak. Try this on your next grilled steak!
Red Wine Steak Marinade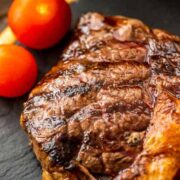 Low Carb Yum has a simple yet delicious keto steak marinade that uses lemon as the tenderizer. It has only a few simple ingredients and is quick to put together. It creates a great flavor without being overpowering and can be used on chicken or pork as well.
Easy Steak Marinade Recipe - Low Carb Yum
This savory keto steak marinade will infuse your steak with the perfect amount of flavor without overpowering it.
Easy Keto Steak Marinade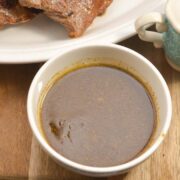 Another great keto steak marinade is by The Short Order Cook. She uses red wine vinegar to tenderize the meat along with some delicious spices to add an amazing flavor! I love this one on a flatiron steak, but it is delicious on any cut.
Keto Steak Marinade - The Short Order Cook
Keto steak marinade is the best low-carb boost of flavoring for any cut of steak. It has garlic, red wine vinegar, Worchestershire, and more.
Keto Steak Marinade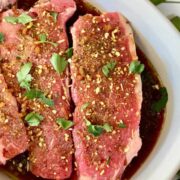 We have a delicious marinade that we originally wrote for chicken, but we started to use it for steak as well. It is simple yet tasty and perfect for the tougher cuts of meats. We use lime to tenderize the meat and it is a gluten free steak marinade! It will not overpower your meat but add a great flavor while tenderizing it.
The Best Garlic Lime Marinade - The Kitchen and a Latte
This marinade is gluten free and it adds the perfect flavor to your steak without overpowering it! It is quick and easy to put together.
Garlic Lime Marinade
Aubrey's Kitchen has an amazing Asian marinade that uses pineapple juice and rice vinegar to tenderize the meat! Pineapple adds a great flavor while creating a tender cut of meat. It breaks down the fibers making it melt in your mouth.
Asian Marinade for Salmon and Steak - Aubrey's Kitchen
This bold Asian steak and salmon marinade is delicious on steak, salmon and chicken. Plus, you can make an incredible pan sauce with the remaining marinade! This Asian steak marinade is bold, flavorful and delicious.
Asian Steak Marinade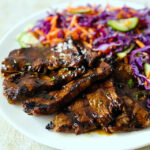 Looking for a great Mexican marinade for steaks? Hilda's Kitchen Blog has an amazing one that has orange and lime juice to tenderize while adding different spices for a great flavor. We have used this on skirt steaks when making fajitas and it is delicious.
Mexican Carne Asada Marinade - Hilda's Kitchen Blog
Get ready to make the best Carne Asada you've ever had. It all starts with this amazing Mexican Carne Asada Marinade, the rest is history!
Mexican Carne Asada Marinade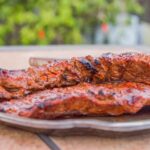 Conclusion
We have tried to add a delicious variety for you to choose, they are our favorites! Some are perfect for a keto diet and one is gluten free.
We included some with and without citrus. They all have either vinegar or a citrus (lime, lemon or orange) to tenderize, and one even has pineapple - yum!
I hope you love them as much as we do and that you find your new favorite.