Looking for a melt in your mouth steak? When you grill NY strip steaks, they turn out delicious and are perfectly juicy. We use a simple homemade dry rub on them, no marinades.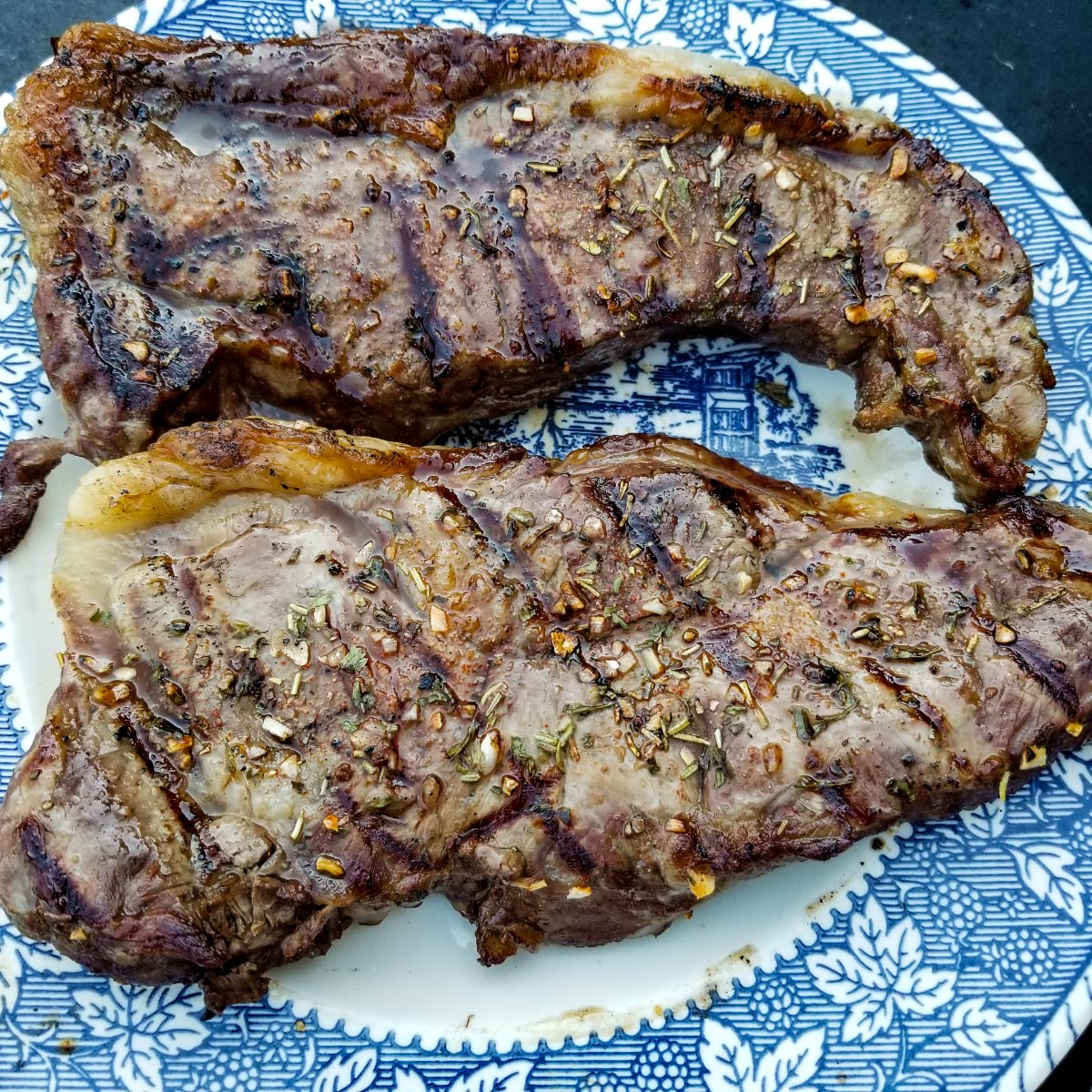 In case you haven't learned this about me yet, I love to grill! Which works out because my family loves to eat the food that comes off of it. We also have a serious steak addiction.
Strip steaks are very easy to make tho usually a more expensive cut of beef in the store. I get them whenever they are on sale. They are a tender cut of meat from the short loin of a cow. They are in an area where the muscles do not do much work, making them a tender cut of meat.
I usually grill NY strip steaks, but sometimes we pan fry them if it is cold outside. They go rather well with a ranch pasta salad or even veggie noodles with garlic sauce too.
Jump to:
Other great grilled dishes:
How to season NY Strip steak for grilling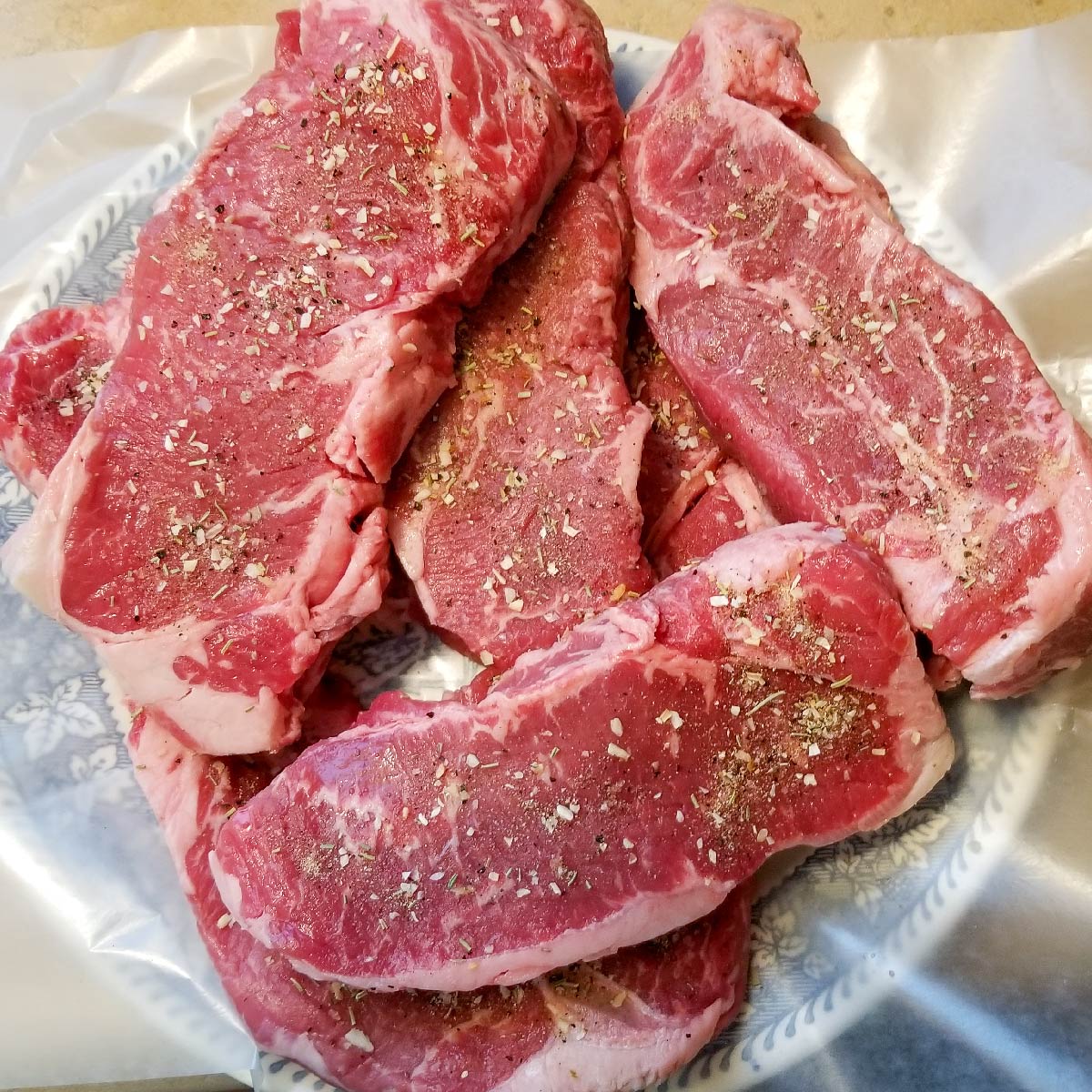 I prefer a dry rub for my top steaks. By top steaks I mean T-bone, NY strip (bone in and boneless) and Ribeye. They are all very tender cuts of meat and do not need a marinade to tenderize them. If you prefer to marinate your steaks, here are some of the best steak marinades - all homemade.
You can experiment with various spices for your rubs. We have a collection of our favorite steak dry rubs that are amazing! These are the spices we enjoy and what is used in this recipe:
salt
pepper
minced dried onion
garlic (minced or powder)
rosemary
paprika
Italian seasoning
Besides the cooking times, it is about the same way we make our grilled T-bone steaks. It is just one of those no fail preparations.
Mix the dry rub ingredients together in a bowl and pinch it out of the bowl and onto the steaks. Let the steaks sit out on the counter for about 15-20 minutes with the rub on them before grilling.
How long to grill NY strip steak
We love our Weber gas grill here, but everybody has their favorites. Grills can vary with temperature and cook times. Also gas and charcoal cook differently so please note that the times will be different with a charcoal grill, this was written for a gas grill.
With a grill warmed to about 450 degrees Fahrenheit and steaks that are around 1 inch thick, the cook times and the internal temp of NY strip steak should be:
Rare - 120-130 Cook 4 minutes, flip cook 3 minutes check temp
Medium - 140 Cook 5 minutes, flip cook for 3 minutes and check temp
Well Done - 160 Cook 8 minutes, flip cook for 6 minutes and check temp.
When you grill NY strip steaks, it's important to know the cook times may vary depending on the thickness of your steaks. Your steaks might be a different thickness so you may need to add a couple minutes to cook time. Always check the internal temperature before removing from the grill.
Frequently asked questions
Do you close the grill when cooking steak?
Yes it is best to close the grill after placing the steaks on the grill. Your grill will not hold the temperature if the lid remains open while cooking New York strip steaks. This will increase cook time and also runs the chance of the steak not cooking evenly.
What temperature do you grill a New York strip?
I do mine at 450 but anywhere between 450-500 is best. You want to get a good sear on the outside of the steak while cooking the inside to the perfect temperature. You will need to increase cook time and not get a good sear if you try to cook them at a lower temperature.
Do I have to let the steak sit out first?
Yes you do! If you do not let the steaks start to come up to room temperature, you will have a very uneven cooked steak. You will find that the inside might still be raw while the outside is seared nicely if you put them on the grill cold.
Do I have to let them sit before eating the steaks?
Yes it is recommended that you let them sit for about 5 minutes before serving after grilling New York strip. The steaks will increase slightly in temperature upon resting. Allowing them to sit will give the juices enough time to soak back into the fibers of the meat as well. This will give you a nice and tender steak!
Recipe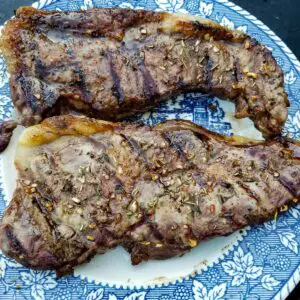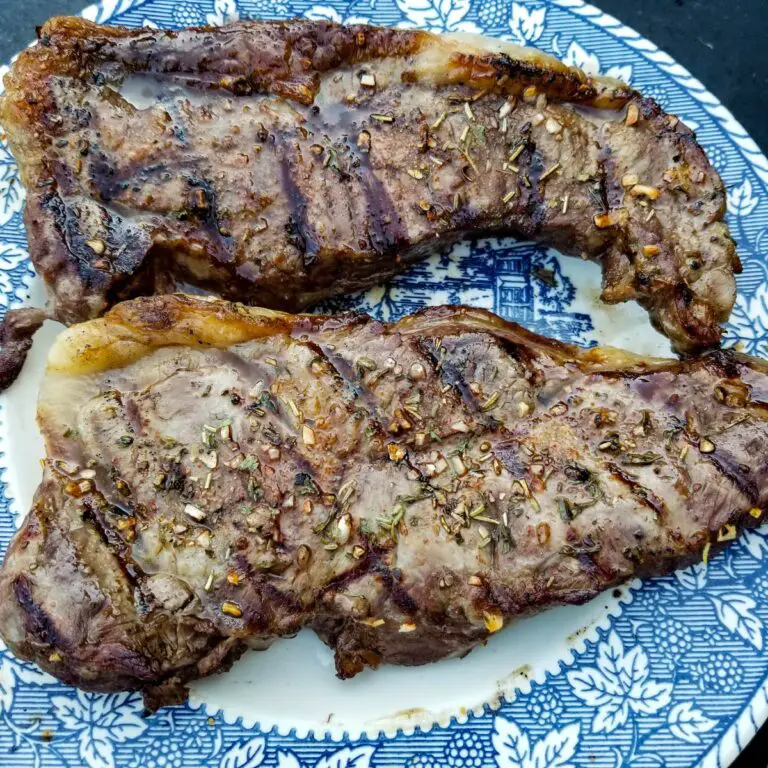 Grilled NY Strip Steaks
New York strip steaks are a very tender cut of meat! They are easy to grill using just a simple homemade dry rub. These steaks will melt in your mouth.
Ingredients  
4

boneless NY strip steaks

or as many as you need
Dry Rub
1

Tablespoon

minced onion

dried

1

teaspoon

garlic powder

1

teaspoon

rosemary

dried

1

teaspoon

Italian seasoning

½

teaspoon

salt

¼

teaspoon

paprika

smoked or regular

¼

teaspoon

black pepper
Instructions 
Mix dry rub ingredients in a bowl. Pinch the rub onto the steaks and rub it onto the steaks. Let them sit out for about 20 minutes before cooking.

Heat grill to between 450-500° F

Place steaks on the heated grill and close the lid on the grill. Cook for based on the following times depending on how done you would like your steak.

Follow these guidelines for cooking them and please note that ours were about an inch thick.

Rare - 120°-130° Cook 4 minutes, flip cook 3 minutes check temp

Medium - 140° Cook 5 minutes, flip cook for 3 minutes and check temp

Well Done - 160° Cook 8 minutes, flip cook for 6 minutes and check temp.

Allow steaks to rest at least 5 minutes before serving.
Notes
Nutritional values are an estimate and will vary depending on the size steak per serving.
There are several factors that can effect cook times such as the thickness of the steaks, grills can vary and if the steaks were not sitting out for long enough before grilling.
Always check the internal temperature with a thermometer, the cook times can vary.
Nutrition
Calories:
764
kcal
Carbohydrates:
2
g
Protein:
71
g
Fat:
50
g
Saturated Fat:
20
g
Cholesterol:
190
mg
Sodium:
475
mg
Potassium:
1092
mg
Fiber:
1
g
Sugar:
1
g
Vitamin A:
72
IU
Vitamin C:
1
mg
Calcium:
33
mg
Iron:
7
mg