NY Strips steaks are one of the easiest meats to cook on the grill. They are a tender cut of beef which makes them quite popular. These are cooked on a gas grill and we show you how easy it is with a simple dry rub.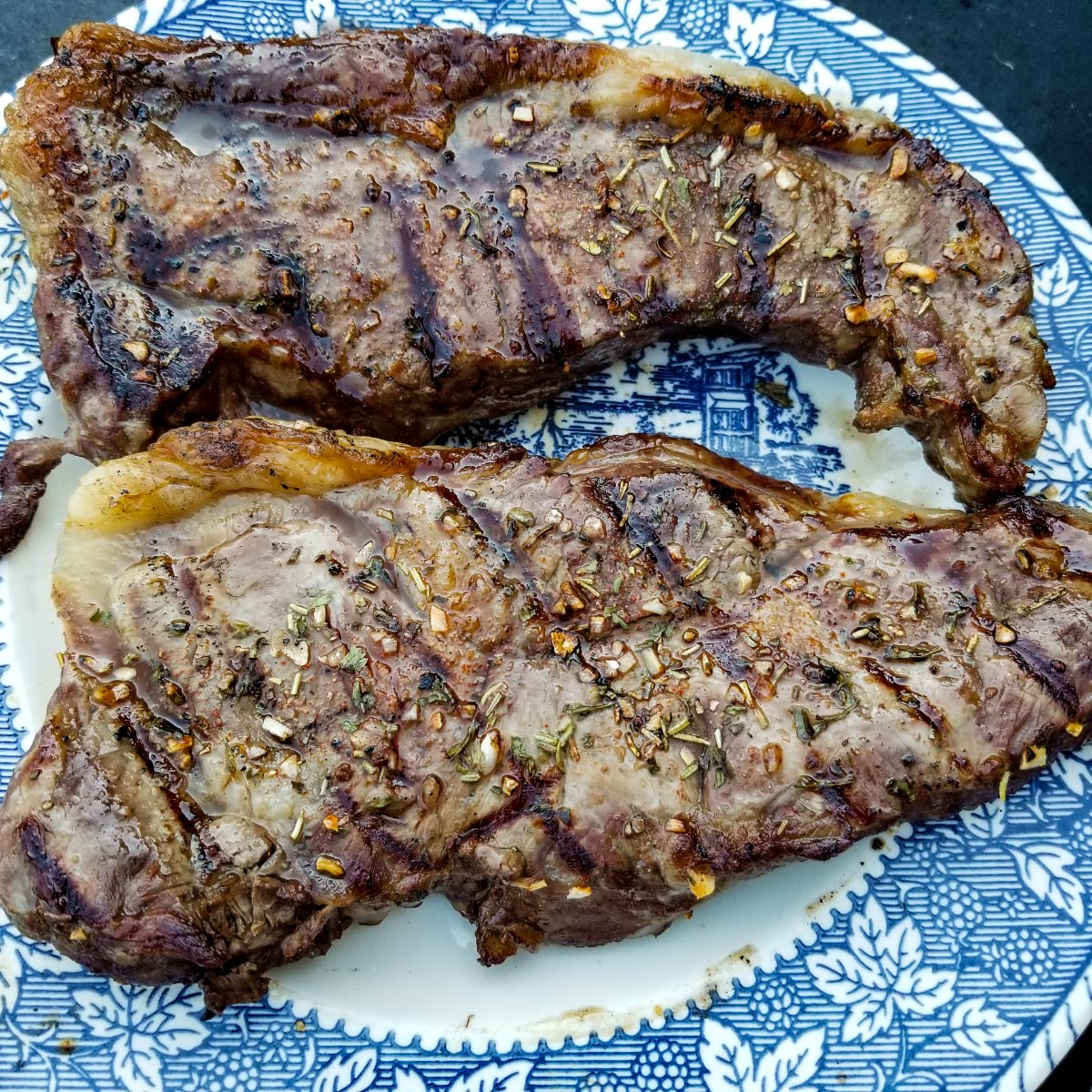 In case you haven't learned this about me yet, I love to grill! Which works out because my family loves to eat the food that comes off of it. We also have a serious steak addiction. Every time a good cut of meat is on sale, you know what we are having for dinner at least one night that week! So when these steaks go on sale, yup you guessed it - that was for dinner. They go rather well with the Instant Pot potatoes or even veggie noodles with garlic sauce too.
We lucked out this time because usually they put the bone in ones on sale, but this time it was the boneless! Both are amazing cuts of meat and the bones do add a little flavor, but the boneless have no bones to cut around on the plate.
These steaks are also dog approved 🙂 Do you seriously think a dog would turn down a bite of steak? Not our dogs! Of course for them we don't use all of the seasoning that we use for us. Spices are not the best to give dogs, trust me they would eat it any way you give it to them. They are not too picky!
Other great grilled dishes:
Prepping the NY strip steaks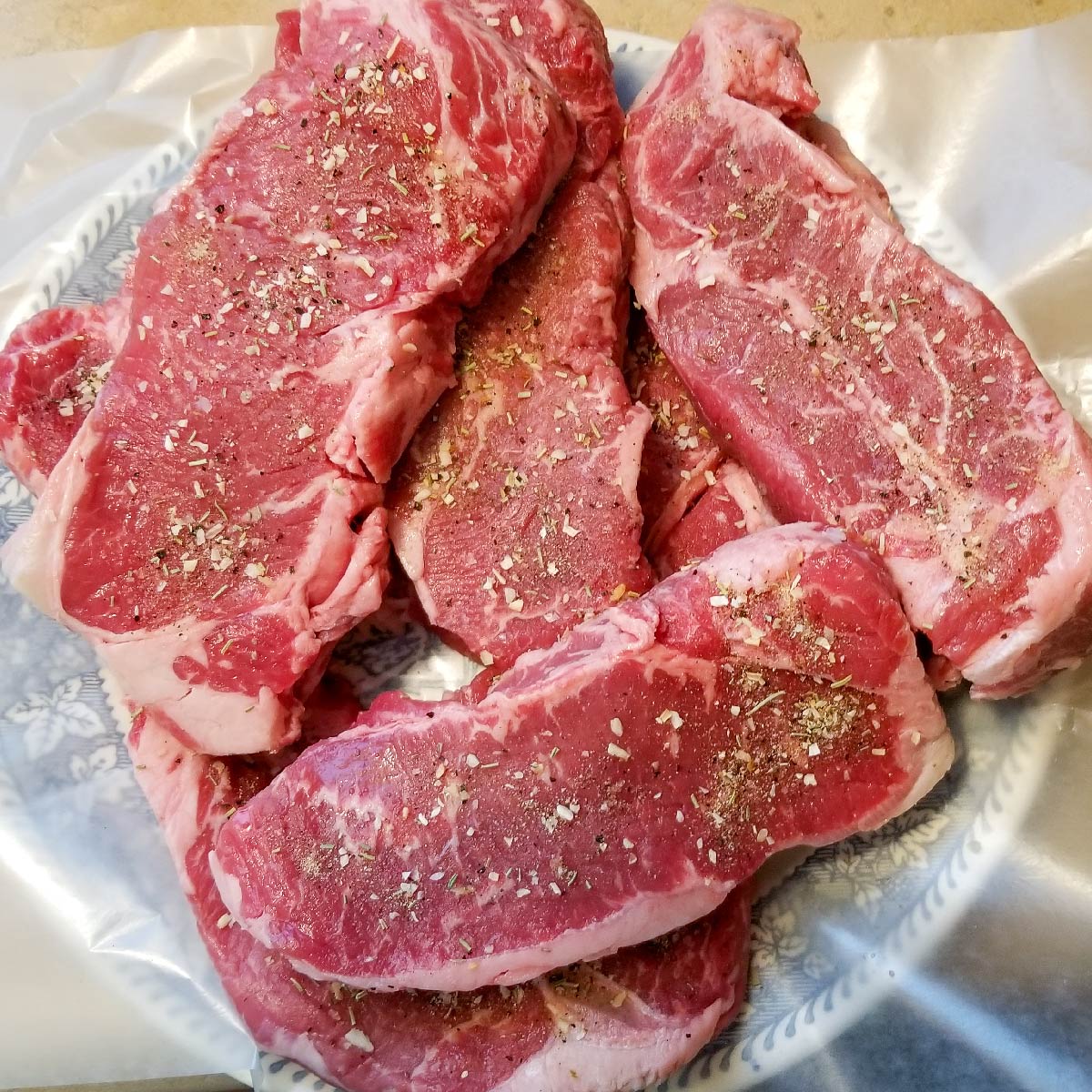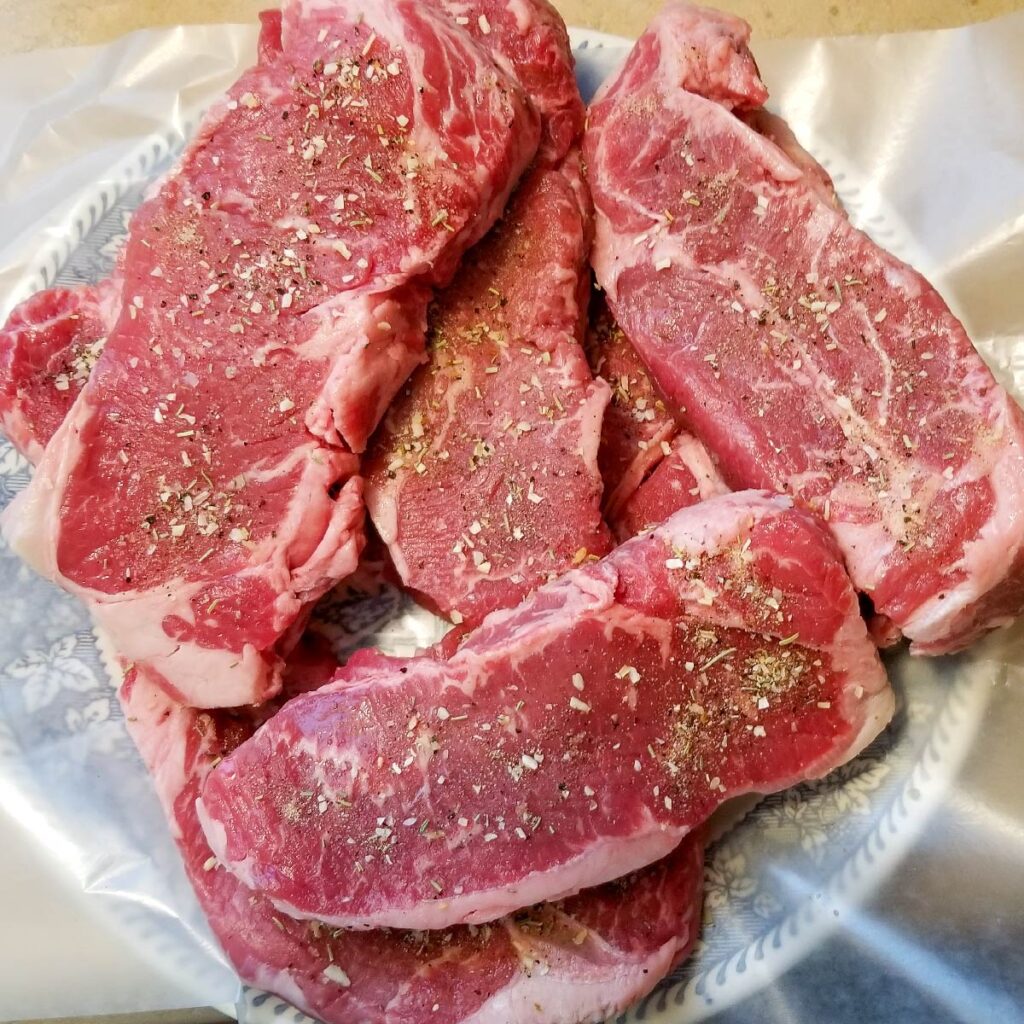 I always prefer a dry rub for my top steaks. By top steaks I mean T-bone, NY strip (bone in and boneless) and Ribeye. There is enough fat throughout the meat to make it melt in your mouth with even a dry rub.
You can experiment with various spices for your rubs. We enjoy:
salt
pepper
minced dried onion
garlic (minced or powder)
rosemary
paprika
Italian seasoning
Besides the cooking times, it is about the same way we make our grilled T-bone steaks. It is just one of those no fail preparations.
Quite often I sprinkle these seasonings individually onto the steaks, but you can mix them in a small bowl like I mention here.
Mix the dry rub ingredients together in a bowl and pinch it out of the bowl and onto the steaks. Let the steaks sit out on the counter for about 20 minutes with the rub on them. Keep an eye on your pooch if you have a dog at this point haha! Temptation...
Cooking them on the grill
I use a gas grill here so my recipes at this time are all cooked with gas. I would love to take the time to learn the charcoal grill, but I just haven't got to that yet. We just updated our old grill to a nice Weber grill so we I am playing around with this beauty first.
When grilling NY strip steaks, it's important to know the cook time for the thickness of the steak you are cooking. Your steaks might be a different thickness so here is a great chart based on the thickness of the steak and I am not affiliated with them just a great chart - Omaha steaks (see notes.)
Heat your grill on high but drop to medium (medium low if your grill flares easily too) just before adding the steaks. We cook ours for a slightly longer time on the first side then we flip and cook for a shorter time for medium-rare to medium. Well done will need a little more time.
Temperatures for grilled NY strip steaks
Remember that you should always allow your meats (not just steak) to sit out for 5-10 minutes (longer depending on the meat) before serving and cutting. NY strip steaks should usually rest about 5 minutes before serving so the juices can absorb back into the fibers of the meat.
The temperatures will increase slightly during the resting period. The cuts of meat we had were about 1 inch thick, use the Omaha chart (link above) if you need to adjust for different thickness (see notes.) These are the temperatures you need them to be before removing them from grill and their estimated cooking times:
Rare - 120-130 Cook 4 minutes, flip cook 3 minutes check temp
Medium - 140 Cook 5 minutes, flip cook for 3 minutes and check temp
Well Done - 160 Cook 8 minutes, flip cook for 6 minutes and check temp.
Be sure to let your grilled NY strip steaks rest for about 5 minutes before serving and you are ready to eat!
As a note:
About the Omaha steaks link, it is an amazing reference for various meats. I do find that you need to shorten (at least I did) the times for a boneless NY strip steak by a minute. This is for the inch thick. It is designed for the thicker steaks and for bone in. We are not affiliated with Ohama.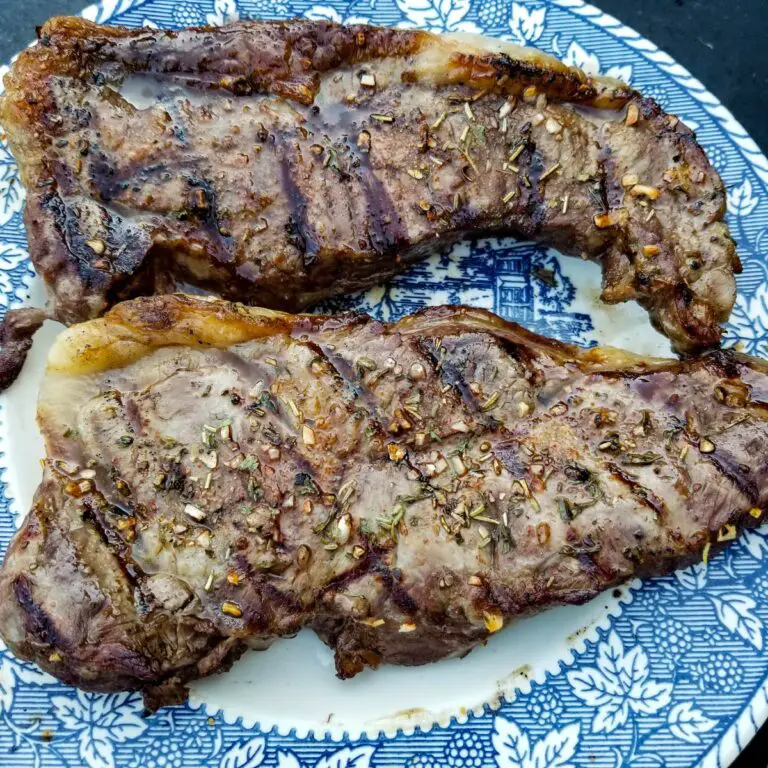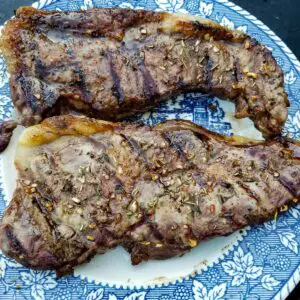 NY Strip Steaks on the Grill
NY strip steaks are an amazing cut of meat. One of the top steaks and melt in your mouth when you cook them right. Here is how we cook them every time we make them and always have an amazing steak!
Ingredients
4

boneless NY strip steaks
Dry Rub
1

tbsp

minced onion

dried

1

tsp

garlic powder

1

tsp

rosemary

dried

¼

tsp

paprika

1

tsp

Italian seasoning

½

tsp

salt

½

tsp

black pepper
Instructions
Mix dry rub ingredients in a bowl. Pinch the rub onto the steaks and rub it onto the steaks. Let them sit out for about 20 minutes before cooking.

Heat grill on high heat and drop to medium (or medium low if your grill flares up easily) just before putting the steaks on the grill.

Follow these guidelines for cooking them and please note that ours were about an inch thick.

Rare - 120°-130° Cook 4 minutes, flip cook 3 minutes check temp

Medium - 140° Cook 5 minutes, flip cook for 3 minutes and check temp

Well Done - 160° Cook 8 minutes, flip cook for 6 minutes and check temp.

Allow the steaks to rest on a dish for 5 minutes before serving.
Notes
Please refer to a chart over at Omaha steaks (no affiliation just great reference) if your steaks are over an inch thick.  They are a great reference but note that for boneless NY strip steaks I deduct 1 minute for the cooking time from their charts.
Nutritional values are an estimate and will vary depending on the size steak per serving.
Nutrition
Calories:
765
kcal
Carbohydrates:
2
g
Protein:
71
g
Fat:
50
g
Saturated Fat:
20
g
Cholesterol:
190
mg
Sodium:
475
mg
Potassium:
1080
mg
Fiber:
1
g
Sugar:
1
g
Vitamin A:
71
IU
Vitamin C:
1
mg
Calcium:
35
mg
Iron:
7
mg