This sweet coleslaw recipe is a great dish to bring to your next cookout! It is easy to make and most kids enjoy it. It is the perfect combination of sugar and vinegar so it is not too tangy and just the right sweetness.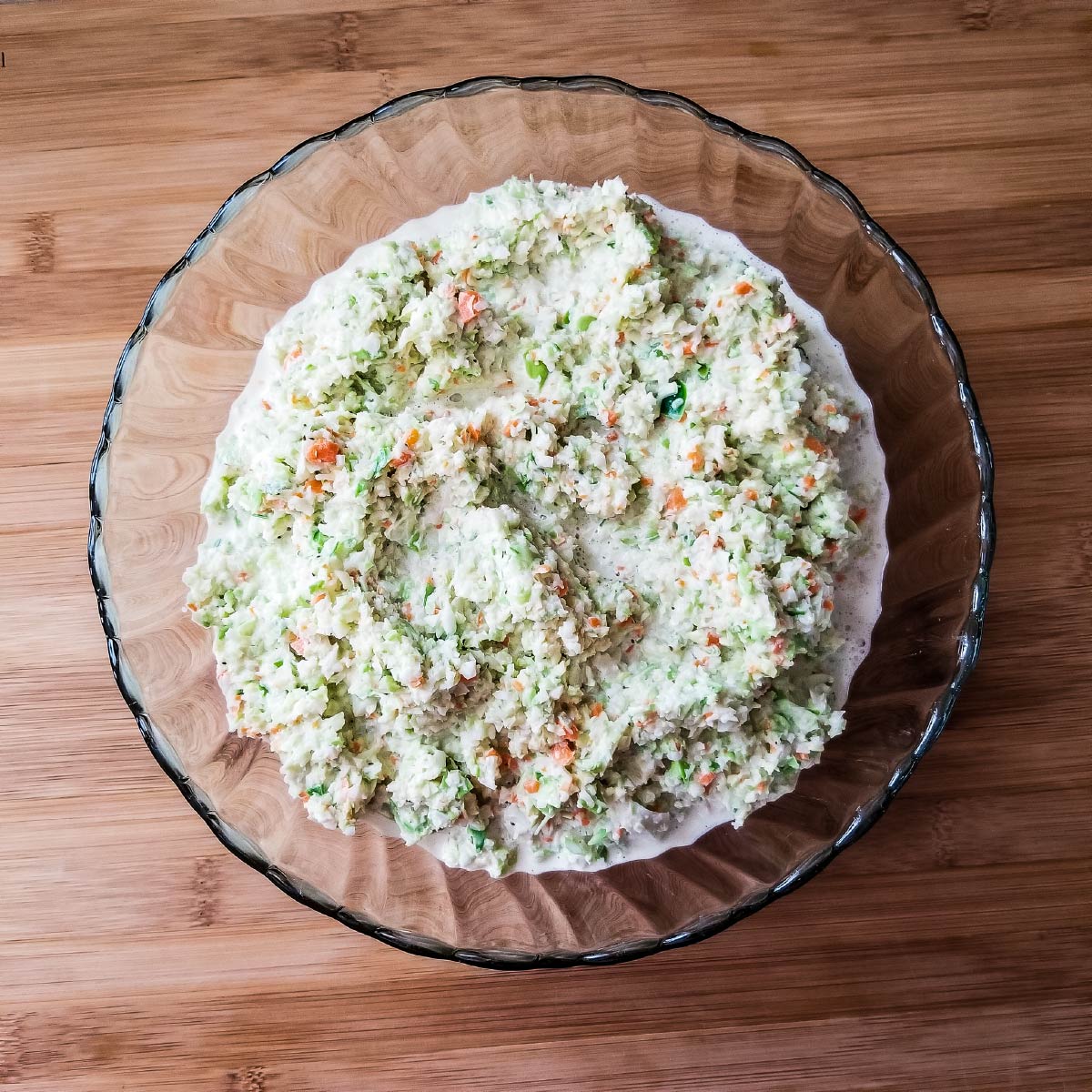 Tho it is delicious and a lot of people do like it, it might be a little too sweet for some people.
Coleslaw is the only way most of my family will eat cabbage. They pretty much won't touch it otherwise.
There are many ways to make it and we like different recipes as well, but this sweet coleslaw recipe is the favorite here in our household.
This is a simple recipe and it is all simple ingredients used. We use green peppers usually but you can substitute for other color peppers. I have used red and yellow before. Remember that red and yellow peppers are sweeter so it will add more sweetness to your coleslaw.
Making this sweet coleslaw recipe
It is very easy to make and just requires a food processor. I use my Ninja Auto IQ because it is a food processor, blender and smoothie maker (no more multiple gadgets) but any food processor will work.
Let's get to making this! Take your cabbage and cut it into wedges. I usually also cut the wedges into smaller pieces but it depends on how big your processor is. You will have to break this into 2 rounds in the processor, sometimes more. I do the pepper and the carrots in separate rounds here for the color to be true to coleslaw since carrots take over in the color! But this is optional.
Cut your carrot into slices about an inch and a half thick and put the slices in the processor. Add in as much of the cabbage as you safely can without overloading it.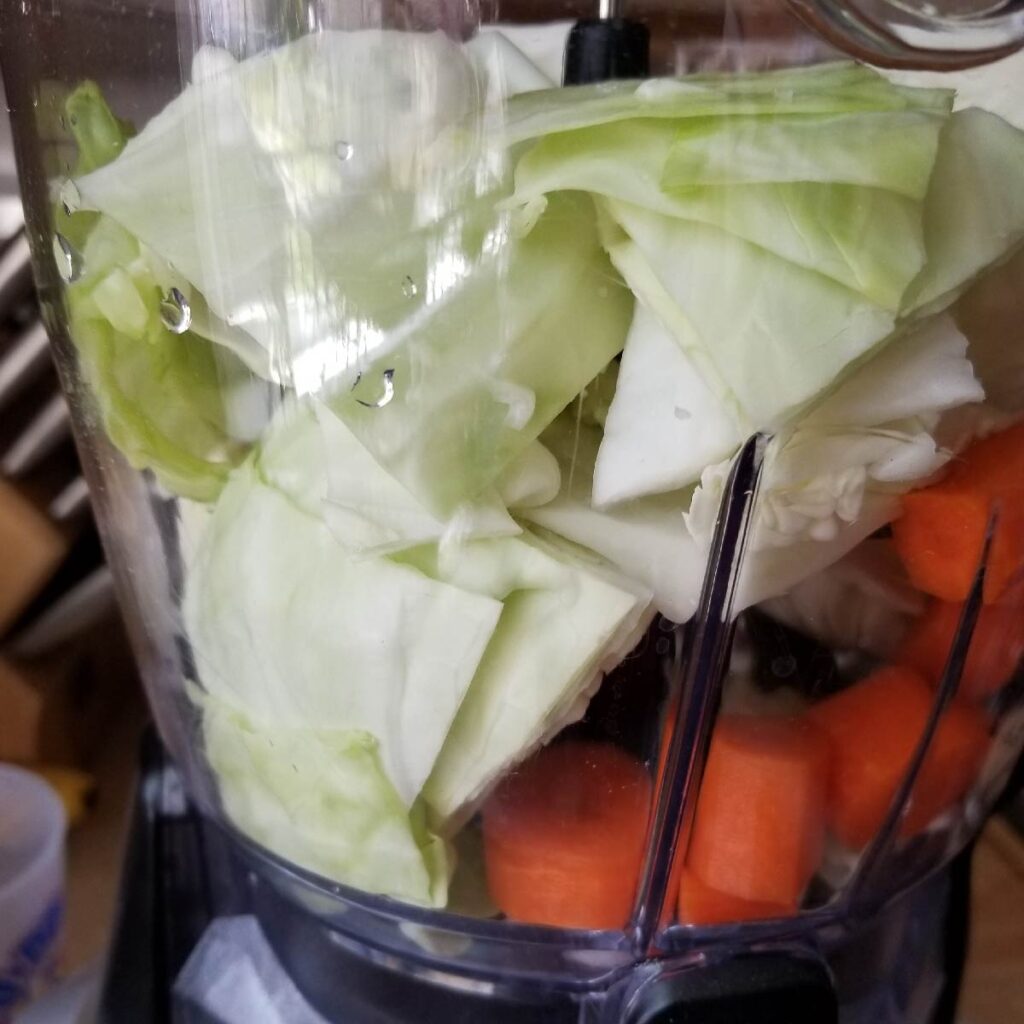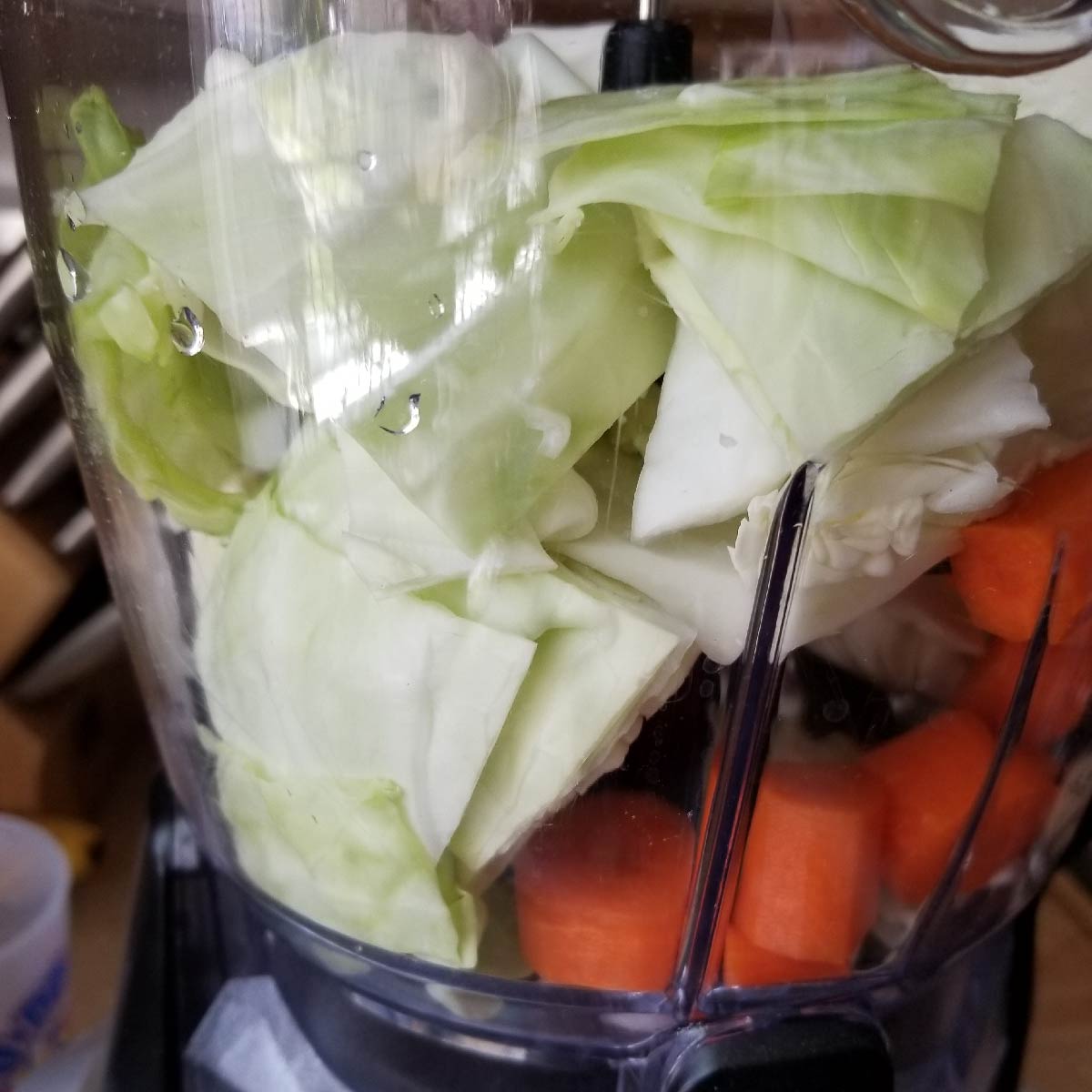 Pulse, if you have a pulse button, until the carrot and cabbage are chopped nicely. I like the pulse because it allows the cabbage to drop into the blades better, but if you Dump into a large bowl. Cut your pepper into chunks, you can make them large chunks. Add the remaining cabbage if it will fit. Pulse again until the cabbage is chopped nicely. Pour into the bowl with the carrot and cabbage mix. If you need to do another round to get the rest of the cabbage, do so with just the cabbage.
Note all the orange in the mix on the left but the green in the right. This is why I mix them separate. When you stir both rounds together, they get the perfect color as you will see in the second picture.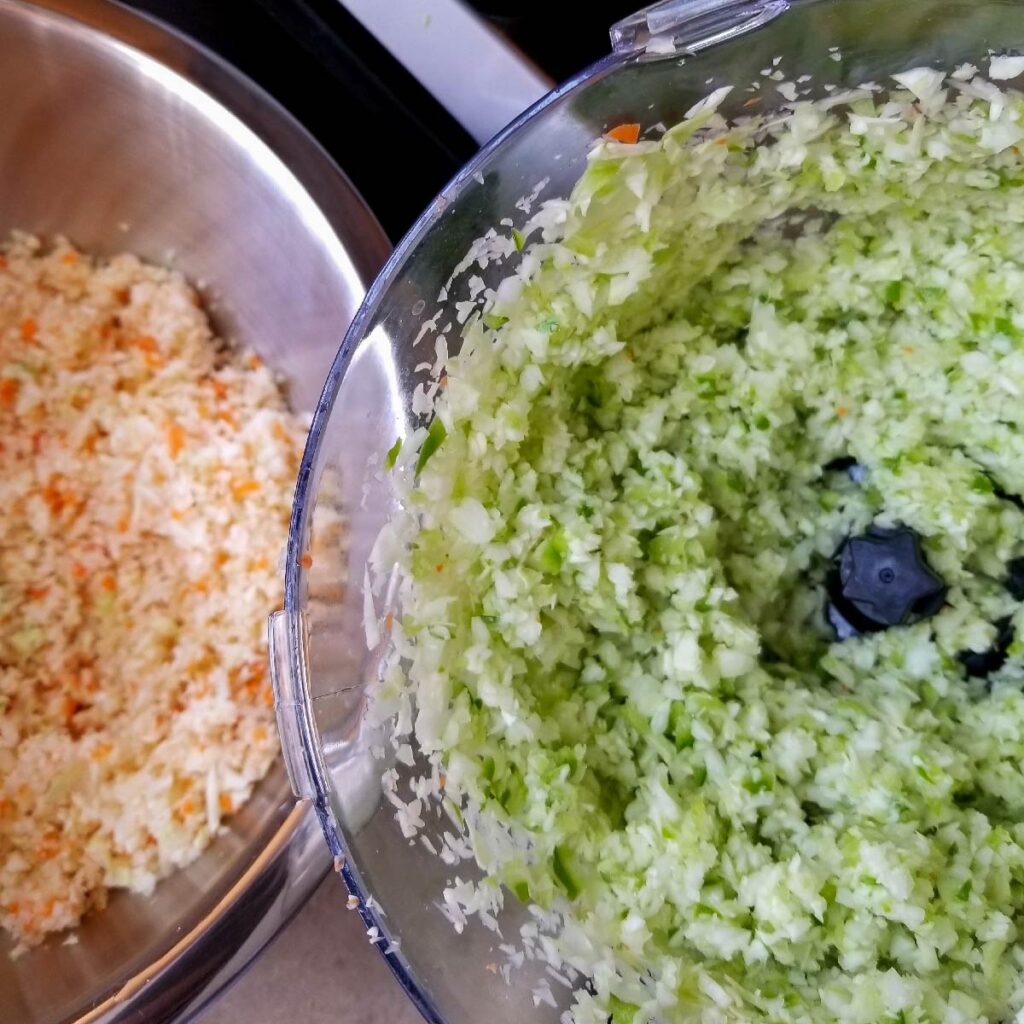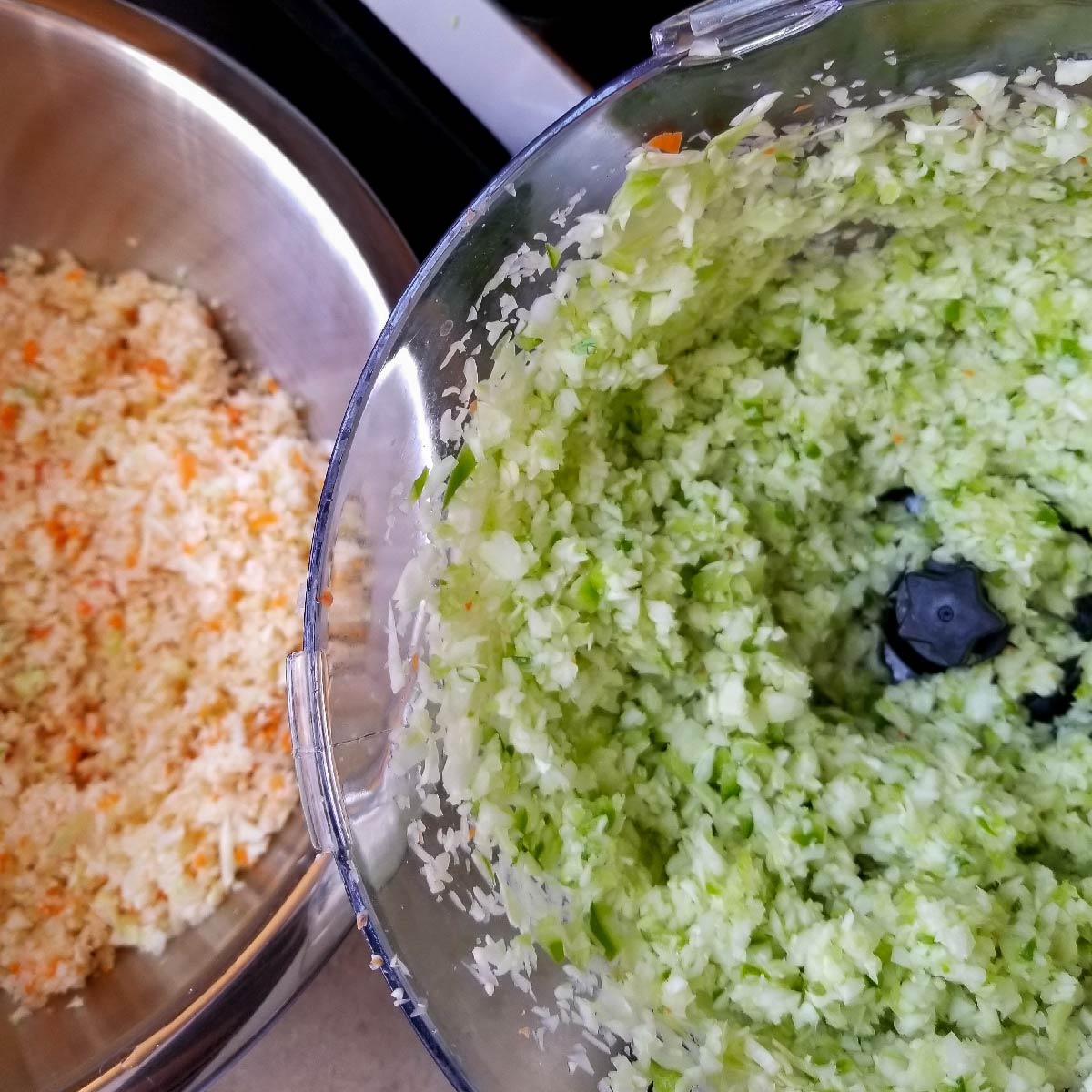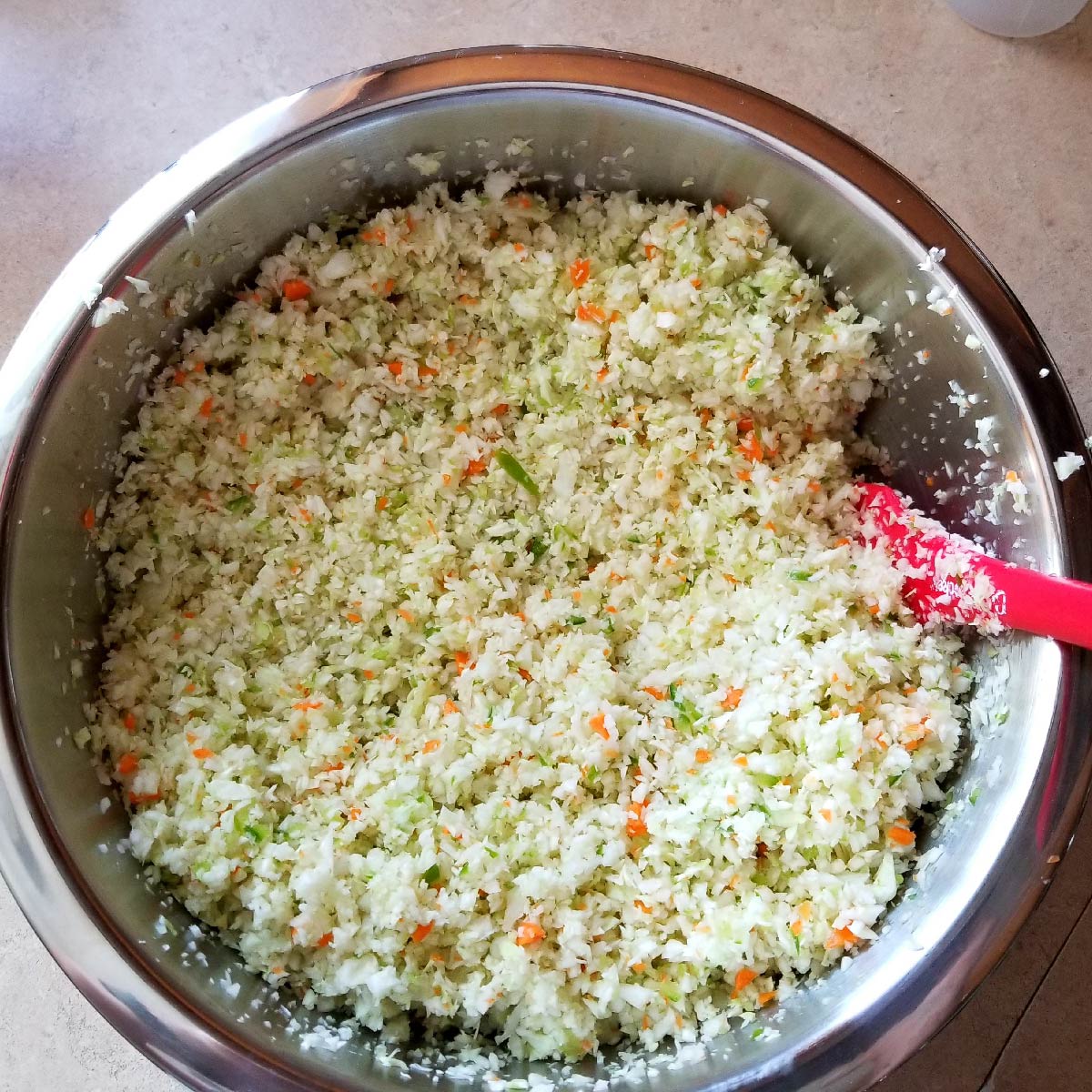 In a different bowl mix together mayo, red wine vinegar, sugar and celery seed. Pour it over the coleslaw mix and stir well. It will appear a little dry in the beginning, but after sitting in the fridge for about 30 minutes - 1 hour, it will have juice settling on the bottom. Give it a good stir as you are about to serve it.
We hope you enjoy this sweet coleslaw recipe as much as we do here! It goes well as a side to just about anything, but we make it with grilled dishes most often. We recommend making it with grilled t-bone steaks or grilled boneless chicken thighs.
Can I use bagged coleslaw mix?
You can, but we prefer it with fresh. With fresh cabbage you will have a more runny sauce which some people prefer. With bagged you will have a thicker sauce which many people also enjoy. The liquid from the cabbage dries out in the bagged cabbage.
What if I don't have a food processor?
The cabbage is best if done in either a food processor or even a slicer. It is easier and you are sure to get pieces that even in size and small enough to eat. You can use a very sharp knife and cut the cabbage into pieces if you need to.

If you do not use a food processor, you will want to grate the carrot and finely chop the pepper.
Is coleslaw supposed to be sweet?
This sweet coleslaw recipe is sweet, but not all coleslaw is. It is a preference and it can be made with little to no sugar or made with a lot of sugar. There are many recipes where it is not sweet.
Other great side dishes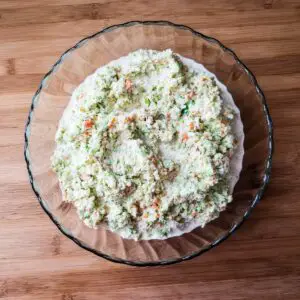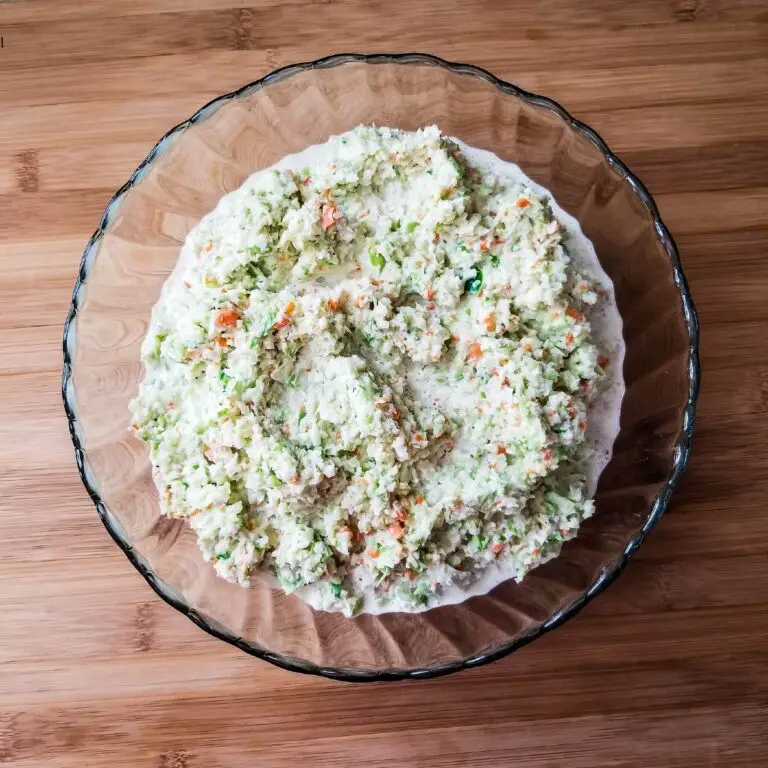 Sweet Coleslaw Recipe
This sweet coleslaw recipe is the favorite in our household. It adds some sweetness to the cabbage and makes it a coleslaw that most kids will enjoy.
Ingredients  
3

pounds

cabbage

½

green bell pepper

1

carrot

1½

cups

mayo

2

tbsp

red wine vinegar

4

tbsp

sugar

½

tsp

celery seeds
Instructions 
Cut up the cabbage into small enough pieces to fit easily into the food processor.

Peel and slice the carrot into 1½ inch slices

Cut the pepper into large chunks

Add the carrot to the food processor and add as much cabbage as you can safely fit without overloading.

Pulse until the cabbage and carrot is chopped evenly. Dump into a large bowl. Mix will be mostly orange. Once you mix all the rounds from the processor, it will be the perfect color.

Add the pepper and as much cabbage as you safely can to the food processor.

Pulse until the cabbage is chopped evenly. Dump into the bowl with the carrot and cabbage mix. If you still have cabbage left, chop that in the processor now and add it to the bowl.

Mix it all together.

In a different bowl mix together the mayo, sugar, vinegar and celery seed. Stir this into the cabbage mix.

Allow to sit in the refrigerator for at least 30 minutes so the juices from the cabbage mix with the dressing.

Stir just before serving.
Notes
These nutrition facts are estimated.  It might be more then 10 servings, but it depends on what else you are serving with it.  
Some processors over chop the cabbage close to the blades so you might need to remove the lid to look at it and stir it before pulsing again.  Ours does not do this, but our old one did.
Nutrition
Calories:
286
kcal
Carbohydrates:
14
g
Protein:
2
g
Fat:
25
g
Saturated Fat:
4
g
Cholesterol:
14
mg
Sodium:
243
mg
Potassium:
268
mg
Fiber:
4
g
Sugar:
10
g
Vitamin A:
1195
IU
Vitamin C:
54.9
mg
Calcium:
61
mg
Iron:
0.8
mg