Broccoli salad with bacon has a sweet but tangy dressing and is easy to make! It is a delicious side dish that goes with any main meal and is always popular at cookouts too.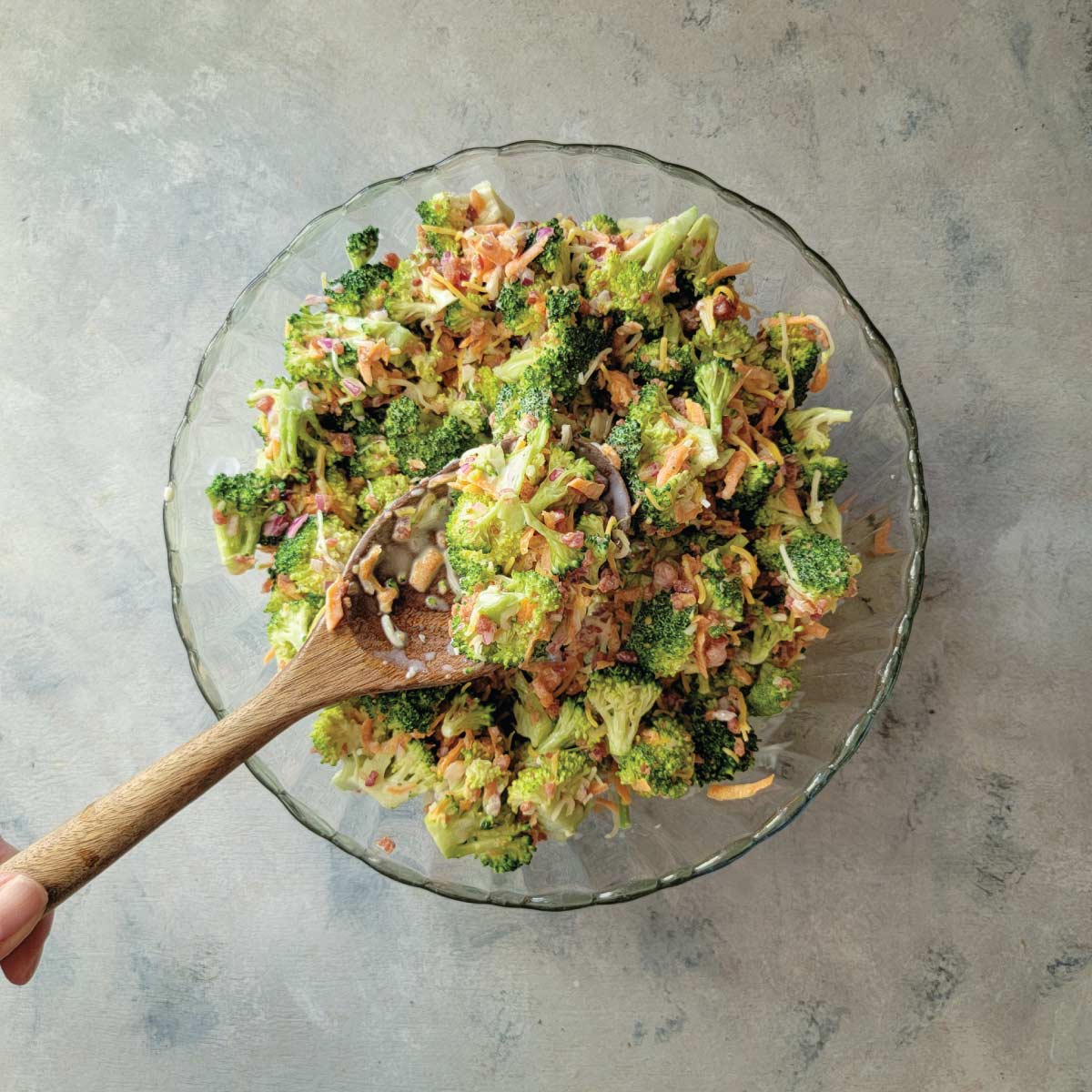 This is one of our favorites here and I get asked to make it as soon as the weather starts to get warmer. It is similar to Ruby Tuesday's broccoli salad and it is perfectly sweet.
This makes enough for us to have a couple nights in a row as a side dish to go with grilled dishes like parmesan grilled boneless chicken thighs or grilled boneless pork chops.
Everybody has a different way of making broccoli salad. Some people put almonds in it, some add bacon and some not. We put bacon and cheese in ours along with making it a little sweeter then some other recipes.
Jump to:
Ingredients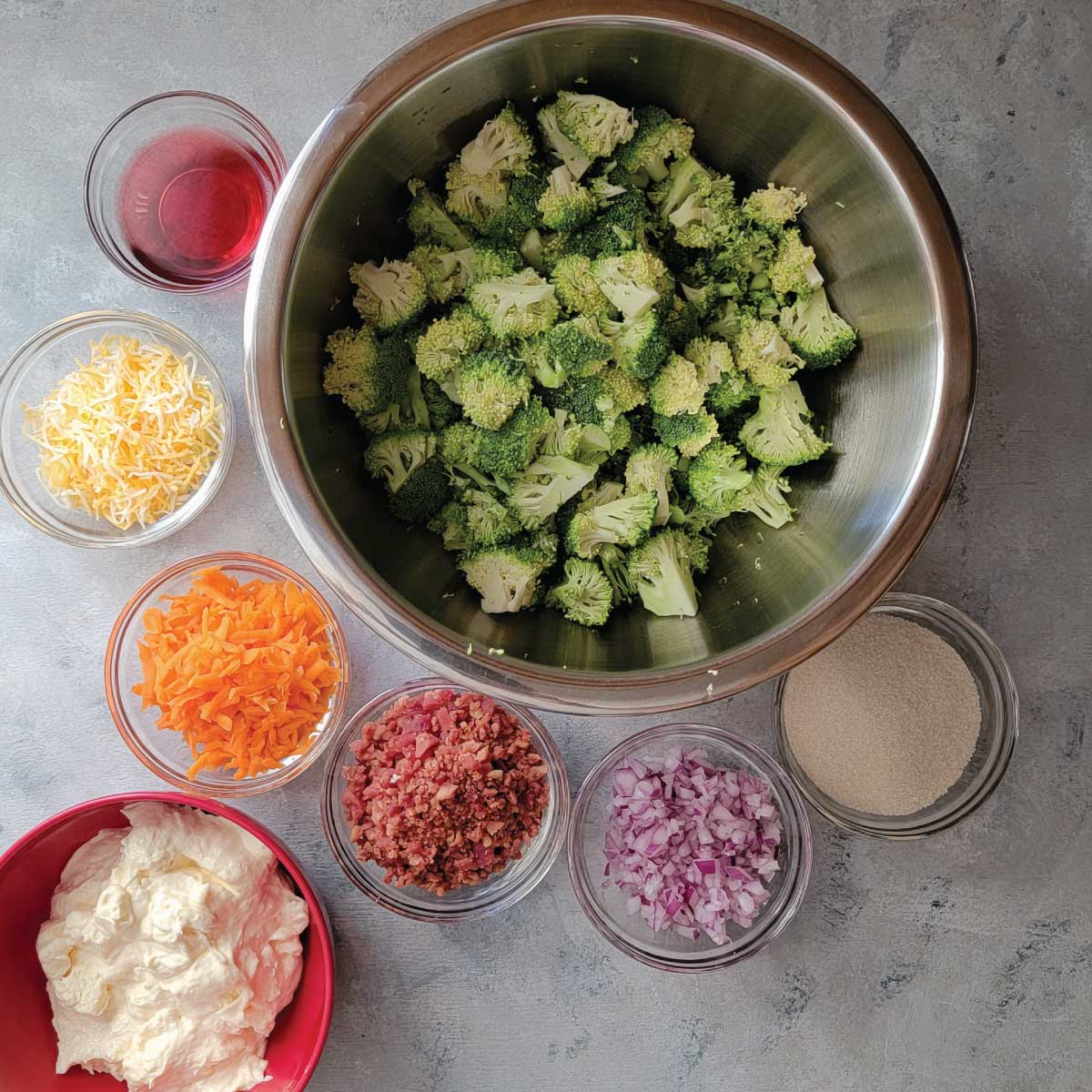 Broccoli - Fresh broccoli florets. I usually buy the crowns when making it being they are usually more cost effective. In our stores here they are the same price per pound as regular broccoli and you are only using the florets, not the stalks.
Carrot - No substitutions recommended. You can use any color carrot you like, we usually use orange for this sweet broccoli salad.
Onion - Red onion is best for flavor, but you can substitute with green onions or even leeks. I do not recommend using a sweet, white or yellow onion tho. They are not a great raw onion.
Cheese - We use a cheddar mixture, quite often 4 cheese Mexican blend.
Bacon - You can cook fresh bacon and crumble it up, but we like to use real bacon pieces. Usually they are in the salad dressing isle next to imitation bacon bits. We do not recommend using the imitation bacon bits, try to get the real bacon pieces.
Mayo - Real mayo, not Miracle Whip. This is a sweet dressing for the salad and it is best with real mayo.
Sugar - Regular granulated sugar or pure cane granulated sugar.
Vinegar - Red wine vinegar is best for flavor.
An important tip: We recommend soaking fresh broccoli in water with a couple tablespoons of vinegar in it for about 5-10 minutes before rinsing.
Frequently asked questions
Can broccoli salad be made a day ahead?
Yes it can! It actually tastes better after sitting in the fridge for a few hours. Wait until close to serving to add the bacon and cheese tho.
How long will broccoli salad last in the fridge?
It will last for up to 4 days in the fridge. The broccoli will get a softer texture and so will the bacon after sitting in the fridge, but it should still be good for up to 4 days.
Do you steam broccoli for salad?
No the salad is made with raw broccoli, not steamed or cooked.
Can I freeze broccoli salad?
No I do not recommend it. It will not hold up well in the freezer.
How do you cut broccoli for salad?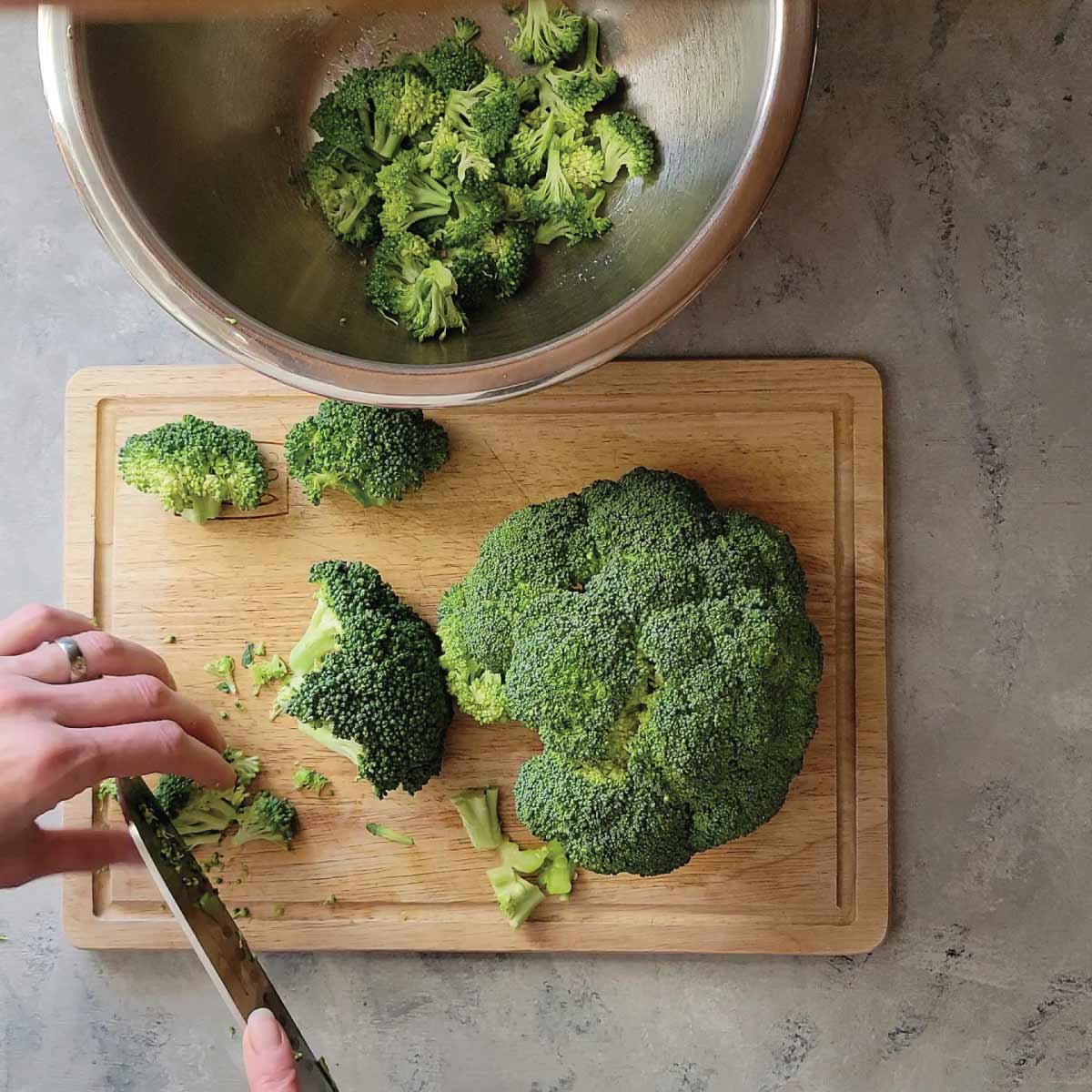 You want to remove most of the stalk to the broccoli. The stalk is a bit more crunchy and harder to eat raw the further from the floret it is. Try to leave no more then an inch of the stalk on the florets.
You also want to make sure the broccoli florets are bite sized and not too large. I try to make them small enough so kids can eat them without any problems, especially if you are going to a cookout with your salad.
Helpful tips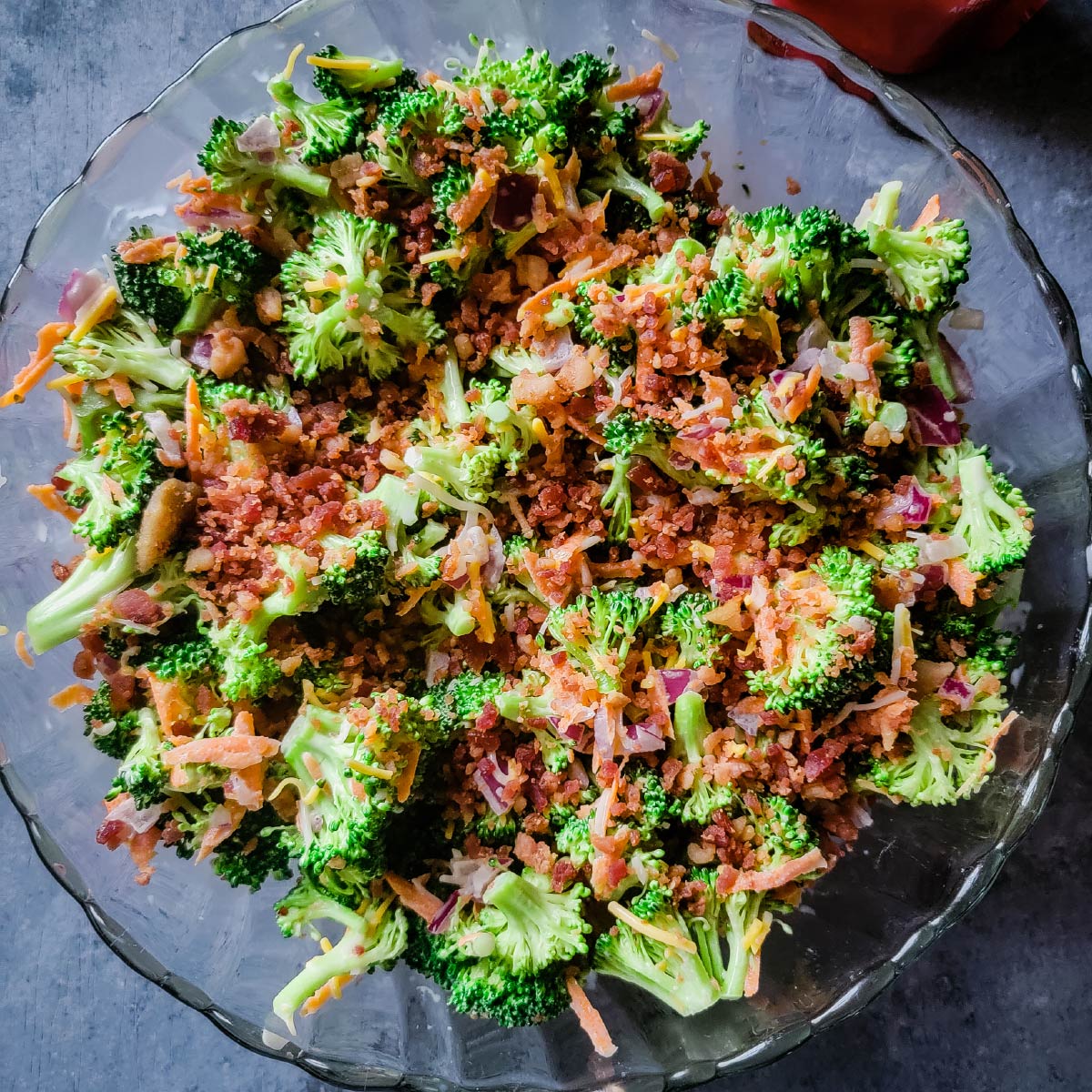 The shredded cheese can be the bagged shredded cheese. Shredded cheese in a bag doesn't have all the moisture that freshly shredded cheese. The bagged cheese loses some of it's moisture. It's ok to have a dryer cheese in this sweet broccoli salad with bacon.
You do not have to cook bacon for this salad. I like to use these real bacon pieces. They are not imitation bacon bits, tho you could use them if that is what you prefer.
Another great option for bacon is the precooked bacon. This is usually in the refrigerator section in your local supermarket. It's often right next to the raw bacon. It is a great alternative if you do not want to cook bacon before adding it. It is not crunchy like fresh cooked bacon but it does taste good in sweet broccoli salad with bacon.
Mix the broccoli, carrots and onions together. Mix your dressing and add it to the broccoli mix. Allow to sit in the fridge covered for at least 2 hours before serving.
Wait to add the bacon and cheese until right before serving the salad. Their texture will be better if you add it just before serving.
Other great side salads
Recipe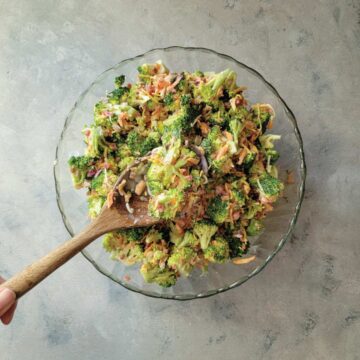 Broccoli Salad with Bacon
Easy to make this broccoli salad with bacon is a cookout classic! It has a sweet and tangy dressing but yet slightly salty from bacon, making it a delicious side dish.
Ingredients  
2

pounds

broccoli

crowns, see notes

½

cup

red onion

chopped finely

1

carrot

shredded, about ½ cup

½

cup

shredded cheese

cheddar recommended

3

ounces

real bacon pieces

see notes
Dressing
1⅓

cup

mayo

3

Tablespoons

red wine vinegar

½

cup

sugar
Instructions 
Cut the florets off the broccoli crowns and make sure the florets are in bite sized pieces.

Add the shredded carrot and finely chopped red onion to the broccoli and stir well.

½ cup red onion,

1 carrot

In a prep bowl mix mayo, red wine vinegar and sugar.

1⅓ cup mayo,

3 Tablespoons red wine vinegar,

½ cup sugar

Pour the dressing over the broccoli mix and stir well.

Refrigerate covered for at about 2 hours (highly recommended but not required.)

Remove from the fridge and stir in cheese and bacon. Stir well and serve.

Dressing will settle and you may need to stir again before scooping on plates if it sits for a few minutes.

½ cup shredded cheese,

3 ounces real bacon pieces
Notes
Nutritional values are estimated and so are serving sizes.  
Recipe written as 2 pounds broccoli crowns (before cutting the florets off) so you know how about how much you are buying in the store instead of cups measured after cutting.  This doesn't have to be exact.
For onion - Can substitute with chopped scallions or even leeks.  Do not use yellow, sweet or white onions tho.  They are better for cooking, not raw.
For cheese - We use either cheddar or sometimes a cheddar mix like 4 cheese Mexican.  You can use your favorite, but we think a cheddar mix is best.
For the bacon - You can use real bacon that you cook and crumble it.  You can also use the already cooked bacon if you prefer.  We like to use the real bacon pieces that are usually sold in the salad dressing isle next to the imitation bacon bits.  We do not use the imitation bits tho.
Nutrition
Calories:
408
kcal
Carbohydrates:
22
g
Protein:
10
g
Fat:
32
g
Saturated Fat:
7
g
Trans Fat:
1
g
Cholesterol:
36
mg
Sodium:
644
mg
Potassium:
413
mg
Fiber:
3
g
Sugar:
16
g
Vitamin A:
2052
IU
Vitamin C:
102
mg
Calcium:
97
mg
Iron:
1
mg