This taco pasta salad is delicious and so easy to make. It only takes a few ingredients and it comes together quickly. We enjoy it as a side dish but you make it a meal.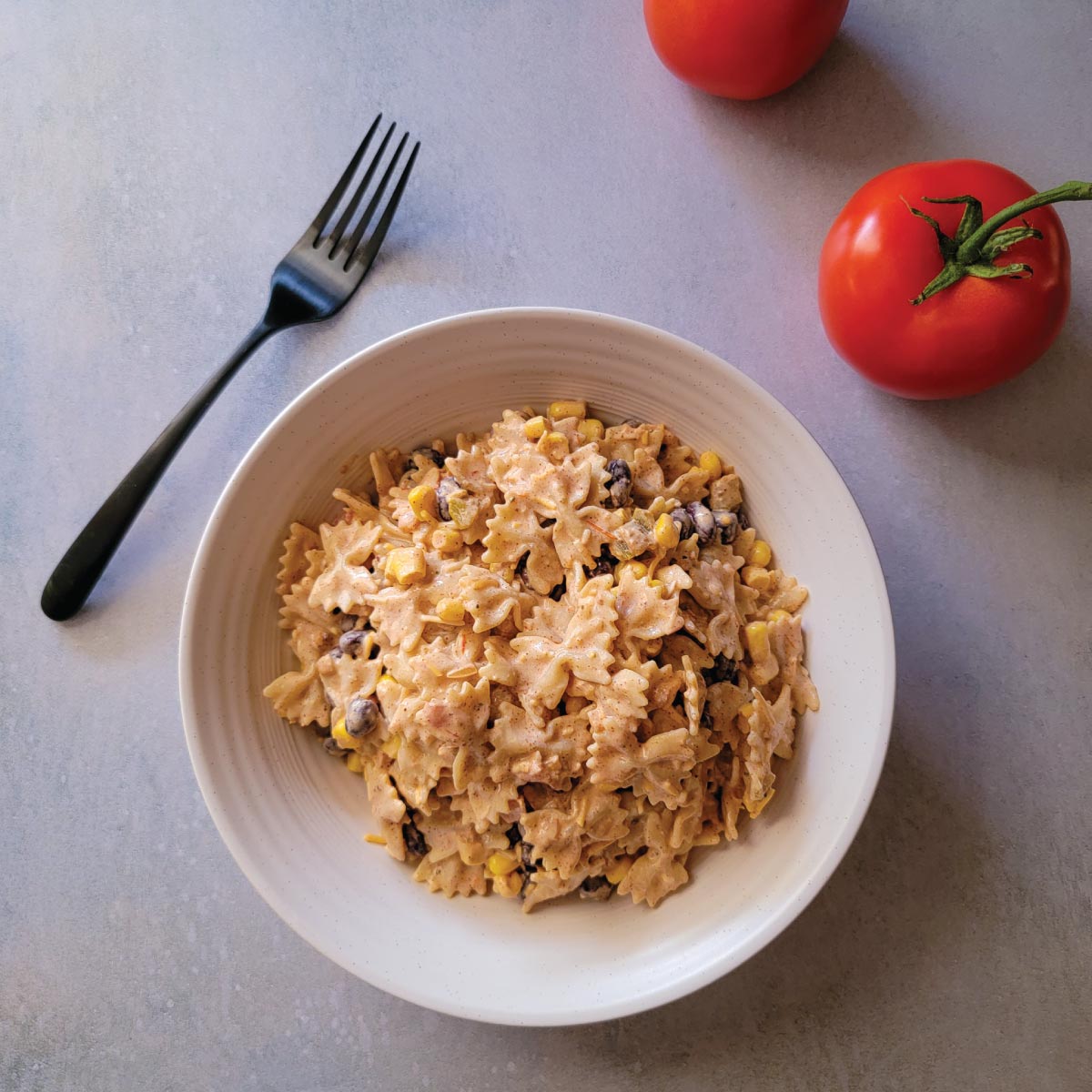 Pasta salads are one of our favorite side dishes to make, especially in the summer when our days get crazy. They go along with just about any main course and they always make dinner much easier.
Just like our ranch pasta salad and creamy Italian pasta salad, this taco pasta salad uses a homemade seasoning. You can substitute it for store bought tho.
Jump to:
What makes this recipe different?
We make ours a bit different from other recipes. Many recipes call for both ground beef and Catalina or French dressing. These dressings are similar, but not identical.
We make our pasta salad meatless here. You can add meat, we just usually make this as a side dish instead of a main meal. Quite often I make it when I will be grilling or for a picnic.
We make our taco pasta salad without French dressing and also without Catalina dressing (similar to French dressing.) We use salsa in place of salad dressings and you will love it!
Ingredients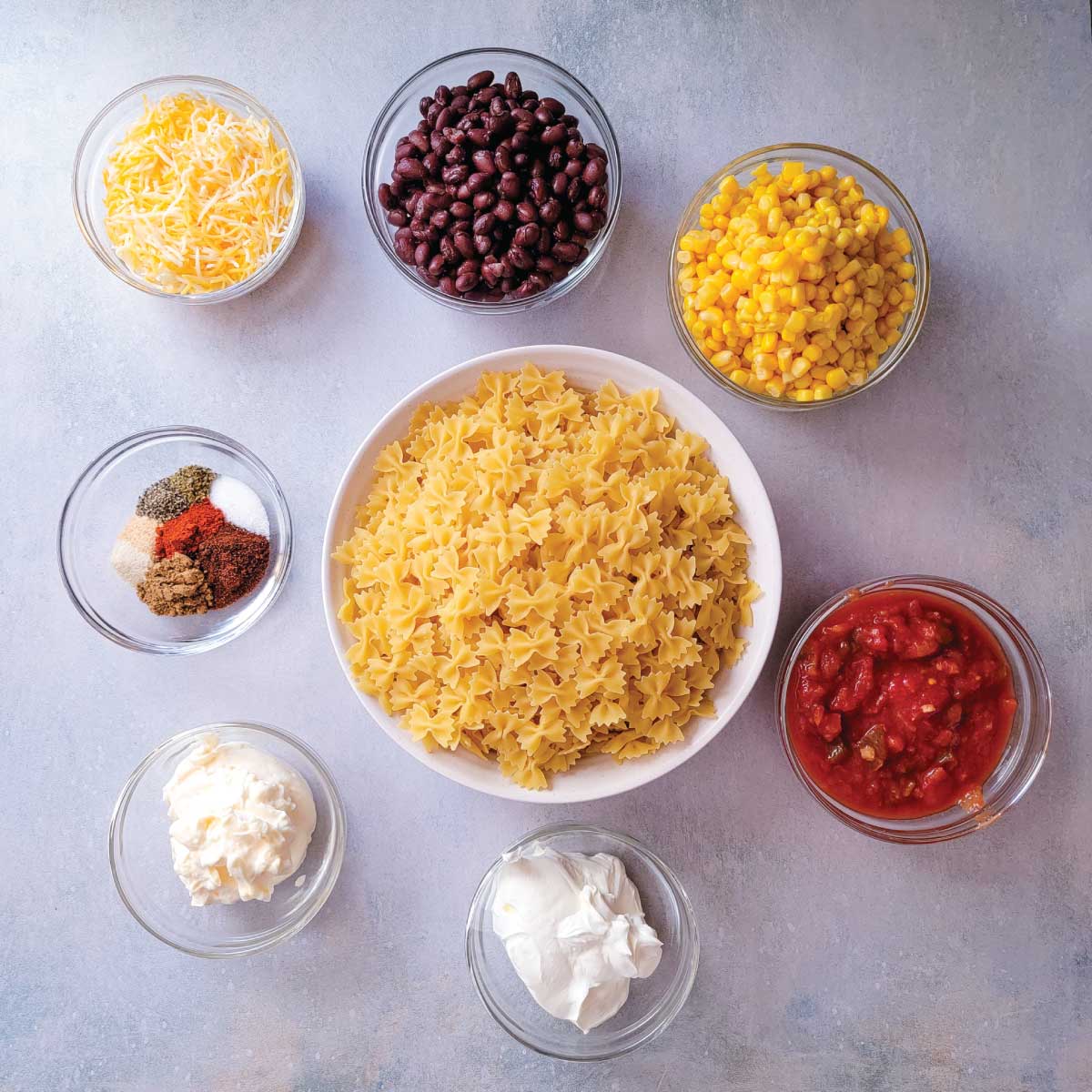 We keep the ingredients simple for the taco pasta salad, it's for nights when we want something delicious but quick to throw together.
Pasta - Your favorite pasta will work. We used small bowties (mini Farfalle) here. Shells, elbows and rotini works great too!
Cheese - We used 4 cheese Mexican blend, I recommend using a cheddar based mix of cheese for best flavor.
Black beans - Canned works great and is what we used. If you decide to use dried beans, be sure they are fully cooked before using in the salad.
Corn - Canned corn is recommended. If using frozen, be sure it is cooked all the way before adding.
Salsa - Use your favorite brand or even homemade! It is best to use a thick and chunky salsa tho.
Sour cream - Can substitute with Greek yogurt.
Mayo - Use your favorite, but it should be real mayo and not Miracle Whip dressing.
The spices
The spices can be substituted with a package of store bought taco mix.
Chili powder
Cumin
Onion powder
Garlic powder
Oregano
Salt
Paprika - smoked or regular (whichever your prefer)
Black pepper
You can add in cayenne pepper if you want it a little spicy.
Making the salad
This taco pasta salad with salsa comes together very easily and quickly. The longest part is boiling the pasta.
The Pasta
First you want to cook the pasta according to directions on the box to desired tenderness. We usually cook it just slightly beyond al dente for a salad, but this is a personal preference. For a cold salad, we like it a little softer then al dente here.
Once it is done cooking, drain in a strainer. Rinse well with cold water to cool it down and rinse off some of the excess starch from the pasta. Set aside.
The dressing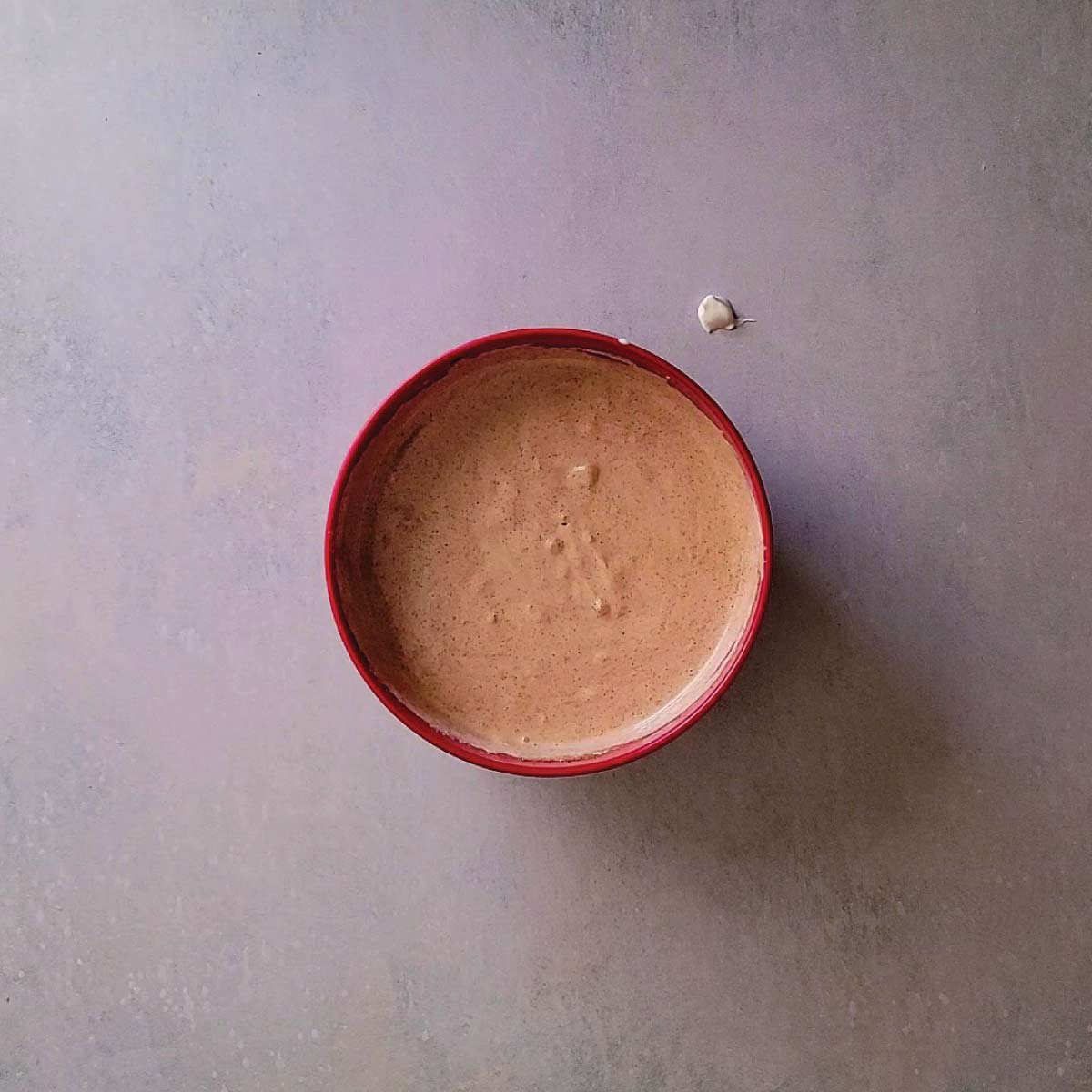 The dressing for the easy taco pasta salad is a combination of salsa, mayo, sour cream and the seasoning. I make it while the pasta is cooking.
In a prep bowl mix together all of the seasonings (unless you are using a store bought seasoning pack.) In a medium bowl mix together the mayo, sour cream and salsa.
Pour in the seasoning mixture and stir well. Set aside until the salad is ready for the dressing.
As a note - I do recommend tasting the dressing quickly to see if it needs more salt or flavor. Some people like more salt then others and you can add more now before mixing in the salad.
Assembly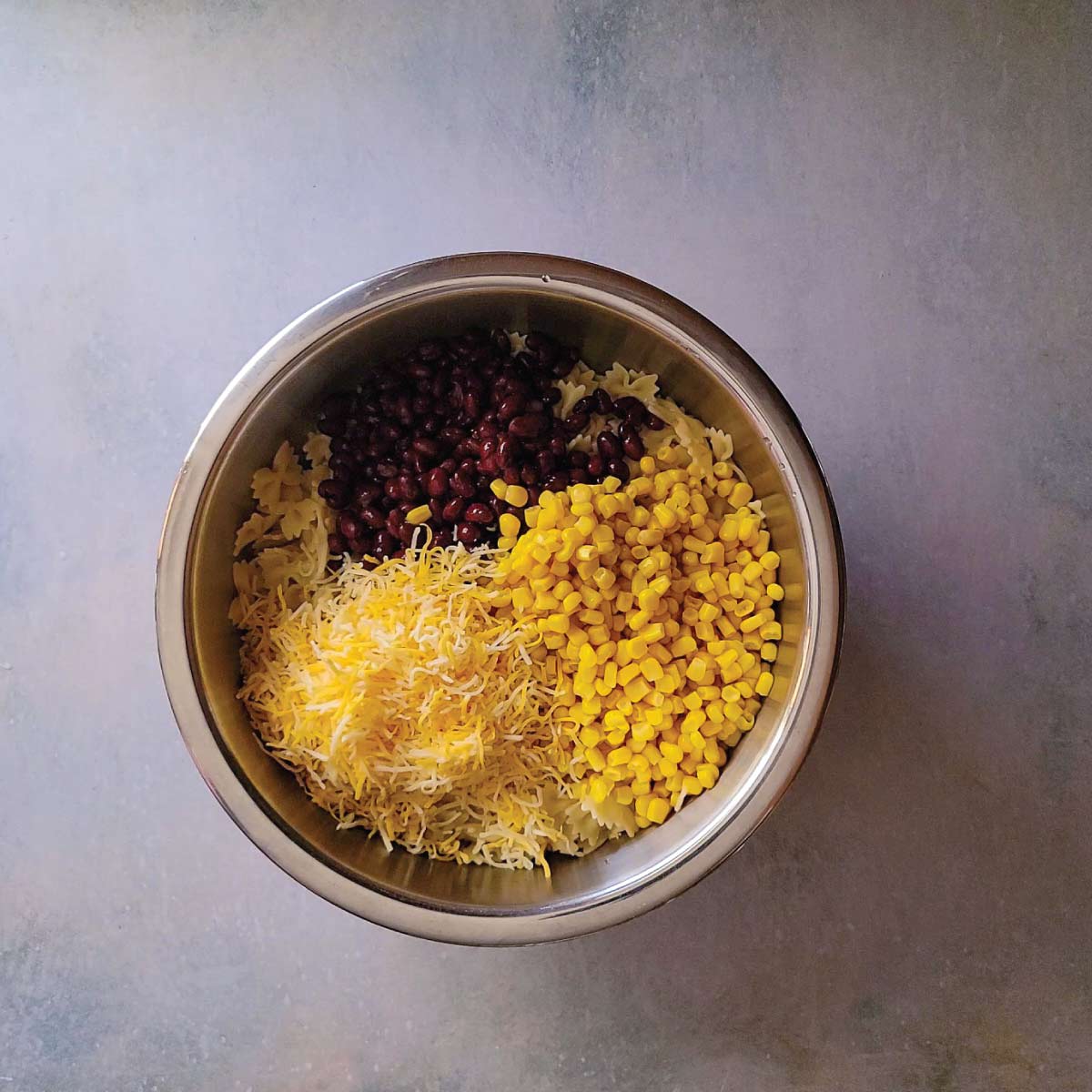 After making the dressing, prep the corn and the beans.
The corn just gets drained and set aside. The beans I drain and then rinse before adding to the salad. While you do not have to rinse them, it is recommended for best taste and texture of the taco pasta salad.
Once the noodles have been rinsed and are cooled completely, pour them into a large mixing bowl.
Add in the beans, cheese and corn. Stir well to mix. Pour the dressing over the mixture and stir well until completely mixed.
Can be eaten immediately or store in the fridge until ready to eat.
Toppings and garnishes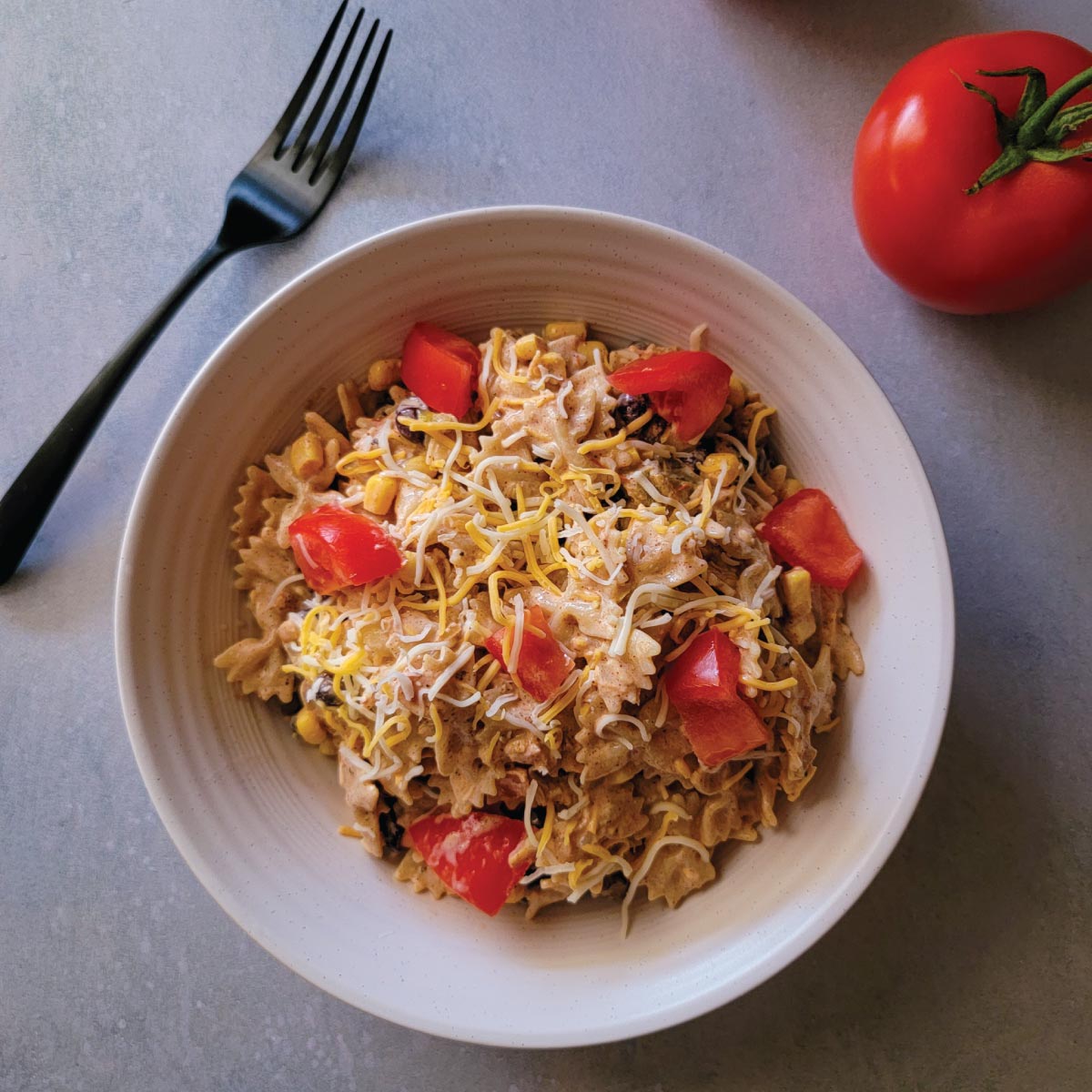 These are completely optional and you can use your favorites! Usually we serve it with bowls of any toppings we may want because not everybody here likes them on theirs.
There are many different things you can add so people can customize it themselves. Here are some ideas:
Tomato chunks (best if you add at the table or just before serving)
Shredded cheese - if you are like me there is no such thing as too much cheese!
Avocado chunks
Lettuce
Chopped cilantro (some people do not like cilantro and some people love it)
Hot peppers (if you like it hot)
Adding meat - optional
Ours is a meatless taco pasta salad, but you can definitely add meat if you choose! We keep it as a simple side dish to serve with other dishes like grilled hamburgers or grilled BBQ chicken legs.
When adding a meat, I recommend you make less pasta. So if you add a pound of ground beef (be sure it is fully cooked and cooled), use about half a package of pasta.
Chicken breast is another great addition to your salad! If you are adding chicken, be sure it is cooked all the way and you either add small bite sized pieces or cubed. If you are using a pound of chicken breasts, you want to use only about half a box of pasta.
Frequently asked questions
What should I serve with taco pasta salad?
It goes great with many different foods! We usually serve it with grilled meats like burgers, steaks or chicken. Sometimes we serve it with sandwiches for a really easy meal. This is always a hit at cookouts too!
How long will the salad last?
It should last about 3-4 days if stored promptly in the fridge.
What if my pasta salad seems to be a little dry after refrigeration?
If it seems to have dried out a little bit you can add just a little more mayo, sour cream and salsa to add just a little moisture. Sometimes the pasta soaks up some of the moisture after sitting in the fridge.
Other great side dishes
If you love our easy taco pasta salad, you will love some of our other favorite side dishes!
Recipe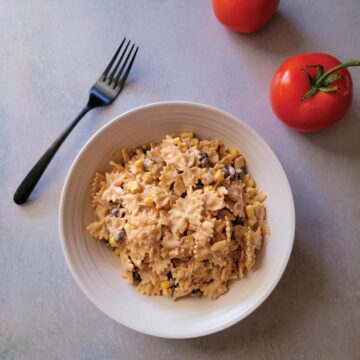 Taco Pasta Salad
Taco pasta salad is quick and easy to make! It is perfect for cookouts or any time you want a simple delicious dinner.
Ingredients  
1

pound

pasta

shells, elbows or bowties recommended

15

ounces

black beans

see notes

15

ounces

corn

see notes

1

cup

shredded cheese

4 cheese Mexican recommended

1

cup

salsa

thick and chunky

½

cup

mayo

½

cup

sour cream
Taco seasoning - can substitute with a store bought packet
1

Tablespoon

chili powder

½

Tablespoon

cumin

½

teaspoon

onion powder

½

teaspoon

garlic powder

½

teaspoon

oregano

½

teaspoon

salt

adjust as needed

½

teaspoon

paprika

smoked or regular

¼

teaspoon

black pepper
Instructions 
Cook pasta according to the directions on the package. Drain and rinse well with cold water until it is cooled down completely.

In a small bowl mix together the seasoning mix while the pasta cooks.

1 Tablespoon chili powder,

½ Tablespoon cumin,

½ teaspoon onion powder,

½ teaspoon garlic powder,

½ teaspoon oregano,

½ teaspoon salt,

½ teaspoon paprika,

¼ teaspoon black pepper

Mix the salsa, sour cream and mayo in a bowl. Add in the seasoning mix and stir well.

1 cup salsa,

½ cup mayo,

½ cup sour cream

Drain and rinse the beans. Drain the corn.

15 ounces black beans,

15 ounces corn

Pour the pasta into a large mixing bowl. Add the beans, corn and cheese. Stir well.

Add in the seasoning mix and stir well until it is combined.

Can be served immediately or can be made ahead of time. Store in the fridge.
Notes
Nutritional values are estimated and so are serving sizes.  
For the beans - Any can of black beans that are close to 15 ounces, some brands are different sizes.  It doesn't have to be exactly 15 ounces.
For the corn - Any can of corn close to 15 ounces, it doesn't have to be exact as different brands are different weight.
If you want to add meat - You can add meat if you like.  Be sure the meat is fully cooked and cooled before adding to the salad.  For a pound of ground beef or chicken, reduce the amount of pasta to about half of the box.
Nutrition
Calories:
410
kcal
Carbohydrates:
56
g
Protein:
15
g
Fat:
15
g
Saturated Fat:
4
g
Polyunsaturated Fat:
6
g
Monounsaturated Fat:
3
g
Trans Fat:
1
g
Cholesterol:
20
mg
Sodium:
449
mg
Potassium:
465
mg
Fiber:
7
g
Sugar:
5
g
Vitamin A:
686
IU
Vitamin C:
3
mg
Calcium:
107
mg
Iron:
2
mg