A quick and easy side dish to make, creamy Italian pasta salad comes together in about 30 minutes! It is full of flavor and uses homemade seasoning along with some mayo, parmesan cheese and a touch of vinegar.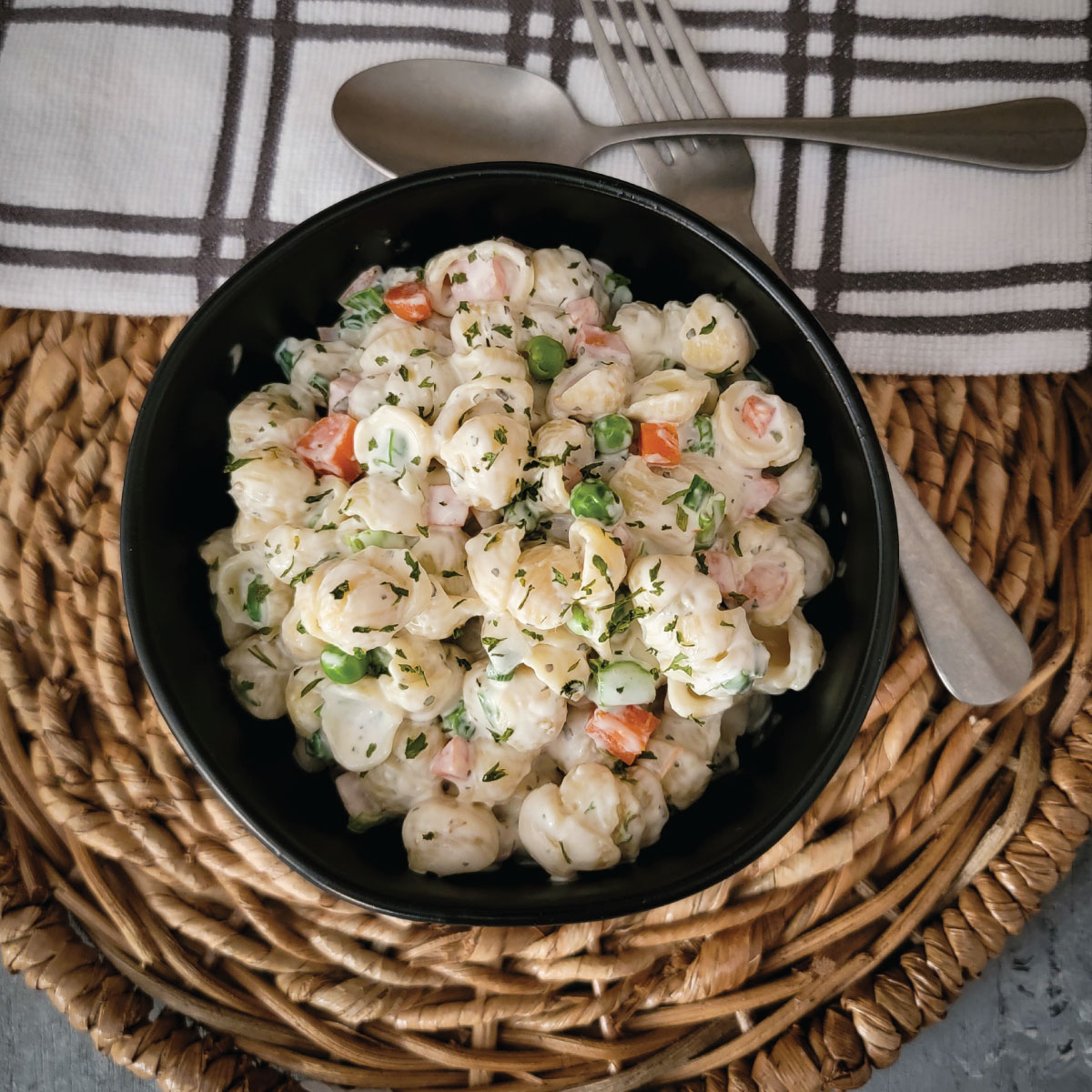 Cold side dishes are perfect for hot summer days! And pasta salad recipes are a classic when it is hot. We have a few favorites here but this one gets made often along with our ranch pasta salad and bacon ranch pasta salad.
This creamy Italian pasta salad with mayo is very easy to make and you may even have most, if not all the ingredients on hand already! Like our taco pasta salad, it uses a homemade seasoning, no packets.
Jump to:
The ingredients
Sometimes you want to put this together in a hurry and you may not have the exact ingredients. Here are some tips and possible substitutions for some of the ingredients.
Pasta - I recommend you use a fairly quick cooking pasta for this salad. You cook the frozen veggies with the pasta so you don't want them overcooked. We usually use either small shells or elbow pasta.
Carrots and peas - The frozen ones cook perfectly with the noodles, but if you have fresh you can use them as well. Carrots take a little longer to cook when they are fresh then they do when they are frozen. Be sure to cut them into small pieces if using fresh and boil them for about 5 minutes before adding frozen (or fresh) peas and pasta. Fresh peas can be added with the noodles, they cook quicker then carrots.
The dressing
Scallions - Scallions are really the best here for their milder flavor, but you can use about 1 quarter cup chopped red onion if you don't have scallions. I wouldn't use yellow or white onions, they are too strong in flavor for this creamy Italian pasta salad.
Mayo - Your favorite mayo. I do not recommend using the Miracle Whip dressing, real mayo is the best here.
Vinegar - We recommend using red wine vinegar, but you can use balsamic vinegar as well. In a pinch you can use white vinegar if that is what you have, but red wine vinegar is best.
Buttermilk or powdered milk - optional but highly recommended! In a pinch you can leave it out if you do not have any. We always have buttermilk powder in the fridge but I do know that not everybody does. We use buttermilk powder, not prepared buttermilk.
Parmesan cheese - Store bought grated cheese is what we use for this creamy Italian pasta salad.
Basil - You can substitute the basil, oregano and parsley with 1 and a half teaspoons of Italian seasoning if you do not have all 3 individual spices.
Oregano - See basil.
Parsley - See basil.
Garlic powder - No substitutions recommended.
Salt - This is to taste, you may find you want more or less then we add.
Tips for making the pasta salad
This creamy Italian pasta salad is quite easy but here are a few tips to help make sure your salad is a success!
The dressing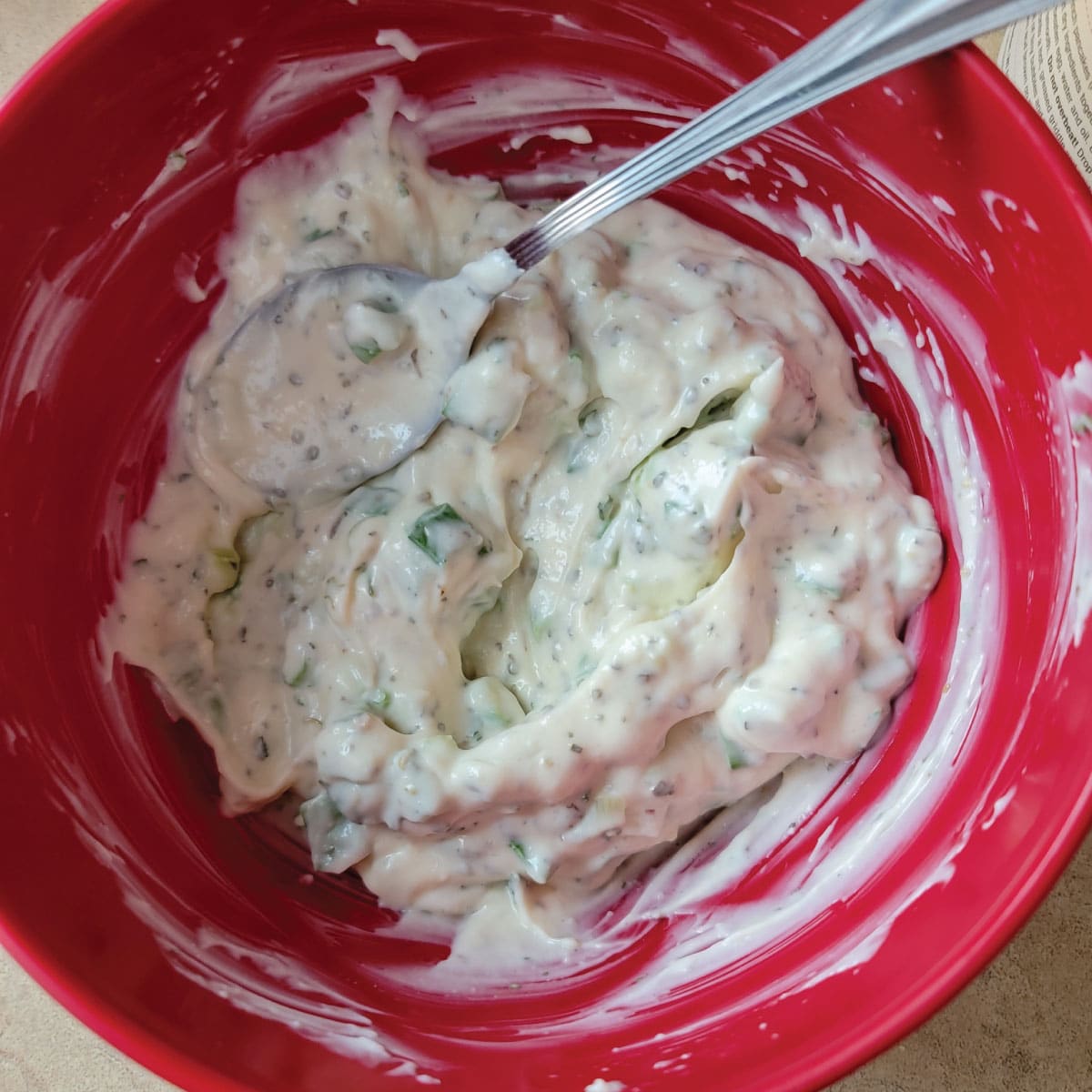 The dressing should be made while you are waiting for the water to boil for the pasta. I make it and set it aside so the flavors mingle together nicely. You do not need to refrigerate the dressing while cooking the pasta, but make sure you make it a couple minutes before adding it to the pasta.
The scallions take a couple minutes to soak into the dressing to add their flavor and so do some of the dried spices.
Everything but the pasta, peas and carrots goes into the dressing.
The pasta and veggies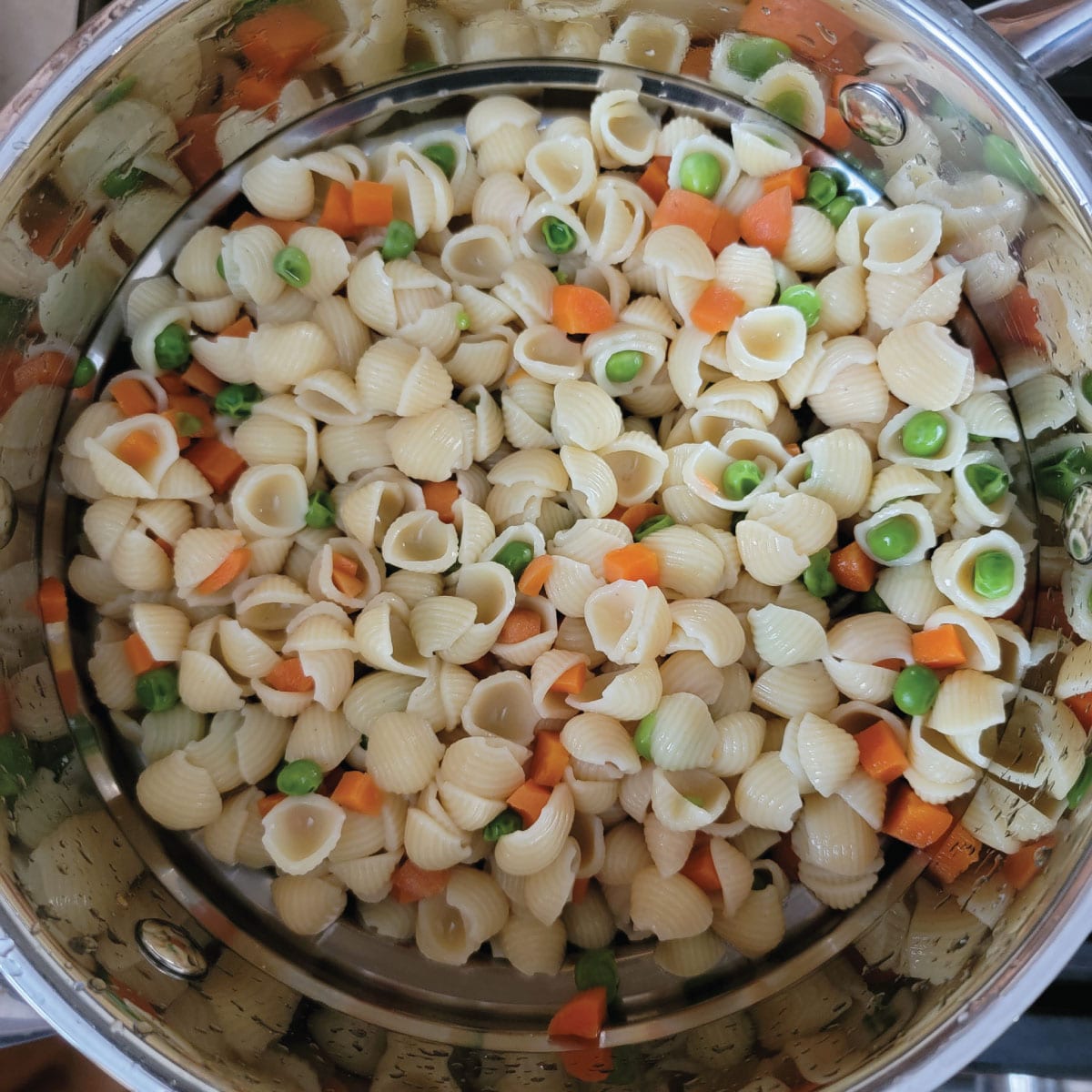 The pasta, peas and carrots get cooked together. They get a flavor together and it is just easier then boiling everything separate!
If the only pasta you have is a longer cooking one, you can add the frozen vegetables in after a couple minutes of cooking. It is best to use a quicker cooking pasta, but not required.
If you add the peas and carrots right away with a longer cooking pasta, you might end up with over cooked vegetables. Not too devastating, but they have their best flavor and texture if not overcooked. Frozen peas and carrots can handle around 8-10 minutes with the pasta before getting too soft.
Drain and rinse immediately with cool water to cool it completely.
Putting the creamy Italian pasta salad together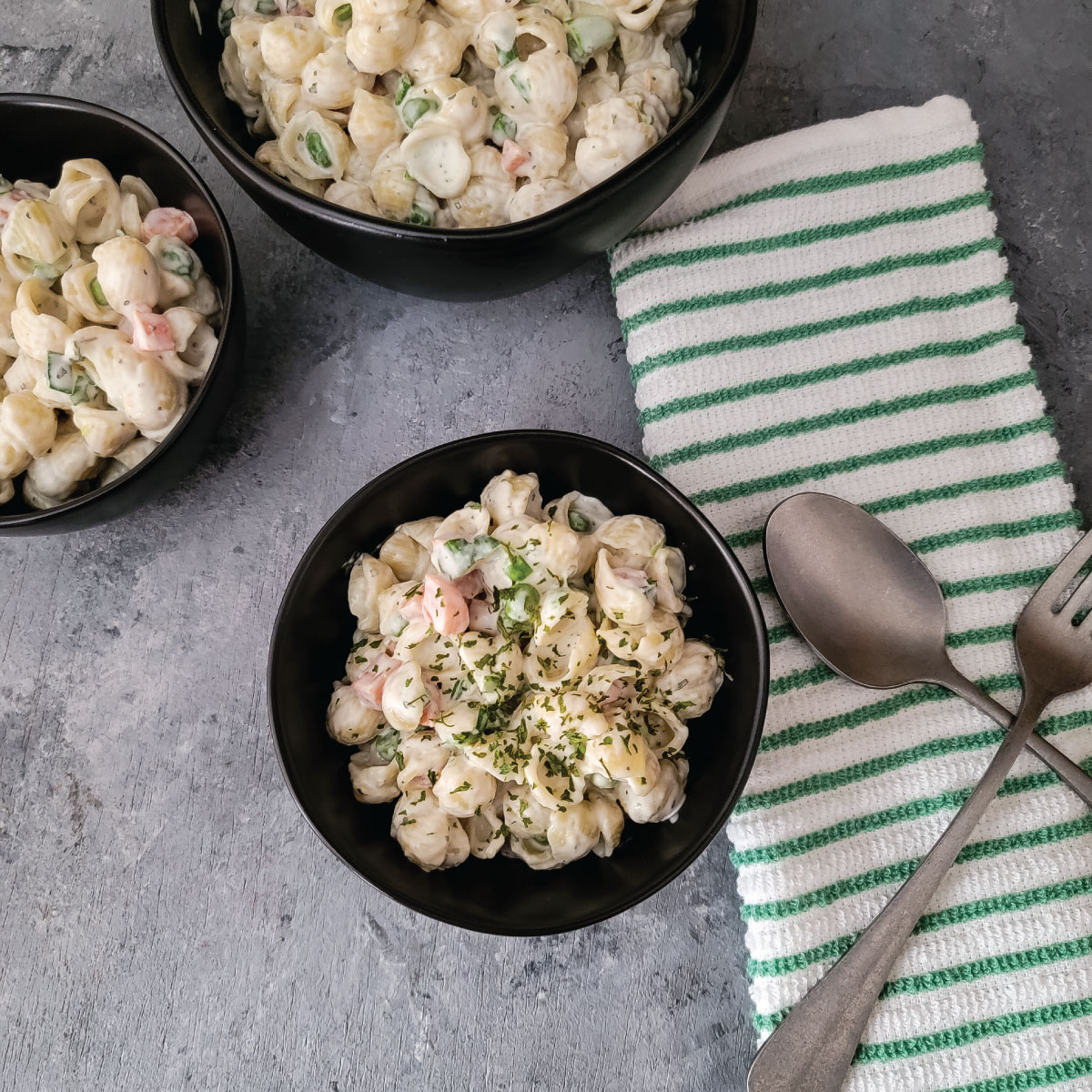 Once the pasta has been cooled and drained, pour it into a bowl. I usually put it into a separate mixing bowl since I can be messy and prefer to mix in in a bowl bigger then I need!
Pour the dressing mix over the pasta and veggies, stir well. Transfer to a serving bowl (if you are using a different bowl to mix) and serve!
You do not need to refrigerate before serving and it is the creamiest before refrigeration. Leftovers need to go in the fridge and if your salad gets where it isn't so creamy after being in the fridge, you can add a tablespoon or 2 of milk (liquid not powder milk.) It will bring it back to a creamier texture.
Frequently asked questions
How long does the creamy Italian pasta salad last in the fridge?
It is best to eat it within 3-4 days. The flavors will change and so will the texture after the 4 day mark.
Can I use other vegetables?
Yes you can use other vegetables! If you add peppers, you can add them in raw. Tomatoes will be good but add right before serving.
What pasta is best?
Small shells, elbows or any pasta that is smaller and cooks within 8-10 minutes. Unless you are adding only raw vegetables, then the pasta doesn't matter. Keeping the cook time within 8-10 minutes will keep your carrots and peas from being too cooked.
Why is my pasta salad no longer creamy?
This is common after it has been in the fridge. A tablespoon or 2 of milk stirred in will bring it back. You can also add another small spoonful of mayo if needed.

Sometimes this happens when not chilling the pasta good enough, but this salad has parmesan cheese and buttermilk powder in it so sometimes it needs a quick touchup after being in the fridge for a while.
Recipe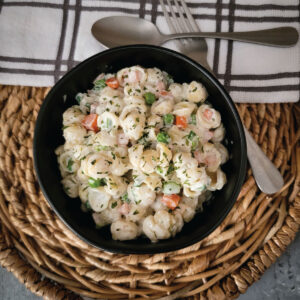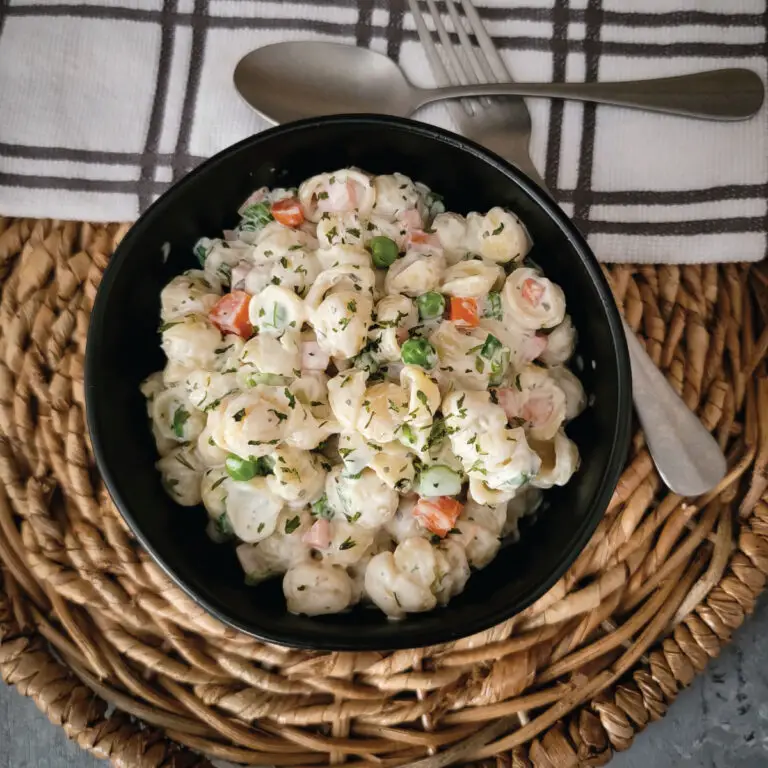 Creamy Italian Pasta Salad
Easy and quick to make, this creamy Italian pasta salad is the perfect side dish! It combines the flavors of Italian seasonings with parmesan cheese, mayo and a touch of vinegar
Ingredients  
8

ounces

noodles

small shells recommended, see notes

1

cup

peas and carrots

frozen bagged mix
Dressing
2

scallions

chopped - greens and all

⅔

cup

mayo

2

teaspoons

red wine vinegar

can use balsamic instead

1

tablespoon

buttermilk powder

or powdered milk

1

tablespoon

parmesan cheese

already grated jarred cheese is good here

½

teaspoon

basil

½

teaspoon

oregano

½

teaspoon

parsley

½

teaspoon

garlic powder

½

teaspoon

salt
Instructions 
Bring a pot of water to a boil and add the peas, carrots and pasta. Cook according to the pasta instructions.

While the pasta water is coming to a boil, in a small bowl mix together all the dressing ingredients and set aside.

Drain the pasta, peas and carrots when they are done cooking.

Rinse well with cold water until they are completely cool and let them sit for about 5 minutes to drain well.

Put the pasta, peas and carrots in a large bowl. Add the dressing and mix well.

Serve immediately or put in the fridge until ready to serve.
Notes
Nutritional values are estimated and so are serving sizes.  If this is a side dish with other foods, it will likely make more then 4 servings.
The noodles should cook in 8-10 minutes so we recommend small shells, elbows or other small pasta that can cook within that time frame.
This is best served immediately, but can be made ahead.  Pasta salad can lose it's creamy texture after being in the fridge for a while.  If this happens, add a little bit of mayo (a spoonful) or 1-2 tablespoons of milk (liquid not powdered.) Stir well and it should bring it's texture back.
Buttermilk powder is optional but recommended.  If you do not have it, you can leave it out.  It does add to the flavor tho.
Nutrition
Calories:
498
kcal
Carbohydrates:
48
g
Protein:
10
g
Fat:
29
g
Saturated Fat:
5
g
Polyunsaturated Fat:
17
g
Monounsaturated Fat:
7
g
Trans Fat:
1
g
Cholesterol:
18
mg
Sodium:
588
mg
Potassium:
252
mg
Fiber:
3
g
Sugar:
3
g
Vitamin A:
3426
IU
Vitamin C:
5
mg
Calcium:
66
mg
Iron:
1
mg