Are you looking for an easy but delicious side dish this summer? Our grilled potato wedges are the perfect summer side dish! Whether you are hosting a cookout or just looking for a side to serve the family, you will love these potatoes.
They are seasoned with a simple homemade seasoning then grilled to perfection with a crispy outside and tender inside.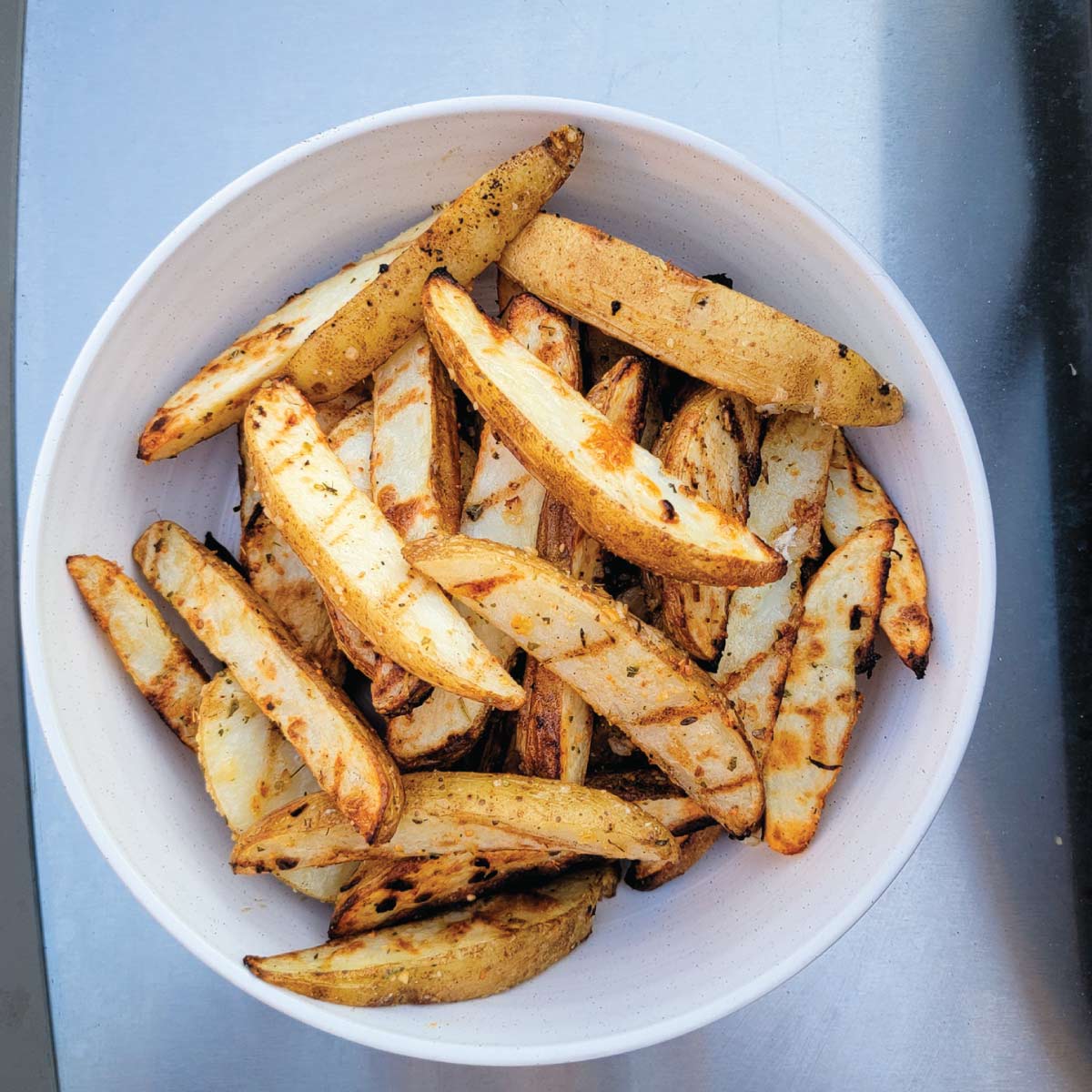 We make these in place of French fries quite often, they taste so much better then regular fries. They have a great flavor and you can cook them to them until they are as crispy as you like them.
Most often we serve these with burgers on the grill, but these grilled potato wedges do go great with chicken and steaks too. We also love making loaded foil potato packs and grilled ranch potatoes! Potatoes are one of our favorite side dishes.
You can change up the seasoning on these if you prefer other spices, but we do think you will enjoy them this way.
Jump to:
Ingredients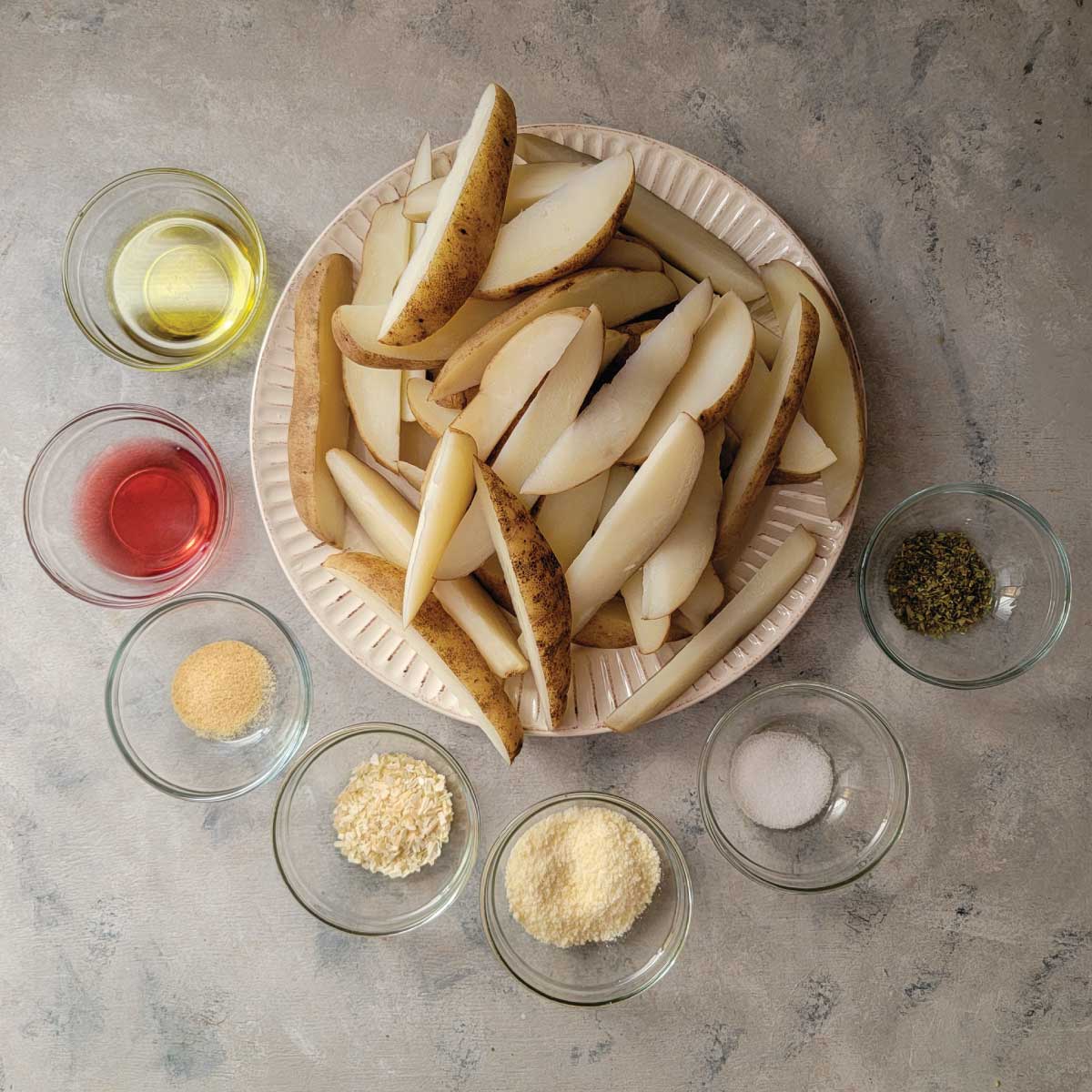 Potatoes - I recommend russets for these grilled potato wedges. You can use other potatoes and we have, but russets or baking potatoes are best.
Oil - We use olive oil, but you can use your favorite as long as it has a smoke point at or above olive oil.
Vinegar - Red wine vinegar is our favorite for this recipe, but you could use balsamic vinegar if you prefer.
Parmesan cheese - Store bought grated works best, but you can grate your own. The store bought is heavier and holds up to mixing with the liquid better tho.
Onion - Dried minced onion is what we use, you can add half a teaspoon of onion powder in place of the dried onion if you prefer.
Italian seasoning - If you do not have it, you can use about 1 third teaspoon each of parsley, basil and oregano.
Garlic - Garlic powder is best to evenly distribute the flavor. Minced garlic will not coat the wedges that good.
Salt - Recommended to enhance flavors. I recommend adding a little more salt onto the grilled potato wedges after cooking, but that is optional.
Prepping the potatoes
First thing is to wash the potatoes thoroughly. I like to use a vegetable brush (or a clean dish brush) to gently scrub the dirt off of them.
How to cut potato wedges
You want to try to cut them into evenly sized wedges. I cut the potato in half lengthwise, then in half lengthwise again. Depending on the size of the potato, I usually cut the pieces in half again so I have 8 long potato wedges for each potato.
If it is a really big potato sometimes I cut the 4 quarters into 3 instead of 2 giving us 12 wedges. If you leave them as thick wedges, you will want to increase the boil time slightly.
Boiling the potatoes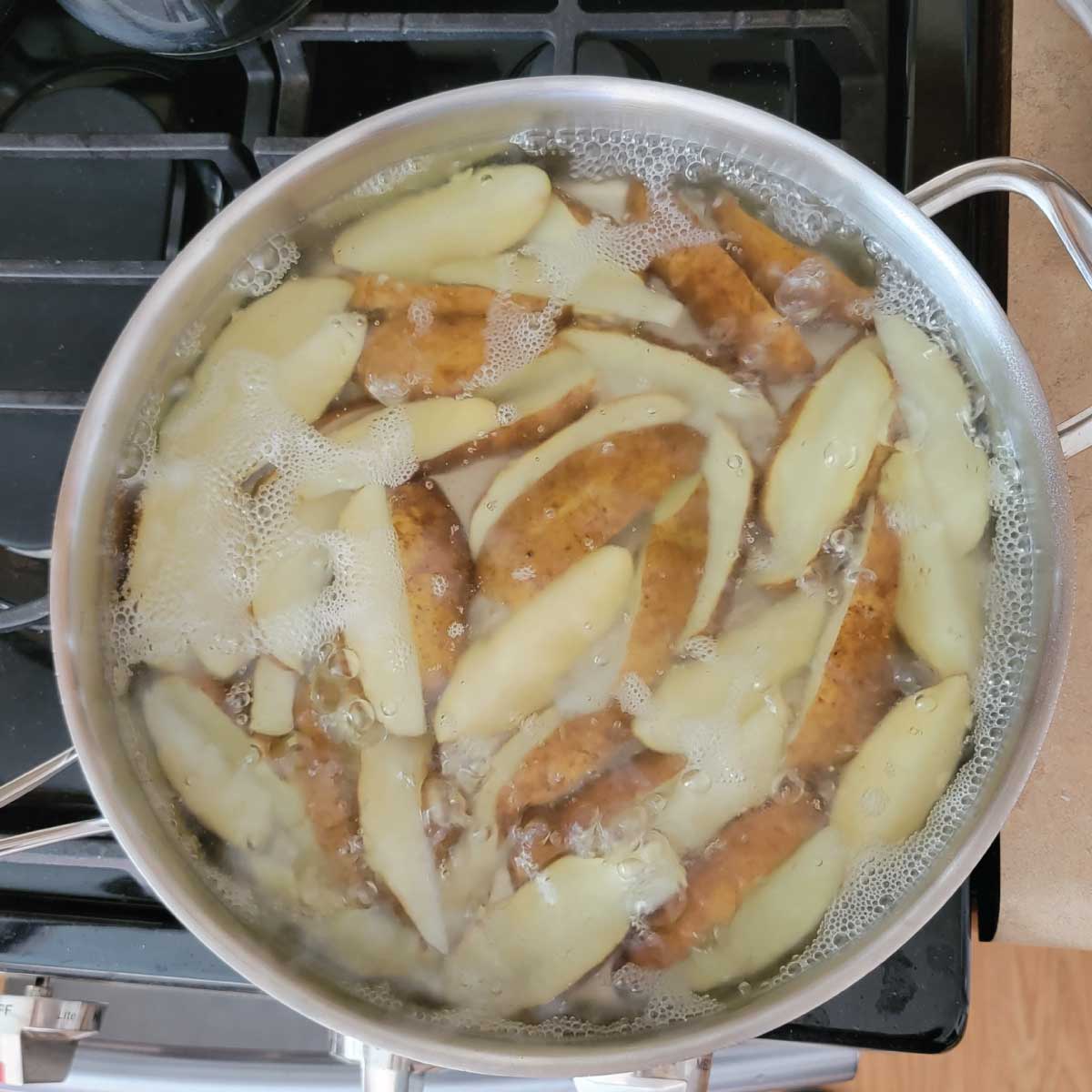 In order for the potatoes to cook best, these grilled potato wedges are boiled slightly first. If you put them onto the grill before boiling them first, they will likely be too crispy before they cook all the way in the center.
Add the cut potatoes to a large pot or frying pan (I use my 5 quart frying pan.) Add water and bring to a boil. Once the water comes to a boil, cook them for about 5 minutes.
You want to cook them until they are starting to become tender, but not falling apart. Once they are starting to become tender, drain and place in a dish to place in the fridge.
Place in the fridge uncovered (do not cover) until they are cooled, about 30 minutes to an hour. You can leave them in the fridge longer, but they do need to be in the fridge at least long enough to be completely cooled down before grilling.
Seasoning the wedges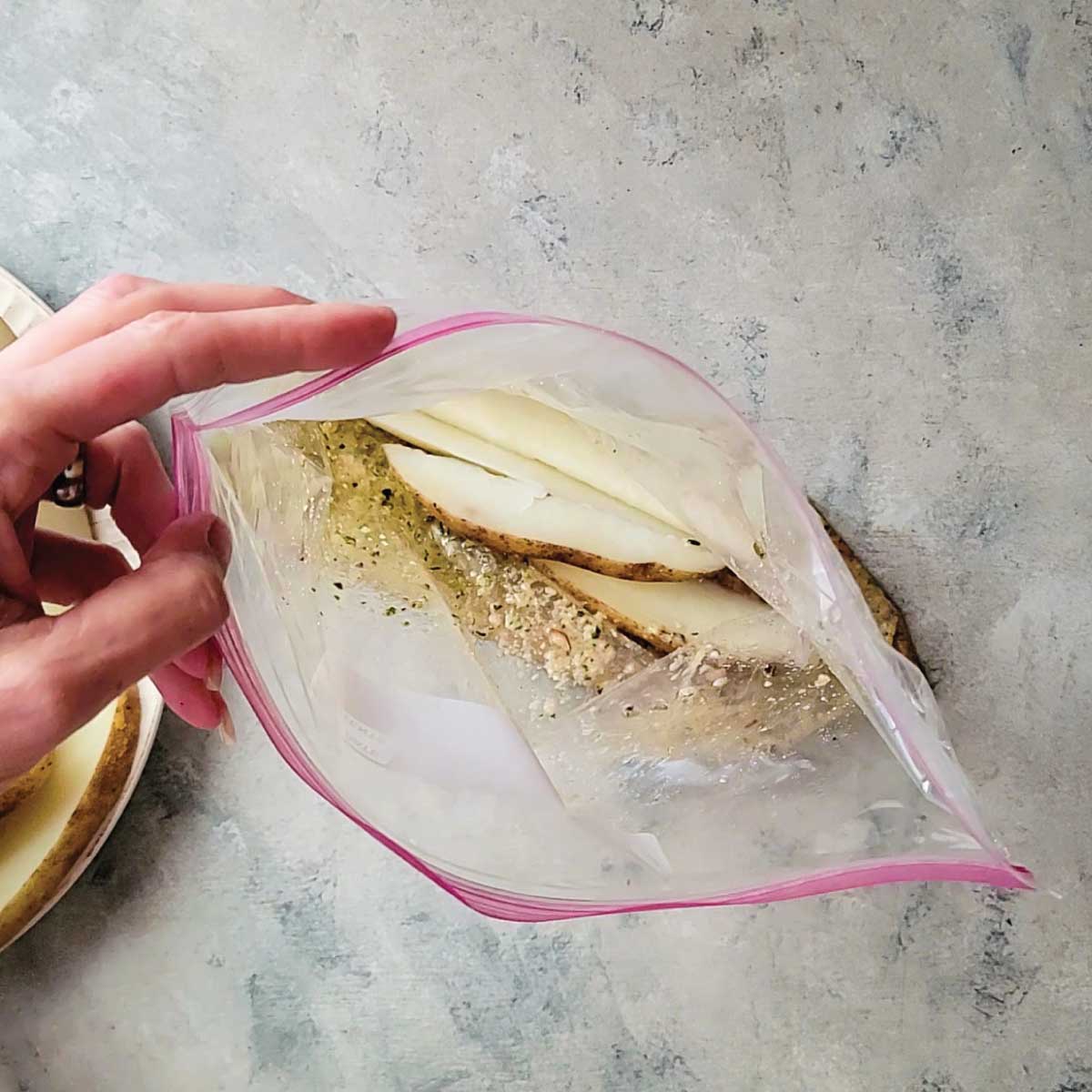 You can use a large mixing bowl or a plastic storage bag here to coat the grilled potato wedges. I like to use a storage bag for these because the potatoes are softer and sometimes they break apart a little easier when you stir them in a bowl.
Mix together the oil, vinegar and spices in a bowl or plastic bag. Mix together until it is blended well. Add in the cooled potato wedges and toss gently to coat them. Set aside until the grill is ready for them.
Grilling potato wedges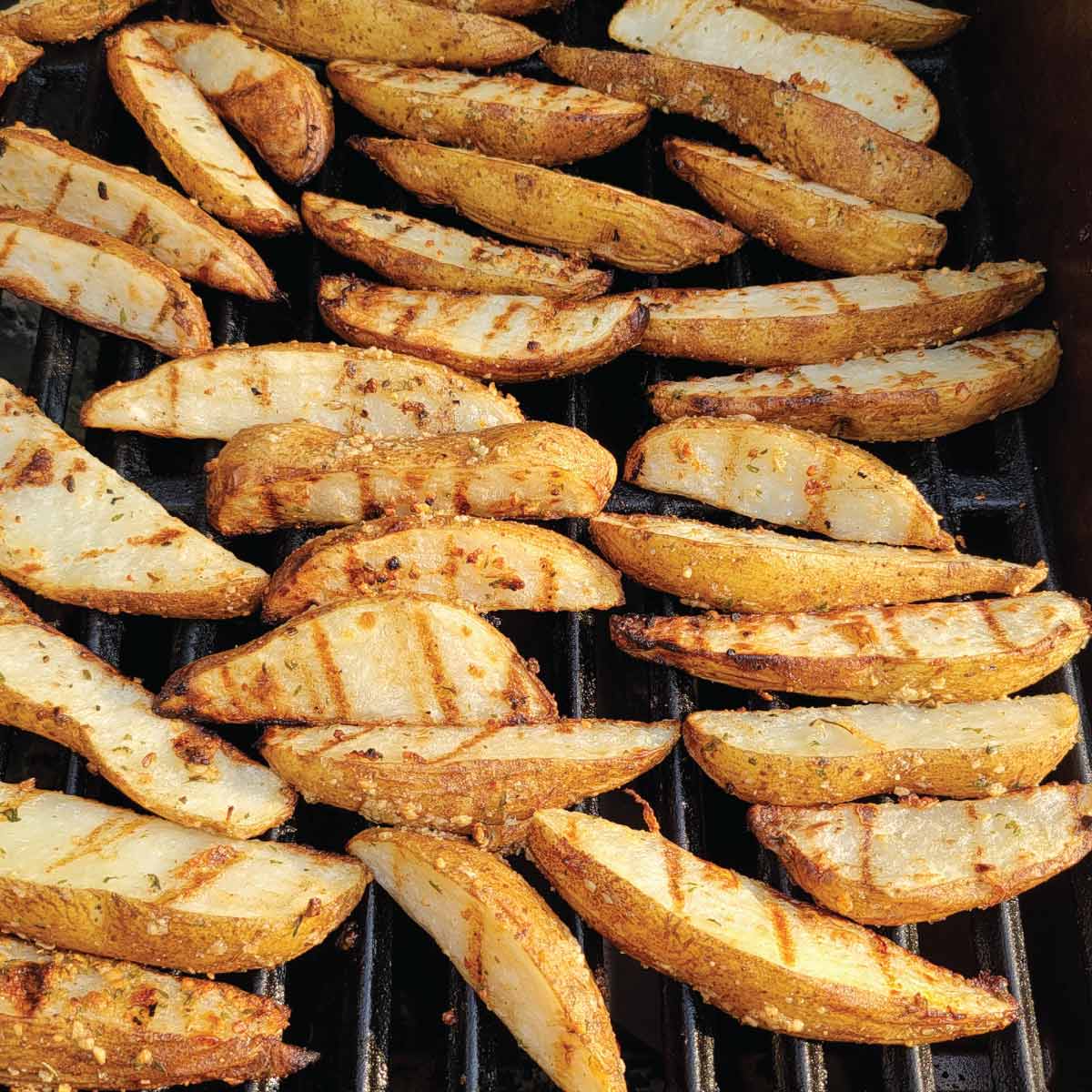 If the grilled potato wedges are the only thing going on the grill, heat it to 400-450 degrees Fahrenheit. If you are cooking other food on the grill with them, use temperature needed for the other food.
These potatoes can cook at any temperature you need the grill to be for other food, they will just take more time if you need a lower temperature.
Place all the potatoes onto the grill and close the lid. Cook for about 5-7 minutes and then flip. Cook another 5-7 minutes and remove from grill to serve.
Grills vary and you may need to adjust time slightly. Cook them until they are as done as you like them on each side. If you want them to be crispy grilled potato wedges, you want them to be slightly darker with nicely browned sides.
I recommend sprinkling with a little bit of salt after removing them from the grill, but that is optional.
Frequently asked questions
Why aren't my potato wedges crispy on the outside?
There can be a couple reasons here, but the first is likely the cook time. We give an estimated time of 5-7 minutes on each side, but grills vary and you may need to adjust it.

Another reason is that you covered the wedges when putting them in the fridge and they had a lot of moisture on them when you coated them. They should not be covered in fridge so they do not have excess moisture on them. You can grill them a little longer and they should crisp up.
Do I have to boil these grilled potato wedges first?
Yes you do. Potatoes can take a bit to cook when raw so you may have half cooked middles with dark and crispy outside if you do not boil them first.

It helps to ensure they are fully cooked and also allows them to have a nice crisp outside with a perfect texture inside.
How do I reheat leftover potato wedges?
They are hard to get back to the perfect crisp after the leftovers are stored in the fridge. But you can reheat them on the grill or in the oven. The grill will give you the best texture. If using the oven, reheat them at 400 degrees Fahrenheit. The times will vary, cook until they are heated through.
Other great dishes on the grill
Recipe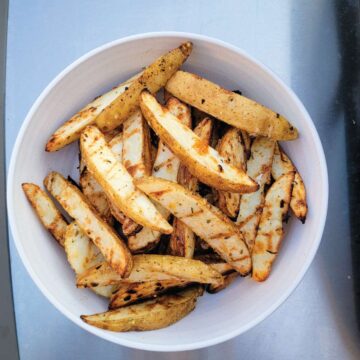 Grilled Potato Wedges
These crispy grilled potato wedges are delicious and the perfect side dish for any main meal. They are perfect anytime you want to make French fries.
Ingredients  
2

pounds

potatoes

russets recommended

2

Tablespoons

olive oil

2

Tablespoons

red wine vinegar

2

Tablespoons

parmesan cheese

grated

1

Tablespoon

dried minced onion

1

teaspoon

Italian seasoning

½

teaspoon

salt

½

teaspoon

garlic powder
Instructions 
Wash the potatoes thoroughly and cut each potato in half lengthwise, then half again lengthwise. I cut these quarters in half again, but if they are big potatoes you can cut the pieces into thirds. You want all the wedges to be close in thickness.

Place the wedges into a large pot or large frying pan. Pour water of the potatoes and bring to a boil. Once they reach a boil, cook for about 5 minutes - until they are just starting to become tender.

Drain and place on a plate. Put in fridge uncovered (important do not cover) for 30 minutes to an hour to cool down to at least room temperature but can be cooler.

Once the potatoes are cooled, preheat grill to 400-450° Fahrenheit.

In a plastic storage bag or large mixing bowl mix together oil, vinegar, parmesan cheese, minced onion, Italian seasoning, garlic and salt. Mix well.

2 Tablespoons olive oil,

2 Tablespoons red wine vinegar,

2 Tablespoons parmesan cheese,

1 Tablespoon dried minced onion,

1 teaspoon Italian seasoning,

½ teaspoon salt,

½ teaspoon garlic powder

Add in the potato wedges and toss gently to fully coat them. Set aside until the grill is ready.

Place on the grill over direct heat. Close the lid and cook about 5-7 minutes. If they are not as crisp and dark as you like, cook a little longer.

Flip and cook another 5-7 minutes with the lid closed, until they are as dark and crisp as you would like on both sides.

Remove from the grill and sprinkle with some extra salt (optional) and serve with your favorite dipping sauce.
Notes
Nutritional values and serving sizes are estimated.
For the potatoes - you can use other potatoes, but we think that russets or baking potatoes have the best texture.
For the oil - you can use your favorite oil.
For the parmesan - We actually prefer store bought grated cheese for these grilled potato wedges.  It mixes better with the other ingredients then the lightweight fresh grated.  You can use either one tho.
For grilling - These potatoes are cooked before placing on the grill so you can safely change the temperature of the grill if needed to accommodate other foods being cooked on the grill.  You will just need to adjust the cook times.  
Nutrition
Calories:
80
kcal
Carbohydrates:
2
g
Protein:
1
g
Fat:
8
g
Saturated Fat:
1
g
Polyunsaturated Fat:
1
g
Monounsaturated Fat:
5
g
Cholesterol:
2
mg
Sodium:
332
mg
Potassium:
36
mg
Fiber:
1
g
Sugar:
1
g
Vitamin A:
28
IU
Vitamin C:
1
mg
Calcium:
42
mg
Iron:
1
mg