These boneless skinless chicken thighs are full of flavor and easy to make! They have the perfect combination of garlic, parmesan cheese and other spices.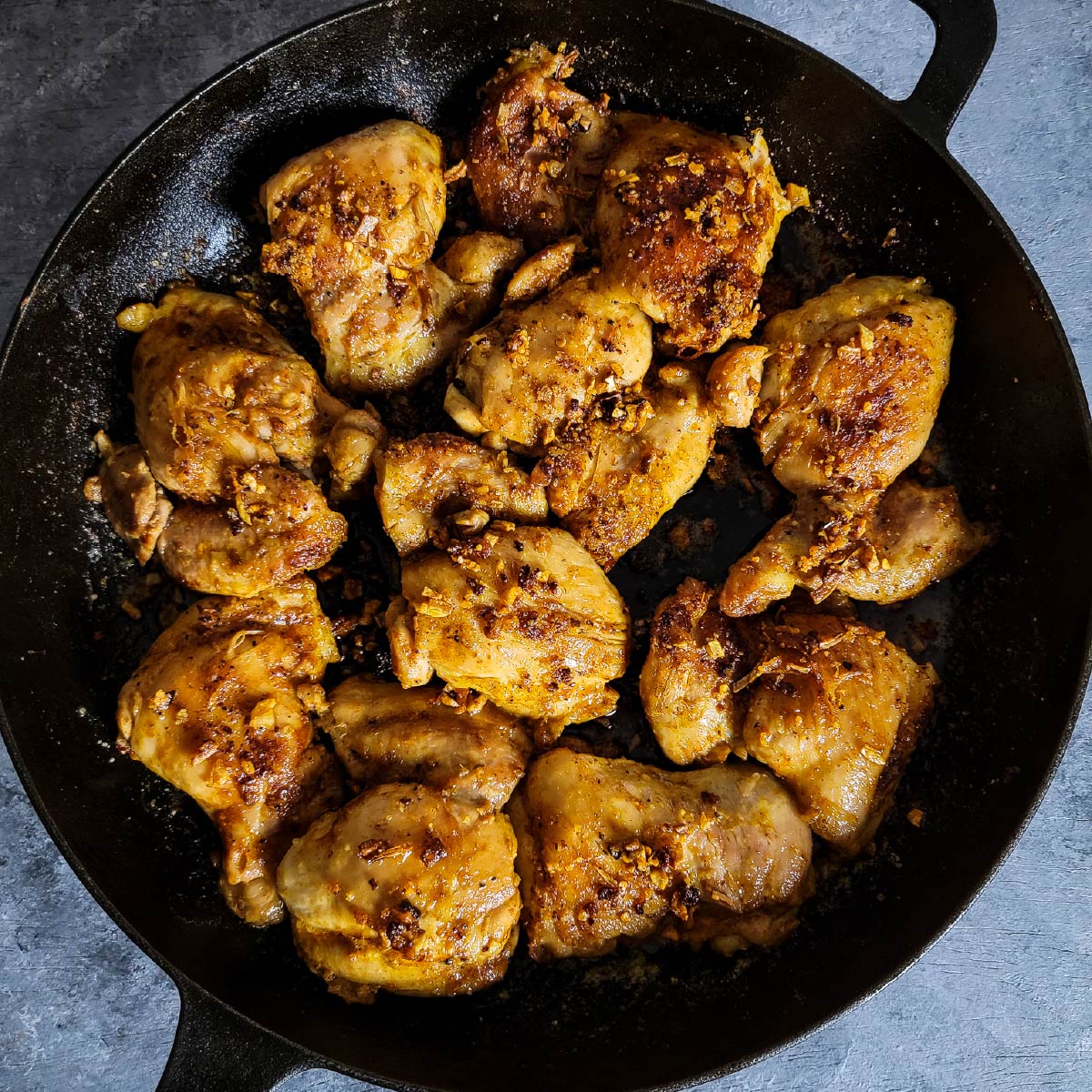 Do you see those crunchies on top? Those crunchies are what makes this boneless skinless chicken thigh recipe as delicious as it is! In order to get these crunchies, we do recommend using a cast iron pan.
You can use a non stick pan (I don't own any so this was not tested in one), but you won't get the same crunchies that you get with cast iron. Stainless steel will work, but again it won't be the same for the crunchies.
If you use stainless steel and you find you cannot clean the bottom of the pan after removing chicken, heat the pan on the stove and slowly add a little water at a time to the bottom (should sizzle when you pour it in) while stirring with a wooden spoon. It should easily come off the bottom then. This works anytime there is gunk on your stainless steel pots and pans.
No matter what pan you use, a splatter shield is recommended so you don't get burned or get oil splattered on your stove. I use mine every time I fry something that will make a mess.
Making the crunchies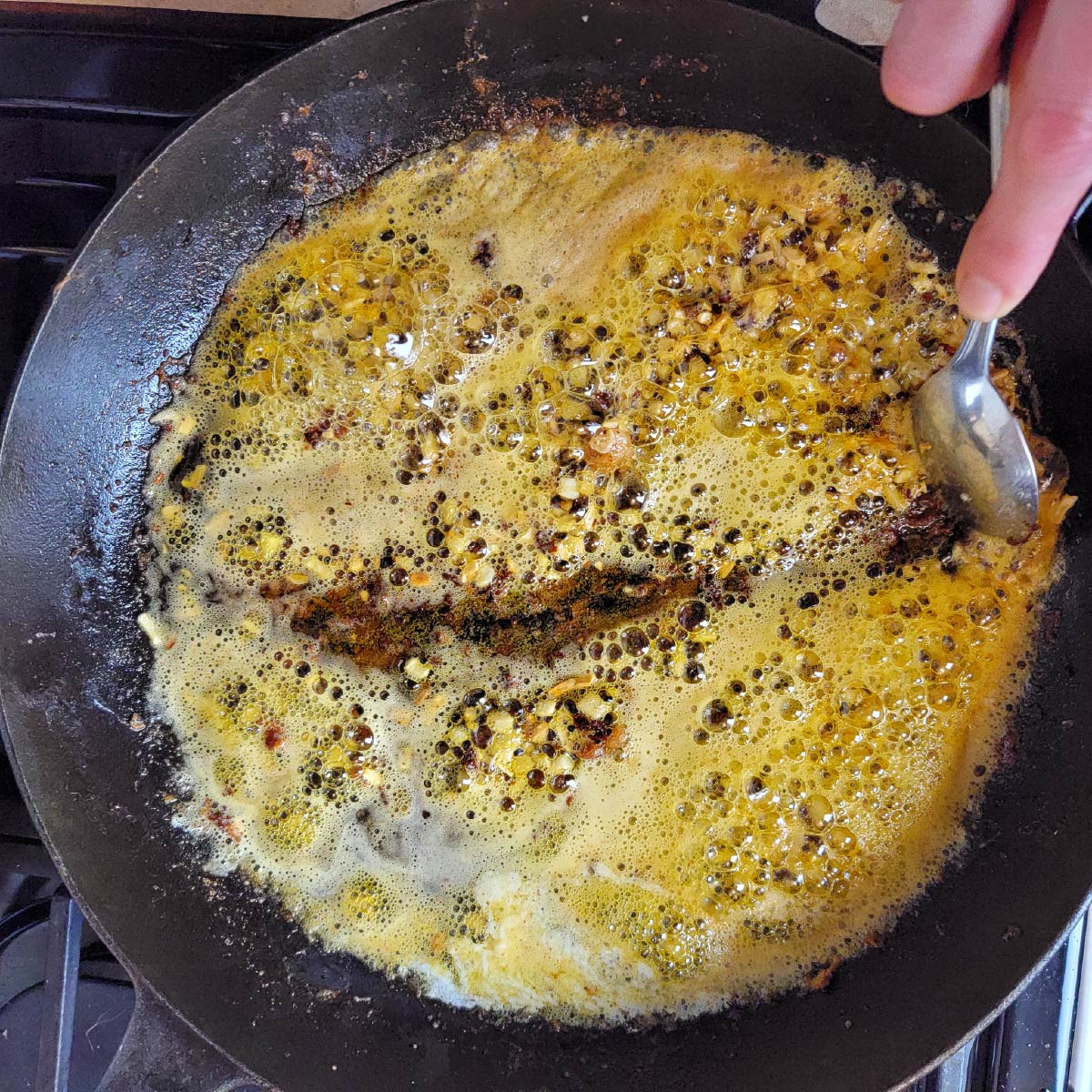 After taking the chicken out of the pan you add butter, garlic, minced dried onion and red pepper flakes. Stir for about 2 min while the garlic browns slightly.
The parmesan cheese gets added after the 2 minutes and you stir constantly. As you can see in the picture above, it will start to stick to the bottom of the pan. Stir and cook for about 30 seconds before adding the chicken thighs back in to the pan.
After the boneless skinless chicken thighs are cooked and removed, you want to scrape the bottom of the pan to get these amazing crunchies out. This is where it is best to have cast iron because you can scrape them with a spoon without ruining your pan. With stainless steel, use a wood spoon so you do not put scratches in your pan. Do not scrape a non stick pan.

Serve them topped on the chicken.
Frequently asked questions
How long to cook boneless chicken thighs on the stove?
As long as your pan is well heated before adding the chicken thighs, it should take about 7-9 minutes per side. In this recipe we go with about 7 minutes each side at first. They return to the pan for another 1-2 minutes per side after cooking the garlic.
Do boneless chicken thighs cook faster?
Yes they cook faster then bone in chicken thighs, legs and some chicken breasts (depending on the thickness of the breast.) Boneless skinless chicken thighs are a lot thinner then most other pieces of chicken so they do tend to cook faster.
What temperature should boneless chicken thighs be cooked to?
They should always be cooked to a temperature of 165 in the thickest part. You can judge when to check the temperature based on the cooking time and the color of the juices, but the temperature is how to know they are done for sure.
Is it better to fry chicken in a cast iron skillet?
Short answer is yes it is. Once a cast iron skillet is up to temperature, the whole pan is the same temperature (including handles so be careful!) It distributes heat evenly which is important for pan frying meats.

You will also get the best sear in a cast iron pan compared to others so when frying something that needs a good sear, it is the best pan to run to.

In this recipe we recommend cast iron for the crunchies and searing the chicken.
Other great pan fried recipes
If you love pan frying, you will love these recipes too!
When making these boneless skinless chicken thighs, we often make potatoes as a side dish. They do go well with many different sides including rice, pasta and even salad.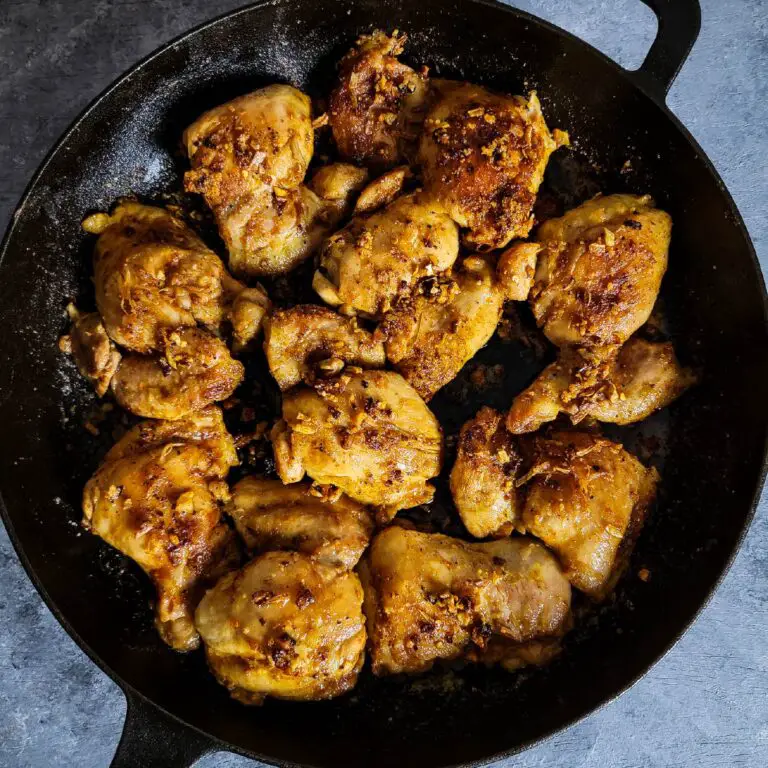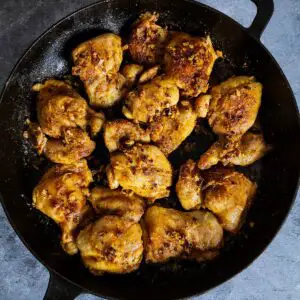 Pan Fried Boneless Chicken Thighs
These boneless chicken thighs are full of flavor and are easy to make! The crunchies on top are a combination of garlic and parmesan cheese.
Equipment
Cast iron pan (recommended)
Ingredients
3

tablespoons

olive oil

2

pounds

boneless skinless chicken thighs

3

tablespoons

butter

3

cloves garlic

minced (about 1 tbsp)

1½

tablespoons

dried minced onion

¼

teaspoon

red pepper flakes

3

tablespoons

parmesan cheese
Dry Rub
1

teaspoon

paprika

½

teaspoon

cumin

1

teaspoon

garlic powder

½

teaspoon

salt

¼

teaspoon

black pepper
Instructions
Mix all of the dry rub ingredients together. Coat all sides of each chicken thigh with the dry rub and set aside for about 10 minutes.

Heat the skillet over medium heat until thoroughly heated.

Add the olive oil to the pan and then the chicken thighs. Your chicken should sizzle when it hits the pan if it is hot enough - if not you will want to add another couple minutes to the cook time.

Cook for 7 minutes, flip and cook another 7 minutes. Remove from pan and set aside covered with foil.

Add the butter, minced garlic, minced onion and pepper flakes. Cook stirring often for about 2 minutes. Add in the parmesan cheese and stir well.

Return the chicken to the pan and cook for about 2 minutes before flipping and cook for another 2 minutes. Chicken should be 165 when it is cooked through.

Scrape the crunchies off the bottom of the pan and serve on top of the chicken thighs.
Notes
Nutritional values and serving sizes are estimated.
For heating the pan, there are many factors for how long it takes.  Electric stoves take longer then gas stoves to heat and different pans heat differently too.  All pans will take longer to heat on an electric stove, but cast iron takes a little bit longer then non stick or stainless steel.
Making the crunchies is a process that is sure to stick to the bottom of most pans.  This is why we highly recommend cast iron for this, they will scrape right off the bottom with a spoon and it should clean easy.
Due to pan frying with oil, we recommend using a splatter shield to help prevent burns (and messes on the stove!) 
Nutrition
Calories:
468
kcal
Carbohydrates:
4
g
Protein:
46
g
Fat:
29
g
Saturated Fat:
10
g
Trans Fat:
1
g
Cholesterol:
241
mg
Sodium:
632
mg
Potassium:
630
mg
Fiber:
1
g
Sugar:
1
g
Vitamin A:
634
IU
Vitamin C:
2
mg
Calcium:
82
mg
Iron:
2
mg