Using a cast iron skillet to cook chicken leg quarters is probably the best way to cook them! They start on the stove top and then finish cooking in the oven. This gives them a nice crispy skin and they are simple to make. Just a couple spices, a little bit of oil and about an hour later you have perfectly cooked chicken.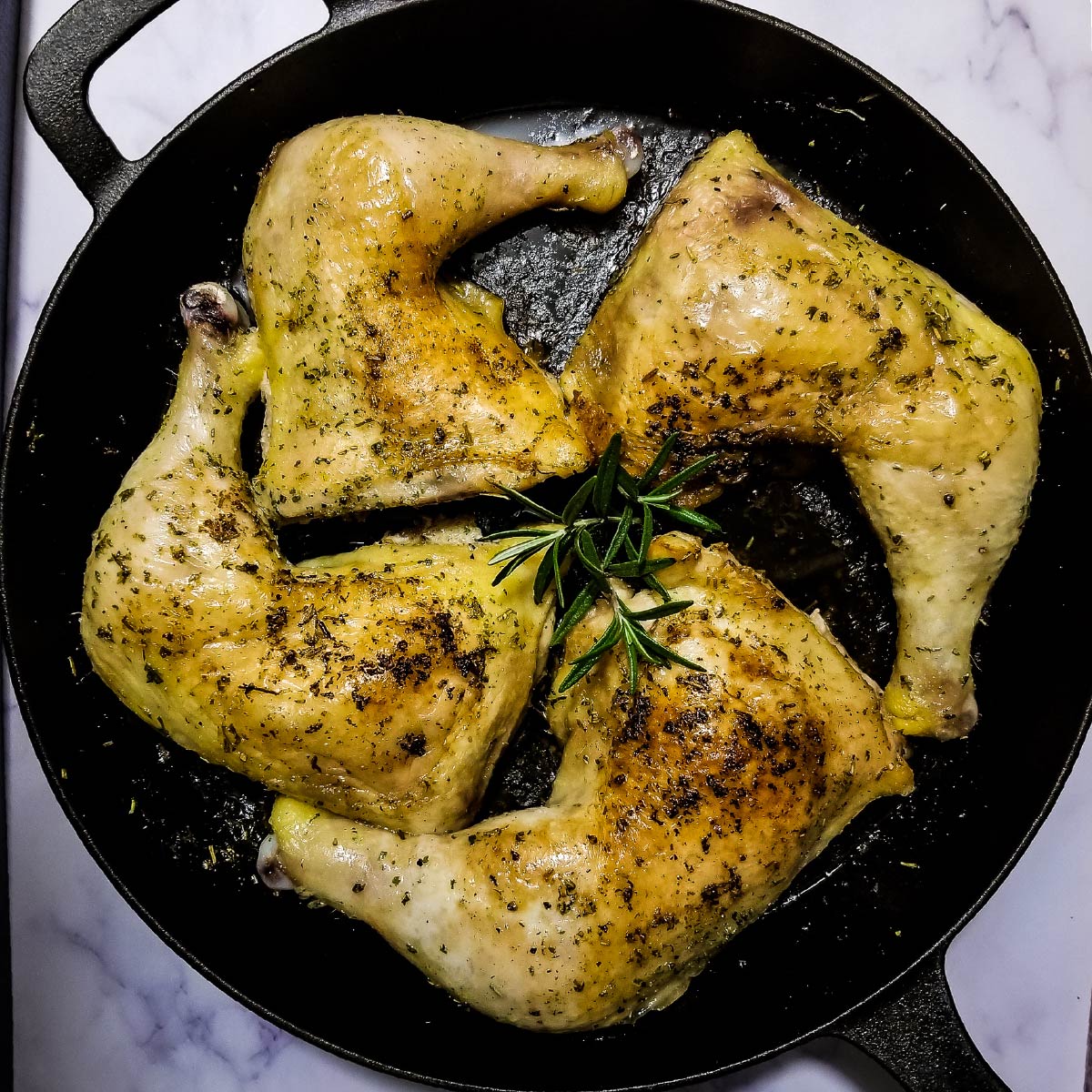 Once in a while we really like the skin on chicken, especially when it is a bit crispy. We love grilled chicken leg quarters, and the next best thing to me is cast iron skillet chicken leg quarters.
They cook perfectly and the skin is as crispy as you want it to be. I say as you want it to be because you can brown them to your liking before baking. You can cook them skin side down a little longer before baking to get a darker skin.
Cast iron is one of my favorites when it comes to cookware. You can do so much with it! And the kids love to see me use it since well, it is one less dish for them to clean.
Many times we make Instant Pot baby potatoes with this. They are easy to make and will be done in an exact time (no guessing how long they will be.)
Jump to:
How to make the cast iron leg quarters
They are very easy to make. You start them on the stove and then they go into the oven to finish. But you do this all in one pan so no worries, there will not be any extra dishes.
I recommend at least a 13 inch cast iron pan, but a 12 will work. I have made them in our 12 inch pan, but it is very tight (these pictures were taken in a 12 inch) and I wouldn't recommend it in any other kind of pan then cast iron at that size. Cast iron takes a while to get there but will retain the heat equally once warmed up. If you are making less then 4 leg quarters, you can get away with a smaller pan.
Prepping the chicken
As with any of the meats I cook, I like it to sit out for a little bit with the seasoning on it. It will cook more evenly if you let it sit out on the counter for about 15-20 minutes.
Mix the dry rub together in a small bowl. Chicken leg quarters have extra fat on the bottom by the bones. You will want to peel that fat off, it is a big chunk of fat usually if it is still attached. After peeling off the fat, sprinkle the dry rub all over the chicken and pat it onto it. Let them sit on the counter for about 15-20 minutes. Preheat oven to 350 while they are sitting out.
Prepping the cast iron pan
If you are familiar with cast iron cooking, you already know what to do here I am sure. If not, it is easy and an important step to keep it from sticking and to get the crispy skin you are looking for. Cast iron is an amazing pan to cook with, but it takes some time for the whole pan to heat up.
Once the leg quarters are ready to cook, take your cast iron pan and place it on one of the bigger burners on your stovetop and turn it onto medium. Let the pan warm up for about 2-3 minutes. Add in the oil and heat the oil over medium heat for about 1-2 minutes.
Pick your oil carefully for pan frying. Olive oil is a great one to use, but some oils (like unrefined coconut oil) have a low smoke point and can be too low for pan frying.
Cooking the leg quarters
Add the chicken leg quarters skin side down like in the picture. This picture was taken in the 12 inch cast iron pan with large so you can see why I recommend the next size up or even bigger. This was also taken with large leg quarters, smaller ones will fit better.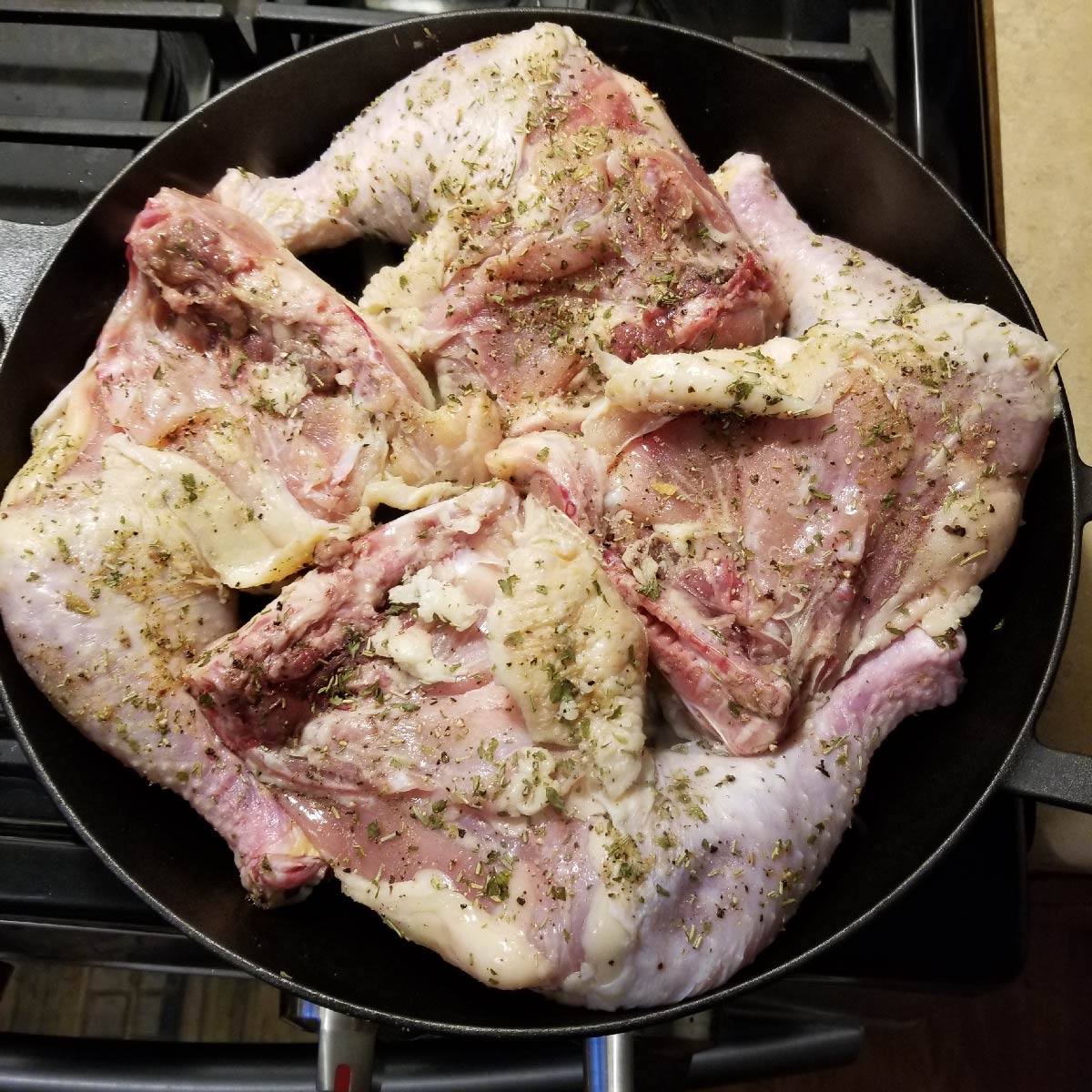 As a note, there will be some sizzling and grease splattering. We have this amazing splatter shield that keeps it from getting all over. Without the shield, you can cover the stove around the pan with foil to keep it from making a mess of the stove. But the splatter shield protects you from getting burned as well.
You will hear sizzling when you add the chicken if the temperature is right. Depending on how darkened you want the skin, cook for 7-10 minutes skin down. 7 minutes will give crispy skin but not very dark where 10 minutes will be even crispier and the skin will be darkened a bit more. I haven't gone beyond 10 minutes on the skin side.
Flip the quarters over and place the pan in the middle rack in the oven. Cook for about 40-45 minutes. Once they are done, allow them to rest for 5-10 minutes before serving.
What temperature are leg quarters done at?
Chicken leg quarters need to be at least 165 degrees Fahrenheit to be done. Be sure that a meat thermometer registers 165 in the thick part of the thigh - be careful not to touch any bones while taking the temperature.
We actually like ours at between 170-175 degrees for best texture and taste, but 165 is the minimum temperature they need to be to be safe. This only goes for legs, leg quarters and thighs. Chicken breasts are best at 165 or they dry out.
I used to only use the classic thermometers for testing meats, but I have recently started to use the digital ones with a probe. This way you can see the temperature of the meat without opening the oven door.
Other great skillet recipes:
If you like these cast iron chicken leg quarters, you will probably love the parmesan pan fried chicken or chicken parmesan in cast iron. They are also easy to make but with boneless chicken breasts instead of bone in chicken.
Have you ever cooked with cast iron before?
Recipe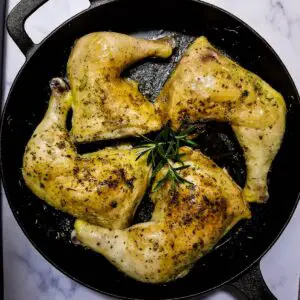 Cast Iron Chicken Leg Quarters
Cast iron makes chicken leg quarters so easy to make! They go right from the stove top to the oven in one pan and the skin is perfectly crispy.
Ingredients  
4

chicken leg quarters

3

Tablespoons

olive oil

see notes
Dry rub
½

Tablespoon

parsley

dried

1

teaspoon

rosemary

dried

½

teaspoon

salt

½

teaspoon

black pepper

ground

½

teaspoon

garlic powder

¼

teaspoon

onion powder

⅛

teaspoon

cayenne pepper

optional
Instructions 
Preheat the oven to 350° F.

Take chicken leg quarters out of the fridge and remove the excess fat piece that is on the bottom of the quarters.

Mix together the dry rub ingredients and sprinkle evenly over the top and bottom of the chicken pieces. Let them sit on a dish on the counter for about 15-20 minutes before cooking.

½ Tablespoon parsley,

1 teaspoon rosemary,

½ teaspoon salt,

½ teaspoon black pepper,

½ teaspoon garlic powder,

¼ teaspoon onion powder,

⅛ teaspoon cayenne pepper

Just before cooking the chicken, preheat the cast iron pan over one of the bigger burners on your stove. Heat it over medium for 2-3 minutes before adding oil. see notes

Add in the oil and heat for another 1 minute before adding the chicken.

Once the pan is heated, add the chicken skin down and cook for 7-10 minutes. The time depends on how dark you want your skin to turn out. 7 will be crispy and fairly light, 10 will be darker.

Flip the chicken quarters over and place the cast iron pan in a rack in the center of the oven.

Bake for about 40-45 minutes. Check the temperature with a thermometer. In the thickest part of the thigh (be careful not to touch any bones) it should read at least 165° Fahrenheit. We prefer ours at 170-175°.

Allow to rest for 5-10 minutes before serving.
Notes
Nutritional values are estimated.
Some oils have a lower smoke point so be careful with the oil you choose for frying.  
We use a gas stove which is instant heat and usually only need to heat our pan for 2 minutes.  Adjust your heating times for your cast iron pan accordingly.  If you are new to cast iron and do not know the heating times, no worries.  If your pan is heated properly, you will hear a sizzle when adding the chicken.  If you don't hear that sizzle, you will need to add a couple minutes to the frying time before flipping over.  It will still cook ok.
Nutrition
Calories:
382
kcal
Carbohydrates:
1
g
Protein:
24
g
Fat:
31
g
Saturated Fat:
7
g
Cholesterol:
142
mg
Sodium:
403
mg
Potassium:
296
mg
Fiber:
1
g
Sugar:
1
g
Vitamin A:
176
IU
Vitamin C:
1
mg
Calcium:
15
mg
Iron:
1
mg