What's not to love about pumpkin? It's delicious, nutritious, and versatile! This pumpkin layered cheesecake is the perfect way to enjoy all of the best things about fall. With a delicious cheesecake layer and the pumpkin pie layer, this dessert is sure to satisfy your sweet tooth. So go ahead and give it a try – you won't regret it!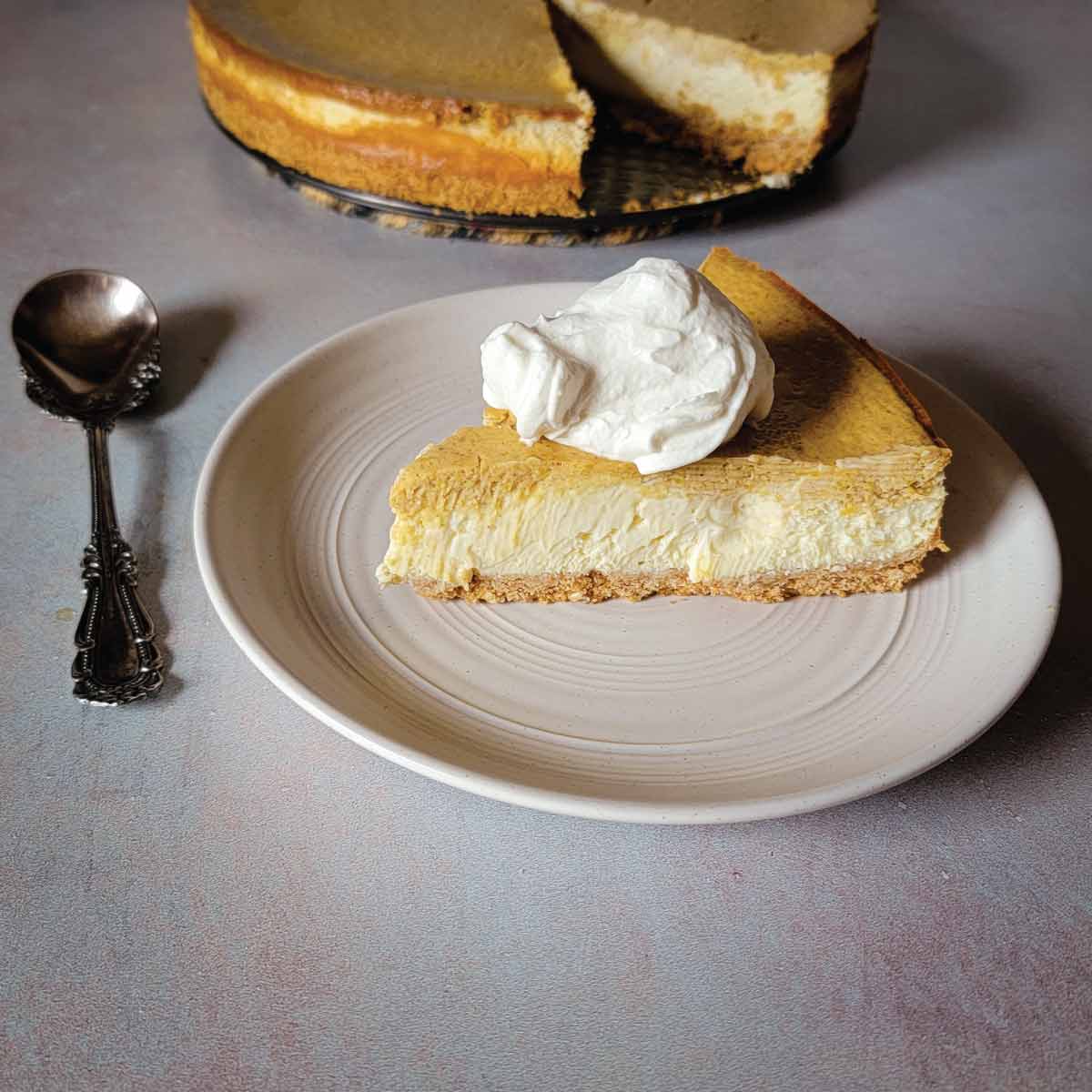 Every fall I get into the pumpkin and apple kick. I can't help it, I love them both! And now you add in cheesecake and it's a whole new level of yum.
We make this every year along with pumpkin pie and it gets gone fast here. We also make an Instant Pot layered pumpkin cheesecake which is amazing (and easy) too if you prefer to use your IP!
Jump to:
Ingredients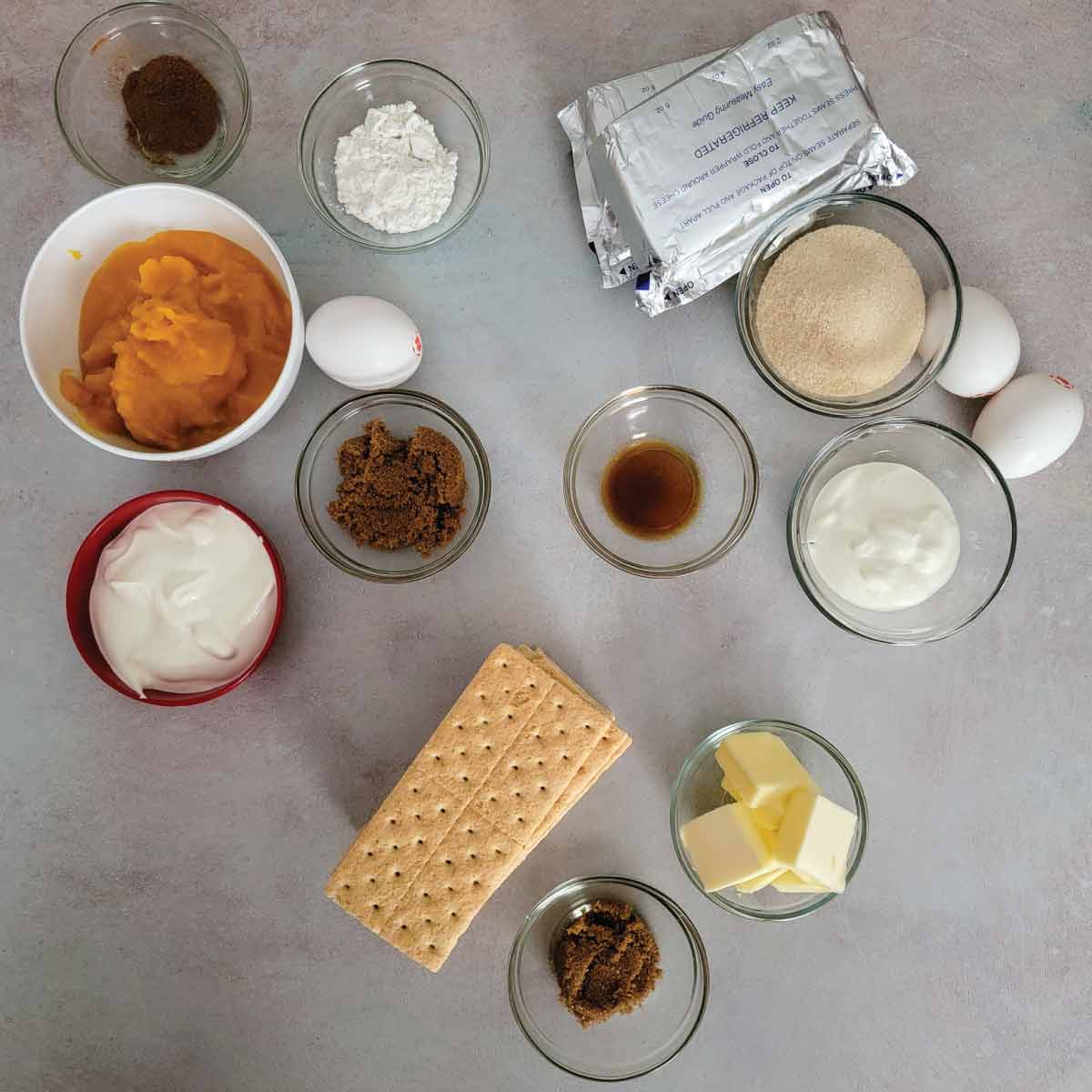 I know this looks like a lot of ingredients, but there are some of the same ingredients here just divided and prepped for the layers.
The crust
Graham crackers - honey, chocolate or cinnamon. We prefer cinnamon graham crackers.
Butter - salted or unsalted is ok
Brown sugar - we use dark but you can use light brown sugar for the pumpkin layered cheesecake.
The cheesecake layer
Cream cheese
Eggs - we have not tried this with substitutes, we have only made this cheesecake with large eggs.
Sour cream or plain whole milk Greek yogurt - you can use either one here. They have a similar texture and in cheesecake provide the same flavor.
Sugar - granulated is best. You can use a pure cane less processed, but it does need to be similar in granule size to granulated sugar.
Vanilla extract
The Pumpkin Pie Layer
Pumpkin puree - you can use canned or fresh. We use fresh here. We usually cook pumpkins in the Instant Pot and make puree to use.
Egg
Flour - this is important if using fresh pumpkin puree as it is usually thinner then canned. You can leave the flour out if using canned.
Brown sugar - we use dark but you can use light.
Pumpkin pie spice
Some important notes
Cheesecake (not just pumpkin layered cheesecake) needs to cool down before going in the fridge and then goes in the fridge for hours - preferably overnight. Do not skip on this step! I know that it is tempting to dive in sooner (trust me I know this), but don't do it.
Very important - your ingredients for the cheesecake filling layer must be room temperature. I get the cream cheese out about 1-2 hours before making it and the sour cream (or yogurt) and eggs about 1 hour before. This will help blend everything perfectly and smoothly.
Making the layered pumpkin cheesecake
I know it looks like a lot of ingredients but this is an easy dessert to make! While it is easy, it does take a lot of time (mostly hands off.) Time to bring ingredients to room temperature before mixing, time to bake, time to cool on counter and then setting in the fridge.
I promise you that it will be worth it tho!
The crust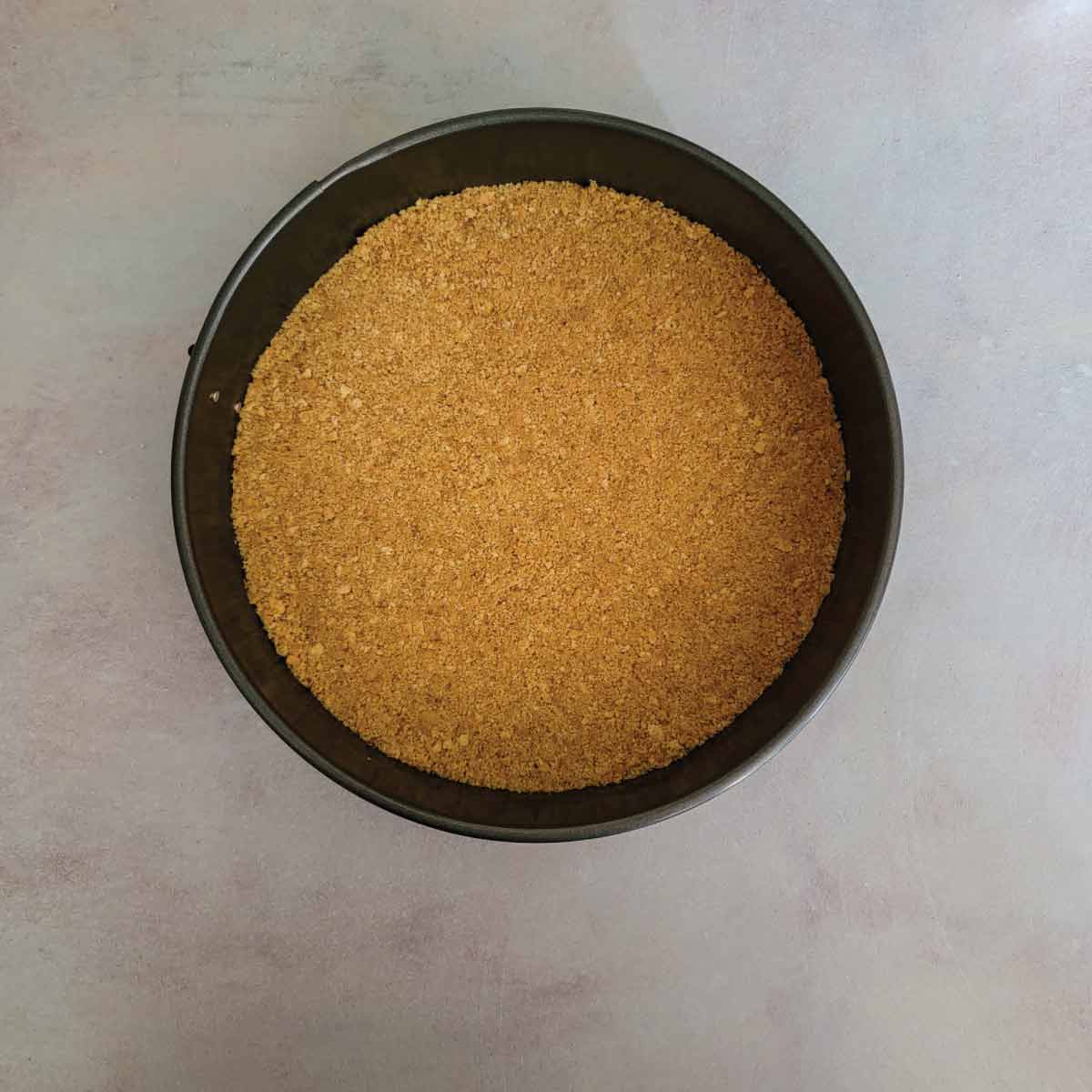 First thing you want to do is make the crust. If you have a favorite crust, you can definitely make your pumpkin layered cheesecake with it instead of using ours. This is a basic graham cracker crust we use here.
In a small saucepot, melt the butter. While the butter is melting, crush the graham crackers with a food processor or you can use a gallon storage bag and rolling pin.
Stir the brown sugar into the crushed graham crackers. You can even add a little bit of pumpkin pie spice, but we do not in this cheesecake. We prefer to use the cinnamon graham crackers.
Mix the graham cracker sugar mix into the melted butter. Stir until it is mixed well, the majority of the crumbs will be damp with butter.
Pack the graham cracker crust into the bottom of a 9 inch springform pan.
The cheesecake batter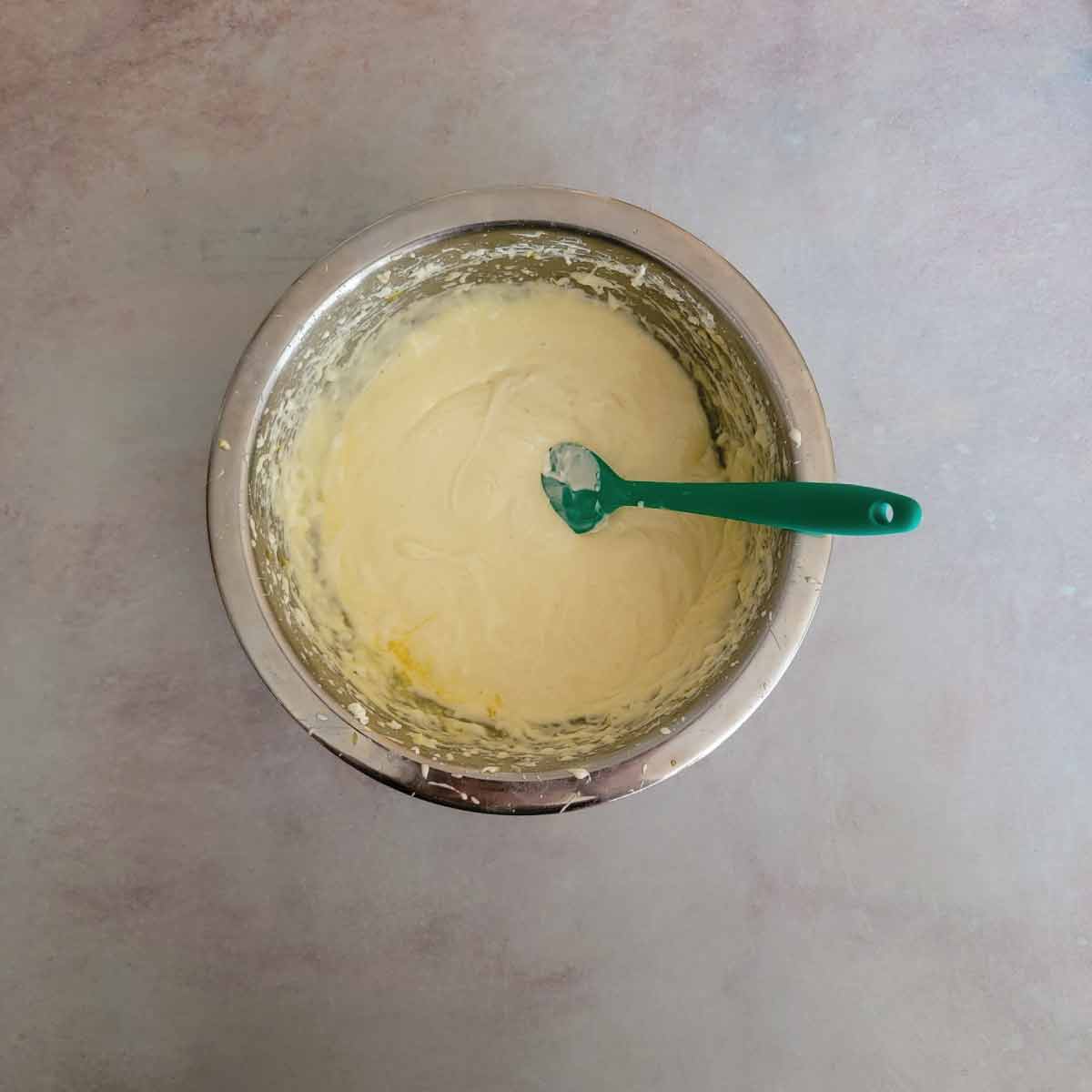 This is easy but please be sure to follow instructions thoroughly. You do not want to overbeat the eggs into the batter or you will introduce too much air into your pumpkin layered cheesecake.
As noted above in the notes, be sure that your cream cheese, sour cream (or yogurt) and eggs are at room temperature before making this layer. This is important or your cheesecake will likely have cream cheese lumps.
Note - you can use either a hand or stand mixer for this cheesecake filling. Cream the cream cheese on a medium speed for about 1 minute. Add in the sugar and mix on medium until smooth.
Now add in the sour cream (or yogurt) and vanilla extract. Beat for about 30 seconds to a minute until it is mixed and smooth.
The eggs should be added one at time and only mix for 5-10 seconds each. IMPORTANT - Over beating it here will effect the texture of your cheesecake. You may have some egg not completely mixed in, use a spatula to gently stir it the rest of the way. This also helps to release any air that may have gotten into the batter.
The Pumpkin Layer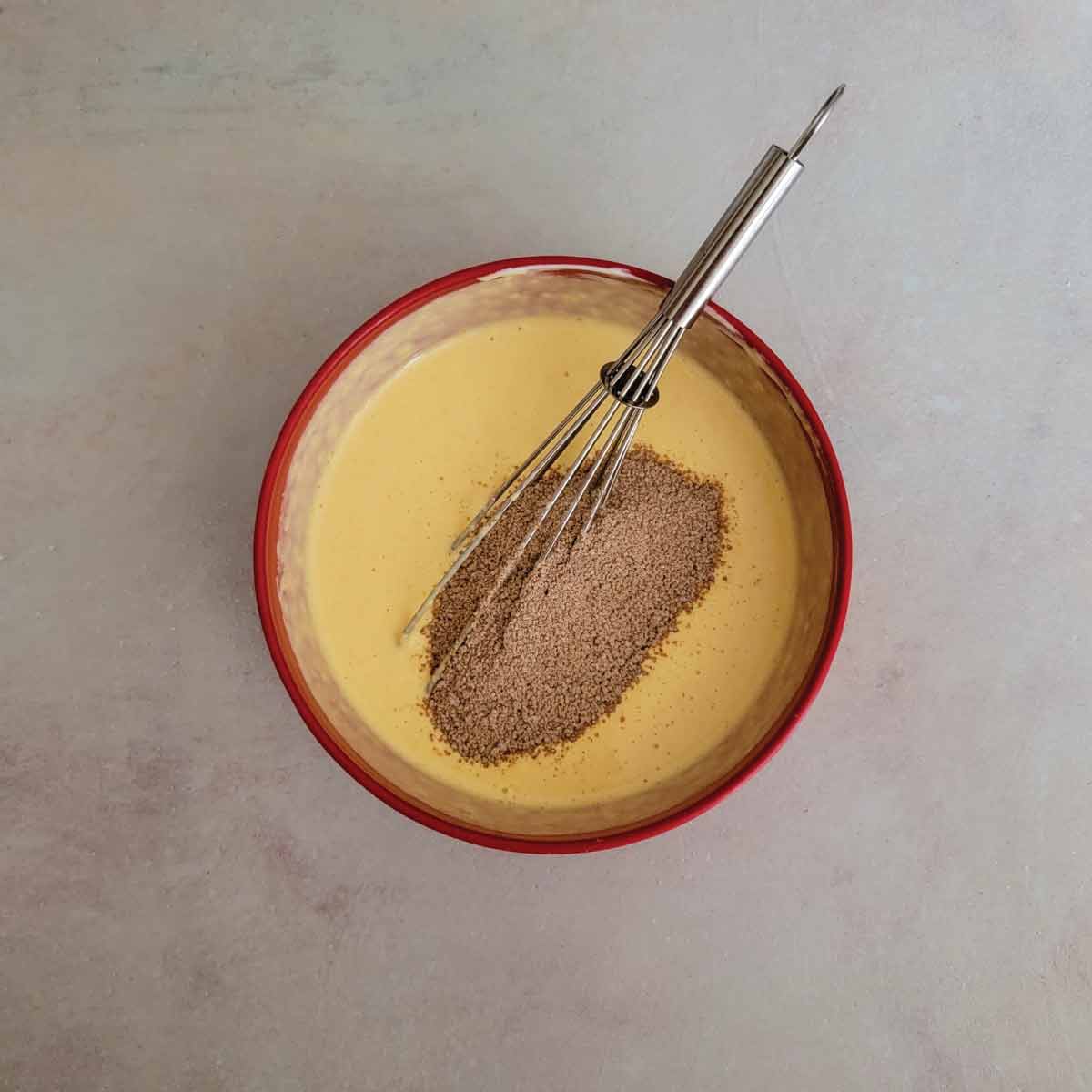 Onto the pumpkin layer! This layer will be more liquid then solid so no worries, your layered pumpkin cheesecake will bake perfectly.
I used a 4 cup prep bowl here along with a small prep bowl for the dry ingredients, you will be using a whisk instead of a mixer for this so any bowl large enough will work.
In a small bowl whisk together the flour, brown sugar and pumpkin pie spice until it is mixed with no lumps.
Using a whisk in a small bowl (like the 4 cup bowl in picture), mix together the pumpkin puree and sour cream (or yogurt) until it is mixed together with no clumps.
Add in the egg and mix until the egg is fully incorporated.
Pour the flour mixture into the pumpkin mixture and stir gently with a whisk until incorporated with no clumps. You don't want whip the egg or add air, just want the ingredients to come together.
Layering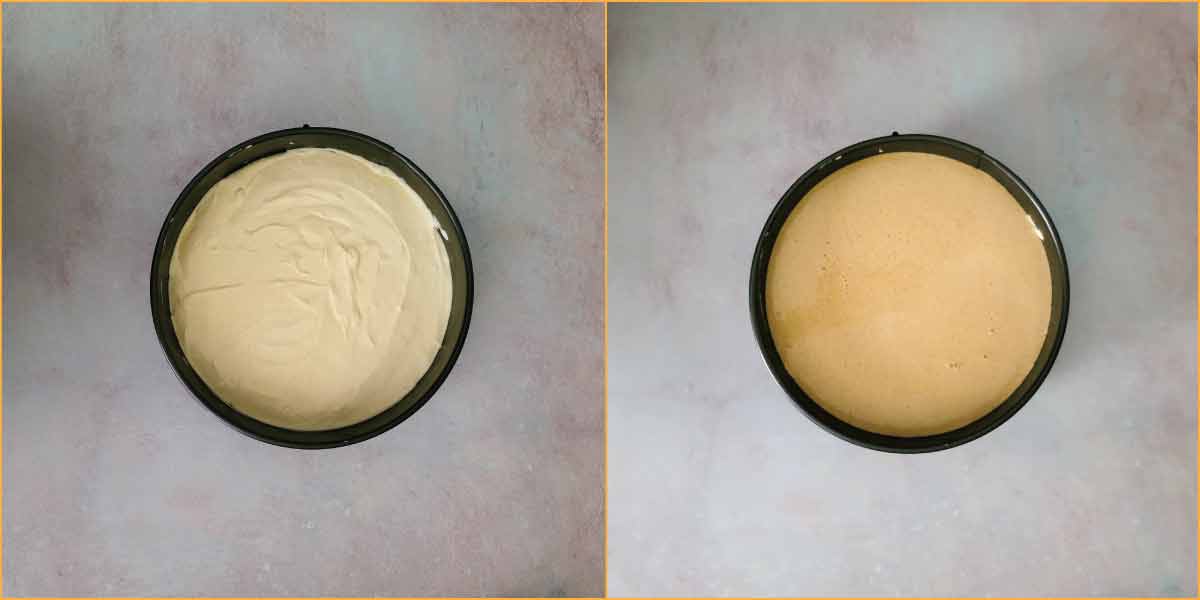 This is important - you need to put the cheesecake layer down first.
Carefully spoon out your cheesecake layer and spread it evenly across the crushed graham cracker crust. It doesn't have to be perfect, but try to get it pretty even.
Give the pumpkin layer one more gentle stir with the whisk (sometimes ingredients settle slightly) and pour it over the top of the cheesecake layer.
As noted above, the pumpkin layer will be pretty thin pourable. It is supposed to be (kind of like making pumpkin pie) and this is why it is important to be the top layer or it may soak into the graham crackers.
The baking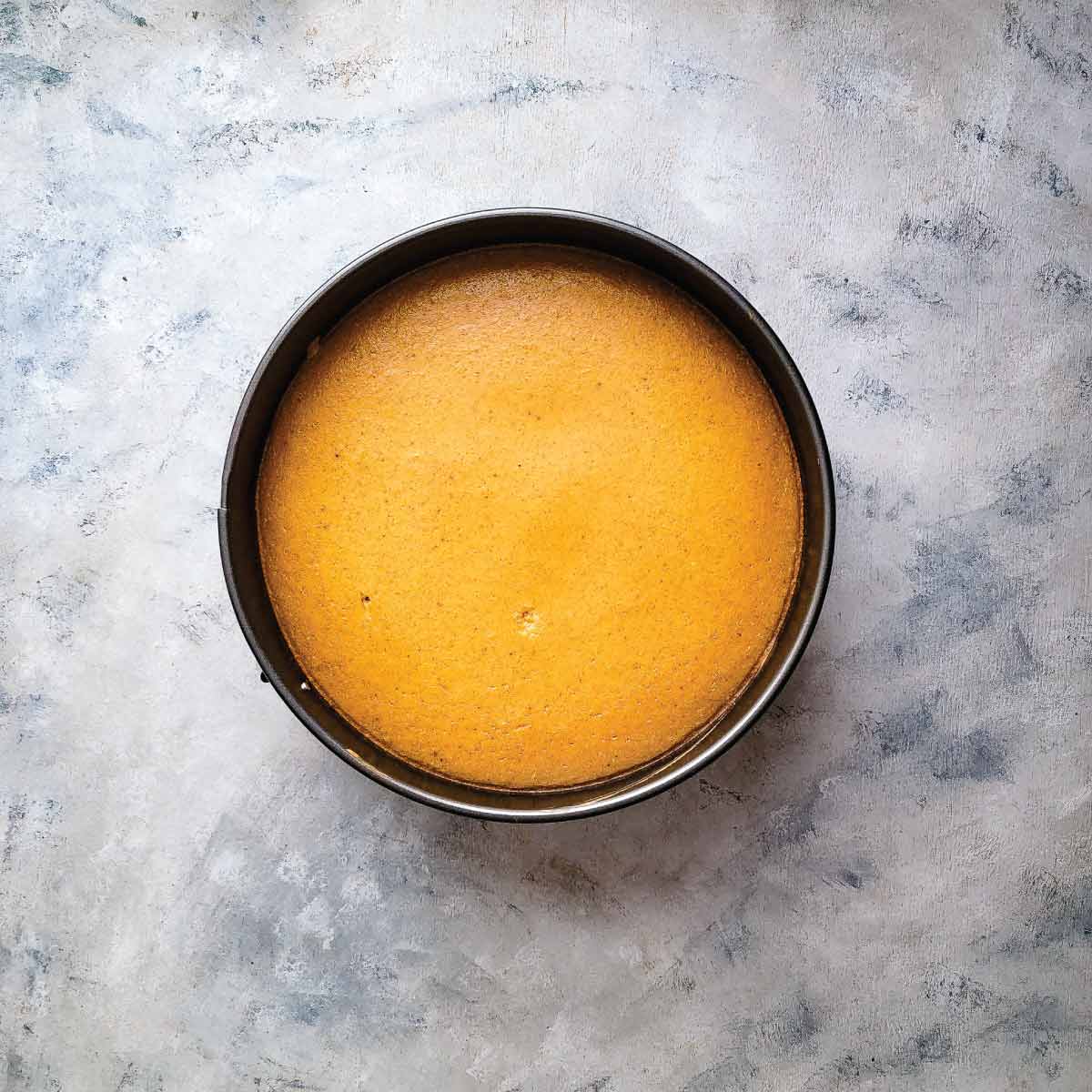 Make sure your oven is preheated to 325 F. Put the oven rack in the center of the oven and bake uncovered for about 1 hour and 10 minutes. It might take a little longer but start out here before checking. Opening the oven door too many times can disturb the cooking as it lowers temperature in the oven.
See how the edges are a little darker then the center? That is about how you want it to look. It will also just slightly jiggle in the center.
Allow to cool to about 1 hour before placing in the fridge. Do not cover right away when putting it in the fridge. After about an hour or 2 in the fridge you will cover it with foil. It needs to be fully cooled down before covering or you will have moisture on your dessert.
Allow to sit in the fridge overnight - it needs to be in there at least 5 hours but overnight is best for it to fully set. I make this layered pumpkin cheesecake about 24 hours before serving. Be sure to have whipped cream for a topping and pumpkin whipped cream is great on it too!
As a heads up, sometimes the pumpkin layer does get a couple cracks in the top. Quite often I see this after it has set in the fridge. Both cheesecake and pumpkin pie shrink up a little as they set so this may happen as they set together. Whipped cream hides it and the flavor is worth it!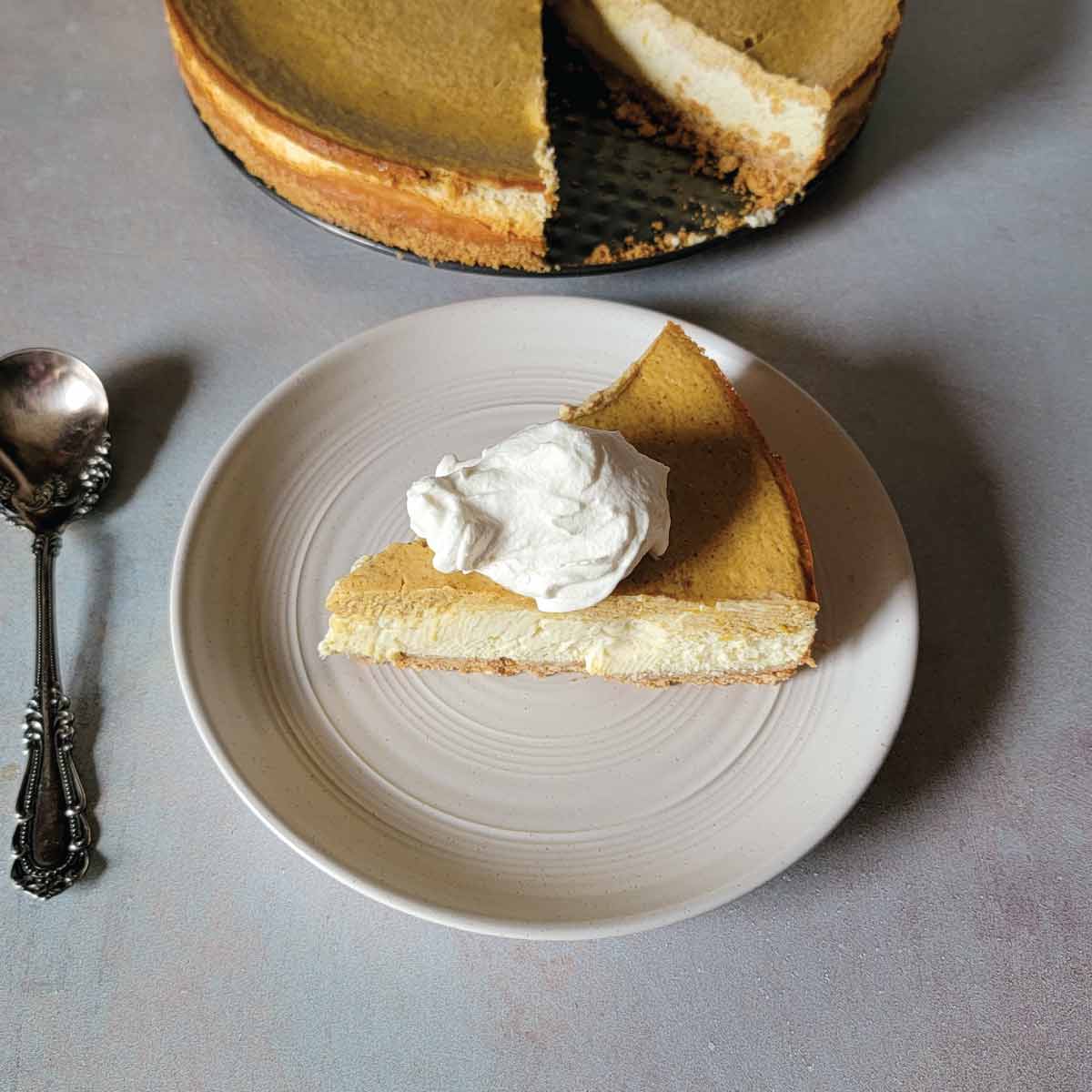 Recipe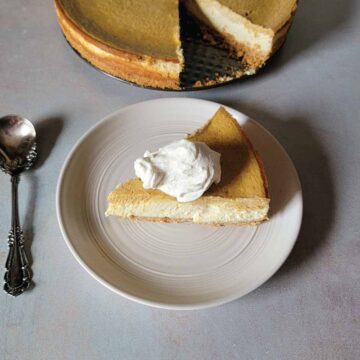 Pumpkin Layered Cheesecake
The perfect holiday dessert! This cheesecake has 2 layers - a delicious classic cheesecake layer and a pumpkin pie layer combining the best of both desserts. Your guests will love it.
Equipment
mixer -hand or stand mixer
Ingredients  
The Crust
12

graham crackers

5

Tablespoons

butter

salted or unsalted

1

Tablespoon

brown sugar
Cheesecake Layer
16

ounces

cream cheese

softened to room temperature

2

eggs

at room temperature

¼

cup

sour cream

or Greek yogurt - see notes

½

cup

sugar

½

teaspoon

vanilla extract
Pumpkin Layer
¾

cup

pumpkin puree

fresh or canned

⅔

cup

sour cream

or Greek yogurt - see notes

1

egg

2

Tablespoons

brown sugar

1

Tablespoon

flour

see notes

1

teaspoon

pumpkin pie spice
Instructions 
Allow the cold ingredients to sit out at room temperature for at least an hour before making. 16 ounce cream cheese, 3 eggs, 1/4 cup sour cream, 2/3 cup sour cream. If you crack the eggs, keep one egg separate.

Lightly grease the bottom and sides of the springform pan if you are not using non stick. I prefer refined coconut oil for this as it will not add flavor to it.
Making the Crust
Place the graham crackers and brown sugar in a food processor. Blend until the crackers are fine crumbs.

12 graham crackers,

1 Tablespoon brown sugar

Add in the melted butter and blend again until it is mixed well.

Pack the crust into the bottom of the springform pan as packed as you can make it.
The Cheesecake Layer
Cream the cream cheese for 1-2 minutes with a mixer on medium (hand or stand is ok) until smooth.

Add in the sugar and mix for 1-2 minutes until it is smooth.

Add in the sour cream and vanilla. Mix together until it is smooth - about 1 minute.

¼ cup sour cream,

½ teaspoon vanilla extract

Follow exactly here -

Mix the eggs in one at a time but only mix for 5-10 seconds for each egg, it will not be fully mixed.

Stir gently with a spatula until it is just incorporated to prevent adding excess air to the batter.

Spoon batter carefully on top of the crust and spread out evenly.
The Pumpkin Layer
Mix together brown sugar, pumpkin pie spice and flour together with a whisk into a small bowl.

2 Tablespoons brown sugar,

1 Tablespoon flour,

1 teaspoon pumpkin pie spice

In a separate bowl whisk sour cream and pumpkin puree until there are no sour cream clumps.

⅔ cup sour cream,

¾ cup pumpkin puree

Add in the egg and gently whisk until the egg is incorporated into the pumpkin mix.

Add in the flour mixture and gently stir with a whisk until there are no clumps. NOTE - this will be very thin.

Pour over the cheesecake mixture.
The Baking
Be sure that the oven rack is in the center of the oven and that the oven is up to temperature at 325°F.

Bake the cheesecake for about 1 hour and 10 minutes. It should be a little darker on the edges then the center and the center should be just a little jiggly (not much tho.)

Remove from oven and allow to sit for an hour.

Place in fridge uncovered for about 1-2 hours, until it is completely cooled. Then cover and keep in fridge for at least 4 hours before serving but overnight is preferred.
Notes
Nutrition facts are estimated and so is the serving size.  We estimated 8 pieces but some people like smaller slices.
For the sour cream/yogurt - You can use sour cream full fat or whole milk plain Greek yogurt without any adjustments.  They both add the same texture and flavor to this pumpkin cheesecake.
Flour - We use fresh pumpkin puree which is thinner then canned.  If you are using canned pumpkin, you can leave the flour out.
Cracks - Sometimes this pumpkin layered cheesecake will get cracks in the pumpkin layer after cooling.  Both cheesecake and pumpkin pie shrink when setting so it can happen as they set together.  Whipped cream can cover it and it will still taste amazing!
It is important to not cover the cheesecake as soon as you put it in the fridge.  The temperature difference will create moisture on your dessert.  By allowing it to cool in the fridge first and then covering, you are preventing this from happening.
Nutrition
Calories:
504
kcal
Carbohydrates:
40
g
Protein:
8
g
Fat:
36
g
Saturated Fat:
20
g
Polyunsaturated Fat:
2
g
Monounsaturated Fat:
9
g
Trans Fat:
0.3
g
Cholesterol:
153
mg
Sodium:
407
mg
Potassium:
226
mg
Fiber:
1
g
Sugar:
26
g
Vitamin A:
4809
IU
Vitamin C:
1
mg
Calcium:
121
mg
Iron:
2
mg