Perfect for fall, these pumpkin spice pancakes with yogurt are easy to make! Using only simple ingredients and no boxed pancake mix, they are a delicious treat for breakfast on a cool morning.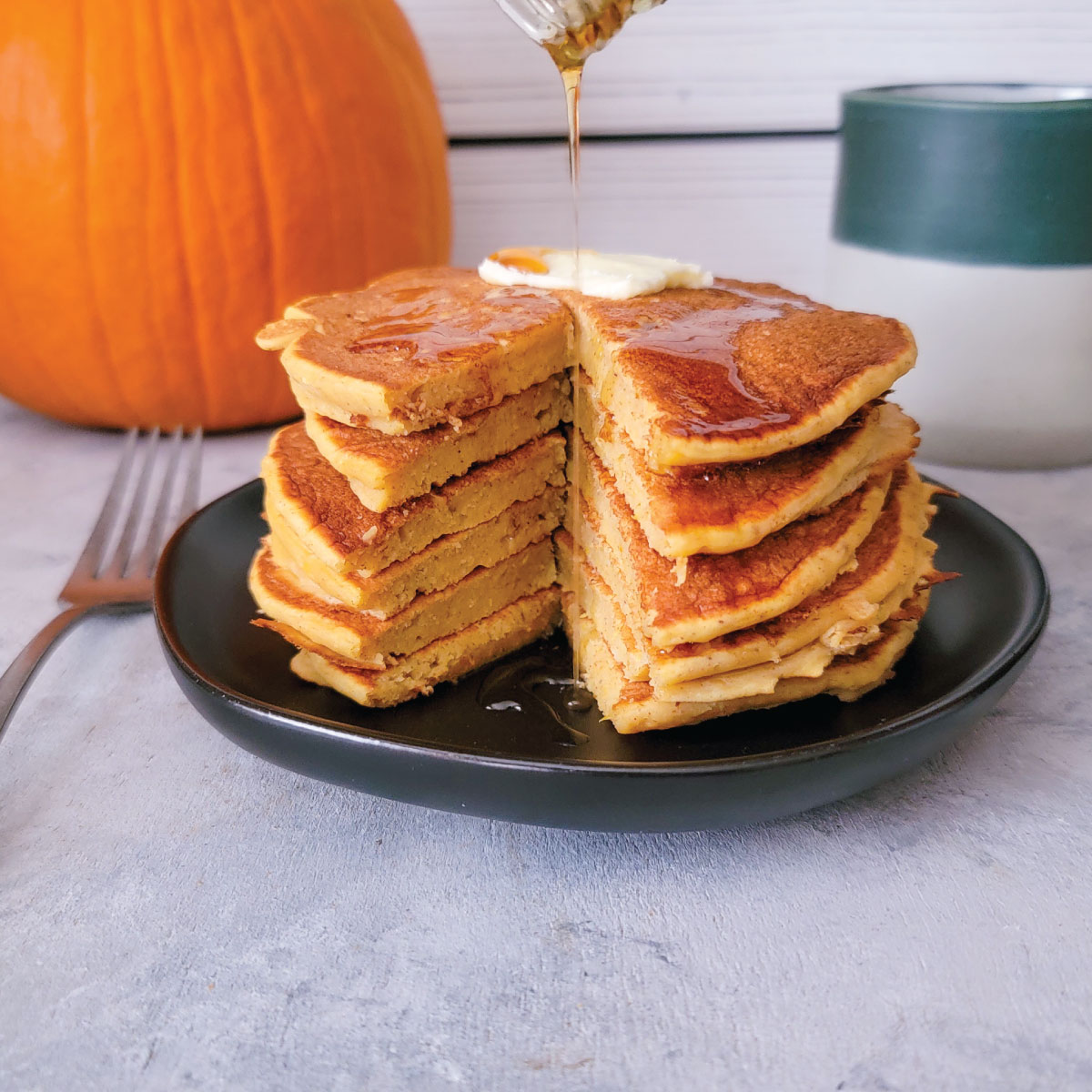 Nothing says fall to me like the flavor of apples and pumpkin. I am not sure which I prefer, I love them both!
We usually make our pancakes with yogurt or sour cream and they turn out to be a bit more dense but delicious! Our blueberry strawberry pancakes are made with sour cream, but our yogurt pancakes (plain recipe) and apple pancakes are made with yogurt.
Jump to:
Ingredients
There are a couple suggestions and even substitutions here for the ingredients in our pumpkin pancakes.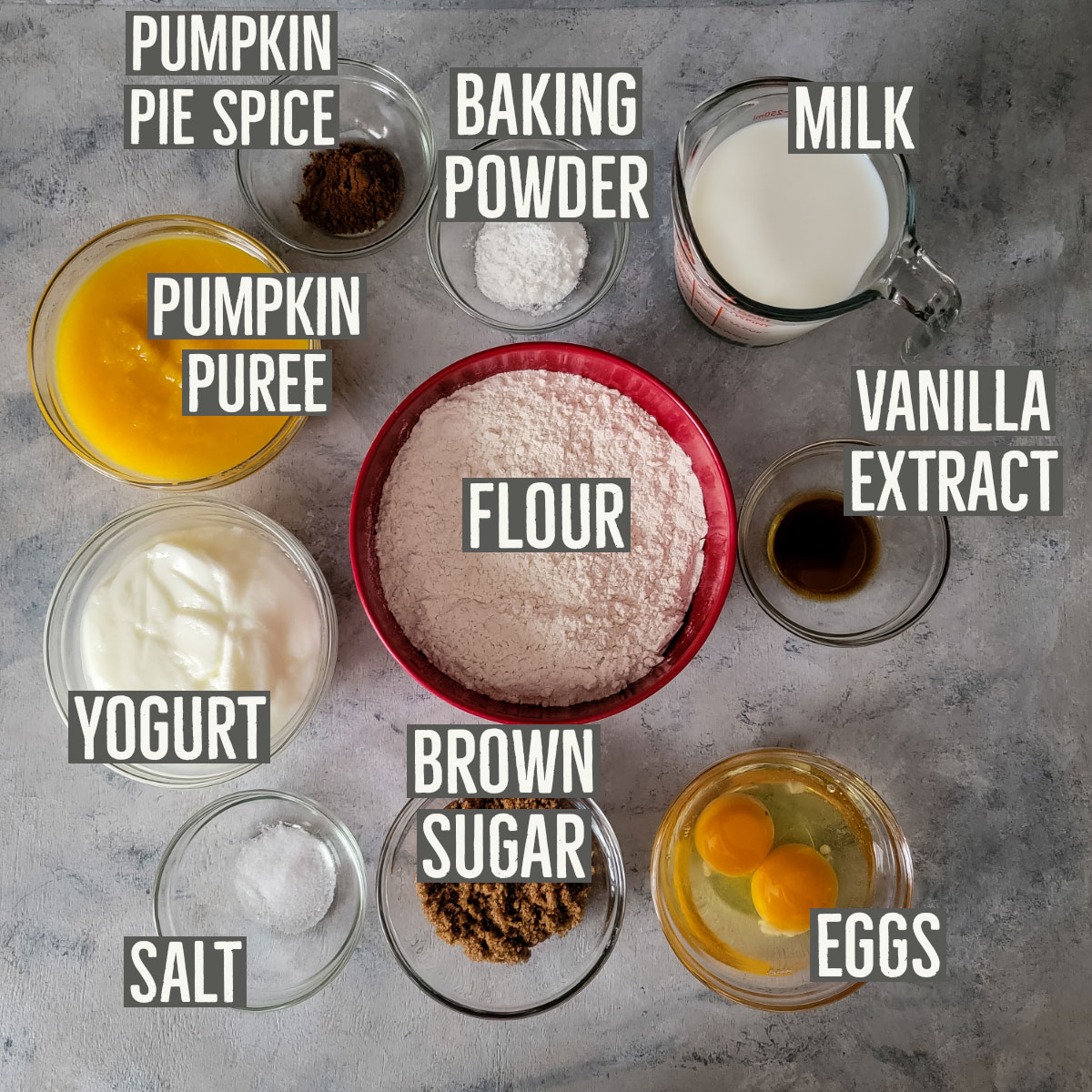 Flour - We use all purpose flour here and scoop the cups out of the container and then level it. This makes it a heavy cup of flour for each cup.
Pumpkin pie spice - I do not recommend leaving this out. You can substitute with 1 half teaspoon cinnamon, 1 half teaspoon ginger and 1 half teaspoon nutmeg if needed.
Baking powder - If you want them to be less dense, use 1 teaspoon baking soda in place of the baking powder. We prefer them slightly dense and think they are better with baking powder.
Salt - Can leave out but recommended to add it. It is to bring out all the flavors in the pancake.
Brown sugar - You can use turbinado sugar here, but we recommend brown sugar for the taste. We use dark brown sugar, but you can use light brown as well.
Yogurt - Plain yogurt is best. You can use plain regular yogurt, but Greek yogurt is a little thicker and recommended. We have made these with both and it was delicious each time. Alternately you can substitute the yogurt with sour cream.
Pumpkin puree - Canned or fresh works great here, but we prefer fresh. We cook our pumpkin in the Instant Pot to make it easier - how to cook pumpkin in the Instant Pot.
Milk - We use whole milk but you can use a lower fat milk.
Vanilla extract - No substitute recommendations.
Eggs - We use large eggs, no substitute recommendations. This has not been tested with alternatives to eggs but if you try it and it tastes great, please let us know!
Tips for making the pancakes
Pumpkin pancakes are easy to make but here are a few tips to make sure they turn out perfect!
The batter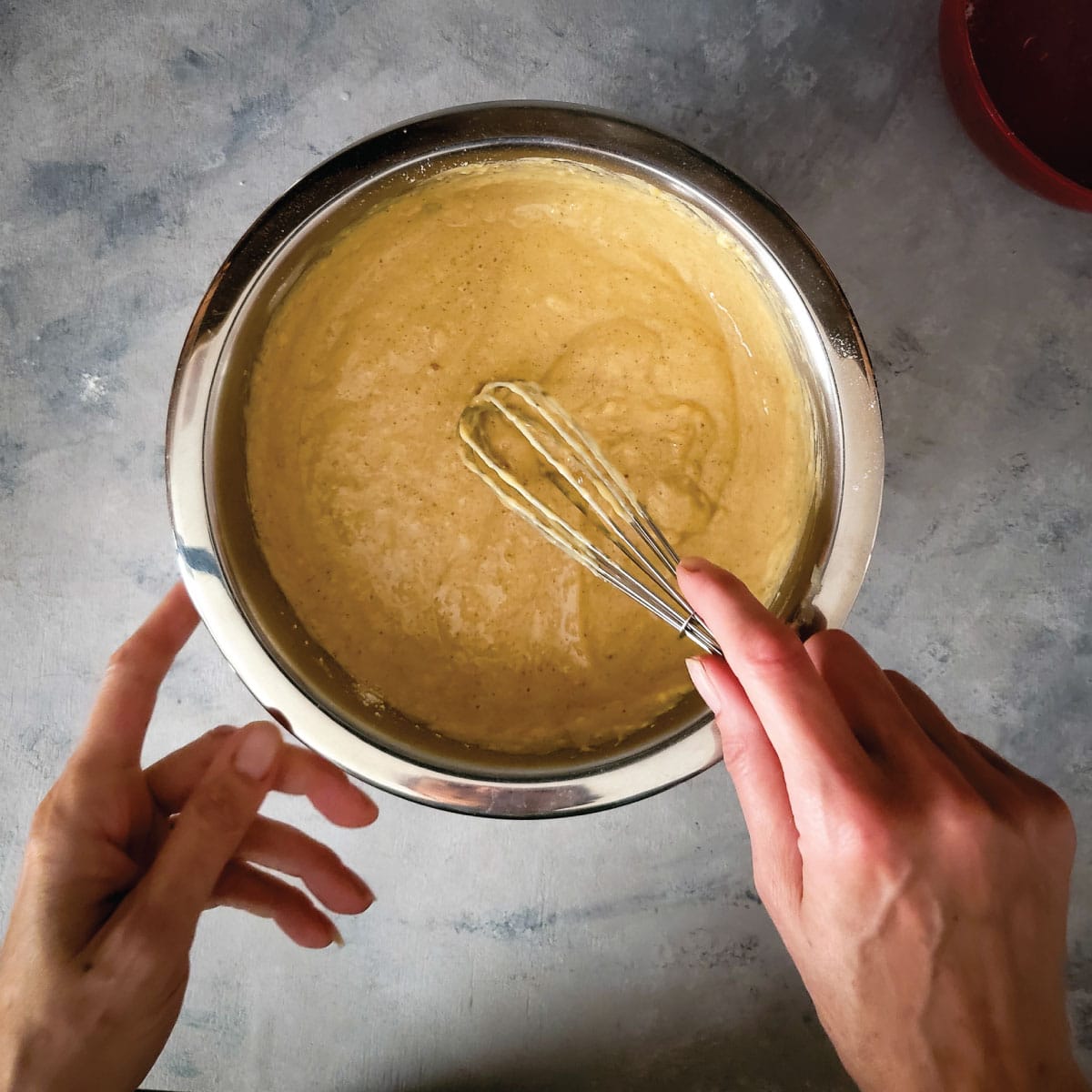 Using a whisk you want to mix the batter until it is just incorporated. Do not over mix pancake batter! It is ok to have smaller lumps in the batter and as it sits for a couple minutes waiting for the griddle to heat up, they will start to dissolve. It's ok to have lumps go onto the griddle as well.
It should be slightly thick but you should be able to scoop it out with a measuring cup and pour it onto the griddle. If it is too thick, add a couple splashes of milk. Too thin you can add a little bit of flour.
Cooking the pumpkin spice pancakes
Heat the griddle or flat frying pan (there are a few different pans that can be used to make pancakes) until water dances on it. For electric griddle you want it about 375 and for a pan on the stove I cook over medium heat. Stoves and griddles may vary. Also note that I am at a very low altitude, please adjust accordingly.
The water test for a hot griddle - Carefully drop a couple small drops of water on the griddle and watch to see if it dances on it. The water drops should move a bit on the griddle like it is dancing across the pan. The pan is ready. If the water sizzles and disappears instantly, the pan is not hot enough yet.
Some pans need to use a fat (oil or butter) when cooking pancakes. Non stick does not need any fat added. Cast iron would need a fat to keep them from sticking. Cook these the same way as other pancakes with your pan or griddle.
Pour the batter in small amounts - we use 1 third of a cup at a time.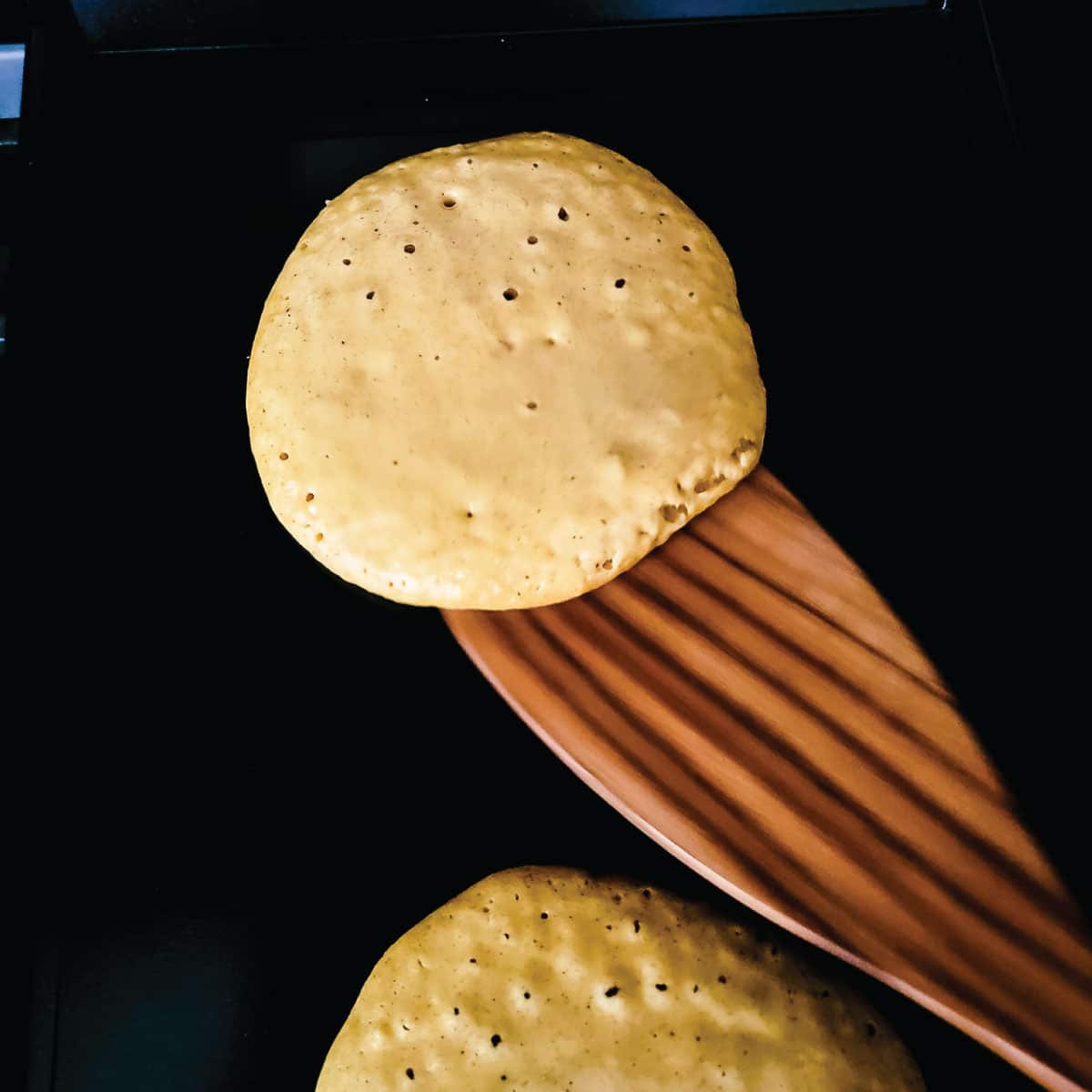 Cook for about 1 and a half minutes. See how there are small bubbles in the pumpkin pancakes here? This is an indicator that they are ready to flip now. They should be getting a nice slightly golden brown on the bottom.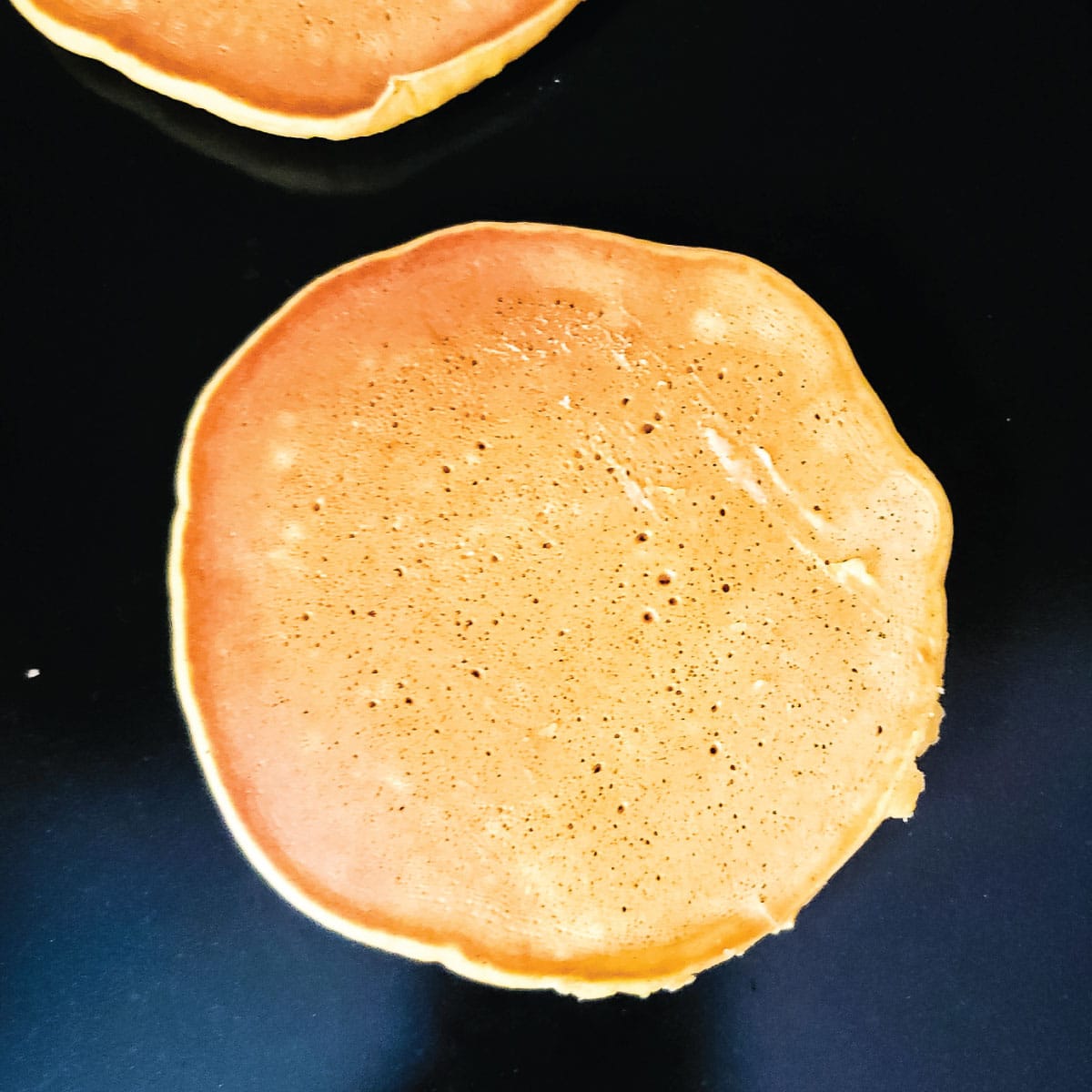 Cook the pancakes for another 1 and a half minutes. Carefully remove from pan and cover them with foil to keep warm while you cook the rest. Serve with your favorite toppings!
Frequently asked questions
Can you freeze pumpkin pancakes?
Yes you can freeze them! Be sure they are completely cooled down before placing in the freezer. We use them fast so we place waxed paper in between each (to keep them from freezing together) and just wrap the stack in plastic wrap. If you are not using them within a couple weeks, you can also wrap foil around them AFTER wrapping them in plastic wrap.
Is it better to use fresh pumpkin or canned?
This is a personal preference. We personally do not like canned pumpkin as much as fresh, but we do occasionally used canned if we are out of fresh pumpkin.
Why are my pumpkin pancakes gooey?
These pancakes should be dense and have a little bit more moisture then a buttermilk pancake, but they shouldn't be too gooey. There are a couple things that could have happened here.

The first is that your pan or griddle was set too high. This cooks too fast (burning it quickly) and leaves the inside undercooked.

The other thing that can cause this is if you stirred your batter for too long. Once you add the flour mix, it should only be stirred until incorporated leaving small lumps in the batter. Do not over mix the batter!
For step by step pictures we created pumpkin pancakes so you can see the images of every step! We also have a video in the recipe card below.
Useful items for making this recipe
As an Amazon affiliate we may earn a small commission if you purchase anything from one of our links at no extra cost to you. These might be helpful for you to make pumpkin pancakes.
Recipe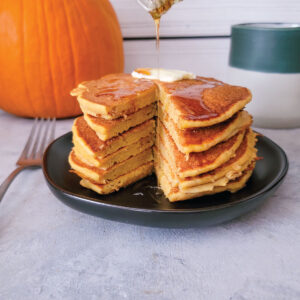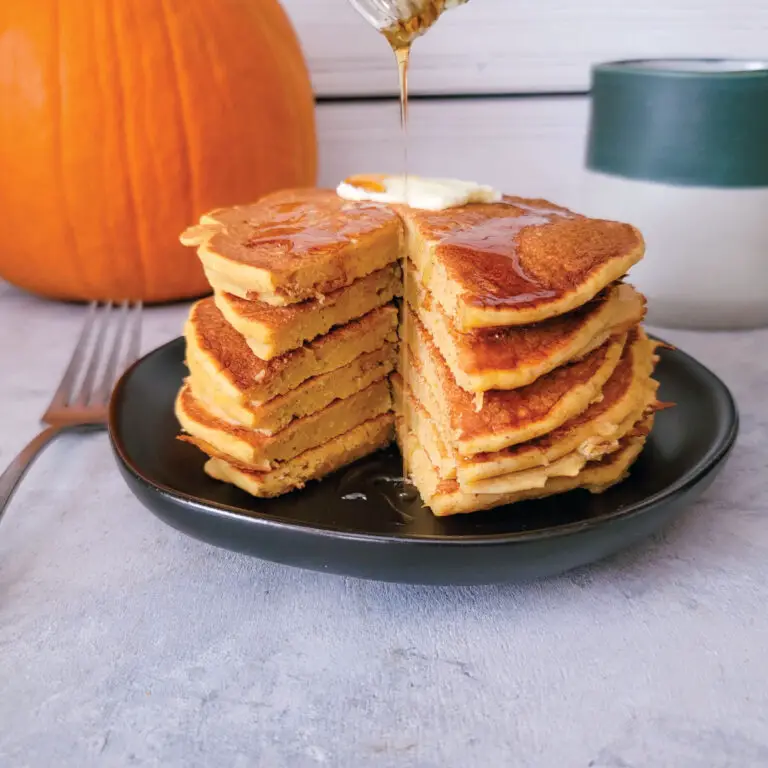 Pumpkin Pancakes with Yogurt
Pumpkin pancakes are easy to make and are homemade, no boxed mixes. They are the perfect fall breakfast that combines the flavors of yogurt pancakes with pumpkin and pumpkin pie spice.
Ingredients  
Dry Ingredients
2

cups

flour

see notes

¼

cup

packed brown sugar

light or dark, we use dark

3

teaspoons

baking powder

see notes

1½

teaspoons

pumpkin pie spice

½

teaspoon

salt
Wet Ingredients
1

cup

pumpkin puree

fresh or canned

1

cup

plain yogurt

Greek preferred but can use regular

1

cup

milk

1

teaspoon

vanilla extract

2

eggs

large
Instructions 
In a bowl mix together flour, brown sugar, baking powder, pumpkin pie spice and salt. Stir with a whisk or a fork until it is mixed well. Set aside.

In a mixing bowl whisk together pumpkin puree and yogurt for about 20 seconds, until combined.

Add in milk and whisk until combined, about 20 seconds.

Add in vanilla extract and eggs. Mix with a whisk for about 20-30 seconds until it is mixed well.

Pour the dry ingredients into the wet ingredients. Whisk until it is just completely incorporated. Do not over mix and small lumps are ok.

Heat a griddle if using a griddle to 375. If using a flat pan, heat on stove top over medium heat.

Pour batter in small amounts (we use ⅓ cup for each pancake) onto the pan or griddle.

Cook for about 1½ minutes until you see bubbles in the pancakes (often look like holes.) Flip carefully.

Cook for another 1½ minutes until the bottoms are a light to medium golden brown.

Remove from heat and place foil loosely over them until all pancakes are cooked. Enjoy with your favorite toppings!
Notes
Nutritional values are estimated and so are the number of pancakes.  We get about 13 pancakes but it depends on the amount of batter used for each one.
For the flour - For pancakes I make the flour a heavy cup by scooping it out of the container with the measuring cup and then leveling it off.  You can add more if your batter is too thin or more milk if your batter is too thick, but 2 heavy cups scooped out of the container should be good.
For the baking powder - This makes a slightly dense pancake and they are really delicious this way! But if you prefer, you can leave out the baking powder and use 1 teaspoon of baking soda.  They don't rise quite as much as with the baking powder, but they are not dense when you use the baking soda.  Delicious both ways but we think with the baking powder is better.
For the yogurt - Greek yogurt is best and a little thicker, but we have used regular yogurt also with no problems.
Nutrition
Calories:
128
kcal
Carbohydrates:
23
g
Protein:
4
g
Fat:
2
g
Saturated Fat:
1
g
Polyunsaturated Fat:
1
g
Monounsaturated Fat:
1
g
Trans Fat:
1
g
Cholesterol:
30
mg
Sodium:
119
mg
Potassium:
224
mg
Fiber:
1
g
Sugar:
7
g
Vitamin A:
3019
IU
Vitamin C:
1
mg
Calcium:
101
mg
Iron:
1
mg