Easy to make, this salted caramel syrup tastes great on many thing from apples to cakes. We use a combination of sugar and brown sugar to give it the perfect flavor while keeping it simple.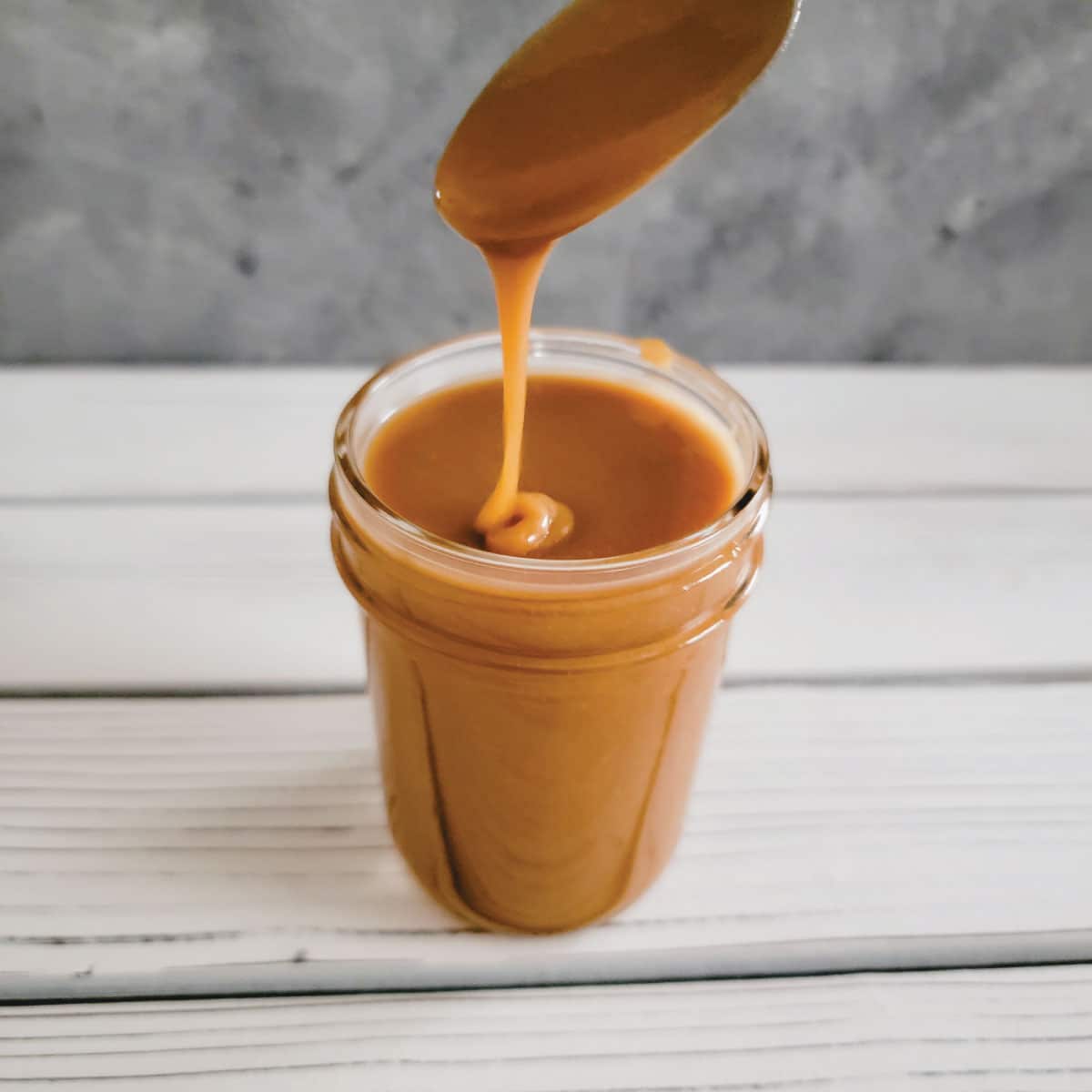 This is the ultimate topping for many desserts, especially ones with apples like homemade apple pie. There is something very comforting about the combination of salted caramel and apples!
We have an apple bundt cake and salted caramel apple cinnamon rolls that we put this on too. The flavors are amazing together!
Jump to:
Ingredients
We keep the ingredients simple for the salted caramel syrup and only use 6 ingredients to make it.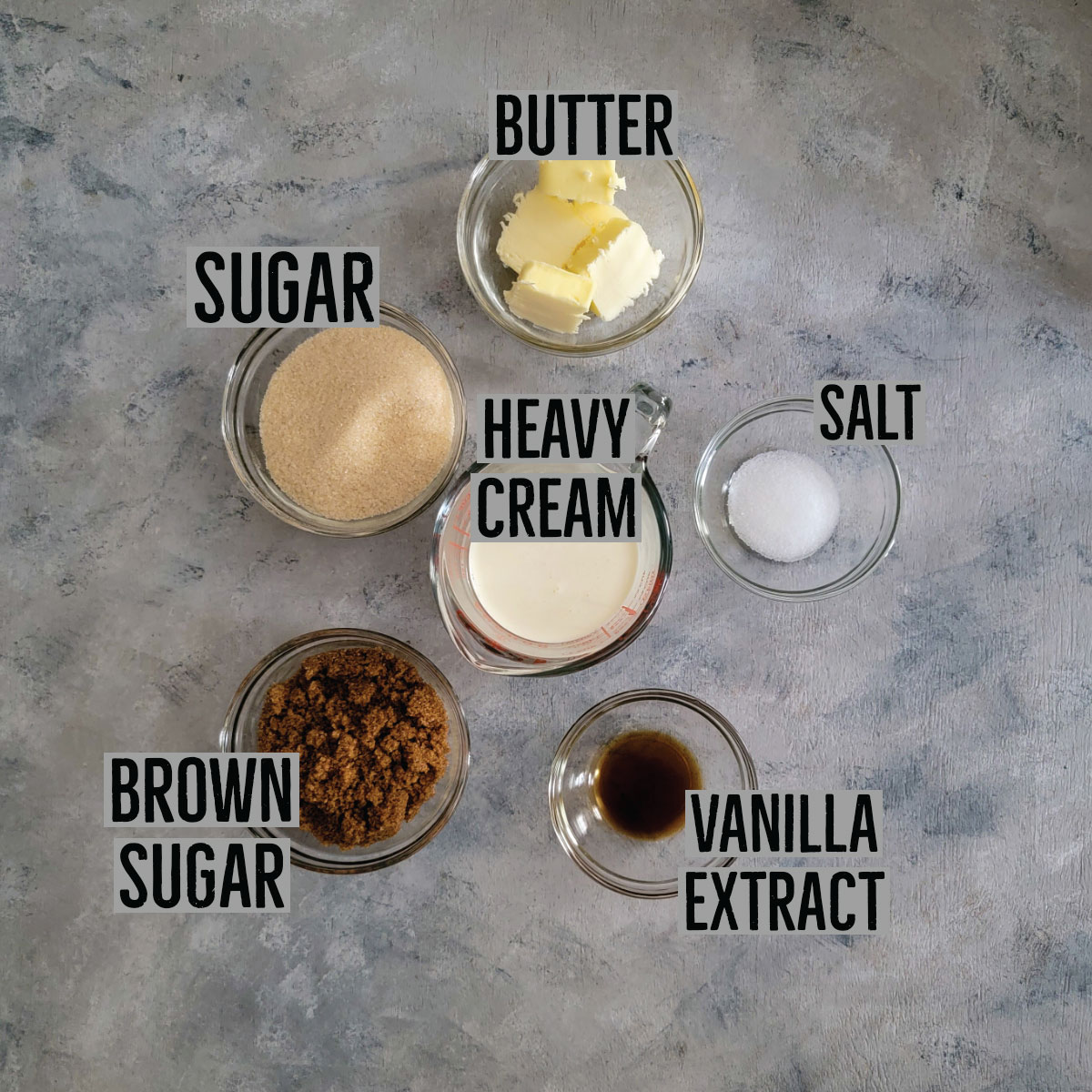 Butter - I recommend unsalted but if you use salted, you can reduce the amount of salt you add.
Sugar - Pure cane sugar is best. Notice the slightly brownish tint to the sugar? We love Zulka Morena pure cane sugar. This is might be cheaper locally, Walmart and Target carry it. Any pure cane sugar will work. You can use regular granulated, but pure cane will turn out much better.
Brown sugar - Dark brown sugar is best here, but you can use light brown if that is what you have. Dark brown will give you the best flavor.
Vanilla extract - Optional but recommended for flavor.
Salt - You can experiment with the amount of salt here. It gets added in after the caramel comes off the stove.
Very Important - Be incredibly careful if you are tasting it to see if you need more salt. Hot caramel will burn your mouth very badly so be sure to cool the caramel you have on the spoon well before tasting!
Heavy cream - We think heavy cream is best but you can use half and half in it's place.
What if my caramel sauce is too thick?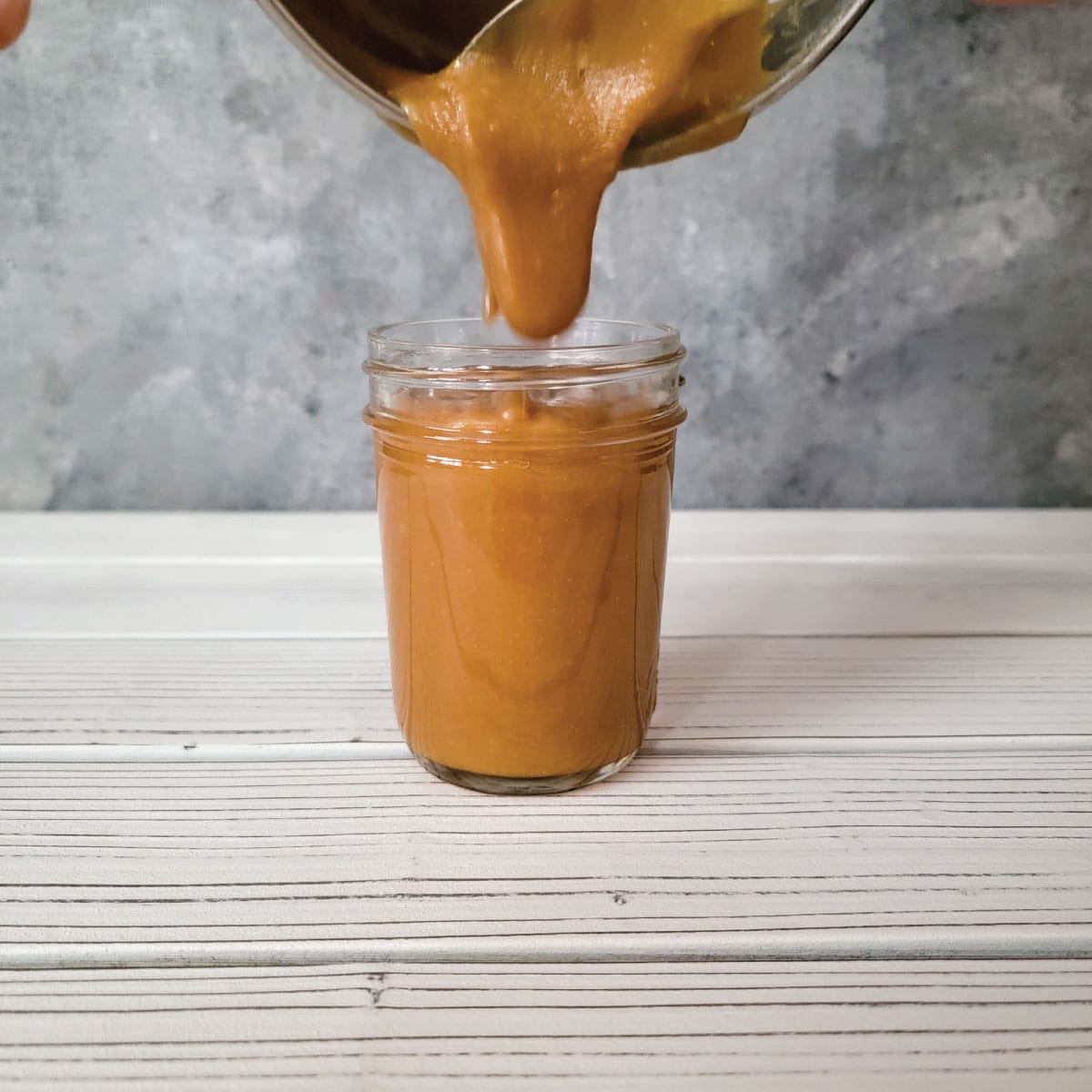 Sometimes it is hard to tell exactly how thick your salted caramel syrup is getting with all the bubbles from it simmering. No worries, it is easy to fix!
It gets thicker the longer you cook it and it thickens more as it cools. You are cooking some of the moisture down to thicken it up so it is not too thin, but then you realize when you go to pour it that it is quite thick. When cooking it, only cook it for about 5 minutes after adding the heavy cream. You want some of the liquid gone and it to be starting to thicken.
When it is too thick, place back on stove and heat on a low heat with a little bit of water - about 1 tablespoon at a time. Only cook until it is thoroughly mixed and heated. If the tablespoon isn't enough, add another until it is the right thickness.
Frequently asked questions
How do I store the caramel syrup?
It keeps longer in the fridge, we recommend storing it in the fridge for up to 2 weeks. It will thicken in the fridge but you can heat it up in the microwave or on the stove. If it is not thin enough, you can add just a little bit of water mixed in and continue to heat until desired consistency.
Can I add this to milk?
This is salted caramel syrup is not like the store bought syrup that is designed for caramel milk. It thickens when it cools so it likely won't mix with cold milk well. You can pour it over ice cream, it will thicken with the cold and tastes delicious!

It also is great on top of hot drinks like lattes or hot chocolate.
Can I make this without salt?
Yes you can make it without salt. It will be a regular caramel syrup instead of salted caramel.
Recipe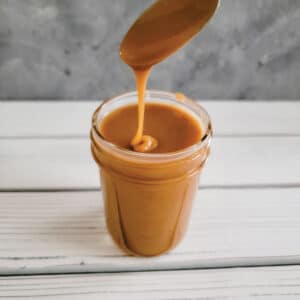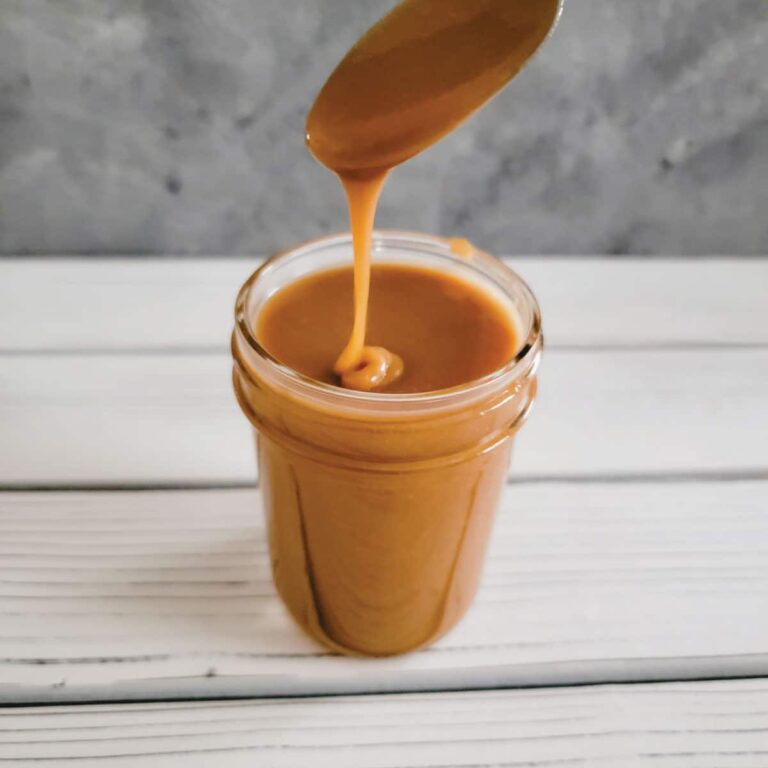 The Best Salted Caramel Syrup
Easy to make and full of flavor, this salted caramel syrup is the perfect topping for your desserts or even lattes!
Ingredients  
½

cup

dark brown sugar

loosely packed

½

cup

pure cane sugar

5

Tablespoons

butter

cut into slices, see notes

½

teaspoon

vanilla extract

½

cup

heavy cream

1

teaspoon

salt

see notes
Instructions 
Add the brown sugar, pure cane sugar and butter slices to a small saucepan.

Stirring frequently, cook on medium low heat until butter is melted and completely combined with the sugar, no separation - about 2-3 minutes.

Add in the vanilla extract and the heavy cream. Stirring frequently, cook for about 5 minutes simmering on medium low heat. It should be starting to thicken and have less liquid. It will thicken more as it cools.

Remove from heat and stir in the salt until mixed in well. It it is too thick while it is hot, put back on the stove with a little water (a Tablespoon at a time) and cook over medium low heat until desired consistency.

It is ready to serve or you can pour into a half pint sized jar to store in the fridge for up to 2 weeks.

It will become solid in the fridge. To reheat simply place back on the stove or heat in the microwave in 10 second intervals until heated through. If needed, you can add a little water to thin it out while heating it.
Notes
This makes about 1 cup of caramel syrup and we estimated each serving as 1 Tablespoon.   Serving sizes will vary based on what you are using the syrup for.
Butter - we recommend unsalted but you can use salted.  Depending on how salty you like it, you may want to reduce the amount of salt added.  
Heavy cream - heavy cream is preferred but can use half and half in it's place.
Salt - If you do not usually eat much salt, you can start with a half teaspoon and add more if you like.  Be very carefully tasting it and be sure to cool the amount on your spoon before tasting, hot caramel can cause serious burns.
Nutrition
Calories:
108
kcal
Carbohydrates:
13
g
Protein:
1
g
Fat:
6
g
Saturated Fat:
4
g
Polyunsaturated Fat:
1
g
Monounsaturated Fat:
2
g
Trans Fat:
1
g
Cholesterol:
20
mg
Sodium:
181
mg
Potassium:
16
mg
Sugar:
13
g
Vitamin A:
219
IU
Vitamin C:
1
mg
Calcium:
12
mg
Iron:
1
mg