Salted caramel apple bundt cake is the perfect fall dessert! It brings the flavors of apples, cinnamon and caramel together in a cake that is amazing. This cake has the perfect combination of sweet and salty in a delicious dessert.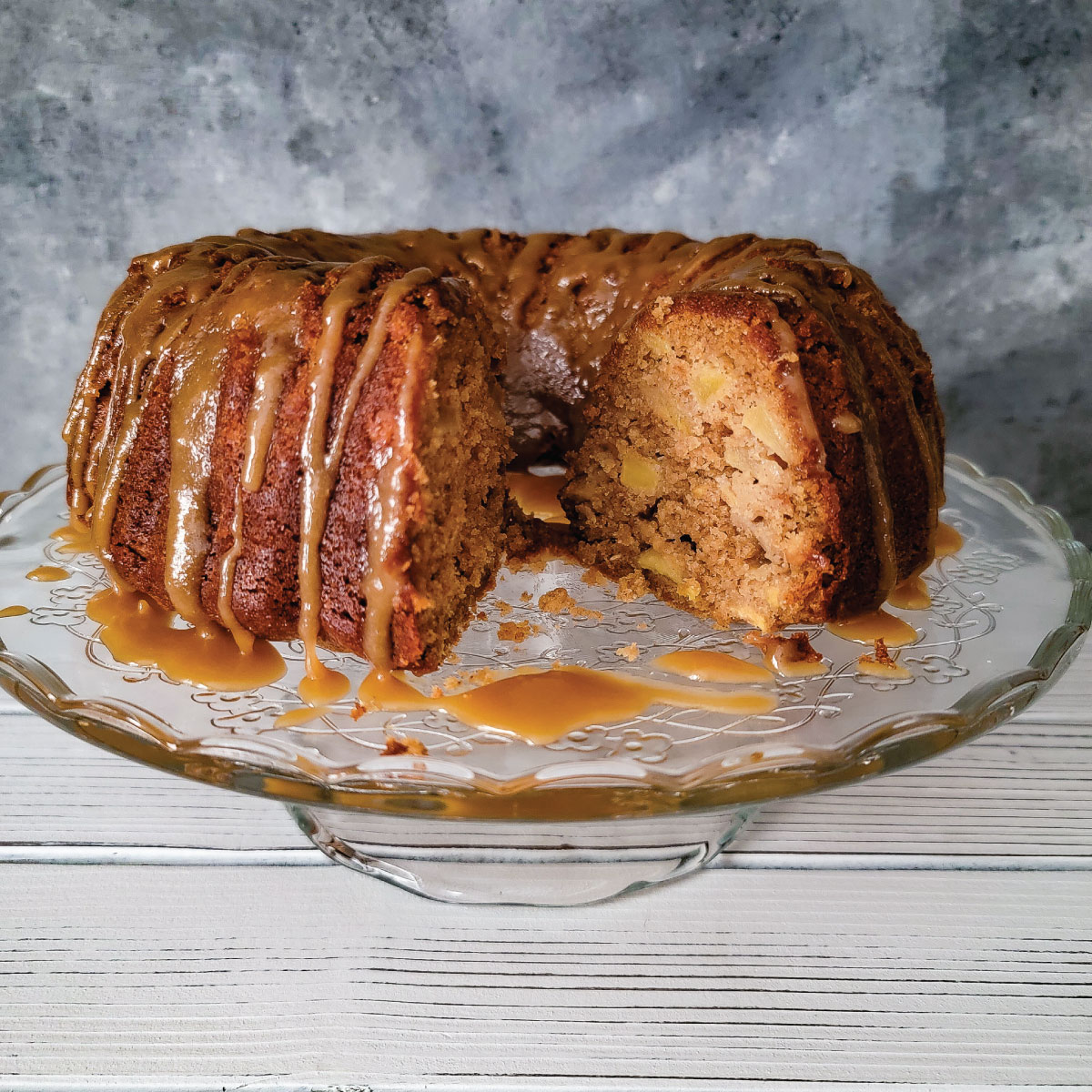 The first few times I made this cake, we ate it without the drizzle. It is delicious without the drizzle too, but the caramel really makes it so much better! It's the only way we make it now. You can always make a glaze if you prefer not to have the salted caramel syrup on top.
We use it on our salted caramel apple cinnamon rolls and I may even try putting the drizzle on top of our apple bread next time too, it is that good.
Jump to:
Ingredients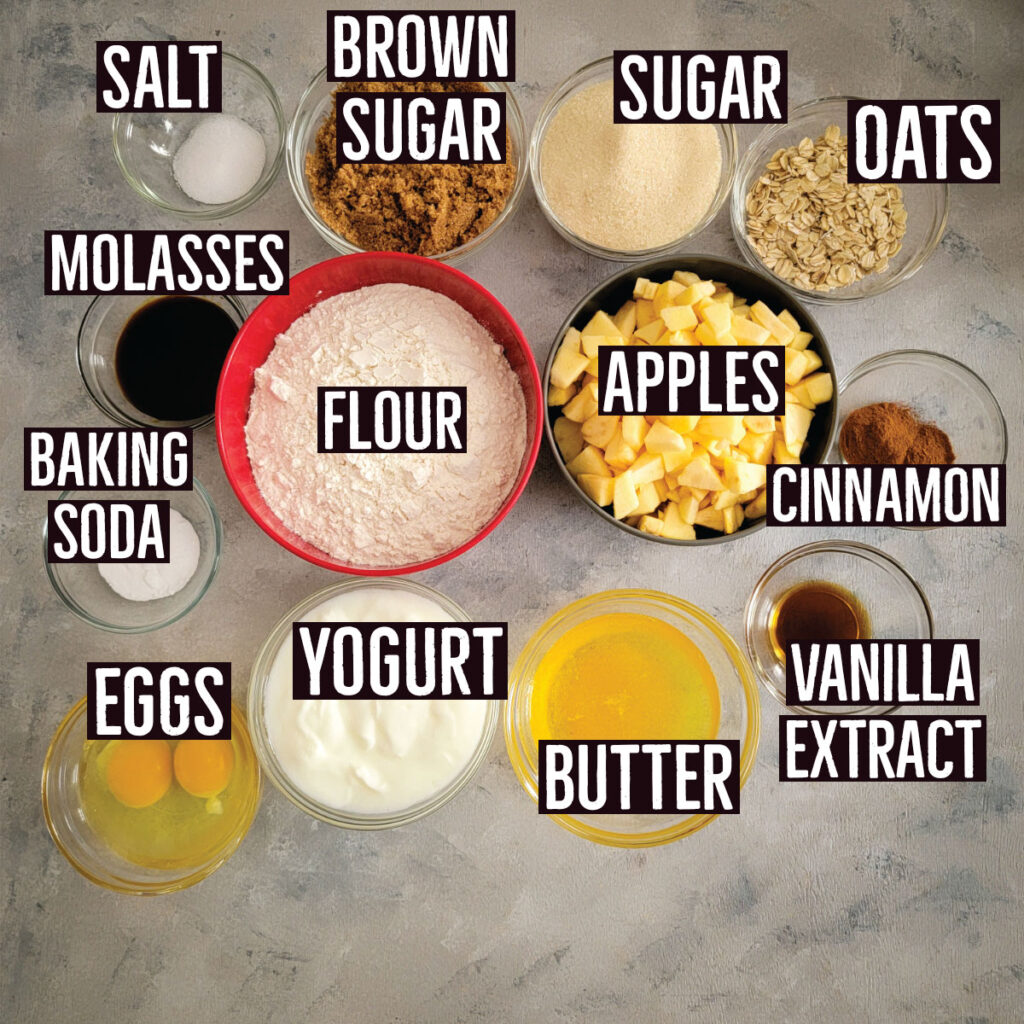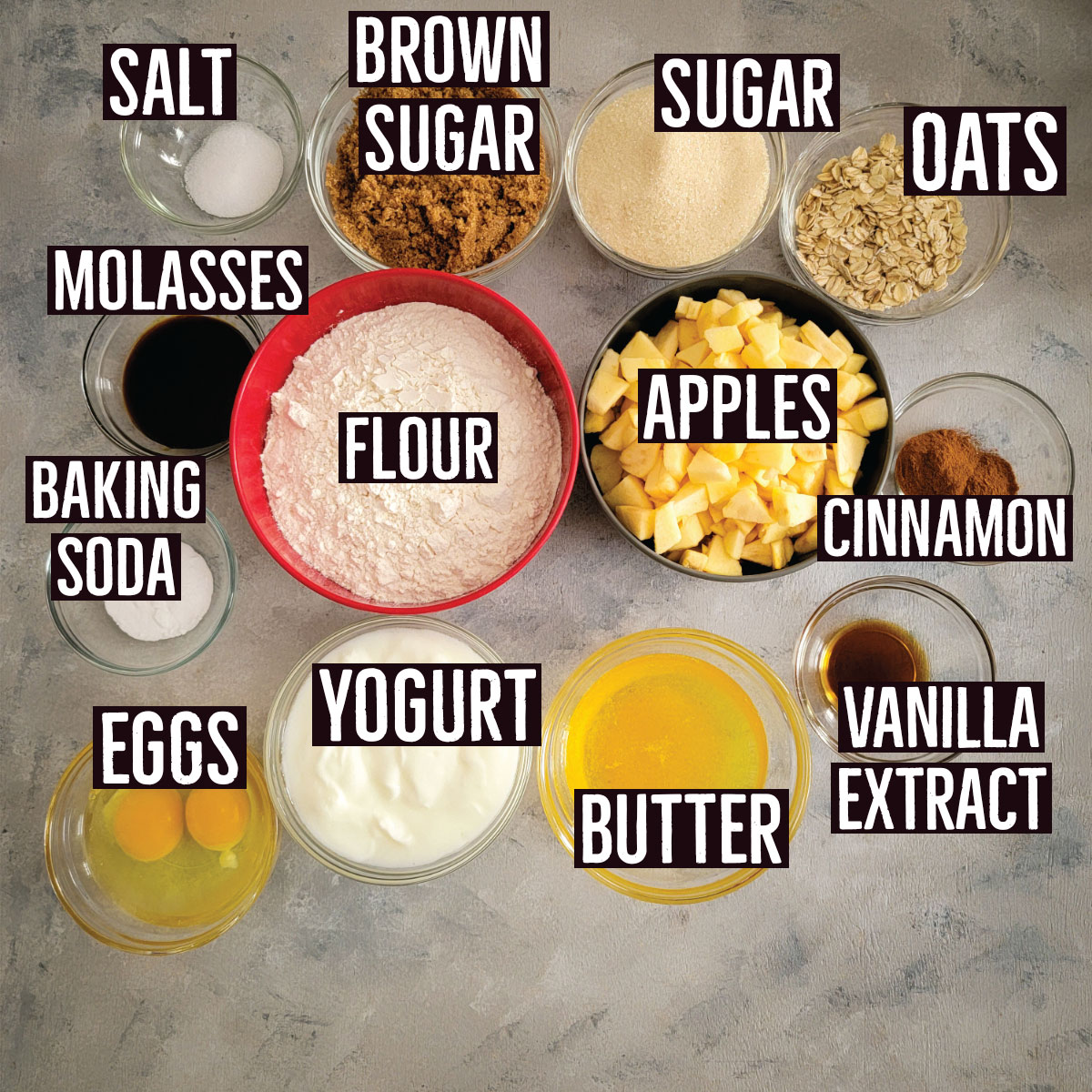 Butter - We use unsalted, but you can use salted if you prefer. You may want to reduce the amount of salted added if using salted butter.
Flour - All purpose works best here, it hasn't been tested with alternatives.
Oats - Either quick oats or old fashioned, but I don't recommend instant or steel cut.
Salt - If using salted butter, you may want to reduce the amount to half a teaspoon.
Baking soda - No substitutes, we have found that baking soda works the best here.
Cinnamon (ground) - No substitutes recommended.
Yogurt - Plain yogurt works best here.
Sugar - Either pure cane or granulated sugar.
Brown sugar - Dark brown sugar is best, but you can use light brown sugar as well. We rarely use light brown sugar, it is just a personal preference here.
Molasses - Adds a slight flavor but also a little moisture to the cake. If you do not have molasses, you can add an extra 2 tablespoons packed dark brown sugar. I do recommend the molasses tho.
Vanilla extract - No substitutions recommended.
Eggs - No substitutions recommended.
Apples - The apples you use for this salted caramel apple bundt cake are going to be a preference. We use gala or a semi sweet to sweet apple. If you prefer a little less sugar, granny smith apples are perfect! Use your favorite, but remember they will add sweetness to the cake.
The caramel drizzle recipe has the instructions for making the salted caramel. We use about half of the recipe on the cake, but you can definitely use more or less! You can make half or the full amount and save the rest for another day - we keep it in the fridge for up to 2 weeks.
Important tips for making the cake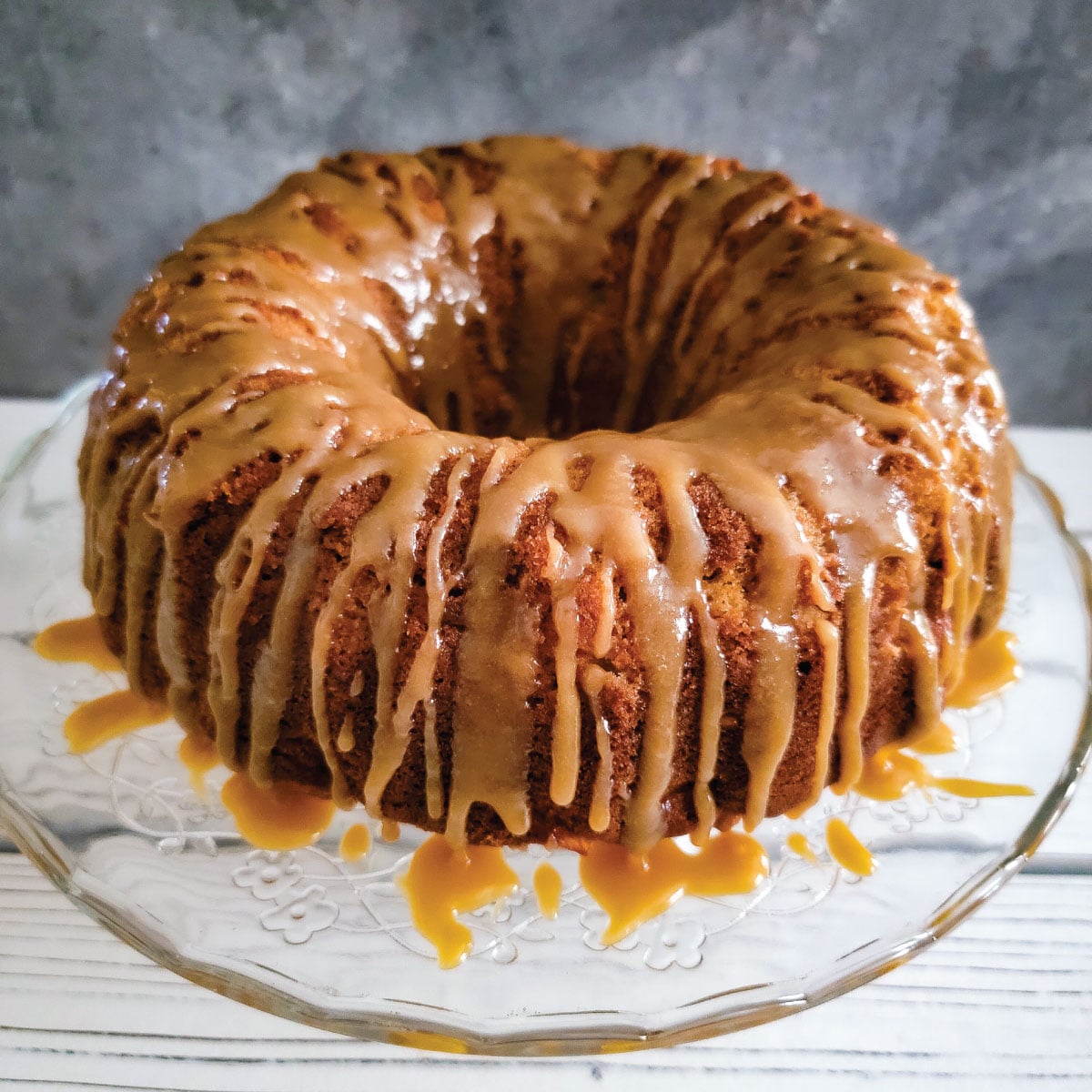 The salted caramel apple cake is a pretty easy cake to make, but there are some tips to help you make it perfect every time!
The butter - We simmer it for at least 3 minutes to give it a more intense flavor. It is optional, you can melt it and let it cool down for about 5 minutes. You can also cook it longer as well. The longer you cook it, the more it changes the flavor. When it browns, it gives it a toasted flavor that really compliments everything else in the cake!
Do not over mix the batter - Use a whisk to mix the dry ingredient into the wet ingredients. Cake batter does not handle being over mixed well and it is better to leave a few small lumps then it is to over do it. It will be a thick batter.
Adding the apples - This apple cake has some really yummy chunks of apples instead of being mashed into the batter. Use a spatula or a spoon to carefully fold the apples into the batter.
The pan - This turns out best with a bundt pan also sometimes called a fluted pan. I don't use a lot of non stick, but for cakes like this I do love a non stick pan. It makes it a lot easier to release the cake.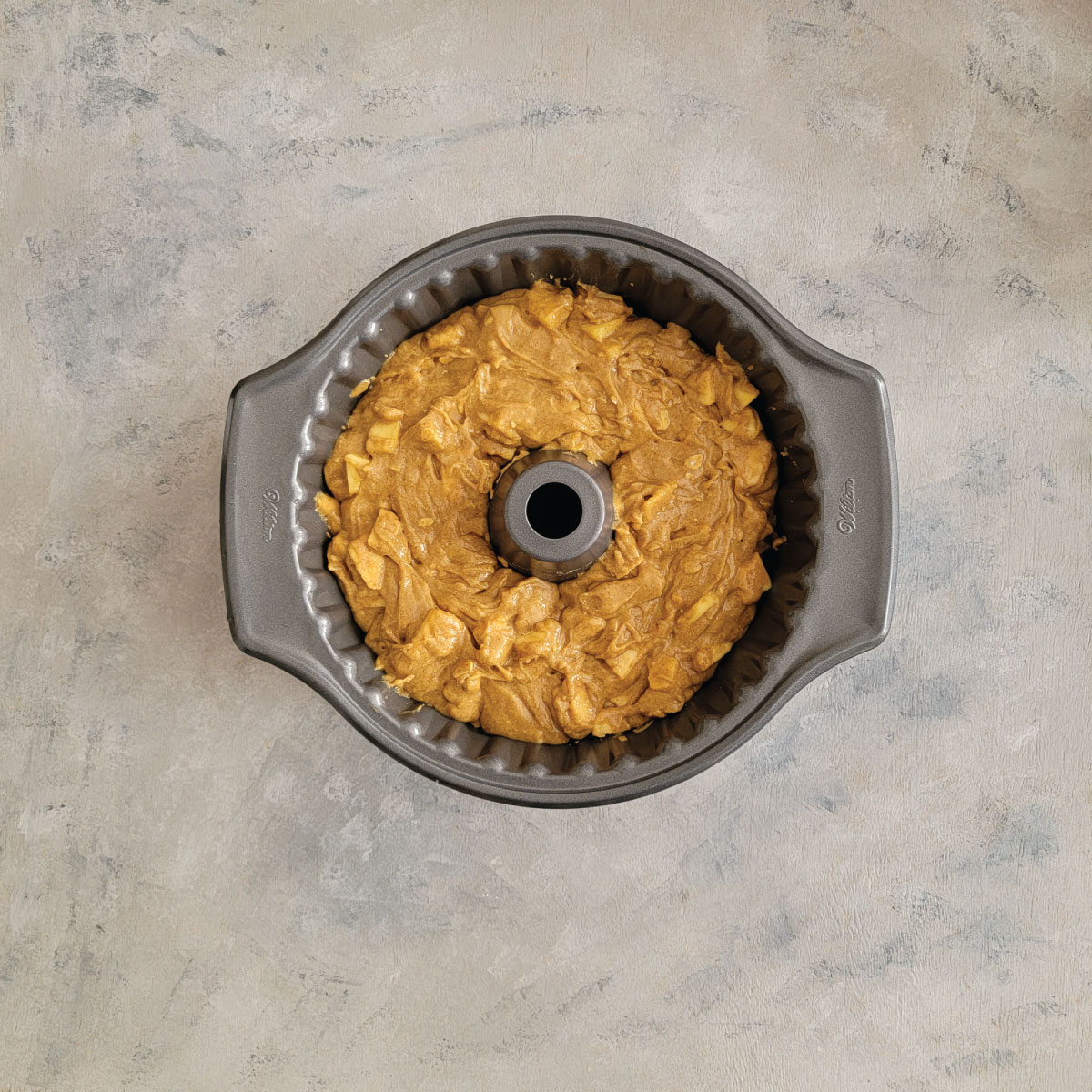 The batter will be thick and you will need to scoop it into the pan. Try to evenly spread it throughout the pan so it cooks and rises evenly.
After it is done baking - It is done when a toothpick inserted into the center comes out clean or with only 1-2 tiny crumbs. There should be no batter on the toothpick. It will likely have a couple small cracks on top but do not worry, they will not be a problem or noticeable once it gets flipped over onto a serving plate.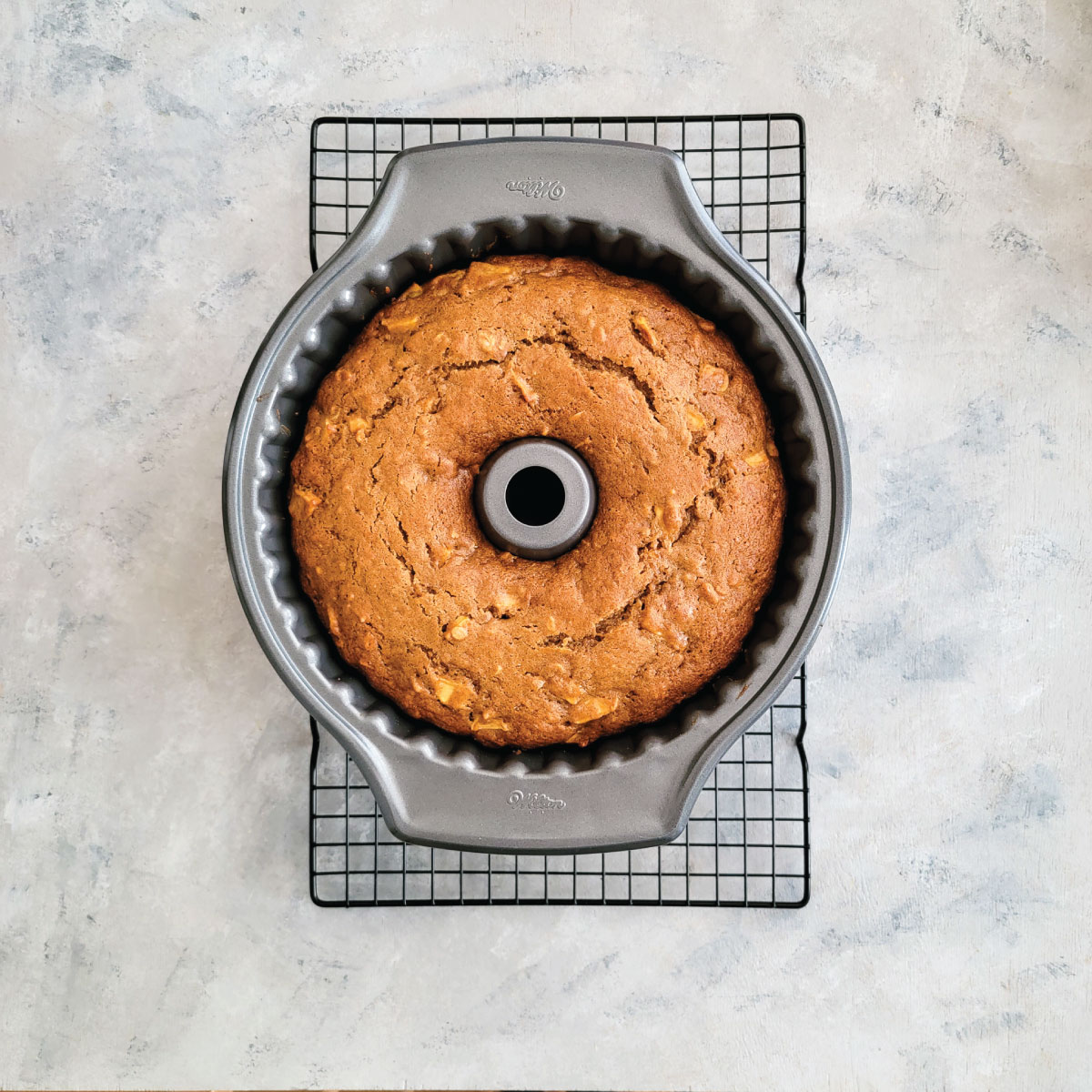 Let it cool down all the way before flipping the cake pan over and removing the cake. There is a possibility the cake will break apart if not cooled all the way first.
Before flipping the pan over, I take a silicone spatula and I gently run the spatula between the cake and the pan to be sure it will release perfectly.
The caramel - We usually add this right after it has been cooled and removed from pan. It will have the perfect drizzle look right after you add it, but once you eat leftovers you might find you like the flavor it adds after it is on the cake for a bit and soaking into it.
For step by step photos, check out apple cake with salted caramel where we put together a series of pictures to show you the steps.
Frequently asked questions
Do I need to grease the pan?
If your bundt pan is non stick, you shouldn't need to grease it. If it is not, yes I would lightly grease it with a fat of your choice - we usually use coconut oil to grease pans. I personally do not like cooking sprays, but you can use them if that is what you use.
Does the salted caramel apple cake need to be refrigerated?
No it does not. It should last 2-3 days covered with plastic wrap (or a cake lid) on the counter if your family does not eat it before then (it doesn't last a full 3 days here before it is gone!) It will change the consistency a little bit, but you can store it in the fridge for 3-4 days.
Can I use Greek yogurt or sour cream?
We prefer the regular plain yogurt for the extra moisture, but you can use Greek yogurt or even sour cream in it's place.
Equipment
These are some items you will find useful to make the salted caramel apple Bundt cake. As an Amazon affiliate we may earn a commission at no extra cost to you if you purchase anything from one of our links. Thank you for helping us provide free recipes to you!
Recipe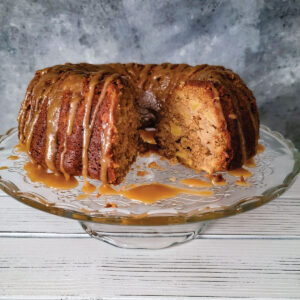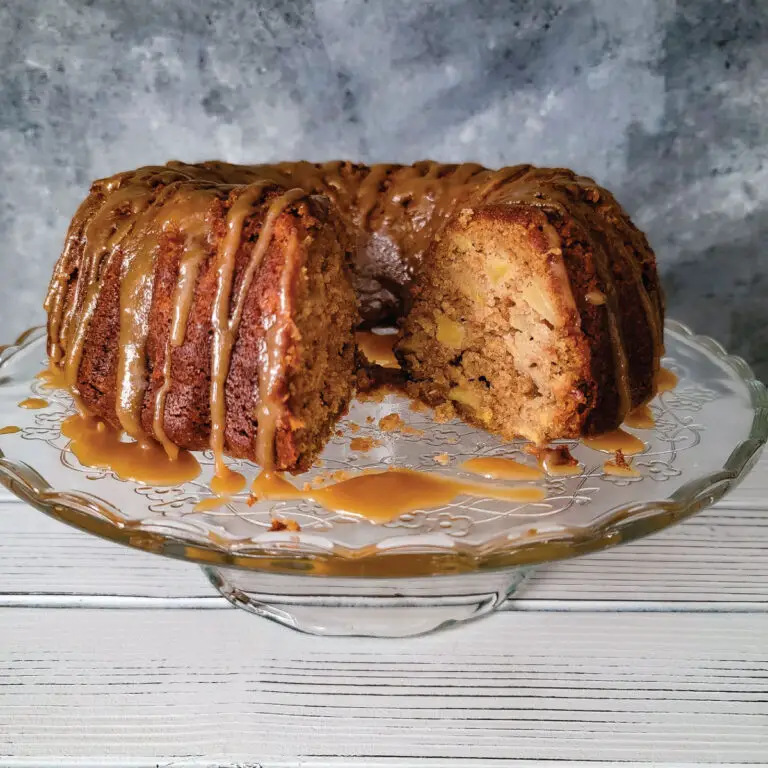 Salted Caramel Apple Bundt Cake
The salted caramel apple cake is the perfect fall treat! It brings the flavors of apples, cinnamon and caramel together in a deliciously moist cake.
Ingredients  
8

Tablespoons

butter

unsalted recommended

1

cup

plain yogurt

¾

cup

sugar

pure cane or granulated

¾

cup

brown sugar

packed, dark brown recommended

2

Tablespoons

molasses

see notes

1

teaspoon

vanilla extract

2

eggs

large

2½

cups

apples

peeled, cored and chopped into bite size

½

cup

salted caramel syrup

see notes
Dry ingredients to mix together
2½

cups

flour

335 grams

⅓

cup

oats

see notes

2

teaspoons

cinnamon

ground

1

teaspoon

baking soda

1

teaspoon

salt
Instructions 
Preheat oven to 350° Fahrenheit. Please note we are at a very low altitude, adjust accordingly.

In a small saucepan, melt the butter over medium heat. Bring to a simmer and simmer over medium heat at least 3 minutes stirring often. Set aside in a heat safe bowl to cool slightly - at least 5 minutes. See notes.

In a bowl whisk together flour, oats, cinnamon, baking soda and salt.

In a mixing bowl cream the melted (but cooled) butter, yogurt, brown sugar and sugar with a hand or stand mixer. Mix for about 30 seconds.

Add in molasses and vanilla extract and mix again for about15 seconds until mixed through.

Add both eggs and mix for 30 seconds to 1 minute, until mixed well and a creamy texture. You will not be using the mixer after mixing in the eggs.

Pour the dry ingredients into the wet ingredients and stir with a whisk until incorporated and no large lumps. Small lumps are ok, do not over mix. Batter will be thick.

Using a spatula or a spoon, gently fold the apple chunks into the batter.

If your bundt pan is non stick, scoop the cake batter into the pan and spread evenly - it doesn't pour easily.

If your bundt pan is not non stick, lightly grease the inside of the pan. Scoop the batter into the pan and spread evenly.

Place on center rack in the preheated oven and bake for 40-50 minutes. The top will be golden brown, possibly have a couple cracks (it's ok you don't see them when cake is out of pan) and a toothpick should come out clean.

Remove from oven and set on a cooling rack. Allow to cool fully before removing from pan.

Once cake is cooled completely, take a small silicone spatula and gently run it between the cake and the pan to be sure it will come out of the pan easily.

Drizzle the caramel syrup over the cake in the amount you like before serving and enjoy!
Notes
Serving sizes are estimated.
For the oats - Use either old fashioned or quick cook oats.  Do not use steel cut and I don't recommend using instant.
For the molasses - I recommend using molasses for the flavor but if you do not have it, you can add 2 packed Tablespoons dark brown sugar on top of the sugar in the mix.  You would add the extra brown sugar with the rest of the sugar, not after like the molasses.
For the apples - You can use your favorite here.  Granny smith is usually a favorite because they are not as sweet, but we use a sweeter apple.  The sweeter the apple, the more sweetness added to the cake.
Salted caramel - Our recipe makes about a cup but you can use more or less then half a cup.  If you make the caramel ahead of time, it needs to be heated back to a liquid to drizzle it.
For the butter - Cooking butter for a few minutes brings out a more toasted flavor.  The longer you cook it, the more flavor it has.  You can cook it for up to 6 min, but I wouldn't cook longer.  It will have some separated pieces on the bottom of the pan, you want them in your cake along with the melted butter!
The butter needs to cool a little bit before mixing with the yogurt and sugar.  I melt the butter before chopping the apples so it has enough time to cool but not become solid again.
Nutrition
Calories:
586
kcal
Carbohydrates:
95
g
Protein:
8
g
Fat:
20
g
Saturated Fat:
12
g
Polyunsaturated Fat:
2
g
Monounsaturated Fat:
6
g
Trans Fat:
1
g
Cholesterol:
95
mg
Sodium:
747
mg
Potassium:
282
mg
Fiber:
3
g
Sugar:
61
g
Vitamin A:
681
IU
Vitamin C:
3
mg
Calcium:
101
mg
Iron:
4
mg