The best potato salad recipe is a classic cookout dish! The dressing is the perfect combination of mayo, vinegar, mustard and a few simple spices. This salad is made with hard boiled eggs, but they are optional and tastes great without them as well.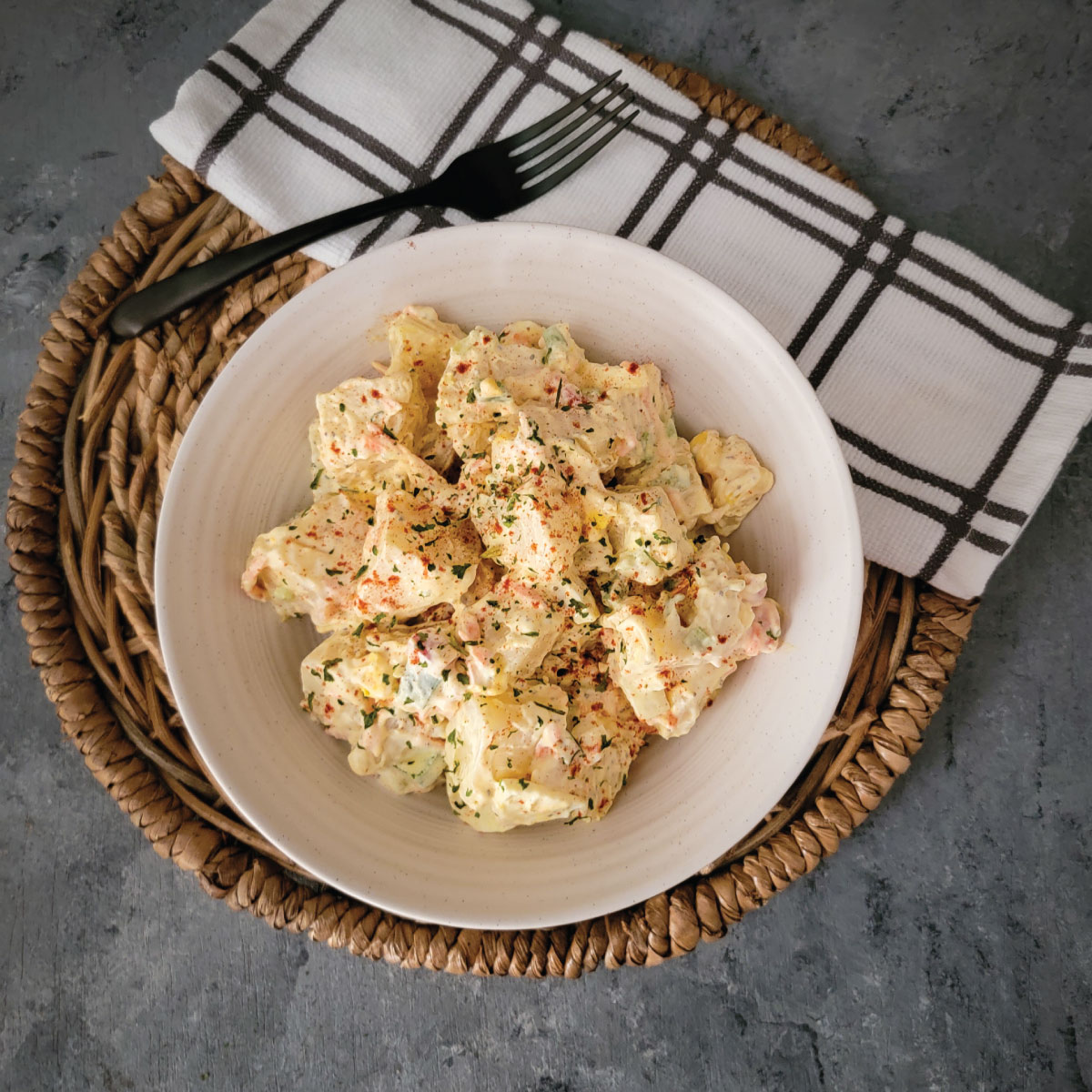 This is the ultimate cookout salad, it is one that will please a crowd! And this is sure to be a hit at your next cookout.
I make this for cookouts with other people as well as for dinner here. It makes a lot so for just us, it is a side dish for a couple days. But this makes it easy because I can concentrate on the grill knowing that our side dish is ready!
We also like to serve bacon ranch pasta salad and sweet coleslaw when grilling.
The ingredients
This easy potato salad has a few different ingredients then most potato salad recipes. Some of them are optional but recommended!
The vegetables
The potato - the best potatoes for potato salad are russet and red skin potatoes. We prefer the russet for salad. Red skins are a bit more waxy then russets, but you can they are a decent potato.
Peppers - I add in stop light peppers - red, yellow and green bell peppers. If you only have one pepper or do not like one of these peppers, you can mix it up to your liking. If you prefer no peppers, you can leave them out or replace them with celery. But we think the peppers make it so much better!
Carrot - I shred the carrot which gives it a thicker sliver, but you can also grate the carrot. Grating it will spread more orange throughout your salad, but the taste will still be close to the same. Shredded you will taste it in the slivers, grated will add more carrot flavor to the whole salad.
Scallions - It is recommended you use scallions here due to their mild flavor, but you can use about one third cup finely chopped red onion in it's place. Note that red onions are stronger in flavor then scallions. Other onions are often too strong raw and will add to much flavor.
Eggs - Hard boiled eggs add a great taste and texture to the salad, but they are optional if you want or need to leave them out.
The dressing
What makes the best potato salad the best is the dressing you put on it. You don't want it too sweet or too tangy, but just right.
The ingredient links below are affiliate links. They are used more as a reference for some of the products you may not know because most of these products might be cheaper in a local store.
Mayo - Use your favorite brand real mayo here, but note that this recipe is written for mayo and NOT Miracle Whip.
Mustard - Spicy mustard is best but if you only have yellow, that works too.
Vinegar - We use unfiltered apple cider vinegar, but you can use regular apple cider vinegar. I do recommend the unfiltered, but personal preference.
The spices - they are common spices and I don't recommend any substitutions because any substitutions here will change the flavor.
Salt - can use table salt or sea salt
Black pepper - can use ground pepper or grind your own peppercorns
Garlic powder
Sugar - we use a less processed sugar but you can use regular granulated sugar. I have even used Turbinado sugar and it is good. There isn't a lot of sugar in the dressing.
Celery seed
Paprika - we use regular and have not tried it with smoked paprika. It is used as a garnish but also adds flavor to the potato salad.
Parsley - can use fresh chopped or dried. It is a garnish and only adds a slight amount of flavor - very slight.
Best way to boil potatoes for potato salad
The best way to boil the potatoes is whole. Reason is they will cook more evenly and they cook better. When you cut potatoes, it is hard to get them the exact size which results in some being undercooked and some overcooked. For mashed potatoes it is ok because you want them soft, but for potato salad you do not want them mushy.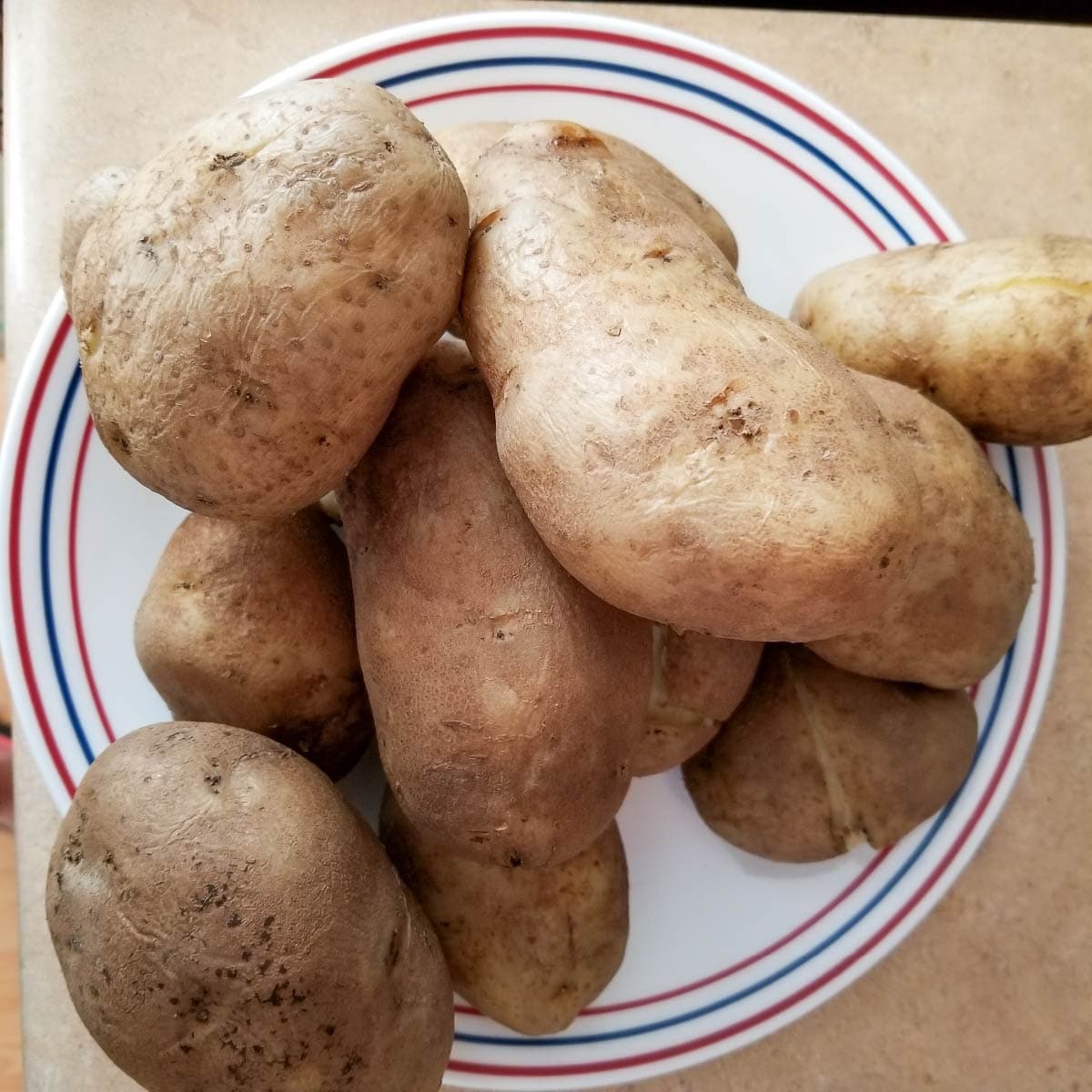 First you want to try to get a bag of potatoes that are close in size. Does not have to be perfect, but try to get them close. If you cannot, boil the larger potatoes for a few minutes before adding the smaller ones. No major problems!
Scrub your potatoes with a vegetable brush under running water. Cut out any noticeable spots. Place the whole unpeeled potatoes in a large pot and cover them completely with water.
Bring to a boil and boil them until you can stick a fork in them fairly easy but try not to boil until they are too soft. I cannot offer cook times here because different size potatoes and different stoves may vary the times greatly.
This recipe is for potato salad with eggs so you will need to hard boil your eggs as well. You can boil your eggs on top of the potatoes, but the eggs will not take as long so you will need to carefully remove them after the 10 minute mark and place in cold water to cool down. You can also boil the eggs in a separate pan.
Drain the potatoes and allow them to cool down. The time to cool down depends on the size of the potato. We often put them in the fridge to cool down faster.
Once they have cooled completely, peel and cut them into bite sized cubes.
If you have an Instant Pot
You can use your Instant Pot to cook the potatoes - this is how I often do it. You will clean them, poke with a fork once to make small holes and place them on the trivet. Pour in 1 cup of water and seal.
For smaller potatoes - about 4 inches long and maybe 3 inches thick, 9 minutes of high pressure should be good. For larger potatoes, set them to high pressure 11 minutes. Do a manual release and remove them carefully. Set aside and cool completely, the fridge cools them the quickest.
Frequently asked questions
Can I freeze potato salad?
While you can, I don't recommend it. Many of the ingredients will change their texture after being frozen and upon thawing it will likely be a very different texture.
How long does potato salad last?
It will be good if stored in the fridge for 3-4 days. Anything beyond that will get a different taste and the texture will be different.
Can I make this ahead of time?
Yes you can! You can make it the day before or even in the morning of the day you will be eating it. It does take time to make with cooling the potatoes so allow for the cool down time. The salad can be completely assembled ahead of time or just before serving as long as the potatoes have cooled.
You may also like
If you like the best potato salad recipe, you may also enjoy these delicious side dishes!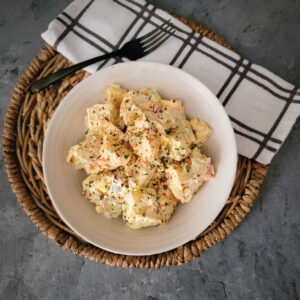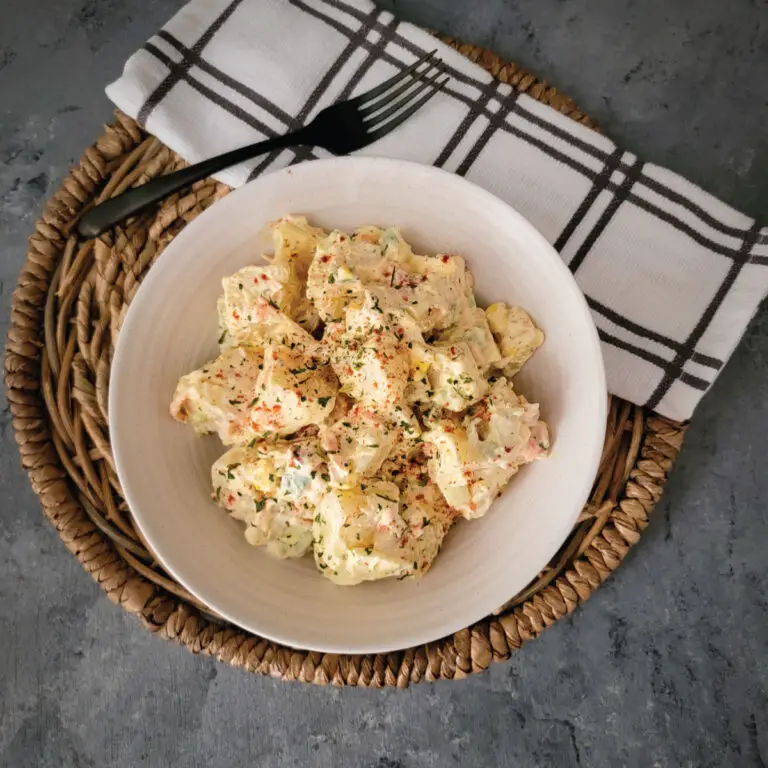 The Best Potato Salad Recipe
Potato salad is a classic at most cookouts.  Making the perfect salad is all about the way you prep your potatoes and the dressing you add.  This will be a favorite!
Ingredients  
5

pounds

potatoes

whole, unpeeled

5

eggs

hard boiled, peeled and chopped

1/2

red pepper

chopped

1/2

green pepper

chopped

1/2

yellow pepper

chopped

1

carrot

shredded

1/2

teaspoon

paprika

for garnish

1

teaspoon

dried parsley

for garnish
The Dressing
3

scallions

chopped greens and all

2

cups

mayo

1

tablespoon

spicy mustard

2

tablespoons

apple cider vinegar

2

teaspoons

sugar

1/2

teaspoon

salt

1/2

teaspoon

black pepper

1

teaspoon

garlic powder

1

teaspoon

celery seed
Instructions 
Boil potatoes whole with the skin on until you can stick a fork into them fairly easily but you don't want them mushy.  Drain and cool completely - can cool in fridge.

Once the potatoes are cooled, peel and cut them into bite size cubes.

Add in the chopped peppers, shredded carrot, and chopped eggs. Stir well.

In a small bowl mix together the dressing ingredients - scallions, mayo, mustard, vinegar, apple cider vinegar, sugar, salt, pepper, garlic and celery seed.

Stir the dressing into the potatoes and mix well. Sprinkle with paprika and parsley as a garnish.

Serve or refrigerate immediately. Refrigerate leftovers.
Notes
Nutritional values are estimated.
We make the dressing and let it sit just while prepping the carrots, peppers and eggs so it gives time for the scallions to start to flavor the dressing.  
Nutrition
Calories:
352
kcal
Carbohydrates:
4
g
Protein:
4
g
Fat:
36
g
Saturated Fat:
6
g
Cholesterol:
101
mg
Sodium:
455
mg
Potassium:
108
mg
Fiber:
1
g
Sugar:
3
g
Vitamin A:
1480
IU
Vitamin C:
24
mg
Calcium:
24
mg
Iron:
1
mg