What is picnic perfect potato salad? It is one that will please a crowd! What makes the salad really is the dressing you put on it. We add bell peppers to ours, but you can change up the vegetables to your liking.
Grilling season is right around the corner - well for us it started last month but not everybody jumps to the grill the second it warms up a little bit. What would a picnic be if you didn't have a great potato salad recipe? It is a classic that is at almost every cookout.
This one took a few tries to perfect and we made minor adjustments from the normal ingredients you would expect, but I am sure it will be a hit! This is the favorite here along with my Aunt's recipe - she has an amazing potato salad recipe also but I don't know it so I am not able to share it.
We also like to serve bacon ranch pasta salad and sweet coleslaw when grilling.
What makes this so different?
Most often when you make or you see potato salad it has celery and carrots in it. Besides the potatoes, usually the celery and carrots are the only vegetables. I am a big fan of peppers and well the store literally had no celery the last time I made this potato salad so I mixed it up. Turns out we liked it better with the added veggies!
We put stop light peppers in. It gives your salad more color and also a nice flavor while adding more healthy ingredients. If your kids do not like green peppers you can use the yellow, red and/or orange peppers. They are sweeter and most kids like them better then the green.
When it comes down to it if you are more comfortable with just the celery and carrots, you are welcome to make it that way too. It is the dressing that helps make it or break it!
Making the potato salad recipe
You can pick which potatoes you want to use here. I have used red, gold and white potatoes. Russet potatoes are good as well. I honestly pick them by what is on sale as they all make a great salad. But you can use your favorite.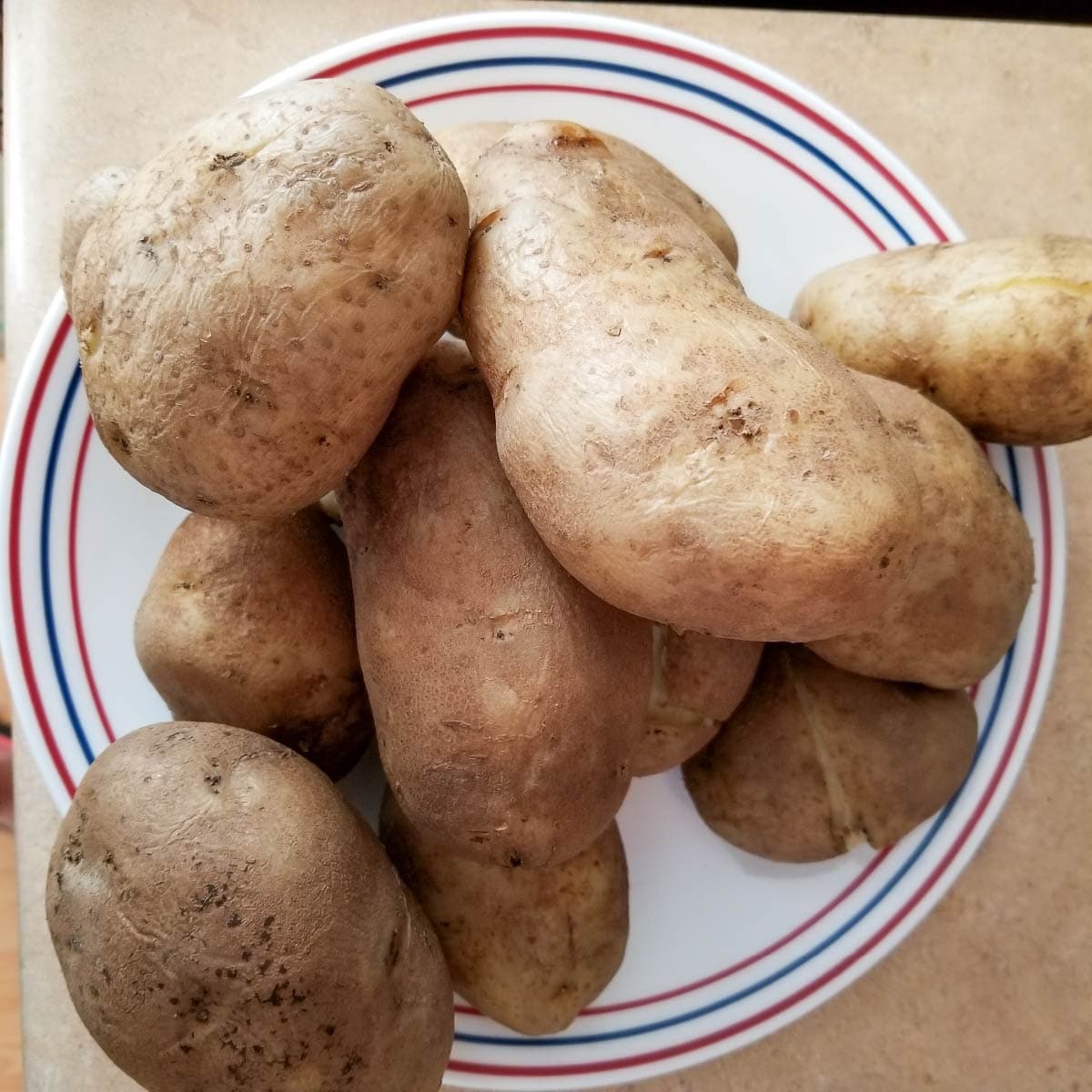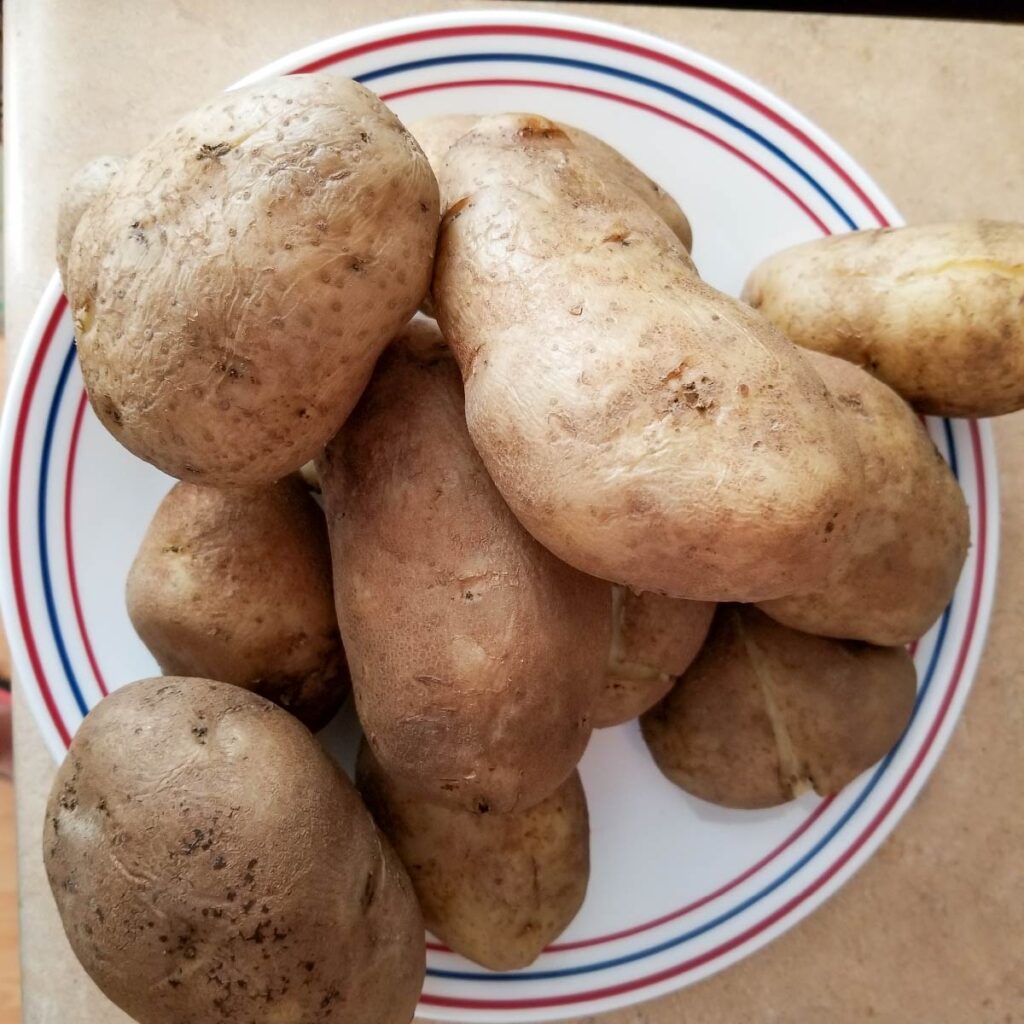 Now you want to boil the potatoes whole with the skins on. Seriously, this is the secret to a great potato salad that isn't falling apart when you mix it. If you have different size potatoes then cook the bigger potatoes for a little longer before adding the small potatoes. Cook until you can stick the fork into the potato fairly easily. I wish I could offer you cook times but it really depends on the size of your potatoes and different potatoes seem to cook at different temps too. Boil your eggs now too and put them in the fridge after after shocking them (draining the boiling water and letting them sit in cold water for a few minutes.)
Drain the potatoes and allow them to cool down. The time to cool down depends on the size of the potato. We often put them in the fridge to cool down. You need them to be touchable without burning yourself.
Peel them and cut them into cubes. Make sure they have cooled to room temperature or colder. Put them in a container and place them in the fridge until they are cold.
You can put this salad together once the potatoes are cold, but I usually wait until shortly before turning the grill on or leaving for a picnic. Make the dressing just before cutting up the vegetables to add. When you are ready to make the rest of salad, add in the peppers, the shredded carrot, and the eggs.
The dressing
What makes a potato salad recipe great? The dressing! You can mix the vegetables up a little bit but without a great dressing, it will be blah.
In a bowl mix together the mayo, apple cider vinegar and sugar. Next add in the spicy mustard (you can use yellow mustard as well), garlic powder, chopped scallions, salt and pepper. Stir to combine and add to the potatoes and vegetables. Usually I make the dressing and let it sit while I am chopping the peppers and shredding the carrot. It lets the scallions add a little flavor to it.
Sprinkle the potato salad with paprika and parsley. Enjoy!
Frequently asked questions
Do I have to boil the potatoes whole?
You do not have to, but it is highly recommended. When you cut the potatoes and boil them, they get a little starchy and cook inconsistently. They are likely to fall apart and get funky in your salad.
Do I have to add peppers?
No you do not. You can make this how you want! We love peppers in ours, believe it or not it gives a nice flavor and color as well.
Do I have to use scallions?
You can use any onion you like here. I recommend either scallions or red onion as they are (in our opinion) a better raw onion. Scallions add a slight flavor and usually kids are less likely to be bothered by them then a stronger onion. Use your favorite!
Can I make this ahead of time?
You can make this in the morning for later in the day, but I wouldn't make it days early. Tho it will last in the fridge, it has it's best flavor and texture the same day it was made.
How long does it last in the fridge?
The potato salad will last you about 3-4 days in the fridge. But please note that the flavor and texture will not be the same the longer it is in the fridge.
Picnic Perfect Potato Salad
Potato salad is a classic at most cookouts. Making the perfect salad is all about the way you prep your potatoes and the dressing you add. This will be a favorite!
Ingredients
5

lbs

potatoes

3

scallions

chopped greens and all

1

carrot

shredded

1/2

red pepper

chopped

1/2

green pepper

chopped

1/2

yellow pepper

chopped

1/2

tsp

salt

1/2

tsp

black pepper

2

tbsp

apple cider vinegar

2

tsp

sugar

1

tbsp

spicy mustard

2

cups

mayo

1

tsp

garlic powder

5

eggs

hard boiled, peeled and chopped

1/2

tsp

paprika

1

tsp

dried parsley

for garnish

1

tsp

celery seed
Instructions
Boil potatoes whole with the skin on until you can stick a fork into them fairly easily but you don't want them mushy.  Drain and cool to a touchable temperature.

Peel and cut them up into bite size pieces and put them in a container.  Place in the fridge until close to time to go to the picnic or before turning grill on.  

You can put the dressing on sooner, but be sure that the potatoes have cooled down in the fridge first. We prefer to add the dressing shortly before serving.

In a small bowl mix together the mayo, vinegar and sugar.  Then add in the celery seed, garlic, spicy mustard, scallions, salt and pepper.  Set aside while preparing the peppers, carrots and eggs.

Chop the peppers, peel and chop the eggs, and shred the carrots. Add them into the potatoes.

Stir the dressing in and sprinkle with parsley and paprika for garnish.
Notes
Nutritional values are estimated.
We make the dressing and let it sit just while prepping the carrots, peppers and eggs so it gives time for the scallions to start to flavor the dressing.  
You can use any combination of vegetables you like.  We like the flavor and color the peppers add.  The dressing makes the salad.
Nutrition
Calories:
352
kcal
Carbohydrates:
4
g
Protein:
4
g
Fat:
36
g
Saturated Fat:
6
g
Cholesterol:
101
mg
Sodium:
455
mg
Potassium:
108
mg
Fiber:
1
g
Sugar:
3
g
Vitamin A:
1480
IU
Vitamin C:
24
mg
Calcium:
24
mg
Iron:
1
mg