One of our favorite Easter traditions is to make these homemade peanut butter eggs. Of course they can be enjoyed anytime, but we make them every year. They are delicious and easy to make!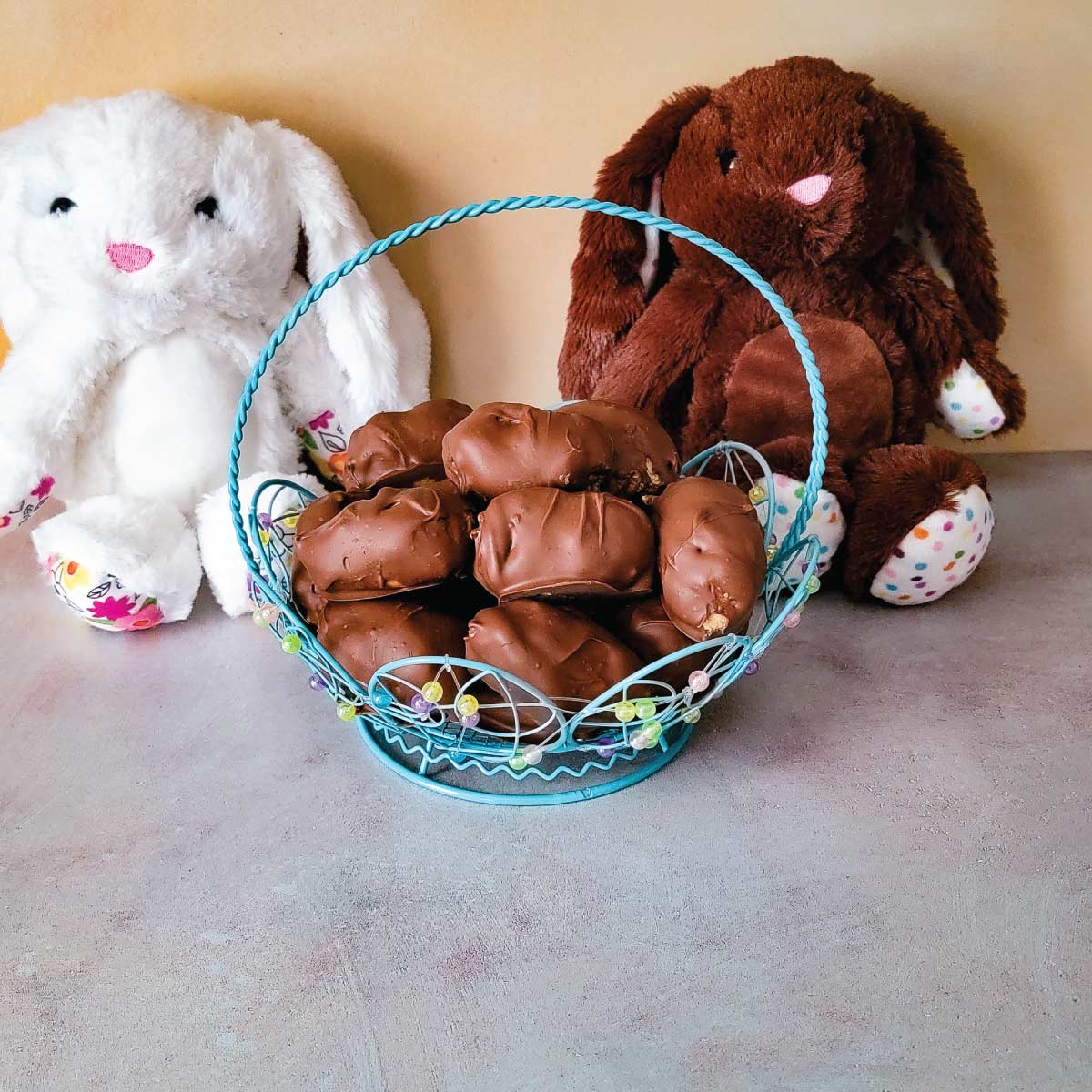 Don't get me wrong, I do love some Reese's from time to time (ok maybe more often), but these peanut butter eggs are homemade and easy to make.
They are perfect for the Easter baskets or just as treats for everybody to enjoy. We do not have small kids anymore, but I still make these and homemade coconut eggs every year. They get gone pretty quickly too! Many times I make a second batch because well, they are that good.
These eggs are made with just a few simple ingredients.
Jump to:
Ingredients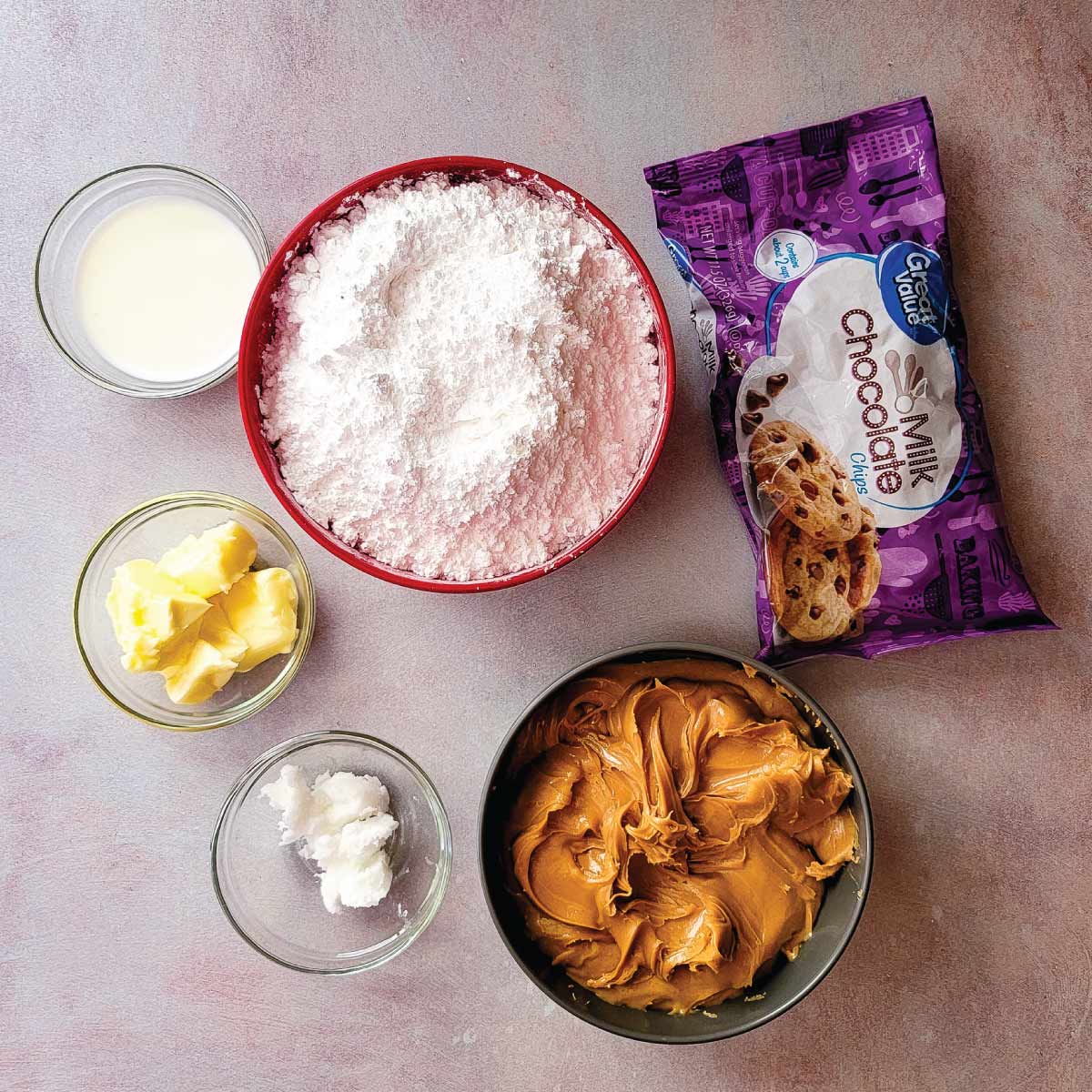 Peanut butter - Regular creamy peanut butter is best. We usually just get Walmart's brand for these, use your favorite brand. I do not recommend a thick natural one (I usually prefer the natural peanut butter for eating but not for these homemade eggs.)
Butter - I like to use salted just to give it a little bit of extra flavor, but you can use unsalted. Either one will work here.
Powdered sugar - No substitutions recommended.
Milk - We use whole milk but you can use a lower fat milk. You are only using a little bit for extra moisture. We have not tried it with a non dairy milk, but I would imagine it would work just as good. Just know that most non dairy milks may change the flavor of your peanut butter eggs slightly.
Coconut oil - Can use shortening in it's place. It is used to melt the chocolate, we just don't use shortening here. Refined coconut oil will not add any flavor to the chocolate.
Chocolate chips - Can use baking chocolate if you prefer. We always use chocolate chips to coat the eggs, but you can use your favorite. Usually we get milk chocolate or dark chocolate chips.
As a note:
These are a little more dry then some homemade peanut butter eggs recipes, but I prefer them to be. It is closer to the texture of Reese's. If it is a bit drier then you like, you can add more peanut butter or milk to them.
I recommend you try the filling before shaping them and putting them in the freezer. If you want more moisture, add it before shaping them.
You should have some extra chocolate on hand too. Depending on the size you make them, you may find you want just a little more chocolate. Usually this is just enough for us but if you make them pretty small, you may need more chocolate to coat them.
Making the peanut butter eggs
These take a bit of time but are easy to make. Soften your butter for about an hour or so. I prefer butter here personally as we don't use any margarine products here, but you can use margarine and it won't need to be softened.
Cream your butter and peanut butter together in a large bowl with a hand mixer. Add in the powdered sugar and mix with the mixer. This will be pretty dry at this point and it will be a bunch of tiny lumps.
Now is when you are going to add milk. You want it to form dough so while using the hand mixer, stir the milk in one tablespoon at a time until it forms the dough. Taste it and if it is too dry for you now, add more peanut butter and/or milk. It is pretty flexible.
Shaping the eggs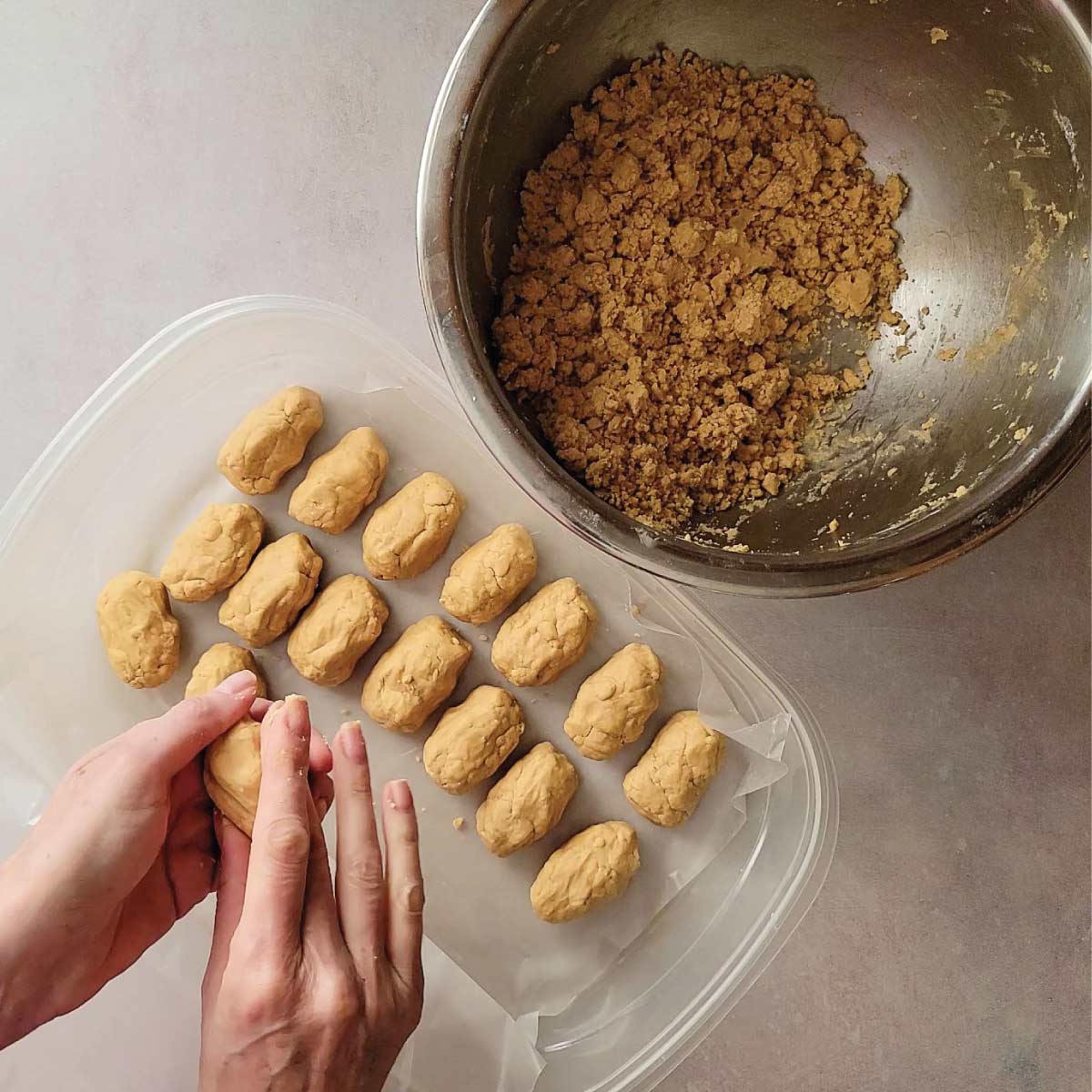 Now comes the fun part, shaping your homemade peanut butter eggs. You can shape them into any size you like. You can even large ones if you want, I try to keep them fairly small here.
I use a large freezable plastic container to put them in here, but you can put them on a cookie tray if your freezer has room for it. We normally do not have room in our freezer for a cookie sheet. I put waxed paper down under the eggs.
If you have to do more then one layer in your container, add more wax paper to each layer. Once all the eggs are shaped, place the container in the freezer for at least 1 hour. More time won't hurt but isn't necessary.
I have put them in the freezer and didn't get to finish them for over a day later and they are fine. If you are keeping them in the freezer for longer then an hour or 2, I would recommend in a container with a lid instead of on the cookie sheet.
Coating the peanut butter eggs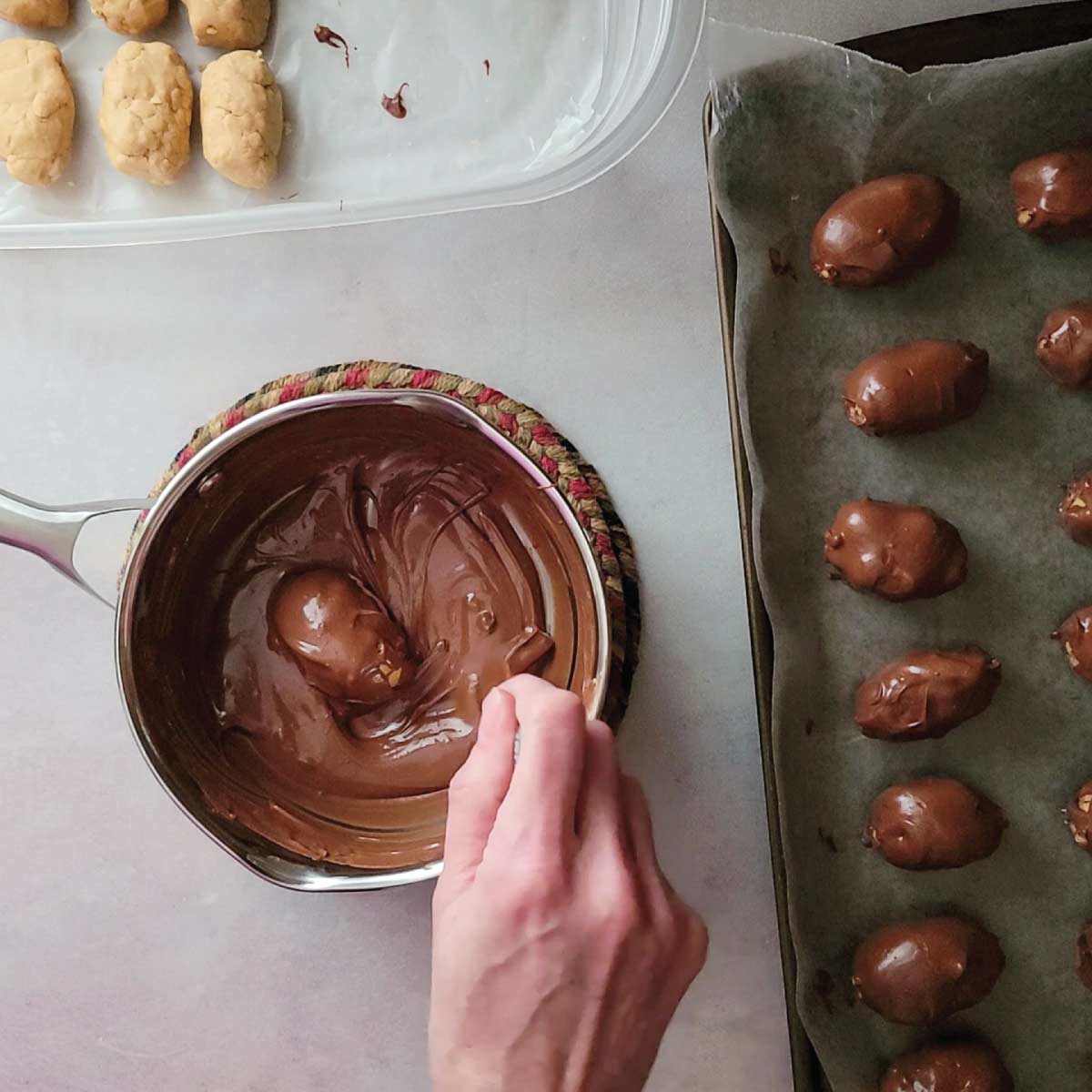 In a small sauce pot add your coconut oil or shortening and turn the burner to medium low. As the oil or shortening begins to melt, add in the chocolate chips. Let cook for about 20 seconds and then stir constantly until all the chocolate is melted. Remove pan from burner.
Melting chocolate is easy but you cannot leave it unattended. As soon as you see that all the chocolate is melted and smooth, remove from heat immediately. It will start to get slightly burnt on the bottom if you do not.
Roll each one of your eggs into the melted chocolate to coat and set it on a baking tray that is lined with wax paper. Once they are coated, put the tray in the refrigerator until the chocolate is set.
Your homemade peanut butter eggs are now ready to be eaten - Enjoy! Store in a container in the fridge. These go well with a chocolate hazelnut latte.
Another great Easter recipe is classic deviled eggs, I know I always have a lot of hard boiled eggs to use around then!
Frequently asked questions
Why is my chocolate is starting to get hardened on the bottom of the pan?
This happens when you heated it too long. It is starting to slightly burn on the bottom and it tends to dry out a little too.
It is ok to use, but remove from heat immediately and stir until most of the lumps are gone. If it just started, you can usually stir the lumps in and they will melt.
Can I use white chocolate to coat my eggs?
Yes, definitely! You can even use white chocolate to decorate if you want. White chocolate is a little sweeter, but it can be used the same as milk or dark chocolate.
How long will homemade peanut butter eggs last in the fridge?
We have enjoyed them up to 2 weeks after making them, but they usually get gone by then and we have not tested them beyond 2 weeks in the fridge.
Can I freeze homemade peanut butter eggs?
Yes you can freeze them! Store in an air tight freezer safe container for 3-4 months. They will likely last longer in the freezer, but they haven't been tested beyond 4 months here.
Recipe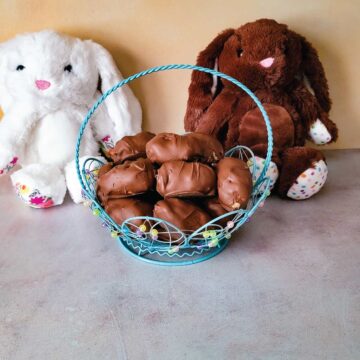 Homemade Peanut Butter Eggs
These peanut butter eggs are easy to make and so delicious.  They are perfect for filling Easter baskets or to have as a snack for the family, everybody will love them!
Ingredients  
18

ounces

creamy peanut butter

16

ounces

powdered sugar

1/4

cup

butter

salted, softened

3

Tablespoons

milk

as needed
For the Chocolate coating
1

Tablespoon

refined coconut oil

or shortening

12

ounces

chocolate chips
Instructions 
Using a hand mixer, cream the butter and peanut butter in a large bowl for about 1 minute over medium until smooth.

18 ounces creamy peanut butter,

1/4 cup butter

Add in the powdered sugar and use the hand mixer on low or medium low until it is combined.  It will be dry and lumpy.

Using the hand mixer to stir, add in milk one tablespoon at a time until the dough forms.  

Taste the filling to see if you want more milk or peanut butter. It is somewhat dry filling but you can make it with more moisture if desired.

Shape into eggs and freeze for at least 1 hour.
Coating the eggs
Melt coconut oil or shortening in a small pan over medium low heat.  

1 Tablespoon refined coconut oil

Add in the chocolate chips and allow to melt for about 20 seconds before stirring constantly. Immediately remove from heat when chocolate is melted.

12 ounces chocolate chips

Roll the eggs in the melted chocolate until coated.

Place on a cookie sheet lined with wax paper to set.  Once the eggs are coated, place the cookie sheet in the fridge to allow the chocolate to cool completely.

Enjoy! Store in a container in the refrigerator. 
Notes
Nutritional values are estimated.  The amount of eggs made depends on the size you shape them.  I count it as 15 servings but it might differ a little for you.
You want a smooth creamy peanut butter, not a thick all natural one for these eggs.  The texture will not be the same with the thick peanut butter.
We recommend salted butter for a little bit of extra flavor that the salt gives the eggs, but you can use unsalted in place of the salted butter.
You can use unrefined coconut oil instead of refined and I love that for everything else, but I use refined here so it doesn't give your eggs a coconut flavor.  Shortening can be used in place of the oil.
Nutrition
Calories:
468
kcal
Carbohydrates:
52
g
Protein:
9
g
Fat:
26
g
Saturated Fat:
9
g
Cholesterol:
11
mg
Sodium:
200
mg
Potassium:
224
mg
Fiber:
2
g
Sugar:
47
g
Vitamin A:
150
IU
Vitamin C:
0.2
mg
Calcium:
45
mg
Iron:
0.9
mg