What is one thing that many people enjoy when at a get together? Yes, deviled eggs! They are a classic for picnics and of course Easter when you have a fridge full of colored eggs and company coming over. Not that we have ever had too many eggs in the fridge on Easter...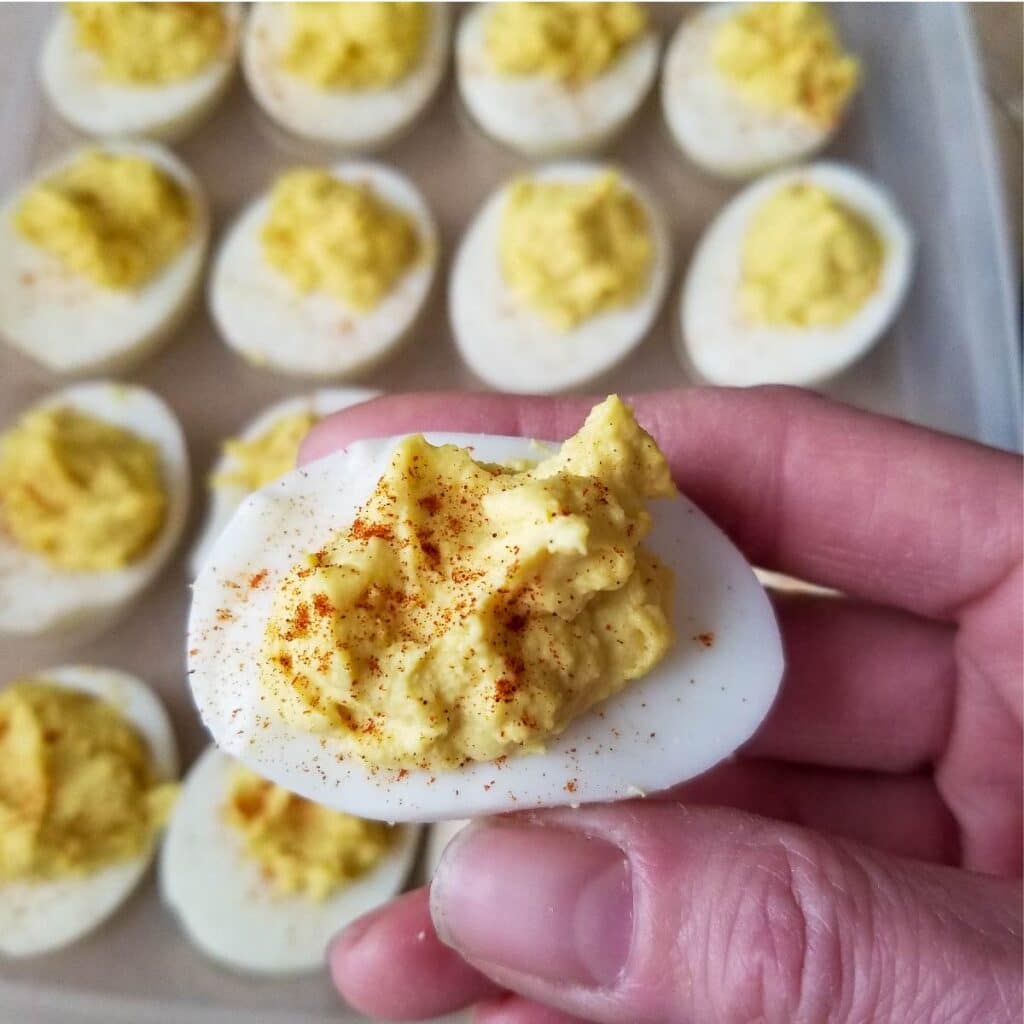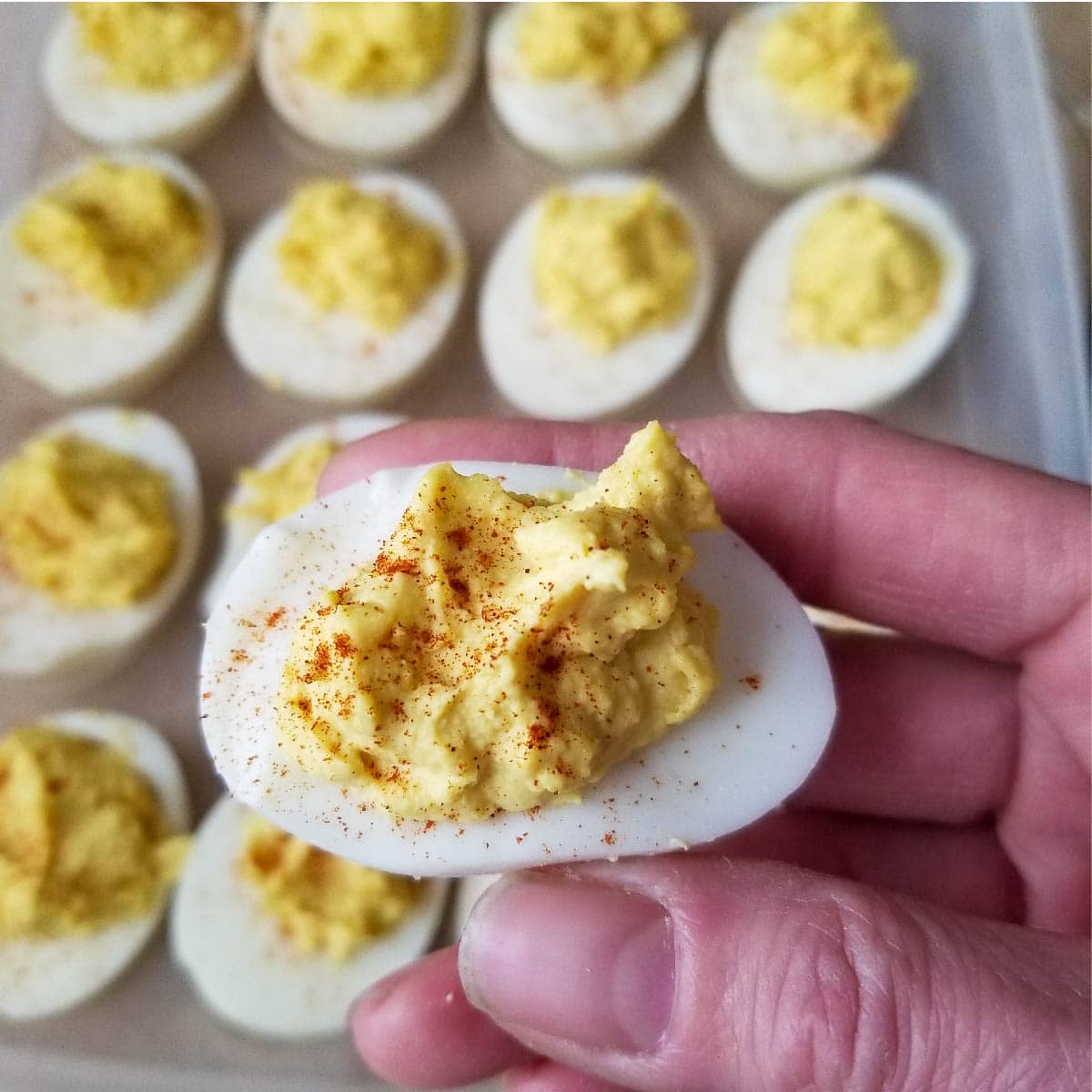 There are a lot of different recipes out there and I think they look delicious, but I still like to stick to my classic recipe. Why? It will please everybody who likes them. Some people can't have a variety of ingredients so this is perfect for a crowd. I do make mine different from others, but using simple and very few ingredients.
Making deviled eggs
This is one of the easiest things you can make. I am being serious and you can dress them up to be fancy or leave them like I did here. Sometimes simple is amazing! And fortunately, my family likes simple too. Ok, really they just like food regardless of how fancy it looks 🙂
Cooking the eggs
First I start off by hard boiling the eggs. This can be done a couple ways and if you have an Instant Pot, I suggest using it for this. They peel super easy this way. But either way does work.
On the stove
Place eggs in a large pot and pour cold water over them, enough to cover them with about an inch above them. Bring to a boil and set the timer for 10 minutes. Turn off and immediately pour the hot water out and soak them in cold water or ice water.
A couple of ice cubes in the water works the best to shock them or they will be hard to peel. Let them soak for at least 5 minutes. Put them in the fridge for at least an hour to be sure they are cooled all the way.
In the Instant Pot
Hard boiled eggs in the Instant Pot is quite easy and it took me some convincing to finally try it, but it is worth it. Place the trivet that came with your IP inside the inner pot and pour 1 cup of water into the pot. Gently lay the eggs (you can layer them if you have to) across the trivet. Put the lid on and turn the vent to sealing.
Hit pressure cook/manual and set to 5 minutes. When it is done, allow it to release naturally for 5 minutes and then quick release the rest of the way. Carefully put them in ice water for 5 minutes to shock them. Allow them to cool the rest of the way in the fridge for about an hour.
Putting the eggs together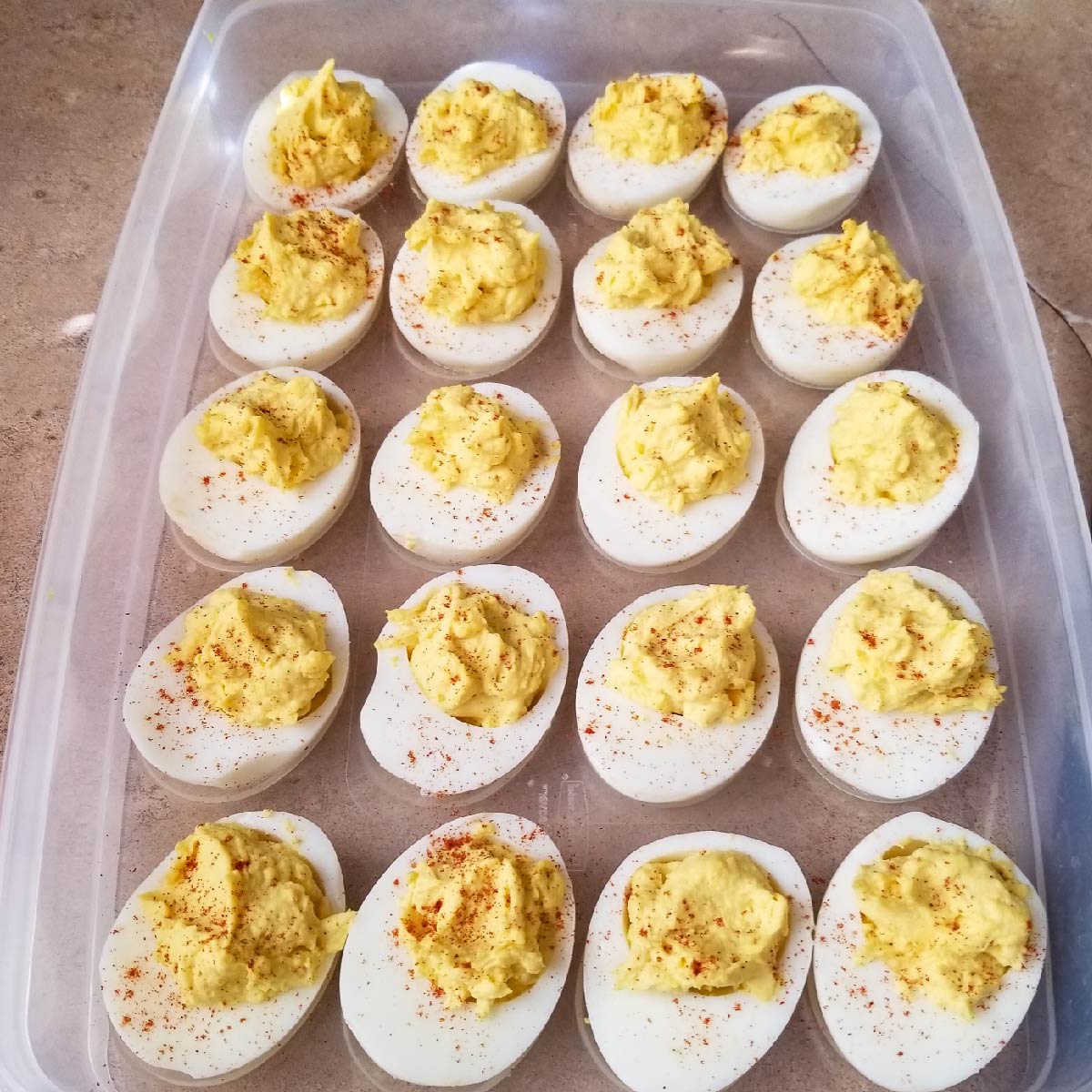 Once the eggs are cooled, peel them and slice them in half lengthwise. I make them into my dish that I use for carrying deviled eggs. There are serving dishes for them as well. Carefully remove the yolks and place them into a mixing bowl. Mash them with a fork.
Add the mayo, turmeric, spicy mustard and garlic powder to the yolks. Mix well with either a fork or even a mixer (to make them even smoother.) I use a fork but sometimes there are little yolk lumps - I usually have a lot going on when making them.
Take about a spoonful of the yolk mix and place it back where the yolks came from. It should be about a spoonful, but any extra can be divided among each of them (or eaten as it is by the chef.)
Sprinkle with a garnish - I just use paprika but some people use a touch of parsley to add some green as well.
Deviled eggs go well with just about everything when it comes to gatherings. We had them with everything from ham to New York strip roast and prime rib!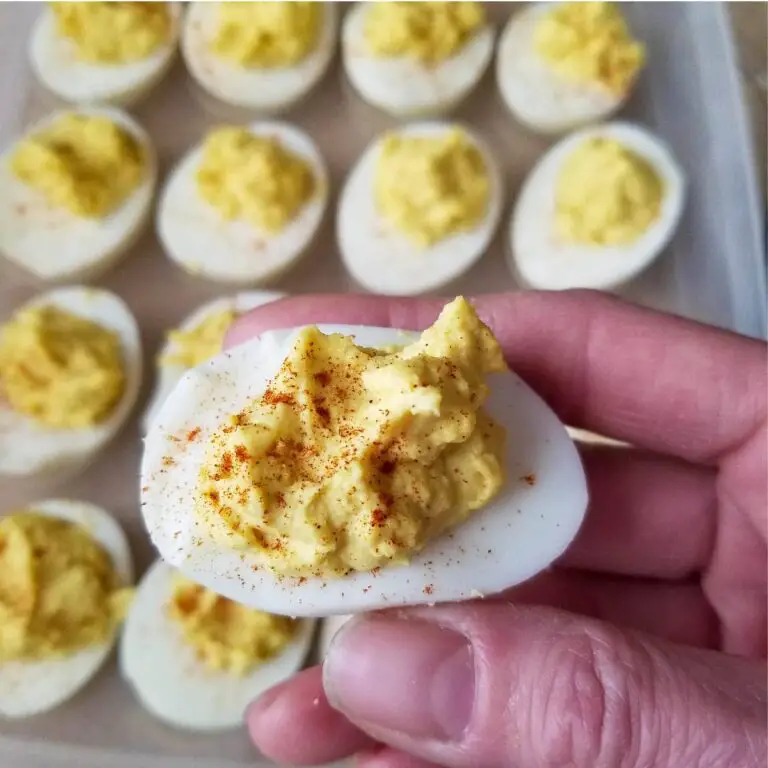 Perfect Deviled Eggs
These deviled eggs are a classic dish for any gathering! They are easy to make and have only a few ingredients.
Ingredients  
12

large eggs

hard boiled

⅓

cup

mayo

see notes

1½

tsp

spicy mustard

¼

tsp

turmeric

⅛

tsp

garlic powder

¼

tsp

paprika

for garnish - not added to the eggs
Instructions 
Peel the hard boiled eggs and slice them in half lengthwise.

Remove the yolks carefully and put them in a mixing bowl. Mash them up with a fork

Place the egg whites on a plate, preferably one designed to hold deviled eggs.

Add the mayo, spicy mustard, turmeric and garlic to the egg yolks and mix well. A hand mixer comes in handy if you want them whipped up, but I usually use a fork to mix them well.

Using a spoon, scoop a spoonful of the yolk mix into each egg white. If any remains, add a little more to each egg.

Sprinkle with garnish gently - paprika can come out fast. Serve immediately or keep refrigerated until ready to serve.
Notes
Nutritional values and serving sizes are estimated.  Some people will eat more then 2 halves and some will only have 1 half.
Add more mayo by a teaspoon at a time if the consistency is too dry.  All eggs are slightly different in size so it is best to start out with a smaller amount and add more as needed.
I add cayenne pepper when making them for just us and more garlic for just us.  For a crowd, I stick to this so it isn't spicy and not everybody likes a lot of garlic.  Feel free to experiment with amounts tho.
For garnish, I usually just use paprika but some like to add some parsley for color contrast.  
Nutrition
Calories:
121
kcal
Carbohydrates:
1
g
Protein:
6
g
Fat:
10
g
Saturated Fat:
2
g
Cholesterol:
189
mg
Sodium:
109
mg
Potassium:
63
mg
Sugar:
1
g
Vitamin A:
281
IU
Calcium:
25
mg
Iron:
1
mg