Fall is almost here - yay happy dance! With fall comes pumpkins and so many other great things. One of those great things is a no bake pumpkin cheesecake! Definitely one dessert we enjoy here every year. It is something that we put our pumpkin whipped cream on. What is your favorite fall dessert?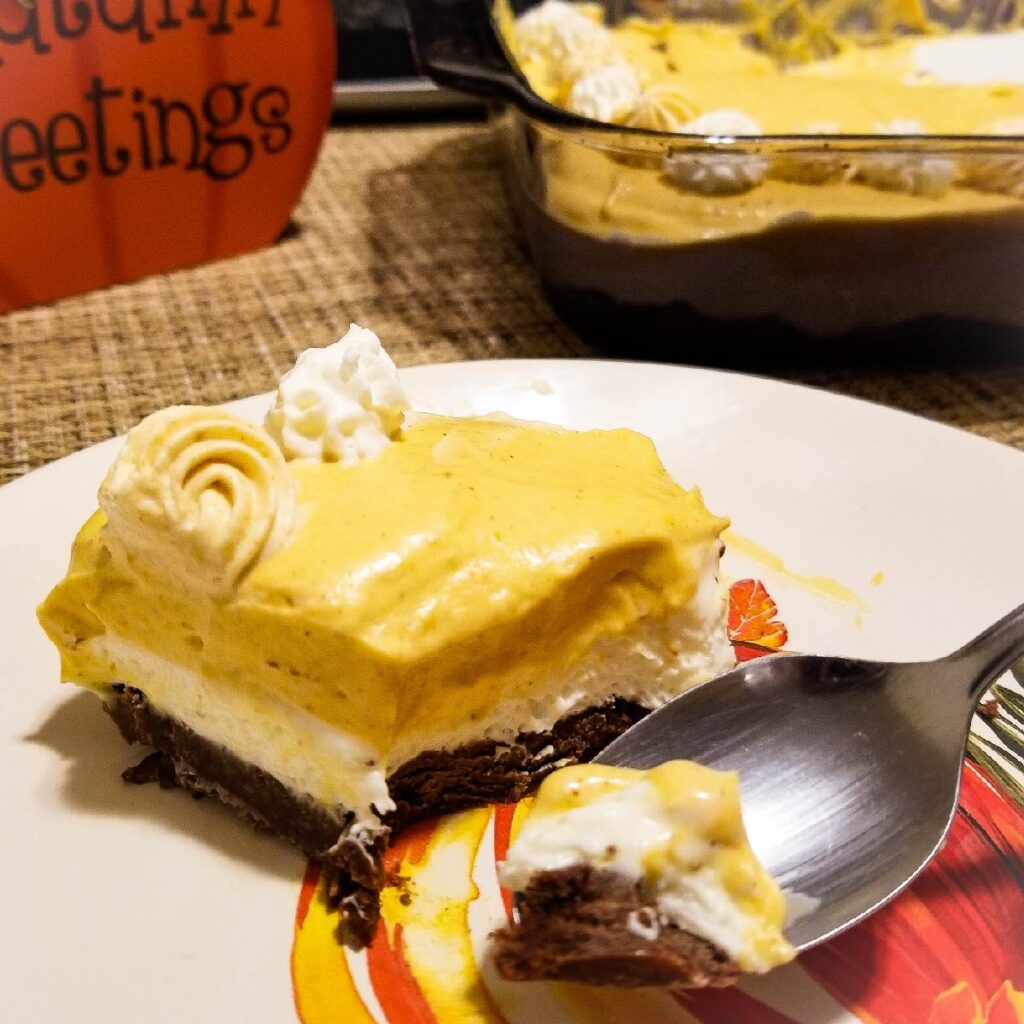 Baked cheesecakes are good also and I have a layered pumpkin cheesecake as well that is baked, but this is great for when you don't want the oven on or you just want a slightly easier dessert. As a heads up, the taste is a little different from when you bake one and it doesn't hold it's shape as well so it can be a little messy sometimes. But the flavor is amazing so it's ok to be a little less then perfect, right?
Of course it is 🙂 Ready? Let's make some amazing fall dessert! You can make this is a 8x8 pyrex dish or a 9 inch pie dish.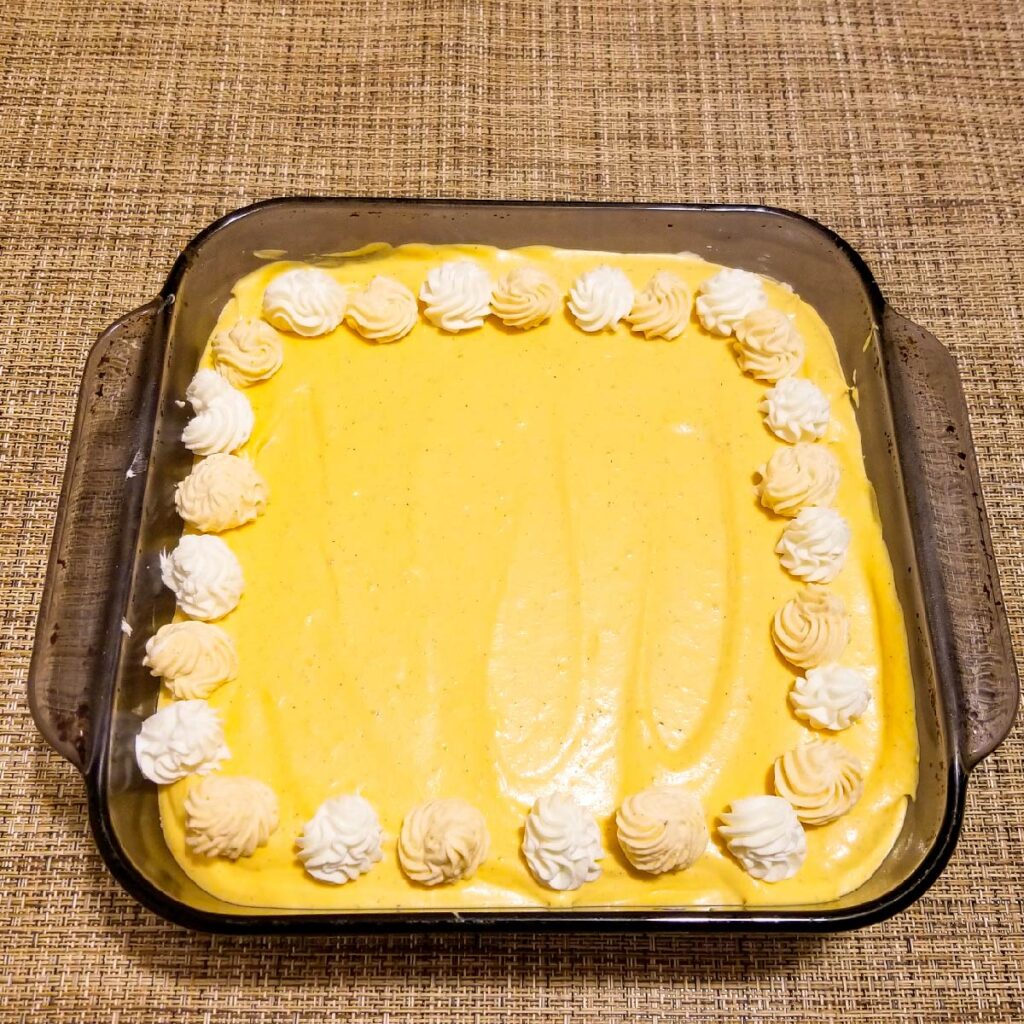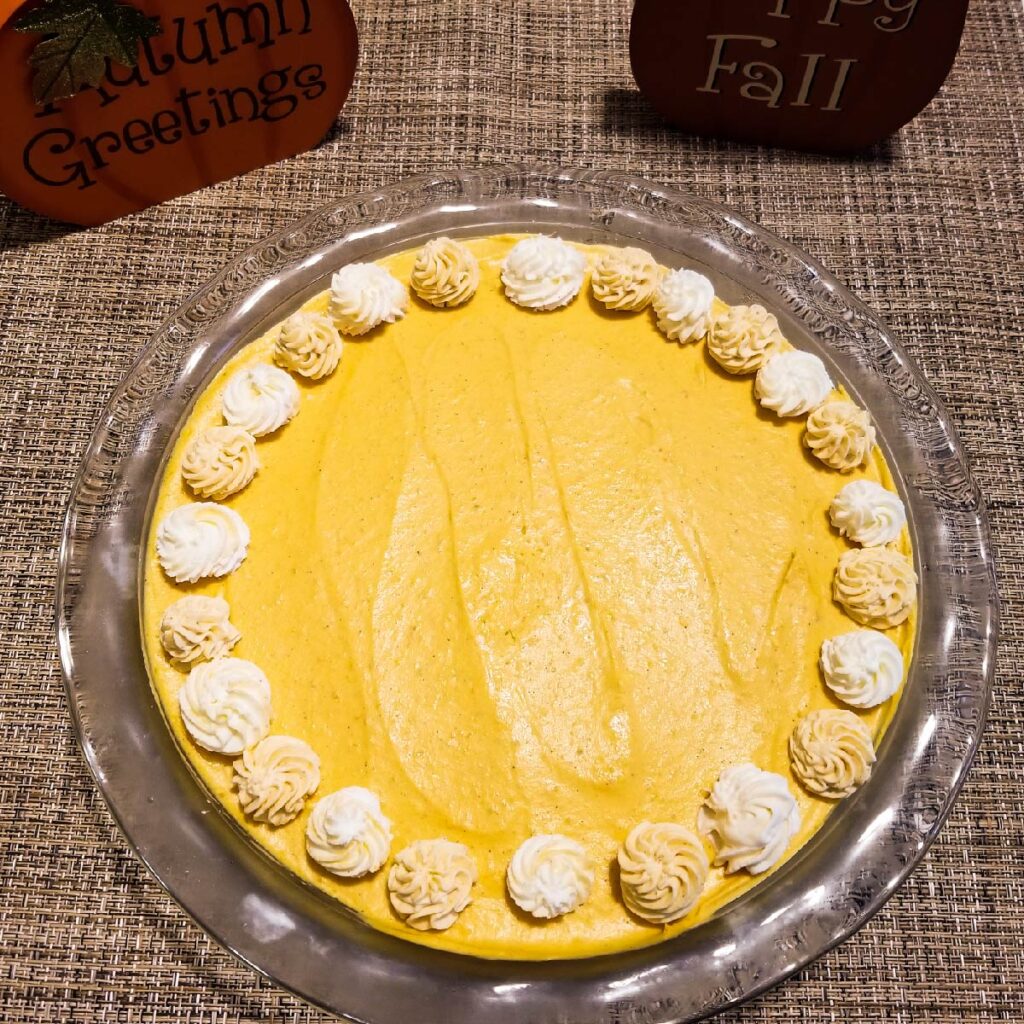 Making the No Bake Pumpkin Cheesecake
It is rather easy to make. The hardest part is waiting for it to refrigerate. Yeah, it has to be in the fridge for at least 4 hours but overnight is best. Remember it will not hold it's shape like a baked cake will.
I use a stand mixer for this, it is the best kitchen gadget ever invented in my opinion. I also like to use my splash guard and pour the powdered sugar in but it isn't a big deal if you do not have one. They do come in handy tho for many recipes!
Making the Crust
This is where you have options. You can buy a crust, make a chocolate cookie crust, a brownie crust or even a traditional graham cracker crust. This is a preference you will decide. Some people do not like the chocolate with pumpkin.
To make a graham cracker crust you will use about 10 graham crackers crushed. You add 5 tablespoons melted butter and mix well. Press down firmly into the bottom of the dish. We usually add a little cinnamon depending on the graham crackers I buy.
To make a cookie crust you will use 26 sandwich cookies (like Oreo's) crushed in a food processor and add 5 tablespoons melted butter. Mix well. Pat it down in the dish you are making your cake in. You can bake the crust, but I never do when I make it.
You may already have your favorite crust and that is great too!
Making the filling
If making homemade whipped cream - first I like to put the mixer bowl and whisk attachment in the fridge for about a half hour or in the freezer for about 10-15 minutes. Makes a better whipped cream. When ready add in the whipping cream, sugar and vanilla to the mixing bowl. Set the stand mixer to 8 for about 2 minutes but keep a close eye on it. When stiff peaks just start to form, turn it off at once. Transfer whipped cream into a bowl. You can also use Cool Whip if preferred.
Now add the softened whipped cream, softened butter, vanilla and lemon juice in the mixer bowl. Using the paddle attachment set the speed to 2 and stir until incorporated. Too high of a setting here will make a mess. We won't talk about how I know!
Here is where the splash guard comes in handy (but not required.) Keep the setting on 2 and add the powdered sugar in a half cup at a time. Once it is mostly incorporated, turn up to 8 and let it mix for 3 minutes.
Take half of the mix out and place in a bowl. Gently fold in 1/4 cup of the whipped cream. Layer this over the crust.
Add the pumpkin pie spice and pumpkin to the remaining mix that is still in the mixer bowl. We use fresh pumpkin - this explains how to easily make it if you have an Instant Pot. Set the mixer onto 6 and let it mix for 2 minutes. Add this layer to the top of the dessert.
Place in fridge uncovered for about 30 minutes to an hour. Then add a piece of plastic wrap or foil to cover and allow to refrigerate for at least 4 hours but overnight is better. Reason for starting out uncovered is because you may end up with condensation if you cover right away due to the temp difference.
We use some of the whipped cream to decorate this no bake pumpkin cheesecake and we also use the remaining amount for people to add some on their plates. We use this one and the pumpkin whipped cream. You can use one or the other if you don't want to use both.
Recipe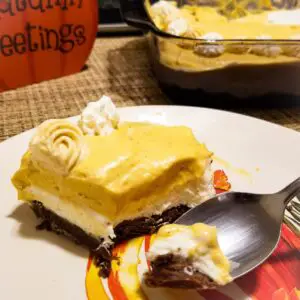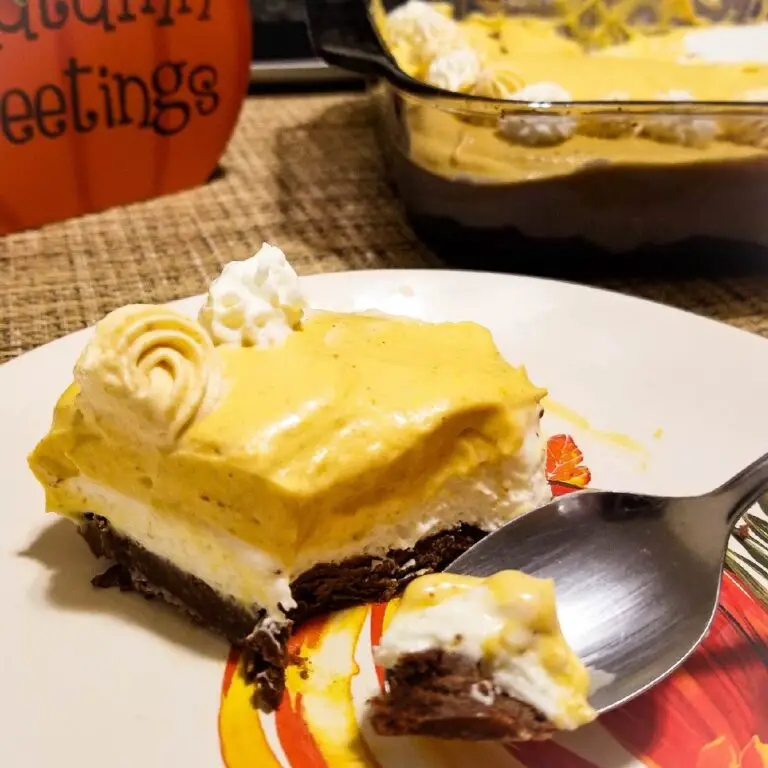 No Bake Pumpkin Cheesecake
This no bake pumpkin cheesecake is a great way to celebrate the start of fall. It is too hot to have the oven on still but yet a pumpkin dessert would be great - here it is!
Ingredients  
16

oz

cream cheese

softened

3

tbsp

butter

softened

1

tsp

lemon juice

fresh or bottled ok

2

cups

powdered sugar

½

tsp

vanilla extract

¾

cup

pumpkin puree

½

tsp

pumpkin pie spice

2

cups

whipped topping

see instructions if making homemade
If using cookie crust
26

sandwich cookies

oreos or similar

5

tbsp

butter

melted
Instructions 
Cookie Crust
Take the cookies and smash them good in a food processor.

Add in 5 tablespoons melted butter and mix well.

Place into the dish you are using for your dessert and push them down firmly- either 9 inch pie dish or 8x8 dish is best.
If Making Homemade Whipped Cream
Make sure that your mixer bowl and wire whisk attachment sit in the fridge for 30 minutes or in the freezer for 10-15 minutes.

Add in 1 cup of whipping cream/heavy cream, 2 tablespoons sugar and ½ teaspoon vanilla extract - separate from the amount listed above.

Beat on 8 for about 2 minutes until stiff peaks just start to form. Transfer to another bowl and set aside.
Making the cake
Add cream cheese, vanilla extract, lemon juice and butter to the mixer bowl.

Using the paddle attachment, put on stir until mostly incorporated.

Add the powdered sugar ½ cup at a time and keep on stir until it is mixed most of the way.

Turn mixer to 8 for 3 minutes.

Separate half of the mixture into a bowl and keep half in the mixer bowl. In the half you removed, gently fold in ¼ cup whipped cream. Add this layer on top of the crust.

Add the pumpkin pie spice and pumpkin puree to the mixer bowl with the remaining cream cheese mix. Turn onto 6 and mix for 2 minutes.

Spread this on the top of the last layer.

Refrigerate for about 30 minutes uncovered, then cover with foil or plastic wrap. Refrigerate for at least 4 hours but overnight is better.

Decorate with some of the remaining whipped cream and save some for the table so people can add their own.
Notes
This is best if refrigerated overnight.  It is a no bake so it won't hold it's shape as well as the baked cheesecake, especially if eaten too soon.
We also like to use our pumpkin whipped cream to serve with this. 
Nutrition
Calories:
646
kcal
Carbohydrates:
66
g
Protein:
6
g
Fat:
41
g
Saturated Fat:
23
g
Cholesterol:
93
mg
Sodium:
478
mg
Potassium:
228
mg
Fiber:
2
g
Sugar:
52
g
Vitamin A:
4705
IU
Vitamin C:
1
mg
Calcium:
87
mg
Iron:
4
mg