Caramelized onions are always good on burgers, but these are caramelized with Jack Daniel's and some spices making them the best topping for burgers! They are easy to make and the flavor is amazing.
Onions are good on many things but I prefer mine cooked when adding to sandwiches. These are made a bit different as we add in seasonings and extra ingredients to make them the ultimate topper for burgers and even chicken sandwiches!
What is the difference between caramelized onions and these onions?
There really is only a couple differences, the flavors from the extra ingredients and the texture of the onions after cooking.
Caramelized onions are typically cooked with just a fat like oil and/or butter. Some people use both oil and butter, some people use just oil. There are not many things added and quite often people make them with just onions and a fat with no spices. They are usually tender but not mushy.
These have a variety of flavors added like Jack Daniel's, garlic and more. They add an incredible flavor to any burger or sandwich, but are not the best for making onion dips like regular caramelized onions. These onions are a bit more soft as you cook them down in the liquids. This makes it more like a thick sauce.
Both are delicious, but you will love next time you make burgers!
How to make the onions with Jack Daniel's
This is very easy but will take you about 40 minutes to make, onions are best if they are cooked for a longer time here. I prefer to use my trusty cast iron pan for this, but you can use your favorite pan. We use the 10 inch one for these onions.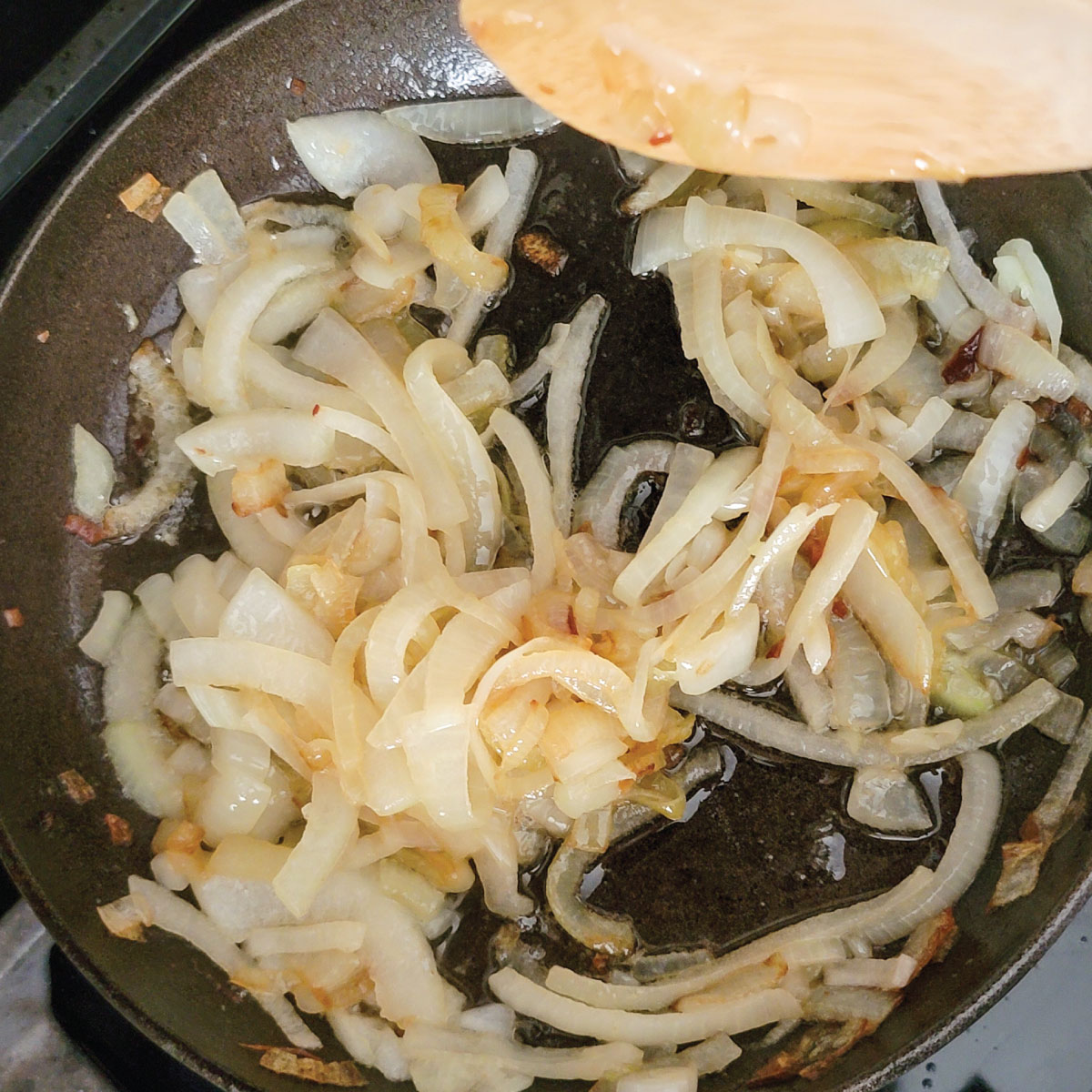 First you sauté the onions in the butter and oil for about 15-20 minutes before adding anything else. This is important for the onions need more time to start to brown then the garlic.
Once they start to brown a bit you will add the garlic and salt.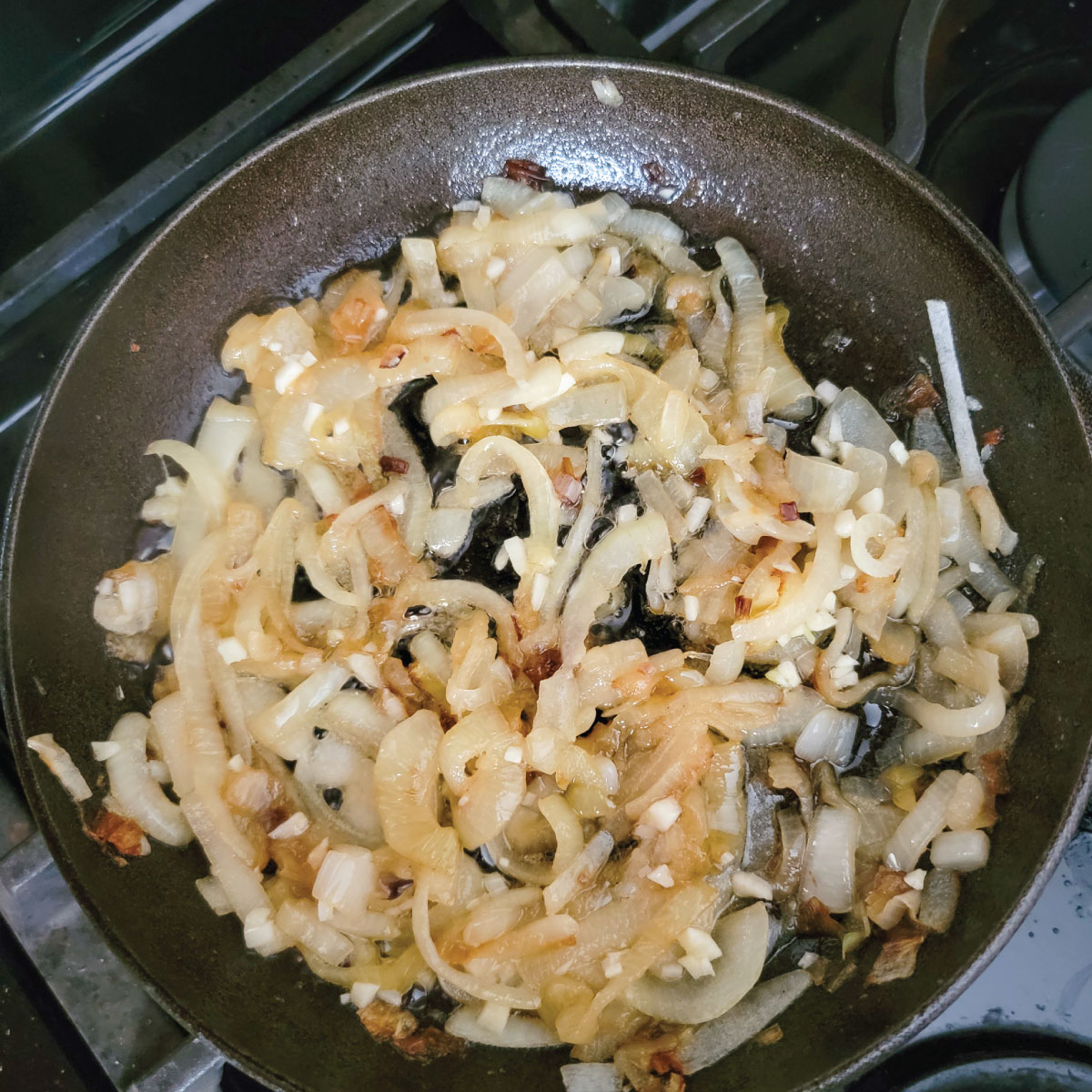 Garlic will brown fast when being sautéed no matter what fat you use which is why you start the onions first.
After adding the garlic, you will cook for about 2 minutes to just get the garlic to start to brown. Too brown and it will change the flavor to more of a toasted garlic.
The pan will be hot so when you add in the Jack Daniel's you will want to be very careful! As a heads up, the smell of the alcohol will be strong when you first add it so do not stand over and take a deep breath in. It is not dangerous, just a strong aroma. It goes away very quickly.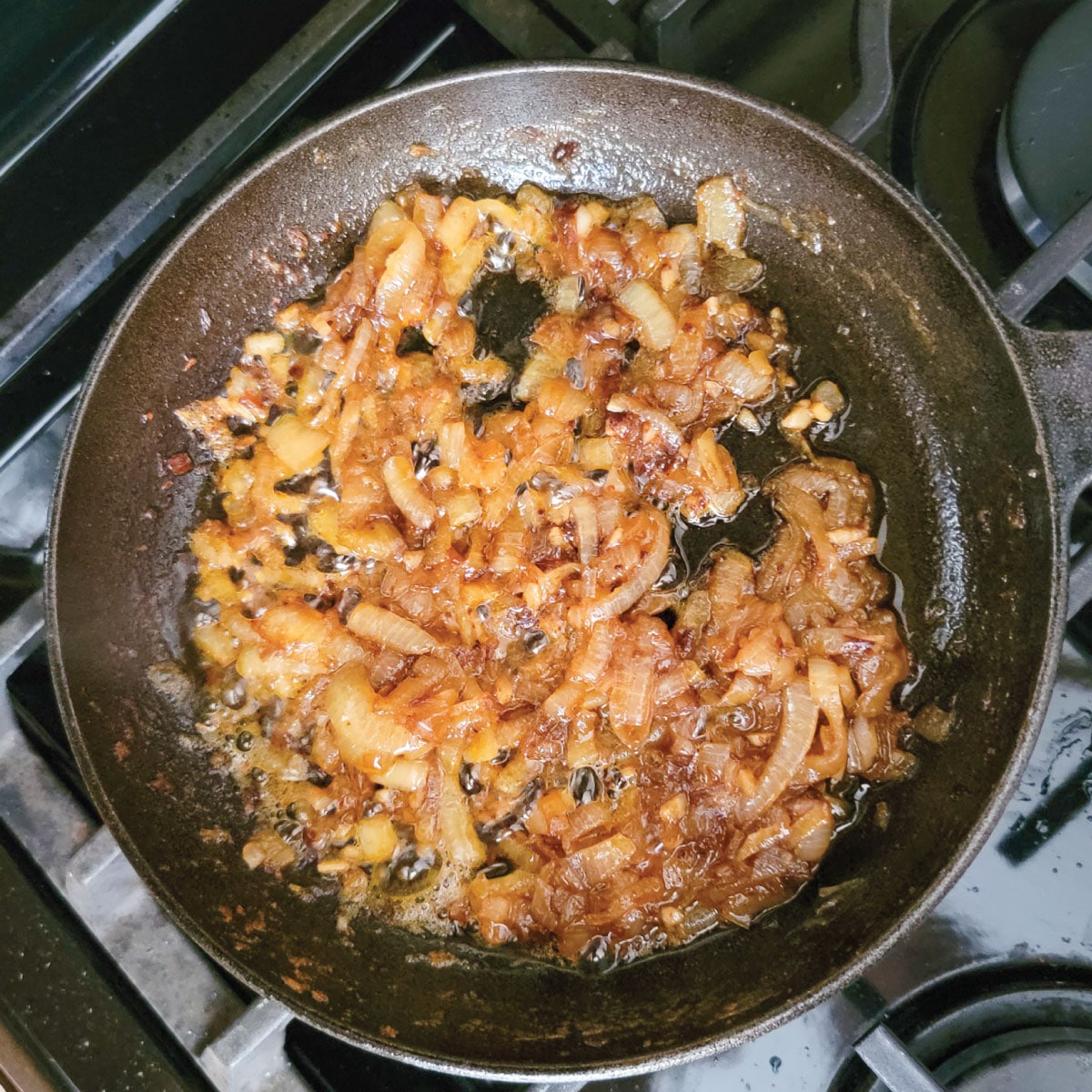 You will want to cook now for about 10 minutes to cook down the alcohol, stirring often. It will start to thicken a little from the sugars.
While that is cooking you mix the honey, soy sauce, paprika, cayenne pepper and Worcestershire sauce in a prep bowl.
After about 10 minutes of cooking with the Jack Daniel's, stir in the honey mix and cook stirring often for about 5-10 minutes until it starts to thicken and is desired consistency.
Frequently asked questions
Do I have to add Jack Daniel's?
No you do not have to, but it does add a great flavor if you will be putting these onions on top of a burger or chicken sandwich. If you choose to skip the Jack Daniel's, cook the onions for an extra 10 minutes before adding garlic. Follow the rest of the directions from there.
Will I get drunk eating these onions?
No you will not get drunk as long as you cook them for the 10 minutes after adding the alcohol, you will be cooking the alcohol out. If you do not cook them for 10 minutes after adding the Jack Daniel's, there is the possibility of feeling the effects of the alcohol.
Will my onions be crispy?
No these are a softer cooked onion to compliment a burger or a sandwich. They will not turn out crispy.
Recipe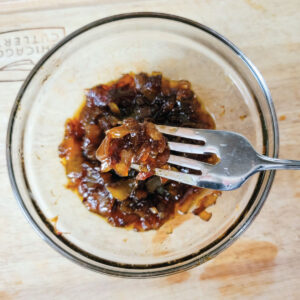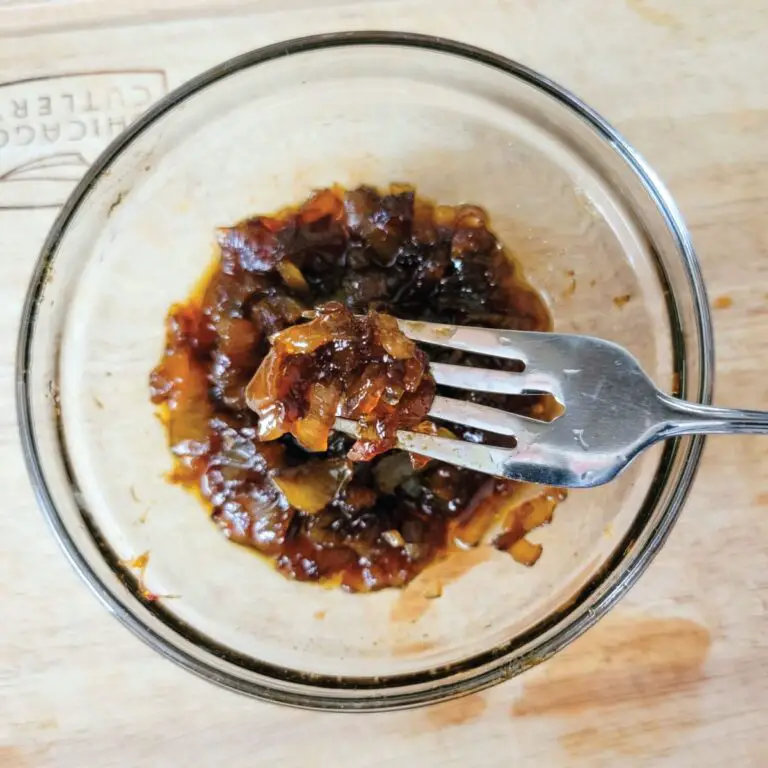 Onions Caramelized with Jack Daniel's
These onions are the ultimate topping for your next burger or sandwich! They have an amazing flavor and are easy to make.
Ingredients  
2

onions

yellow or white recommended

1

tablespoon

butter

1

tablespoon

olive oil

2

cloves garlic

chopped

¼

teaspoon

salt

¼

cup

Jack Daniel's

1

tablespoon

honey

1

teaspoon

soy sauce

1

teaspoon

Worcestershire sauce

¼

teaspoon

smoked paprika

2

dashes

cayenne pepper

can add more for spice
Instructions 
Cut onion in half and then slice into slices about ¼ inch thick.

Add the butter, oil and onions to a frying pan. Cook over medium low heat stirring often for 15-20 minutes. They will be starting to brown.

Add in salt and garlic, cook for about 2 minutes stirring often until the garlic is just starting to brown

Carefully pour in the Jack Daniel's - it will be hot and sizzle. Cook for 10 minutes stirring often.

In a small prep bowl mix together the honey, soy sauce, Worcestershire sauce, paprika and cayenne pepper.

Add into the frying pan and cook stirring often for another 5-10 minutes until it starts to thicken and reaches desired consistency.
Notes
Nutritional values are estimated and so are serving sizes.  It does not make a big amount as the onions cook down.  We use this as a burger topping so our serving sizes are not very big here.
I recommend using a cast iron pan for this, but your favorite will work as well.
You can refrigerate leftovers for 3 days, but it is recommended to use them right away for best flavor and texture.
Nutrition
Calories:
113
kcal
Carbohydrates:
11
g
Protein:
1
g
Fat:
7
g
Saturated Fat:
2
g
Polyunsaturated Fat:
1
g
Monounsaturated Fat:
3
g
Trans Fat:
1
g
Cholesterol:
8
mg
Sodium:
272
mg
Potassium:
137
mg
Fiber:
1
g
Sugar:
7
g
Vitamin A:
360
IU
Vitamin C:
5
mg
Calcium:
21
mg
Iron:
1
mg