Leftover turkey casserole is one of the easiest ways to use your Thanksgiving leftovers! It has layers of stuffing, mashed potatoes, turkey and vegetables along with gravy.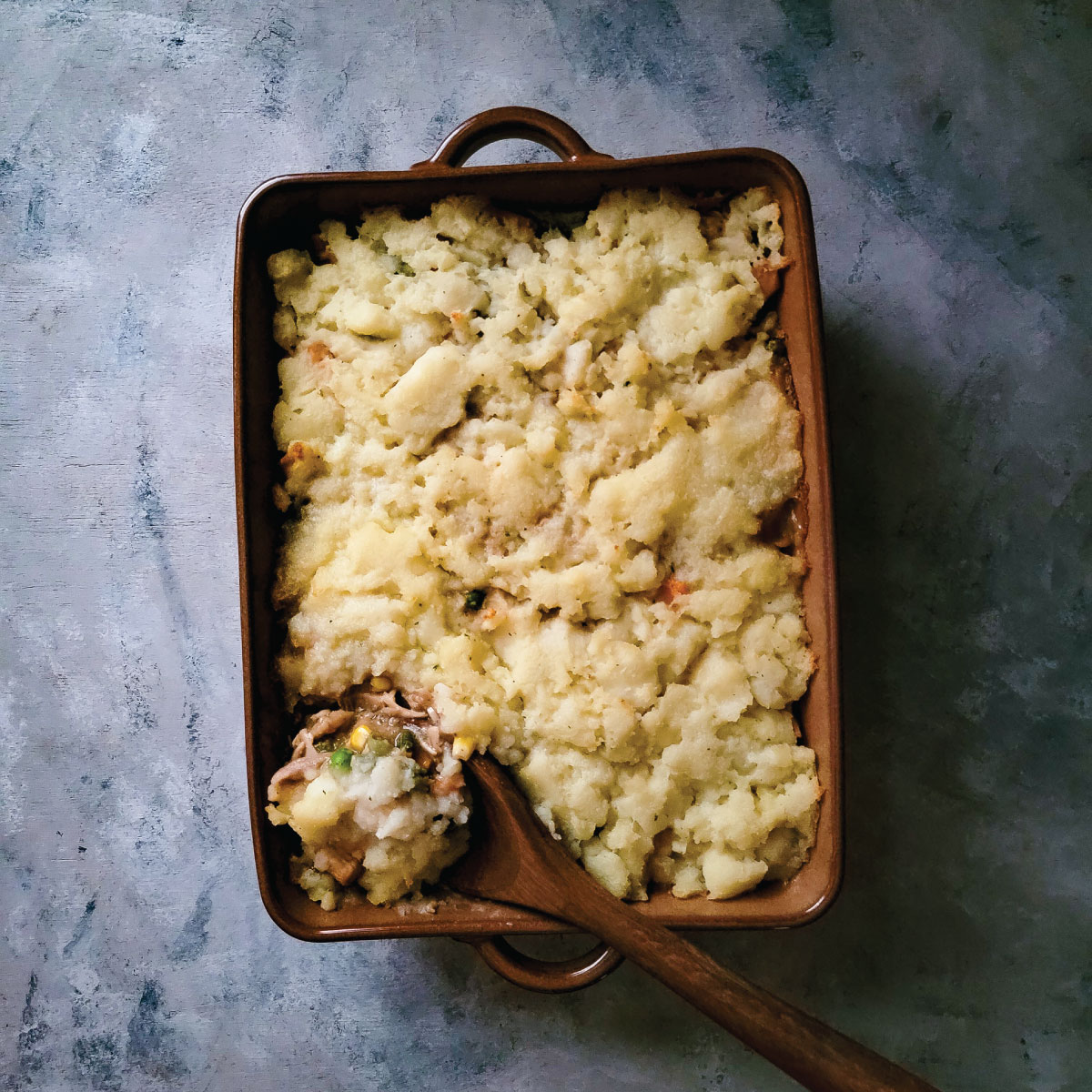 I always cook a large turkey every year. It gives us enough for a few meals and we also boil down the bones for a good broth too!
One of my favorite leftover turkey recipes is this turkey casserole. It is an easy way to use up your Thanksgiving leftovers including the stuffing and mashed potatoes.
I first made this when I worked in retail. In retail you have to work Black Friday - there is no exception to this. Many times I worked Thanksgiving too so I would be exhausted.
This casserole became our go to for dinner because everything was pretty much prepared for me to throw into a casserole dish and bake. I didn't have time to roll out pie dough so I used the stuffing as a bottom "crust" and the mashed potatoes as a top.
Jump to:
Ingredients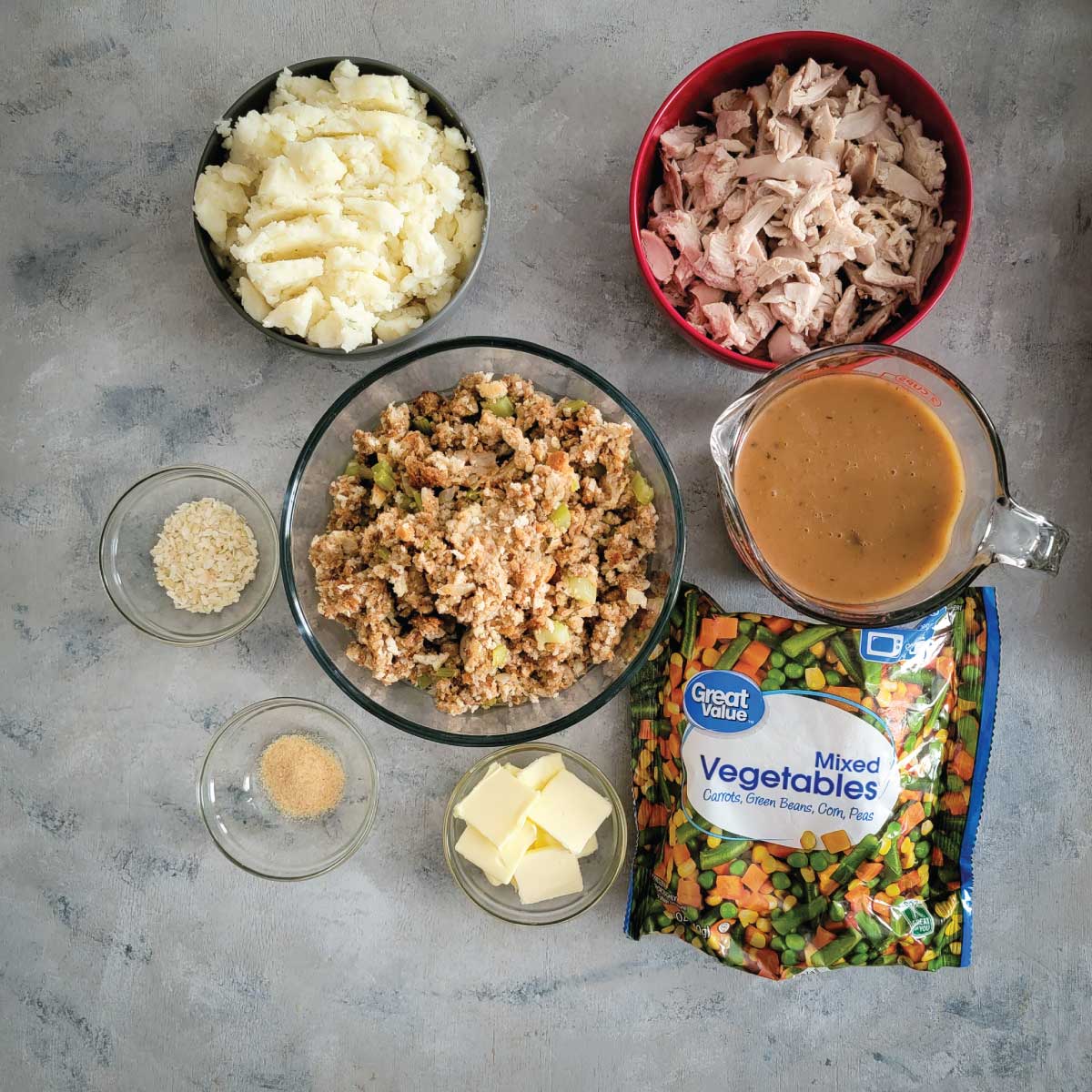 Turkey - Leftover from your turkey.
Mashed potatoes - Any leftover mashed potatoes you have. We make a lot so we always have extra for this casserole. You can use instant or homemade mashed potatoes, they both work!
Dried minced onion - You can use chopped fresh onion in it's place, but this casserole was designed for minimal prep so we use dried minced onion.
Garlic powder - The powder is best here.
Butter - We use salted butter for flavor, but you can use a butter alternative.
Vegetables - You can use any vegetables that you like or leftovers. We use a bag of frozen mixed vegetables because we don't always have enough veggies leftover.
Gravy - We use the leftover gravy, I make a lot so there is always plenty. If you do not have enough leftover you can make more or even use jarred gravy to make prep easier.
Stuffing - I always make a lot of stuffing because we love to use it in leftover turkey casserole! We make homemade stuffing, but you can use boxed if you prefer.
Making the Leftover Turkey Casserole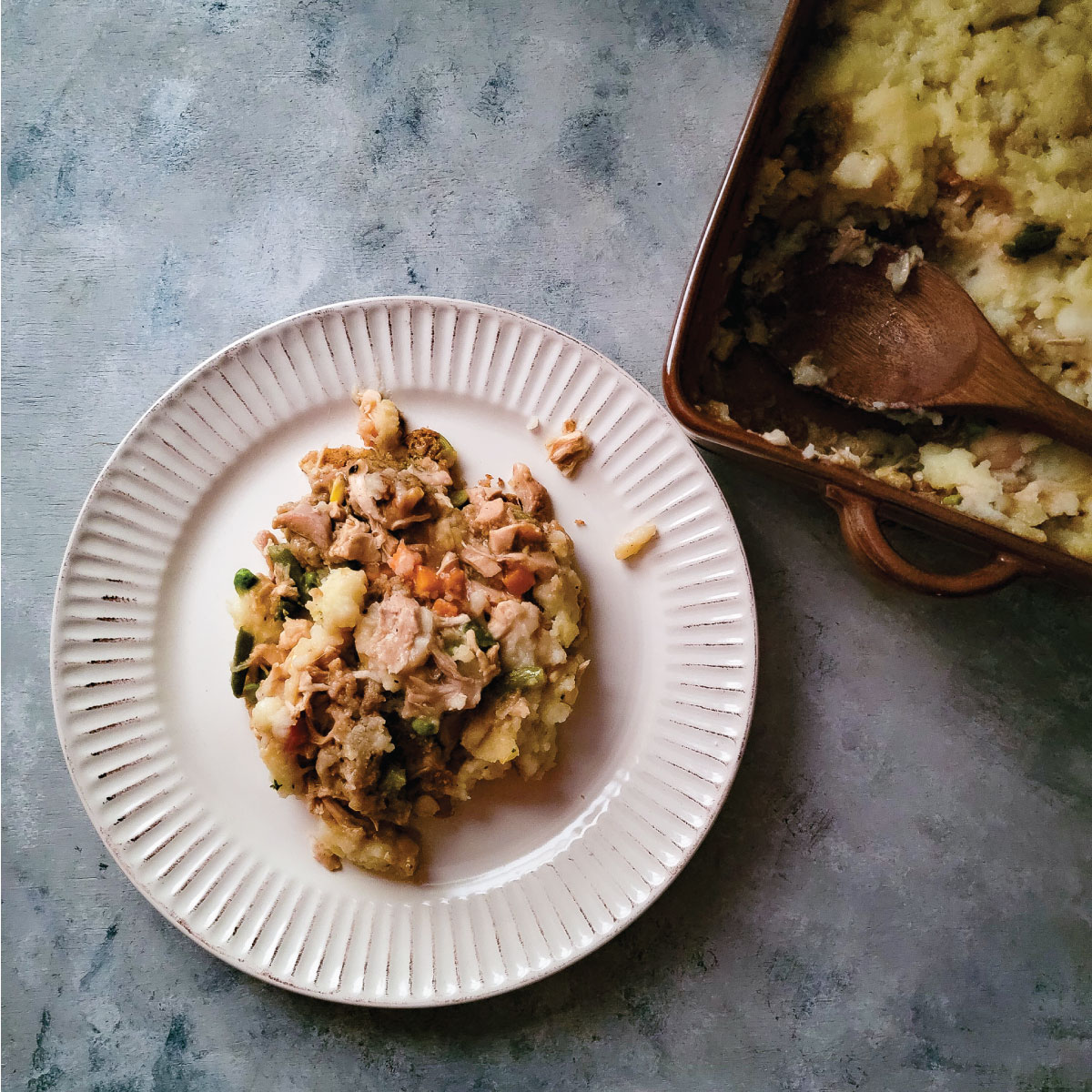 This is one of the easiest things you can throw together, you will see why it's one of my favorite leftover turkey recipes!
Lightly grease the bottom of a dish. I use a 2.5-3 quart casserole dish for this. If you have less mashed potatoes and stuffing left then the recipe calls for, you can also do this in a 9.5 inch pie dish.
The turkey mix
The turkey gets mixed in with gravy and vegetables. You will want to heat them together before adding to the leftover turkey casserole. If using frozen vegetables, heat them for about 2 minutes on medium with a 2-3 tablespoons water just to take the chill off them.
Add in the gravy, minced onion, garlic and turkey. Heat until it is warmed through.
Layer
You are going to make this in layers. The stuffing is almost like a crust for the casserole.
Add the stuffing to the bottom of the casserole dish. I like to pack it down slightly to make it more like a crust.
Pour the turkey and gravy mix on top of the stuffing. Try to spread it across evenly.
Top with the mashed potatoes. Try to spread them out evenly, but it doesn't have to be perfect. Scatter a few thin slices of butter on top of the mashed potatoes and it's ready to bake!
Baking
Bake in the oven at 375 degrees Fahrenheit for about 40 minutes. You want the gravy to be bubbly and starting to show a little on the sides through the potatoes. The butter on top to be melted through the potatoes.
Remove from the oven and serve!
Frequently asked questions
How long with the leftover turkey casserole last?
This depends on how old the leftovers you used are. If you made this casserole with 1 day old leftovers, it should last 3-4 days in the fridge. If the leftovers are 3 days old, I would save the casserole leftovers for more then a day.
What if I don't have quite enough stuffing or mashed potatoes leftover?
If you have about 1 cup of each less, you can make this in a 9.5 inch pie dish. You can still use the same amount of turkey/gravy mix or you can use less as well if needed.
Can I use instant mashed potatoes and boxed stuffing?
Sure! You can use your favorite potatoes, stuffing and gravy. No changes needed to the recipe. If you are using instant mashed potatoes, be sure they are a thicker consistency. You can also used jarred gravy if you choose.
Can I make this casserole with chicken?
Yes you can make it the same way with chicken. You can use leftover chicken or cooked cut up chicken.
Recipe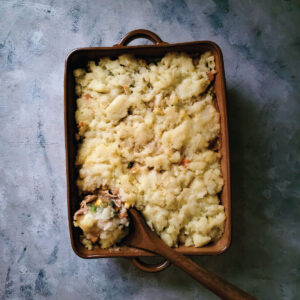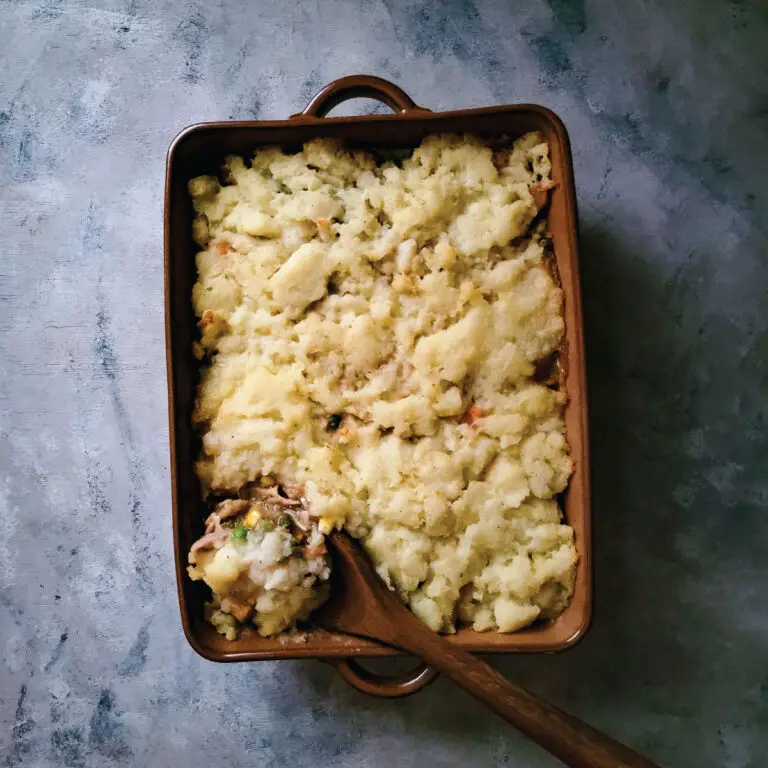 Easy Leftover Turkey Casserole
This leftover turkey casserole is one of the easiest ways to use up your Thanksgiving leftovers! It combines stuffing, mashed potatoes, turkey, gravy and vegetables in this easy family meal.
Equipment
2.5 quart casserole dish

or 3 quart casserole dish
Ingredients  
4

cups

stuffing

about, see notes

3

cups

turkey

cooked

2

cups

gravy

3

cups

mashed potatoes

12

ounces

mixed vegetables

see notes

1

Tablespoon

minced onion

dried

½

teaspoon

garlic powder

3

Tablespoons

butter

sliced thin
Instructions 
Preheat oven to 375° Fahrenheit.

In a medium saucepan combine vegetables, gravy, turkey, minced onion and garlic powder. Heat over medium heat until it is heated through.

Lightly pack down the stuffing into the casserole dish.

Pour the turkey/gravy mixture over the stuffing in the dish.

Carefully spread the mashed potatoes over the top. Put the butter slices on the top of the potatoes.

Bake for about 40 minutes - until it is heated through. Gravy will be a little bubbly and the butter on top will be melted.

Remove from oven and serve.
Notes
Nutrition values and serving sizes are estimated.  Everybody makes stuffing, mashed potatoes and gravy a little different so the values will differ depending on how the ingredients were prepared.
We use a bag of frozen mixed vegetables here as we do not often have enough leftover vegetables.  You can use your favorite vegetables, but we think mixed mixed is best.
The amounts can be changed if you have slightly more or less leftovers you can adjust to the amount you have.  
We use homemade stuffing, mashed potatoes and gravy but you can use store bought boxed/jarred ingredients too.
Salt may or may not be needed depending on how you much salt you put in the food that is used in the casserole.
Nutrition
Calories:
500
kcal
Carbohydrates:
58
g
Protein:
20
g
Fat:
22
g
Saturated Fat:
7
g
Cholesterol:
57
mg
Sodium:
1152
mg
Potassium:
563
mg
Fiber:
8
g
Sugar:
5
g
Vitamin A:
3499
IU
Vitamin C:
23
mg
Calcium:
72
mg
Iron:
3
mg
Leftover turkey casserole with stuffing has a step by step slide.