This roasted sweet dumpling squash recipe is one we make every year because it is easy and always delicious! It's the perfect treat in fall and winter. If you have never had this before, it is similar to a butternut or acorn squash but a little sweeter and very flavorful.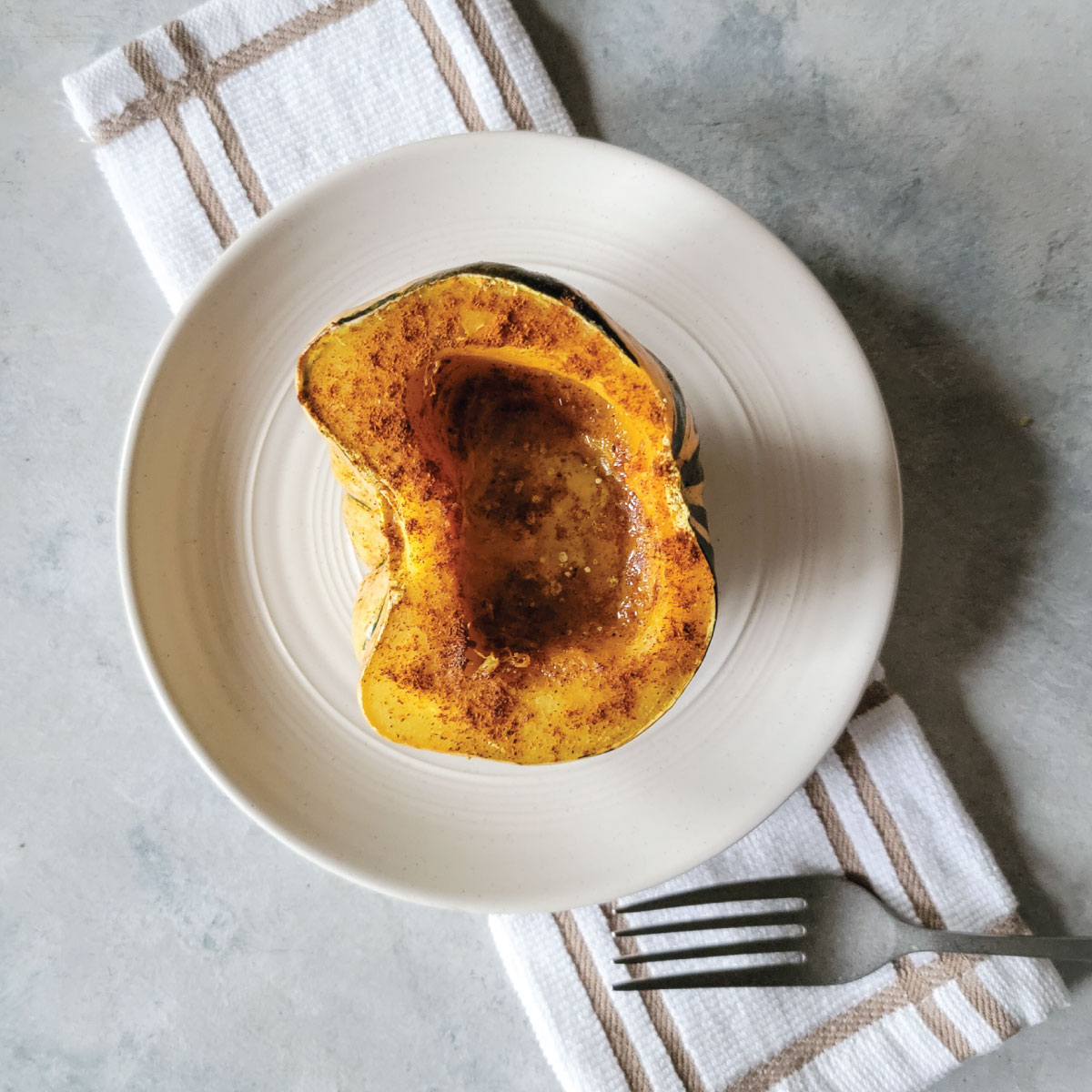 In the fall we love to eat squash and this was one that I was a bit unsure of the first time I saw it, but I am so glad we tried it! We make it every year now.
Sweet dumpling squash was an odd name to me and the shape to it made me think of it as a fall decoration. Then I talked with a local farmer and found out that it isn't just a decoration but it is edible. It's been a favorite here every year since we first tried it!
We love to roast it, but if you are looking to make it a puree to add to other recipes you can also cook squash in the Instant Pot! We have added it to soups before as well, but roasting it as a side dish is our favorite way to eat it.
Jump to:
Ingredients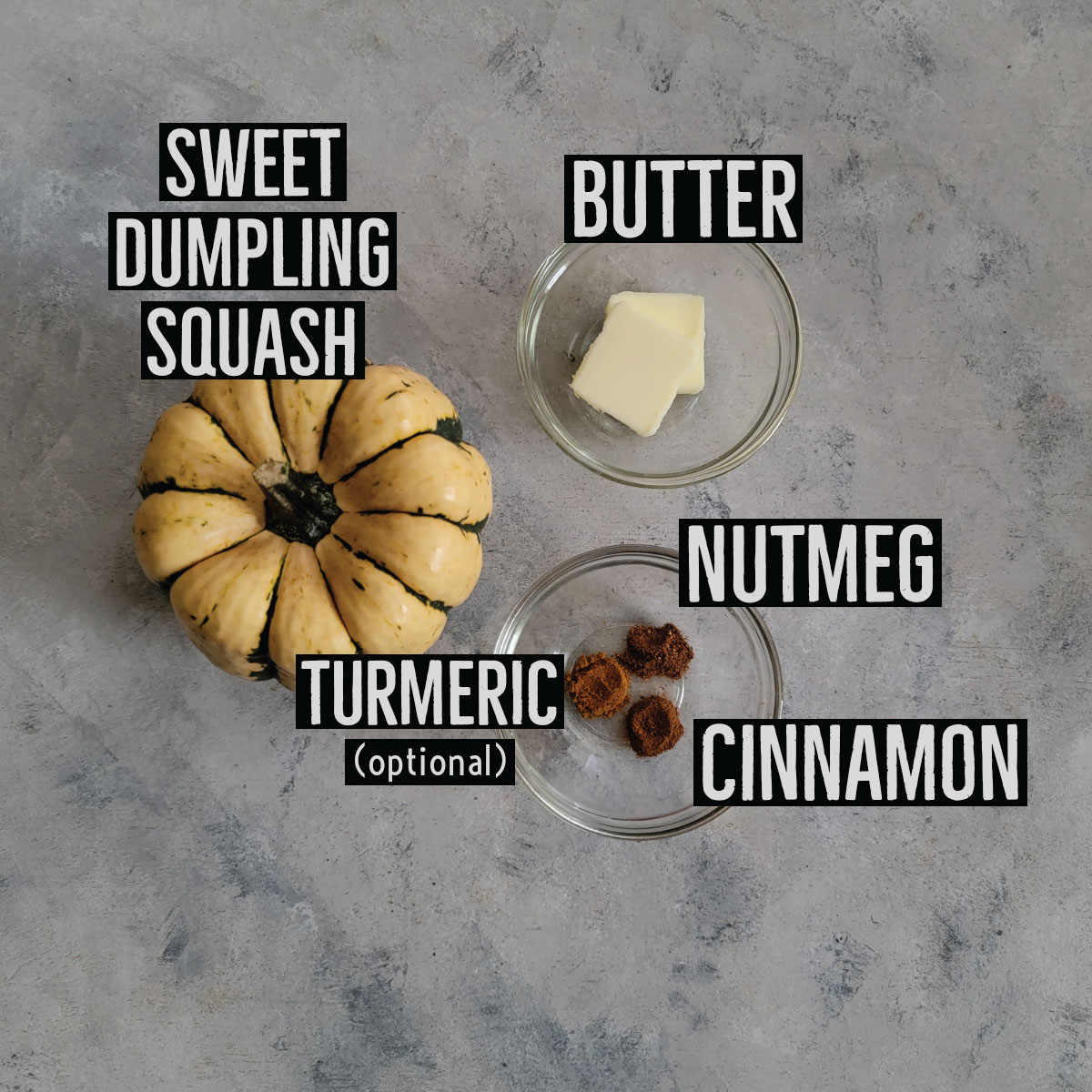 Sweet dumpling squash - Most of the ones we find are around 1 pound so any one you buy will be ok. They do not come in a variety of sizes.
Butter - Salted butter is best here to give it a hint of salt. If using unsalted, I recommend adding a couple dashes of salt.
Nutmeg - Nutmeg goes well on many different squashes and fall treats. If you do not have nutmeg, you can use pumpkin pie spice in place of the nutmeg and cinnamon.
Cinnamon - Can substitute pie spice in place of this and nutmeg.
Turmeric - This is optional. We enjoy it with turmeric, but it does have an acquired taste - some people love turmeric and some people do not.
How to cut a sweet dumpling squash
Like many other squash, sweet dumpling squash can be hard to cut. I put together a collage for you to hopefully help you cut it easier and safer!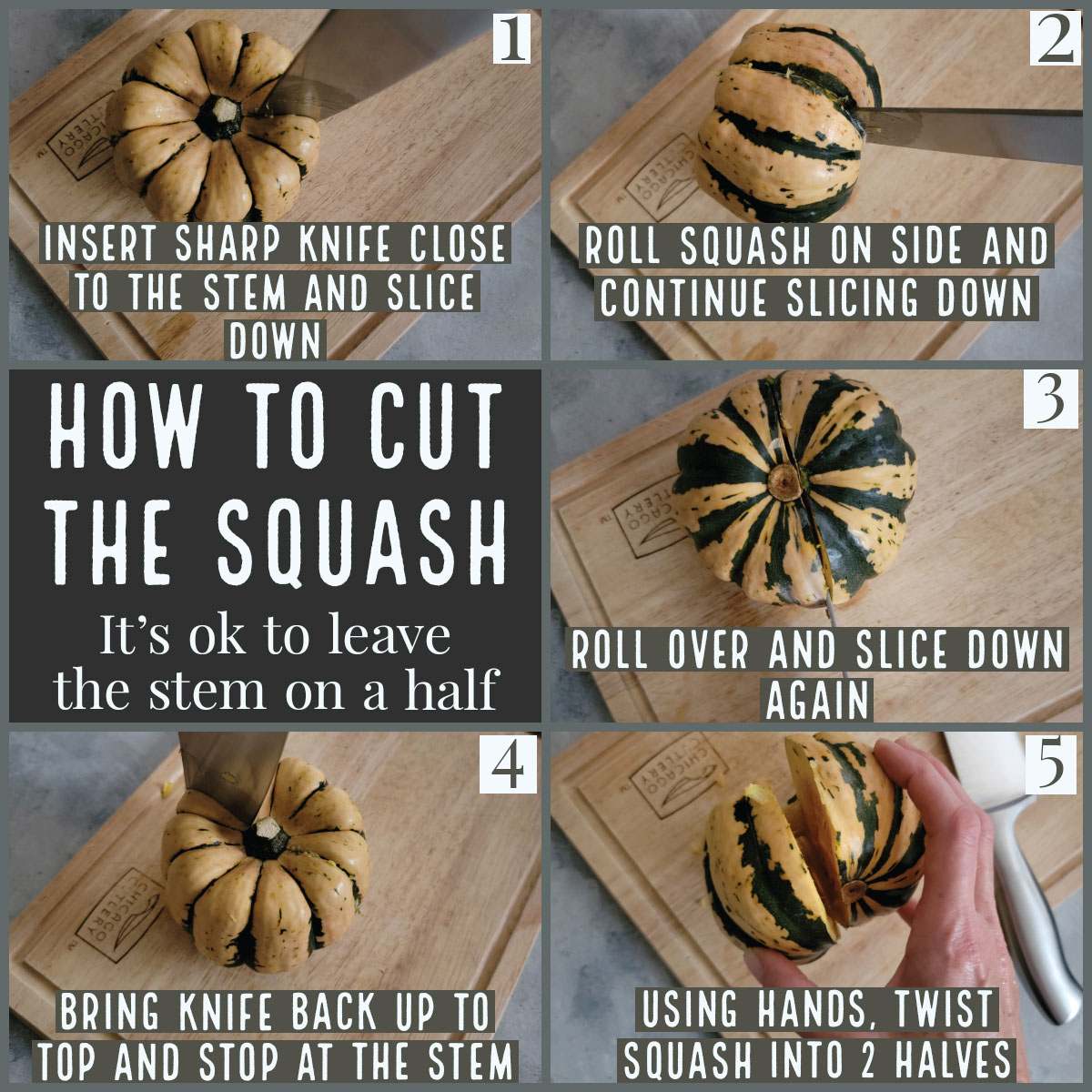 Each time you are cutting here, you are going about halfway through the sweet dumpling squash. It makes it a lot easier then trying to cut through the whole thing at once! Remember there are seeds and a softer part where the seeds are inside so cutting halfway through each step will work out perfectly.
Step 1 - Place the squash upright on a cutting board. Insert a sharp knife close to the stem and cut down. Try to keep the knife in the squash but if it needs to come out, just follow the cut for the remaining steps.
Step 2 - Roll the squash on the side and continue slicing down. Slice again in a downward motion.
Step 3 - Roll over and slice down again. Roll it so it is now upside down and continue your cut at least half way through the squash.
Step 4 - Bring the knife back up to the top of the squash and stop at the stem. The stem is very hard to cut and there is no need to try it!
Step 5 - Using your hands, twist the squash into 2 halves. Twist the 2 pieces in opposite directions until you have both halves completely apart. One half will keep the stem and it's ok. You can leave the stem on it, it will not hurt anything and it is hard to remove.
Usually when you buy a sweet dumpling squash, the stem is only about 1-3 inches long. If it is longer then that, you can try to cut it down a bit with scissors before cutting the squash.
Tips for making the roast dumpling squash recipe
This is very simple to make once you get beyond the cutting it in half. There are just a few tips that I want to share to help you when making this sweet dumpling squash recipe.
Once you have your squash cut in half, remove all the seeds. I don't eat seeds from any squash personally, but they are edible if you choose to set them aside to roast them.
Poke holes in both halves of the squash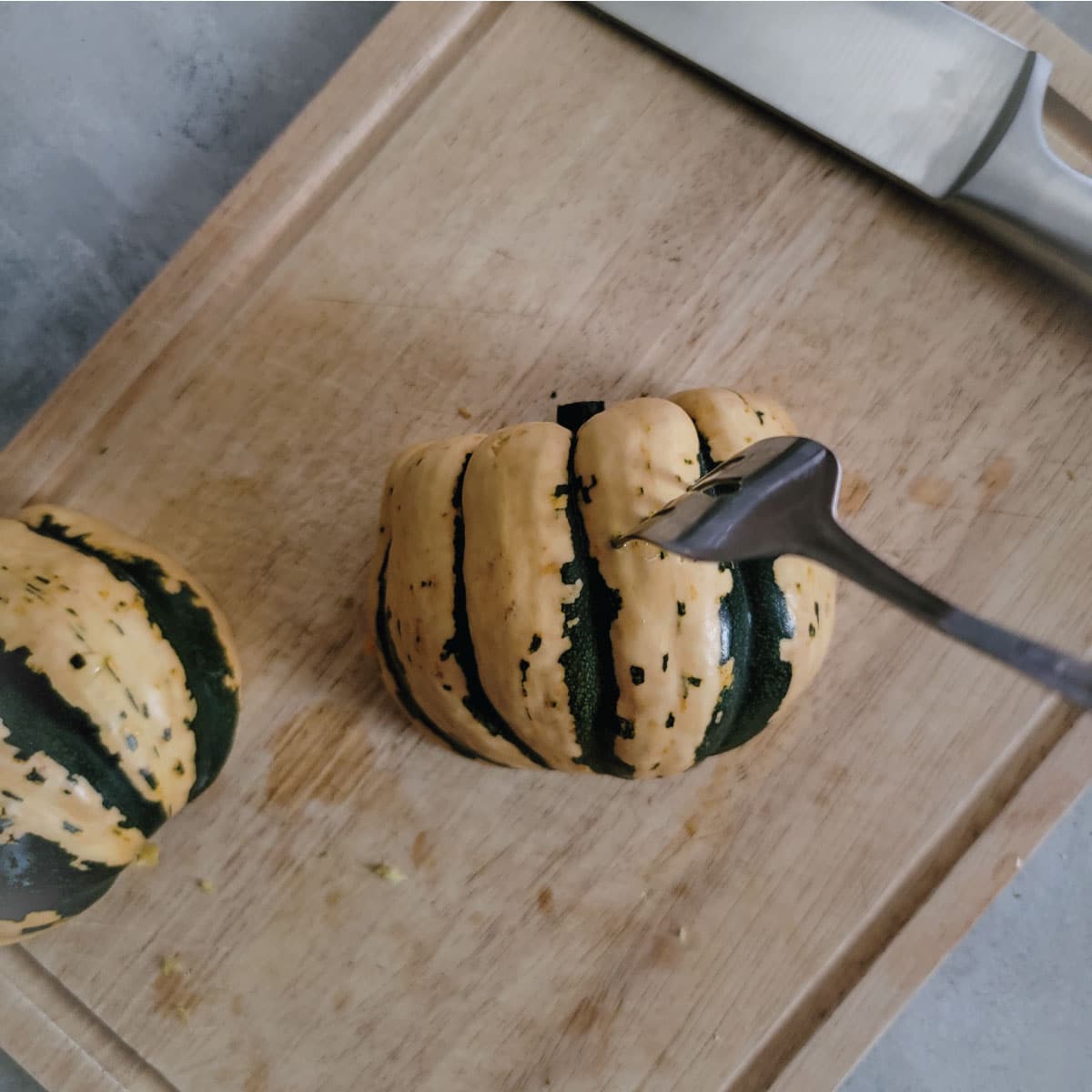 This is an important step for your squash to cook properly! The skin stays hard on the sweet dumpling squash and with holes in the skin, it is able to absorb some of the moisture from the water in the dish.
Using a fork, poke holes in the skin side of each half. You want to poke it 4-5 times and try to push the fork in at least one eighth of an inch. Just so the water can get through the skin. The skin isn't thick, but it won't soften when cooking.
Don't forget the water and place the squash halves skin side down into the dish.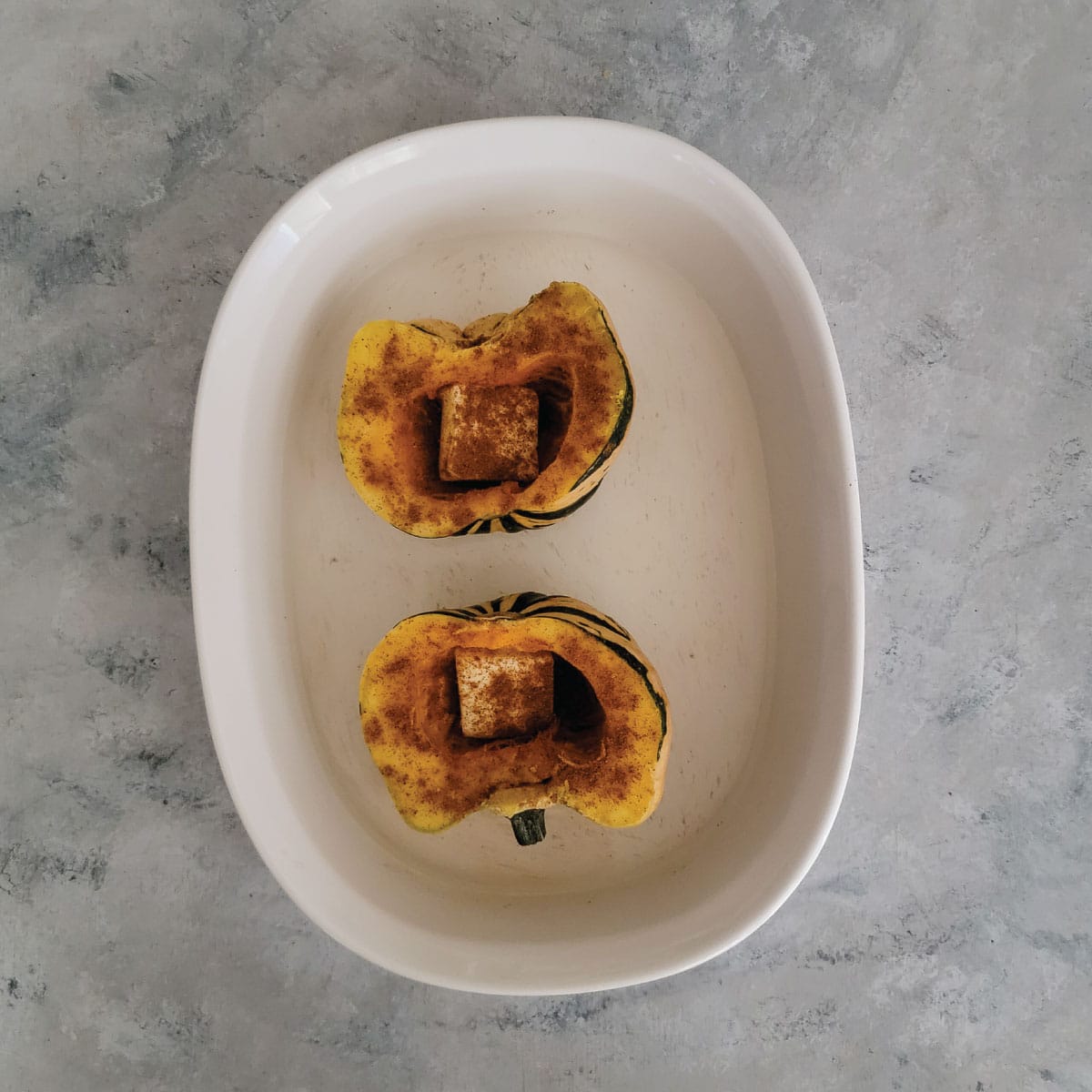 Do not forget the water is a very important tip! Sweet dumpling squash will cook best if you place enough water to have about an inch of water in the bottom of the pan.
It will take a lot longer to cook and will not cook evenly without the water. It might also dry out without adding water.
Placing it skin side down is just as important so you can cook it with the butter and seasonings in it.
Cover with foil
It needs to be covered with foil for the first 20 minutes. You can keep the foil on if you choose instead of taking it off for the last 10 minutes, but it needs to be on at least 20 minutes. It will not cook properly in the amount of time if it is not covered.
When checking if it is done
The skin will not soften. You need to check the flesh to see if it is fork tender, not the skin. You can cook it to your desired level of tenderness, it doesn't have to be puree to be enjoyed.
The melted butter
We like to pour the butter into a bowl and cut the halves in half again to serve. We then serve the roasted sweet dumpling squash with the butter in a bowl on the side so it can be added if you want it.
Frequently asked questions
Can I leave my squash on the counter or do I have to cook it right away?
Most squash can stay on the counter for days and quite often a couple weeks depending on how fresh it was when you bought it (if you picked it, even better!)

You do not have to cook it right away.
Can I cut the squash and prep it ahead of time?
You can cut the squash in half and place in the fridge to make in a day or 2. Be sure to cover it with plastic wrap so it doesn't dry out! Do not put the spices or butter on it until ready to roast.
Why is my sweet dumpling squash taking so long to cook?
We are at a low altitude here so times may vary slightly and also how thick the squash is. If it is taking a bit too long there are a couple possible reasons:
1. The oven temperature is not accurate. Even our newer oven is off sometimes with temperature. I find it's best to use an oven thermometer to test the temperature inside.
2. Did you forget to poke holes in the squash? If so, it will take longer to cook.
3. Did you forget to add water to the bottom? If so, it will take a lot longer. Do not add water to a hot glass dish as it can crack. Allow it to cool slightly and pour very hot water in it.
4. If you didn't cover it, it will take a long time as well. You can put the foil on as soon as you realize it.

Please note
This post was updated to include more tips and information, but the recipe you love has not been changed!
Recipe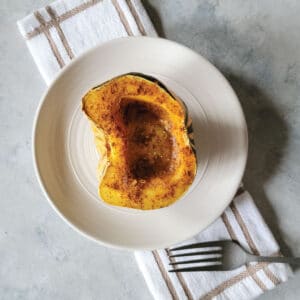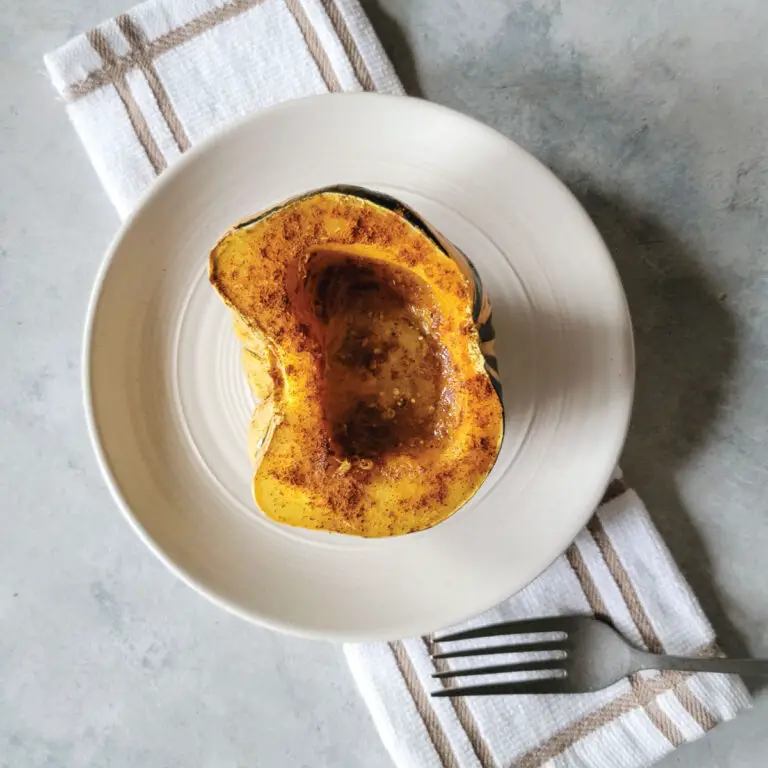 Roasted Sweet Dumpling Squash
Sweet dumpling squash is an amazing winter squash to have as a side dish with dinner. Sweet in flavor and healthy, it compliments most main dishes!
Ingredients  
1

sweet dumpling squash

whole - see notes

2

Tablespoon

butter

salted recommended

⅛

teaspoon

cinnamon

⅛

teaspoon

nutmeg

⅛

teaspoon

turmeric

ground - optional
Instructions 
Preheat oven to 400°F.

Clean the outside of the squash - I use a little vinegar and rinse with water.

Carefully cut the squash in half as best as you can. I added detailed steps above in the post for the best way to cut it.

Remove the seeds and poke a few holes in the skin with a fork.

Pour enough water in your baking dish so you have about 1 to 1½ inches of water on the bottom.

Place the squash halves skin side down into the dish and place a tablespoon of butter inside each one where the seeds were.

Sprinkle with the cinnamon, nutmeg and turmeric all over. The amount is estimated, sprinkle desired amount over the squash.

Cover and bake for 20 minutes. Remove foil/cover and bake until the flesh of the squash is fork tender (or desired level of tenderness), about 10-20 minutes longer.

You can eat it out of the skin or cut up to serve. Discard skin.
Notes
We use this as a vegetable side so it is 4 servings for us.  It will not be 4 servings if you are not serving it with foods.
We pour the melted butter from the squash into a small bowl.  Then we cut the halves in half again and serve with the butter in a bowl so we can add the butter on our squash as we want.
Turmeric does taste good on this but if you don't like turmeric, be creative and use your favorite spices. 
The skin does not soften when cooking so be sure to check the flesh to see if it is done, not through the skin.
Nutrition
Calories:
89
kcal
Carbohydrates:
10
g
Protein:
1
g
Fat:
6
g
Saturated Fat:
4
g
Cholesterol:
15
mg
Sodium:
55
mg
Potassium:
397
mg
Fiber:
2
g
Sugar:
3
g
Vitamin A:
1725
IU
Vitamin C:
14
mg
Calcium:
32
mg
Iron:
1
mg