Are you looking for an easy but delicious dinner that the whole family will love? Then look no further! This baked cheese ravioli is guaranteed to be a hit with everyone at your dinner table.
Not only does it require minimal ingredients, but it requires very little effort and uses frozen raviolis. A perfect solution for busy weeknight dinners or anytime you're in a pinch! With just five simple ingredients, this dish will have you coming back for more.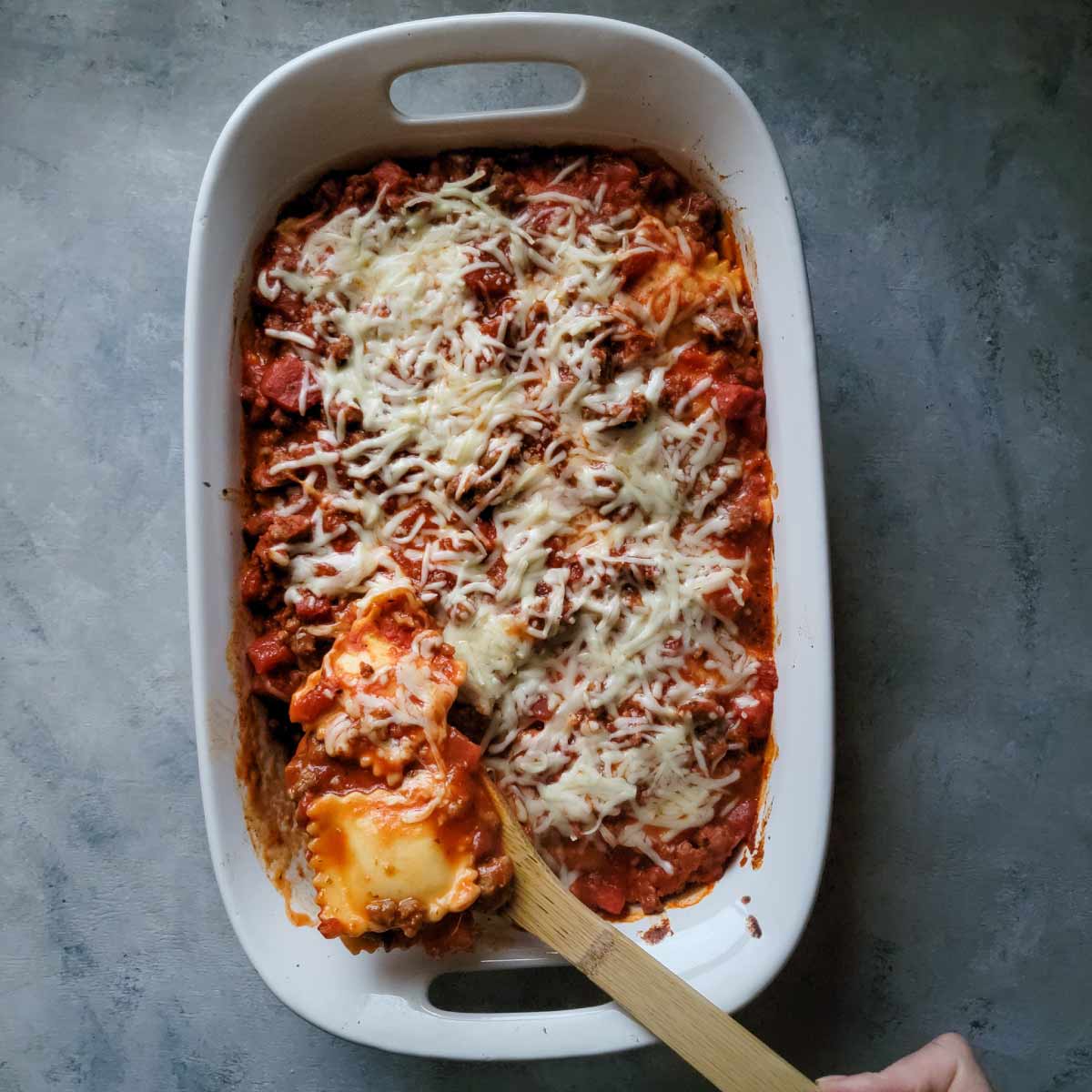 This is a super simple way to make a delicious meal your family will love. This baked cheese ravioli casserole (or you can use meat raviolis) is something I have been making for years. This and our easy taco pie are my go to when we want a simple and delicious comfort food.
It uses frozen raviolis and you put them into the casserole frozen. Yup, no boiling! This is a budget friendly meal and can be made cheaper if you leave the sausage out, but we recommend the ground sausage.
Jump to:
Baked Ravioli Ingredients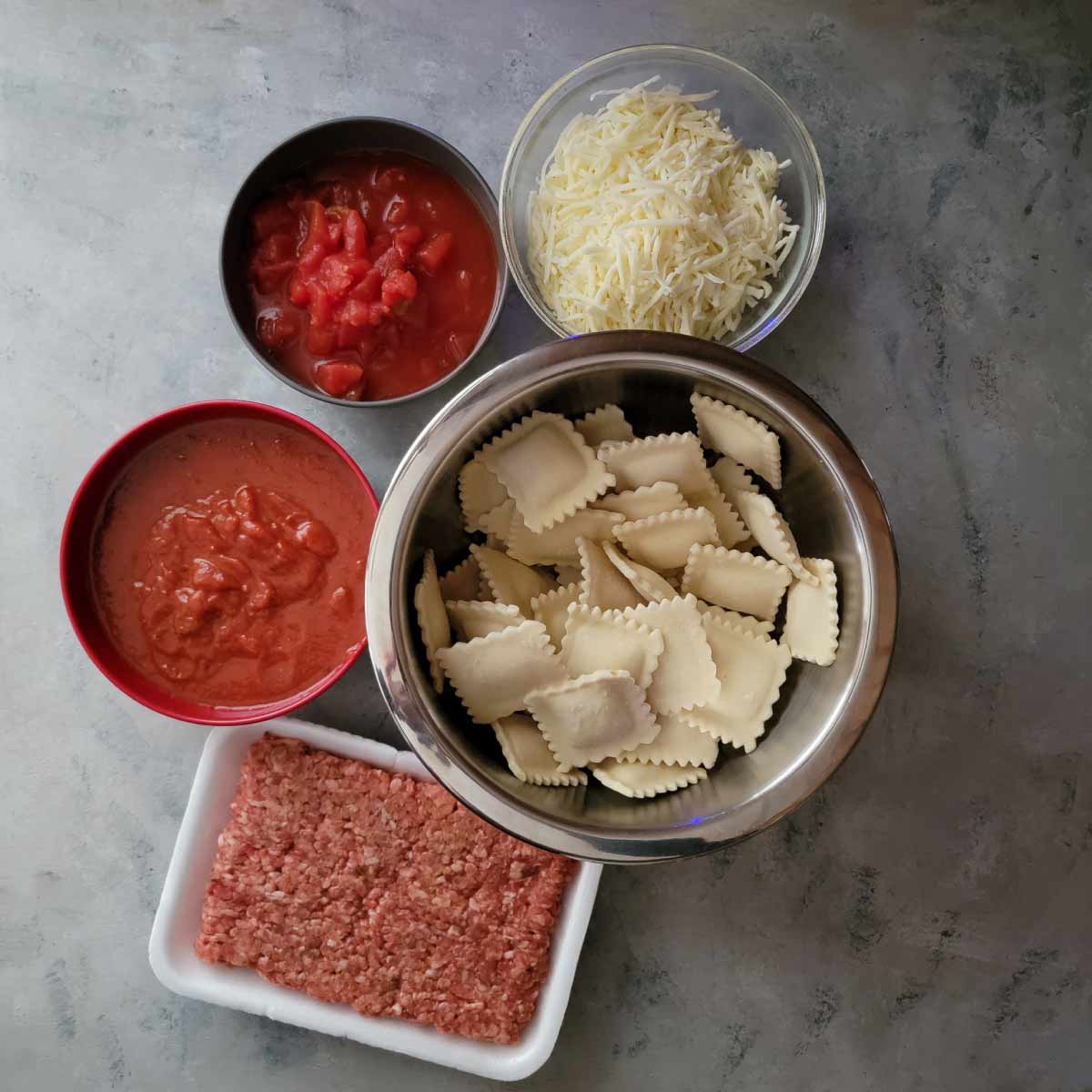 Sausage - Optional but we usually add it. We prefer ground sausage, but you can cook and cut up Italian sausage links as well. They are both good here!
Ravioli - Your favorite frozen ravioli. You can use cheese or meat, we prefer cheese and then add the sausage. We have NOT tried this with any raviolis other then frozen cheese or meat. Fresh raviolis will not work either.
Marinara or your favorite tomato sauce. You can use homemade in place of the jarred, you will need 24 ounces.
Diced tomatoes - Whether you use homemade sauce or jarred sauce, you will need a a can of diced tomatoes (whether home canned or store bought - 14.5 ounces.)
Shredded mozzarella cheese - bagged shredded cheese is what we use (we keep this one super simple) but you can certainly use fresh shredded. Fresh shredded will melt smoother.
You likely won't need any seasonings if you use a sauce you like in this baked cheese ravioli casserole. We do not add any to this dinner here, but you definitely can add what you like!
Making the Ravioli Casserole
It is one of the easiest meals you can make! But there are a couple of steps to making baked frozen ravioli.
First you want to cook and drain the sausage. It is important that you do cook the sausage first in order for this dish to cook evenly and safely.
After cooking the sausage you will add the diced tomatoes and marinara sauce to the pot with the sausage. I heat it just until it is hot. Remove from heat.
Grab a 13x9 inch baking dish and we are ready to assemble!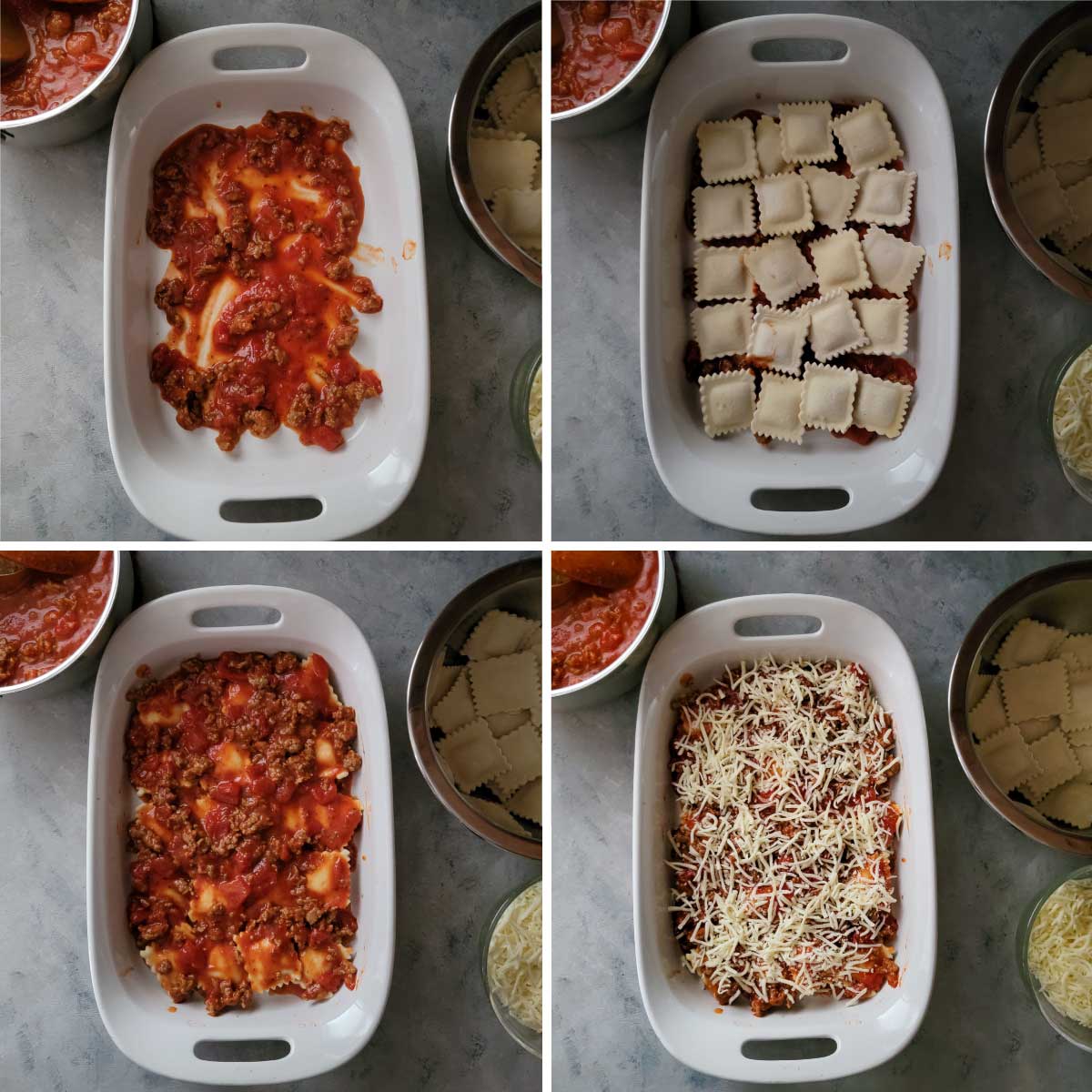 You are going to assemble this baked ravioli into 2 layers:
Add about 1 cup of the sauce mixture to the bottom of your casserole dish and spread it evenly across. As you can in the picture above, it will be a thin layer and that's ok.
Add about half of the frozen raviolis (half if an even number, 1 off if an odd number of raviolis.) Raviolis go in frozen, no thawing or boiling first.
Pour about 2 cups of the sauce over the raviolis.
Sprinkle about 1 cup of shredded cheese over the sauce - you can definitely use more if you love it cheesy! As much as we love cheese, we really only use 2 cups total (the raviolis are pretty cheesy.)
Repeat layers once.
Cover the dish and bake in an oven that is preheated to 350 degrees Fahrenheit for about 40-50 minutes. You want the temperature to be between 160 and 165 degrees Fahrenheit in the middle of the casserole. This is important! Not just for safety, but to ensure that your raviolis are baked nicely and not undercooked.
Allow to rest for about 10 minutes after cooking before serving.
Frequently Asked Questions
Why are my raviolis still kind of doughy?
If they are still kind of doughy, they are undercooked. They should be soft but not doughy. Be sure to cook to until the middle of the casserole is 160 to 165 degrees Fahrenheit.
Can I use fresh raviolis in this baked casserole?
No, I wouldn't use fresh. This recipe was written for frozen raviolis. The cook times and the sauce amounts are perfect for cooking the frozen ones.
How long does baked ravioli last?
It should last about 3-4 days in the fridge if stored properly.
Recipe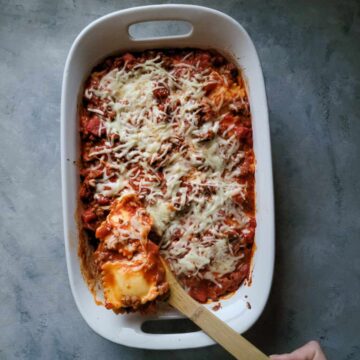 5 Ingredient Baked Cheese Ravioli
This baked cheese ravioli is really simple to make and the family will love it! It is made with 5 ingredients and is budget friendly.
Ingredients  
1

pound

ground sausage

25

ounces

frozen cheese ravioli

or meat

24

ounces

marinara sauce

14.5

ounces

diced tomatoes

2

cups

shredded mozzarella cheese

or more to taste
Instructions 
Preheat oven to 350° Fahrenheit.

Cook sausage in a sauce pot or 3 quart frying pan until no longer pink, drain.

Pour the marinara sauce and diced tomatoes in with the drained sausage, heat until it is hot.

Spread about 1 cup of the sauce/sausage mixture over the bottom of a 13x9 inch casserole dish.

Layer:

Arrange half of the raviolis over the sauce.

Spread about 2 cups sauce over the raviolis.

Sprinkle about 1 cup of cheese over the sauce.

Repeat the layers and cover with foil.

Bake at 350° Fahrenheit for 40-50 minutes. Check the temperature at 40 minutes. In the middle of the casserole it should be at least 160 degrees when ready.

Allow to rest about 10 minutes before serving. Enjoy!
Notes
Nutritional values and serving sizes are estimated.
Different packages of raviolis are different weights, try to get one close in weight.  Also we use medium  sized raviolis, if you use the small ones they may cook a little faster.  Check at the 30 minute mark for small raviolis.
Sausage is optional and if you choose to leave it out, you do not need to adjust other ingredients.
Cheese can be fresh shredded or bagged shredded cheese.  Fresh does melt better, but this baked ravioli is delicious with the bagged too.
Nutrition
Calories:
929
kcal
Carbohydrates:
70
g
Protein:
47
g
Fat:
51
g
Saturated Fat:
19
g
Polyunsaturated Fat:
4
g
Monounsaturated Fat:
14
g
Trans Fat:
0.2
g
Cholesterol:
177
mg
Sodium:
2386
mg
Potassium:
818
mg
Fiber:
7
g
Sugar:
10
g
Vitamin A:
1056
IU
Vitamin C:
18
mg
Calcium:
307
mg
Iron:
18
mg