These vegetable ranch cheeseballs are on of the easiest appetizer recipes you can make! We used crackers and bacon to coat them and they are made without nuts. They are perfect for any gathering.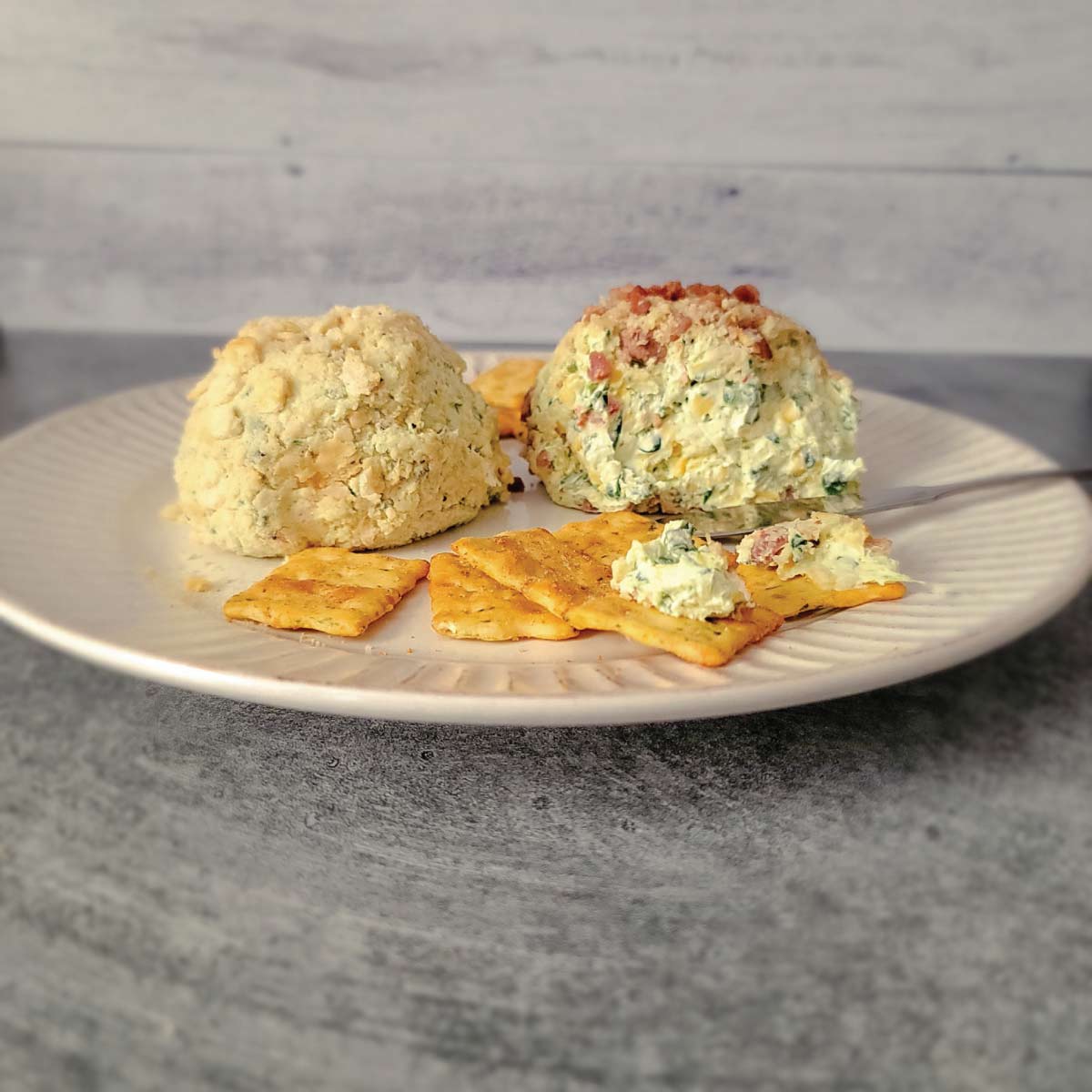 Cheeseballs are easy to make and the perfect appetizer to bring to a gathering. They look nice and taste even better then they look! We enjoy them as a snack often here.
We started making these at home when the kids had friends with nut allergies. Most recipes and even most of the ones you can buy are coated with nuts. We wanted to make them without nuts so they could eat them too and we like the taste better without the nuts.
We use Ritz crackers to coat ours, but you can use your favorite cracker. You can even coat them with nuts if you prefer, but we like them better without.
Jump to:
Ingredients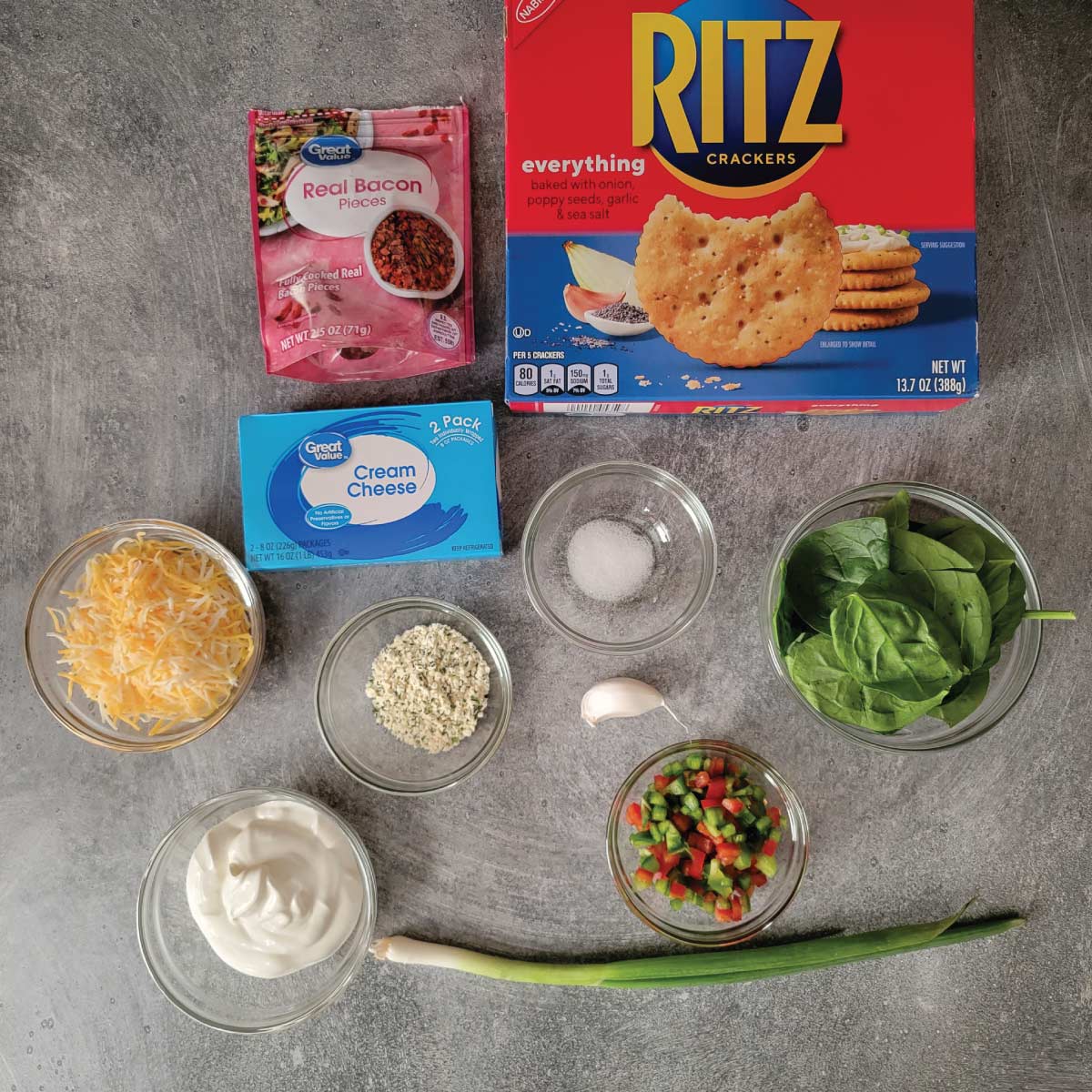 Crackers - Use your favorite, they are for coating. We like Ritz everything crackers on ours.
Bacon - Optional, we use in the coating. Quite often we coat one with and one without if going to a gathering. We use real bacon pieces (not imitation bacon bits.) You can use fresh cooked and crumbled bacon, but it doesn't take a lot of bacon so we don't cook it fresh for this.
Cream cheese - A block of cream cheese, do not use the whipped cream cheese.
Sour cream - We use full fat sour cream.
Cheese - We use the 4 cheese Mexican cheese, but you can use your favorite cheese. I recommend more of a cheddar mix then an Italian mix for these but Italian cheese will work too.
Ranch seasoning - We use homemade ranch seasoning here, but you can use store bought as well.
Salt - For added flavor, you can leave out if you prefer less salt.
Spinach - Fresh is best and we use baby spinach, but you can use regular spinach instead. I do not recommend frozen spinach as it adds too much moisture to the cheeseballs.
Bell peppers - We use red and green, but you can use your favorite peppers.
Garlic - I prefer the taste of the fresh garlic here, but you can definitely use garlic powder in it's place. You want to mince it very finely or you can even grate it to get it very fine. If using powder, use about 1 quarter teaspoon.
Scallion - 1 whole scallion chopped finely.
Making the cheeseballs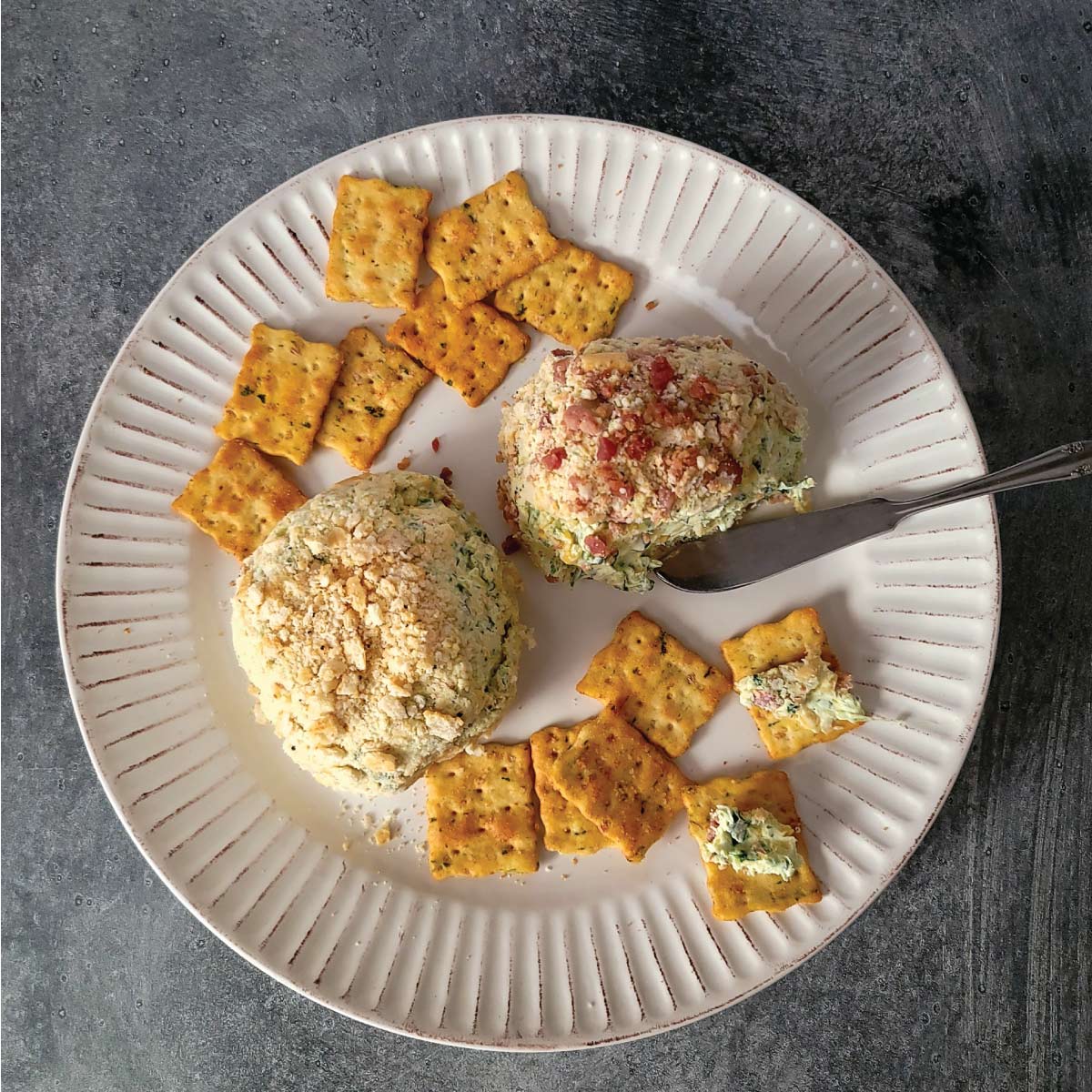 These vegetable ranch cheeseballs are really easy to make. It doesn't take a lot of time with the hands on, but should be refrigerated before coating.
The filling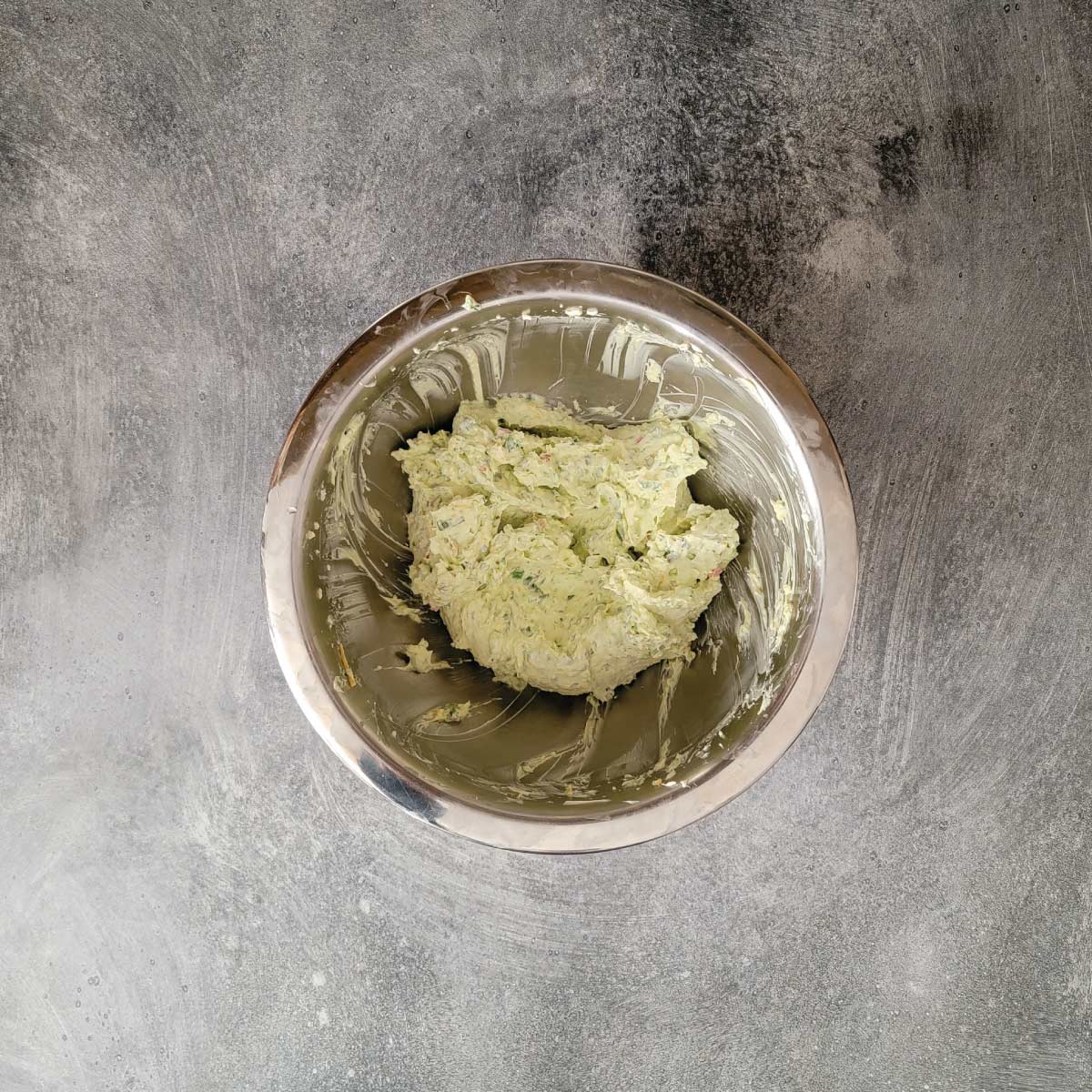 You will need either a hand mixer, stand mixer or even a food processor for the filling. I recommend a hand mixer here personally.
Try to chop your peppers and scallion small. I like to carefully smash the garlic clove before finely mincing it. Smashing is optional and please be careful if you are new to it. If you have never done it before and are interested, how to crush garlic will help you learn how to. The spinach leaves are going in whole.
Add the cream cheese, sour cream, shredded cheese, salt, ranch seasoning, garlic, peppers, scallion, shredded cheese and spinach in a mixing bowl.
With the mixer on a low speed mix until it is partially blended. I start on low so my ingredients do not fly out of the bowl. Once the ingredients are blended enough to stay in the bowl, turn it up to a medium to medium high speed. Mix until it is blended well and the spinach is shredded into the cheese - about 1-2 minutes.
Place in a bowl covered with plastic wrap (or in a container with a lid) and refrigerate at least one hour (recommended.)
The filling will be enough to make 2 medium sized cheeseballs but you don't have to spit the filling before refrigeration (why dirty 2 bowls?)
The coating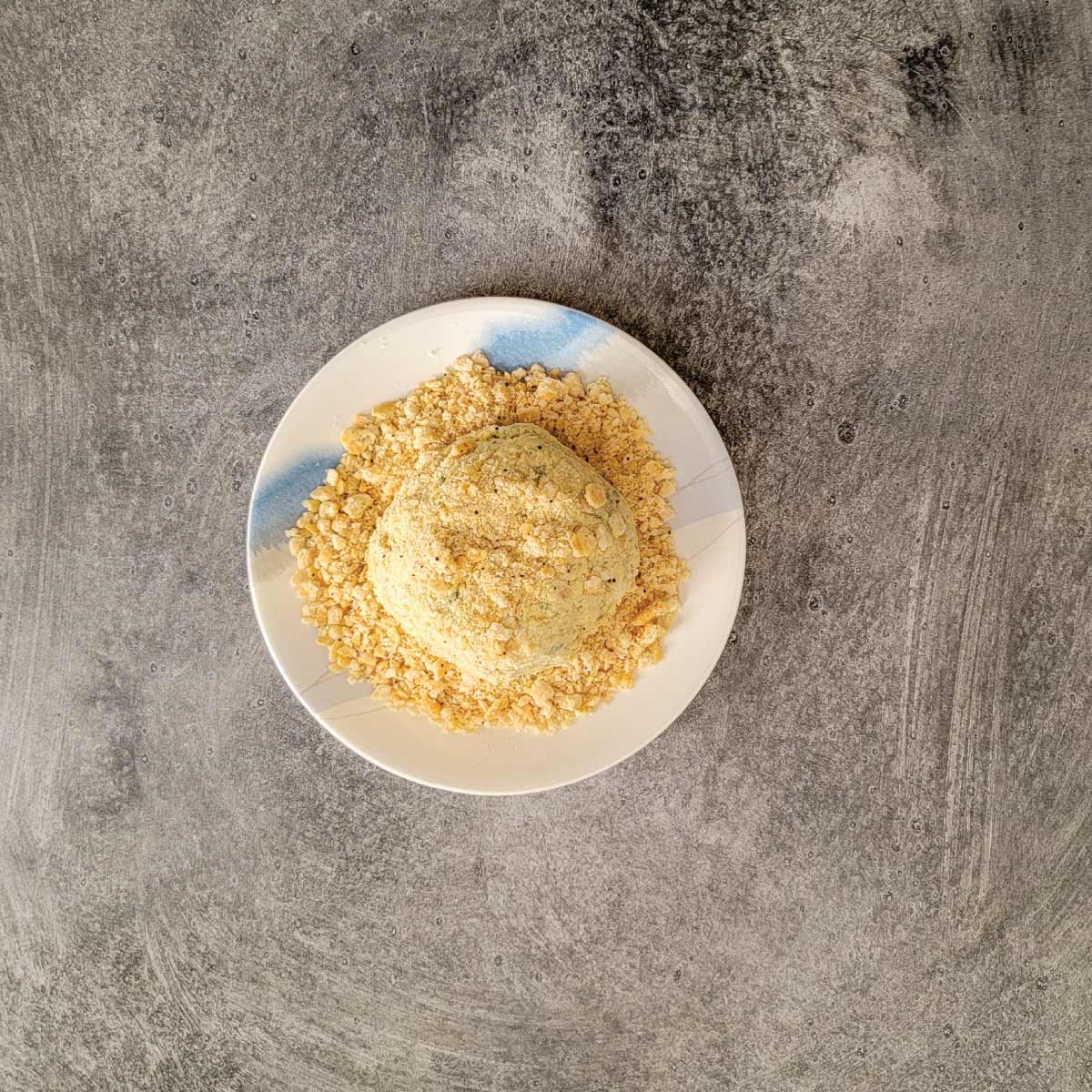 In the picture we have just the crackers crushed. Bacon is optional and we love the flavor it adds, but when we go to gatherings we do 1 with bacon and 1 without in case people do not like bacon.
We do not coat them until shortly before serving to keep the coating a fresh texture.
Crush the crackers as finely as you would like. I like to have some very fine pieces and some larger pieces of crackers, but this is up to you!
Add bacon pieces if you are adding them and mix together. I like to use a small plate or bowl for coating.
Divide the filling in half and gently shape them with a spoon. You do not have to be perfect, these will be soft and you can shape as you roll them in the coating.
Add half of the coating mixture to the plate or bowl you are using. When you coat the cheeseballs you want to keep rolling the filling over in the bowl. It will take several times of rolling it around for it to pick up all of the coating. I like to keep rolling it until all of the coating on the plate is on it.
Repeat with the second ball.
Bacon ranch cheeseballs
You can customize these how you like! A different variation we make is with bacon in the filling.
When we make them with bacon in the filling, we usually leave the spinach out. We make them with the same ingredients all but the spinach.
You want to add 3-4 tablespoons of real bacon pieces to the filling mix. Leave out the spinach, unless you want it in there as well. We use 3 tablespoons of bacon pieces, but you can use 4 if you prefer more bacon.
Mix all the filling ingredients together with a hand mixer like you would without the bacon and refrigerate for at least an hour before coating.
Coat with crackers or crackers mixed with bacon pieces and serve.
Frequently asked questions
Can I make these cheeseballs ahead of time?
You can prepare the filling up to 2 days ahead of time, but do not coat them until shortly before serving. The crackers will be soft and the bacon will also get soft after being in the fridge on the cheese.
Can I use yogurt instead of sour cream?
Yes you can use yogurt in place of the sour cream, but I do recommend only using Greek yogurt in place of sour cream. Regular yogurt will add too much moisture, they are already a softer cheeseball.
How long will they last?
The filling will last at least 4 days - depending on what you add to the filling it may get funky after 4 days. Once coated, they are best to use within 2 days due to the texture of the coating getting soft.
Recipe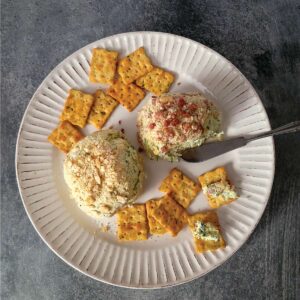 Easy Homemade Cheeseballs
These homemade cheeseballs are easy to make and are the perfect appetizer recipe. They are made without nuts in the coating making them safe for nut allergies.
Ingredients  
8

ounces

cream cheese

softened

1

cup

shredded cheese

1

cup

spinach

fresh

½

cup

sour cream

⅓

cup

bell peppers

finely chopped

1½

Tablespoons

Homemade Ranch Seasoning

or store bought

¼

teaspoon

salt

1

garlic clove

finely minced

1

scallion

finely chopped
The Coating
16

Ritz crackers

or your favorite crackers

3

Tablespoons

Real bacon pieces

optional
Instructions 
In a mixing bowl add the cream cheese, shredded cheese, spinach (whole leaves are ok), sour cream, bell peppers, ranch seasoning, salt, minced garlic and scallion.

8 ounces cream cheese,

1 cup shredded cheese,

1 cup spinach,

½ cup sour cream,

⅓ cup bell peppers,

1½ Tablespoons Homemade Ranch Seasoning,

¼ teaspoon salt,

1 garlic clove,

1 scallion

Mix with a hand mixer on low until the ingredients are just blended, turn to a medium high setting and continue mixing until it is completely combined and there are no whole leaves of spinach.

Refrigerate the filling for at least one hour. Do not coat them until close to serving.

Crush the crackers to your desired texture. I like to have some finely crushed and some larger pieces personally. Add in the bacon pieces if using and mix well.

16 Ritz crackers,

3 Tablespoons Real bacon pieces

Place about half of the coating mixture on a small plate or in a small bowl. Divide the filling in half.

Take half of the filling and try to gently shape it into a ball with a spoon. You can shape it as your coating it too.

Roll it around in the coating mix, keep turning it over and over until all of the coating in on the cheeseball.

Repeat with remaining filling and coating mixture.

Serve immediately or refrigerate.
Notes
Nutritional values and serving sizes are estimated.
For cheese - We use shredded 4 cheese Mexican but you can use your favorite.  
For the spinach - I use a large handful which equals out to about a cup of spinach.  Fresh spinach is a bit hard to measure in a cup.  We use baby spinach but you can use regular.  Do not use frozen spinach, it adds too much moisture.
I like to smash my garlic first before mincing, but that is optional.
For bacon ranch cheeseballs:
Use 3-4 Tablespoons bacon in place of the spinach.  There is no other change, mix as directed above.
Nutrition
Calories:
217
kcal
Carbohydrates:
8
g
Protein:
7
g
Fat:
18
g
Saturated Fat:
10
g
Polyunsaturated Fat:
1
g
Monounsaturated Fat:
4
g
Trans Fat:
1
g
Cholesterol:
53
mg
Sodium:
609
mg
Potassium:
117
mg
Fiber:
1
g
Sugar:
2
g
Vitamin A:
1126
IU
Vitamin C:
10
mg
Calcium:
129
mg
Iron:
1
mg