Ranch seasoning mix is always good to have on hand. It's easy to make and stores well in a jar for when you need it. This can also be used to make ranch dressing, but we use it for many other dishes here.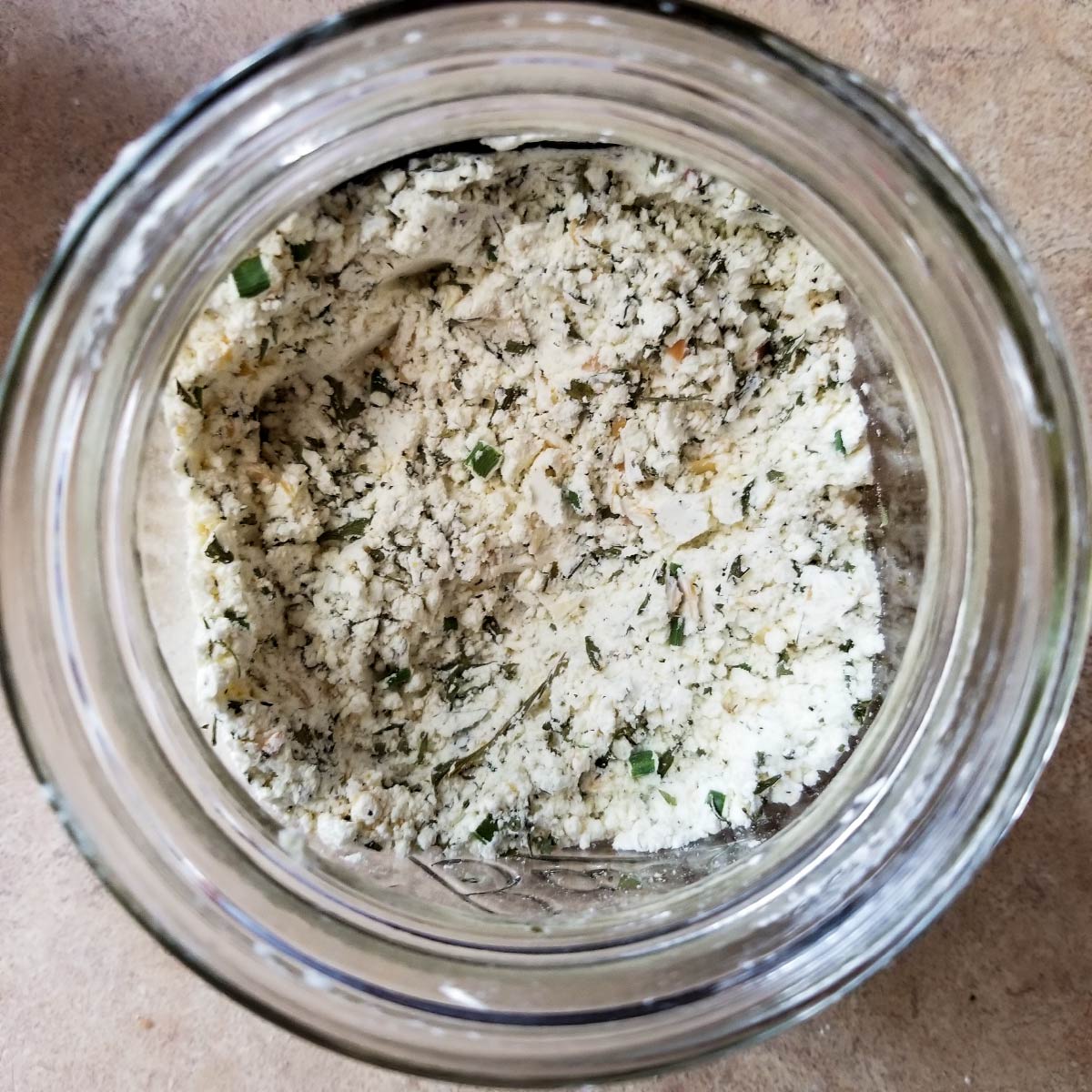 One thing we love about this is having it on hand anytime we want to use the mix. We have our favorite ranch pasta salad and also our bacon ranch pasta salad that we love to whip together in the summer months. Both are easy but yet amazing salads. Being able to just open a jar and scoop some out when needed is so much easier then worrying about buying the packets.
Ranch seasoning also goes well on chicken. The possibilities are endless!
Making ranch seasoning mix
It is really easy to make. We do recommend using buttermilk here, but you can use powdered milk to substitute. Buttermilk powder can usually be found in the aisle where you find the other powdered milk in the supermarket. It comes in a round canister and the container it comes in doesn't keep humidity out so once you open the container, I would refrigerate it to prolong the life of the powder. Buttermilk powder can be used for many things, not just this seasoning.
For the ranch mix, we like to store ours in glass jars with tight fitting lids. We use ball canning jars, but we have them on hand for many things we make. We use a half pint canning jar to store it.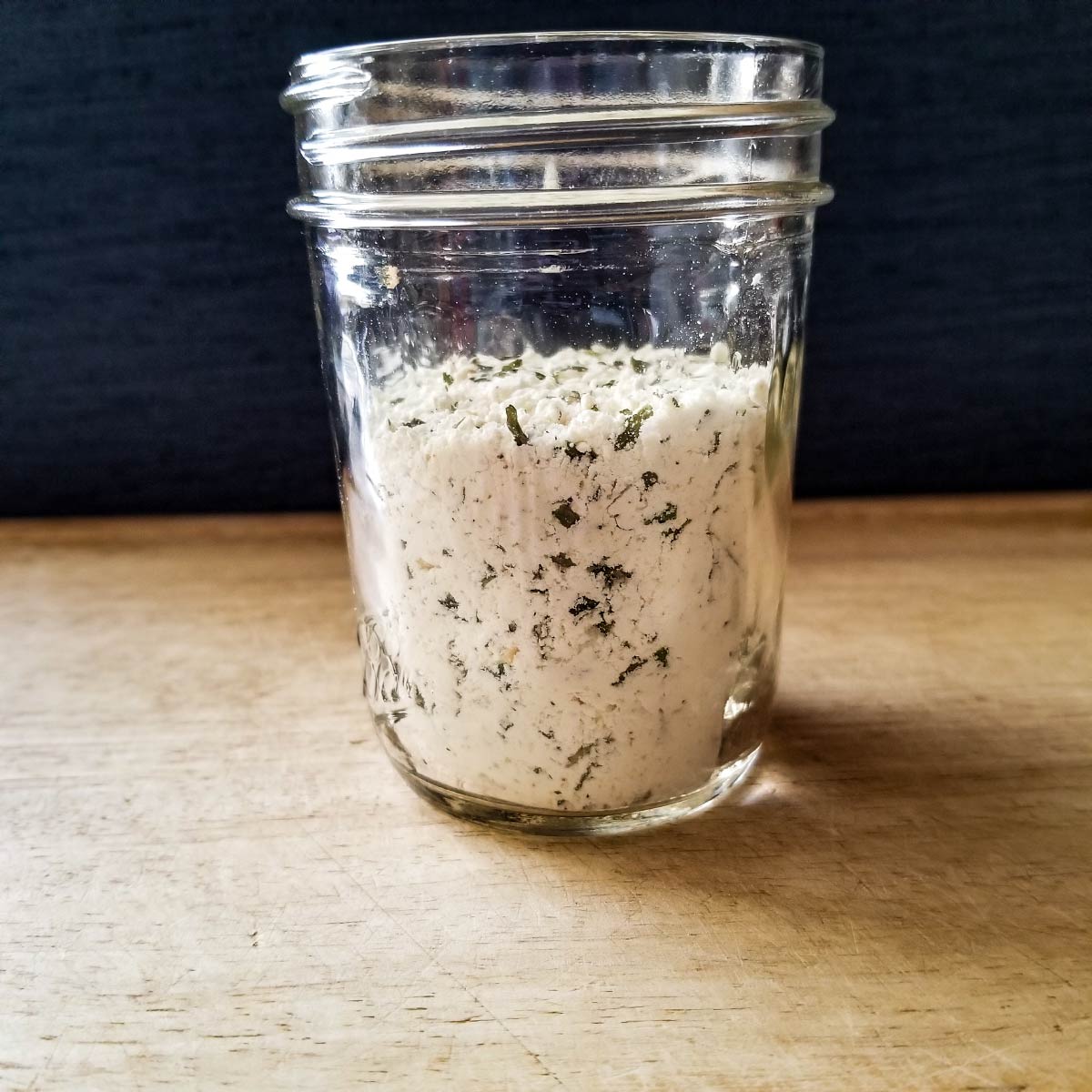 To make it, you will just mix all the ingredients together in the storage container and place the lid on it. It is best to shake it or stir it a little bit right before using as some spices might sink to the bottom after sitting. Store your seasoning for up to 6 months.
To make it as a dressing
3 tablespoons of the homemade ranch seasoning mix equals a packet of store bought mix. Add 3 tablespoons with 1 cup milk and 1 cup mayonnaise. Another alternative is to substitute some of the mayo with sour cream! It gives it a nice flavor, but is completely optional.
Homemade Ranch Seasoning Mix
Homemade ranch seasoning mix is always great to have on hand and has no added preservatives like the packaged mixes.
Ingredients
½

cup

buttermilk powder

2

tbsp

parsley

dried

1

tsp

chives

dried

1

tbsp

dried minced onion

½

tsp

salt

see notes

¼

tsp

black pepper

1

tsp

garlic powder
Instructions
Mix all ingredients together. Shake or stir well before each use.

Store in an airtight jar for up to 6 months. We recommend using a glass jar with a tight fitting lid.

It makes about 8 tablespoons and will easily fit in a half pint jar as measured here.
Notes
Nutritional values are estimated and so are the serving sizes.  
3 tablespoons equals 1 packet of store bought mix.  To make dressing mix 3 tablespoons with 1 cup mayonnaise and 1 cup milk.
This is great to use for cooking, add desired amount to any dish you want to make with ranch.
For salt, we find it to be plenty but you may want to add more or less.  
Nutrition
Calories:
17
kcal
Carbohydrates:
2
g
Protein:
1
g
Fat:
1
g
Saturated Fat:
1
g
Cholesterol:
3
mg
Sodium:
93
mg
Potassium:
70
mg
Fiber:
1
g
Sugar:
2
g
Vitamin A:
49
IU
Vitamin C:
1
mg
Calcium:
46
mg
Iron:
1
mg