Tired of dried out chicken? Grilled boneless chicken thighs are the solution! They are easy to make, turn out juicy and they have just a simple homemade dry rub on them before grilling.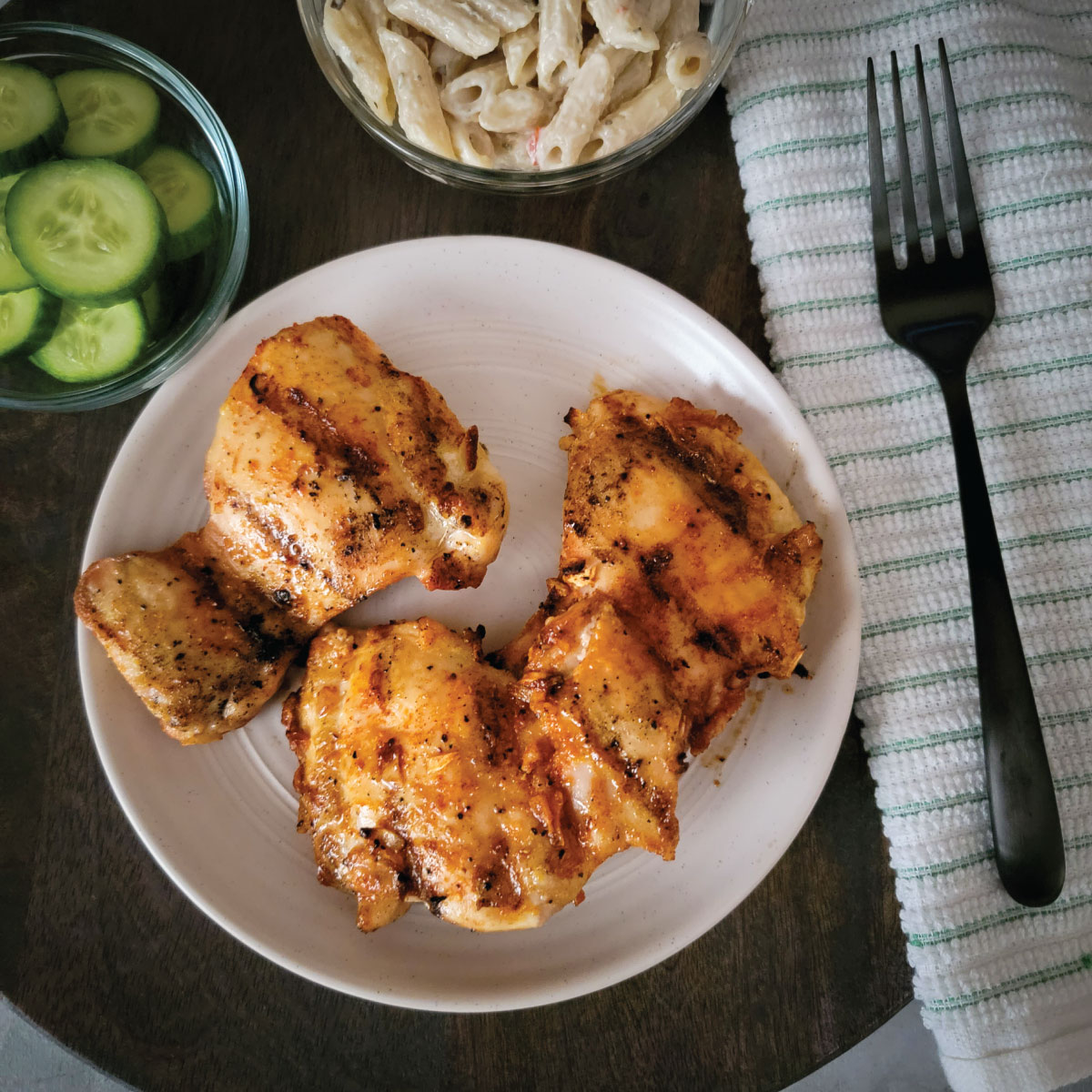 Have I ever mentioned how much I love to grill? Yeah I am sure I probably have already a couple times. It is something I do enjoy all summer long - along with some of fall and spring. Grilling boneless skinless chicken thighs is one of our favorites!
These will go well with the bacon ranch pasta salad or our potato salad recipe.
Why boneless chicken thighs?
They are an amazing part of the chicken! Yes they are a little bit fattier but without the skin, they are not as fatty. The little bit of extra fat in them (and something about thighs) keeps them from drying out like a chicken breast will.
We have all had that piece of chicken breast that was well overcooked and you struggled to eat it, right? Thighs don't do that as easily 😉
We do love to eat chicken breast here too like our grilled chicken breasts with garlic sauce. We make them here a lot too, so I am not saying they are bad. But the thighs are more forgiving for some recipes and often more flavorful.
This recipe is for boneless thighs and not bone in. Grilled boneless chicken thighs take a lot less time to cook then bone in thighs.
Tips for grilling boneless chicken thighs
They are very simple to make, but we have a couple tips that will help you get them perfect!
Sit out at room temperature - This is important for all meats and boneless skinless chicken thighs are no different. First I like them to sit out for about 15-20 minutes before going on the grill.
The reason for this is that it helps to cook the meat thoroughly. If you put a cold piece of chicken on the grill, the outside will be done long before the middle comes up to a safe temperature. By the time the inside comes up to a safe temperature, the outside is getting dried out and overcooked.
Season with the dry rub as you let them sit out - The dry rub is best if you put it on when you take the thighs out of the fridge. Put the dry rub on and then let them sit out at room temperature for 15-20 minutes.
Mix the spices together before coating chicken - The dry rub consists of garlic, salt, paprika, pepper, dried minced onion and parmesan cheese. Mix it all in a small bowl and sprinkle it onto the chicken thighs. I like to pat it onto them after sprinkling.
You mix the spices together first so they are blended evenly. If you sprinkle each spice on, you may not be consistent with the amount of each spice used.
Direct heat is best for grilled boneless chicken thighs - We use a gas grill and have not tried these on charcoal. Direct heat is best for the thighs on the gas grill.
What is the difference between direct and indirect heat? Direct heat you are on the burner that is lit so there is a direct heat source below the food. Indirect heat is when the food is not over a lit burner. You are relying on the hot air in the grill with the lid closed to cook your food.
Allow them to rest before serving - As with other meats, you should allow your boneless skinless chicken thighs rest on a serving dish off of the heat for about 5-10 minutes before serving.
Frequently asked questions
Can you overcook chicken thighs?
Yes you can, but it isn't that easy. Thighs are more tender after cooking a little bit longer and as long as you cook them long enough, you are ok. It's not easy to overcook them!
What is the best temperature to cook chicken on the grill?
For grilling boneless chicken thighs, you want to get your grill to about 400 degrees. You want to cook them fast, but not too fast. This will give them nice sear marks.
How long to grill boneless chicken thighs?
Once they go on the grill, they should take about 7 minutes on each side. That is if the grill is around 400 degrees. You want to keep the lid down while they are cooking. Only lift the lid to flip and check the temperature.

The internal temperature of the thickest part of the thigh should be 165 degrees when checked with a meat thermometer.
Other great grilled dishes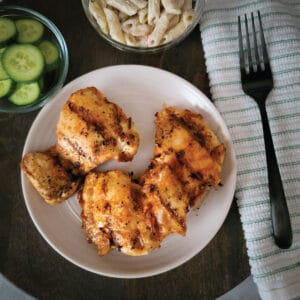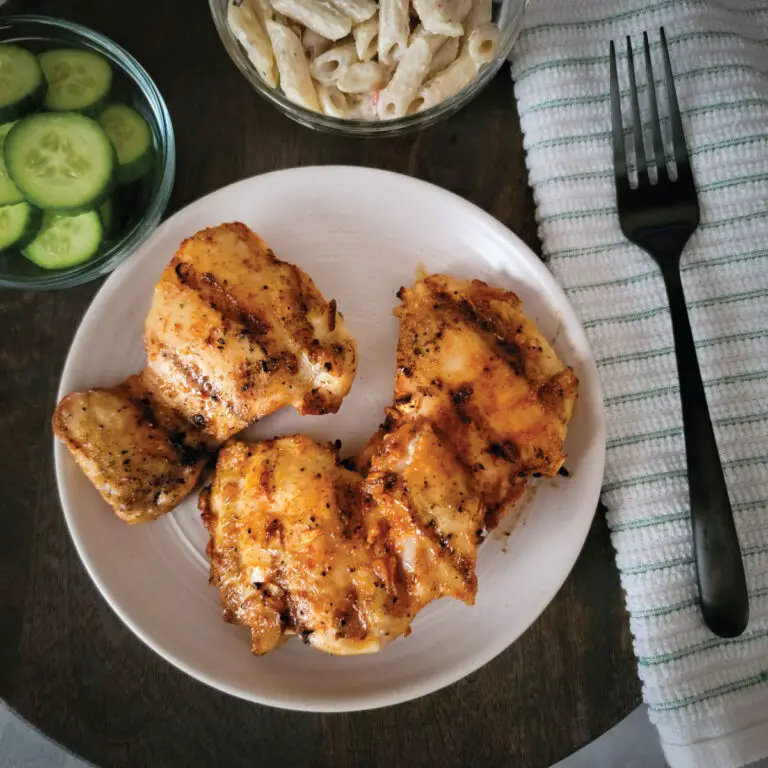 Parmesan Grilled Boneless Chicken Thighs
These grilled boneless chicken thighs are juicy and full of flavor. They are quick to make so they will be a perfect busy weeknight dinner or even a great BBQ dish.
Ingredients  
8

boneless chicken thighs
Dry Rub
½

tsp

paprika

½

tsp

salt

¼

tsp

black pepper

ground

½

tsp

garlic powder

1

Tbsp

dried minced onion

1

Tbsp

parmesan cheese
Instructions 
Mix together the dry rub ingredients in a small bowl.

Sprinkle the rub on both sides of the thighs. Pat the thighs to help the rub stick better.

Allow thighs to sit out for about 15-20 minutes

Warm up the grill and set it to medium for cooking. See notes

Place the chicken thighs onto the grill and close the lid.

Cook for 7 minutes and then flip them.

Cook for another 7 minutes with the lid closed.

Check on them, the juices should be clear or the color of the spices on top of the thighs. If the juices are still pink, continue to cook for a couple minutes.

The internal temp of the thickest part of the thigh should be at least 165° checked with a meat thermometer.

Once they are done, remove from grill and allow to sit for 5-10 minutes before serving.
Notes
Nutritional values are estimated.
Grills do vary and some cook a little hotter then others.  You should be ok with the burners on medium to medium low but if your grill usually runs hot you might want to turn it down to low.  Optimal temperature is 400 degrees - if your grill does not have a reliable thermometer, you can use an oven thermometer to check it.
This was written for a gas grill, charcoal times may vary.  We have never used a charcoal grill for these.
Nutrition
Calories:
507
kcal
Carbohydrates:
2
g
Protein:
37
g
Fat:
38
g
Saturated Fat:
10
g
Cholesterol:
222
mg
Sodium:
485
mg
Potassium:
484
mg
Fiber:
1
g
Sugar:
1
g
Vitamin A:
299
IU
Vitamin C:
1
mg
Calcium:
36
mg
Iron:
2
mg