Are you tired of dried out pork chops? Grilled boneless pork chops should be juicy and tender! These pork chops are made with a simple homemade dry rub and turn out perfect every time.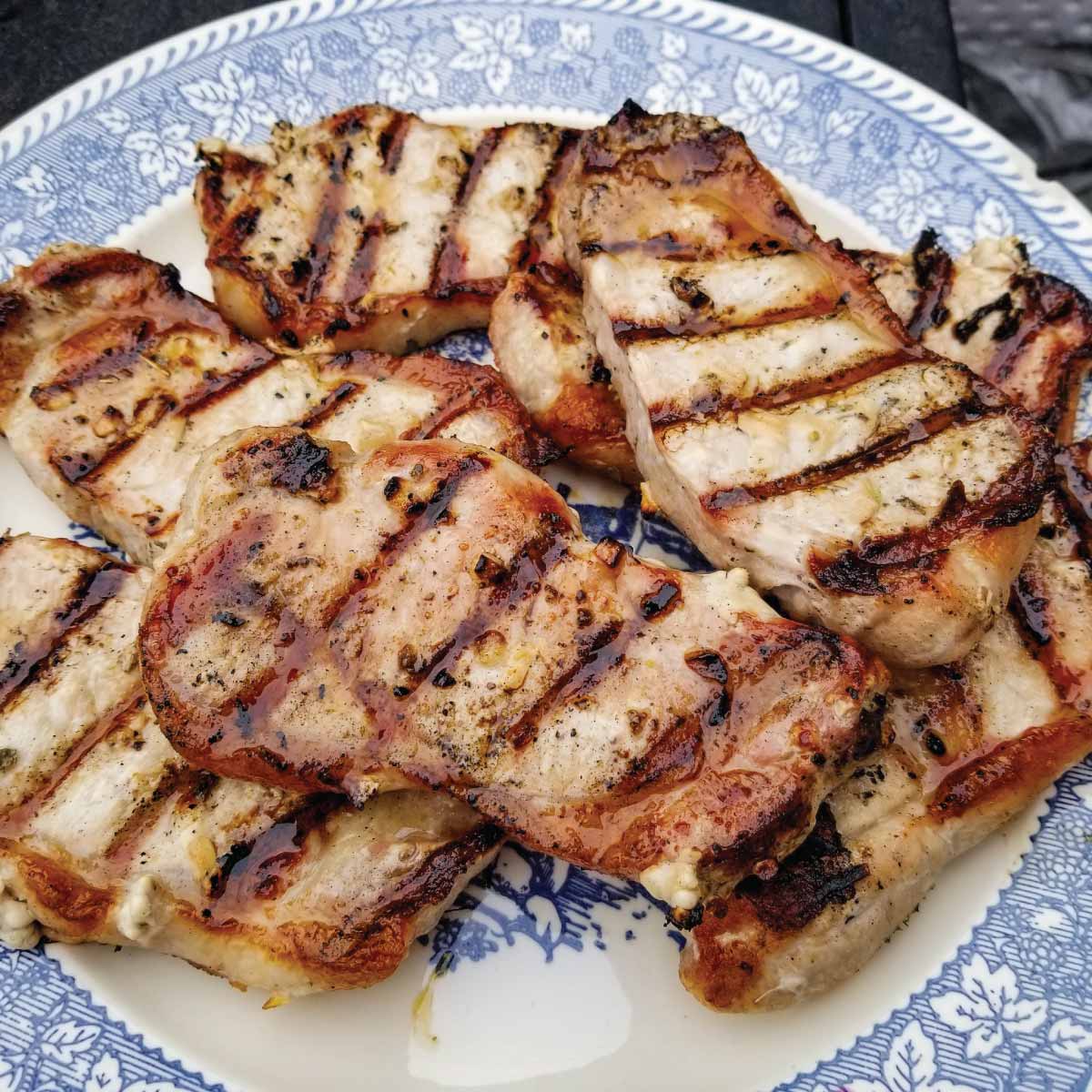 Have you ever made pork chops and expected them to be amazing only to find out they were tough and dried out? Yup, we have all been there a few times and I am no exception here! These grilled pork chops turn out juicy and tender every time you grill them.
Truth be told I have had dried them out many times in the past, mainly in the oven. There is a fine line between done and overcooked. That line is easier to see on the grill then in the oven, meaning it is much easier to get them perfect on the grill then in the oven.
I do not usually bake pork chops because they do dry out easier in the oven. They are really good pan fried too like our pork chops with mushrooms in a cream sauce.
Ready for the secret or well not so secret to making the perfect grilled pork chops? I promise it is really easy!
Jump to:
Ingredients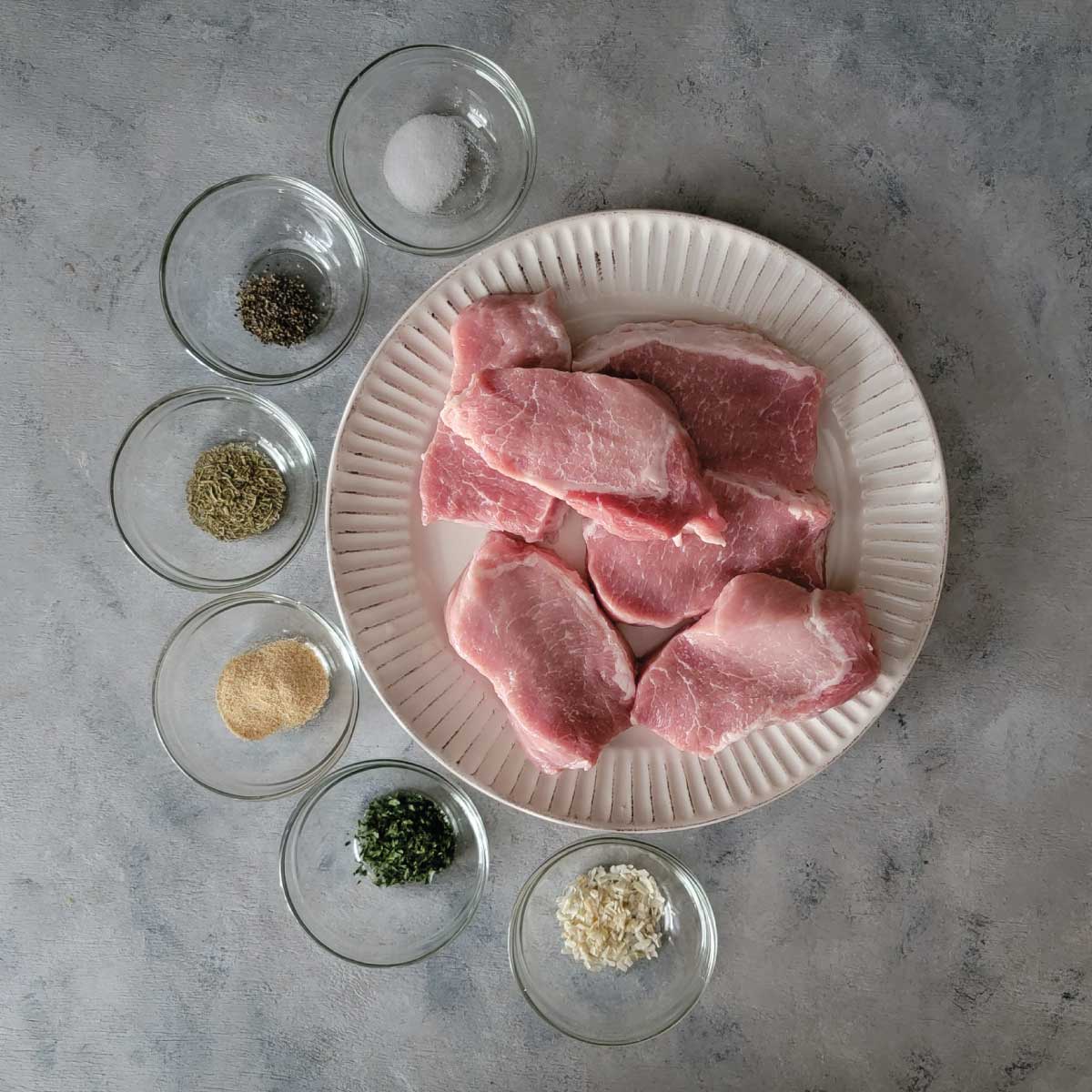 Pork chops - This is written for boneless pork chops, bone in will need a couple extra minutes. We like to get a pork loin and cut the chops to between 3 quarters of an inch to 1 inch thick. It is often cheaper to buy them this way and they are delicious! But you can buy the chops already cut.
Dry rub
We love this simple dry rub for pork chops on the grill, easy and delicious! You can swap out either thyme or sage for the rosemary if you prefer. We like it best with rosemary here.
Salt
Pepper
Dried rosemary - If you use fresh, you will want to chop up 1 teaspoon instead of half.
Garlic powder
Parsley
Dried minced onion
How do you grill pork chops without drying them out?
Pork chops on the grill are one of my favorite dinners when cooked to a juicy perfection. A few tips to make sure you do not over cook them.
Let them sit out
Let them sit out 15 minutes before cooking. This one is huge because many people are afraid to let meat sit out for a couple minutes and tend to throw them right on the grill. You will not spoil your pork chops if you let them sit out for 15 minutes before grilling.
Why let them sit out? If you put meat on the grill closer to room temperature, it will cook evenly. Putting cold meat on the grill right from the fridge results in uneven cooking will definitely dry your pork chops out. The outside will cook as soon as it hits the grill, but the middle is still cold from your fridge. This causes an uneven cook that leads to dried out grilled pork chops - tough to chew, yikes!
Flipping
Flip them once and only once. I cannot stress this one enough! The more times you flip them, the more the juices will seep out. When your grilled pork chops are cooking look at them at the 5-7 minute mark (depending on thickness) just before flipping. You will see the juices on top and those juices will drip into the grill when you flip. Flipping once is good as you need to flip in order to cook them evenly. But now imagine if you keep flipping them? Yes you will lose those juices to the grill.
Flip the pork chops when they are just starting to turn white on top. Depending on the thickness it should be between 5-7 minutes. Being pork chop thickness, cook times and grill temperatures can vary, this little trick can be very helpful! And remember from above - only flip once.
I look at the pork chops at the 5 minute mark. If they are getting slightly whitened on the edges, flip them. They should have nice sear marks on the bottoms at this point.
You will cook the same amount of time on this side. If it took 5 minutes, cook another 5 minutes. Always check for doneness with a thermometer, the cook times are estimated and may vary. They should be cooked to 145 degrees for best flavor and texture.
The Grill
Be sure your grill is heated properly to about 400 degrees. It doesn't have to be exactly 400, but close. Do not put them on a cold grill.
If your grill doesn't have a reliable thermometer, be sure to have an oven/grill thermometer on hand to check the temperature. It is important for any meat you cook that the temperature is correct!
Resting
Let them sit for 5 minutes before serving and cutting them. The juices need to soak back into the fibers or you chance them being dry. Pork chops are tricky with this. Many meats can rest longer before serving, but pork chops are really best after the 5 minute mark.
Frequently asked questions
Can you grill frozen pork chops?
I do not recommend putting them on when frozen. They are a leaner cut of meat and are best cooked exactly to 145 degrees. The cook times will be off and they will not cook evenly.

Place them in a bag or container and place them in cold water until thawed. While some people do, I do not like how a microwave thaws food. It is best to put them in cold water.
What temperature should grilled pork chops be?
The best temperature for pork chops is 145 degrees Fahrenheit. They should be at least 145 degrees for safety, under that and they will be undercooked.
At 145 degrees they are perfectly juicy.
Can I use this grilled pork chop recipe for a charcoal grill?
We have not tested this one on the charcoal grill, but the cook times will vary depending on how hot your grill is. You can certainly use the dry rub on them, but do please adjust cook times as needed.
You may also like
Some other great things you might like if you enjoy grilled pork chops.
Pork chops go great with Ranch Pasta Salad or our Picnic Perfect Potato Salad.
Recipe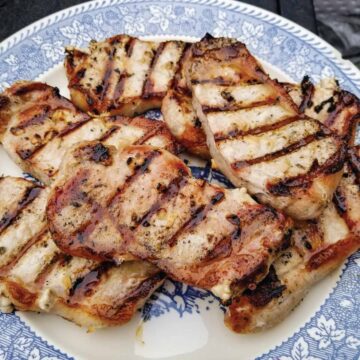 Juicy Grilled Boneless Pork Chops
These grilled boneless pork chops turn out juicy and tender every time! They are full of flavor using a dry rub made with a few simple spices.
Ingredients  
6

pork chops

about ¾ inch thick
Dry Rub for Pork Chops
1

teaspoon

dried minced onion

1

teaspoon

dried parsley

1

teaspoon

garlic powder

½

teaspoon

dried rosemary

½

teaspoon

salt

¼

teaspoon

pepper
Instructions 
Heat the gas grill to 400° F.

Mix the dry rub ingredients together.  

Rub all over the pork chops and let them sit out for 15-20 minutes

1 teaspoon dried minced onion,

1 teaspoon dried parsley,

1 teaspoon garlic powder,

½ teaspoon dried rosemary,

½ teaspoon salt,

¼ teaspoon pepper,

6 pork chops

Place the pork chops evenly across the burners on the grill and cook for 5-7 minutes depending on the thickness. ¾ inch about 5 minutes, 1 inch about 7 minutes

Look at the pork chops at the set time. If they are starting to turn white on the edges, flip. If they are not starting to turn white give them an extra 1-2 minutes. Cook another 5-7 minutes depending on the thickness.

Check the internal temperature in the center of pork chops, it should read between 140-145. They need to be 145° degrees to eat, but temperature will rise as they rest.

Remove the pork chops and allow them to sit for 5 minutes before serving and cutting.
Notes
Nutritional values are estimated.  The amount of pork is estimated as well.
This is written for a gas grill with a temperature set to about 400 degrees Fahrenheit.  Charcoal cooks differently and you will need to adjust cook times accordingly.
We use a pork loin that I cut into 3/4 inch pieces.  You can cut a loin or use regular pork chops.  If you are using a different thickness, adjust cooking times slightly.
Pork chops should be an internal temperature of 145 but removing them at 140 and allowing them to rest will bring them to temperature.
Nutrition
Calories:
213
kcal
Carbohydrates:
1
g
Protein:
29
g
Fat:
9
g
Saturated Fat:
3
g
Polyunsaturated Fat:
1
g
Monounsaturated Fat:
4
g
Trans Fat:
1
g
Cholesterol:
90
mg
Sodium:
259
mg
Potassium:
521
mg
Fiber:
1
g
Sugar:
1
g
Vitamin A:
7
IU
Vitamin C:
1
mg
Calcium:
13
mg
Iron:
1
mg