T-bone steaks are one of the easiest meats to cook on the grill and there is no need to marinade them before cooking. We use a simple dry rub made with just a few spices including rosemary and garlic.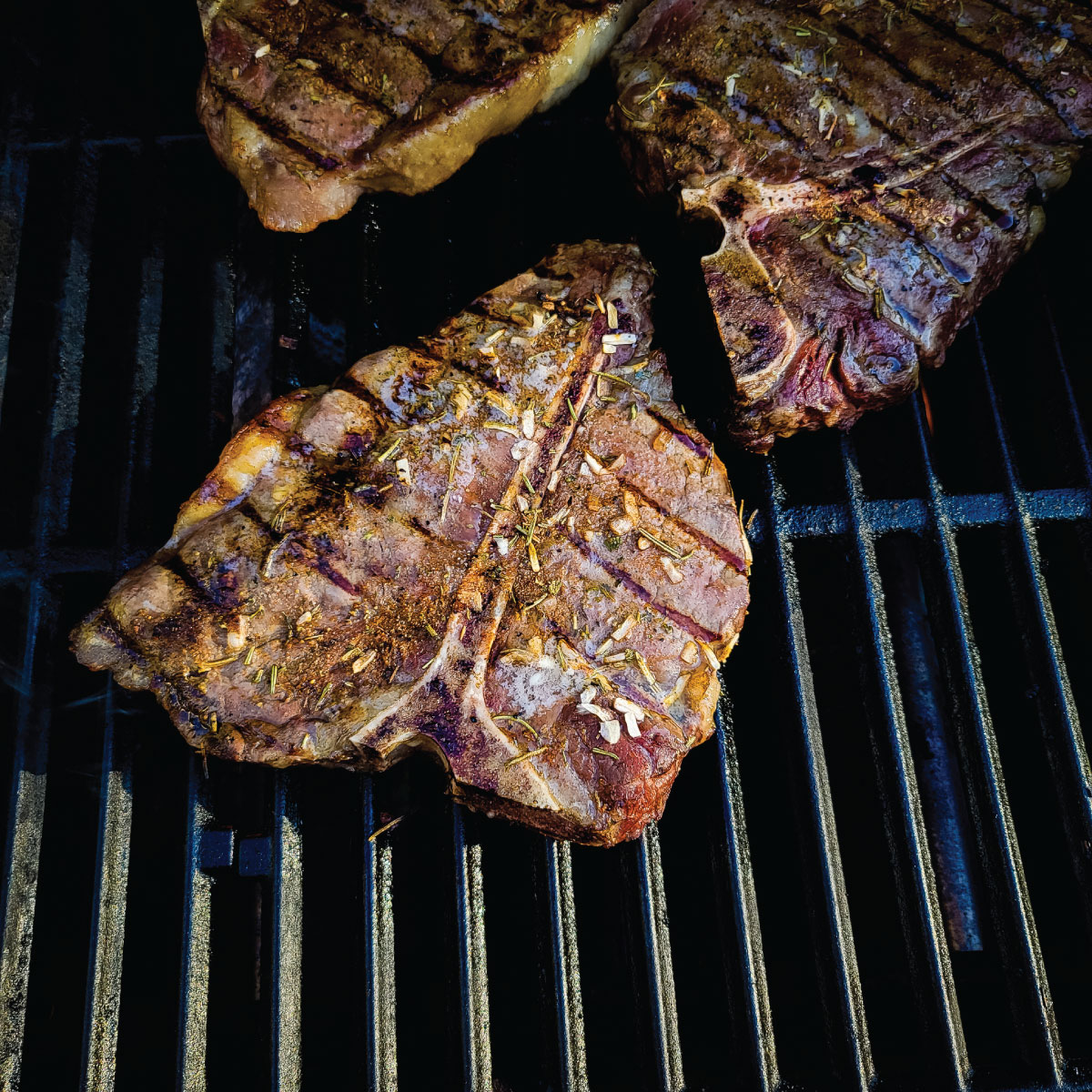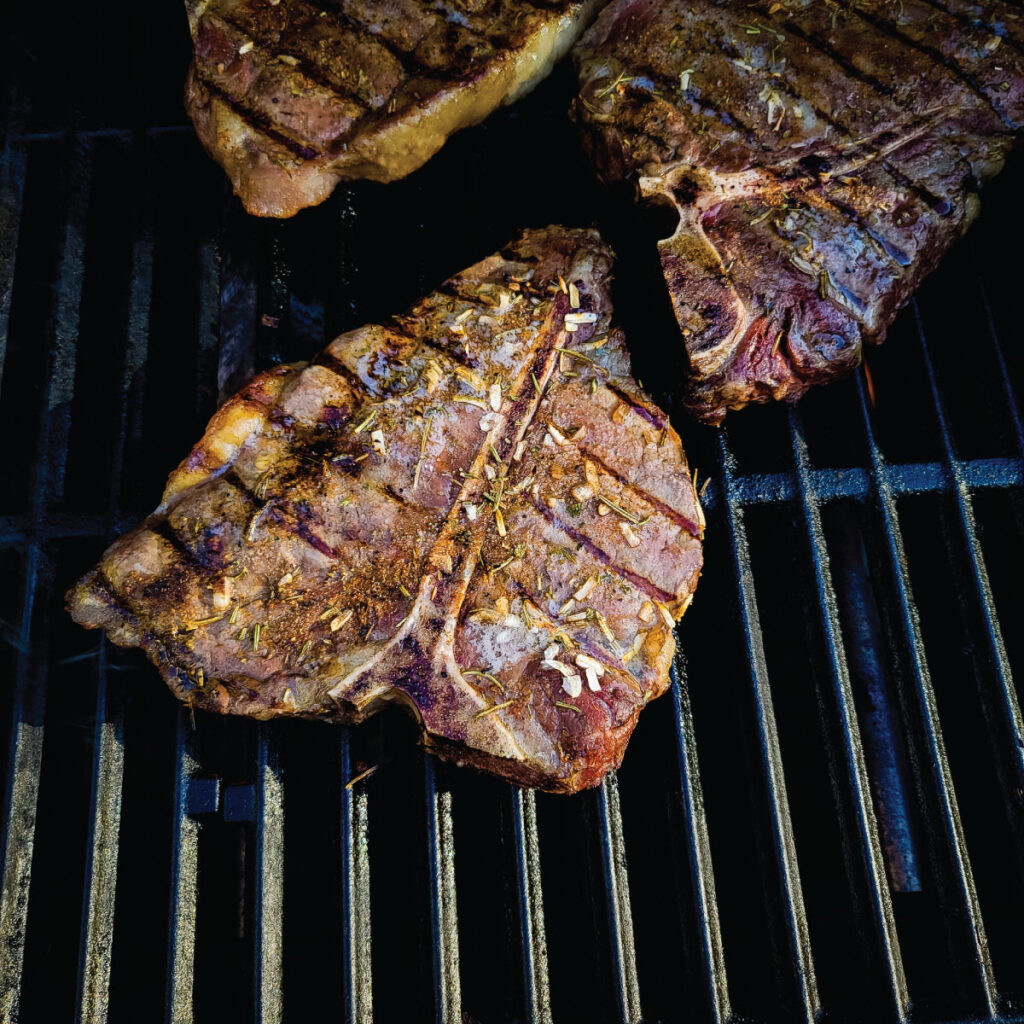 Have you ever had grilled t-bone steaks before? Maybe you had one in a restaurant or maybe you made them at home. If you have never had one, you don't know what you are missing out on! I am serious, next time they are on sale at the store you need to pick them up. I only buy them on sale as well, they are usually $12 a pound here when not on sale - yikes! And they have bones so they are heavier.
They are one of the top dogs of steaks. To me they are the top, but some will argue and say that filet mignon, ribeye or NY strip steak is top. It is all good, we all have our favorites. Either way tho, people will not argue the fact that a t-bone steak is amazing.
They really are easy to make
Being the t-bone steaks are an expensive cut of meat, some people find them intimidating to cook. I don't judge if this is you, but I am here to ease this intimidation because they are easier to cook then london broil! Yup, you heard me correctly. They are easier to cook then other steaks. Why is that so? You do not marinade the steak and there is no science to making it tender. It is tender on it's own. Even if you like your steak well done, this will still be tender. Try that with london broil!
The hardest part about making these steaks to me is the waiting until it gets to my plate. I use a dry rub, no oil or anything. No pounding the meat down, no poking holes in the meat or any of the extra steps you take to make a perfect steak out of a lower priced cut of meat.
Are you ready to have an amazing steak?
Making grilled t-bone steaks
First take your steaks out of the fridge and place on a platter or even a cutting board. Whatever you will use to bring them out to the grill on. I use a large serving plate, but whatever works best for you.
Mix your dry rub ingredients together in a small bowl: minced onion, garlic powder, rosemary, paprika, Italian seasoning, salt and pepper.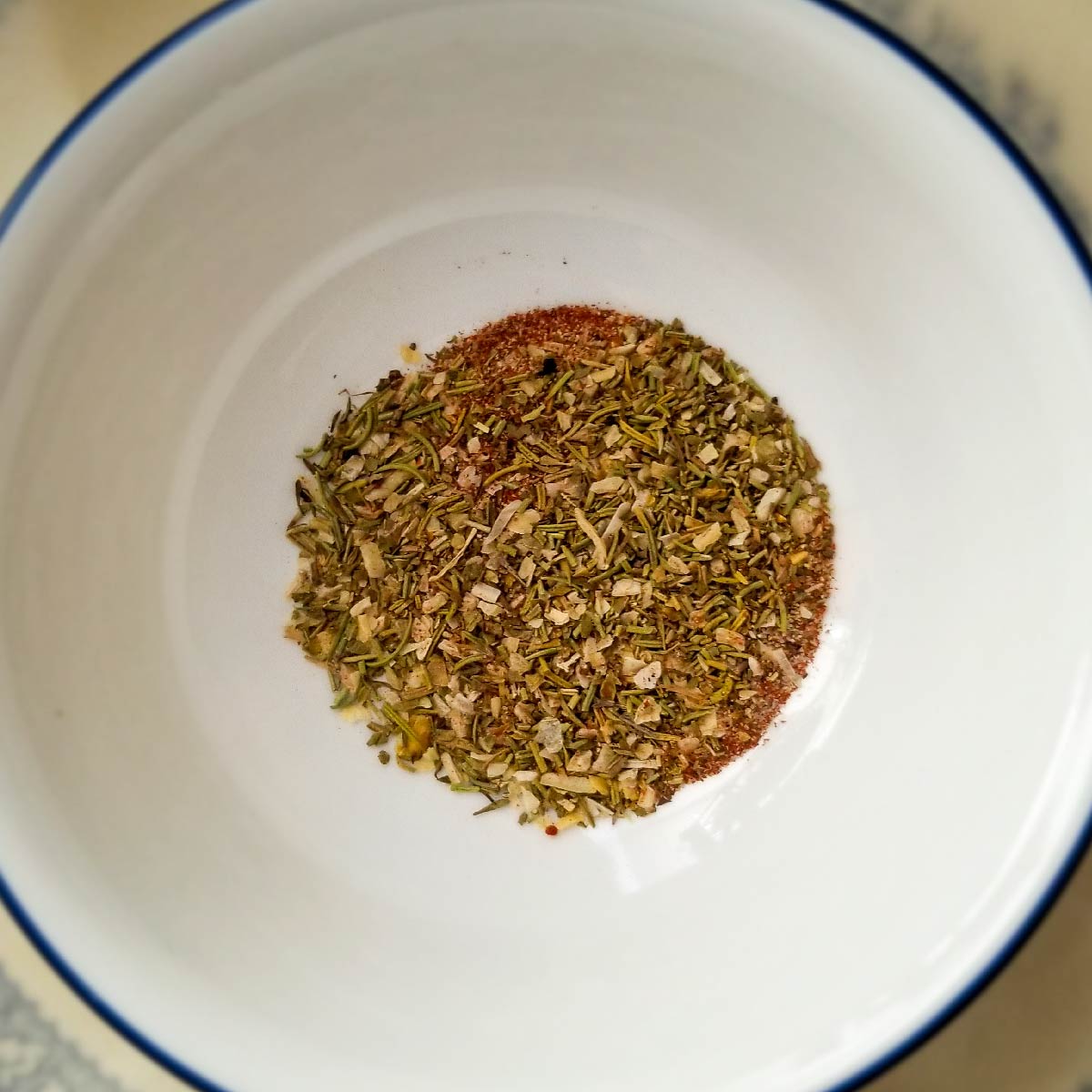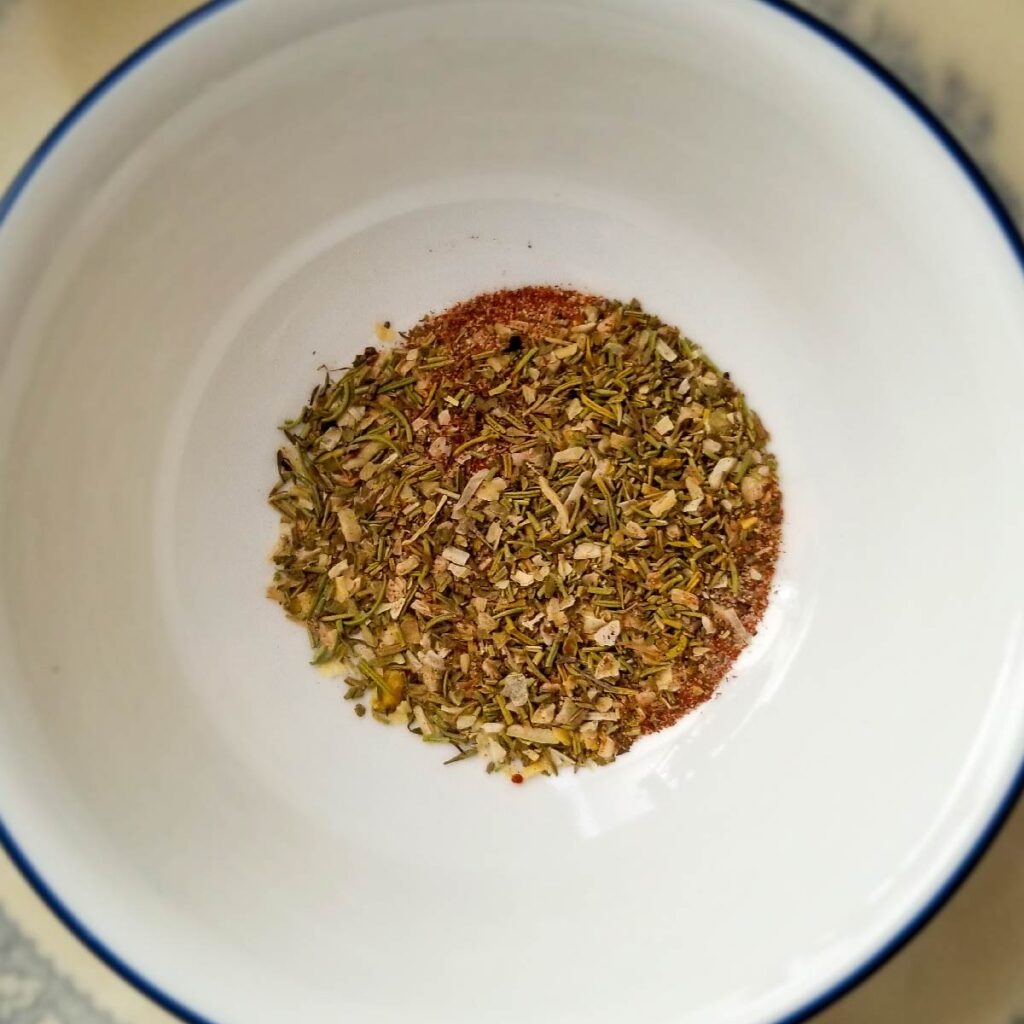 Sprinkle the rub onto both sides of each steak and rub it gently onto the meat. This is a quick step but ensures that the rub stays on the steak instead of falling off when you flip it over.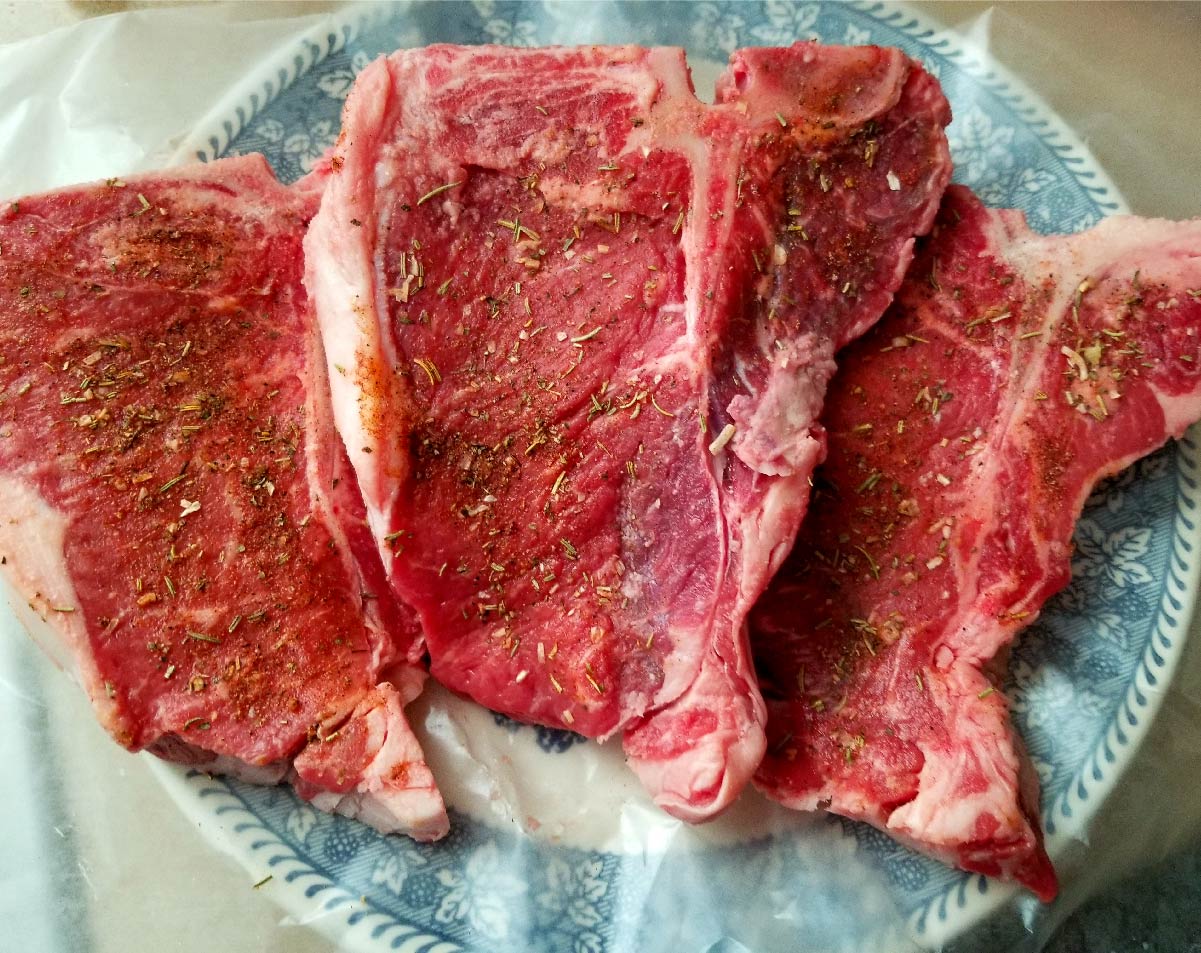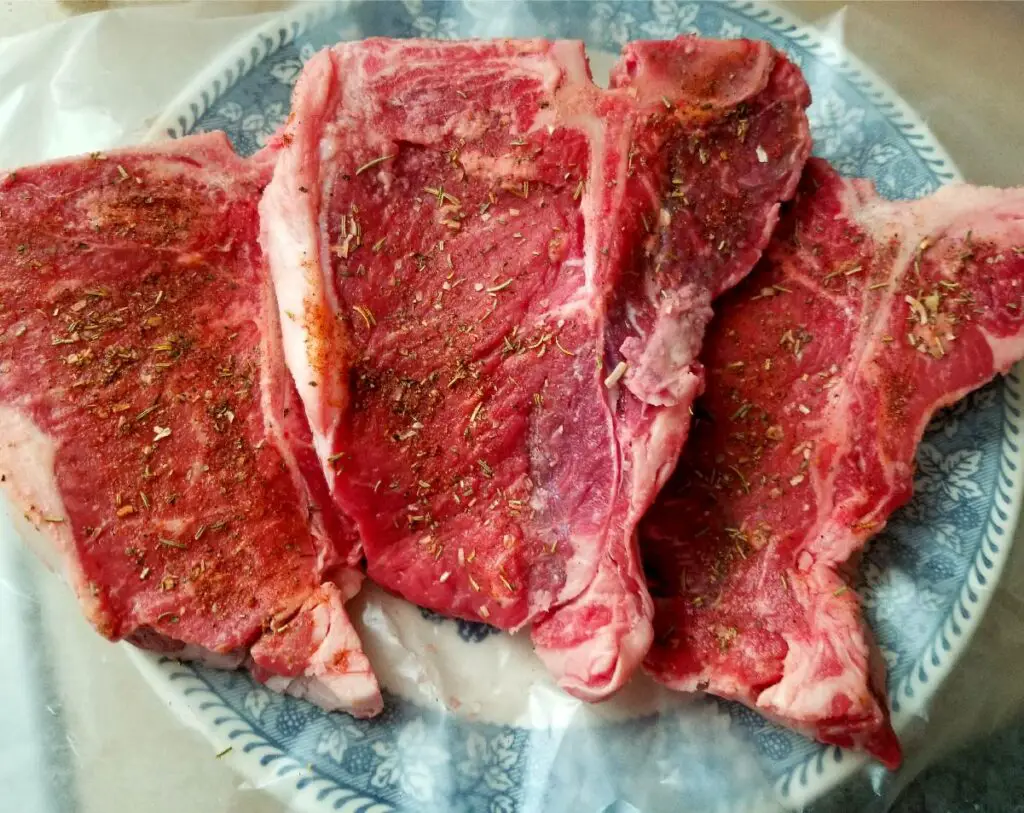 Let them sit out just like this for about 20-25 minutes. Putting a steak on the grill right out of the fridge will result in an overcooked outside but not properly cooked inside.
You will want to start your grill and warm it up. I cook these on low, but if you follow my grilling posts you will know that I have an older grill that is more likely to flare up. Low works best for me but it might be hotter then low on your grill. If I cook on medium, it flares up on everything with a hint of grease to it.
For medium
This is how we eat them. Cook them for about 7 minutes on the first side. Now in comparison since my grill will vary from yours, look for blood on the bone and a slightly cooked look on the outside edges of your steaks.
The color of the steaks will have slightly changed too. Time to flip. Cook for about 5 minutes on this side. The temp close to the bone without touching the bone should be 140.
For rare
If you would like them rare, cook for about 6 minutes and flip. Check the temp after 4 minutes to see that it registers 120 close to the bone but without touching the bone. The temp will rise slightly after removing from grill and upon standing.
For well done
If you would like them well done, cook for about 10 minutes and flip. Check the temp after about 5 minutes to see that it registers 160 close to the bone without touching the bone.
Other great grilled dishes:
As a note:
Our grilled t-bone steaks were about an inch thick. Cooking times will vary slightly based on the thickness and your grill. I don't personally use a meat thermometer but I recommend you do, especially if you desire them to be well done. Here is a great guide for you to judge times at Omaha Steaks - I have no affiliation with them, just a great cooking time chart for you to follow if needed based on the size of your steak 🙂
We like to have steaks with potatoes or rice, a nice potato salad goes great with them.
Grilled T-bone Steaks
These t-bone steaks will almost melt in your mouth. They are easy to prepare and will be ready for the grill in 20 minutes.
Ingredients
3

t-bone steaks

or more as needed
Dry Rub
1

tsp

dried mined onion

1

tsp

garlic powder

1

tsp

rosemary

dried

¼

tsp

paprika

1

tsp

Italian seasoning

½

tsp

salt

¼

tsp

pepper

ground
Instructions
Mix all the dry rub ingredients together in a small bowl.

Place the t-bone steaks on a platter or cutting board and sprinkle the dry rub on both sides of the steaks. Rub it in a little so it stays on the meat.

Let the steaks sit out for 20-25 minutes.

Heat up your gas grill on high and then turn it down before adding steaks. Turn it down to medium. See notes

Please refer to notes about this and cooking times:

Place the steaks on the grill and cover. Cook for 8 minutes then flip. Cook covered for another 5 minutes and your steaks should be medium or until the thermometer reads 140. For rare, cook about 6 minutes and flip. Cook for 4 minutes and until thermometer reads 120-125. For well done, cook for about 10 minutes and flip. Cook about 5 minutes and thermometer should read about 160. Avoid flipping more then once.

Allow the steaks to rest of the grill for about 5 minutes. Enjoy!
Notes
Nutrition is an estimate and will vary based on the size of the steaks.  Also how much of the steak each person would eat.  Here we each ate one and younger kids might share one.
We have an older gas grill so we cook ours on low but if we cook any meat with fat in it higher then low, it flares up.  It cooks at a higher temp then most grills.  I recommend medium for most grills.  You will know your grill better then I do based on how other things cook.
For cooking times, it might vary based on the thickness of the steak.  Ours were about an inch thick.  I prefer to cook longer on the first side and flip with a shorter time on the other side.  It seems to help keep some of the juices in, at least in our experience.
Here is a great reference for grilling times with a bone in steak based on thickness: Omaha Steaks.  We are not affiliated with them but think they have a great cook chart for anybody to follow.
I judge by the look of the meat before flipping.  When it starts to get a very slight cooked look on the edges of the steak, it is time to flip.  Then cook for the shorter time.
Nutrition
Calories:
768
kcal
Carbohydrates:
3
g
Protein:
71
g
Fat:
51
g
Saturated Fat:
20
g
Cholesterol:
190
mg
Sodium:
573
mg
Potassium:
1090
mg
Fiber:
1
g
Sugar:
1
g
Vitamin A:
95
IU
Vitamin C:
1.2
mg
Calcium:
39
mg
Iron:
7.2
mg