Grilling T-bone steak on a gas grill is very easy with a simple homemade dry rub. They have an amazing flavor and melt in your mouth tender every time!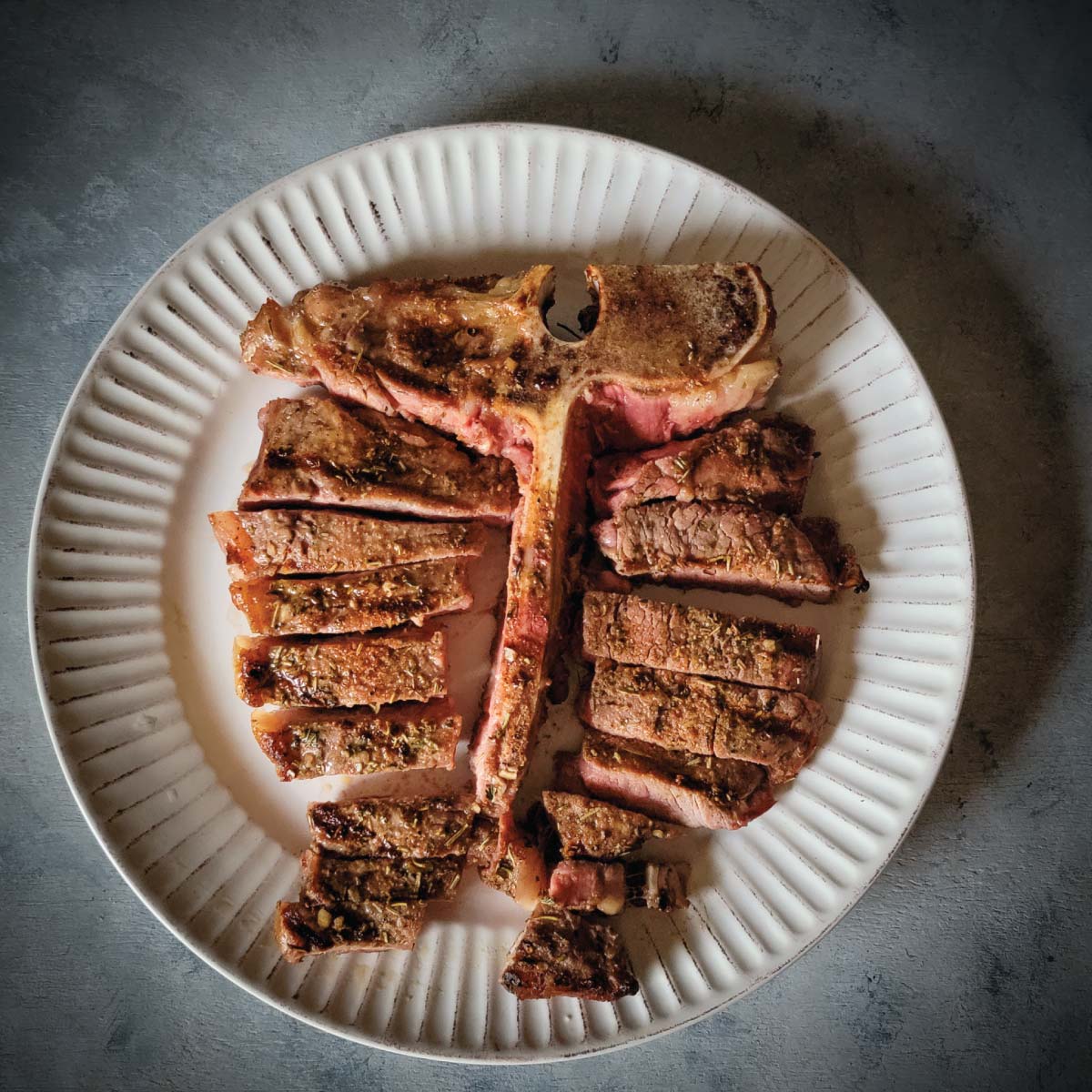 T-bone steaks are one of the easiest meats to cook on the grill and there is no need to marinate them before cooking. We use a simple dry rub made with just a few spices including rosemary and garlic.
You can change up the seasoning. If you want to try something different, we have a collection of homemade steak dry rubs that you will love! Prefer to marinate? Here are the best homemade steak marinades you will want to try.
Have you ever had T-bone steaks before? Maybe you had one in a restaurant or maybe you made them at home. If you have never had one, you are in for a treat when you learn how to cook a T-bone steak on the grill! Trust me, I promise they are easy.
Jump to:
Ingredients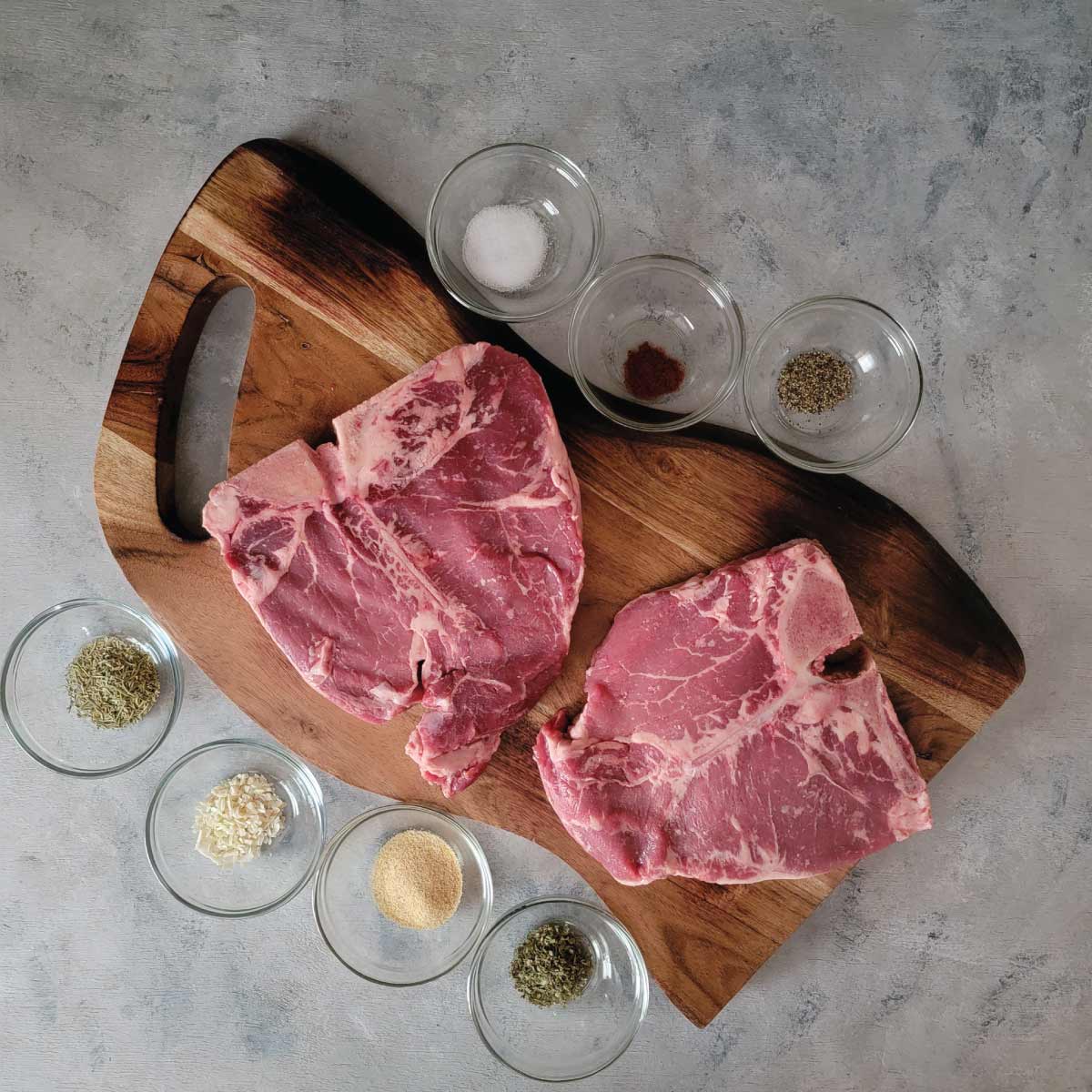 We keep the ingredients simple here and use just a dry rub. If you have a favorite dry rub for your steaks, you can definitely use it. Just try not to go too overpowering with the flavors of the spices, the steaks have an amazing flavor of their own!
If you do not like one of the seasonings, you can leave it out.
T-bone steaks - You can get these from a store or your local butcher. The local butcher will cost more but they are always amazing fresh from a butcher. But we do buy ours from the supermarket when they are on sale, so the supermarket ones are great too.
Minced onion - Dried minced onion works best but you can add onion powder in it's place.
Garlic powder - Garlic powder is best in a dry rub, fresh garlic can be used but it will need to be rubbed onto the steaks separately. It will not mix with the other ingredients well because fresh garlic has moisture.
Rosemary - We use dried rosemary here, but you can chop fresh rosemary in it's place.
Paprika - Smoked or regular, they are both delicious when grilling T-bone steak. This depends on if you like the smoked flavor or not.
Italian seasoning - No substitutions recommended.
Salt - You can use more or less, but I don't recommend leaving it out completely. It is used to enhance all the flavors. You can use table or sea salt.
Pepper - We like fresh ground peppercorns for best flavor, but you can use ground black pepper.
What makes T-bone steaks so great?
They are a very easy steak to make and they will just about melt in your mouth they are so tender! You do not need to marinate them to be tender, I actually recommend that you do not marinate them. Marinades often can change the textures and flavors of the meats - not something you want here.
They are one of my favorite steaks along with NY strip steaks - another easy recipe. Strip steaks are boneless so there is no bone to fight with and they are also very tender, but the bone in the t-bone steaks adds to the flavor!
The hardest part about grilling T-bone steaks to me is the waiting until it gets to my plate. I use a dry rub, no oil or anything. No pounding the meat down, no poking holes in the meat or any of the extra steps you take to make a perfect steak out of a lower priced cut of meat.
Perfect steak every time!
T-bone vs porterhouse steaks
You have probably heard both names before many times. They both come from the same section of the cow (the short loin) so they are very close to the same cut. Both are amazing pieces of steak too!
The difference here is the how big the tenderloin side is on the steak. When looking at either steak - the bigger side is the strip steak and the smaller side is the tenderloin.
The tenderloin side is bigger on a porterhouse then it is on a T-bone.
You can use this recipe for a porterhouse as well! It is one of the best T-bone steak recipes that can be used for both cuts.
Prepping with the dry rub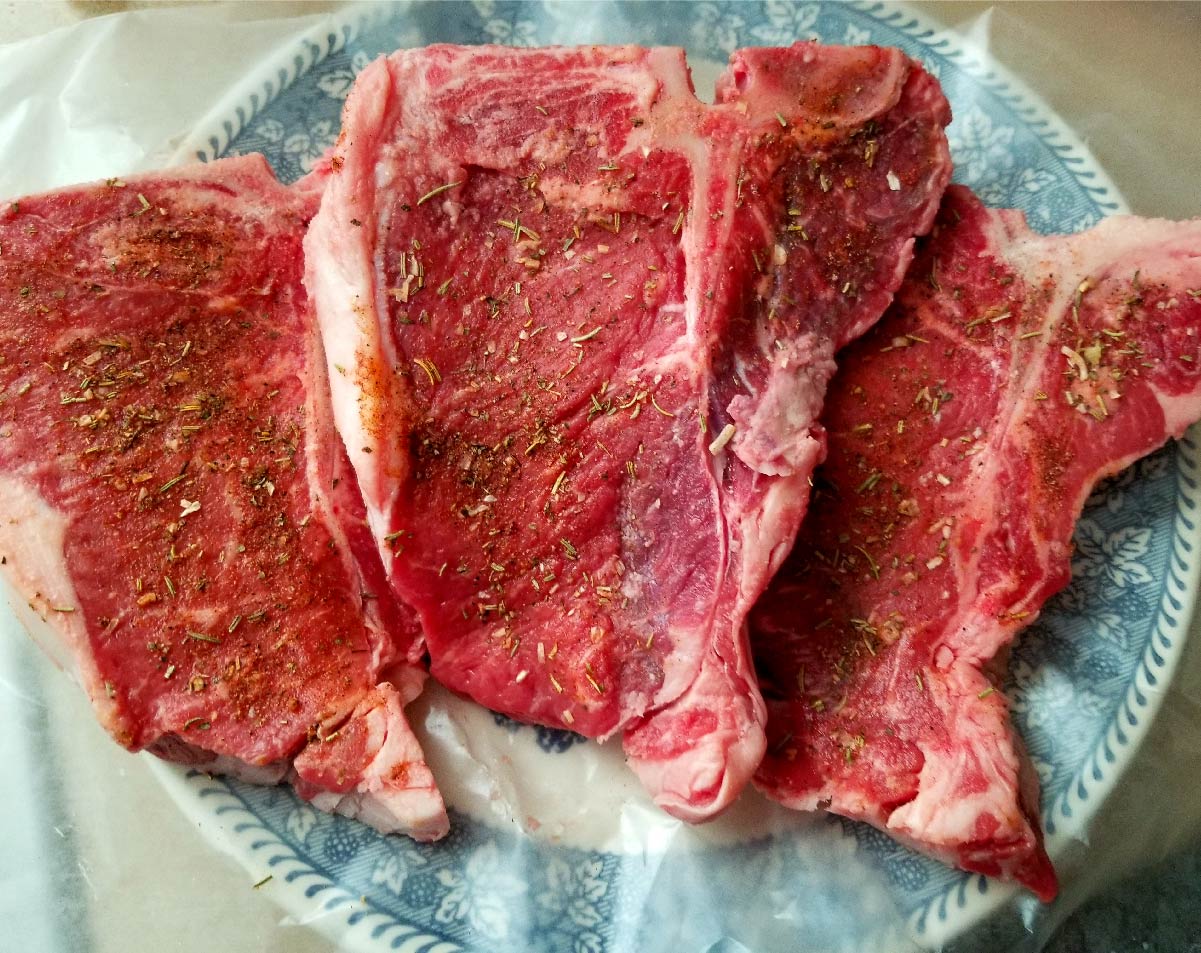 First take your steaks out of the fridge and place on a platter or even a cutting board. Whatever you will use to bring them out to the grill on.
Mix your dry rub ingredients together in a small bowl:
minced onion
garlic powder
rosemary
paprika
Italian seasoning
salt
pepper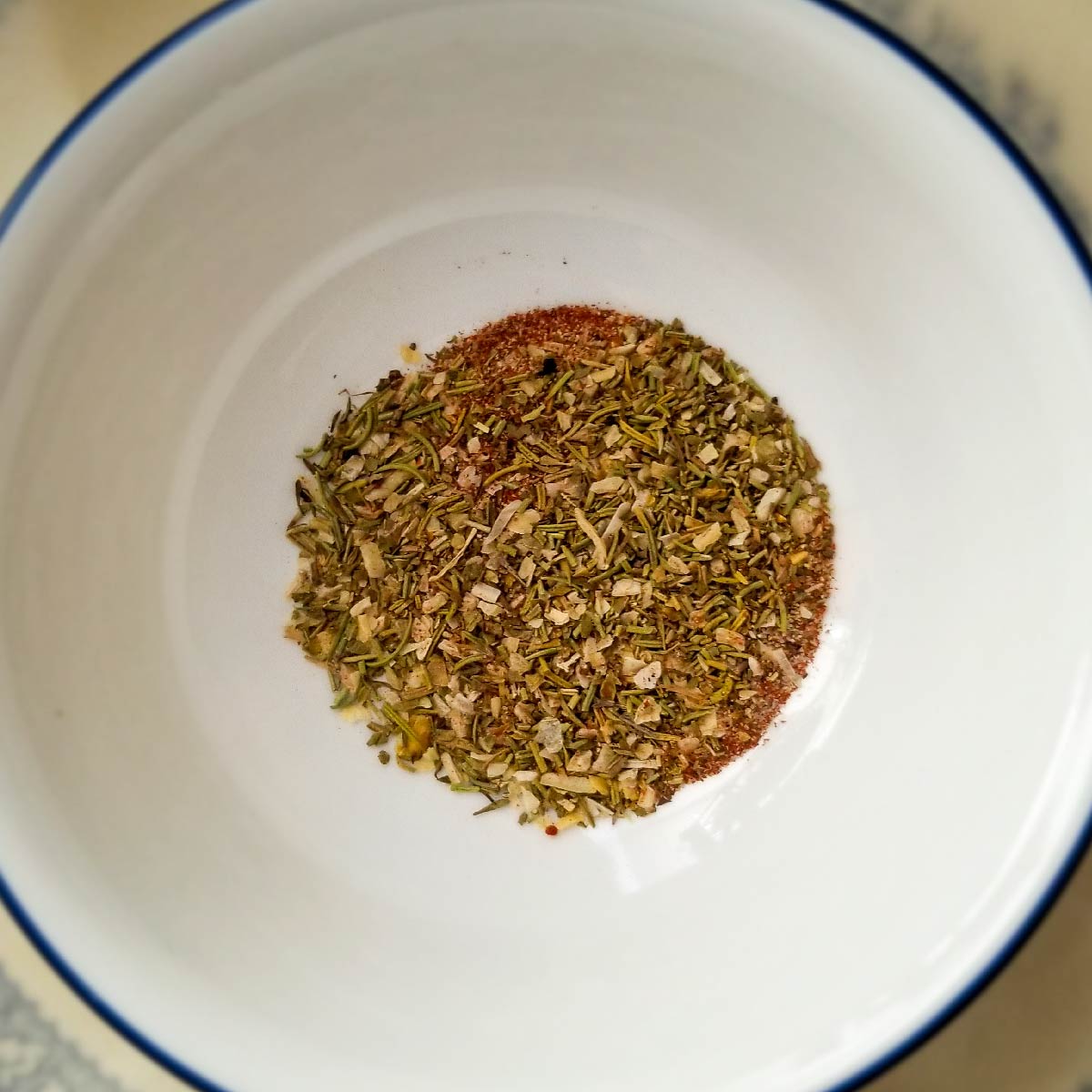 Sprinkle the rub onto both sides of each steak and rub it gently onto the meat. This is a quick step but ensures that the rub stays on the steak instead of falling off when you flip it over.
Let them sit out just like this for about 20-25 minutes before putting them on a well heated grill.
What temperature should I grill steaks at?
You want to heat your grill to 400-450 degrees Fahrenheit. We like the grill to be at a medium to high temperature when grilling T-bone steak. You will get a perfect sear on both sides of the steak without overcooking the inside.
You can also do a reverse sear by cooking on a lower temperature then bumping up the temperature to get the sear marks. I do not usually like to reverse sear mine, but Pitboss has a great way to cook it this way - reverse seared T-bone steak.
You are basically cooking it at a temperature around 250 degrees for close to an hour before bringing the temperature up to 450 degrees for about 2 minutes on each side.
How long do you cook T-bone steak on the grill?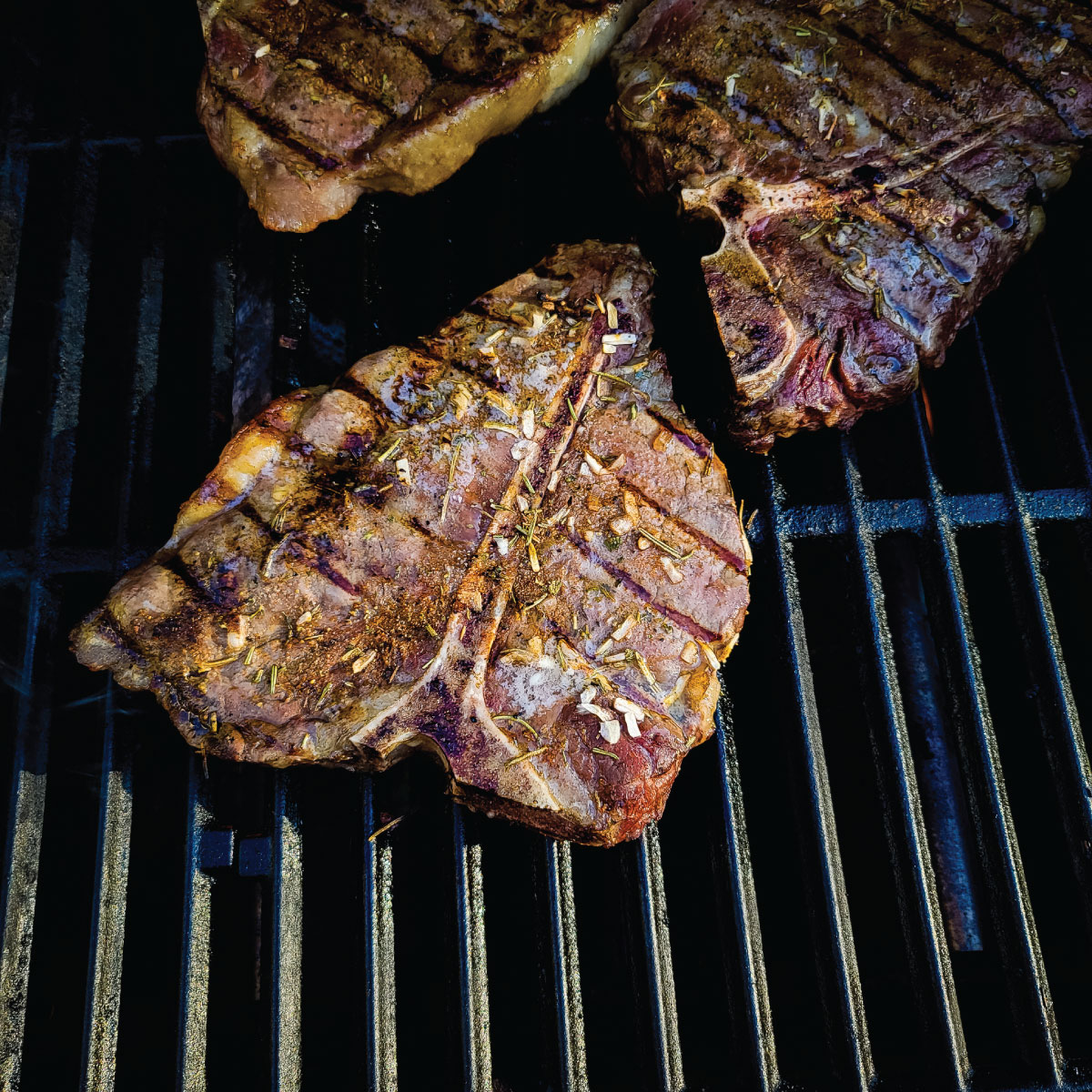 Steaks are easy to cook but you do have to follow times with a timer or at least be sure to keep an eye on your watch.
You should invest in a good grilling thermometer to be sure your meats are done to the right temperature. It doesn't have to be fancy, but a good digital thermometer with a probe is what I recommend if you will be cooking a lot of meats.
We have a Weber grill with the iGrill 3 - a thermometer that has it's own place on the grill and you can keep the probe in the meat while using your app on the phone to check the temperature. This also is amazing, but not required. Something to think about if you are looking to upgrade your grill tho!
For how long you cook them when grilling T-bone steak depends on how you like your steak. First you will cook them on the well preheated grill for 5 minutes and then flip. Below is the times after the flip for your desired level of doneness of your steak.
Rare - cook 3 minutes until the internal temperature is around 120-125.
Medium rare - cook for 4 minutes until the internal temperature is around 130-135
For medium - cook for 5 minutes until the internal temperature is around 140-145
Medium well - cook for 6 minutes until the internal temperature is around 145-150
Well done - cook for 7 minutes until the internal temperature is around 155-160
Always let the steaks rest 5-10 minutes before serving - this allows the juices to sink back into the meat so it is tender and flavorful. You want the juices back in the meat, not on your plate!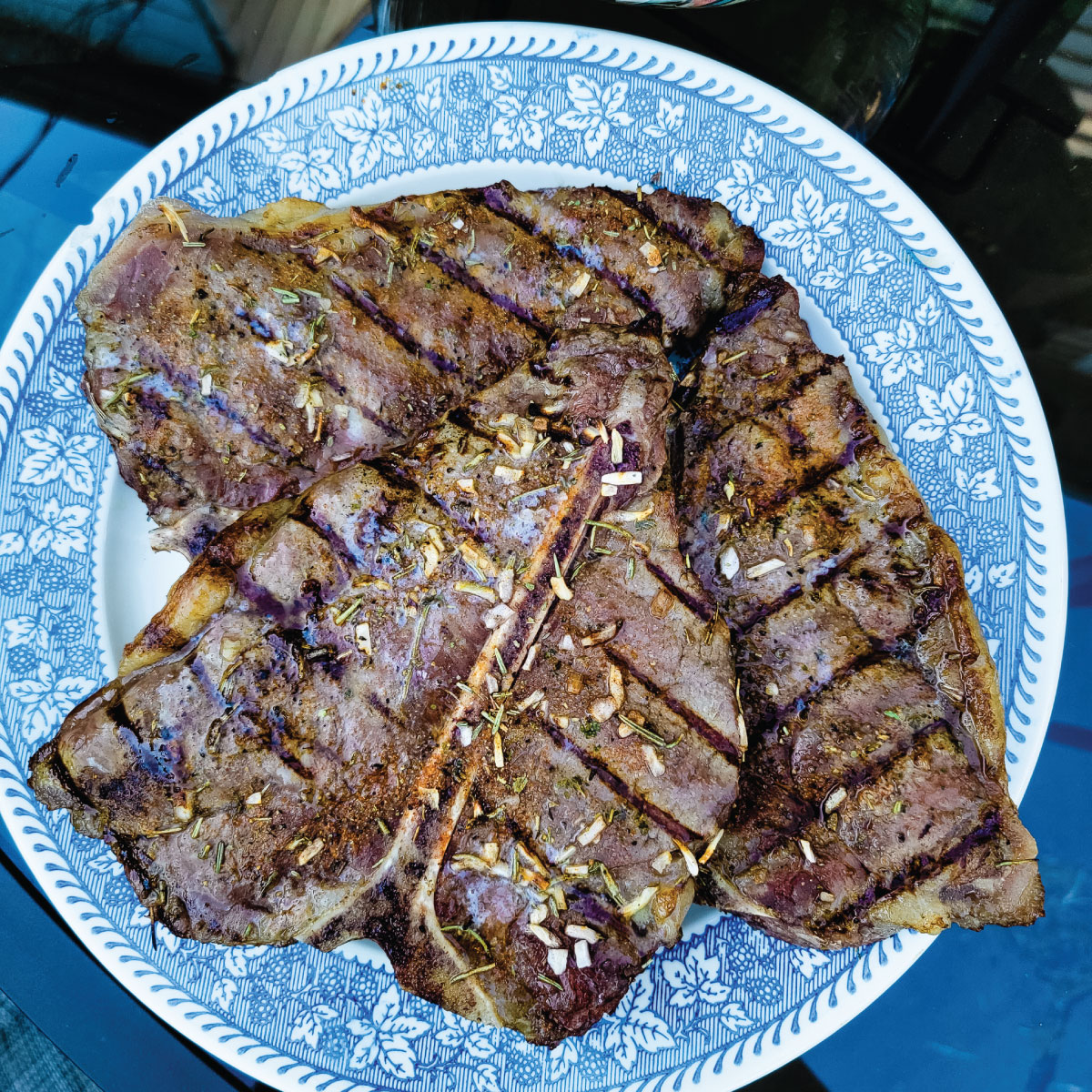 Frequently asked questions
Should I cover the grill when cooking steaks?
Yes put the lid down on the grill when cooking the steaks to ensure you get an evenly cooked steak.
Can I top the T-bone steaks with butter?
Yes absolutely! I sometimes do this and when I do it is right after flipping them. The butter cooks into the steaks in the last half of the cook time. You can also put the butter on them as you are taking them off the grill.

Another way to add it is to serve with melted butter so you can pour it on at the table. Either way, it is delicious on grilled T-bone steaks.
Do I have to let the steaks sit out before grilling?
Yes it is definitely recommended. You do not need to let them sit out longer then 20-25 minutes. This will help them to cook evenly so the middle is not cold with a burned outside.

Do not let them sit out longer then 25 minutes, they are not a thick 5 pound cut of roast - which would require a little longer. They do not need to be room temperature, just not very cold on the inside.
Can I use fresh chopped garlic instead?
Yes you can use fresh chopped garlic instead of garlic powder, but I find that using garlic powder spreads the flavor across the whole steak better. When grilling T-bone steak you are not cooking the steaks very long so fresh garlic does not spread the flavor across the whole steak as well as mixing garlic powder with other spices.
You may also like:
If you love grilled T-bone steaks, you will love these recipes too!
As a note:
Our steaks were just a little over an inch thick. Cooking times will vary slightly based on the thickness and your grill.
We like to have steaks with potatoes or rice, a nice potato salad goes great with them.
Now that you know how to cook a T-bone steak on the grill, we hope you really enjoy it!
Recipe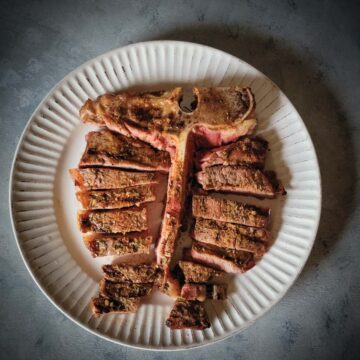 T-bone Steaks on the Grill
These are the best t-bone steaks on the grill, they are so tender and flavorful! They are easy to prepare using a simple homemade dry rub made with just a few common spices.
Ingredients  
3

t-bone steaks

or more as needed
Dry Rub
1

teaspoon

dried mined onion

1

teaspoon

garlic powder

1

teaspoon

rosemary

dried

1

teaspoon

Italian seasoning

½

teaspoon

salt

¼

teaspoon

paprika

smoked or regular

¼

teaspoon

pepper

ground
Instructions 
Mix all the dry rub ingredients together in a small bowl.

1 teaspoon dried mined onion,

1 teaspoon garlic powder,

1 teaspoon rosemary,

1 teaspoon Italian seasoning,

½ teaspoon salt,

¼ teaspoon paprika,

¼ teaspoon pepper

Place the t-bone steaks on a platter or cutting board and sprinkle the dry rub on both sides of the steaks. Rub it in a little so it stays on the meat.

Let the steaks sit out for 20-25 minutes.

Heat your grill to 400-450° Fahrenheit.

Please refer to notes about this and cooking times:

Place the steaks on the grill and close the lid. Cook for 5 minutes then flip.

Cook for 3 to 7 minutes depending on level of desired doneness. Check temperature with a meat thermometer - grills may vary slightly along with cook times.

rare- 3 minutes (about 120°F internal temp), medium rare - 4 minutes (about 130°F), medium - 5 minutes (about 140°F), medium well - 6 minutes (about 145°F) and well done - 7 minutes (about 160°F)

Allow the steaks to rest off of the grill for about 5-10 minutes before serving. Enjoy!
Notes
Nutrition is an estimate and will vary based on the size of the steaks.  
Grills vary but you want the temperature to be around 400-450 degrees Fahrenheit.
For cooking times, it might vary based on the thickness of the steak.  Ours were about an inch thick.  If yours are a little thicker or thinner, you will need to add or substract 1-2 minutes cook time.
Nutrition
Calories:
768
kcal
Carbohydrates:
3
g
Protein:
71
g
Fat:
51
g
Saturated Fat:
20
g
Cholesterol:
190
mg
Sodium:
573
mg
Potassium:
1090
mg
Fiber:
1
g
Sugar:
1
g
Vitamin A:
95
IU
Vitamin C:
1.2
mg
Calcium:
39
mg
Iron:
7.2
mg