Using a simple homemade dry rub made with a few common spices, these grilled chicken legs are easy to make and full of flavor!
Chicken legs are something we love to grill here! Grilling is actually the only way we make them. I just don't like them as much in the oven without the nice crispy and charred skin. The oven doesn't do that...
For this recipe we use a simple dry rub, but there are many ways to cook the legs - also known as chicken drumsticks. I always call them legs here but the two terms are the same cut of meat.
As a note this recipe is written for a gas grill, charcoal will vary in temperatures and times. The grill in the link is the one we use, love and recommend to anybody looking to buy a new grill.
Why do we love chicken legs?
Because they turn out so flavorful! The skin gets nice and crispy on the grill and the bones help give the legs a nice flavor.
Another reason is they are forgiving if you overcook them. Similar to boneless chicken thighs, legs are harder to overcook. They can be overcooked just not as easy to do so.
Legs get more tender as you cook them so if you end up cooking them for an extra 10 minutes, it's not a problem like it would be with chicken breasts. The chicken breast dries out if you over cook it by 10 minutes!
Direct heat or indirect heat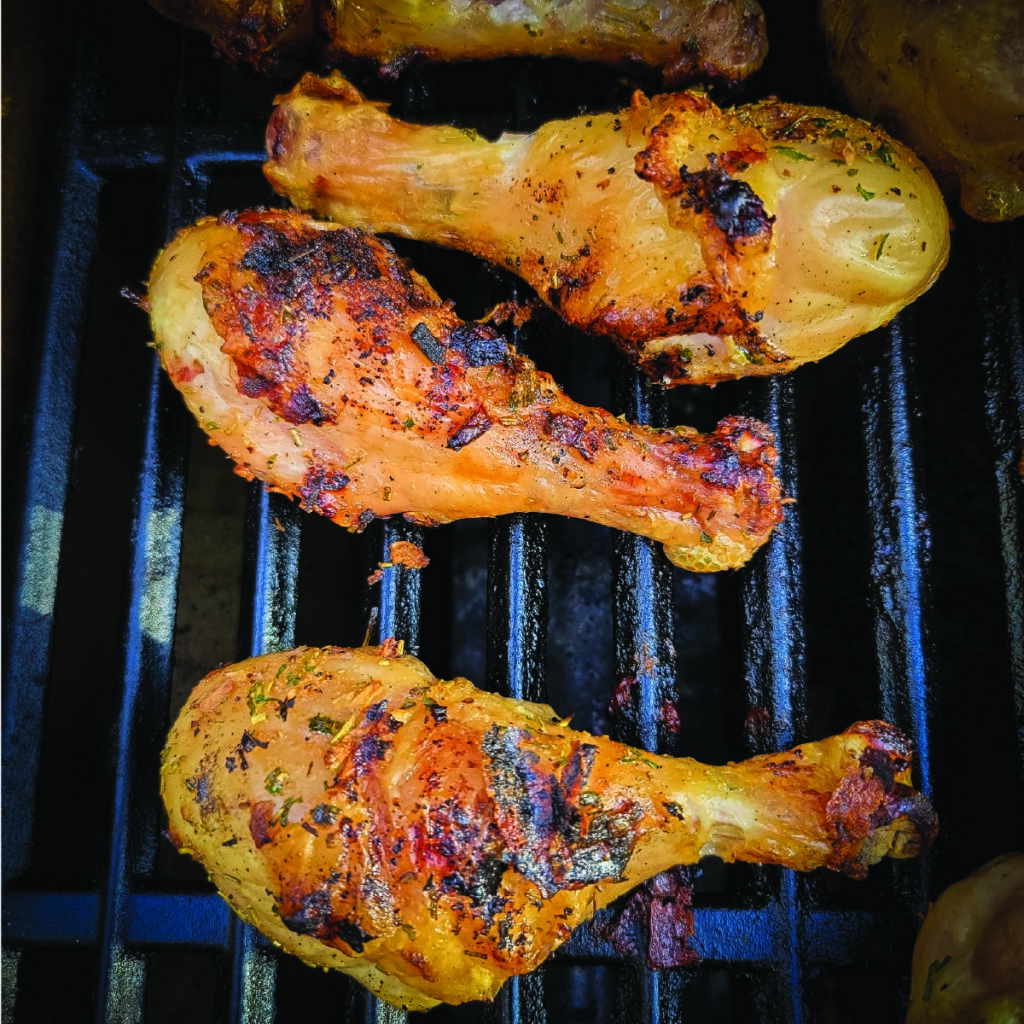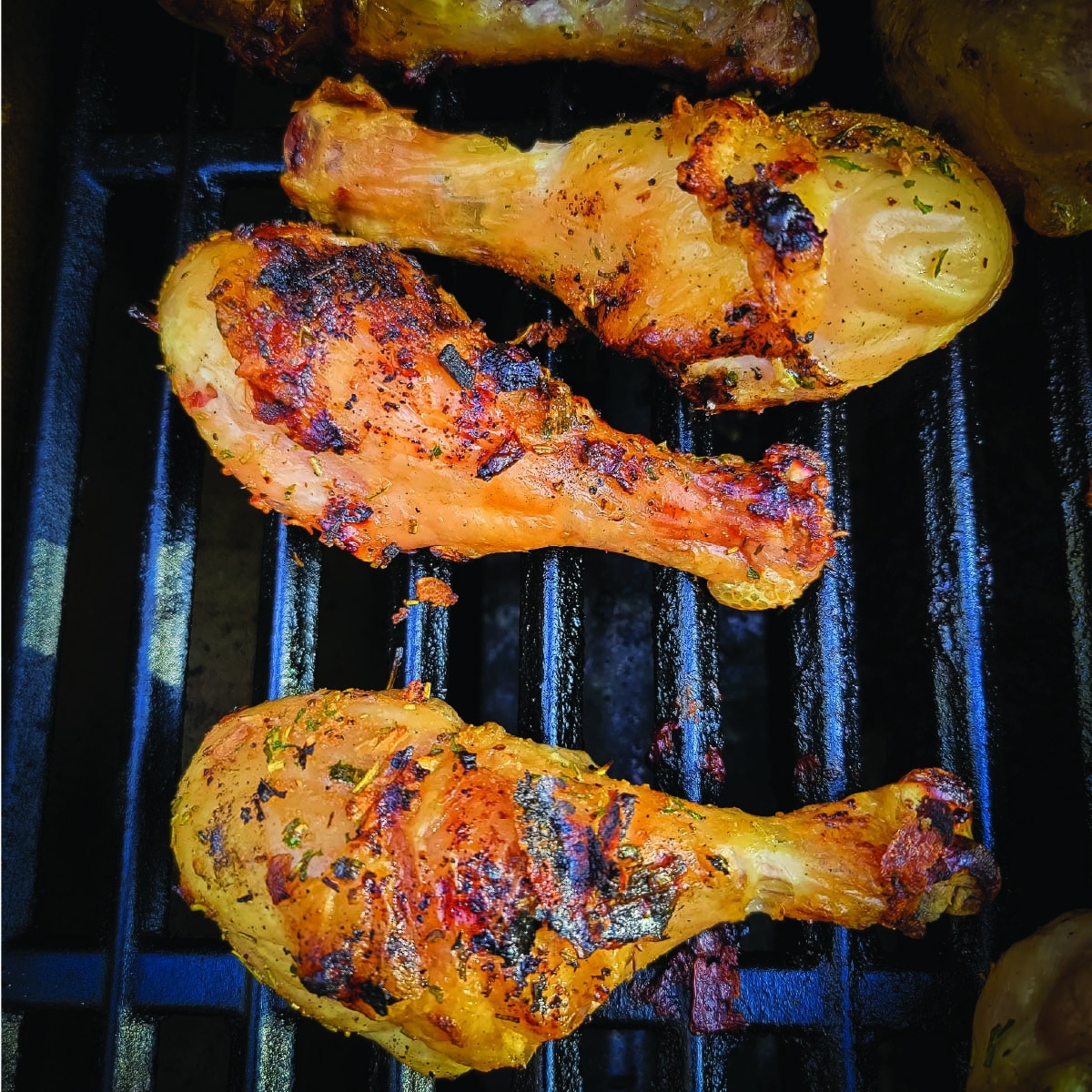 You want to cook the chicken legs on direct heat for even and proper cooking. If you cook the legs over indirect heat, they will take longer to cook. The skins won't get crispy either on indirect heat.
What is the difference between direct and indirect heat?
Indirect heat is when you don't have all the burners going on the grill and you will put the food you are grilling onto a burner that is not lit. It is not directly heated from the bottom, it is relying on the heat inside the grill from the other burners.
Direct heat is when you cook the food over a burner that is on. This cooks the food directly as well as using the temperature of the rest of the grill if the lid is closed.
Frequently asked questions
Do you boil drumsticks before grilling?
No I do not boil them before grilling. Some people do and it will shorten the grill times, but there is no reason to boil them first. It is an extra step that will actually take away some of the flavor of the meat as well.
Can I add BBQ sauce?
Yes you can add BBQ sauce! Do not add it until after you have cooked the legs. Put the sauce on the top of each leg with a basting brush and cook for about 5 minutes. Flip and add the sauce to this side of the chicken leg and cook for another 5 minutes.

We do not recommend adding BBQ sauce to the legs in the beginning of cook time. Wait until the end or it might dry your chicken legs out.
How long does it take to grill chicken legs?
On a grill that is heated to between 350 to 400 degrees Fahrenheit, it will take chicken legs about 40 minutes to fully cook. This is if cooked on direct heat with the lid closed except for when flipping.
Do I have to keep flipping chicken legs when grilling them?
Yes it is recommended. They get cooked on direct heat and they will get burned on the side that is on the grill grates if they are not flipped every 10-15 minutes. They do burn easy so flipping prevents that and it also helps to cook them evenly throughout.
You may also enjoy
Recipe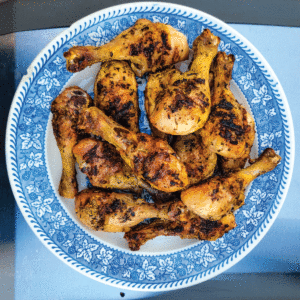 Perfectly Grilled Chicken Legs
Grilled chicken legs are easy to make and the flavor is amazing! These legs have just a simple homemade dry rub made with common spices.
Ingredients  
12

chicken legs

adjust amount as needed
Dry Rub
1

teaspoon

salt

1

teaspoon

garlic powder

2

teaspoon

parsley

¼

teaspoon

black pepper

1

teaspoon

rosemary

1

tablespoon

dried minced onion
Instructions 
In a small prep bowl mix together salt, garlic powder, parsley, black pepper, rosemary and dried minced onion.

Sprinkle the dry rub mixture onto all sides of the chicken legs. Let the legs sit out for about 15 minutes while warming up the grill

Light the grill and preheat it to between 350° and 400° F.

Place the legs on the grill and close the lid.

Flip the chicken legs every 10 minutes and cook for about 40 minutes.

The chicken needs to be at 165° F to be fully cooked.

Remove from the grill and let rest about 5 minutes before serving.
Notes
Nutritional values are estimated and based on a serving size of 2 chicken legs.
Nutrition
Calories:
556
kcal
Carbohydrates:
2
g
Protein:
42
g
Fat:
41
g
Saturated Fat:
11
g
Trans Fat:
1
g
Cholesterol:
240
mg
Sodium:
605
mg
Potassium:
544
mg
Fiber:
1
g
Sugar:
1
g
Vitamin A:
241
IU
Vitamin C:
1
mg
Calcium:
27
mg
Iron:
2
mg