An easy way to grill St Louis ribs without cooking them all day, they cook in about 50 minutes on the gas grill. These ribs are made with a simple dry rub along with lime juice and fresh garlic. They are very juicy and tender!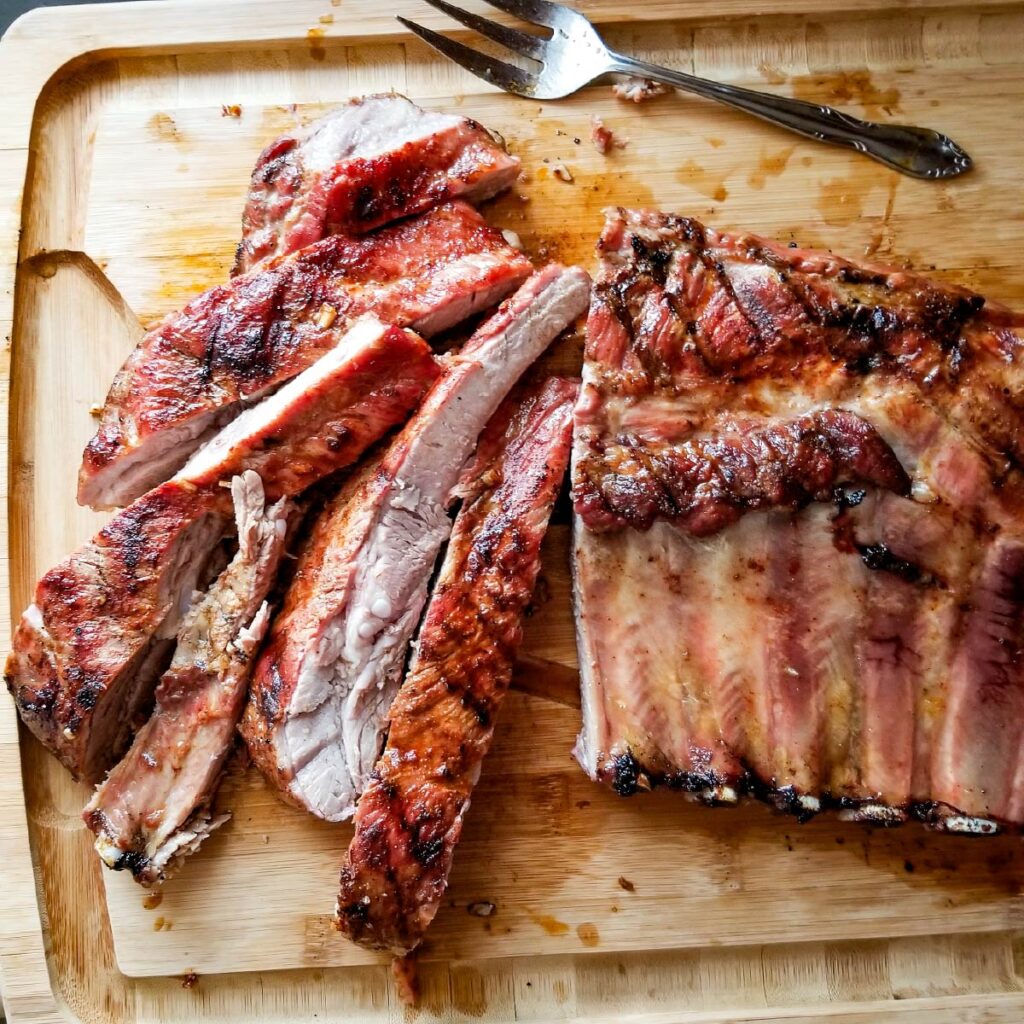 Want some amazing grilled ribs without marinating for hours or cooking half of the day? I know that around an hour isn't as quick as some would think, but it is compared to a 4 hour cook time! These ribs are so easy and use a simple dry rub with some fresh lime juice.
Can I tell you a secret? I have never slow cooked ribs before, ever. I have had them cooked that way and personally do not enjoy them slow cooked. From my experience eating them, St Louis ribs seem to dry out a bit when you cook them for hours. I know it is a thing that many people insist on and we all like what we like, but we prefer ribs to be juicy and tender!
We do not use a marinade either. Marinating isn't something we do much here for any meats. Why is that? Well mainly because salt and vinegar (which is in most marinades) can actually pull the moisture out of meats. A dry rub works great for just about any meat even grilled NY strip steaks and grilled pork chops!
This recipe is for St Louis style ribs cooked on a gas grill.
Jump to:
Ingredients
Ribs - We use a rack of St Louis ribs that is about 5 pounds. You can use the size you need for the people you are feeding.
Lime - For flavor and also to help create a tender rack of ribs. No substitutions recommended.
Garlic - Fresh chopped is best for flavor.
Paprika - Can use smoked paprika or regular. Smoked adds a nice flavor!
Salt - Table salt or sea salt.
Ground chipotle - Recommended but optional. It is not enough to be spicy, but adds a nice smoky flavor.
How to make grilled ribs quick and easy
First thing is to pull the rack of St Louis style ribs out of the fridge, remove it from the packaging and place it on a surface like a large cutting board. I recommend keeping the fat on it to help keep the meat tender.
If you are removing the membrane, do it before putting the seasonings on it.
Once you place it on the surface, rub the juice from the lime over both top and bottom of the ribs. Next rub the minced garlic and dry rub all over the ribs - top and bottom. Let them sit for about 15 minutes (a little longer is ok.)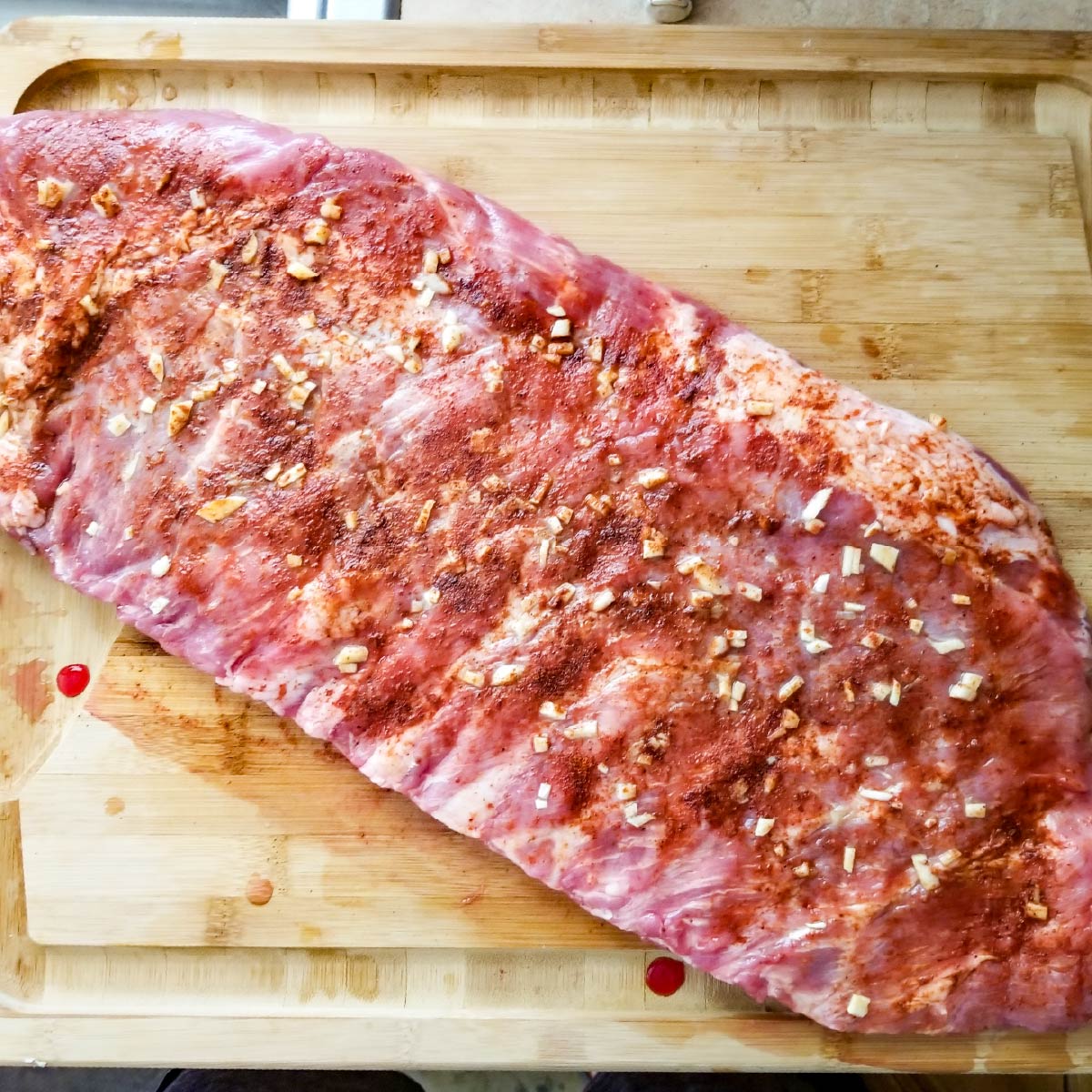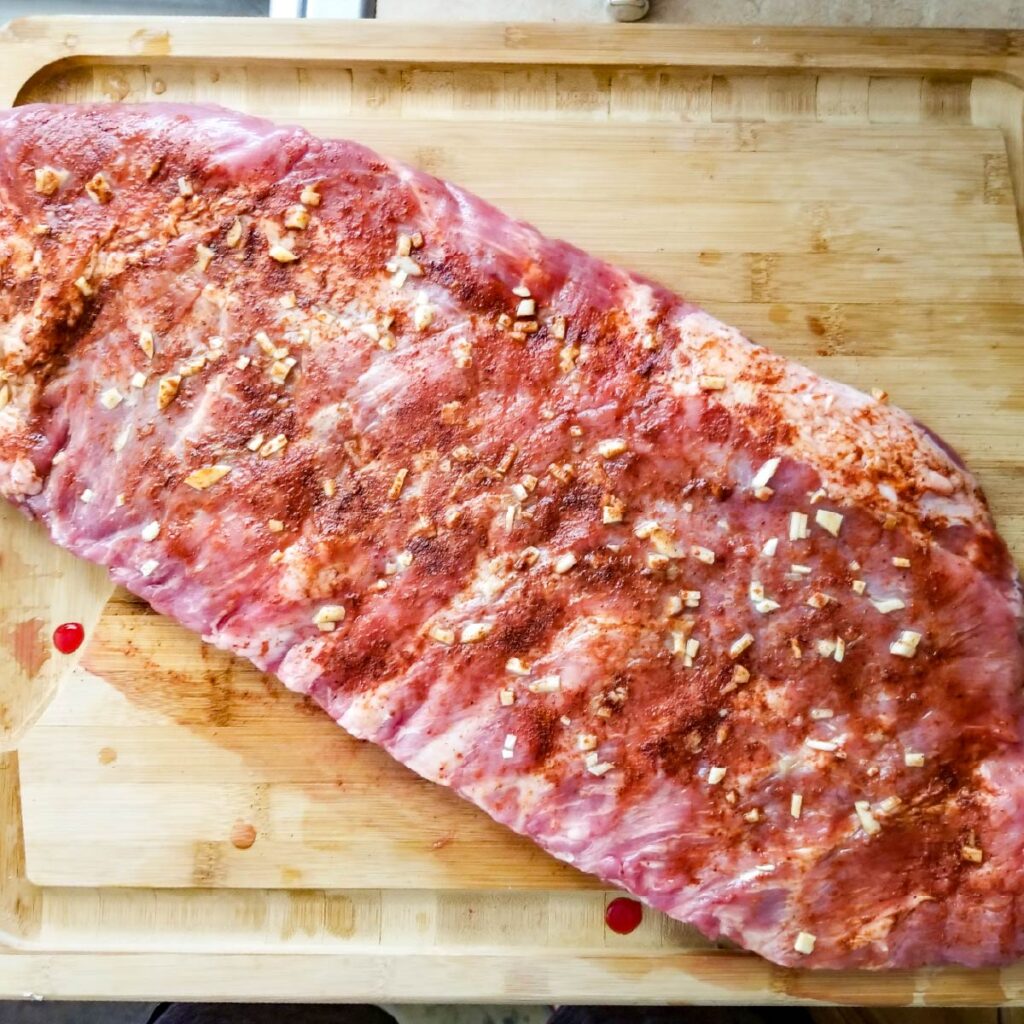 Gas grills vary, but you want it to be around 350-375 degrees and cook on direct heat for a slight crispy outside or indirect heat for an all around tender rack of ribs. Once your grill is heated and ready, place the ribs on the grill bone side down. Let them cook without lifting the lid (unless you suspect a flareup) for 35 minutes.
After 35 minutes, flip over and cook another 15 minutes. Grilled ribs need to be cooked to at least 145 to be a safe temperature. Let them to sit for 5-10 minutes before cutting and serving.
If you are looking to do more then 1 rack of ribs at a time or if you would like grill space for something else, you can cook them standing up in a rib rack. You don't flip them if using a rib rack.
Can I add BBQ sauce to my St Louis ribs?
Yes you can add BBQ sauce and it is delicious! We add it often to ribs, especially our baby back ribs. But we highly recommend waiting until just before flipping them or serving BBQ sauce with them at the table. If you add the BBQ sauce to your ribs too soon you run the risk of drying out the meat.
Sometimes we serve bowls of BBQ sauce on the table but here is how we cook ribs with sauce if we choose to cook them with it on:
Cook for the 35 minutes, rub BBQ sauce over the top with a basting brush - we recommend silicone. Flip the ribs and cover the bone side with BBQ sauce. Cook for about 15 minutes and flip again for another 10 minutes.
This adds 10 minutes to cook time but it is important to not add the sauce too early in cook time.
How do I add a smoke flavor to my ribs?
You can get a perfectly smoked flavor with a gas grill! When we want to add a nice smoke flavor, we use a smoke box that sits right on your grill grate while your food cooks.
You will use wood chips or pieces that come in a variety of choices. With St Louis style ribs we really like the apple wood chips, but you experiment and try different flavors!
Heat the smoke box up on the grill grates (without the wood first.) Using long tongs, open the box and add the wood chips. Alternately you can heat the box with the wood chips in it to not burn yourself.
Once the grill has smoke coming out of it, lower the temperature of the burner that the box is on. Add the ribs and cook as directed. If you are cooking indirect heat, put the box over the middle burner that will be off when cooking the ribs.
Frequently asked questions
Do the ribs have to be cooked on direct heat?
No it doesn't. Direct heat gives you a slightly crisper outside with a nice flavor, but indirect gives you a more tender outside.
Do St Louis ribs have a membrane?
Yes they do have a membrane on the bone side just like baby back ribs. It is up to you if you would like to remove it before cooking. We usually leave it on with these ribs as it helps to keep some of the moisture in them as they cook bone side down.

Many people swear you have to remove the membrane, but it is not required.
Can I use this recipe for a charcoal grill?
No this was written specifically for gas grills. It has not been tested on a charcoal grill and the cook times would likely vary on one.
Are St Louis ribs tender?
When they are cooked properly, yes they are very tender! They have more meat and less fat then baby back ribs so you do have to cook these properly in order to be perfectly juicy and tender.

It is one reason we leave the membrane (optional) on as well as cooking bone side down for most of the cooking. The bones along with the membrane will help keep the moisture in the meat as it cooks.
Other great grilled dishes
Recipe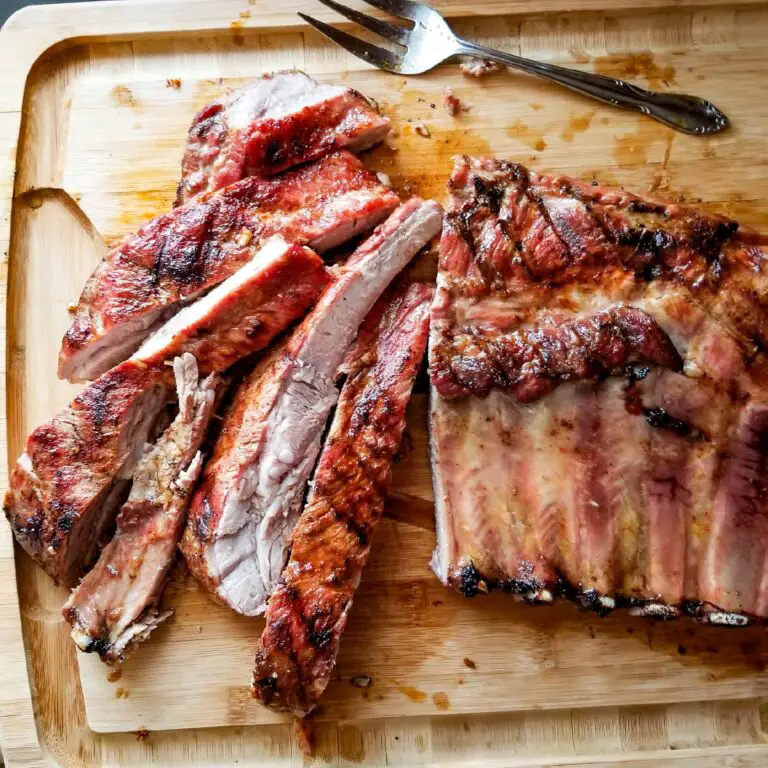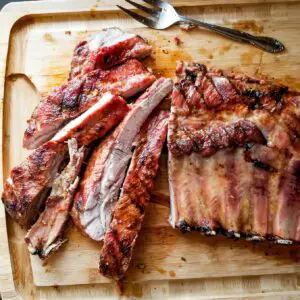 Quick and Easy Grilled Ribs
Grilled ribs do not have to cook all day to be amazing! This quick and easy recipe will be your new favorite preparation for ribs with a simple dry rub and lime juice.
Ingredients
5

lbs

ribs

St Louis style rib rack

½

lime

juice from ½ a lime

2

cloves garlic

minced

2

tsp

paprika

½

tsp

salt

½

tsp

ground chipotle

see notes
Instructions
Place the rib rack on a surface like a cutting board. Rub the juice from half a lime all over both top and bottom of the ribs.

Rub the minced garlic over top and bottom of the ribs as well. Let sit for about 15 minutes.

Mix together salt, paprika and chipotle. Rub all over both top and bottom of the ribs. Sit for another 5-10 minutes.

Heat your gas grill to 350-375° F.

Place bone side down and cook for 35 minutes. Do not open lid unless you suspect a flare-up.

After 35 minutes, flip and cook for another 15-20 minutes with the lid closed.

Pork needs to be cooked to at least 145°.

Remove from the grill and allow to rest for 5-10 minutes before cutting the ribs.
Notes
Nutritional values are estimated.
Ground chipotle is a little spicy and gives a nice smoked flavor.  If you use too much, it can be too spicy for people who do not like spice.  If you want a little more spice, I recommend using cayenne along with the chipotle.  
Nutrition
Calories:
1477
kcal
Carbohydrates:
5
g
Protein:
74
g
Fat:
129
g
Saturated Fat:
57
g
Cholesterol:
340
mg
Sodium:
477
mg
Potassium:
1010
mg
Fiber:
1
g
Sugar:
1
g
Vitamin A:
599
IU
Vitamin C:
2
mg
Calcium:
52
mg
Iron:
8
mg