Want some amazing grilled ribs without marinating for hours or cooking half of the day? I know that around an hour isn't as quick as some would think, but it is compared to a 4 hour cook time! These ribs are so easy and use a simple dry rub with some fresh lime juice.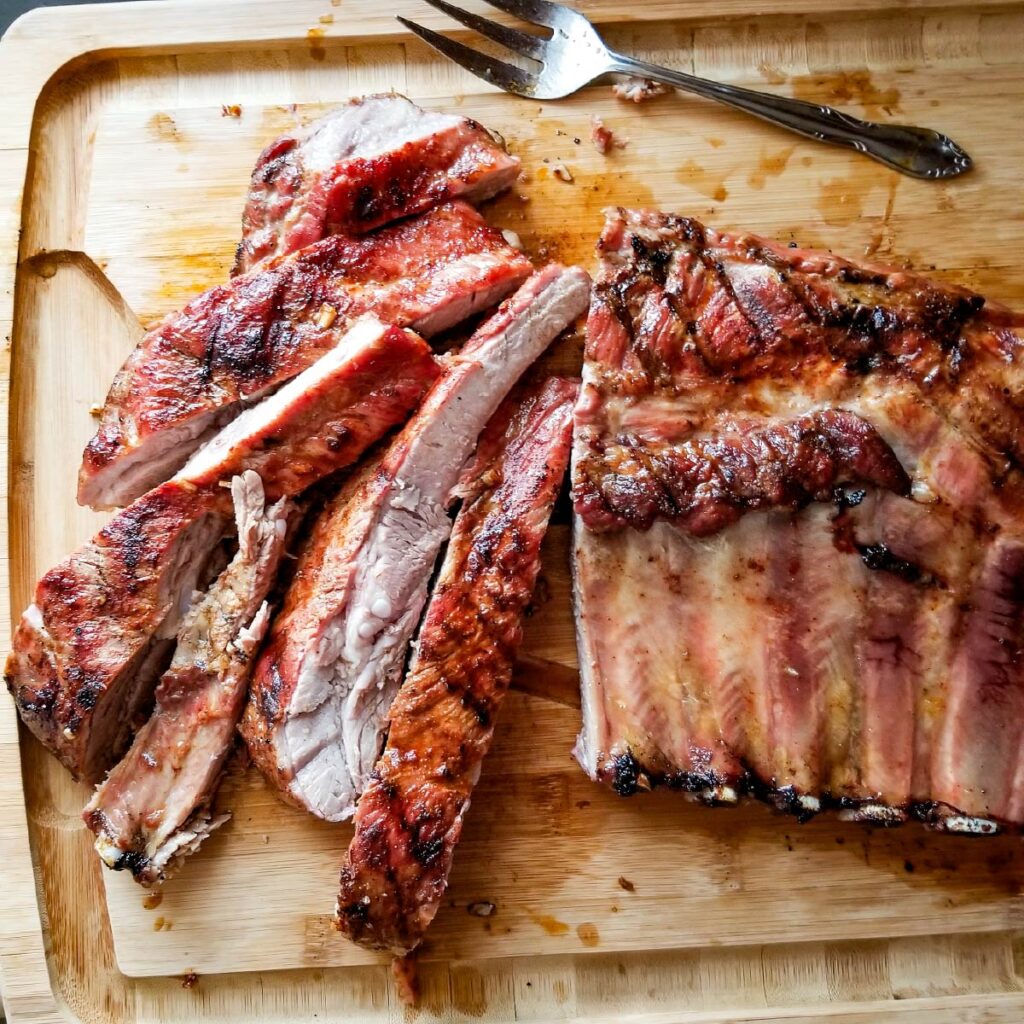 Can I tell you a secret? I have never slow cooked ribs before, ever. I have had them cooked that way, but never did them that way. I know it is a thing that many people insist on and we all like what we like, but it isn't required!
While we are on secrets, I have another. I have never marinated them before either. Marinating isn't something we do much here for any meats. Why is that? Well mainly because salt (which is in most marinades) can actually pull the moisture out of meats. We have never had a problem with meats lacking in flavor either.
This recipe is for St Louis style ribs cooked on a gas grill and I have not made them on anything but gas.
How to make grilled ribs quick and easy
First thing is to pull the rack out of the fridge, remove it from the packaging and place it on a surface like a large cutting board. You can cut some of the excess fat off, but I prefer to leave it on and don't recommend cutting it off.
Once you place it on the surface, rub the juice from the lime over both top and bottom of the ribs. Next rub the minced garlic all over and let it sit for about 15 minutes (a little longer is ok.) Mix the rest of the dry rub ingredients together and rub this mixture all over the top and bottom. Let them sit for another 5 minutes before grilling.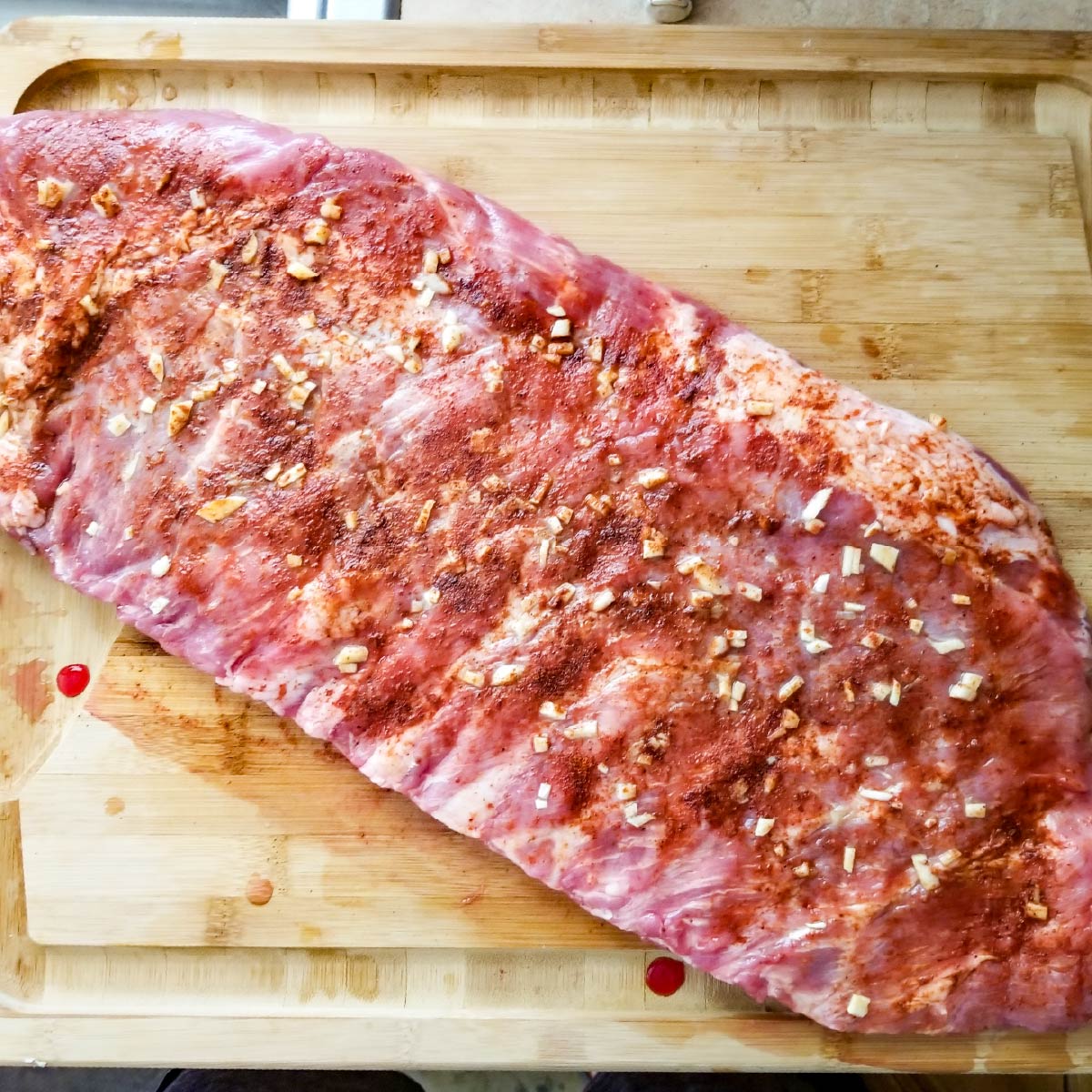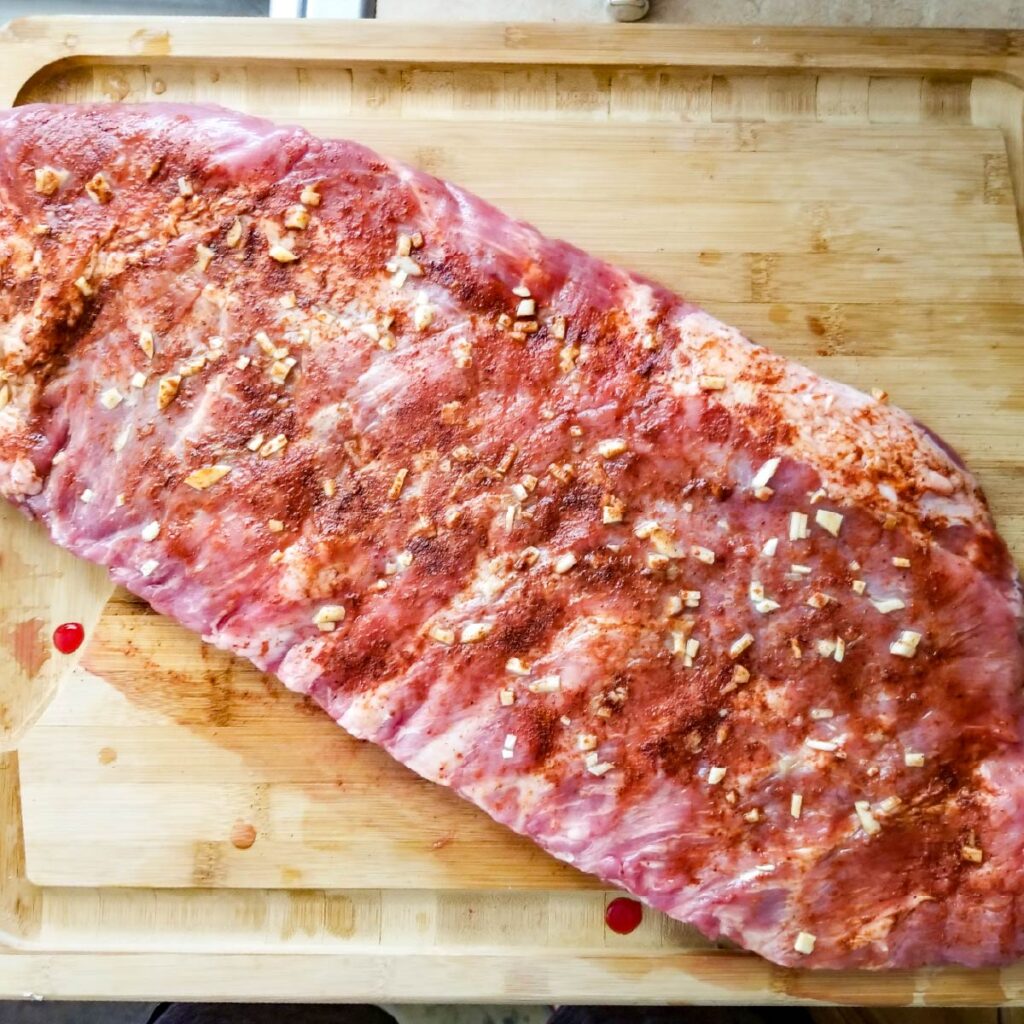 Gas grills vary, but you want it to be around 350-375 degrees and cook on direct heat. Once your grill is heated and ready, place the ribs on the grill bone side down. Let them cook without lifting the lid (unless you suspect a flareup) for 30 minutes.
After 35 minutes, flip over and cook another 15 minutes. Grilled ribs need to be cooked to at least 145 to be a safe temperature. Let them to sit for 5-10 minutes before cutting and serving.
If you are looking to do more then 1 rack of ribs at a time or if you would like grill space for something else, you can cook them standing up in a rib rack. You don't flip them if using a rib rack.
We like to put our favorite BBQ sauces on them on our plates and not cooked with it. It helps to keep them more tender.
Frequently asked questions
Does it have to be direct heat?
No it doesn't. Direct heat gives you a slightly crisper outside with a nice flavor, but indirect gives you a more tender outside. What is important is that you reach around 350-375 on the grill.
Can I add BBQ sauce?
Yes you can, but we highly recommend waiting until serving. We serve them with BBQ at the table and do not cook with it. We have found it to have a drying effect on most meats and we choose to dip them on our plates.
Important is to not keep flipping the ribs and also do not keep opening the lid. The combination of that and BBQ sauce tends to have a drying effect on ribs.
Can I use this for a charcoal grill?
Cooking times will likely vary with a charcoal grill. We have not tried it on anything but a gas grill.
How can I add a smoke flavor to my grilled ribs?
We use ground chipotle which has a slightly smoked flavor, but you can also get a smoker box that you would add wood to. It helps to give the smoke flavor. We don't do this personally, but you can!
Other great grilled dishes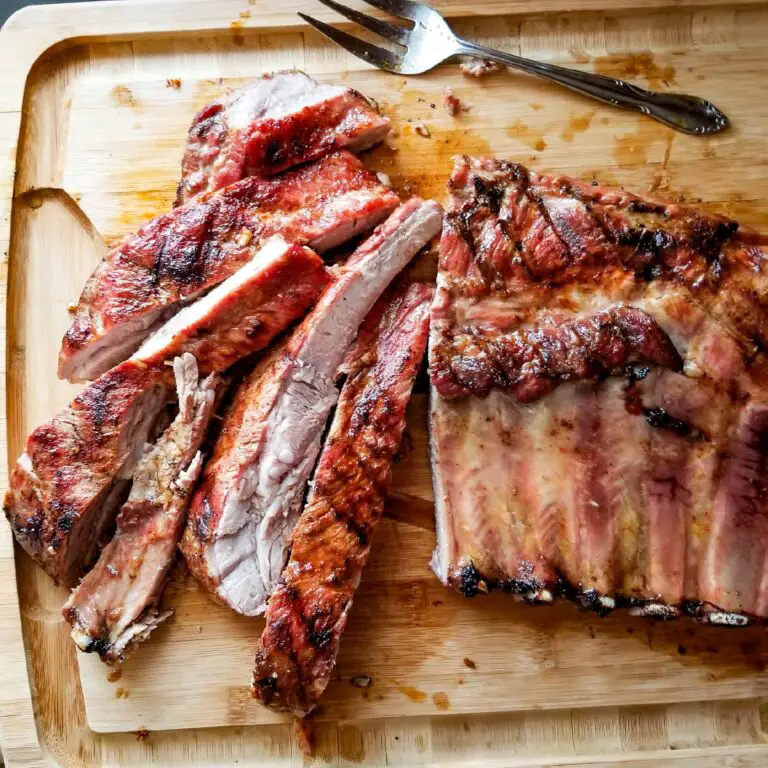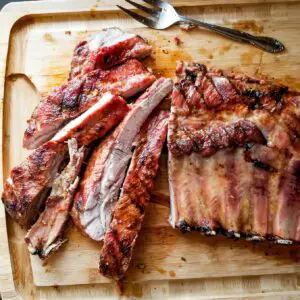 Quick and Easy Grilled Ribs
Grilled ribs do not have to cook all day to be amazing! This quick and easy recipe will be your new favorite preparation for ribs with a simple dry rub and lime juice.
Ingredients
5

lbs

ribs

St Louis style rib rack

½

lime

juice from ½ a lime

2

cloves garlic

minced

2

tsp

paprika

½

tsp

salt

see notes

½

tsp

ground chipotle

see notes
Instructions
Place the rib rack on a surface like a cutting board. Rub the juice from half a lime all over both top and bottom of the ribs.

Rub the minced garlic over top and bottom of the ribs as well. Let sit for about 15 minutes.

Mix together salt, paprika and chipotle. Rub all over both top and bottom of the ribs. Sit for another 5-10 minutes.

Heat your gas grill to 350-375° F.

Place bone side down and cook for 35 minutes. Do not open lid unless you suspect a flare-up.

After 35 minutes, flip and cook for another 15-20 minutes with the lid closed.

Pork needs to be cooked to at least 145°.

Remove from the grill and allow to rest for 5-10 minutes before cutting the ribs.
Notes
Nutritional values are estimated.
You can use a rib rack to cook more then one rack at a time or to save space for other items on the grill.
For salt, you might want to add more on the plate.  We recommend you wait until serving to add more, but you can play around with the amounts.  Too much can cause it to dry a little.
Ground chipotle is a little spicy and gives a nice smoked flavor.  If you use too much, it can be too strong of a smoke flavor.  If you want a little more spice, I recommend using cayenne along with the chipotle.  
We recommend serving the ribs with BBQ on the side, but you can cook with it as well.  BBQ sauce can dry them out a bit during cooking tho and they will be juicier if you leave it off until serving.
Nutrition
Calories:
1477
kcal
Carbohydrates:
5
g
Protein:
74
g
Fat:
129
g
Saturated Fat:
57
g
Cholesterol:
340
mg
Sodium:
477
mg
Potassium:
1010
mg
Fiber:
1
g
Sugar:
1
g
Vitamin A:
599
IU
Vitamin C:
2
mg
Calcium:
52
mg
Iron:
8
mg