Looking for the perfect fall dinner? Pumpkin pasta sauce is just that! It is easy to make and has a perfect combination of pumpkin, tomatoes, peppers and a few seasonings. This sauce has no cheese or cream in it, making it dairy free.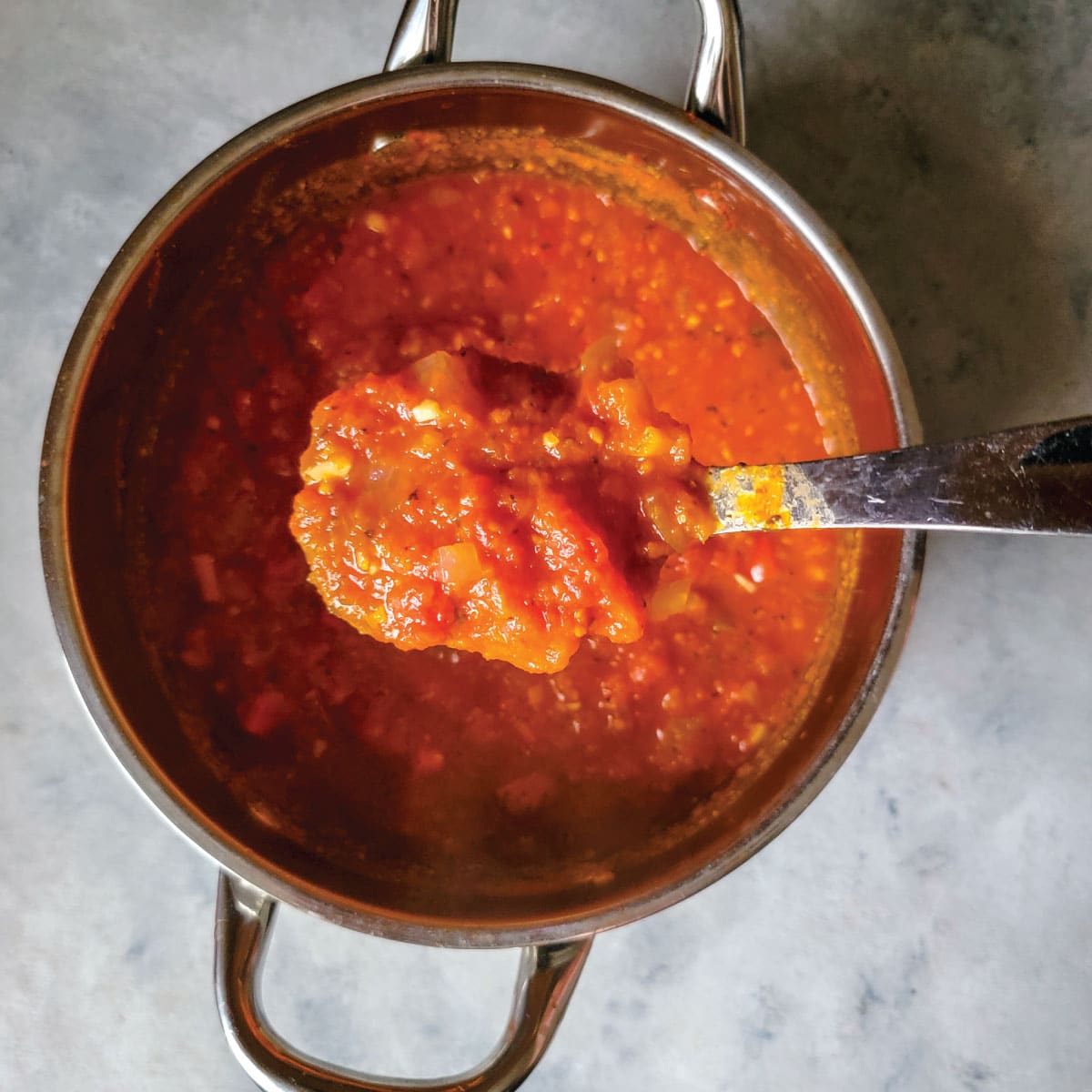 One of the great things we love here about fall is pumpkins. Really we love a lot of things about fall so it is hard to say just one thing, but this sauce is one of them!
The first time we ever tried pumpkin in a sauce was a store bought sauce. We tried it years ago and half the house liked it, the other half was just ok with it. Problem was that it was too sweet and processed!
We also started getting away from jarred sauces and making all homemade like our homemade lasagna sauce or creamy vodka sauce. This set me out on a mission - to create a better pumpkin and tomato sauce!
Please note that as written this is not vegetarian but it can easily be made vegetarian by substituting the chicken broth with vegetable broth. You don't have to add any meat to the sauce either, that is optional.
The ingredients
The ingredients for pumpkin pasta sauce are pretty simple and there are a couple that can be substituted. This is made without cream or cheese, but you could always add a little cream if you wanted it to be creamier. We prefer it without.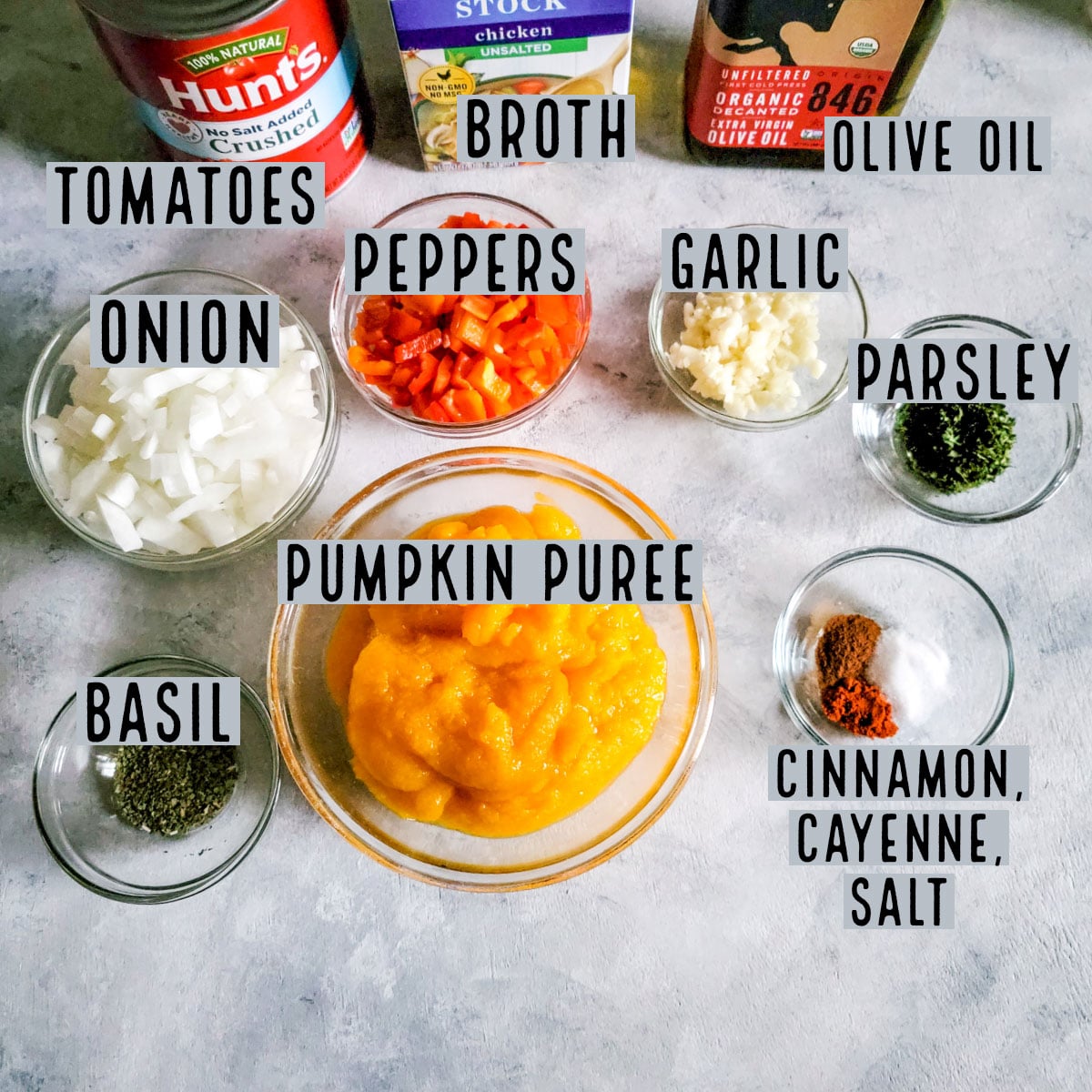 Olive oil - The flavor that olive oil gives is a great one, but you can leave it out if you prefer. You will just have to cook the onions and all the seasonings in the tomatoes instead of sautéing the onions in oil first. Both methods of cooking are great and I will cover more below.
Onion - I recommend either yellow or white. You can use sweet onions as well, but do not use a red onion. They are a great onion if they will be served raw, but do not add a good flavor to sauces.
Garlic - fresh garlic is always best in sauces, but you can substitute garlic powder if needed. Start with one half a teaspoon and add more as desired.
Tomatoes - Crushed tomatoes work best here and we use the no salt added. You may need to adjust the salt if you add tomatoes with salt added. No big deal here, you can always add more salt half way through the cook time if it tastes like it needs it.
Broth - We use unsalted chicken broth or stock, but you can make this vegetarian by using a vegetable broth instead! If you use a broth with salt, you may need to adjust the salt you add to sauce. Taste and add as needed.
Peppers - They need to be sweet peppers, green bell does not add as good of a flavor here. We recommend either red, orange or yellow. You can do a combination of them too!
Pumpkin puree - It wouldn't be a pumpkin pasta sauce without it! We like to use fresh pumpkin puree (recipe for puree is made using an Instant Pot), but you can use canned pumpkin as well. A can of pumpkin is just short of 2 cups. If you are using fresh pumpkin, you can add 2 cups of puree instead of weighing it to 15 ounces.
The spices
Parsley - We use dried and think it works best in this sauce.
Basil - Dried works best for this sauce as well.
Cayenne pepper - Highly recommended but you can use red pepper flakes in it's place.
Cinnamon - Dried cinnamon works best and it is highly recommended you add it!
Salt - Adjust as needed. May not need it if using salted broth. Sea salt or table salt taste great here.
Two ways to make the sauce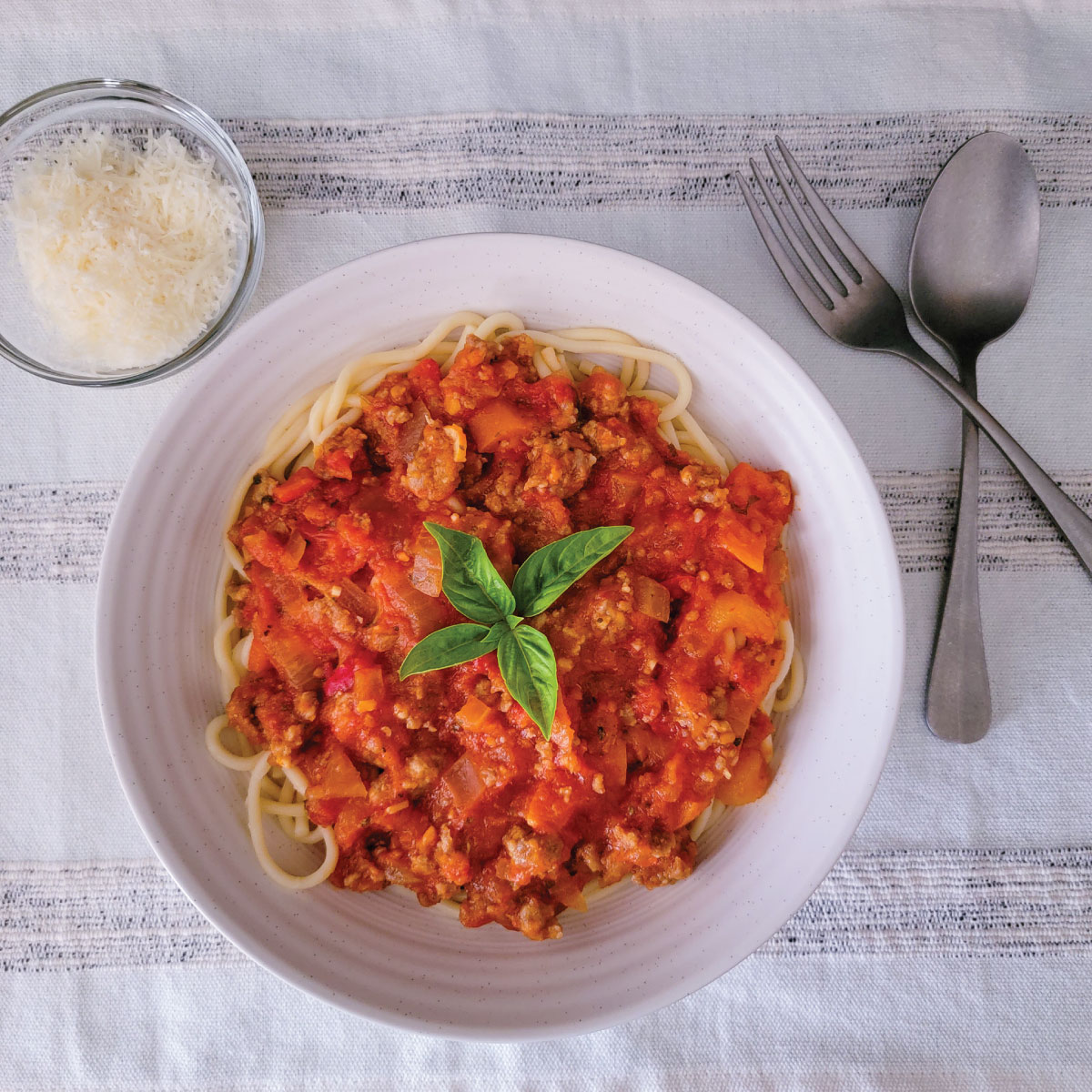 This pumpkin pasta sauce recipe was originally written to sauté the onions in olive oil first. It was updated in August 2021 to add in the option to make it without sautéing first.
The flavor is slightly better when you can let it simmer longer with the onions, garlic, peppers and seasonings in the tomatoes mixed with broth. Everything blends together better, but you need to simmer for a longer period of time. There is no right or wrong way here, they both taste great so go with which one you have time for!
In a hurry? Sauté first. Have more time? Go for cooking the onions in the tomatoes!
If you sauté the onions first - you cut back on the amount of cook time the onions need to soften. You also get a slightly roasted flavor in your garlic when you add it to the oil before the tomatoes.
Cook onions in oil for about 3-5 minutes until they start to become translucent. Then add in the garlic for a minute stirring often. Carefully pour in the broth and tomatoes, there will be steam and it might splatter slightly if your pot is very hot.
Add in the peppers and spices, stir well and simmer on medium low for about 20-30 minutes. Taste the sauce to see if the flavors are blended nicely together - it will have a pleasant taste and not a bitter taste that cooked tomatoes sometimes have if a sauce hasn't cooked long enough. Then add in the pumpkin and cook for about 5-10 minutes before serving.
If you want to cook it all together - This gets a great flavor throughout the sauce, but it does require you to cook it longer. You will pour the tomatoes, broth, onions, garlic, peppers and spices into the sauce pot. Stir well and allow to simmer on medium low for at least 45 minutes to an hour stirring occasionally.
You want the onions and peppers to be soft. I still add olive oil when cooking it this way to get a little bit of flavor, but that is optional. You would add it in with the first set of ingredients (before simmering and before pumpkin.)
After your onions and peppers have softened, taste your sauce and see if it is at a good flavor. It should be but you can continue cooking if needed. Add in the pumpkin after the simmering and cook for about 5-10 minutes before serving.
Frequently asked questions
What meat goes with pumpkin pasta sauce?
We prefer sausage in ours, but chicken tastes good in it too! We have not tried regular ground beef, but have had meatballs in it and they were good. Sausage is still our favorite.
Can I use fresh tomatoes instead of canned?
Yes you can and we have! It takes about 3 pounds of tomatoes. You would peel them, chop them up and then crush them with a potato masher while cooking them for a couple minutes to make them crushed tomatoes.
Can I freeze the sauce?
Yes if stored in an air tight container, it freezes well and should last for 4-6 months in the freezer as long as it was handled properly before freezing. Allow it to cool down in the fridge before placing in freezer containers.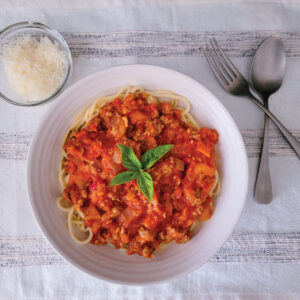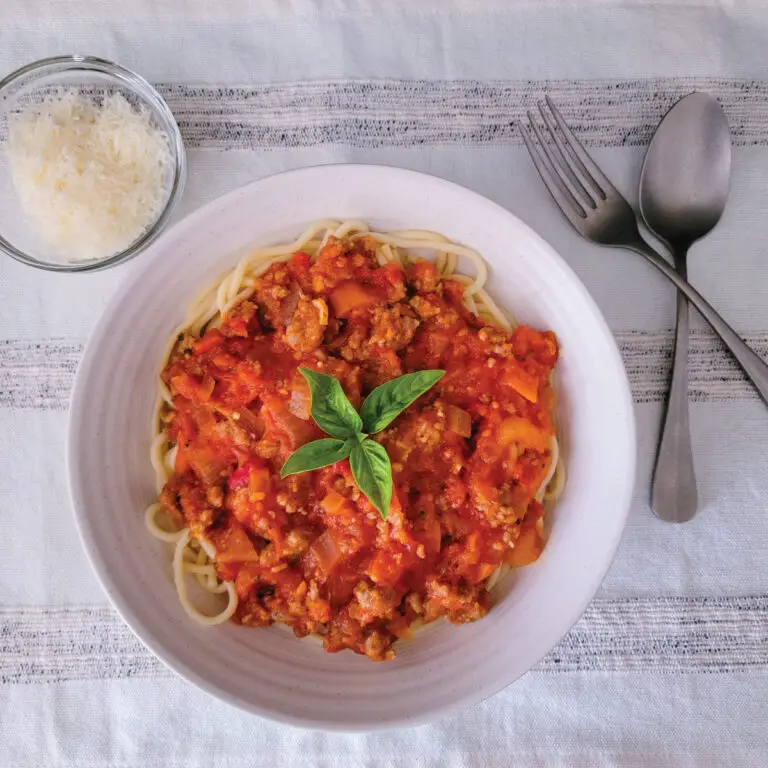 The Best Pumpkin Pasta Sauce
Perfect for a fall day, the pumpkin pasta sauce is easy to make and delicious! It is a combination of pumpkin, tomatoes, onion, peppers and some seasonings. This sauce is made without cream.
Ingredients  
2

tablespoons

olive oil

1

sweet onion

large, chopped

1½

tablespoons

chopped garlic

3-4 cloves

28

ounces

crushed tomatoes

1

cup

chicken broth

no salt added or low sodium recommended

1

cup

sweet pepper

chopped - red or orange is best

½

teaspoon

salt

adjust to taste, see notes

¼

teaspoon

cayenne

more if preferred

¼

teaspoon

cinnamon

½

tablespoon

dried parsley flakes

1

teaspoon

dried basil

15

ounces

pumpkin puree
Instructions 
Heat up your sauce pot over medium heat. Add in the olive oil and onions.

Cook for about 3-5 minutes until the onions are just starting to become translucent.

Add in garlic and cook for another minute.

Pour in the broth and the tomatoes.

Add in the peppers, salt, cayenne, cinnamon, parsley and basil. Stir well.

Simmer on medium low for about 20-30 minutes.

If you are adding sausage (optional), we cook it first and drain to keep some of the grease out of sauce. Then add it during the simmer time.

Add in the pumpkin puree and stir well. Cook uncovered for another 5-10 minutes, long enough to heat through again.

Your sauce is ready to serve over pasta, enjoy!
Notes
The nutritional values are estimated as serving sizes vary per person.  
It is important that you use a sweet pepper like a red or orange in this.  Green peppers do not add as good of a flavor as the sweet pepper does.
If you are looking to make this vegetarian, substitute the chicken broth with vegetable broth.
Salt may need to be adjusted based on taste and other ingredients.  If you use full sodium broth, you may not need as much salt.  Taste before it is finished cooking and adjust as needed.
Updated 8/13/21:
You can skip the sautéing of onions and garlic by adding the tomatoes, broth, onion, peppers, garlic and spices together and simmering for at least 45 minutes to an hour before adding the pumpkin.  We still add olive oil for taste if we cook it this way, but it is up to you.  
Both are great ways to make the sauce - one is quick while the other has to cook for longer.
Nutrition
Calories:
108
kcal
Carbohydrates:
17
g
Protein:
3
g
Fat:
4
g
Saturated Fat:
1
g
Polyunsaturated Fat:
1
g
Monounsaturated Fat:
3
g
Sodium:
293
mg
Potassium:
528
mg
Fiber:
4
g
Sugar:
9
g
Vitamin A:
9099
IU
Vitamin C:
38
mg
Calcium:
66
mg
Iron:
2
mg