Get ready to take your lasagna to the next level with an easy to make homemade lasagna sauce! Say goodbye to store-bought jars and embrace the authentic flavors that can only come from creating your own sauce from scratch.
With the perfect combination of tomatoes and herbs, this will be your favorite go to anytime you make lasagna.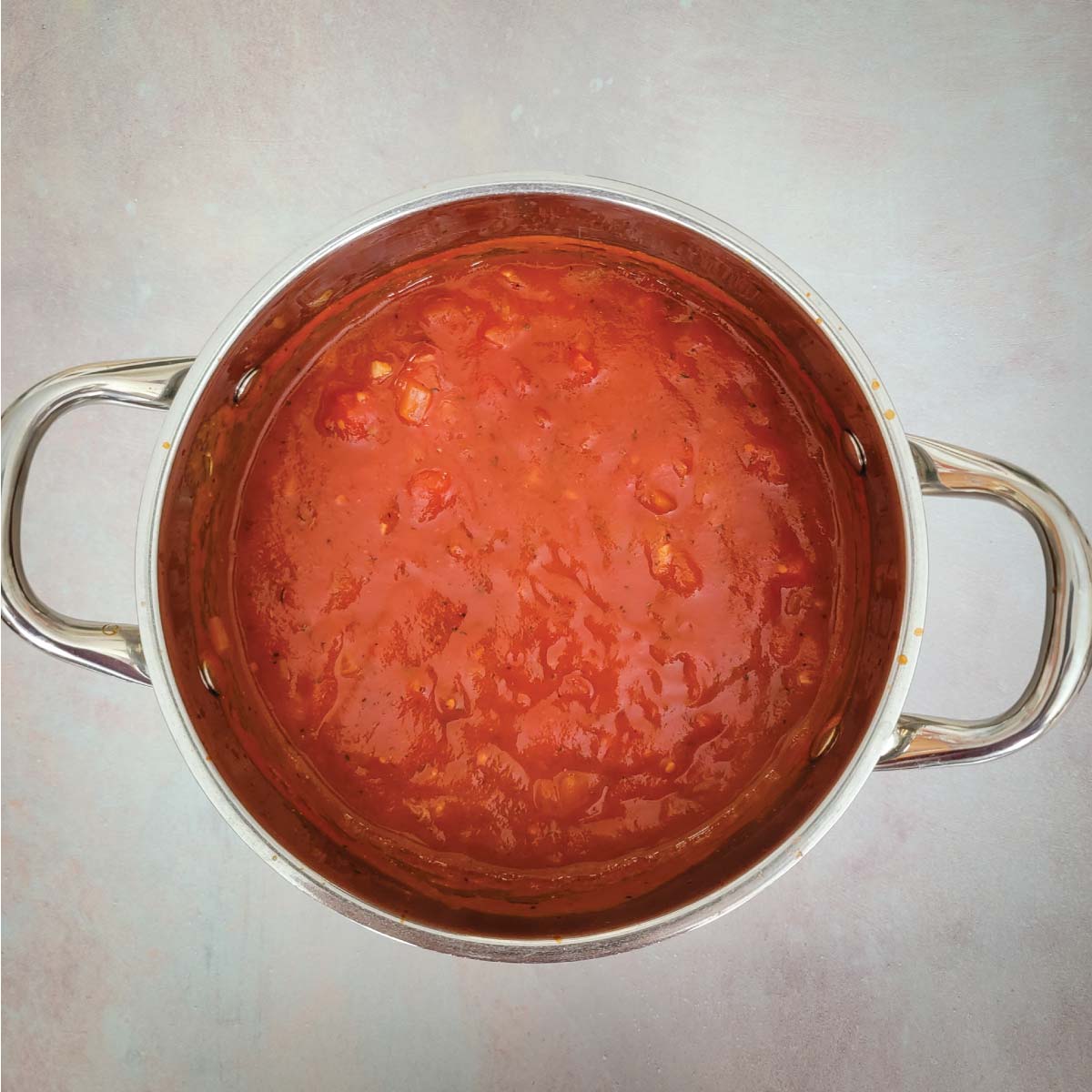 Lasagna is a favorite here in our house. It actually beats out pizza night here surprising, I know. Sometimes we do the best of both worlds and make pizza lasagna - yeah that is a thing and it is delicious!
I make a lot of homemade sauces here like our homemade vodka sauce - they are pretty simple and always delicious. We prefer them over buying the jarred sauce.
You can use your own canned tomato puree, tomatoes and broth or you can use store bought tomatoes and broth. We have made it both ways but wrote the recipe using canned tomatoes from the store because they will be more commonly used.
This is our favorite homemade lasagna sauce and I am sure you will love it too!
Jump to:
Important notes:
As written this homemade lasagna sauce is for our slow cooker lasagna, but you can use it for oven baked as well. In the slow cooker, you are cooking the pasta in the sauce so you need more sauce. If baking the lasagna in the oven, you usually boil the noodles first so you do not need as much sauce.
You may find that you don't need as much sauce as this makes while making the layers if you are baking your lasagna, we don't always use this much when baking it here. This is a personal preference tho. This puts about 1 and a half cups of sauce on each layer if you are using 3 layers of noodles. If you add a pound of sausage or beef, it adds about 2 cups on each layer.
You can freeze any remaining lasagna tomato sauce or even serve it at the table in case anybody wants extra sauce with theirs!
Also we use a bay leaf in this recipe but you can leave it out if you prefer. When cooking with a bay leaf, always take it out before serving or in this case before adding to the lasagna. They do not break down in the body and can be dangerous if swallowed whole - they can cause tearing. They are safe to cook with but not safe to swallow.
Ingredients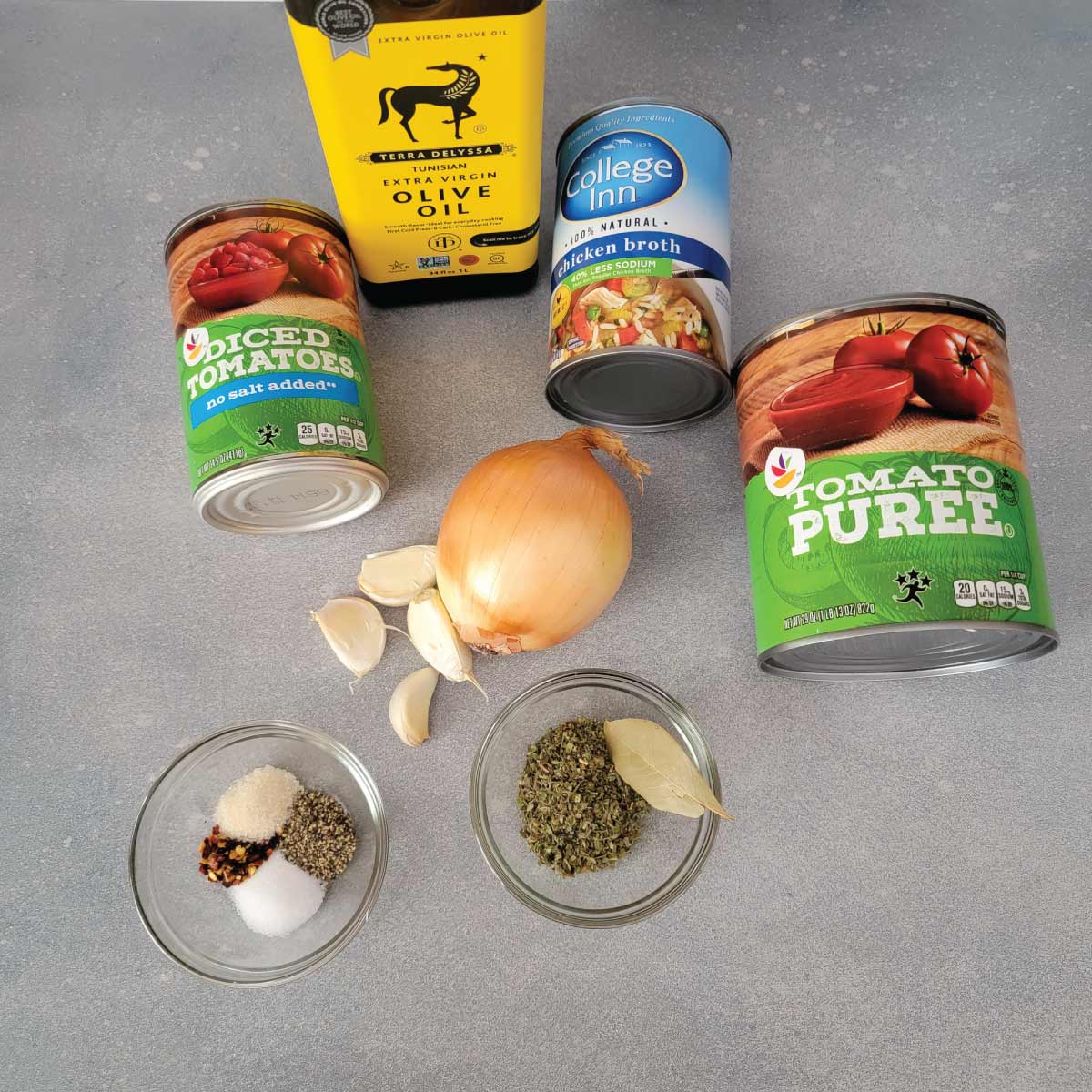 Tomato puree - I recommend puree but you can use tomato sauce if needed. Puree is just a little thicker.
Diced tomatoes - We use no salt added.
Chicken broth - We use either lower sodium or unsalted. You can use vegetable broth in place of the chicken broth.
Olive oil - You can use your favorite oil, but we recommend olive oil for the flavor.
Onion - Yellow onion is best for homemade lasagna sauce or you can use a sweet onion in it's place.
Garlic - Fresh chopped garlic is best, but you can substitute with garlic powder if you need to. You would use 1 teaspoon of garlic powder in it's place.
Bay leaf - Recommended, but not required. *Be sure to remove the bay leaf from the homemade lasagna sauce before assembling the lasagna.
Italian seasoning - If you do not have Italian seasoning you can substitute with 1 teaspoon of each - basil, parsley and oregano.
Salt - You may want to adjust to taste. Taste the sauce often to see if it needs more. The amount will vary depending on how much sodium is in your other ingredients.
Pepper - Black ground pepper, no substitutions recommended.
Sugar - No substitutions recommended.
Red pepper flakes - You can use cayenne pepper in it's place, but cayenne is a little hotter so you may need a little less.
Making the homemade lasagna sauce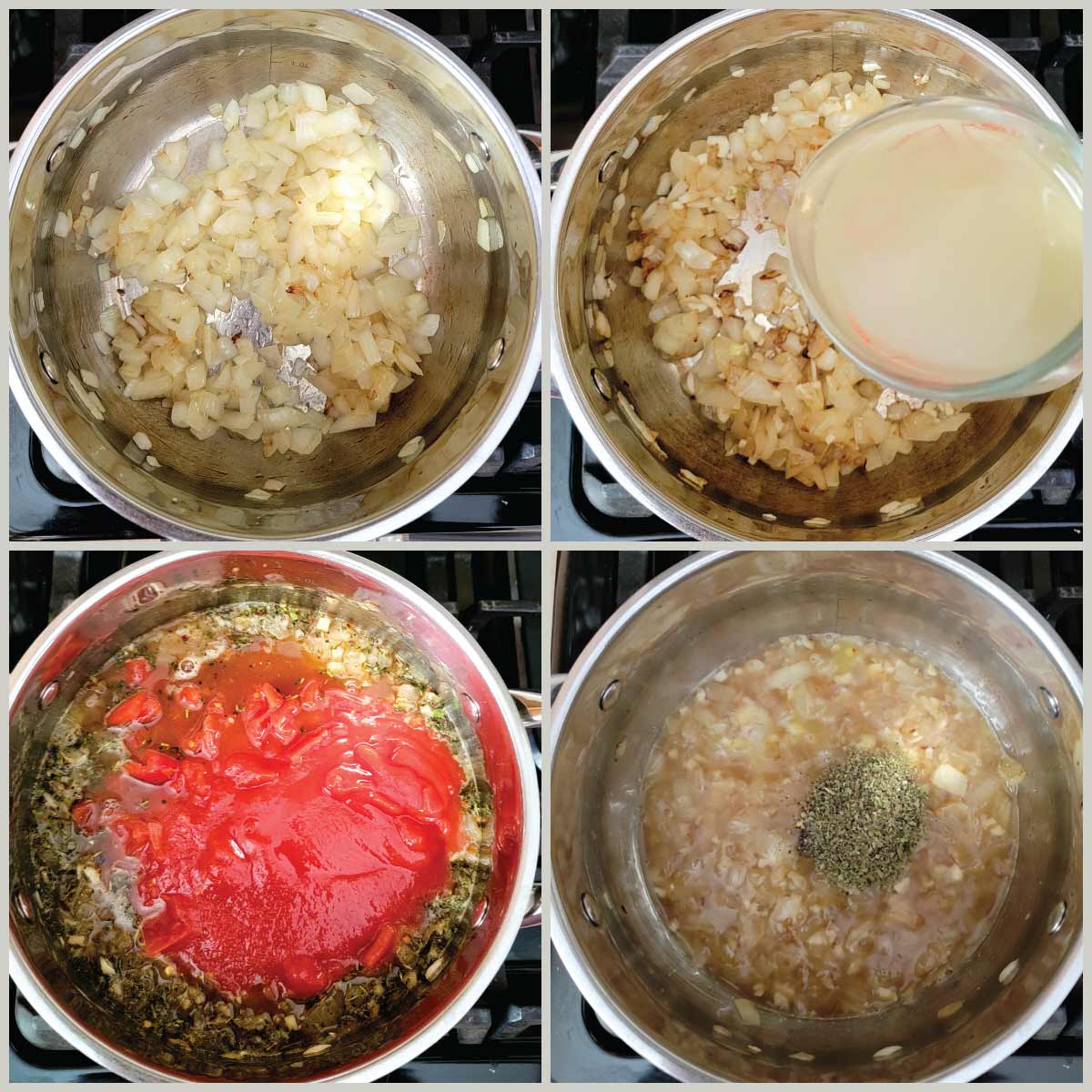 This lasagna sauce is really easy to make.
Add your olive oil and onion to a saucepot that is at least 3 quarts or liters. I use stainless steel, but it is your preference for cooking pans. Sauté until the onions just start to become translucent and start to turned browned slightly.
Add in your garlic and sauté for about a minute. If you cook it too long here it will start to toast or brown your garlic. It still tastes good, but it will alter the taste of the garlic and the homemade lasagna sauce.
Carefully pour in your chicken broth a little at a time. Adding the liquid to the hot pan will sizzle and the steam will be hot so I try to keep my hands moving while doing this.
Stir in the Italian seasoning, salt, pepper, red pepper flakes and sugar. Now add in the tomato puree and diced tomatoes. Stir it all together well and add your bay leaf on top.
Bring to a simmer over medium heat. Once you reach a simmer, reduce heat to medium low and cook the sauce on a slow simmer for at least 25 minutes. Be sure to remove your bay leaf before using this homemade lasagna sauce.
Adding sausage or beef (optional)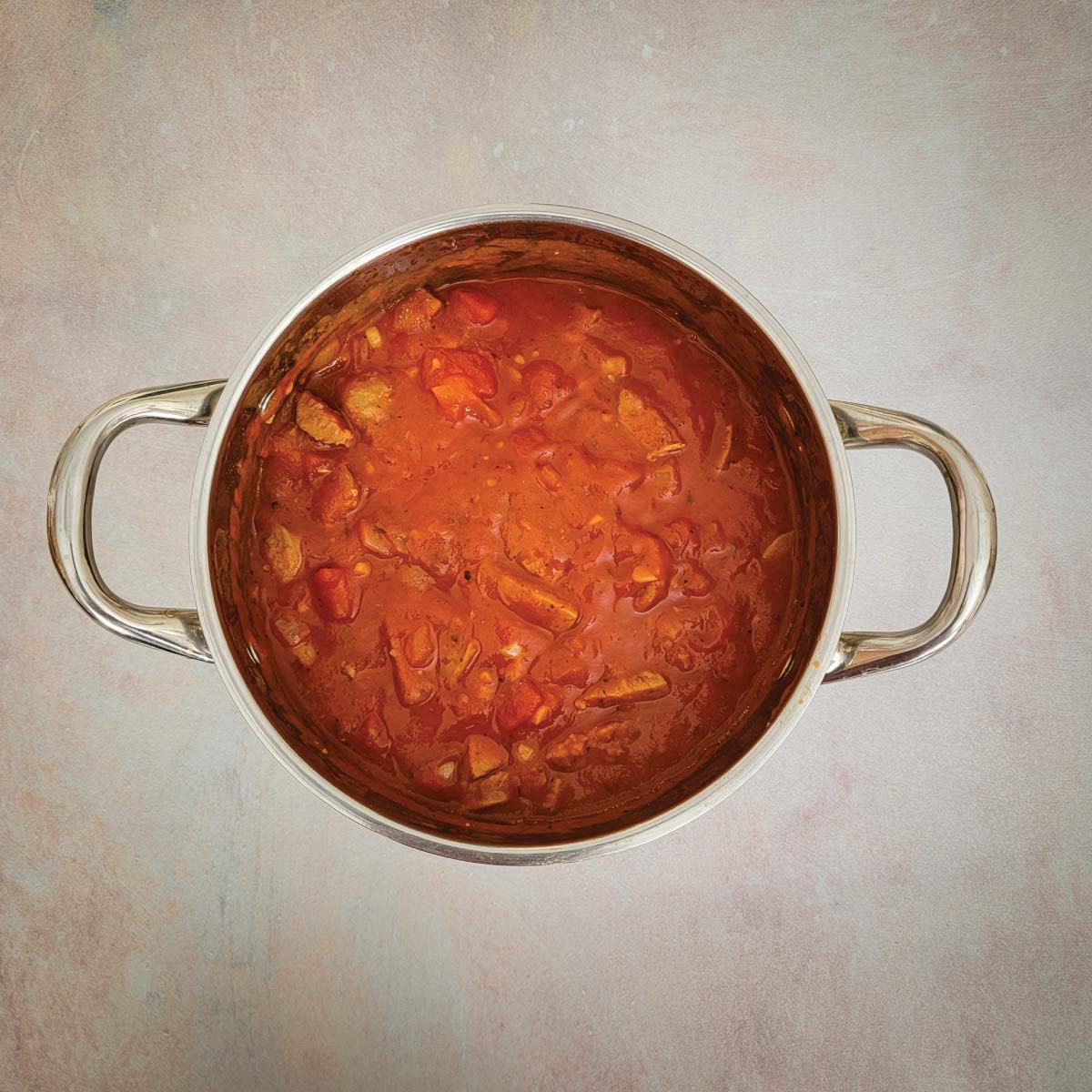 We love to have sausage in our lasagna but it is optional. Some people prefer ground beef which is great too.
If you want to add sausage or ground beef, you want to cook it separately. They both tend to have a bit of fat in them and you don't want all that fat in your homemade lasagna sauce.
We usually add sausage here. Ground or links work great, but if using links be sure to cut them into small bite sized pieces after cooking.
You can either cook the meat in the pan first or use a separate pan. If using the same pan, cook the meat first and then set aside. Wash the grease out of the pot and prepare the sauce as directed. Add the meat into the sauce with the tomatoes and tomato puree.
Frequently asked questions
Can I freeze this lasagna sauce?
Yes you can! It freezes well. Be sure to cool it down all the way before placing in the freezer to prevent expansion and excess moisture.
You can freeze it with or without meat in it. It will last about 3-4 months (possibly longer but not tested) if properly stored.
Can I can this sauce?
I can regular tomatoes and broth but I do not have experience in canning sauces. I have not tested canning this homemade lasagna sauce and cannot recommend doing so.
Is this sauce good on spaghetti?
This homemade lasagna sauce is a little different then marinara or spaghetti sauce. You can eat this on spaghetti, but we prefer our spaghetti sauce to be made with tomato sauce and not puree.
Recipe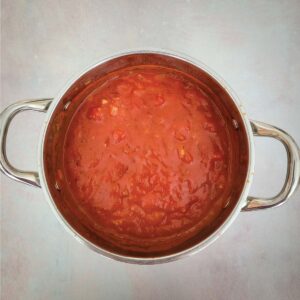 Easy Homemade Lasagna Sauce
Homemade lasagna sauce is easy to make and adds the perfect flavor to your lasagna! It tastes so much better then jarred sauce.
Ingredients  
2

Tablespoons

olive oil

extra virgin

1

yellow onion

chopped

4

cloves

garlic

minced

29

ounces

tomato puree

14.5

ounces

diced tomatoes

1

cup

chicken broth

low sodium, can use vegetable

1

Tablespoon

Italian seasoning

½

teaspoon

salt

see notes

½

teaspoon

black pepper

½

teaspoon

sugar

¼

teaspoon

red pepper flakes

1

bay leaf
Instructions 
Heat a pot over medium heat. Once heated, add in the olive oil and onions. Cook until the onions just start to become translucent. For best flavor, it is best if a couple onion pieces just start to brown but do not burn the onions.

2 Tablespoons olive oil,

1 yellow onion

Add in the garlic and sauté for one minute stirring often.

Carefully pour in the broth - it will sizzle when you first start pouring it and the steam will be hot, do not keep your hand directly over the pot.

Add in the Italian seasoning, salt, pepper, sugar and red pepper flakes. Stir well to mix

1 Tablespoon Italian seasoning,

½ teaspoon salt,

½ teaspoon black pepper,

½ teaspoon sugar,

¼ teaspoon red pepper flakes

Add in the tomato puree and diced tomatoes. Stir well until completely mixed and add in the bay leaf.

29 ounces tomato puree,

14.5 ounces diced tomatoes,

1 bay leaf

Bring to a simmer on medium and drop the heat to low - medium low. Temperature depends on your stove. You want it to simmer gently. Simmer for at least 25 minutes (longer is ok but not required.)

Remove bay leaf and your sauce will be ready for your lasagna.
Notes
Nutritional values are estimated and based on approximately 6 cups of sauce.  It will be between 5 and a half to 6 cups prepared.  If you add a meat it will make between 7 and 8 cups depending on the meat and how much you add. 
Salt - You may need to adjust the salt for you preferred taste and also based on the amount of sodium in the other ingredients you use.  You can start with a little and taste the sauce often to see if you need more.
A note about the sauce - This was originally written for crockpot lasagna where you don't boil the noodles (the noodles will cook in the sauce), but you can use it in a regular lasagna.   You will find that it may make a little bit too much for you if you are making baked lasagna.  You can freeze any remaining sauce or even serve it at the table if anybody likes extra sauce.  If you like a lot of sauce, this will be the perfect amount!
If you add meat - We add sausage to our lasagna sauce, but that is optional and not listed in the ingredients.  You can add ground sausage, links or even ground beef.  Cook the meat separately to remove most of the grease and add it with the tomatoes. Cook the sauce as directed above.
Important - Always remove the bay leaf and never attempt to eat it.  Bay leaf is great to cook with but dangerous if you swallow it whole.  It can be left out of this lasagna sauce recipe if you prefer, but we think it adds a great flavor.  It is safe to cook with but does not break down in the body (or in liquid when cooking with it) and can cause tearing internally.
Nutrition
Calories:
94
kcal
Carbohydrates:
14
g
Protein:
3
g
Fat:
4
g
Saturated Fat:
1
g
Polyunsaturated Fat:
1
g
Monounsaturated Fat:
3
g
Sodium:
190
mg
Potassium:
610
mg
Fiber:
3
g
Sugar:
7
g
Vitamin A:
615
IU
Vitamin C:
17
mg
Calcium:
52
mg
Iron:
3
mg