Warmer weather is coming and what better way to keep yourself going on a warm summer day then with a chocolate berry smoothie? I honestly eat smoothies all year round because they are quick, easy and healthy. In spring and summer I do tend to consume even more of them, especially ones with frozen berries or ice in them.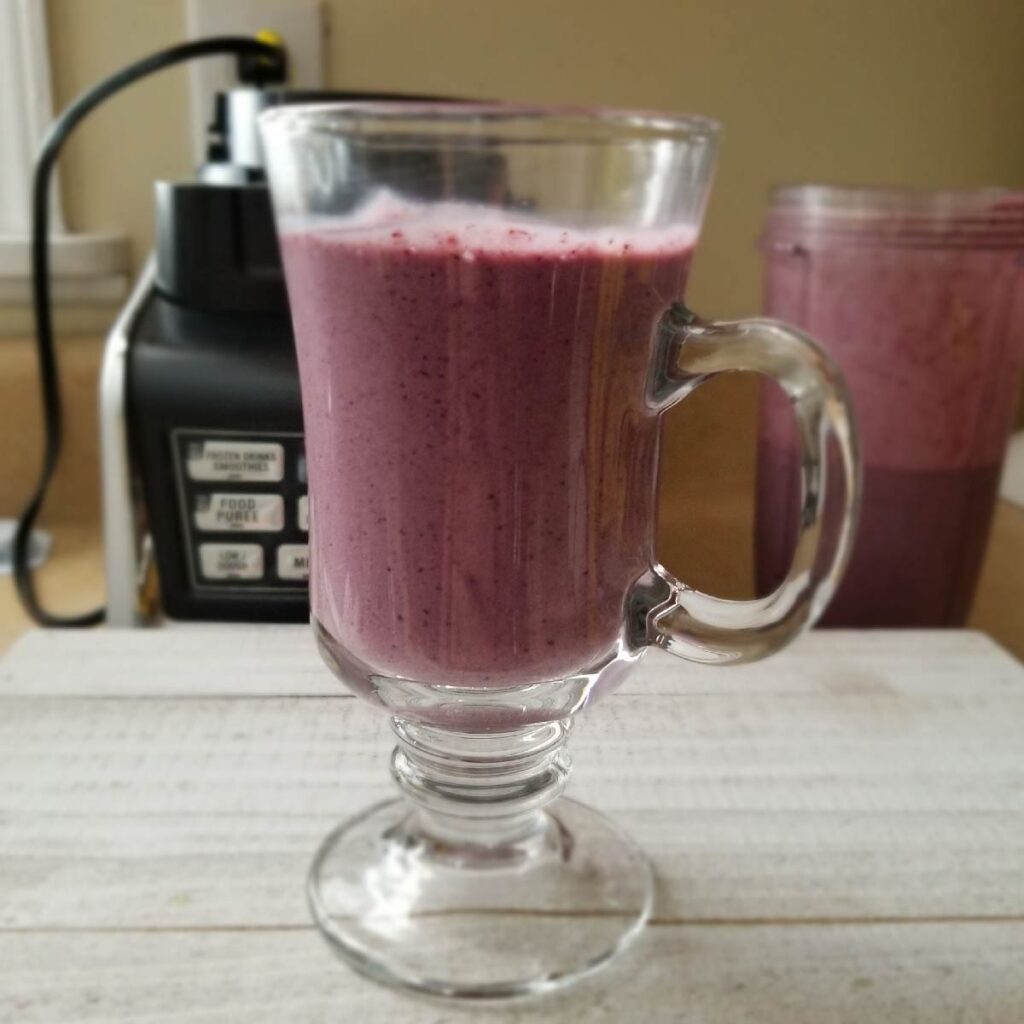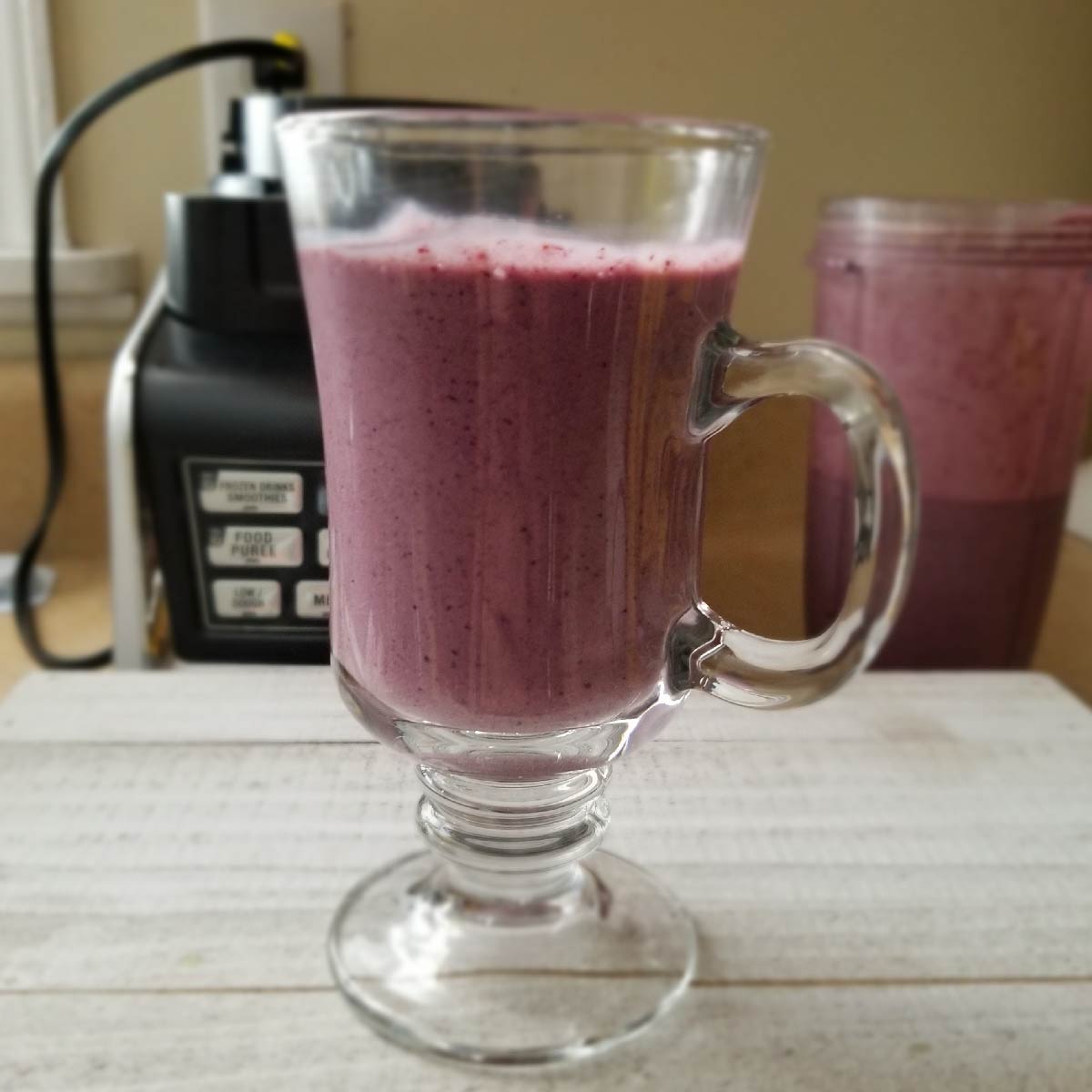 This one has become a new favorite of mine. I used to use chocolate almond milk in most of my smoothies, which is delicious don't get me wrong. I really do like almond milk and coconut milk, but I have been leaning more on using actual cocoa powder.
Why I love smoothies
Smoothies are a great way to get vitamins and a lot of nutrition all in one power house drink. You can add so many things to them! What other way can you drink spinach and like it? I enjoy spinach but I certainly wouldn't drink it if it was plain. Now add that same spinach with some fruit and voila, it is more drinkable!
No worries, this chocolate covered berry smoothie does not have any hidden agendas like added vegetables haha! But smoothies make things that are not usually drinkable, more enjoyable.
To make smoothies, it is best to use something like a blender or better yet a gadget that is designed to make them. I have the Ninja Auto IQ and it has 3 different size cups along with a blender and food processor. I love it because it replaced a couple of my kitchen gadgets (blender and food processor) along with the ability to make smoothies 🙂 Win, win!
I have the full blender/processor system and use it for a lot of my cooking. I even use it to make my Easy Crepes Recipe.
Making the chocolate berry smoothie
Layers matter when using frozen berries. Frozen should always be closer to the blades. If your blades are on the bottom of your blender, frozen goes first. If using a smoothie maker and the blades go on top of the cup, then frozen goes on top.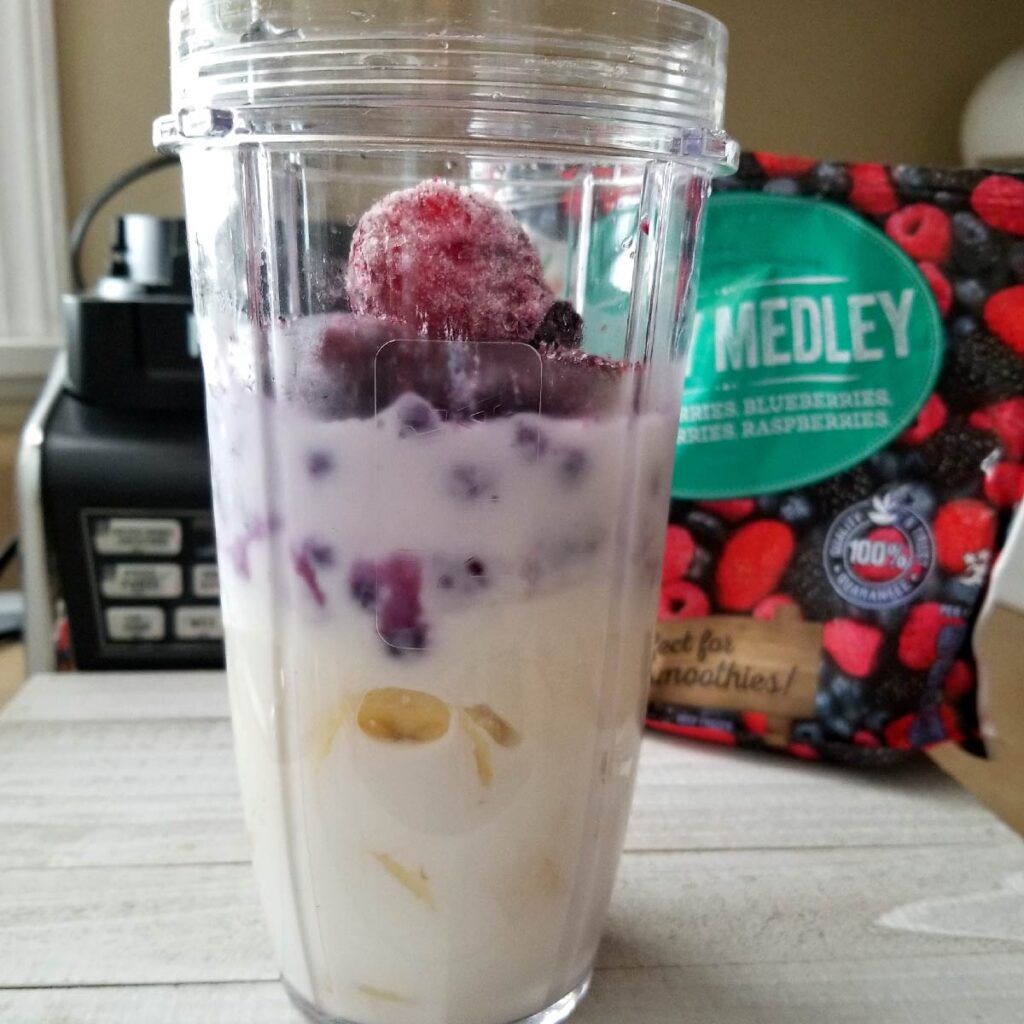 If using a smoothie maker:
You will need to use the 24 ounce cup for this (or slightly bigger.) First I chop up my banana and put it in the bottom of the smoothie cup. I add banana to almost every one I make. Next add in the milk, followed by the vanilla yogurt. Sprinkle your cocoa powder on top of the yogurt and top with the frozen berries. Put your blades on the cup and you are ready to go! If using the Ninja Auto IQ system, hit the NutriNinja Blend button. It will do what it has to do automatically. If it is manual, I would blend for a couple seconds and then pulse a couple times. Blend again for a few seconds.
If using a blender:
I have not made a chocolate berry smoothie in a traditional blender (I have not owned a traditional blender in years), but it is possible to make it. If you just have blades on the bottom of the blender you want to start with the frozen berries on the bottom. Then I would add the yogurt, followed by the cocoa powder and milk. Add your banana to the top and place the lid on. Blend for a couple seconds, then pulse a few times and then blend again for a few seconds until combined and smooth.
As a note:
I used the unsweetened special dark cocoa powder for mine and it isn't as sweet as some people may like it. I find that the natural sugars in the fruit along with the sugars in the vanilla yogurt make it sweet enough. Before taking it out of the blending cup, try it and if you need to add a touch of sugar do so and blend for a couple seconds. Some people like things sweeter 🙂
Recipe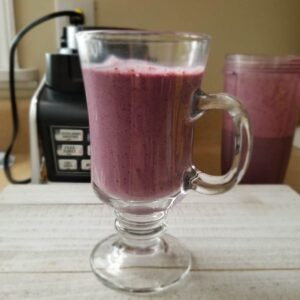 Chocolate Covered Berry Smoothie
The chocolate berry smoothie is a delicious and healthy way to start your morning! Or even a nice cool down on a warm summer day.  The combination of chocolate with the mixed berries make for a great treat.
Ingredients  
1

banana

1/2

cup

vanilla yogurt

3/4

cup

whole milk

1 1/2

cups

frozen mixed berries

1

Tbsp

cocoa powder

unsweetened
Instructions 
These instructions will vary based on the gadget you are using to make your smoothie.  Be sure to layer keeping your frozen fruit closest to the blades.

Layer as follows if the blades are on the bottom and opposite if the blades are on top of the cup:

frozen fruit

yogurt

cocoa powder

milk

banana

If using a Ninja Auto IQ press the NutriNinja Blend button and let it do it's magic.  

If not:

Blend for a couple seconds, then pulse a few times and back to blend for a few seconds.  The total time will be about 30 - 40 seconds.
Notes
I make this as 1 serving for me, but the kids and some people share it so I marked it as 2 servings.
If you want it a little bit sweeter, add a little bit of sugar before dumping it out of blending cup.  
I use the special dark unsweetened cocoa.
The best size for this smoothie is a 24 ounce cup but it can be made in a larger size or in the blender.
Nutrition
Calories:
225
kcal
Carbohydrates:
42
g
Protein:
7
g
Fat:
5
g
Saturated Fat:
2
g
Cholesterol:
12
mg
Sodium:
82
mg
Potassium:
570
mg
Fiber:
5
g
Sugar:
30
g
Vitamin A:
265
IU
Vitamin C:
8.5
mg
Calcium:
217
mg
Iron:
0.7
mg