Crepes are something that many people enjoy but fear they are hard to make. They really are not! Here is an easy crepes recipe for you to be the master chef on a weekend morning (or whenever you want to eat them really.) You do not need any special gadgets, tho some might be helpful.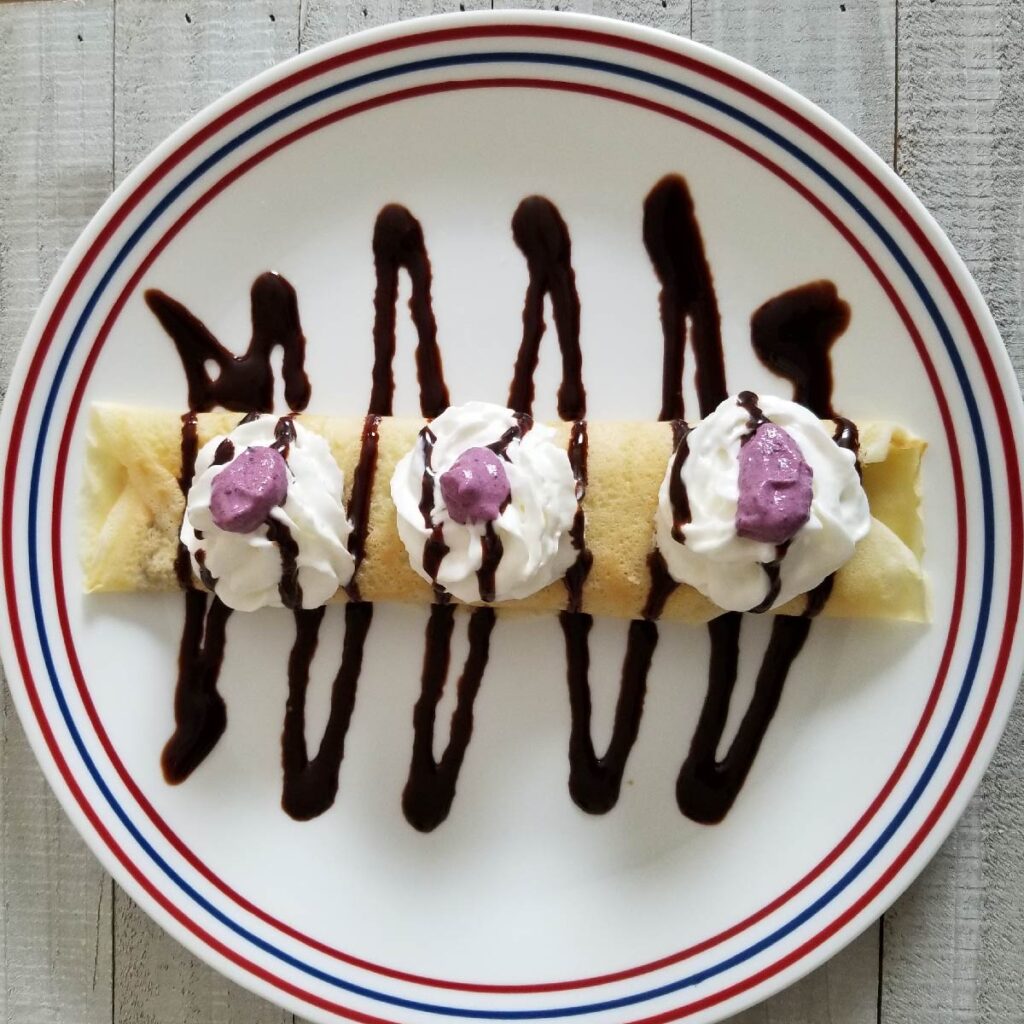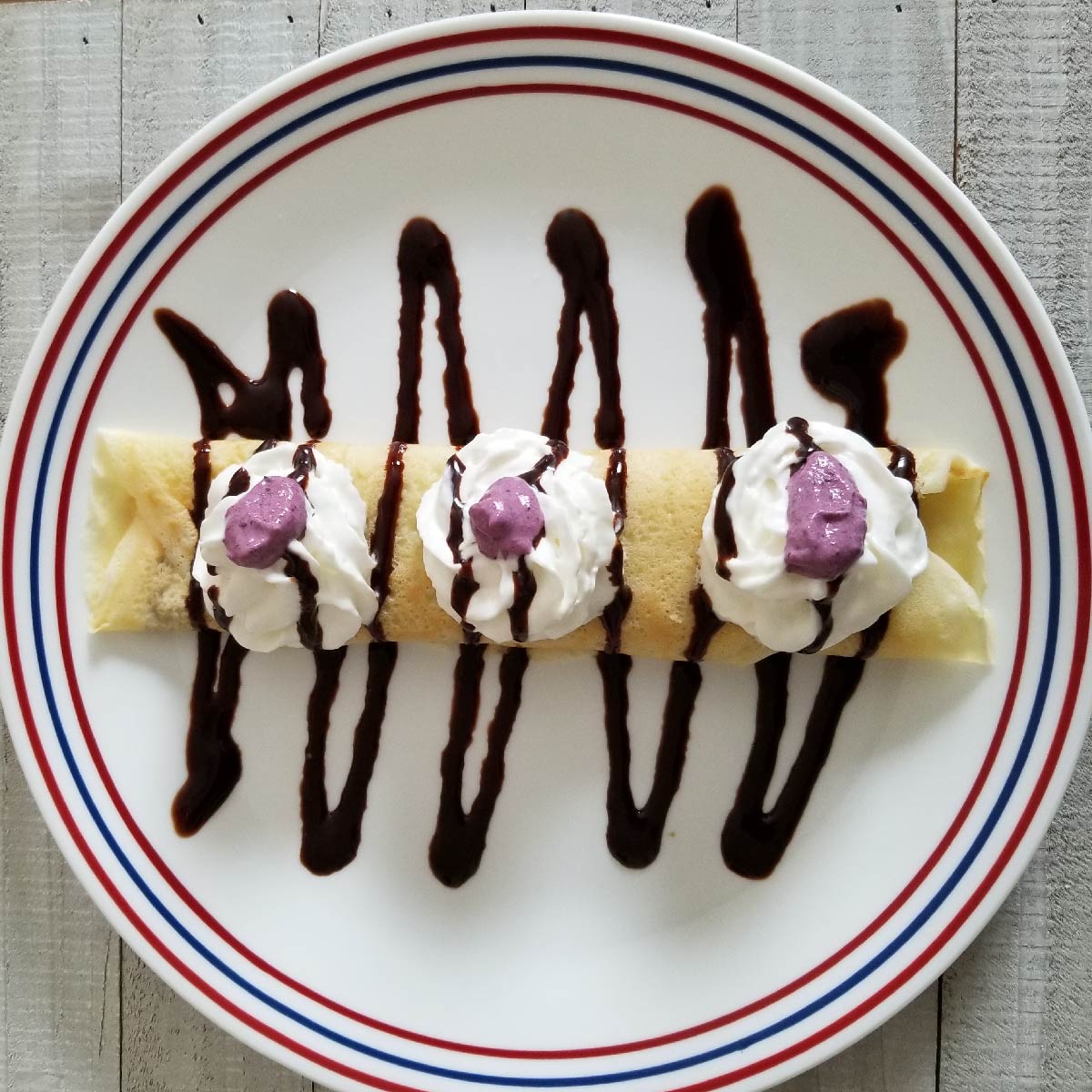 I have the Ninja Auto IQ blender system so I use this to make the crepes but it can be done in any blender and/or with a hand mixer. Blender is preferred for the crepe batter but not required.
This will also go well with a nice chocolate hazelnut latte! Sometimes the kids prefer just having a chocolate berry smoothie, but many times they ask me to make these crepes!
Making this easy crepes recipe
Start to melt your butter on low and turn off to slightly cool once melted. Add your flour to the blender, followed by the eggs. In the Ninja I use the low/dough button to blend for about 25-30 seconds. In a regular blender I would use it on blend or a low speed depending on your settings. It should look like it is starting to turn into a thick dough.
Stop the blender and add in the milk, water and vanilla. With blender, hit blend for another 20-30 seconds until it appears to be mixed well. For the Ninja, hit low/dough for another 25-30 seconds until it appears to be mixed. There will be some lumps, do not over blend.
Stop the blender and add the butter. Again blend for about 5 seconds. Just enough to get the butter into the mix.
Cooking the crepes
I use a round stainless steel frying pan to cook mine in. Next time I will probably try my cast iron pan, but I always use that to make the eggs so it is never available for my crepes! I know in restaurants they use a special piece of cookware, but I don't have that and pans work just fine.
Believe it or not, I do not oil my stainless steel pan before cooking these. I have found that the best thing you can do is to heat your pan and be sure that it is hot enough. If your pan is not hot enough, the first one will stick regardless if you have oiled the pan or not. Temperature is key here. I put my burner on one notch before medium.
Once the pan is up to temp, you want to pour batter in the pan in a very thin layer. I don't have the roller to roll over the batter to evening spread it either so you don't need one - tho it would be easier I am sure. I hold my pan and tilt it around while pouring batter to I get it a thin and even layer. If you have a roller for crepes, perfect! You can use that to spread the batter. Then it will make this easy crepes recipe even easier for you 🙂
Cook for about 1 minute and flip over to cook for another minute. If it sticks the first time, start again. For the longest time my first one would always stick and then be ok for the rest of the batch. It just meant your pan wasn't hot enough.
We put on a plate covered with foil to keep them warm until they are all cooked.
You can add just about anything for fillings
One of the things that makes crepes amazingly good is that you can add anything you want into them. You can have them plain, you can put fresh fruit or even Nutella. The ideas are endless really - ok I am sure they would have to end somewhere! We make a little filling bar so to speak for ours and let everybody pick their flavors.
One thing we always have out is whipped cream and chocolate syrup. Have to have the good stuff on top 🙂 We also make a berry and cream cheese filling for the crepes. I use my Ninja for that as well if you have one or really any smoothie maker works. It can be done with a hand mixer as well if you do not have either, I have done it before getting my amazing Ninja. I will add the instructions for the optional berry cream cheese as well.
A lot of times I will chop up bananas to put in or on them. Nutella is one of my children's favorite filling as well. Sometimes I make the cream cheese filling plain with some milk and sugar so we have that with fresh berries in them. You get the point, whatever your taste buds fancy here!
Kids have fun assembling these when there are choices for fillings, here are our kids' creations: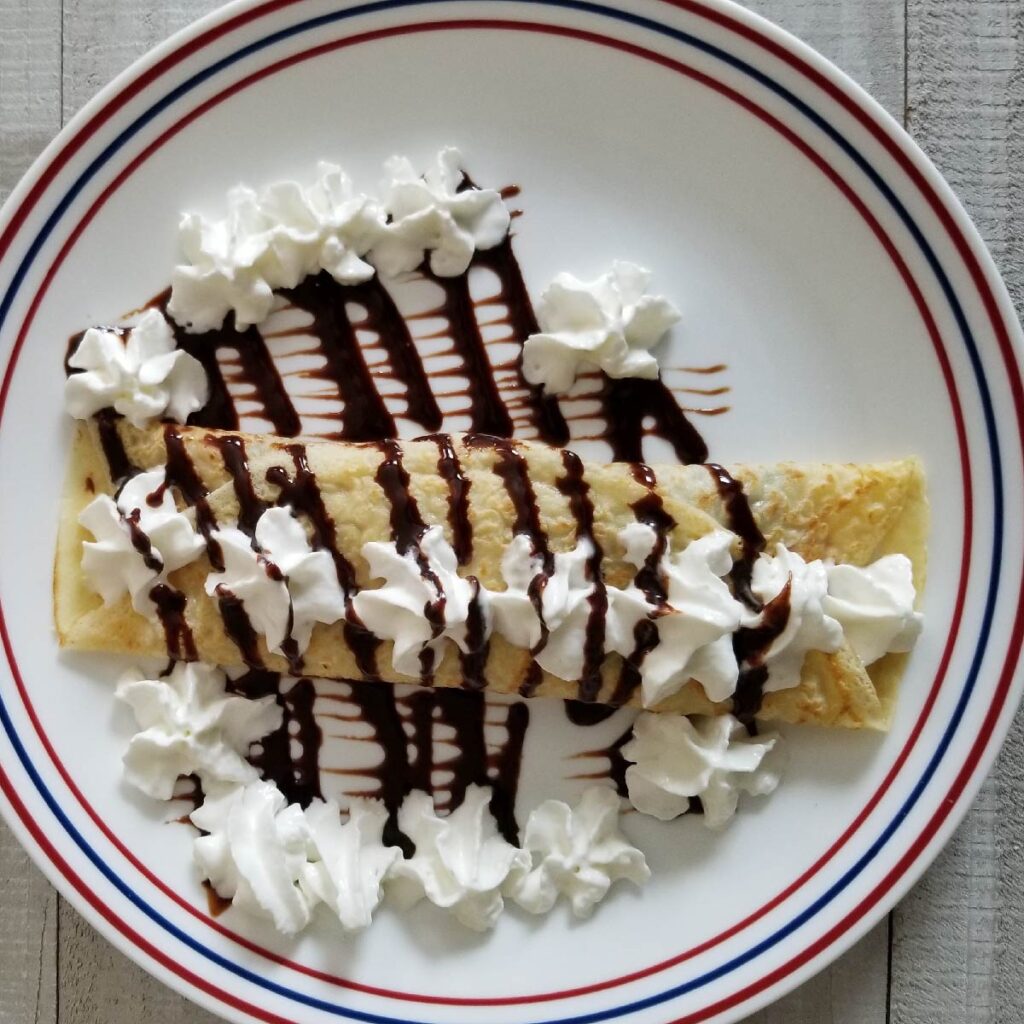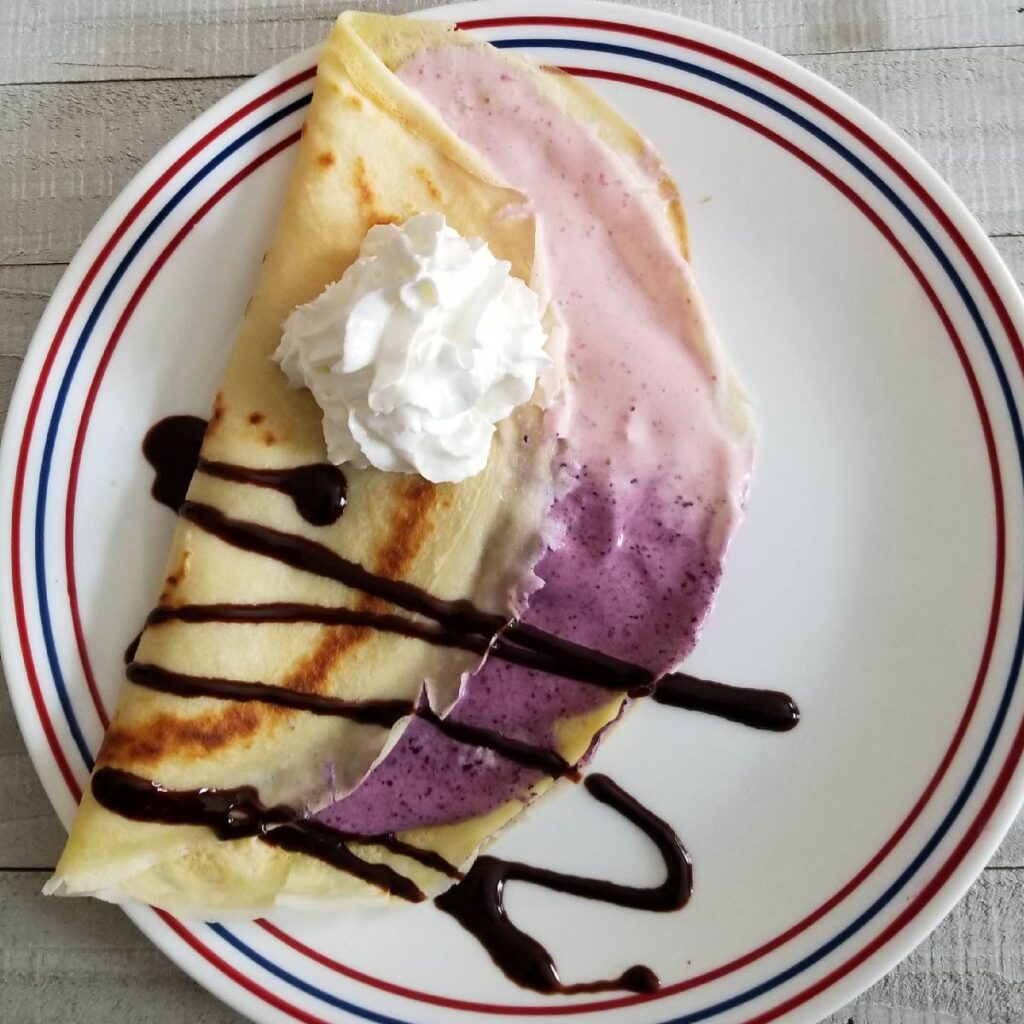 Berry cream cheese filling
Just like this is an easy crepes recipe, this berry cream cheese filling is even easier. We did this with strawberries in one and blueberries in the other, but you can do whatever fruit your taste buds crave.
In our smoothie cup (no worries you can use a hand mixer here - see next paragraph) I put in 4 ounces of cream cheese slightly softened, 1 tablespoon sugar and 1 cup frozen but slightly thawed fruit. I use the 18 ounce cup since it is the smallest. Then I use the low/dough setting and blend for about 30 seconds.
If using a hand mixer add your softened cream cheese, 1 tablespoon of sugar and 1 cup of the frozen fruit of your choice to a mixing bowl. I would try to be sure that the fruit is about halfway thawed so the mixer will mix it ok. Fresh is also good for this method.
What else tastes good in this is Polaner all fruit. I have used that (it is a fruit preserve found in the jelly isle) in place of frozen or fresh fruit. You don't need a cup of it tho, I use a couple spoons of it and add 1 tablespoon of milk. I would recommend the hand mixer for that.
As a note:
We have a gas stove with 5 burners. They are all different sizes and my pan fits perfectly on the burner. Our old gas stove had to be set to medium. Just to give you an idea of burner temp. I have not had an electric stove in over 20 years so you will know better then me, but I do remember them taking longer to heat up. I believe medium should still be fine tho. Try to keep it about where you would for pancakes.
Recipe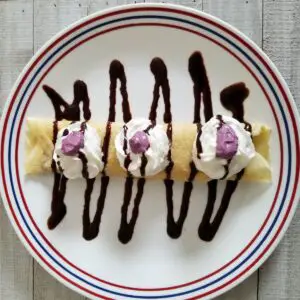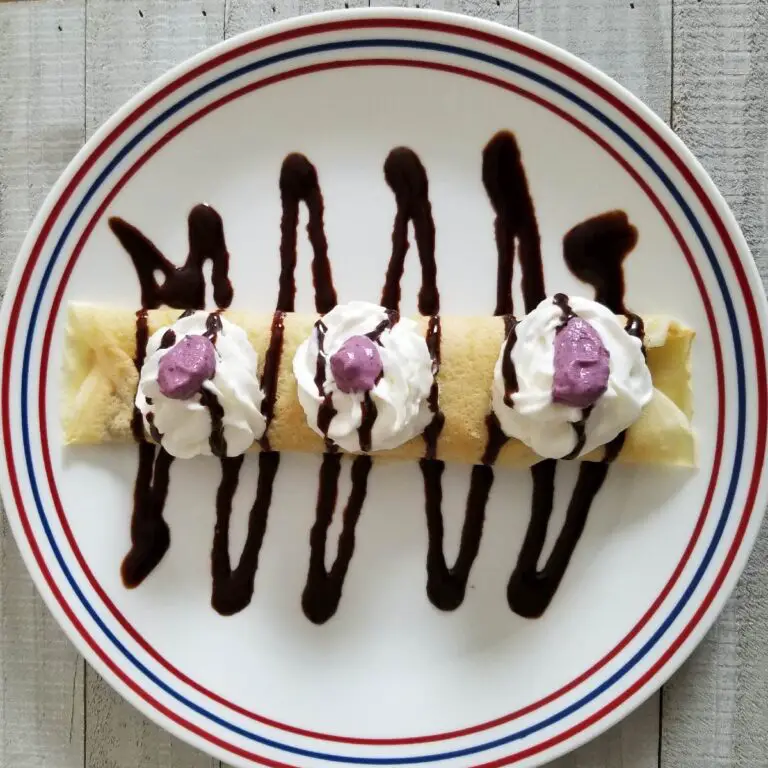 Easy Crepes
This easy crepes recipe will make you the chef winning breakfast with your family! Kids love adding their favorite fillings and toppings.
Ingredients  
2

cups

flour

4

eggs

1

cup

milk

1

cup

water

1/2

tsp

vanilla extract

4

tbsp

melted butter
Berry Cream Cheese filling
4

ounces

cream cheese softened

1

tbsp

sugar

1

cup

frozen berries partially thawed
Instructions 
In a blender add the flour and add the eggs on top.  Blend for about 20-30 seconds.  Ninja Auto IQ, I use it on low/dough setting.  A regular blender would be on blend.  It will be blended into a dough ball.  Stop the blender.

Add in the water, milk and vanilla.  Blend again for about 20-30 seconds.  I have found with the Ninja I go for 30 seconds, but a regular blender may not take as long.  It will look thin.  Don't worry about lumps.

Stir in the melted butter and blend for about 5 seconds just to get it mixed together.

Preheat your pan on medium heat.  It must be hot or they will stick.  Add a little bit to the pan, creating a very thin layer.  If you have a roller for crepes, use it.  If not, pick up the pan while pouring the batter and tilt it around to make sure it is a very thin even layer.

Cook for about 1 minute and flip.  Cook for another minute and place on a dish covered with foil to keep warm while you finish cooking the rest of them.
Berry Cream Cheese Filling
We make 2 different kinds of this stuff which would require double the ingredients, but this is how to make one and you can do how you want.  You can use your smoothie maker or hand mixer for these.

If you have a Ninja Auto IQ or a smoothie maker, add the softened cream cheese, the partially thawed berries and sugar to your smoothie cup.  I use the 18 ounce cup because it is the smallest in the set.  Blend until combined and the frozen berries are blended in.  This should be around 30 seconds.

If you are using a hand mixer, combine the softened cream cheese, sugar and berries to a mixing bowl.  You will want to make sure the berries are almost thawed completely.  Using the hand mixer combine well on a lower speed.
Notes
This may make more then the amount of servings listed.  We are a family of 4 and usually only have 1 of these left.  But we might eat more then some people 🙂
Get creative with your toppings and fillings, anything sweet is good in them.  One of the kids puts Nutella in hers.
Nutrition
Calories:
393
kcal
Carbohydrates:
48
g
Protein:
14
g
Fat:
15
g
Saturated Fat:
8
g
Cholesterol:
162
mg
Sodium:
315
mg
Potassium:
246
mg
Fiber:
2
g
Sugar:
9
g
Vitamin A:
580
IU
Vitamin C:
0.7
mg
Calcium:
167
mg
Iron:
3
mg