These Greek yogurt chocolate chip cookies are easy to make, have a soft texture and a great classic flavor. They are perfect to add to your holiday baking.
I love to bake cookies (and of course love to eat them too!) Every year I bake a lot of them and everything from peppermint pinwheel cookies and sugar cookies to these chocolate chip cookies.
These cookies have become a favorite and we make them throughout the year, not just for our Christmas baking.
I used to make them following classic recipes. Over the years that was the only way I made them and we liked them, I mean a cookie is a cookie. But recently I really started playing around with adding yogurt and sour cream to baked goods.
I will never make these without yogurt again! The yogurt makes this the best chocolate chip cookie recipe.
Jump to:
Ingredients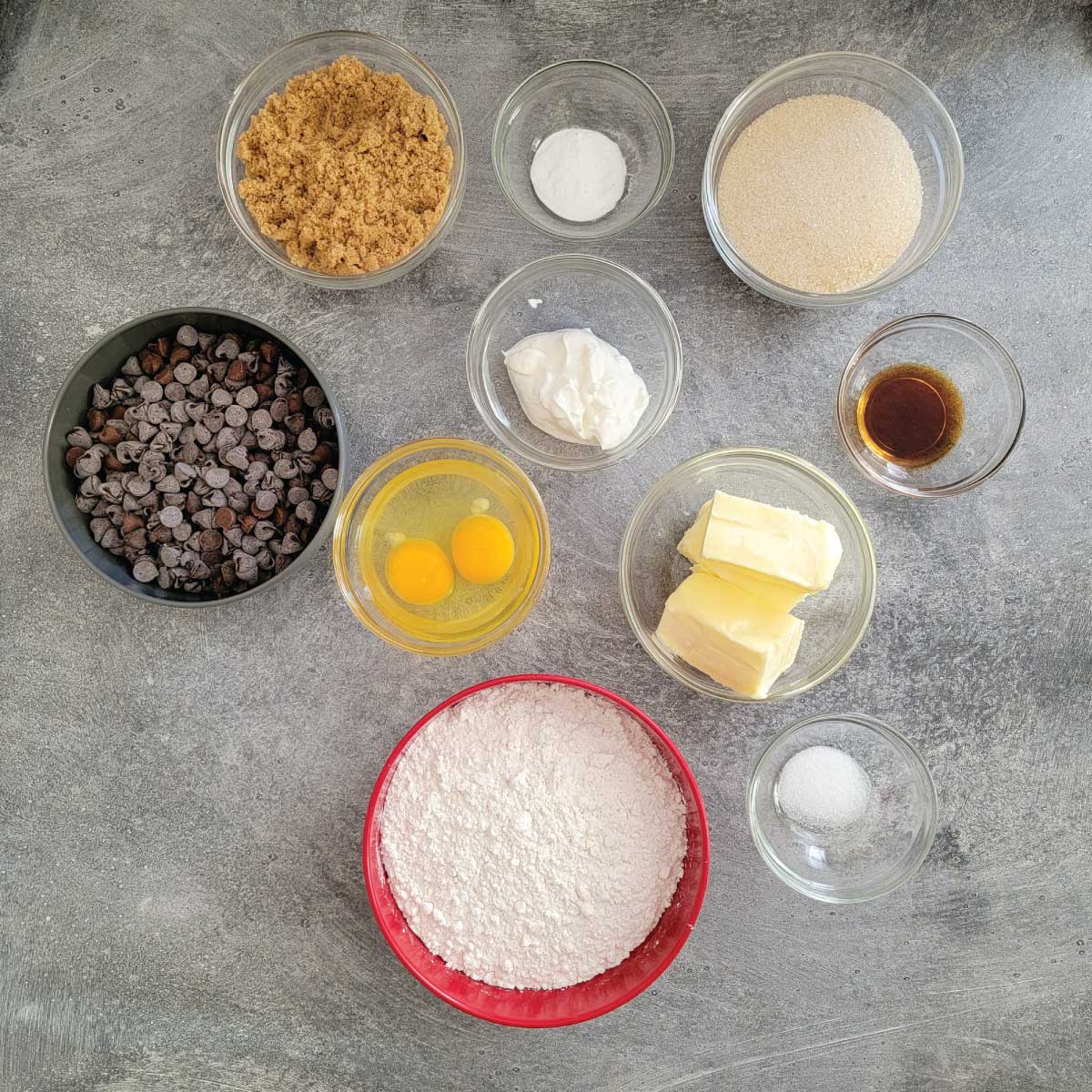 These are similar to a classic recipe so the ingredients for our chocolate chip cookies with yogurt are kept simple.
Butter - We use unsalted butter. You can substitute with margarine but we don't recommend using margarine in cookies. Butter gives it a richer flavor but also helps with the texture.
Yogurt - We use plain Greek yogurt, but you can substitute with plain yogurt. Full fat works best, but you can use low fat or no fat as well.
Brown sugar - You can use dark or light brown sugar. Dark brown has more molasses and will produce a slightly darker cookie with a stronger flavor then light brown. We used light brown for ours.
Sugar - Regular granulated sugar or you can use minimally processed pure cane sugar. We use Morena pure cane sugar (it's inexpensive at Walmart) which is why it appears to have a slight brownish tint in the picture. If using a pure cane sugar, be sure it can be substituted cup to cup for granulated sugar.
Vanilla extract - No substitutions recommended.
Eggs - These cookies have not been tested with any egg substitute, we use large eggs.
Flour - We use all purpose flour. It has not been tested with other flours, but if you do try it please let us know!
Baking soda - No substitutions recommended.
Salt - No substitutions recommended.
Chocolate chips - I like to mix semi sweet and milk chocolate chips, but we have a big storage container full of chips - we use them in a lot of things! Use your favorite, dark chocolate tastes great in them too.
Why add yogurt to cookies?
There are a few reasons for making these Greek yogurt chocolate chip cookies instead making them the classic way without yogurt.
Moisture - Yogurt adds a little bit of moisture and keeps your cookies softer as they bake. They will have a perfectly soft texture, but will not be fall apart soft.
Lift - It is acidic and will help to activate baking soda without use of baking powder. This is also works in other baked goods as well.
The flavor - It is a fairly neutral flavor with just a little bit of tang. The cookies do not come out tangy, but it does add just a little bit of enhanced flavor. They do not taste like yogurt, it blends in perfectly with the other flavors in the cookie.
I add it to many things from pumpkin pancakes to salted caramel apple bundt cake. It can even go in chocolate cake, cheesecake and so much more!
Tips for making chocolate chip cookies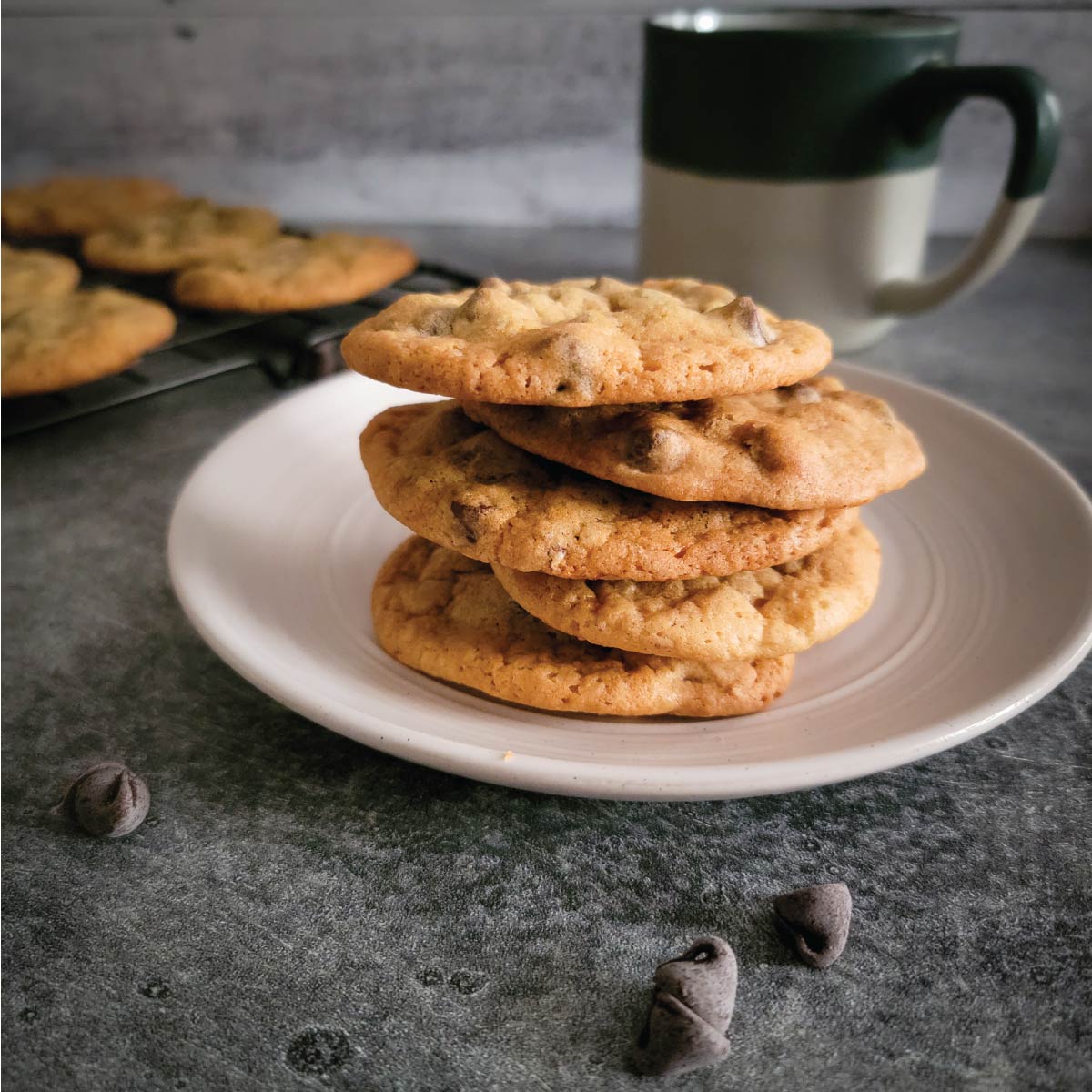 They are really a quick and easy cookie to make but here are some tips to help you make them.
The dough
Make sure the butter is softened at room temperature. Do not melt the butter, it will change the texture of it. Never use melted butter in cookie dough that calls for softened butter.
Cream the butter, yogurt, brown sugar and sugar together for about 2 minutes first before adding the eggs. You can use a hand or stand mixer, I love my stand mixer for cookie dough.
Add both eggs and the vanilla extract. I do not beat the eggs before putting them into the batter. I do crack my eggs into a prep bowl so I know there are no shells going into the batter. Beat again for about 1 minute.
Be sure to mix your dry ingredients in a separate bowl before adding. Use a whisk to mix them well. Do not add them directly to the batter without mixing first or you may have spots with more baking soda or salt then the rest of the dough - it's best to start out with them mixed well.
After adding the dry ingredients, mix the chocolate chip cookie dough on stir (stand mixer) or low (hand mixer) for about 30 seconds to a minute until it is fully incorporated.
Stir the chocolate chips in with a spoon or a spatula, not a mixer.
Baking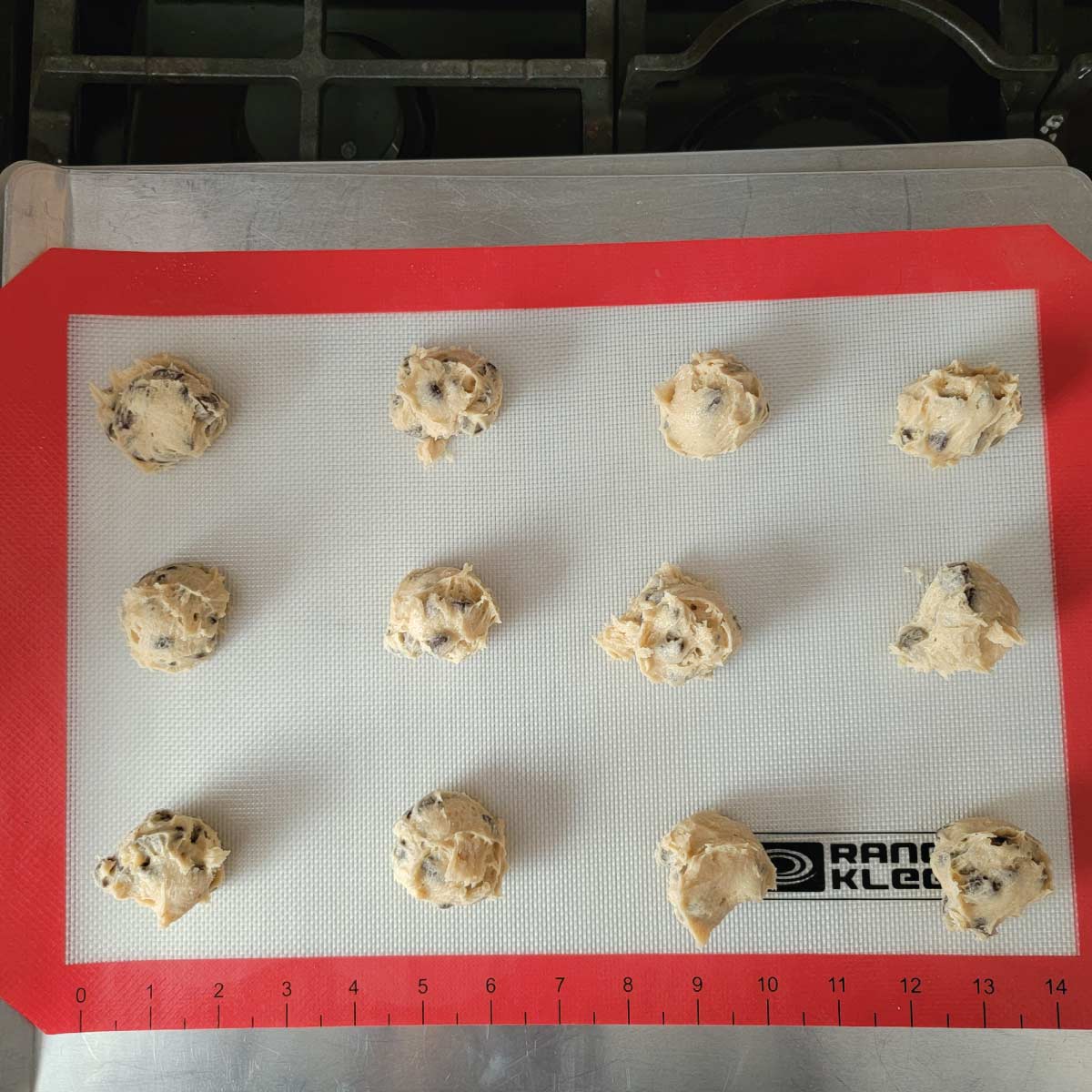 Spoon them out into even dough balls on a cookie sheet lined with parchment paper or a baking mat.
You can use the baking sheet without lining it, but I like to line them for best results - parchment paper is actually my favorite for easy cleanup!
I like to use a cookie scoop to be sure the dough is even, but you can use a spoon. I tend to make my cookies too big when relying on using a spoon to scoop it out. But really bigger cookies are not a bad thing.
Bake them at 375 degrees Fahrenheit for 8-11 minutes. Bake them until they are just barely starting to turn brown. Ovens vary and altitude may cause cook times to vary. We are at a very low altitude here.
Cooling
After removing the baking sheet from the oven, allow the chocolate chip cookies with yogurt to sit for about 2-3 minutes. They will continue to cook slightly on the sheet.
Remove with a spatula and place onto a cooling rack to allow to cool all the way before storing.
You do not have to wait for them to cool to eat them, just allow them to cool to a safe temperature before putting in your mouth! Hot chocolate chips can really burn if you are not careful.
Frequently asked questions
Can I add nuts to my chocolate chip cookies?
Yes you can add walnuts or any other nuts you would usually add to your chocolate chip cookies. These are very similar to the classic cookie recipes.
How long do they last?
If stored in a sealed bag or container, they should last you 1-2 weeks before getting stale. They don't last more then a few days here in our house before they are eaten.

The cookies will get stale long before they become unsafe to eat. If they go stale, you can dip them in milk or coffee!
Can I use regular yogurt in place of the Greek yogurt?
Yes regular plain yogurt will work too. Be sure to use plain and not vanilla or flavored yogurt.
Equipment
As an Amazon affiliate we may earn a commission if you make a purchase through one of our links. This is at no extra cost to you and helps to keep the recipes free, thank you for your support!
Here are a few items that help to make these chocolate chip cookies.
Recipe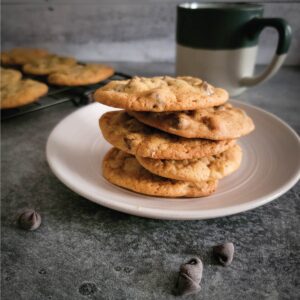 Chocolate Chip Cookies with Yogurt
These chocolate chip cookies are easy to make and are perfect for your holiday baking. The yogurt enhances the flavors of the cookie while adding a little moisture to make it the perfect texture.
Ingredients  
¾

cup

softened butter

unsalted

¼

cup

Greek yogurt

plain

¾

cup

brown sugar

¾

cup

sugar

2

eggs

1

teaspoon

vanilla extract

2

cups

chocolate chips
Dry ingredients
2½

cups

flour

spooned and leveled, 338 grams

1

teaspoon

baking soda

½

teaspoon

salt
Instructions 
Preheat oven to 375° Fahrenheit.

In bowl mix together the dry ingredients with a whisk and set aside.

2½ cups flour,

1 teaspoon baking soda,

½ teaspoon salt

In a mixing bowl cream the softened butter, yogurt, brown sugar and sugar with a hand or stand mixer on medium. Mix for about 2 minutes.

¾ cup softened butter,

¼ cup Greek yogurt,

¾ cup brown sugar,

¾ cup sugar

Add in the eggs and vanilla extract. Mix on medium for 1 minute.

2 eggs,

1 teaspoon vanilla extract

Pour the dry ingredients into the wet ingredients. Mix on low for about 30 seconds to 1 minute until it is fully incorporated.

Add in the chocolate chips and stir with a spoon or a spatula until the are mixed in.

Scoop out dough with a cookie scoop or a spoon into even dough balls. Place on a cookie sheet lined with parchment paper or a silicone baking mat about 2 inches apart.

Bake for 8-11 minutes, until they are just starting to turn a golden brown. Cook times may vary with size of the cookie dough balls.

Allow them to sit on the cookie tray for 2-3 minutes before moving to a wire cooling rack.

Allow to cool all the way before storing in a storage bag or containers.
Notes
Nutritional values are estimated and the amount of cookies is approximate.  Depending on the size of your cookie, the amount and nutritional values may be different.
Unsalted butter is best in baking cookies but if you only have salted, you will want to use less salt in the dough.  You can either leave the salt out or decrease to 1 quarter teaspoon.
Full fat yogurt is what we use, but there is enough fat in the butter so you can use a low or non fat yogurt if you prefer.  You can use regular plain yogurt in place of Greek plain yogurt.
We use light brown sugar in these cookies, but you can use dark brown as well.  They will have a slightly richer flavor and be slightly darker in color then if you use light brown sugar.
Nutrition
Calories:
115
kcal
Carbohydrates:
17
g
Protein:
1
g
Fat:
5
g
Saturated Fat:
3
g
Polyunsaturated Fat:
1
g
Monounsaturated Fat:
1
g
Trans Fat:
1
g
Cholesterol:
16
mg
Sodium:
82
mg
Potassium:
17
mg
Fiber:
1
g
Sugar:
11
g
Vitamin A:
115
IU
Vitamin C:
1
mg
Calcium:
16
mg
Iron:
1
mg