Peppermint mocha whipped cream is easy to make at home and is amazing on holiday desserts. Use it on your favorite holiday drinks, it tastes great on coffee too!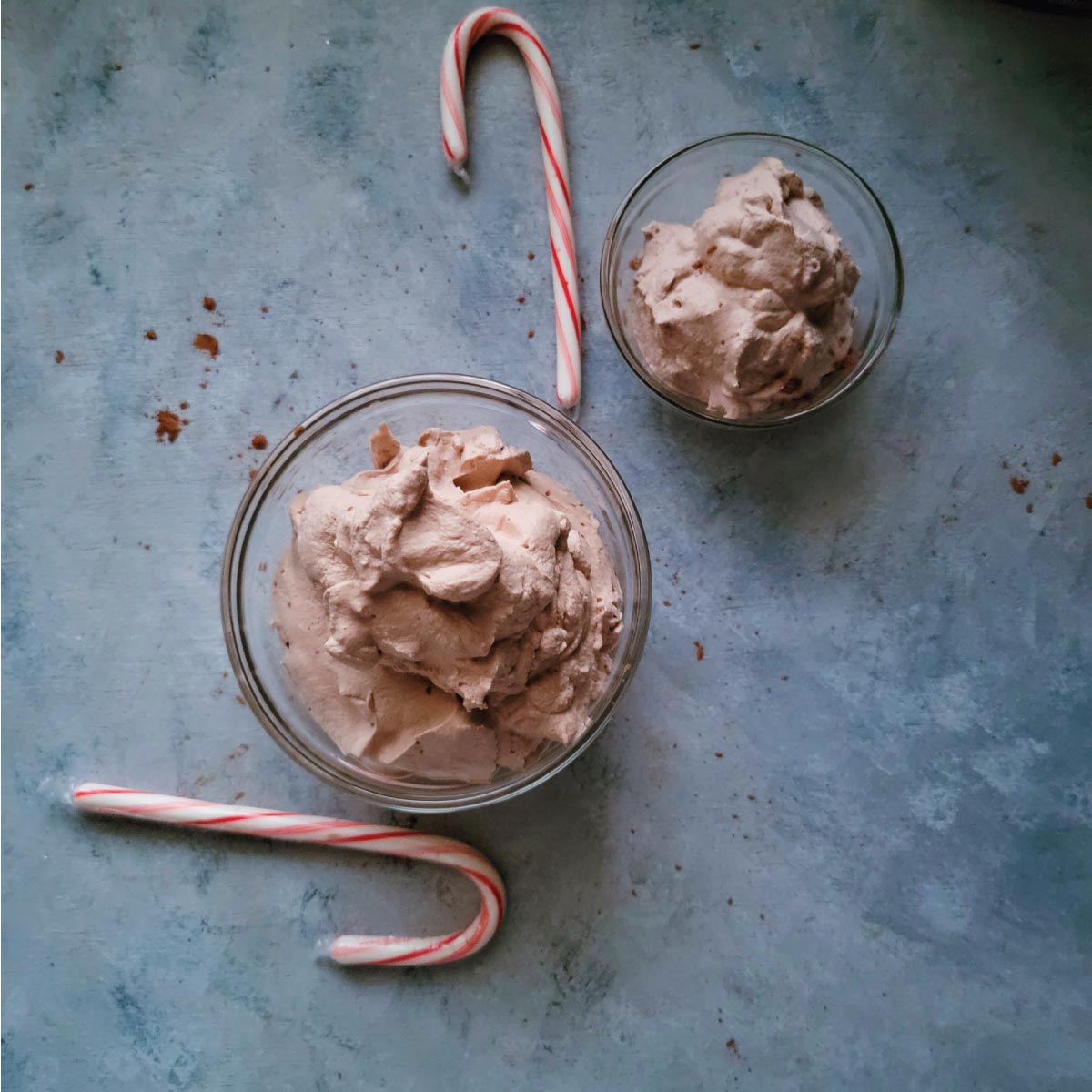 You can put this on everything from hot chocolate and coffee to pies and cakes. I love it on top of coffee!
Peppermint mocha is a favorite flavor in our house for the holiday season. It is our favorite latte here too.
This is easy to make and is the perfect combination of peppermint whipped cream and chocolate whipped cream.
Jump to:
Ingredients
Heavy cream - No substitutions are recommended. Light cream will not whip like heavy cream does.
Peppermint extract - No substitutions are recommended.
Espresso powder - Optional but recommended. Link included to show which one we use, but it might be cheaper locally in Walmart.
Sugar - Granulated sugar or minimally processed pure cane granulated sugar. We use Zulka Morena pure cane sugar (usually cheaper at Walmart or Target) which is why you see a slight brownish tint.
Cocoa powder - We use Hershey's but you can use your favorite cocoa powder.
Tips for making peppermint mocha whipped cream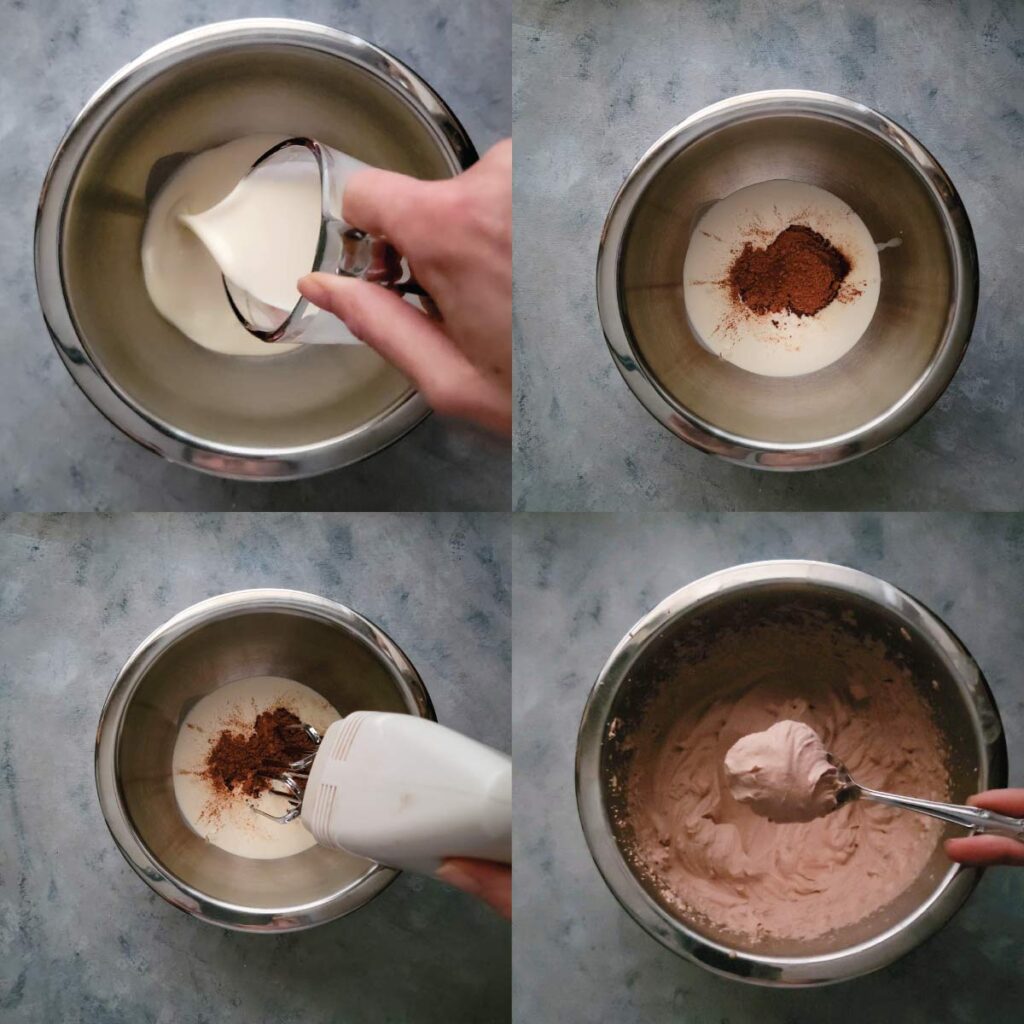 Using cold cream - Be sure your heavy cream remains in the fridge until you are ready to make the peppermint mocha whipped cream. It whips better when it is cold.
Chill your bowl - Not required, but recommended. I have made whipped cream without chilling a bowl before, but it whips best if the bowl and the cream are cold to start. Place bowl in the fridge for up to a half hour before making or the freezer for about 10 minutes before making.
Add all ingredients at once - You will want to add all the ingredients at once and then mix. All the ingredients get added and then you mix until the desired consistency.
Whipping with a mixer - I use either a hand mixer or stand mixer, either works. I like to use the hand mixer on medium or the stand mixer can be brought up to 8. Mix until soft peaks start to form or desired consistency - about 1 and a half to 2 minutes.
Do not overwhip - Do not whip any longer then stiff peaks. Overwhipping will start to separate the heavy cream. I have not experimented with the peppermint mocha whipped cream, but when making plain you will end up with butter if you whip it too long.
Frequently asked questions
Can I use this whipped cream in a piping bag?
You can if you whip it to stiff peaks. Just be careful not to overwhip it beyond stiff peaks. It is not an icing, but you can use it the piping bag to make the whipped cream fancy on top of your dessert if you do not want a dollop on top.
Is it better to use a stand or hand mixer?
I love my stand mixer for so many things, but when making peppermint mocha whipped cream, I prefer to use my hand mixer. I find it too easy to overwhip in a stand mixer if you walk away for a minute where a hand mixer you have no choice but to stay in front of the mixing bowl.
How long will this last in the fridge?
It will last up to 4 days, tho it's consistency will change by the 4th day. It is still safe to use at 4 days, but the texture may be slightly different from when you first made it.
Helpful items for making the recipe
As an Amazon affiliate, we may earn a commission if you make a purchase through a link on our site. This is at no extra cost to you and helps to keep the recipes free, thank you!
Mixing bowls - I prefer stainless steel mixing bowls and use them for everything! These have a non skid bottom and a coating on the outside of the bowl to help shield your hands from extreme temperature differences.
Hand mixer - This one is great because it is not expensive but yet has a couple different attachments. You will use the regular beaters for whipped cream unless you are using a stand mixer, then you use the whisk attachment.
Spatulas - Perfect for scraping down the sides and I also use these if you want to put the whipped cream into a piping bag.
Recipe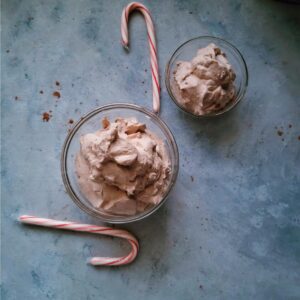 Peppermint Mocha Whipped Cream
Peppermint mocha whipped cream is easy to make at home and is the perfect way to enjoy the flavors of the holiday season.
Ingredients  
1

cup

heavy cream

2

Tablespoons

sugar

granulated

1½

Tablespoons

cocoa powder

dark or regular

1

teaspoon

peppermint extract

¼

teaspoon

espresso powder
Instructions 
Optional but recommended - place mixing bowl in the fridge for 30 minutes or freezer for 10 minutes.

Just before mixing, take bowl out of the fridge/freezer. Pour in cold whipping cream, sugar, cocoa powder, peppermint extract and espresso powder.

1 cup heavy cream,

2 Tablespoons sugar,

1½ Tablespoons cocoa powder,

1 teaspoon peppermint extract,

¼ teaspoon espresso powder

With a hand mixer on medium (use regular beaters) or a stand mixer (use whisk attachment) on 8, mix for about 1½ to 2 minutes until soft peaks form or desired consistency.

Serve right away for best texture.
Notes
Nutritional values and serving sizes are estimated.  It will make between 1 and a half to 2 cups of whipped cream.
Do not overwhip the whipped cream.  You can whip it to stiff peaks if you want to use a piping bag to make your topping fancy, but stop as soon as stiff peaks form.
Store in the fridge for up to 4 days, the texture may change before the 4 days but if properly stored it will still be safe to eat at 4 days.
Nutrition
Calories:
118
kcal
Carbohydrates:
4
g
Protein:
1
g
Fat:
11
g
Saturated Fat:
7
g
Polyunsaturated Fat:
1
g
Monounsaturated Fat:
3
g
Cholesterol:
41
mg
Sodium:
12
mg
Potassium:
39
mg
Fiber:
1
g
Sugar:
3
g
Vitamin A:
437
IU
Vitamin C:
1
mg
Calcium:
21
mg
Iron:
1
mg