Chocolate whipped cream is the ultimate dessert topping! It is easy to make homemade and it goes with almost anything you want whipped cream on.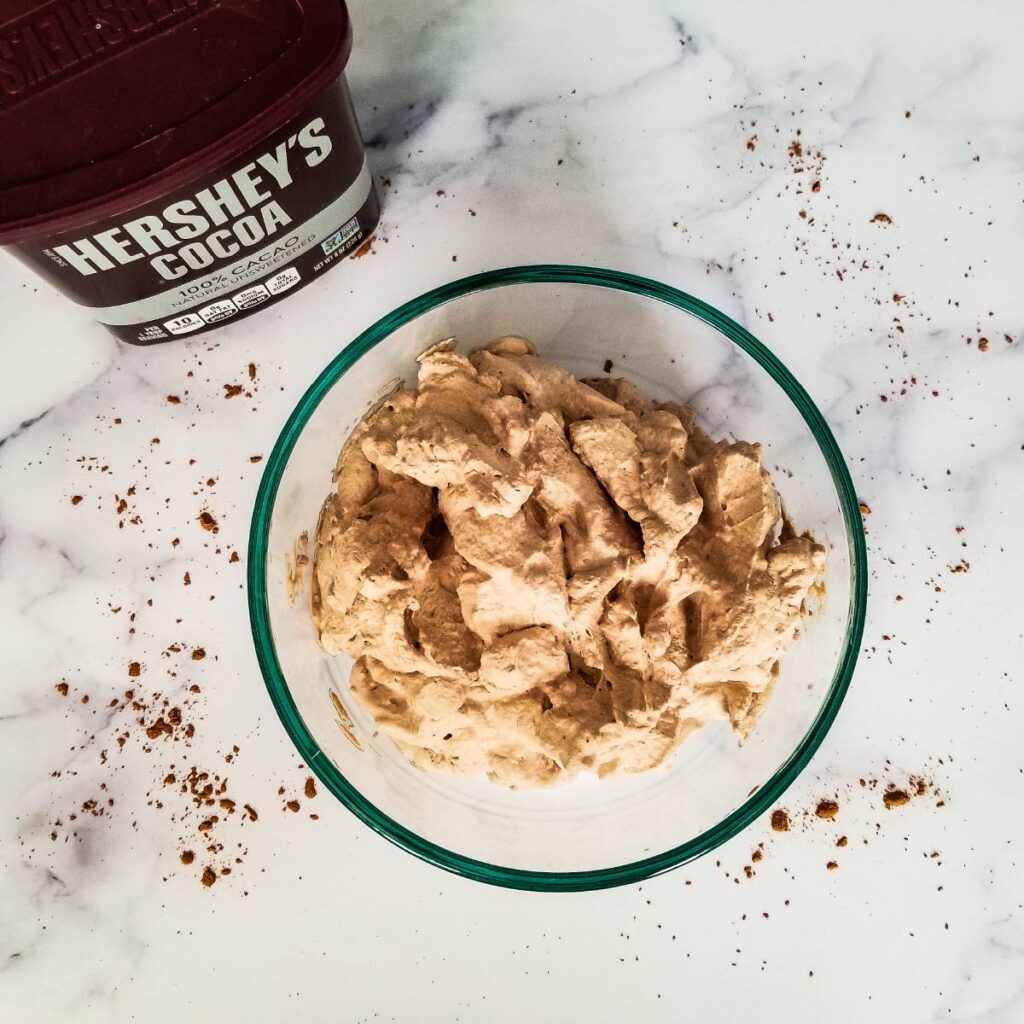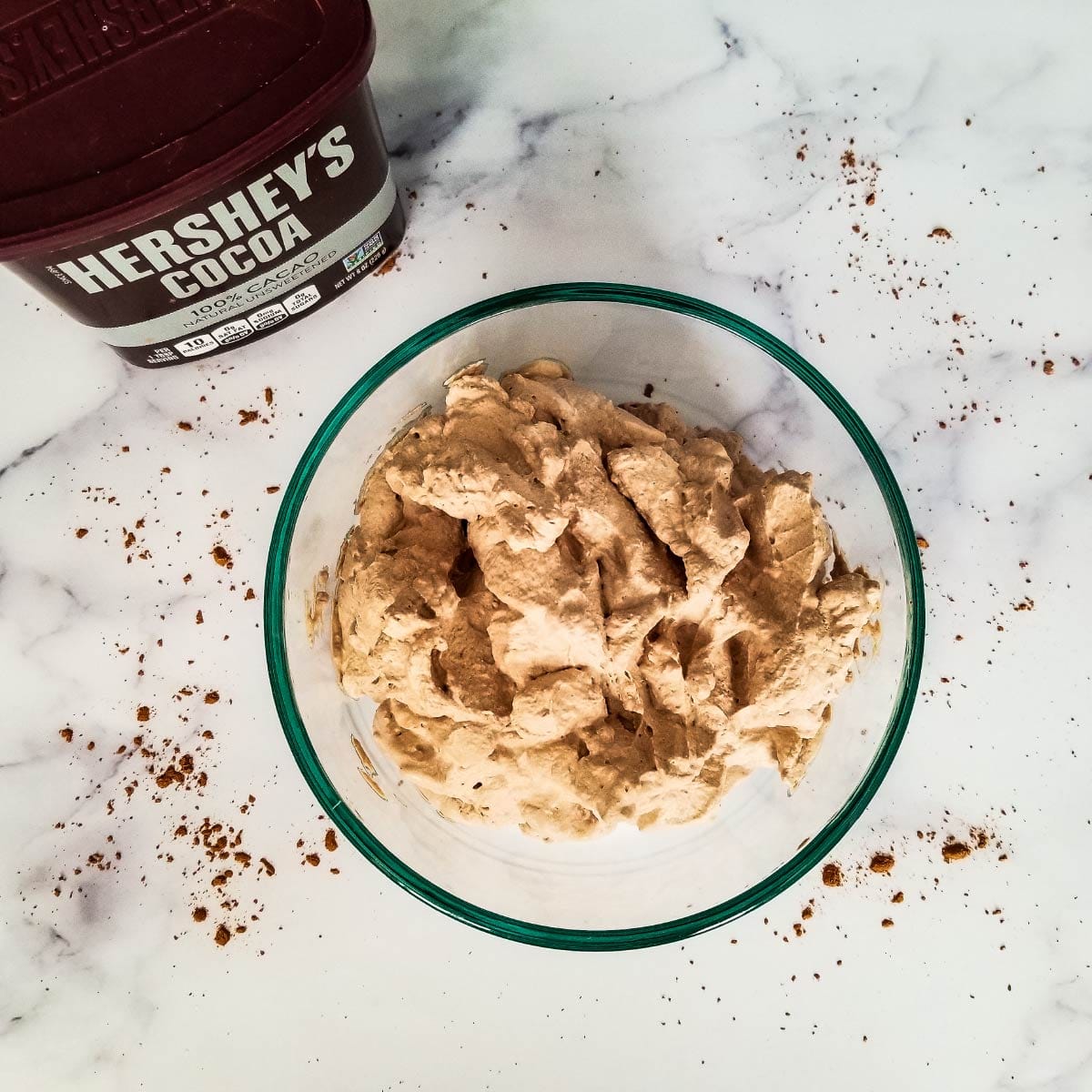 For all the chocolate lovers out there, this is your happy place! I know there are a lot of us out there. I mean it is chocolate 🙂
I only make homemade whipped cream here so I like to experiment with different flavors. Some are amazing and some are not so much. This one here will definitely be one you will make when serving dessert to guests tho, it is so simple and delicious.
Pumpkin whipped cream is one we like to make in the fall as soon as it starts getting cooler. Peppermint whipped cream is great in the winter, especially around Christmas time!
But chocolate, oh that can be any time of the year! It will go good on everything from chocolate hazelnut latte to homemade hot chocolate. We have even eaten it on pumpkin pie!
How to Make Chocolate Whipped Cream
This is so easy, even if you have never made whipped cream before. I like to use my hand mixer for this, but you can definitely use your stand mixer as well. With the stand mixer you have to keep an eye on it and not walk away or you will overwhip the cream.
Take the mixing bowl and place it in the freezer for about 10 minutes or in the fridge for about 20-30 minutes.
Once you are ready to make the chocolate whipped cream, take the bowl out of the fridge/freezer and add all ingredients at once. We have found that adding espresso powder brings out the chocolate and we do recommend it! But it is optional if you do not have it.
Why do I recommend a hand mixer?
Your stand mixer will definitely work but you have to keep an eye on it. If you are like me, you are more likely to walk away to do something when your hands are not needed on it!
With a hand mixer you will be at the bowl the whole time so you will be less likely to overwhip. If you whip the cream too long, you will have butter. Not sure how chocolate butter would taste but who knows it might be good. You want to whip it just until soft peaks form.
Can I make chocolate whipped cream without a mixer?
Yes! You can whisk it in a bowl too. It takes a bit more arm power and can be a little tiring, but it will definitely work. And hey, you will gain some extra muscle too - win, win!
We have made regular whipped cream (and even butter) in a jar by shaking it too. I haven't tried it with the chocolate, but I don't see why it wouldn't work. You would put it in a jar with a tight fitting lid. Make sure there is plenty of room in the jar for expansion. This takes a lot of arm power but is a great activity if you have kids. Everybody takes a turn at a time shaking it before passing it to the next person until it is whipped cream.
Recipe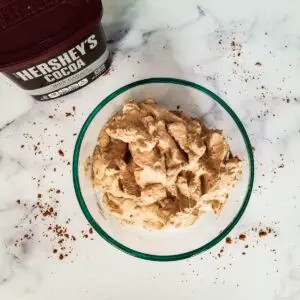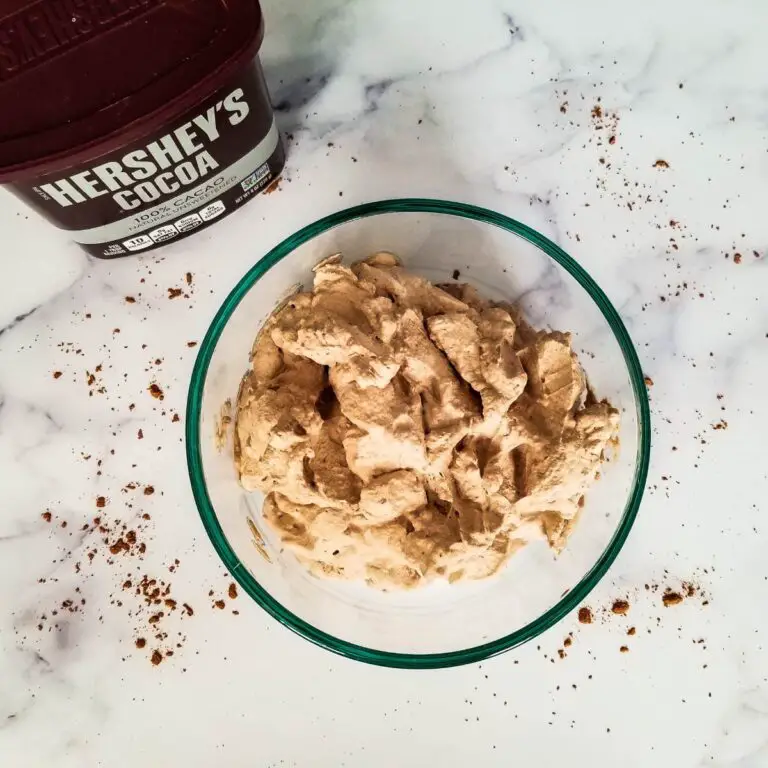 Chocolate Whipped Cream
Chocolate whipped cream is a simple topping to make homemade. It has only a few ingredients and takes about 4 minutes to make. Goes well with just about any dessert you serve!
Ingredients  
1

cup

heavy cream

½

tsp

vanilla extract

2

tbsp

sugar

1½

tbsp

cocoa powder

unsweetened

¼

tsp

espresso powder

optional but recommended
Instructions 
Recommended but not required if in a hurry - place mixer bowl in the freezer for 10 minutes or fridge for 20-30 minutes to get it nice and cold.

Once ready to make, remove bowl freezer (or fridge) and add all ingredients into the bowl.

If you are using a stand mixer, mix on 6 for about 2 minutes. Hand mixer you would put it on medium low for about 3 minutes.

The times may vary, you really want to mix it until soft peaks form. If you are putting it in a pastry bag to decorate with, you can go until stiff peaks just start to form.

Store leftovers in the fridge for up to 4 days.
Notes
Nutritional values are estimated and so are the amount of servings.  It makes about 2 cups of whipped cream.  
I find the colder the mixing bowl and heavy cream are the more perfectly it whips together, but it can be thrown together as a last minute topping too.  I have done that many times too.
The espresso powder is optional but really enhances the chocolate flavor.  It's something we add to a lot of chocolate things we make.
Nutrition
Calories:
116.39
kcal
Carbohydrates:
4.22
g
Protein:
0.73
g
Fat:
11.09
g
Saturated Fat:
6.9
g
Cholesterol:
40.76
mg
Sodium:
11.49
mg
Potassium:
31.84
mg
Fiber:
0.21
g
Sugar:
3.07
g
Vitamin A:
437.32
IU
Vitamin C:
0.18
mg
Calcium:
19.34
mg
Iron:
0.09
mg