Yogurt puts a delicious twist on a classic breakfast in this apple pancake recipe. They are easy to make and are made from scratch, not from a boxed mix.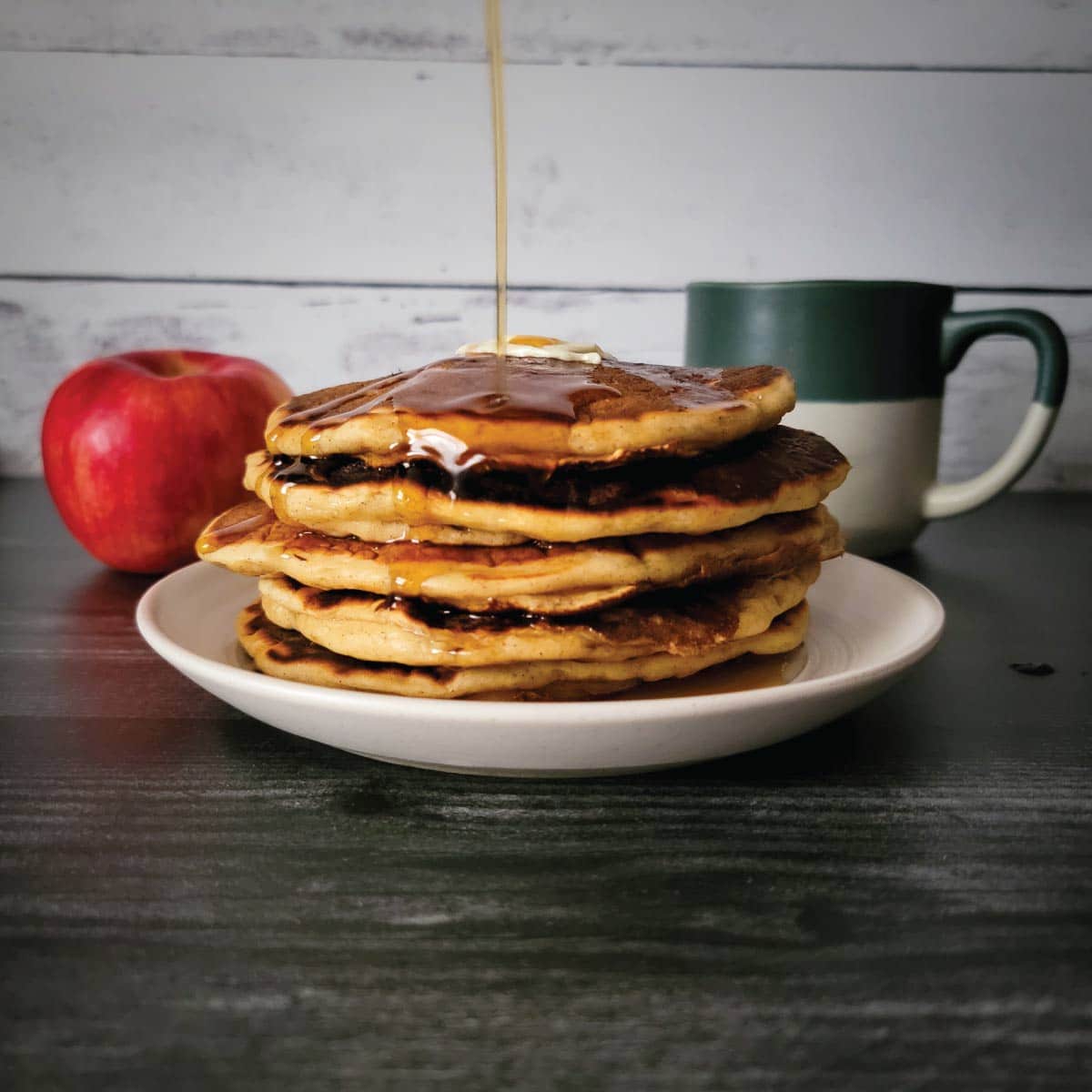 If you are looking for a breakfast that will bring your family to the table, this is definitely it. It has the perfect combination of apples and cinnamon that your family will love!
Why add yogurt? Because it adds a nice amount of moisture to them along with a great flavor. The texture is a bit more dense but they still rise into thick and delicious apple cinnamon pancakes.
Sometimes we make our own homemade yogurt to go in these pancakes as well as our easy yogurt pancakes recipe. You can also use store bought yogurt, quite often we use store bought Greek yogurt.
Jump to:
Ingredients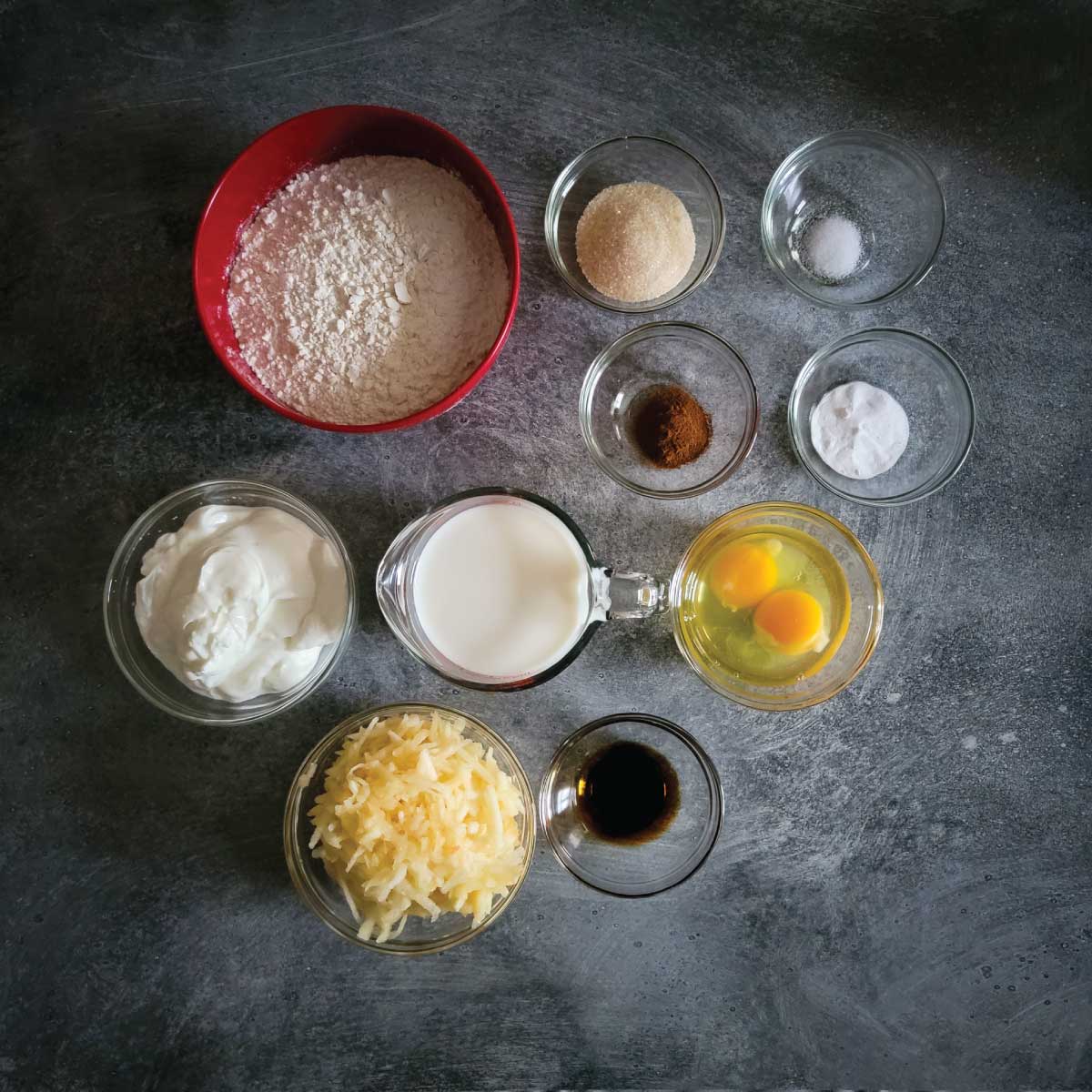 Flour - We use all purpose flour and have not tested a substitute.
Sugar - Granulated sugar or your favorite sugar substitute. It is for added flavor, you can leave it out if you prefer.
Salt - Table salt or fine ground sea salt works best. It is used to enhance the flavors so I don't recommend leaving it out, but you can.
Baking soda - Baking soda is recommended and only 1 teaspoon is used, but it can be substituted with 3 teaspoons of baking powder. We have made them both ways.
Cinnamon - No recommended substitutes.
Yogurt - For best flavor we recommend whole milk Greek yogurt, but we have made these apple pancakes with non fat yogurt as well. You can use regular yogurt as well. Just be sure it is plain yogurt.
Milk - We use whole milk, but you can use a lower fat milk as well.
Eggs - No substitutions recommended.
Vanilla extract - No substitutions recommended.
Apples - See below for the differences in apples. My personal favorite is honey crisp.
What are the best apples for pancakes?
This is a personal preference here. Most apples will taste amazing in apple pancakes, but some will add more sweetness then others.
If you are looking to tone the sweetness down, go with a granny smith apple. They are a bit more tart and very popular for baking and cooking. We don't use them much here tho.
Honey crisp is a sweet, juicy and crisp apple. They are rather delicious, but they do add a little bit more sugar to your pancakes. They make an amazing apple pie too (if you like sweet apple pie.) Honey crisp are my personal favorite and I often use them when I make apple yogurt too.
The other apple I love for cooking is Gala and this is the one we used in these pancakes. They are sweet but not the sweetest you can get.
If you pick a larger apple, you will likely need one. Smaller apples will be one and a half to two. You will want about half a pound before peeling and removing the core. It doesn't have to be perfect for this apple pancake recipe.
How to measure flour
People measure flour differently and with many recipes it makes a difference. Some people scoop flour out of the bag (or container) which gives you a very heavy cup. It is basically packed in there.
Quite often for most recipes we spoon and level which means spoon it out of the bag and into the measuring cup. Use a butter knife to scrape off excess. This one is best if you don't have a scale. It is closest to getting the right weight if a recipe calls for a cup by weight.
And then there is the exact measurement by weighing it. I added weight to the recipe to help people who weigh their flour.
Don't sweat the flour measurement here. These apple cinnamon pancakes are easy to adapt if you put too much or too little flour in. Too much flour you can add a splash more milk. Too little flour and add a little bit more flour.
We spoon and leveled 2 and a quarter cups here weighing about 320 grams.
What goes good on apple pancakes?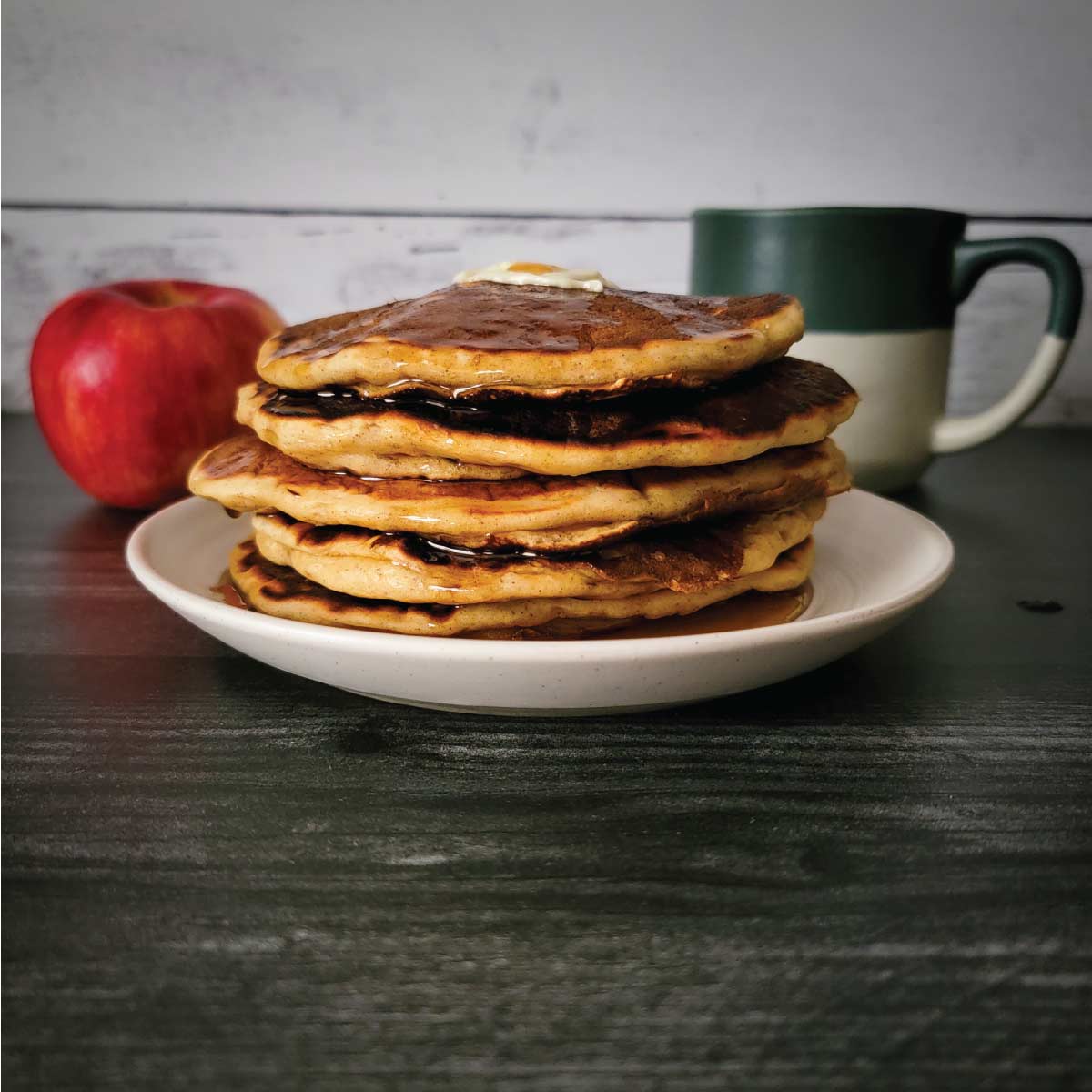 I am mostly a pure maple syrup person here, but there are other toppings you can use!
Homemade salted caramel is always a treat with apples. You can serve with apple slices and top with the caramel. A tip to keep your apple slices from browning is to place them in a bowl with water and lemon juice for about 10 minutes. Remove and bring to the table with the pancakes.
Peanut butter sauce is another great option. Add some peanut butter sauce and apples on top for an amazing treat!
Do I need a griddle for pancakes?
It is easiest if you have a griddle for apple pancakes, but not required. There are many different kinds and you would want to decide what would work best for you.
This is our favorite griddle and can go on the stove, campfire or even the grill. It is cast iron and needs to be treated like other cast iron pans. For those who love cast iron, this is perfect! For those who are new to cast iron, it isn't hard but it does get treated differently then a traditional pan.
Another option is a stand alone griddle. Many people like them, but we prefer to use the stove top ones.
We have also used a flat frying pan as well to make pancakes. There are options, you don't need a griddle but they are great to have!
Frequently asked questions
Can I freeze the apple pancakes with yogurt?
Yes they freeze well! Just be sure they are cooled all the way before freezing. It is best if you partially freeze them separately on a baking sheet before putting in a container together. This will prevent them from sticking together.
How do I reheat frozen pancakes?
You can use a microwave, toaster (depending on the size of your pancake), toaster oven or the oven.

The microwave is my least favorite personally, but many people love using it! I would start out with 20 seconds and see how warm the pancake is - microwaves vary and the size of the pancakes along with how many you are reheating changes the time. Add add about 10 seconds at a time until desired temperature.

The toaster can be used if your apple pancakes fit in your toaster - depends on the size of your pancakes and the size of your toaster. Select a lighter toast setting and if you need to repeat, you can toast it longer. Toaster ovens will vary greatly based on the settings on your oven - ours is an air fryer too so my times will be different.

The oven is nice to get them heated without getting a weird texture like you may get in the microwave (I don't like microwaves so maybe it's just me.) I like to put them on a baking sheet and bake at 375 degrees Fahrenheit for 8-10 minutes. We use foil on the sheet for easy cleanup!
Can I make these ahead of time?
I do not recommend it unless you are freezing them for meal prep. They are best freshly made and leftovers should be frozen the same day. You can refrigerate them and reheat, but they are best fresh or just out of the freezer and heated.
Recipe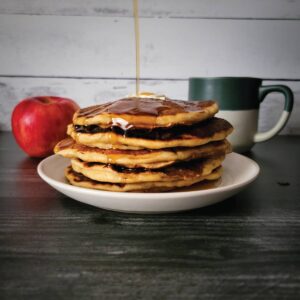 Apple Pancakes Made with Yogurt
Easy to make, these apple pancakes are made from scratch using only simple ingredients. They are a delicious twist on a classic breakfast recipe.
Ingredients  
2¼

cups

flour

spooned and leveled - 320 grams

2

Tablespoons

sugar

1

teaspoon

cinnamon

1

teaspoon

baking soda

¼

teaspoon

salt

1

cup

plain Greek yogurt

1

cup

milk

2

eggs

1

teaspoon

vanilla

1

large

apple
Instructions 
In a bowl mix together the flour, sugar, cinnamon, baking soda and salt.

2¼ cups flour,

2 Tablespoons sugar,

1 teaspoon cinnamon,

1 teaspoon baking soda,

¼ teaspoon salt

In a large bowl mix together yogurt, milk, eggs and vanilla using a whisk or a fork.

1 cup plain Greek yogurt,

1 cup milk,

2 eggs,

1 teaspoon vanilla

Peel and core the apple. Shred the apples and add to the wet ingredients.

Add the flour mix into the wet ingredients. Mix until it is all incorporated with a whisk or a fork. Allow to sit for about 5 minutes while heating up the pan.

Heat a griddle or a flat pan on medium heat for about 2 minutes (electric stove might need longer.)

Your griddle is ready when you splash a couple drops of water on it and the water "dances"

Spoon the batter onto the pan in desired sizes. We recommend no bigger then 6 inches to cook evenly. Bigger they might not flip easily.

Cook for about 2 minutes. Bottoms should be browning and they should be easy to flip - if not continue cooking for another minute

Flip and cook for another 2 minutes. They should be browning and easy to remove from pan. If not, cook another minute.
Notes
Nutritional values are estimated and so are the servings.
For apples - For small apples, you will need 2.  Medium sized apples about 1 and a half.  Large you can do 1.  It doesn't have to be perfect for the amount of apple here.  We measured about 1 and a half cups shredded.
For the baking soda - you can substitute for 3 teaspoons baking powder if needed, but baking soda is recommended.
For the yogurt - We prefer whole milk Greek yogurt, but you can use a low fat, non fat or even a regular yogurt.  Just be sure it is plain.
The batter will be slightly thicker then regular pancake batter, but it should not be thick like cookie dough batter.  If needed you can add more milk a tablespoon at a time to thin it out.
Nutrition
Calories:
422
kcal
Carbohydrates:
75
g
Protein:
14
g
Fat:
7
g
Saturated Fat:
3
g
Trans Fat:
1
g
Cholesterol:
96
mg
Sodium:
236
mg
Potassium:
649
mg
Fiber:
4
g
Sugar:
18
g
Vitamin A:
310
IU
Vitamin C:
3
mg
Calcium:
305
mg
Iron:
4
mg