These yogurt pancakes have an amazing texture and the flavor cannot be beat! They can be made with Greek or regular yogurt. These are definitely better then regular buttermilk pancakes.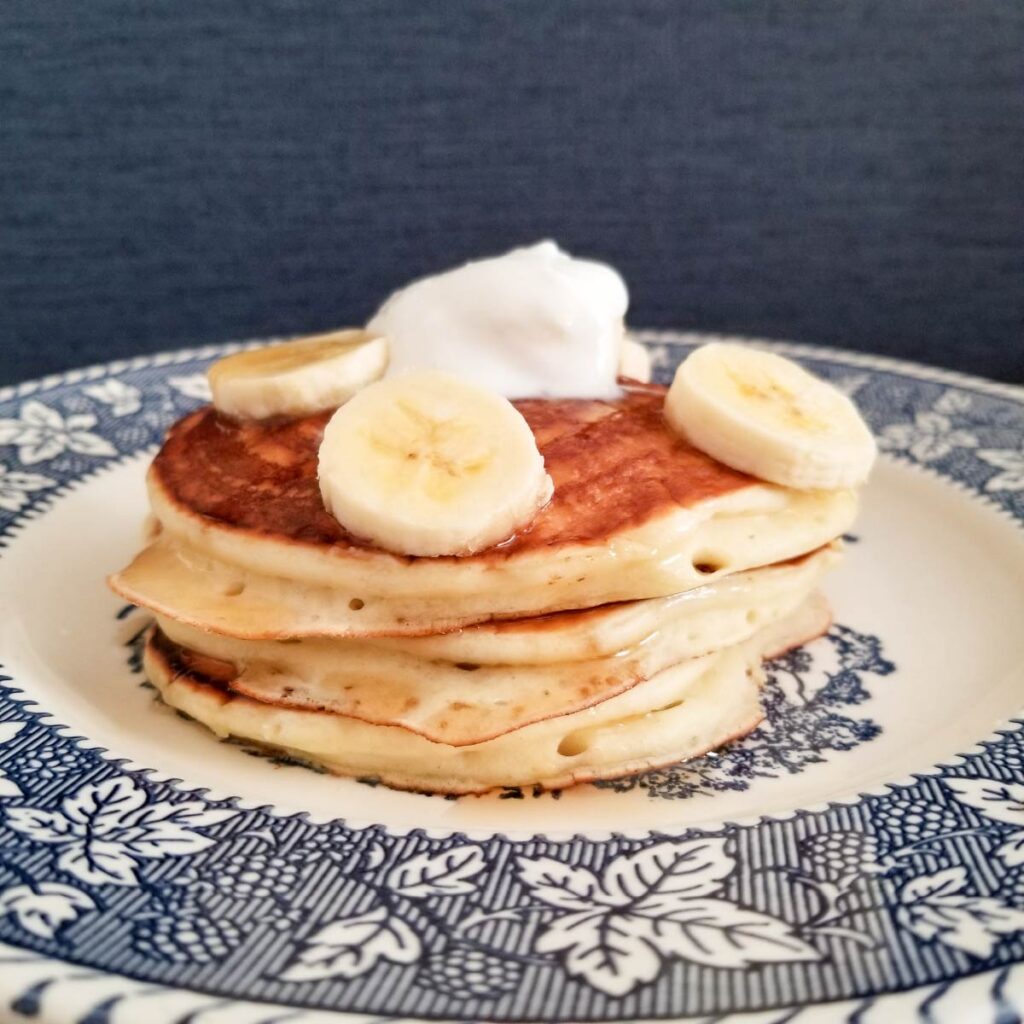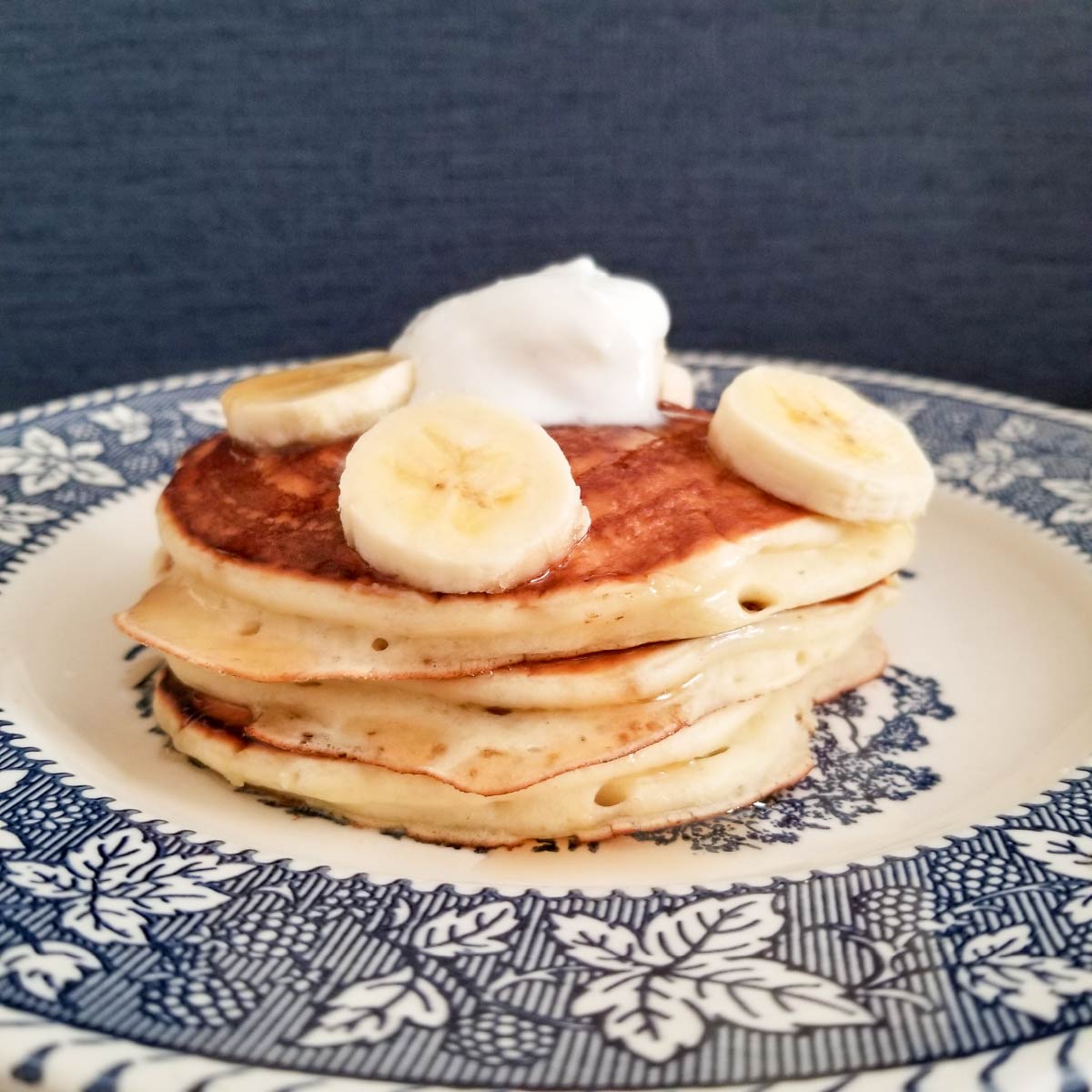 Breakfast is the most important meal of the day so we try not to skip it often, but we don't get the chance to sit as a family and eat it every morning either. There are many things that will bring us together on a weekend morning and a delicious stack of yogurt pancakes is one of those things! Another favorite is crepes, tough to decide which one we like better.
I make homemade yogurt in the Instant Pot so I always have some fresh here, but you can use any brand you like - Greek or regular. I only recently started adding it to pancakes and it was an idea that came about when I had an excess amount of plain in the fridge! Usually when I make it, I make fruit flavors for the homemade yogurt and put it in the bottom of jars. I miscalculated when I tried a new milk and doubled the batch. There was not enough jars with fruit for the amount the double batch made!
One goof leads to an amazing recipe!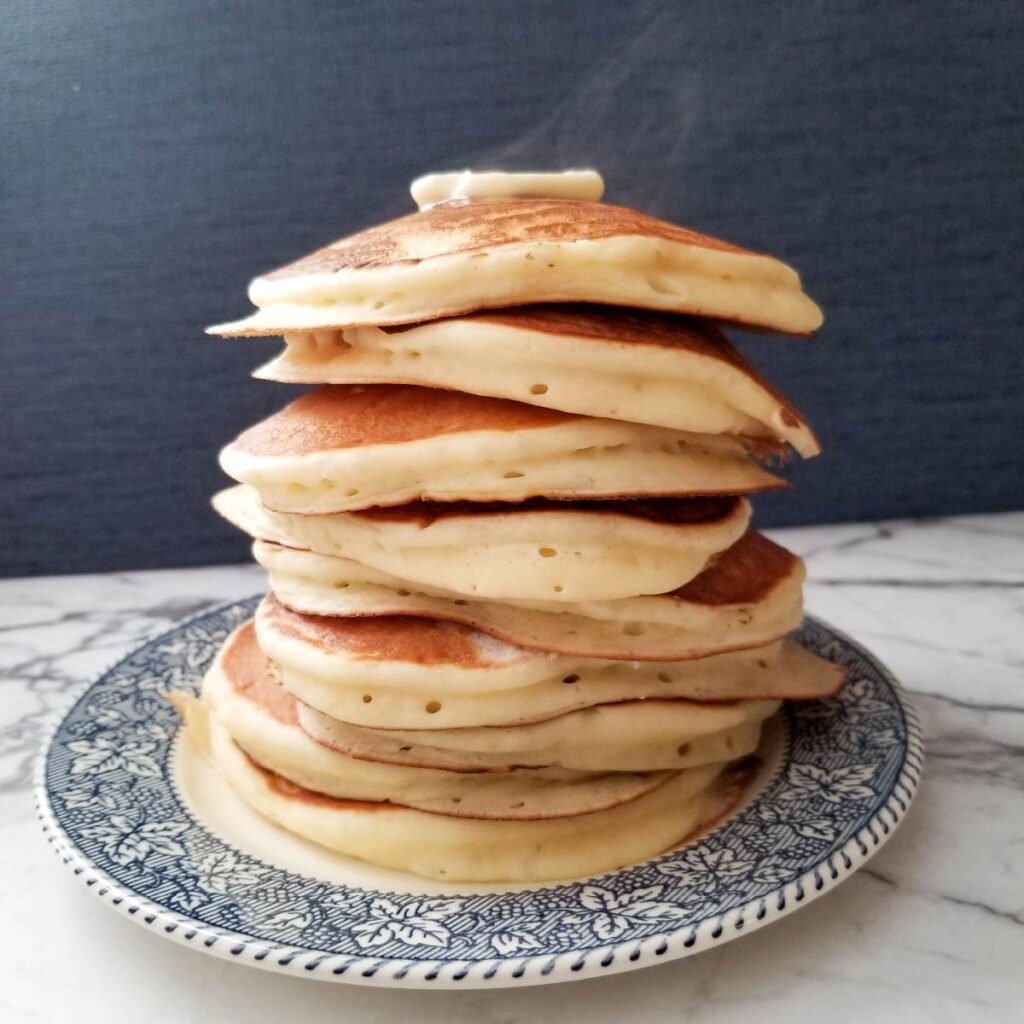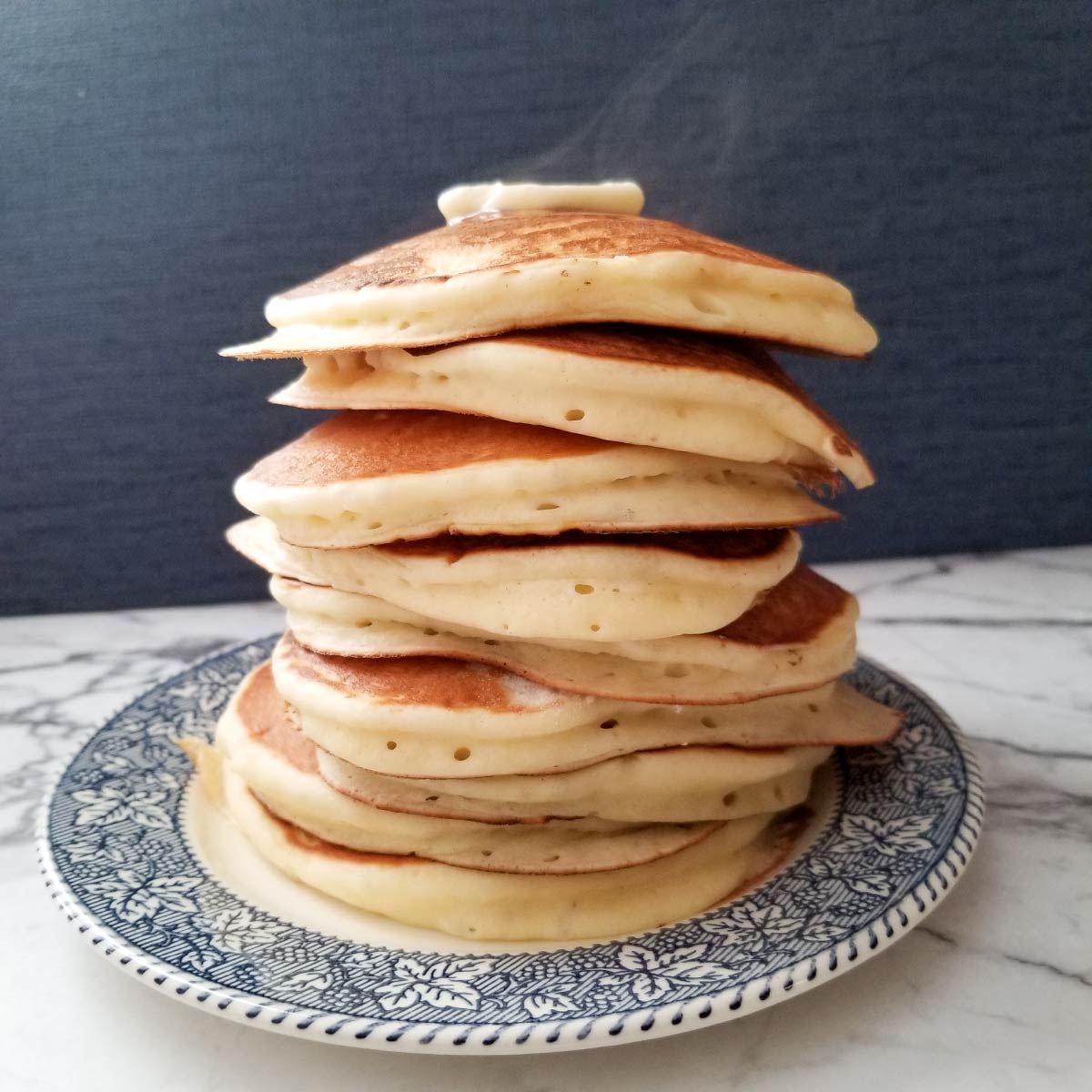 Since eating these yogurt pancakes, we won't make plain again! I still like pumpkin pancakes, but even those have yogurt in them now. We will share the recipe when we make them next time too (I need pictures to share with you!)
Tips for making yogurt pancakes
These are very easy to make and honestly there are no huge tips to share here. The yogurt helps you to get this amazing texture you see here.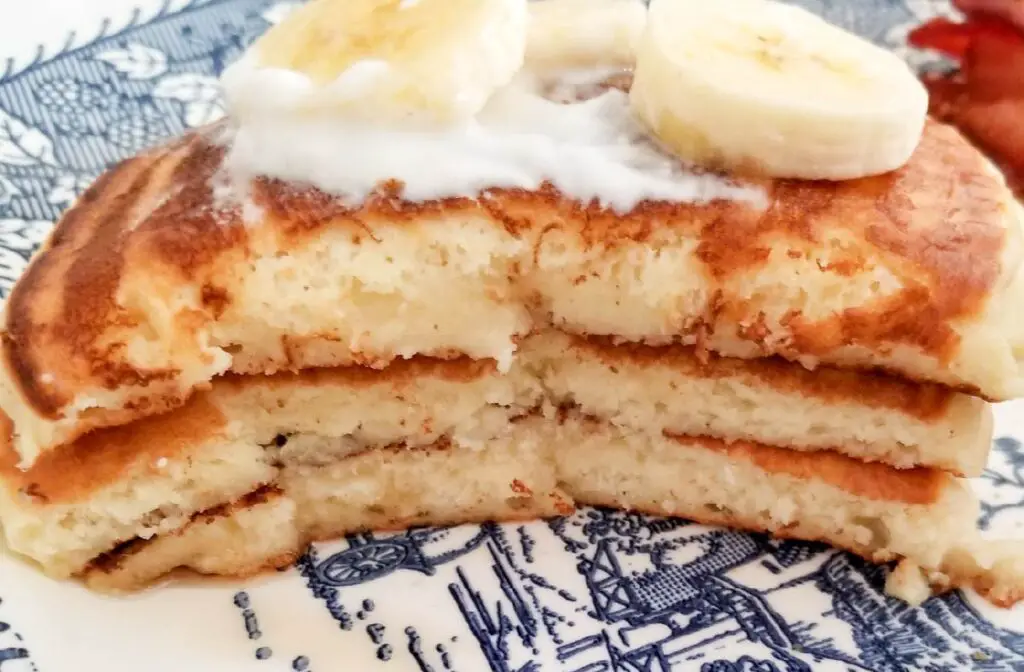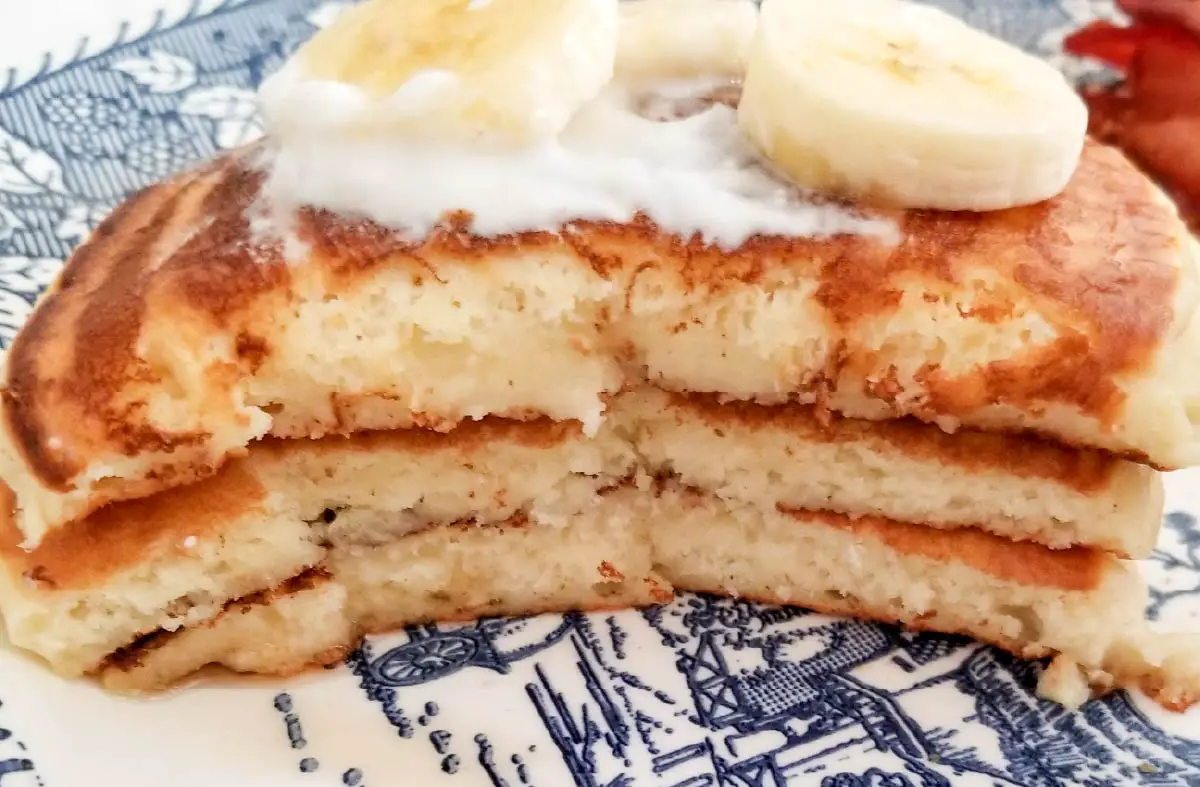 One thing I do recommend is that you let the eggs, yogurt and milk sit out for about a half hour before mixing. Unless I am making eggs, I always like them to start out a little closer to room temperature for my cooking.
Always mix the dry ingredients in one bowl and all the wet ingredients in a separate bowl first.
Do not overwhip the eggs and do not over stir the batter. If you stir your batter for too long, it will result in more chewy pancakes. You just need to stir it until the wet and dry ingredients are incorporated. Lumps in the batter are ok!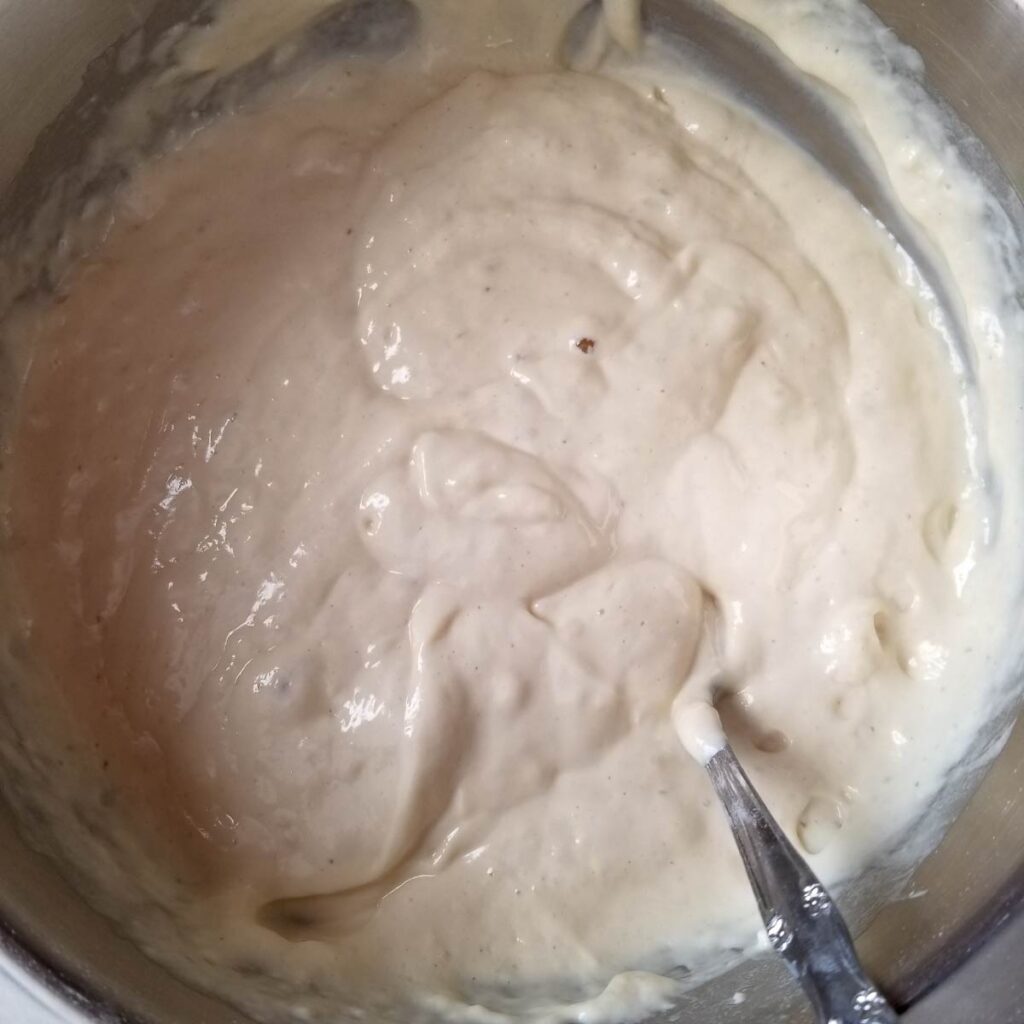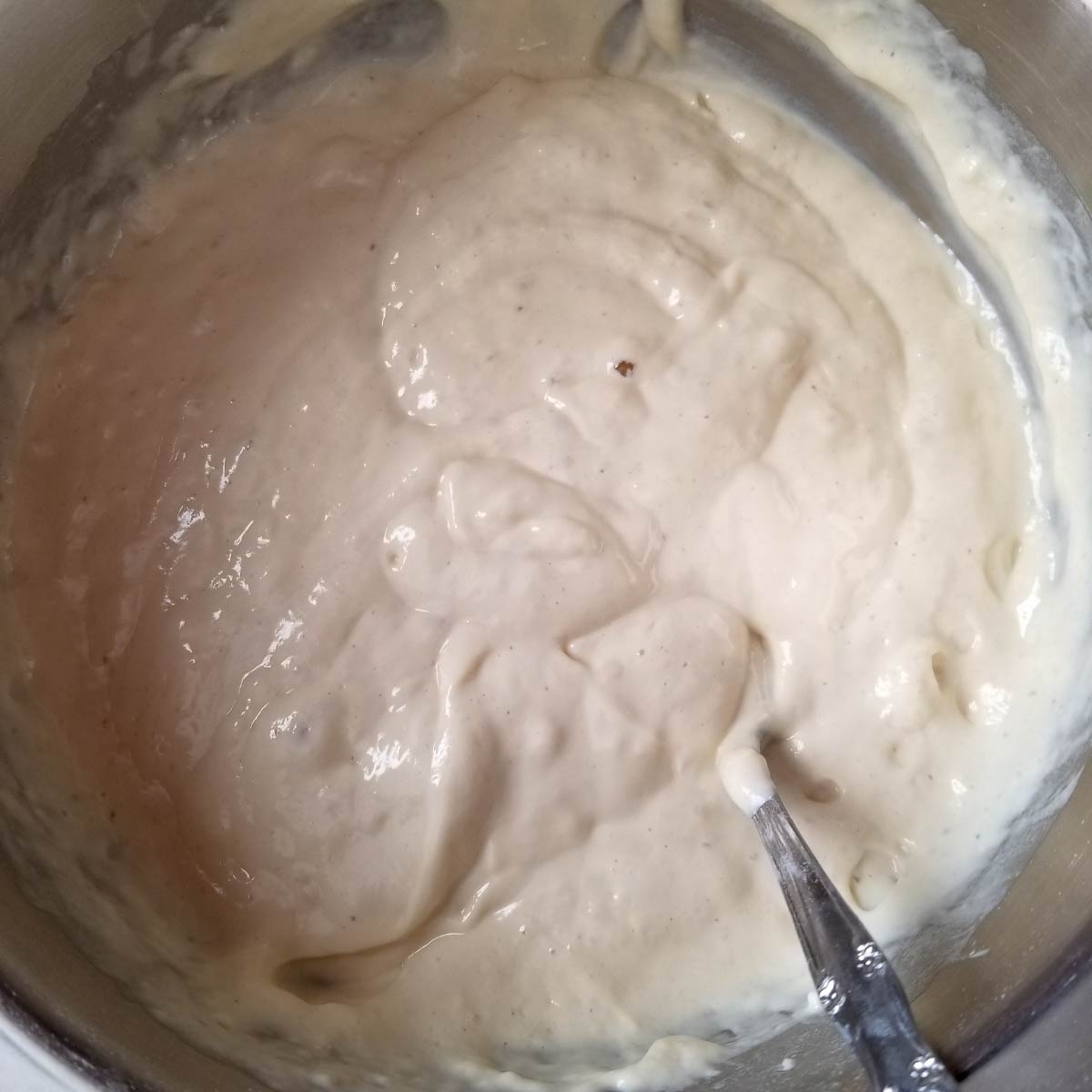 It's hard to see the lumps here, but you will notice that this is a thick batter. It should be! Your fat and part of your liquid is substituted with yogurt which is thicker then melted butter or oil. The batter is not pourable, but you will spoon it out onto the pan.
Make sure that your pan is hot enough. When heated properly, water dripped onto the pan should dance around.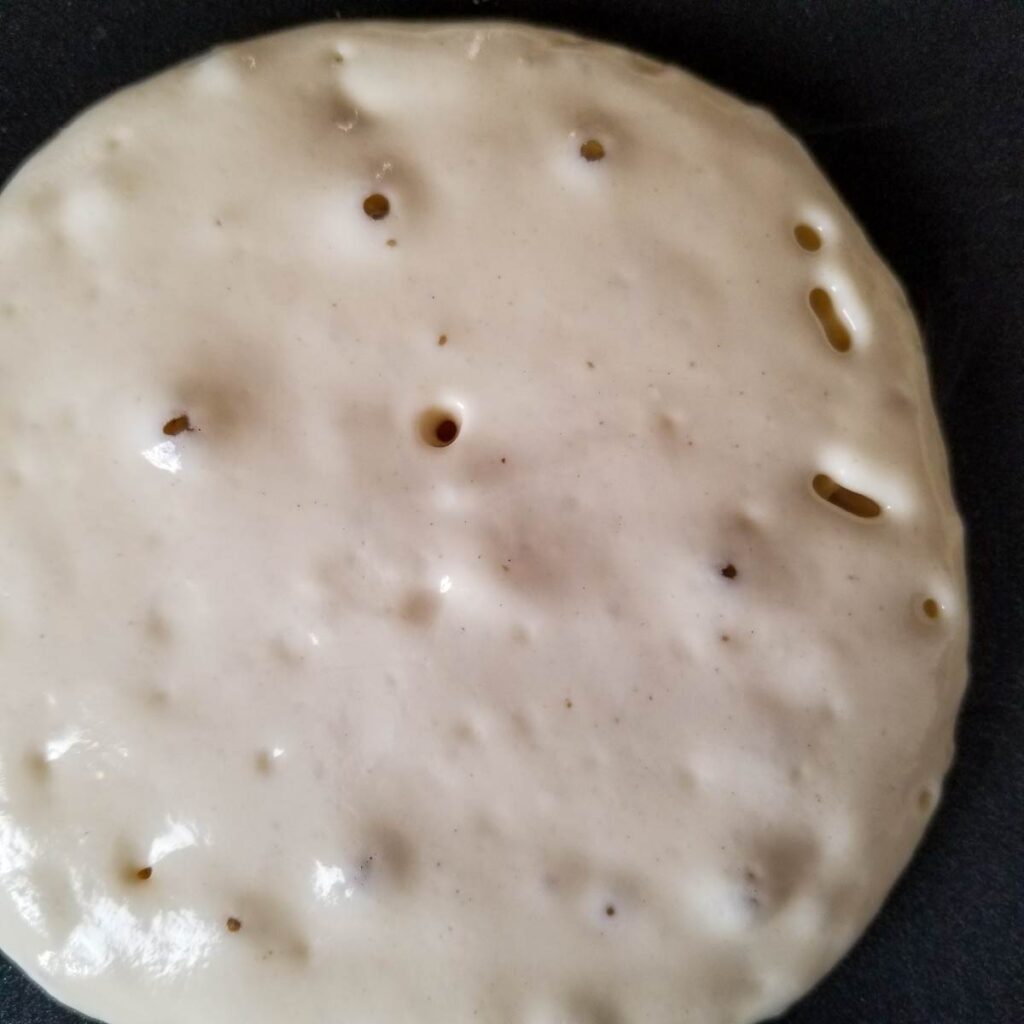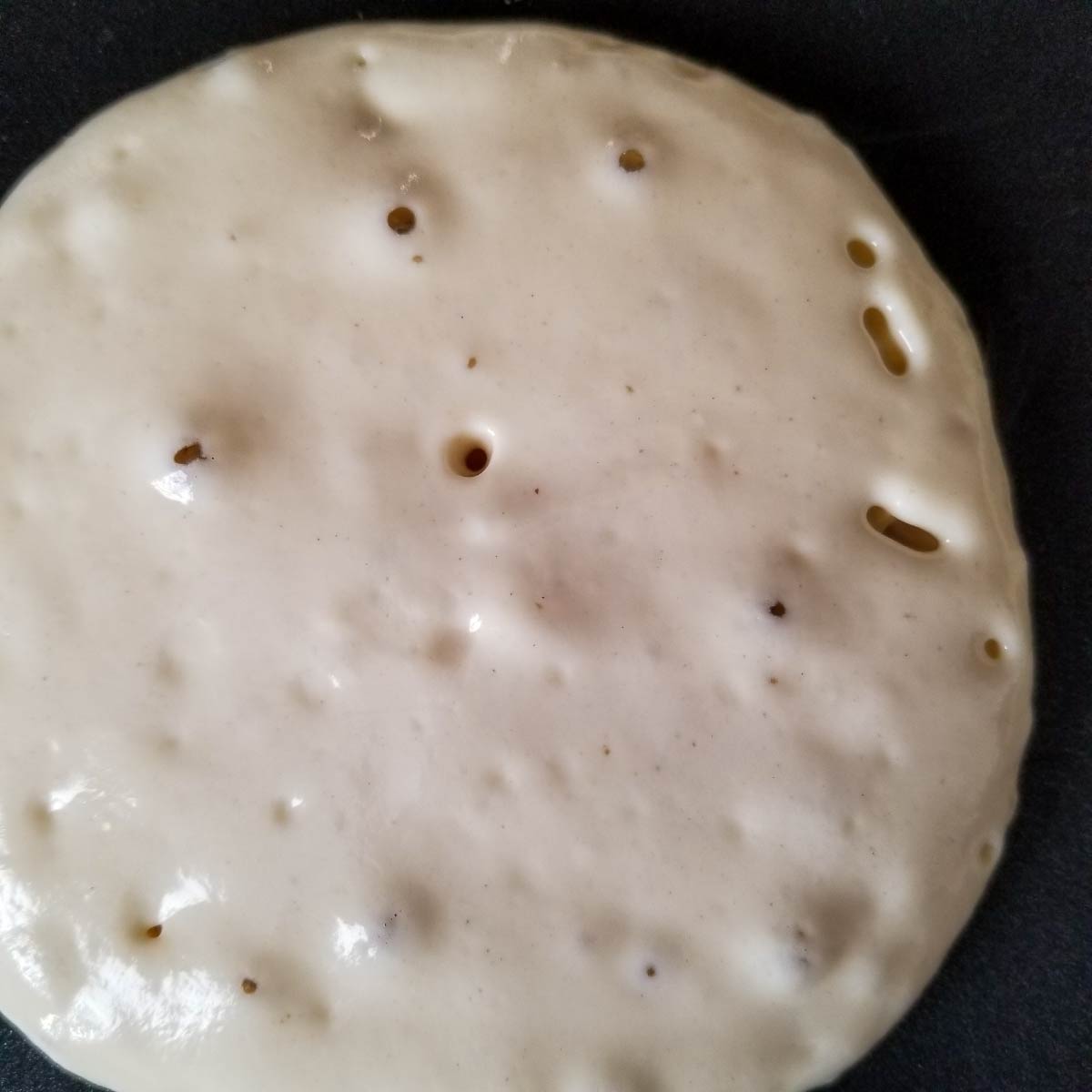 Only flip pancakes once. I judge the time to flip by looking at it. If there are tiny air bubbles that are starting to pop like in the picture above, it is time to flip. If it is too soon on the first flip, let it cook for a minute or so longer on the other side to make up for it.
We serve the yogurt pancakes with maple syrup and fruit, but eat them how you like! They go great with a chocolate hazelnut latte.
Recipe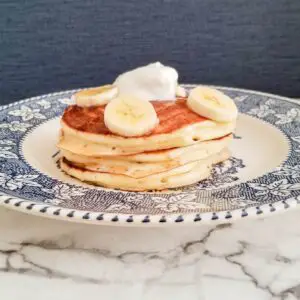 Yogurt Pancakes
These pancakes are easy to make and the yogurt gives them an amazing texture that you will love!
Ingredients  
1½

cup

yogurt

plain

1

cup

milk

2

eggs

1

tsp

vanilla extract

2

cups

flour

¼

cup

sugar

3

tsp

baking powder

¼

tsp

salt
Instructions 
In a large mixing bowl, combine the flour, sugar, baking powder and salt. Set aside.

In a separate bowl combine the yogurt and milk with a whisk.

Add in the vanilla and stir.

Lightly beat the eggs before adding them to the yogurt/milk mix. Stir them into the mix.

Pour the yogurt mix into the dry ingredients and stir until just incorporated - I use a fork to stir it together. Small lumps are ok, do not over stir.

Batter will be thick.

Heat a pan over medium heat. To test if the pan is hot enough, splash a couple of drops of water on it. If the water "dances", your pan is hot enough for the pancakes.

Spoon batter out into desired sized pancakes on the pan. I do 4 heaping spoons (the spoon we use for our table setting.)

Cook for 1½-2 minutes before flipping. All stoves and pans are different. Once it starts to have popped air bubbles like in the picture, it is time to flip.

Once you flip, cook for another 1½-2 minutes and remove from heat.

We like to serve them with maple syrup and fruit, but serve them how you would like.
Notes
Nutritional values are an estimate and so is the amount of servings.  
Tho it isn't a crucial step in this recipe if in a hurry, but I like to take the yogurt, milk and eggs out of the fridge for about a half hour before making these.   I find it mixes better, but in a hurry on a busy morning it will be ok without taking them out.
I use homemade yogurt but you can use your favorite plain yogurt - Greek or regular is ok.  It is just recommended to use plain because of the sugar content in flavored yogurt.
Nutrition
Calories:
407
kcal
Carbohydrates:
69
g
Protein:
14
g
Fat:
8
g
Saturated Fat:
4
g
Cholesterol:
100
mg
Sodium:
249
mg
Potassium:
623
mg
Fiber:
2
g
Sugar:
20
g
Vitamin A:
309
IU
Vitamin C:
1
mg
Calcium:
332
mg
Iron:
4
mg